Tourism
Get more with myNEWS
A personalised news feed of stories that matter to you
Learn more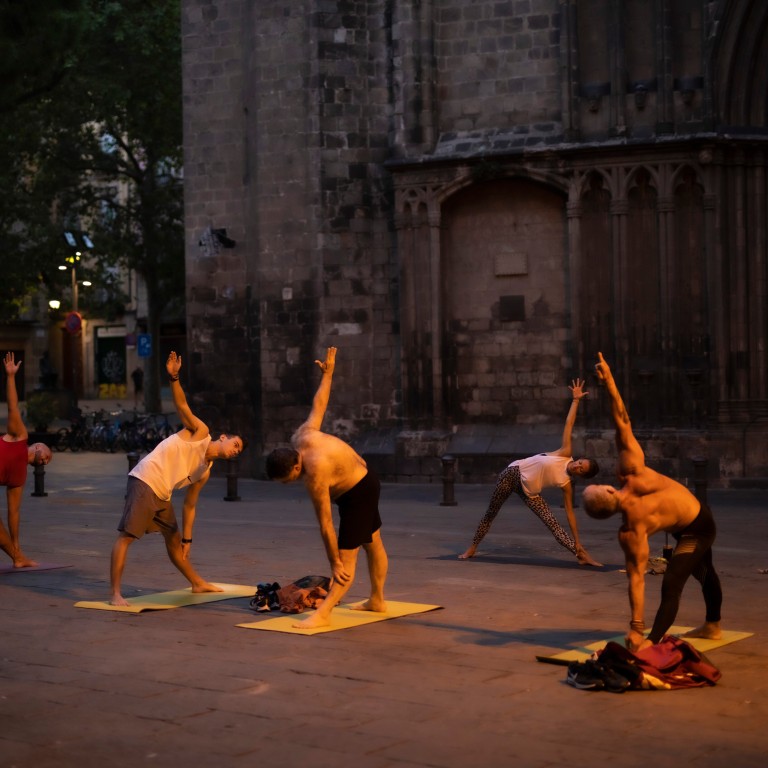 Rethinking Barcelona: how the pandemic is reshaping tourism in the Spanish city
Having suffered the effects of overtourism, the Catalonian capital is now seeing its economy devastated by Covid-19
But as residents reclaim their city, a more sustainable future is looking possible
The city centre is silent and dark as a small group of yoga practitioners enters the empty alleys of Barcelona's Gothic Quarter, illuminated only by a few street lamps. After a short walk through a maze of historical residential buildings, they lay their mats in the square facing Santa Maria del Pi, a majestic 15th century Gothic church. Led by their instructor, 39-year-old Andrea Nutini, they practise for an hour enveloped in a surreal atmosphere, interrupted only by the chirping of birds and a few passers-by, hurrying to work.
"On my way to class this morning I stopped in front of the cathedral to admire its rose window," says Nutini between sips of coffee outside a bar after the session. "There was no one else, it felt like an incredible privilege."
Following the easing of the Covid-19 lockdown in the spring, Nutini took advantage of the lack of tourists in the Catalonian capital to organise outdoor yoga lessons at some of the city's most beautiful landmarks. She now holds sessions three times a week.
"For a long time we used to think that only tourists could enjoy these monuments," she says.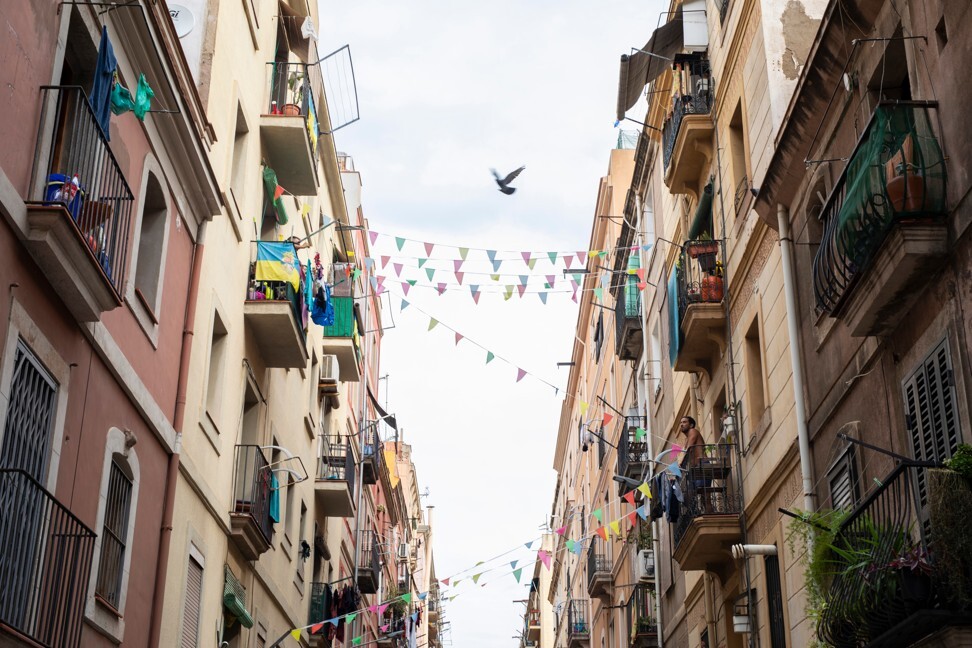 Nutini and her students are among the residents who have begun reclaiming a city long seen as a victim of mass tourism. Like timid shoots of grass pushing through an unused path, the people of Barcelona are venturing back to the Rambla – the iconic walkway through the heart of the city – and Antoni Gaudi's Park Güell and Sagrada Familia cathedral, finally empty and free of charge. Neighbourhood summer fairs such as the Fiestas de Gràcia – originally conceived for locals who could not afford to go on holiday – have been re-embraced.
Since hosting the 1992 Olympics, Barcelona has benefited from an ever growing number of visitors, attracted to its beaches, relaxed Mediterranean lifestyle and affordable prices. Over the past 10 years, the number of tourists has quad­rupled thanks to the advent of online accommodation platforms and a steady increase in cruise ships and budget airlines. In 2017, this city of 1.6 million was visited by a whopping 32 million others.
Tourism has boosted the economy – before the coronavirus outbreak, the industry accounted for 12 to 15 per cent of the city's GDP – but it has also caused a raft of problems. The influx increased pollution and put a strain on water reserves and services such as rubbish collection and transport. As the number of youngsters flocking to Barcelona increased, so did turismo de borrachera ("drunken tourism"), with its parties, drug abuse and brawls, making life for locals unbearable.
From 2011 to 2014, the liberalisation of licences caused a tenfold increase in the number of tourist apartments, driving rents and property prices up and forcing locals out of the historical centre. Deprived of their clientele, hundreds of businesses catering to locals closed down and were replaced by souvenir shops, restaurants and hipster bars. Having lost half its residents, Ciutat Vella – Barcelona's old town – became a playground for visitors.
Covid-19 has laid bare the local tourism industry's weaknesses and contradictions. The number of night stays fell from 22 million between January and August last year, to just eight million during the same period this year.
In August, the 120 city hotels still open (out of 400) had an average occupancy rate of just above 10 per cent, according to the Gremi d'Hotels de Barcelona business association. Tourist income fell by an estimated 72.6 per cent in the first seven months of 2020, year on year, resulting in mass lay-offs and business closures.
Ciutat Vella is now an eerie collection of empty hotels and tourist apartments. Half of its cafes and restaurants are at risk of permanent closure. La Boqueria – the centuries-old central market whose stalls came to rely on tourists, swapping meat and fish for fruit juices and takeaway food – is almost empty, with just a quarter of it open for business.
Spurred by the gravity of the crisis, local authorities have finally woken up to the need for a radical change. The city administration has started reconverting a disused 30,000 square metre building complex into a technology and start-up hub, the first step in a long-term strategy to reinvent the city centre, diversify its eco­nomy and make it attractive for residents and workers outside the tourism sector.
It has also imposed a moratorium on new licences for hotels and tourist apart­ments, blocked a regional directive that would have further liberalised the market and implemented a conflict-mediation programme for residents and tourists. Ten million euros (HK$91 million) have been earmarked for the promotion of the city, with a focus on proximity tourism and sustainability. "If we manage to turn Barcelona into a sustainable city, we will send a message to the whole world," says Marian Muro, director of Turismo de Barcelona, a public-private agency promoting the city.
The pandemic has not just given authorities pause for thought, it has also afforded residents some breathing space.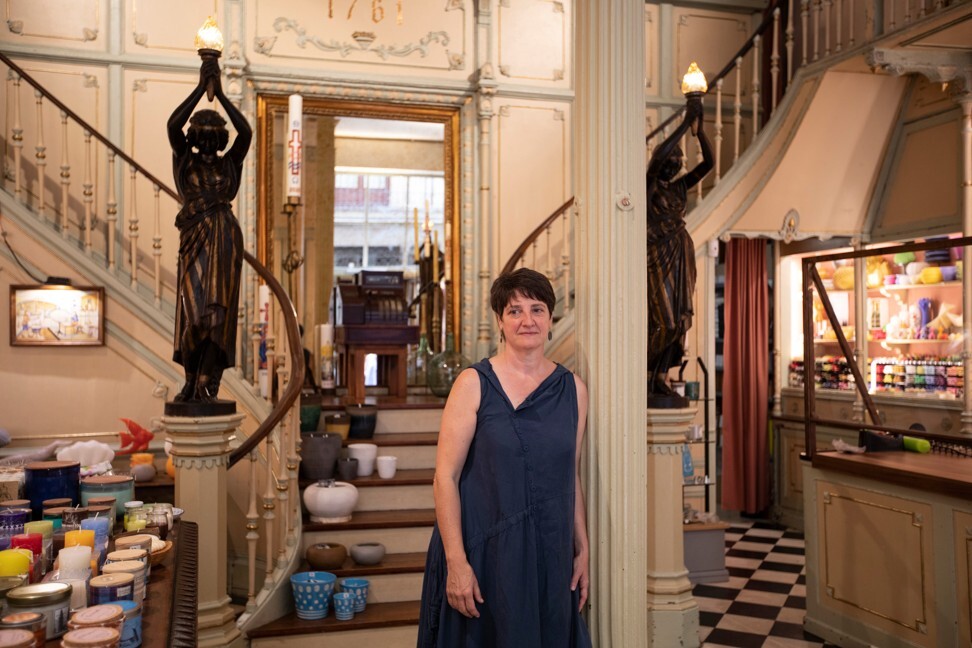 "I love being able to walk without being pulled and pushed all the time, or without having tourists take pictures of me," says Pilar Subirà, the 56-year-old owner of an eponymous candle store in the city centre, one of the few businesses that have managed to hang on to a local clientele. "It is also an opportunity to reflect on why Barcelona became dependent on something so volatile, which can disappear from one day to the next."
After the 2008 economic crisis, cities the world over saw tourism as a panacea for their financial woes, surrendering their historical centres to a seemingly harmless industry. The success of mass tourism attracted more and more global investors, stripping locals of economic opportunities and leading to a drab standardisation of chain stores, accommodation and enter­tainment. City centres became Disneylands artificially frozen in the past, their inhabitants relegated to the role of hosts.
Many youngsters have been forced to leave cities they can't afford to live in. Just as mono­cultures degrade their environment, so mass tourism has worn away the social fabric of the places it was supposed to showcase. The current crisis is a conse­quence of the pandemic, but also of short-sighted development strategies.
Until a few years ago, Meritxell Carreres – a resident of Gràcia, one of the Barcelona neighbourhoods most affected by mass tourism – shared a rundown building belonging to a single owner with 15 families who had lived there all their lives.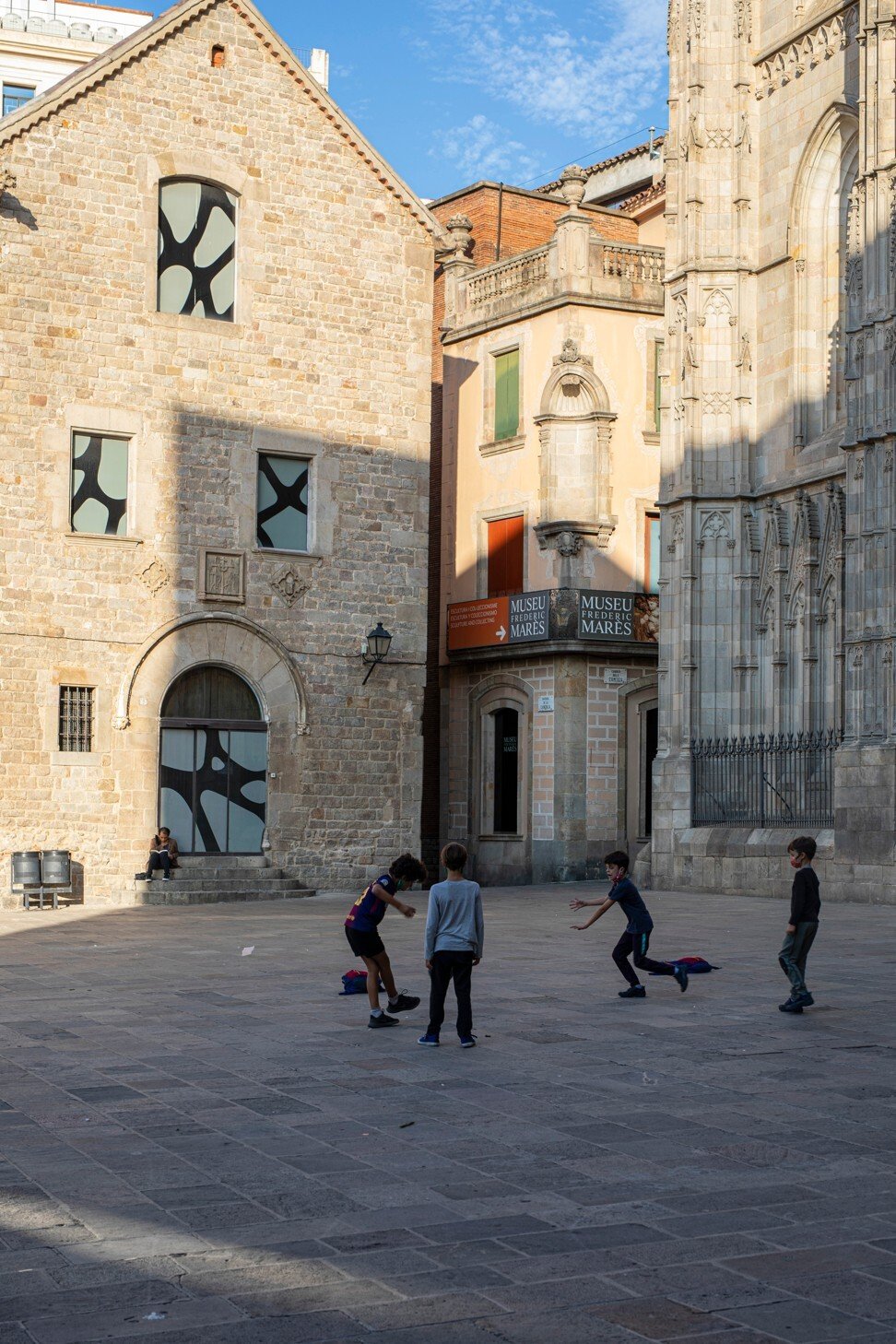 "We were a big community helping each other out," the 55-year-old tour guide remembers fondly. "I used to host those living in the attic every time their flat got flooded by heavy rains. And when my work shift changed, one of my neighbours took charge of taking my daughter to school every day, for months."
Following the 2008 downturn, the building was taken over by a bank and eventually bought by foreign investors. The new owners proceeded to empty the flats before renovating the building and selling the apartments for a handsome profit to well-off foreigners. Carreres was able to retain her apartment – buying it at a discounted price – but only after a three-year legal battle.
Her victory was bittersweet, however; her new neighbours are Chinese, French, Danish, English … no one speaks Spanish or Catalan and most use their flats solely as holiday homes. "We gained in glamour, but we lost in authenticity," she says. "This makes me feel very sad."
By causing a drastic reduction in inter­national travel and prompting a renewed focus on short-distance trips and nature-oriented destinations, the pandemic is hastening a change in habits that was starting to happen anyway.
In August, the United Nations secretary general, António Guterres, highlighted this change when he asked for an equitable and sustainable reform of the tourism sector. To remain attractive, tourist centres will have to develop models that integrate the needs of residents and generate a positive impact on communities.
Miami Beach, in Florida, in the United States, has managed it. Over the past two decades, the resort city has pivoted from mass tourism to a more art-oriented approach, a deliberate strategy started in 2002, when it began hosting the internationally renowned Art Basel fair. A thriving contemporary art scene has since attracted artists, world-class museums and galleries that have added value to the city. Barcelona already has strong assets for a transition of its own: start-ups and bio­medicine that are among the best in Europe; an array of festivals that could turn the city into one of Europe's music capitals; and a cultural landscape centred on modernist architecture and the 20th century's avant-garde.
"Barcelona is one of the few cities in the world that boasts museums dedicated to four of the great artists of that era – Pablo Picasso, Joan Miró, Antoni Tàpies and Salvador Dalí, in the nearby city of Figueres – but so far it hasn't managed to commu­nicate that to the world," says Mateu Hernández, of Barcelona Global, a private think tank whose goal is to increase the attractiveness of the city.
"If we don't generate a specific narra­tive, visitors will keep consuming the city, and not what it has to offer."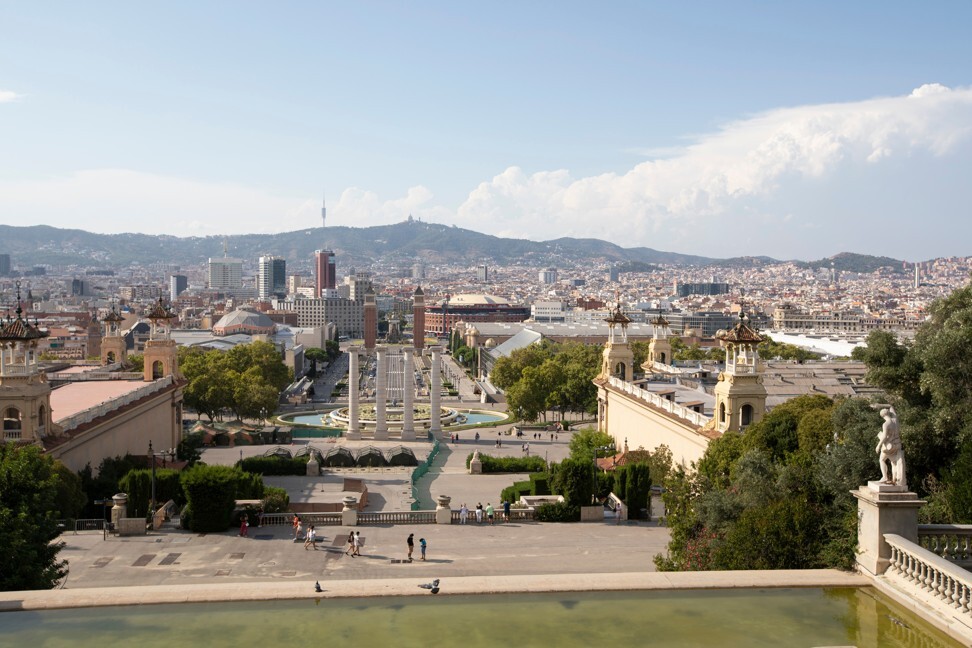 Before the pandemic, the Rambla was tramped by an average 180,000 visitors a day. Bars and restaurants offering low quality food and overpriced drinks eclipsed the museums, theatres and prestigious nightclubs for which the street was once known. Yet many of the original establish­ments still exist and can act as foundations for the new approach.
On the first floor of a cream-coloured building, Tablao Cordobes is one of Spain's best flamenco venues. During its 50 years, it has hosted such legendary artists as Camarón de la Isla, Chocolate and Tomatito. Ninety per cent of its recent clientele has been made up of tourists.
"Visitors who come to our shows love culture, and this is a good example of how tourism should be," says the owner, 59-year-old Maria Rosa Pérez Casares. "Flamenco is going through an extraordinary era: more and more talented youngsters are emerg­ing, and this flourishing wouldn't have been possible without quality tourism."
Fermín Villar, the president of d'Amics de la Rambla ("Friends of the Rambla"), an association of businesspeople and residents, offers this reassurance: "We will survive, even if the transition will be hard. We will have to sacrifice something from an economic point of view, but we will eventually become a better place, not one burnt out by mass tourism."