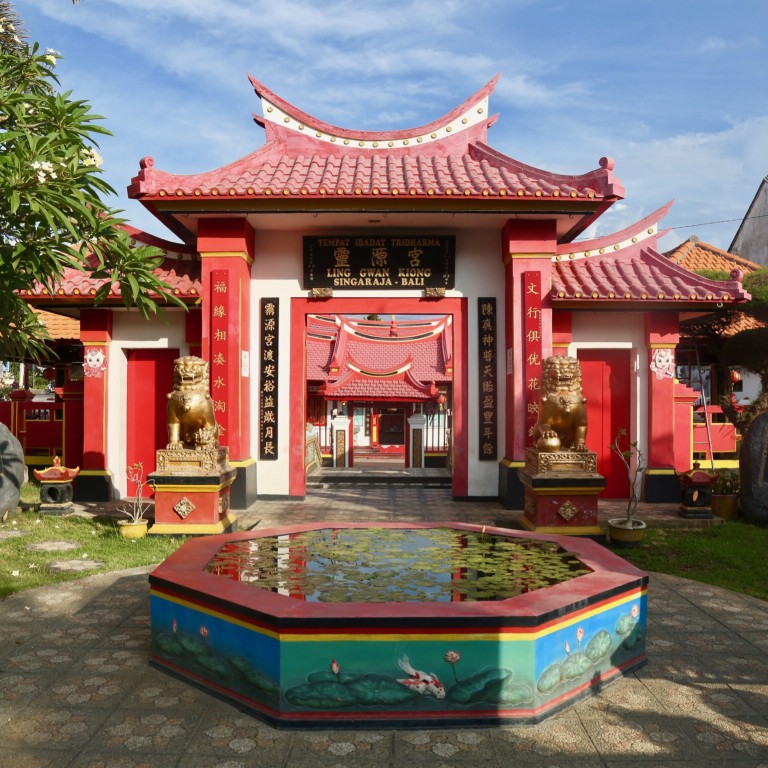 Bali's Chinese temples and the tragic love story behind Balinese Hinduism that marked the joining of two great Asian dynasties
The tale of a Balinese king and a Chinese beauty drove one traveller to discover more at the Indonesian island's ornately kitsch Chinese temples
Believed to be mostly true, the story set the stage for the incorporation of Buddhism and Chinese culture into Balinese Hinduism
In the great pantheon of Balinese folklore, few stories are more endearing – or have greater geopolitical significance – than that of King Jayapangus and his wife, Kang Ching Wie.
According to inscriptions, the king became infatuated with the Chinese beauty after she arrived on the Indonesian island aboard a merchant ship owned by her father sometime in the 12th century. Despite objections from priests whose role it was to uphold traditions and who warned the relationship would turn sour, the king asked the merchant for his daughter's hand in marriage. The merchant immediately acquiesced.
To mark the joining of the two great Asian dynasties, Jayapangus moved his palace to a village on the southwest rim of the Mount Batur volcano, in east Bali, and renamed it Balingkang – a portmanteau derived from the Balinese and Kang names.
But the priests' prophecy rang true: Ching Wie did not conceive and Jayapangus was denied an heir to his throne. Frustrated, the king went on a pilgrimage to the shores of the island's Lake Batur to seek answers.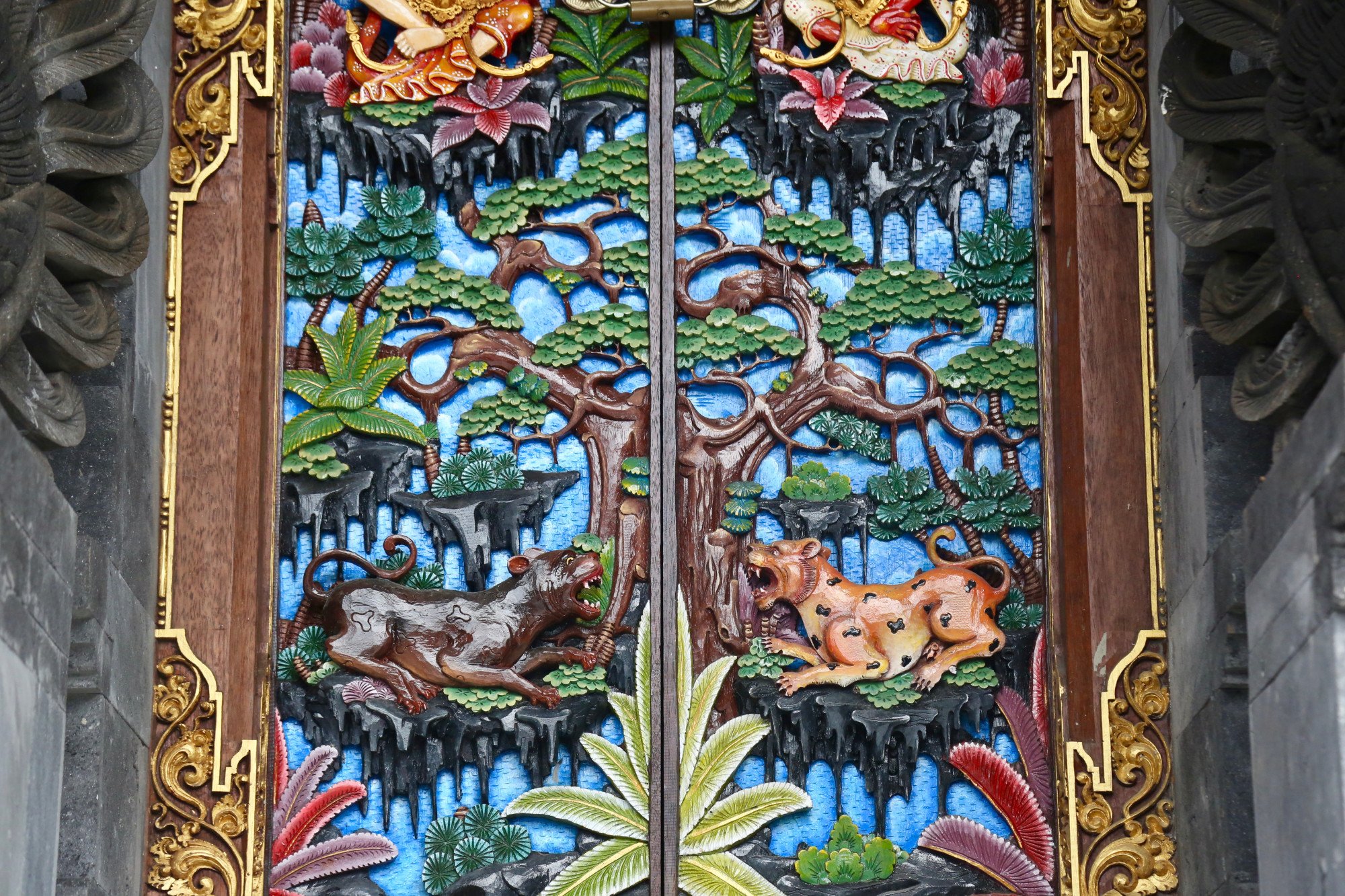 There he came face to face with Dewi Danu, goddess of the lake, and produced a child with her – Prince Mayadenawa. But when Ching Wie came looking for her husband and the goddess learned of their marriage, Dewi Danu flew into a rage and turned both mortals into stone.
The fantastical ending notwithstanding, anthropologists in Indonesia believe this great love story to be true – a chapter in history that set the stage for the incorporation of Buddhism and Chinese culture into Balinese Hinduism, making it distinct from mainstream Hinduism in India.
Today, replicas of Jayapangus' and Ching Wie's faces can be seen in giant puppets paraded during Galungan and Kuningan, the two most important festivals in Bali. The use in Bali of flat Chinese coins as religious offerings has also been linked to Ching Wie's adoption as the goddess of prosperity.
A shrine dedicated to her largesse can be found inside Ulun Danu Batur Temple, in Kintamani, a mountain resort not far from Balingkang, on the western rim of the Batur Crater. Ulun Danu Batur is also the second most important temple in Bali – one of nine that must be visited by every Balinese Hindu during their lifetime.
With towering stone gateways and soaring spires backdropped by panoramic views of Mount Batur, Ulun Danu Batur is a vast temple complex housing nine individual shrines.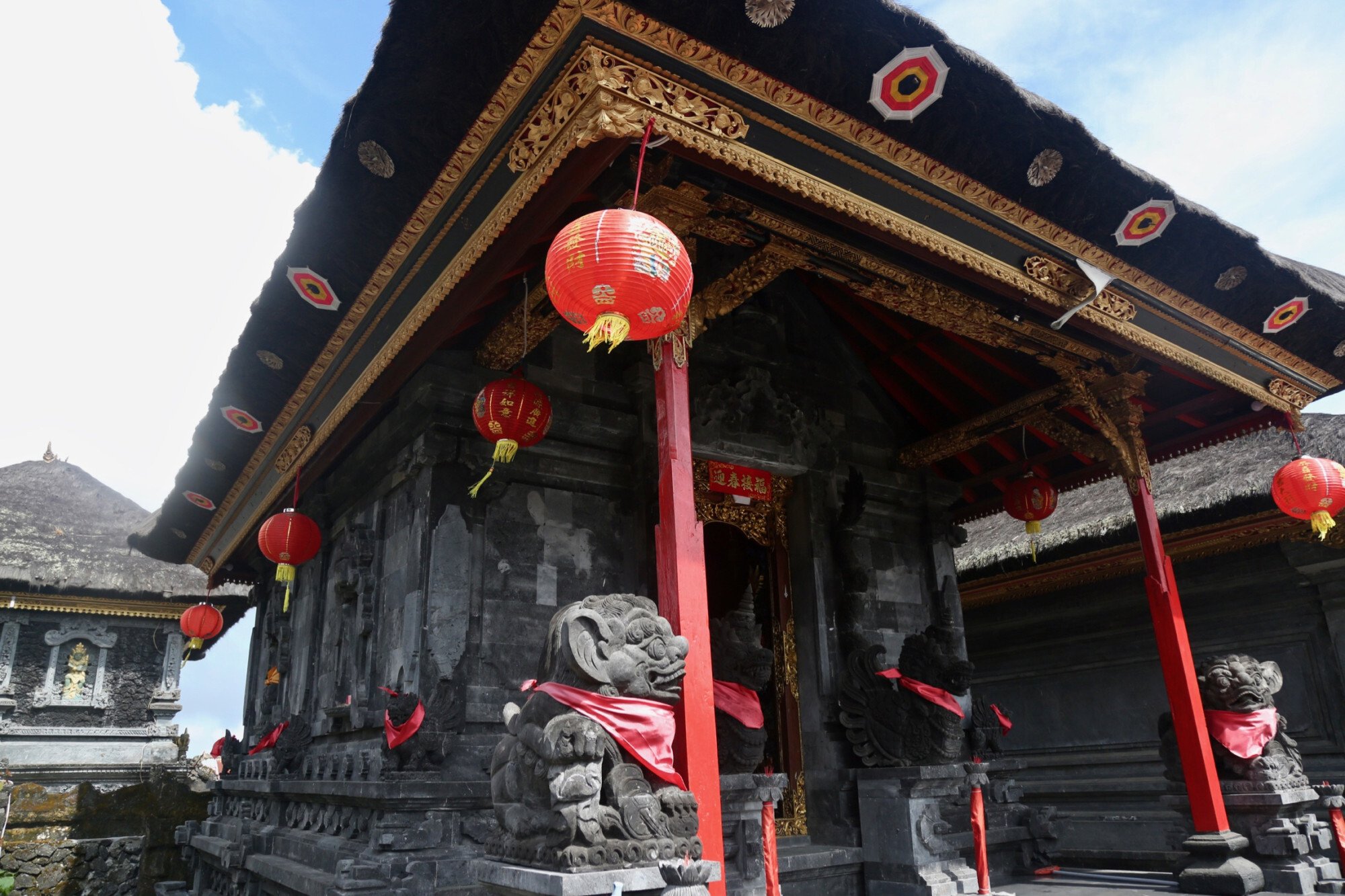 The one devoted to Ching Wie – a free-standing edifice with a grass thatched roof and two stone gargoyles – doesn't look any different from the others at first. But as I get nearer, I see the shrine bears a magazine of Chinese ornaments: bright red lanterns, sashes and bows, yin yang symbols, and Chinese writing above the door.
Inside is an altar clustered with Buddhist objects and artefacts: incense burners, half-melted candles, boxes with sacred scriptures, gilded banners and little statues.
Ulun Danu Batur normally throngs with tourists. But on the day of my visit, some 15 months after Indonesia introduced an international travel ban to stymie the coronavirus pandemic, I'm the only foreigner here. My presence attracts the attention of a priest in white flowing robes and headdress who unceremoniously bolts the doors shut, exposing an intricately carved and coloured bas-relief of phoenixes, tigers and demons. When I ask him about Ching Wie, he mumbles something and sashays off.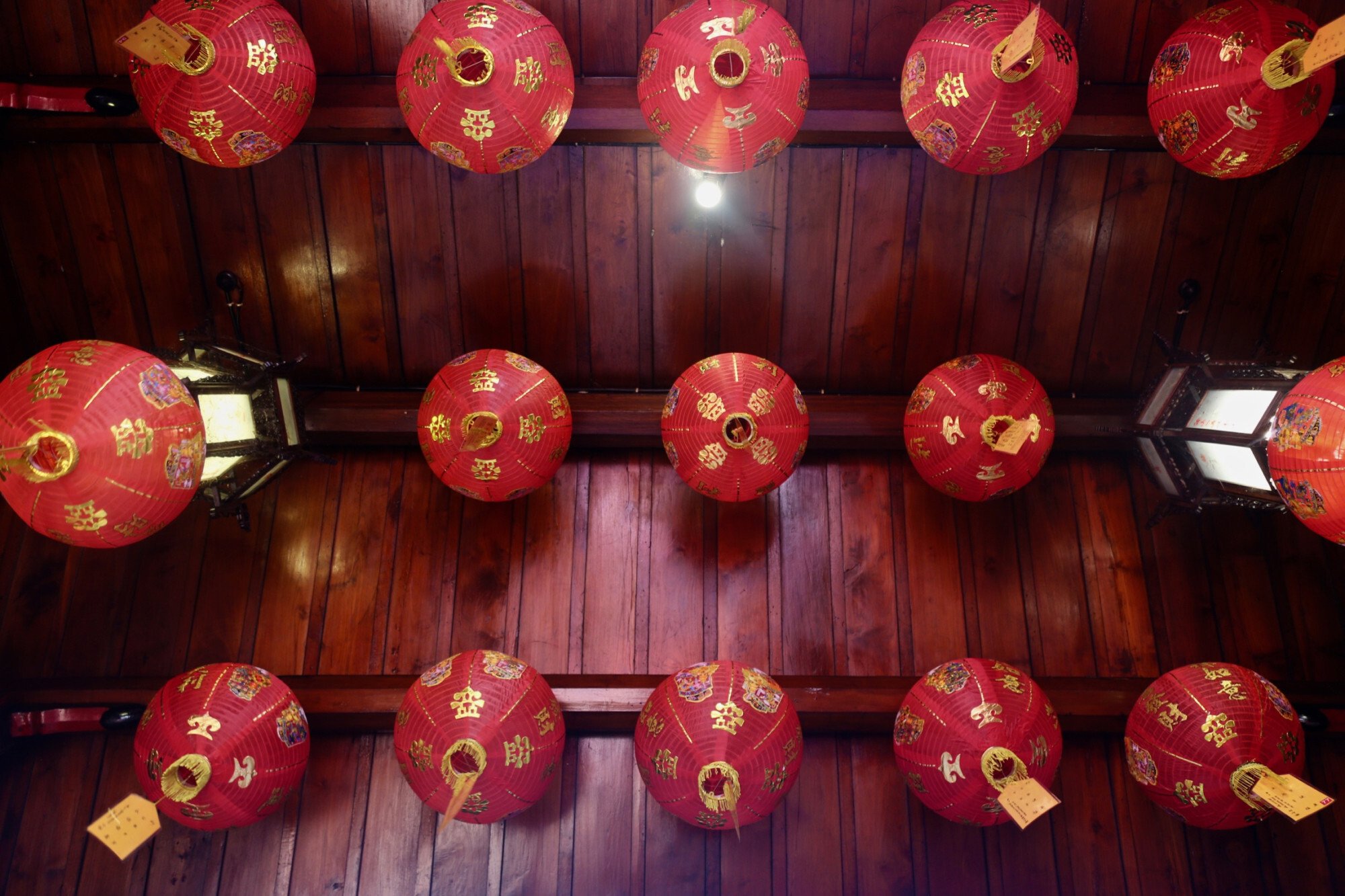 The experience leaves me a little deflated; I had seen little and learned nothing about the history of Chinese people and culture in Bali. But there are three other Chinese temples in Bali, and I make it my mission to see them all.
The oldest, Klenteng Ling Gwan Kiong, built in 1873, overlooks the now-defunct seaport complex in Singaraja, a city on Bali's north coast. Locals refer to it on social media as Klenteng, a generic term for Buddhist temples in Indonesia, though the architecture suggests Taoist and Confucianist heritage, with ornate little gardens, murals, gilded lions and a footbridge spanning a lotus pond. This urban sanctuary provides stark juxtaposition to the urban decay outside its carved wooden gates.
The main building is spotlessly clean and crowded with Chinese statues, arte­facts and altars covered with offerings of fruit, rice, spices, cigarettes and burnt incense. It bears all the hallmarks of a living place of worship but there's not a single worshipper – not even a caretaker – inside. Once again, I am denied the chance to learn anything about the temple and those who built it.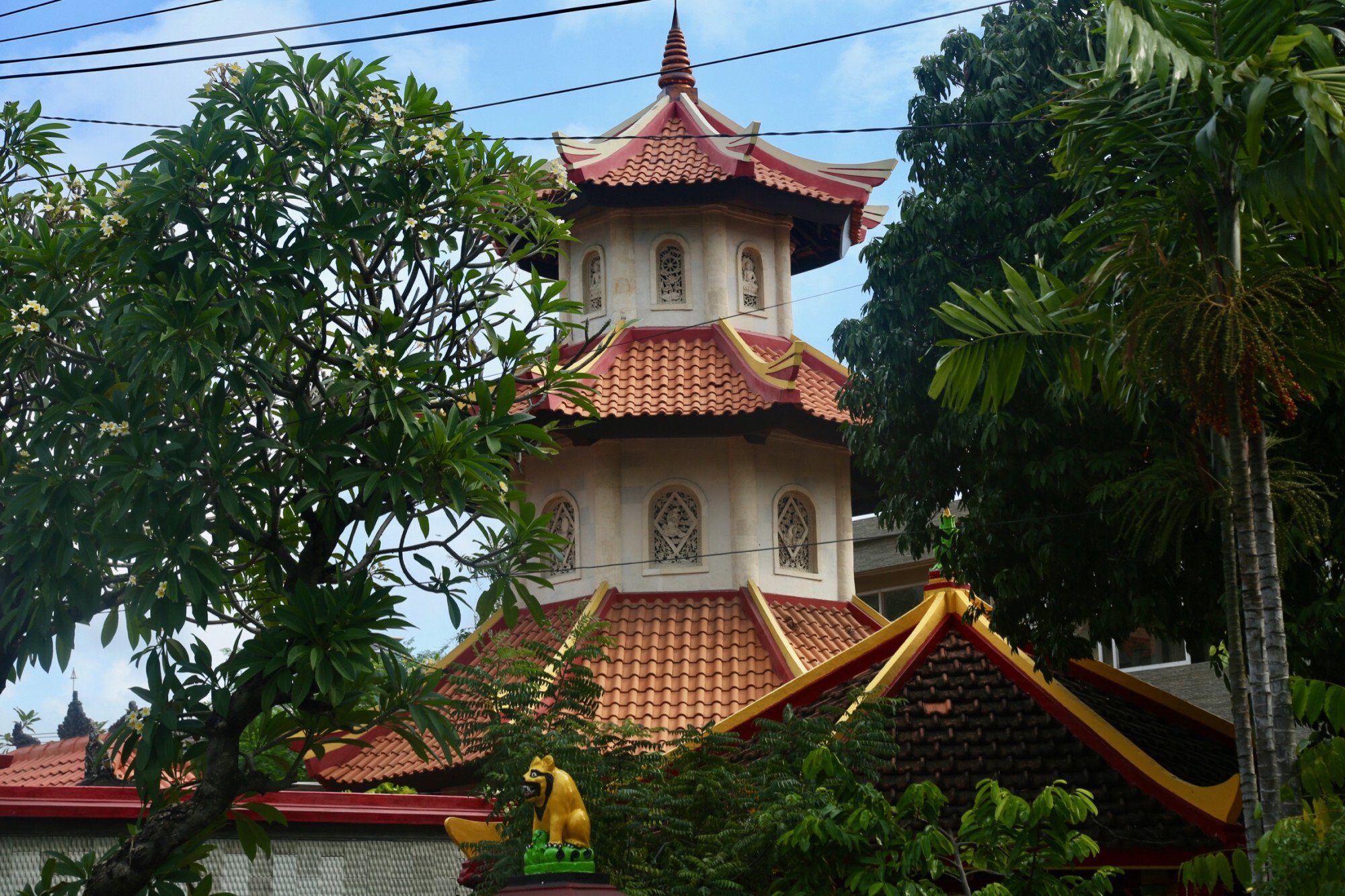 A former fishing village on the island's southwest coast, Kuta is where mass tourism took off in Bali after an old Dutch airfield on the seafront was converted into an international airport in 1968. About 1km from the beach is Vihara Dharmayana Kuta, a Chinese Buddhist temple built in 1876.
The main structure is wrapped in mythical dragons and kitschy warriors bearing swords and battleaxes. Several shrines house a jumble of relics, lanterns and statues and a Four-Faced Buddha surrounded by a moat where turtles bask on stones.
Like the temple in Singaraja, Vihara Dharmayana Kuta is immaculately maintained. But unlike Klenteng, there are worshippers here praying at altars, folding joss papers or enjoying quiet moments of contemplation in the courtyard. Their body language tells me they don't want to be disturbed but when a local offers to sell me a fistful of incense sticks at a steep mark-up, I indulge him to break the ice. Yet the only thing he tells me before wandering off to find his next victim is that the Dalai Lama visited in 1982.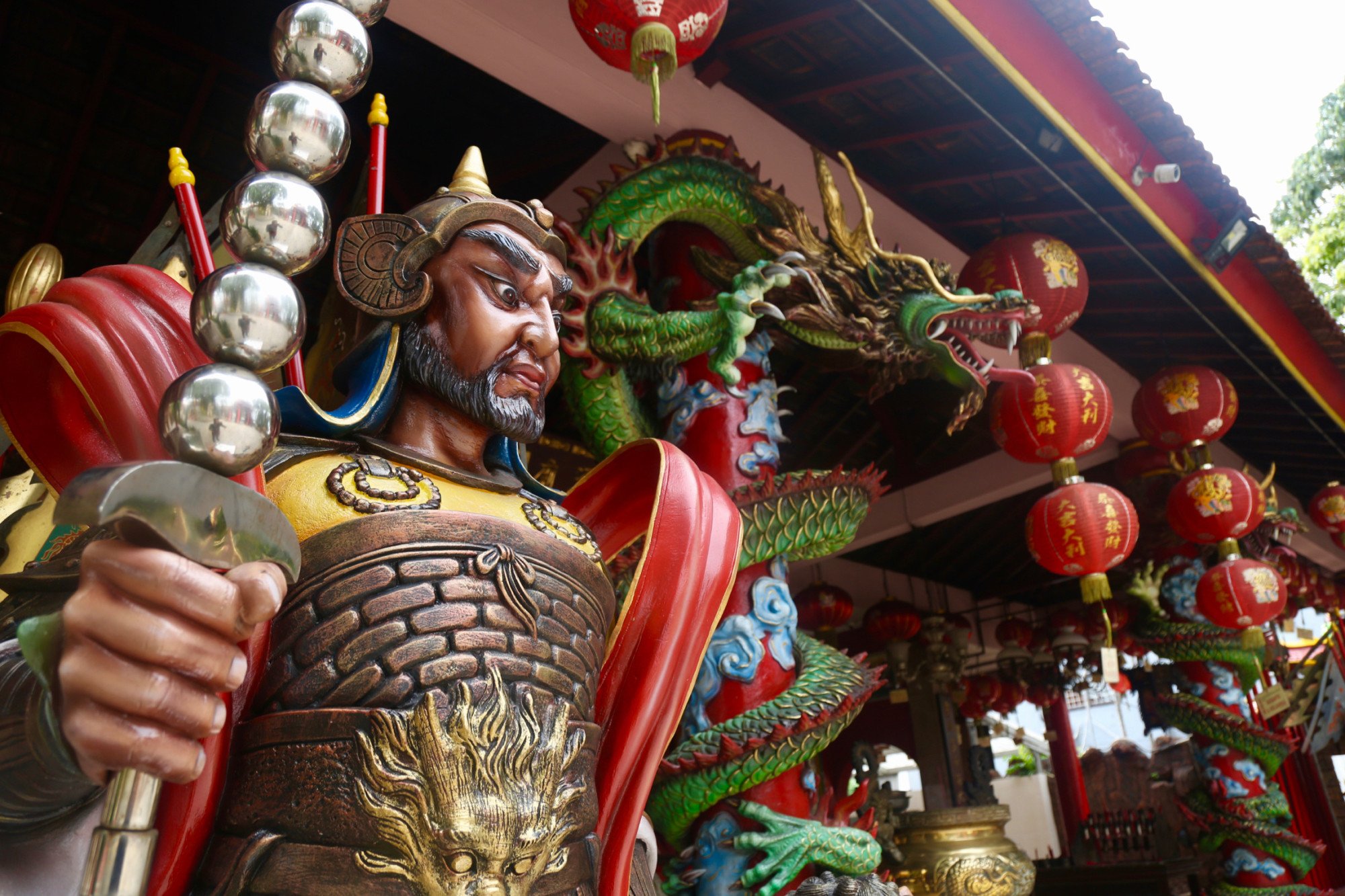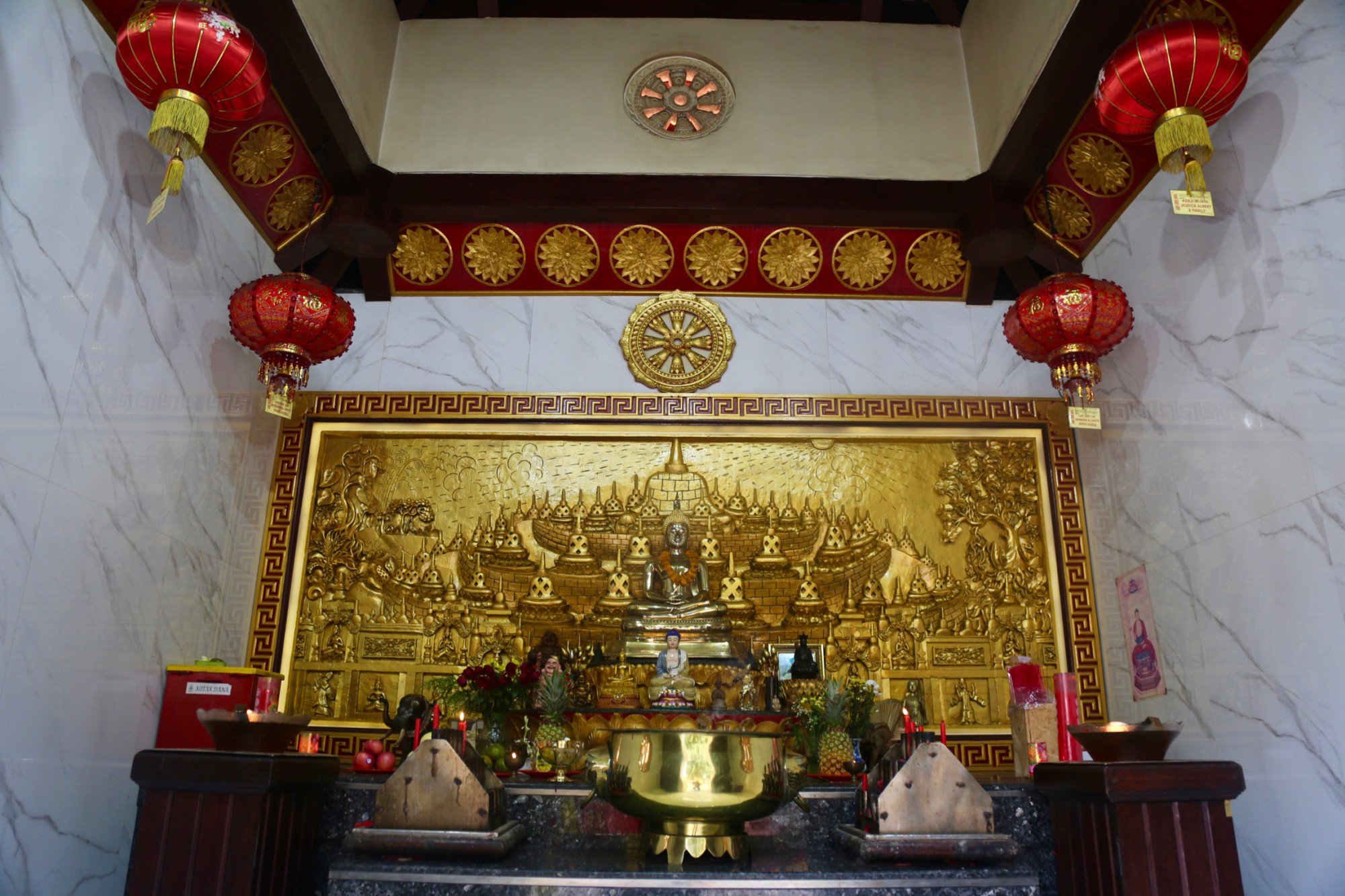 A half-hour drive from Kuta on a four-lane highway leading to Benoa Port, in southeast Bali, is Vihara Satya Dharma – a sprawling temple complex and the closest thing Bali has to an imperial city. Supported by towering pillars, some carved with bas-reliefs, the main structure is colossal, with chamber after chamber dripping in frescoes that tell stories of ancient sages and battles.
There are large gilded bowls, altar after altar, statues of Buddhist and Hindu gods and portraits of ancient kings. Holding court on the left flank is a 25-metre white statue of
Guanyin, the Goddess of Mercy
, set on an island at the centre of a pool writhing with koi fish.
There are half a dozen worshippers inside, one of whom, an elderly man named Eddie with Chinese facial features, offers me a warm welcome. He tells me in flawless English that the temple opened in 2012 after an epic six-year build financed by Bali's ethnic Chinese community, "Cina Bali" as he calls it, who number about 100,000, with generous donations thrown in by shipping magnates from Taiwan, Thailand and Japan.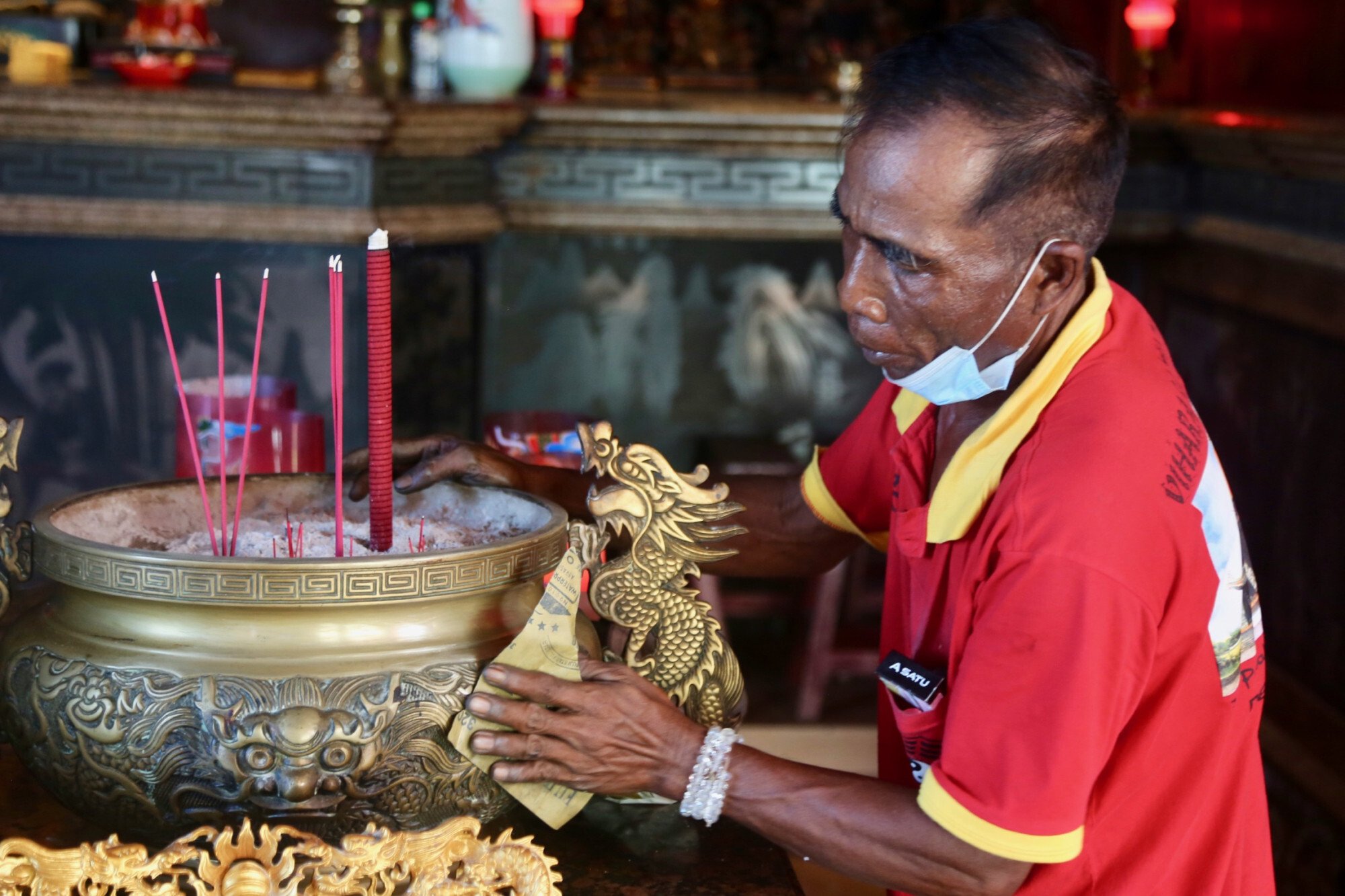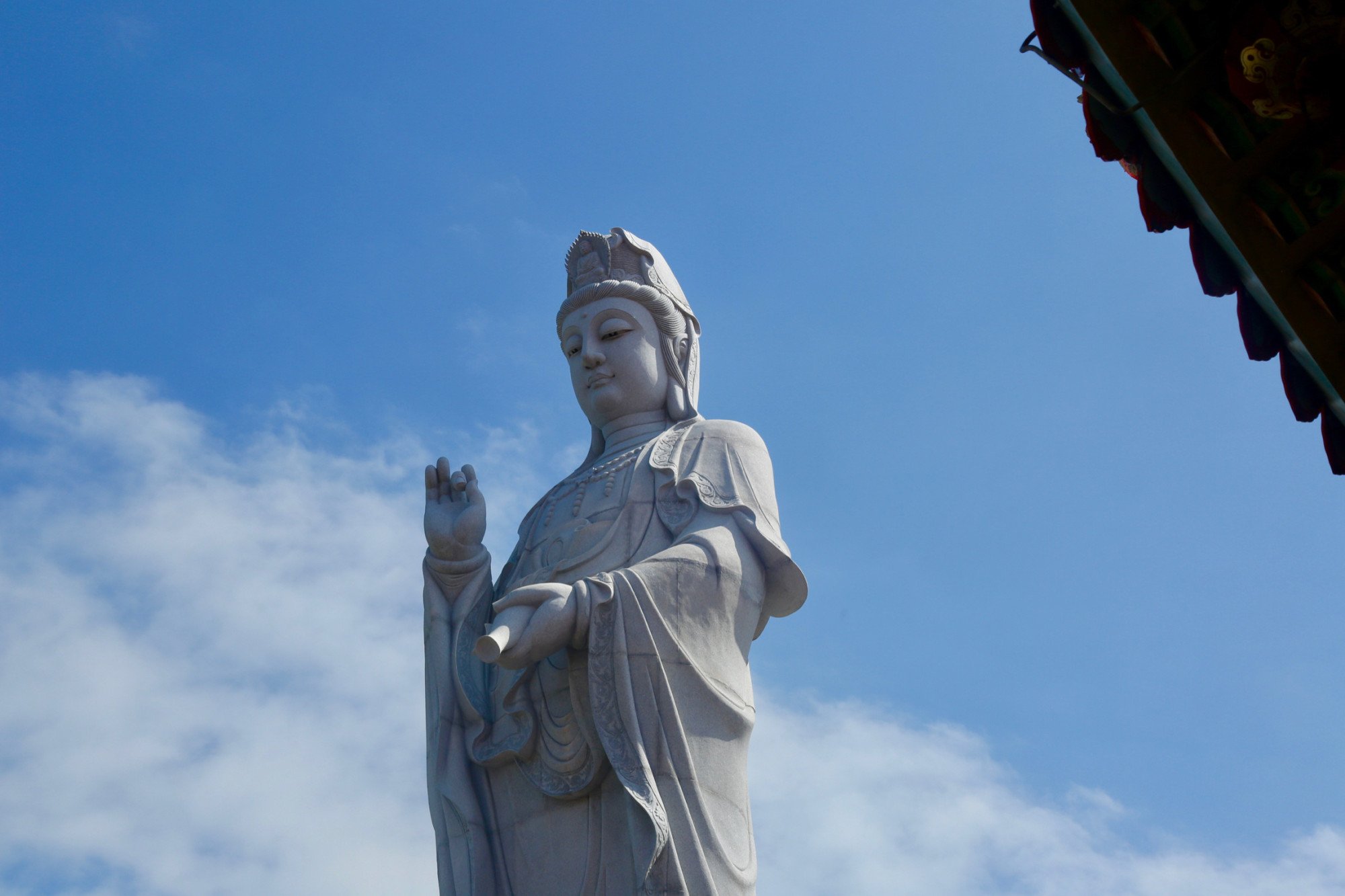 Before the pandemic, sailors and cruise-ship workers used to come here to pray for calm seas before leaving on journeys. But now, because of Covid-19, merchant sailors can't leave their ships while the global cruise-ship industry that once employed thousands of Balinese is dead in the water. I am the first foreigner Eddie's seen here in months and he's curious to know why I'm visiting, since it's obviously not to pray.
When I tell him about my obsession with Ching Wie, he tells me a story about how the Chinese queen introduced dogs to Indonesia. Her wedding gifts to King Jayapangus included a Labrador and a golden retriever, which gave birth to a sub-breed of Bali dog known as Kintamani.
Later, I learn that dogs were introduced to Indonesia by Chinese traders some 1,000 years ago and there's not a single online source that credits Queen Ching Wie with doing so. And the Kintamani dog is a scraggly mutt that looks and acts nothing like a Labrador or golden retriever.
Like the story of the king who ruined his life after a fleeting glance from a girl with alluring eyes who couldn't speak his language, Eddie's story about the Kintamani is one part fact and other parts fiction. But it doesn't take anything away from the legacy of ancient trade and tourism from the Middle Kingdom in Bali that lives on in the intricate and wonderful, often ghostly and kitschy, Chinese temples of Bali.