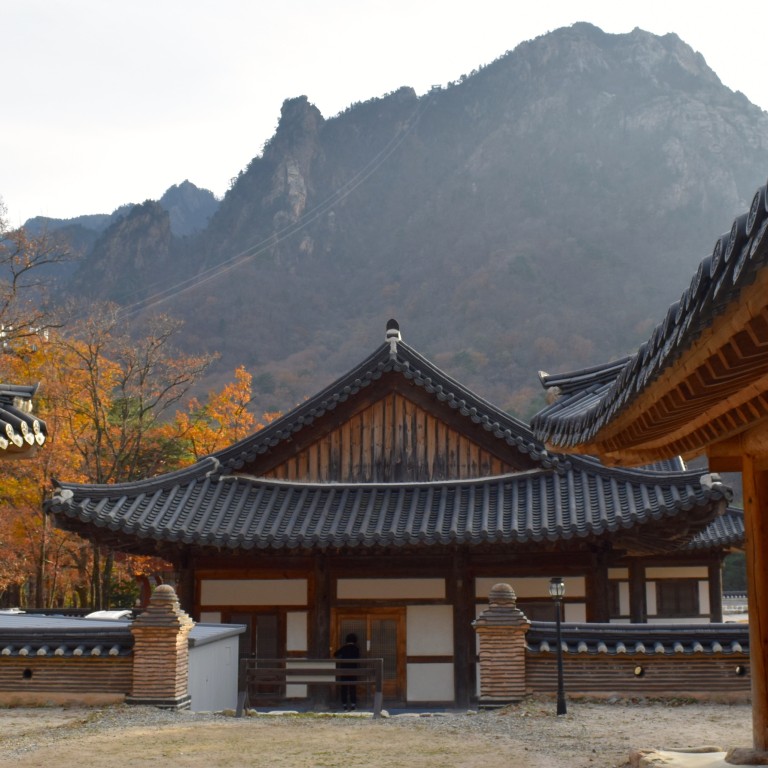 Zen Buddhist temple offers a retreat to reset the soul, and promotes South Korean Buddhism and culture
Victoria Burrows finds herself looking inwards and outwards during a stay at the Sinheungsa temple in South Korea, surrounded by forests and mountain peaks
The Templestay programme aims to help participants appreciate the value of happiness through patience and discipline – and Korean Buddhism and culture
It is 4.30am, and a monk and I are alone in a temple. A single bulb illuminates the altar, casting long shadows into the depths behind. The wooden floor creaks each time I readjust my cross-legged limbs to ease the pins and needles.
The monk, standing in his pale silver and copper robes, is chanting the morning prayer. We are facing three elegant golden Buddhas, each with a thin moustache that spirals at the ends, and elongated ear lobes symbolising wisdom.
Their slim fingers are in shuni mudra, with the middle finger touching the thumb. It is a gesture of patience, focus and discipline.
Patience – something that both I and our modern world are deficient in. Fast food, fast fashion, superfast internet, high-speed trains,
rockets shooting billionaires into space
. We are rushing the present to charge into the future, not letting anything stand in our way. But why?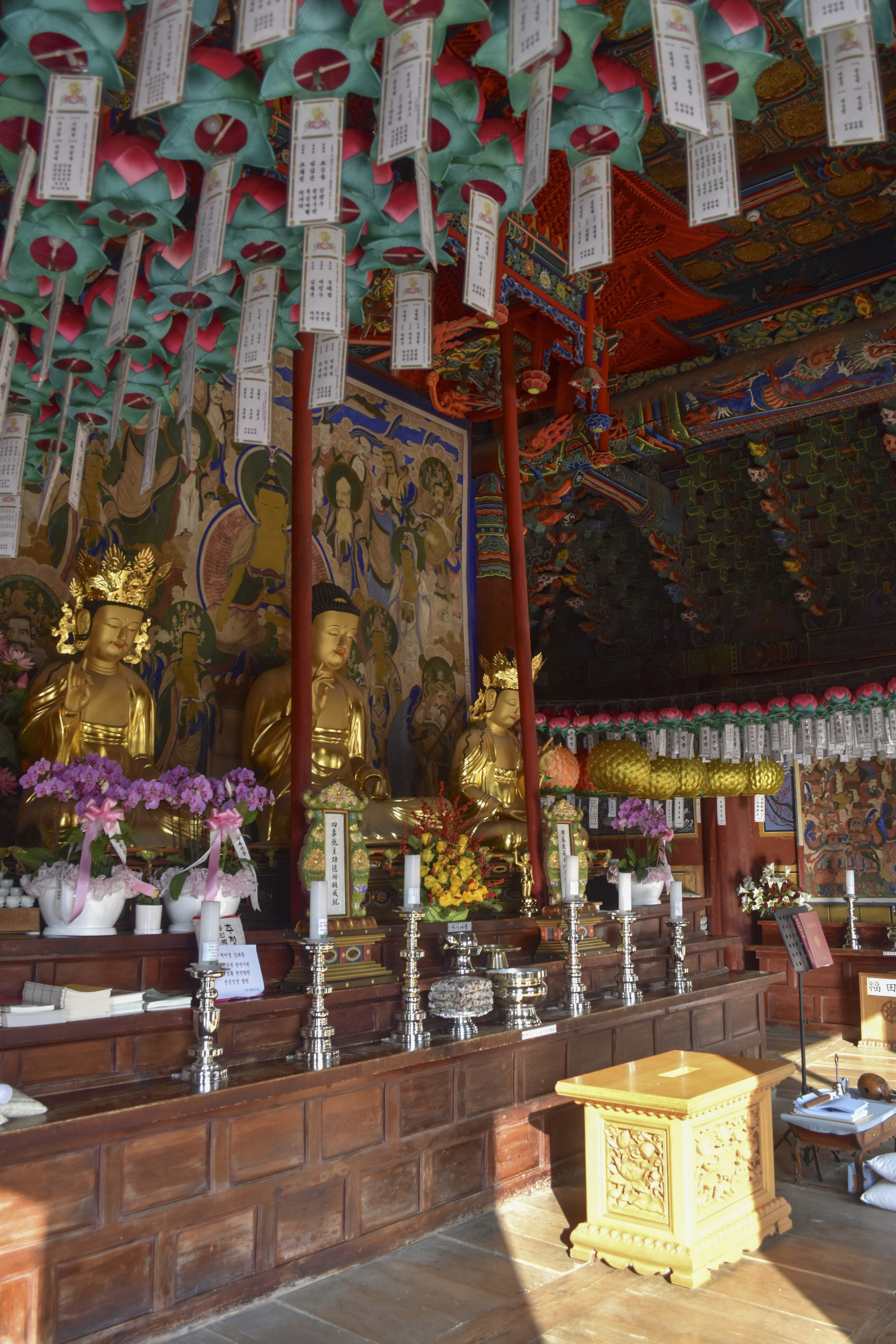 Perhaps Buddha has an answer for me. Perhaps he'll tell me while I'm here, at the Sinheungsa temple, on the slopes of Seoraksan, in Gangwon province, in
South Korea
's northeast.
The night before, I attempted to absolve myself of all earthly "sufferings and delusions" by performing 108 prostrations. Stand, bow, knees to mat, head to floor, palms lifted to the heavens, and repeat – like a full-body workout for inner peace. Perhaps my soul banished some of its sufferings but my aching thighs today are telling a different story.
I bring my focus back to the chanting. Sometimes I pick up words I recognise, names such as Avalokiteshvara, a bodhisattva who embodies the compassion of all Buddhas, but as the prayers are in Korean, most I do not understand. I try to rid my mind of distracting thoughts.
After an early start, and the lulling repetition of the incantations, I begin to feel drowsy. I worry about how I will stay awake for the rest of the prayers. Then the monk reaches forward and picks up a wooden instrument. It looks like a gourd, buffed to a rich walnut shine.
He beats it with a wooden stick in time with his chanting. It is loud to the point of wincing. Fears of sleep are banished. The recitation slows in pace, then speeds up, the beating stick almost a punishment, as if for sins left unrepented. The three golden Buddhas smile down.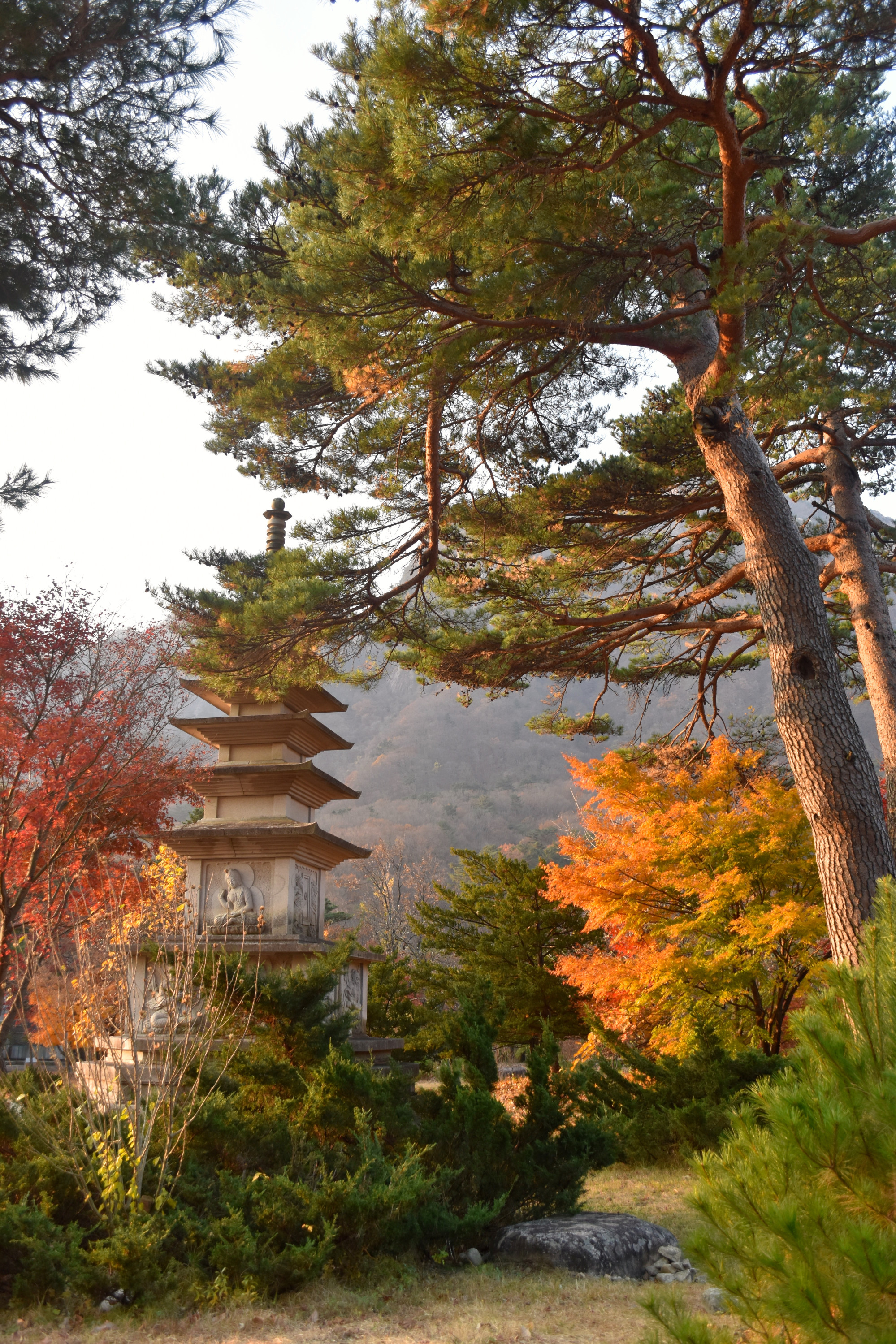 Impatient I may be, but I have more discipline than the other guests at Sinheungsa, at least. The four Korean women – two in their late 50s and two in their early 20s – are likely still asleep on the warm floors of our hanok, a traditional wooden building with sliding paper doors that looks like the set of a historical Korean soap opera.
The hanok, a short walk from the main temple, is reserved for those who sign up for the Templestay programme I have joined.
The programme is organised by the Cultural Corps of Korean Buddhism, which was established in 2004 as an affiliate of the Jogye Order of Korean Buddhism.
The organisation runs programmes at temples across South Korea, offering everything from a single day of prayers to a month-long immersion in sunmudo, a Korean martial art that functions as a moving meditation.
The programmes come with lofty aims – to promote
Korean Buddhism
and culture, and help people understand what the true value of happiness is – but have fairly prosaic beginnings: a lack of accommodation for football fans during the 2002 World Cup (which South Korea hosted together with Japan).
With sports lovers flocking to the country, the government approached temples to request they open their doors to those in need of accommodation.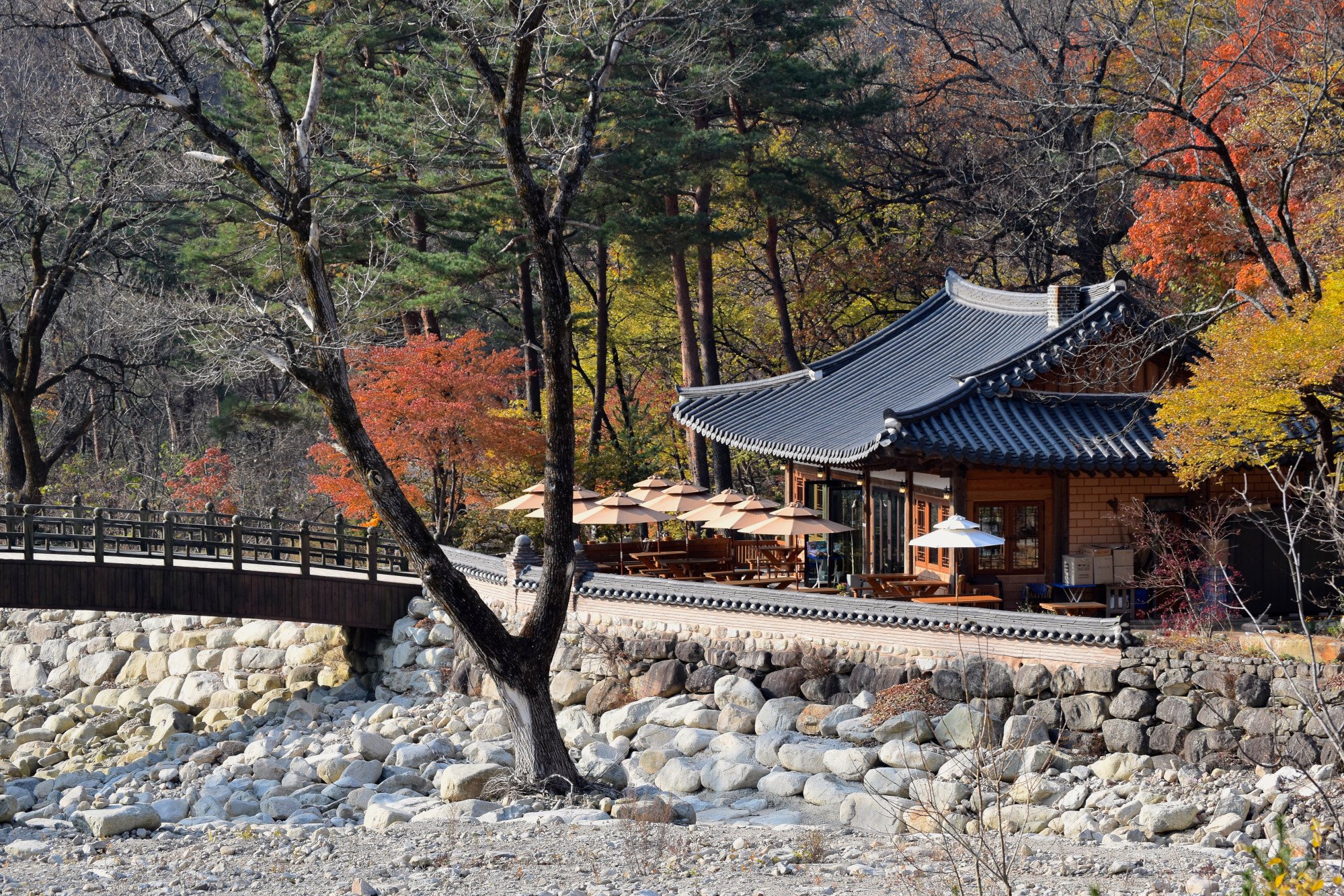 Temples had already been offering opportunities for locals and foreign residents to experience Buddhist traditions so were able to accept tourists fairly easily. The arrangement was so successful that it was continued after the World Cup had finished.
Before the
Covid-19 pandemic
, around 70,000 visitors per year were signing up and paying in the region of 70,000 won (US$57) a night to stay in one of more than 130 temples across the country, according to the Cultural Corps.
Post-pandemic, Templestay programmes are running again, although for the time being, with reduced numbers and at fewer temples.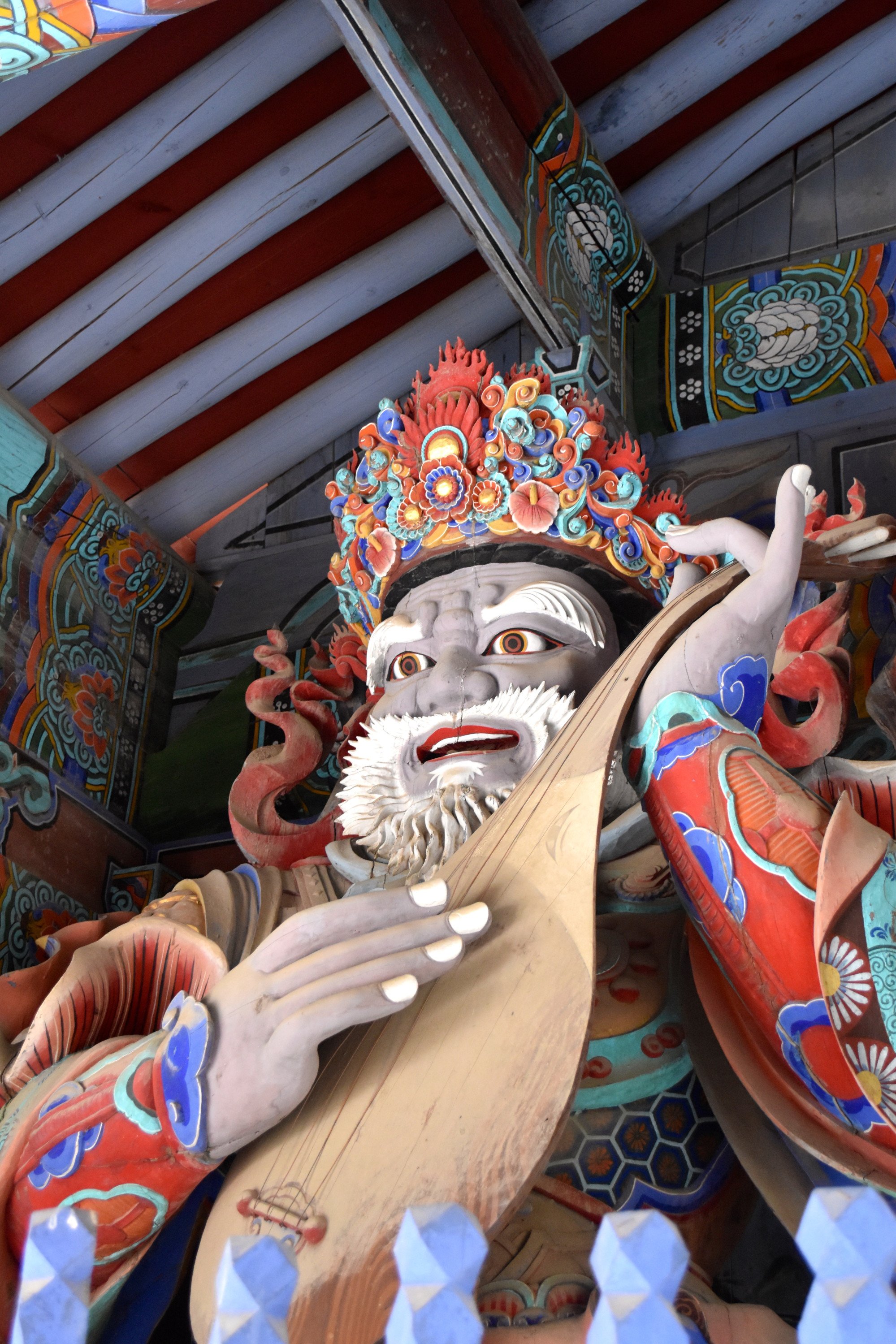 Most Templestays involve a set itinerary, but I signed up for a schedule-free programme, leaving me open to choose to join as few or as many activities as I wish.
An initial meeting with a Templestay director is compulsory and this is when visitors are schooled in temple etiquette, including how to greet a monk and what to do when entering a temple.
My director, Yoon Ji, who joined the Templestay programme as a volunteer but is now an employee, was nervous about her English. Her language skills are more than sufficient, however, and we resort to Google Translate on her phone only once.
Meal times are set – dawn for breakfast and dusk for dinner, when a range of vegetarian dishes are served in almost silence. This is when I meet my fellow Templestay participants, the two sets of friends wanting to explore their own country's sights and culture.
We have a few moments of conversation after dinner, almost whispered. Quiet is encouraged throughout the temple grounds.
Stillness is another reason (in addition to spiritual absolution and finding true happiness, of course) for waking up before dawn to join the morning Yebul (chanting prayer to honour Buddha and the bodhisattvas): to experience the temple outside public access hours. Seeing it with no one else around is worth 1,000 more prostrations.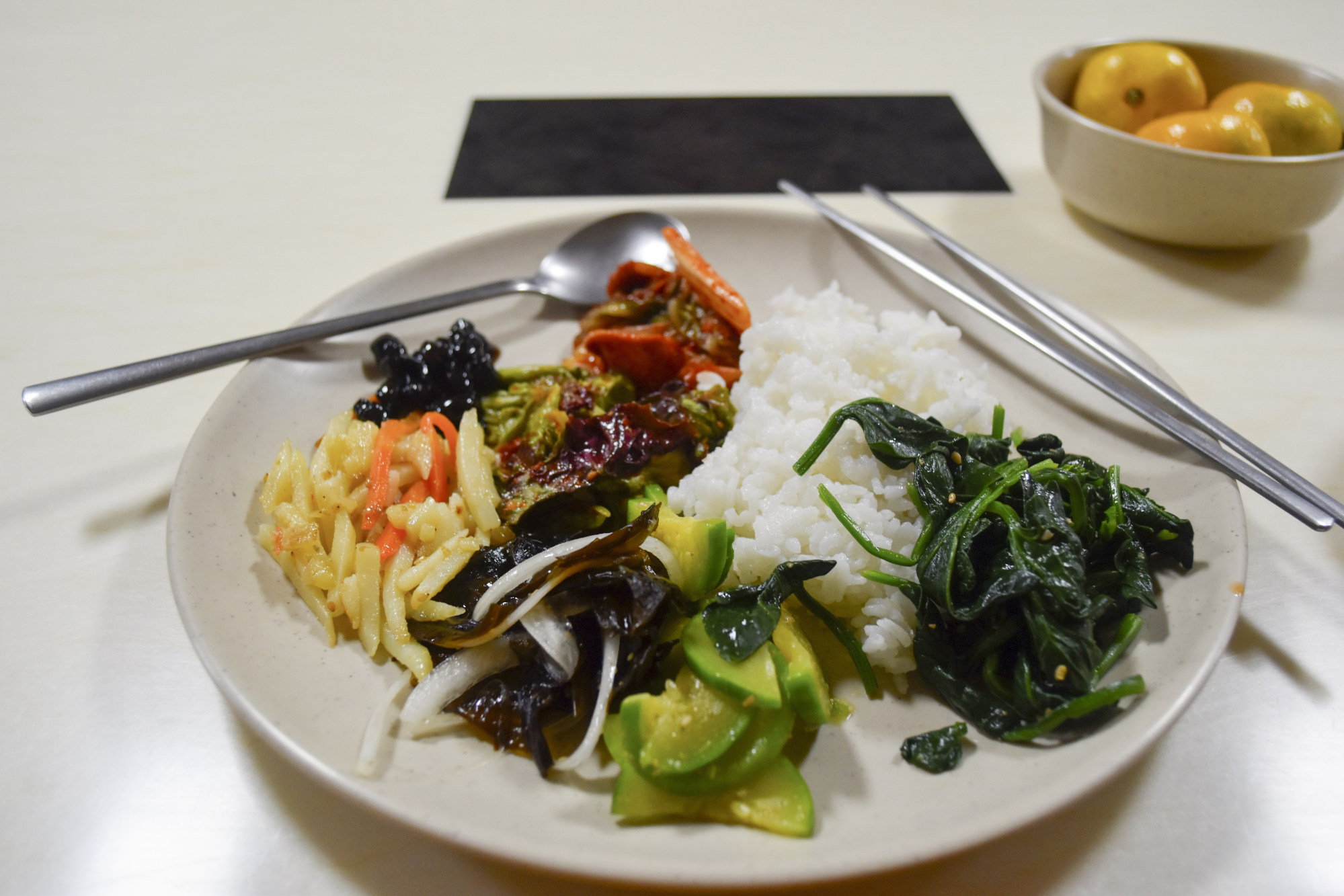 Sinheungsa, which translates as "spirit arising temple", is believed to be the oldest Zen (called Seon in Korea) temple in the world.
Historical accounts vary, but the temple is thought to have been first constructed by the monk Jajang-yulsa in either 637AD or 653AD, following his return from studying in
Tang dynasty China
.
It was levelled by fire in 699AD but rebuilt a little higher up into the hills by Uisang-daesa (625AD-702AD), a scholar-monk of the kingdom of Silla.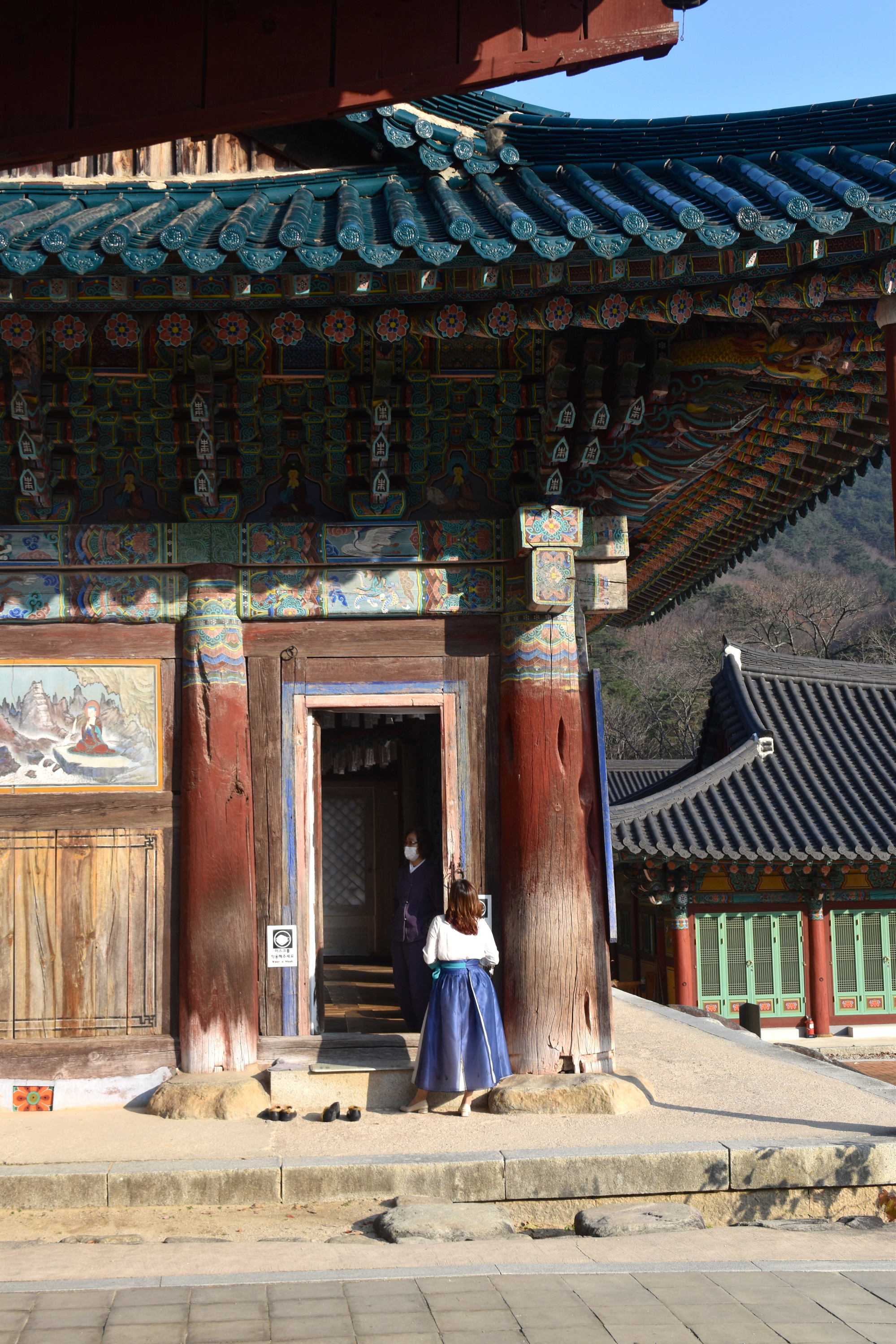 The temple flourished for nearly 1,000 years, only to be burned to the ground again in 1645. It was reconstructed at its present location in 1648.
An incongruous luxury hotel called the Kensington, with a red London double-decker bus parked outside, stands on the spot where the original Sinheungsa temple was built, by the entrance to the Seoraksan National Park. The Naewonam Hermitage stands where the second incarnation used to be.
The elegantly curving, emerald-tiled roof of today's temple, and its heavy wood walls, whisper of its age. Inside, almost every inch is ornately painted in green, red, yellow and blue, with swirling dragons and scenes depicting Buddhist stories. Pink silk water-lily lanterns hang overhead in rows.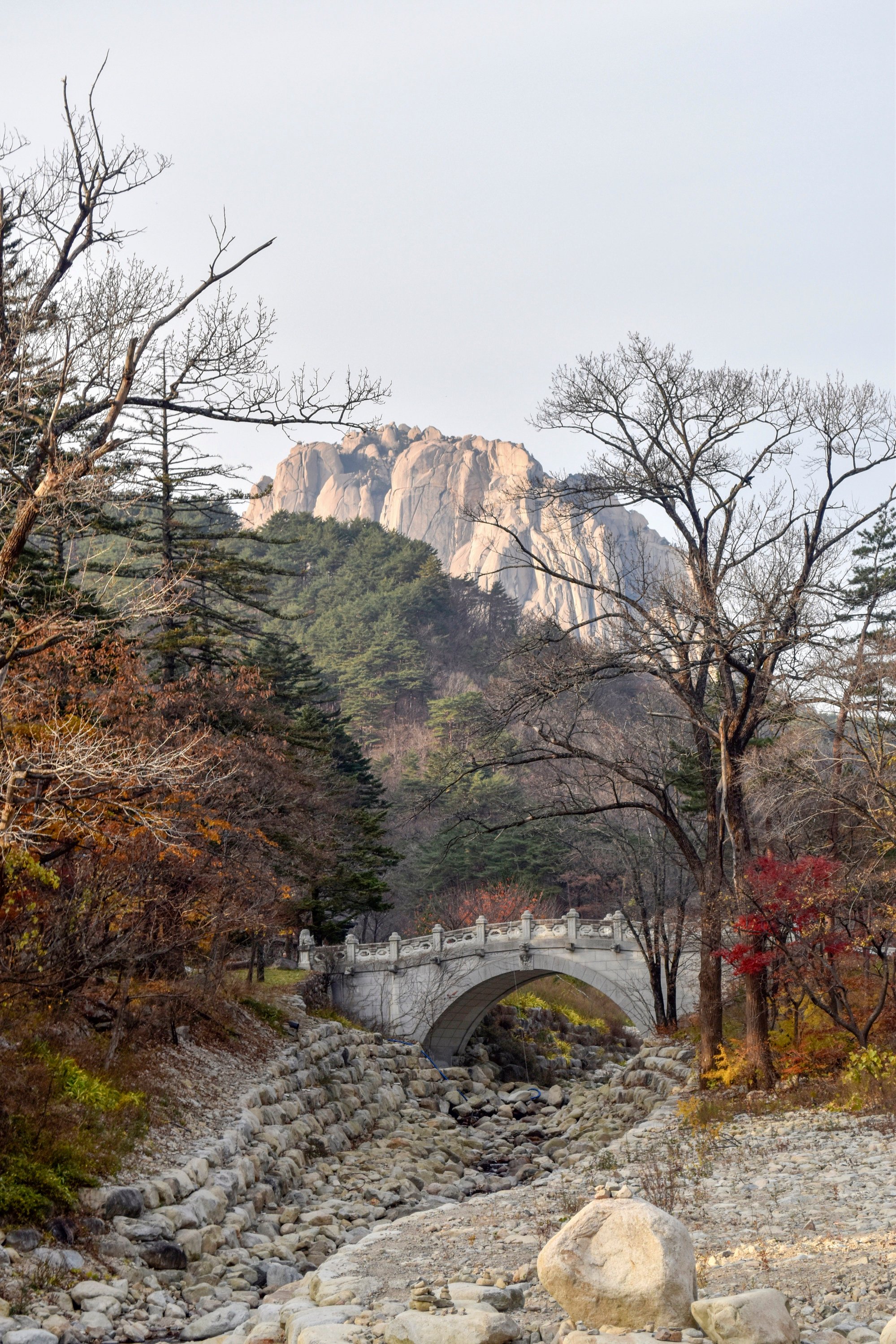 The temple is within the Seoraksan National Park, on the coast, near the border with North Korea. A
Unesco
-designated biosphere reserve that is home to black bears, musk deer, sparrowhawks and kestrels, the park is one of the most breathtaking parts of the country.
Dark peaks rise above swirling mists and in autumn, the leaves take on hues ranging from lemon yellow and fiery red to deep burgundy.
One cannot stay at Sinheungsa and not go for a hike. I walk two hours along a trail upwards most of the way to Ulsanbawi, an enormous wall of pale grey rock that reaches up to 900 metres (2,950 feet) above sea level. The rock, actually six rocks making up the imposing slab, is the subject of numerous legends.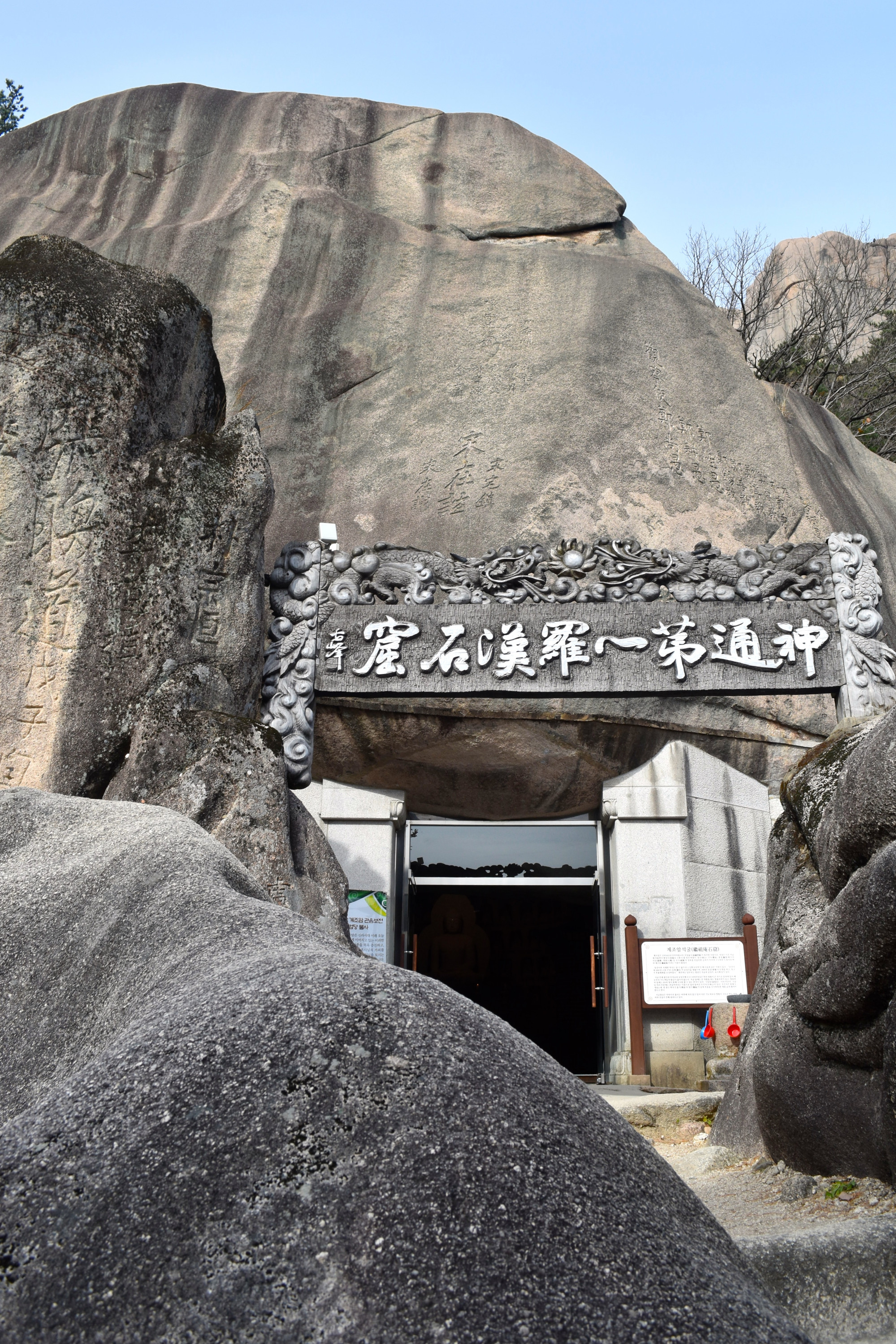 According to one, a heavenly being commanded the peaks of all mountains to assemble at Mount Kumgang (now across the border, in North Korea) to form the most impressive scenery in existence. Ulsan Rock was too heavy, however, which made it late for the meeting.
Feeling ashamed, the rock rested at 1,700-metre (5,600-foot) Seoraksan Mountain instead of returning home, to Ulsan, in the southeast of Korea. Content with its new home, Ulsanbawi chose to stay.
Unlike the geography, however, after the morning prayers I have to leave my heavenly mountain abode. Will my short escape to this serene temple, with its exercise in focus and discipline, stay with me when I once again step into daily life, with all its demands and distractions?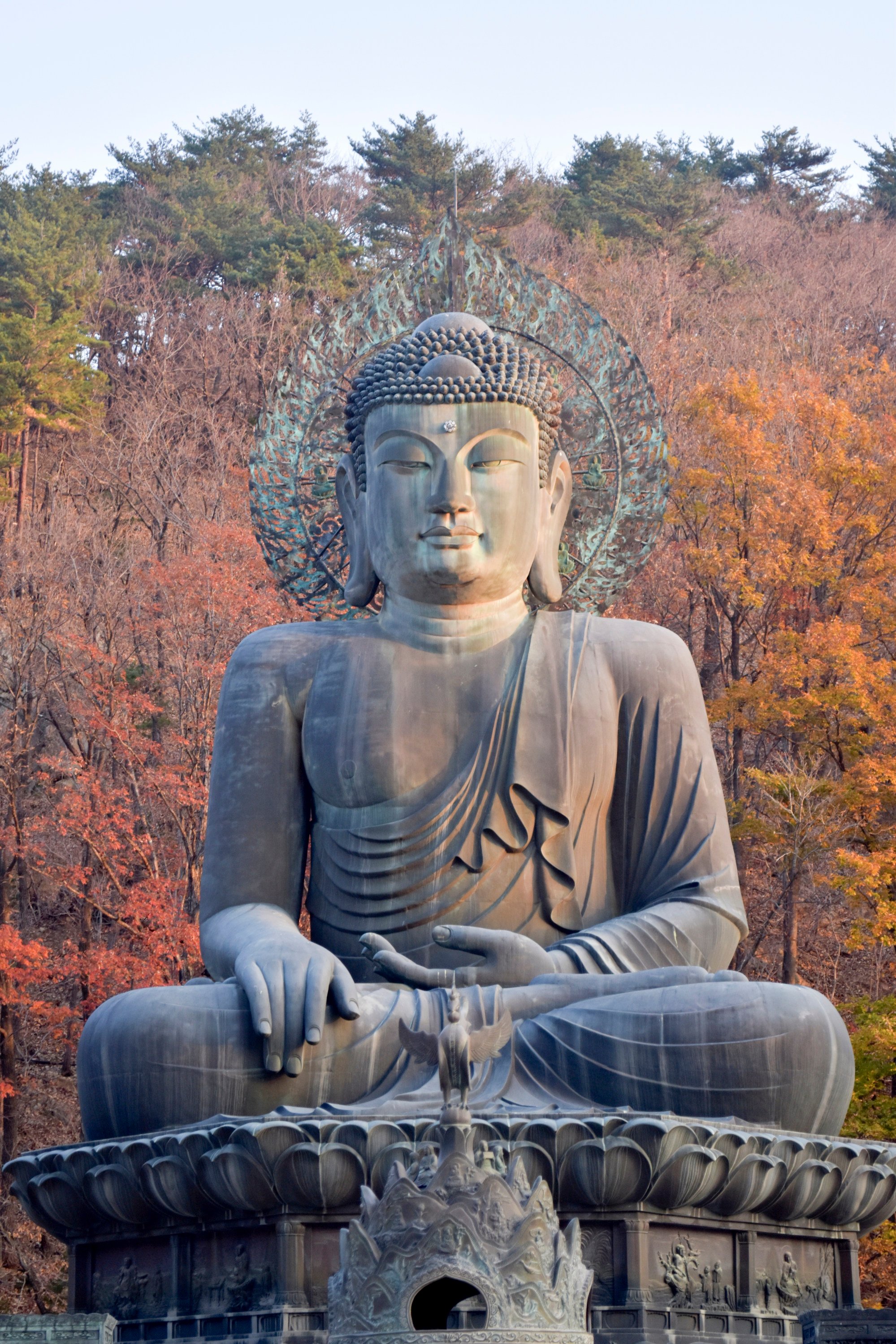 Sinheungsa has reminded me that there are other ways to live, that you can choose to remove yourself from society and its trappings, and walk a different path. But primarily, it has been a lesson in slowing down, taking the time to admire the mountains while also looking after the geographies of the soul.
Perhaps that is the answer that Buddha knew I was looking for.