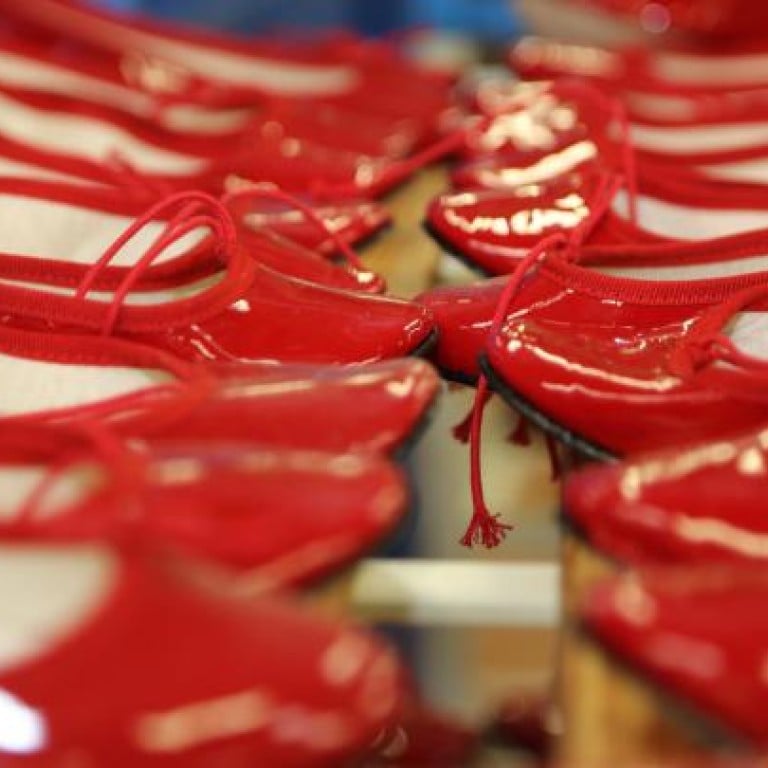 "We have to be different. When you put your foot in a shoe made this way, it feels different," says Jean Marc Gaucher, owner, president and chief executive of Repetto, as he holds up a shiny ballet flat in his factory in the picturesque French town of Perigord.
The ultra-light ballet shoe that Repetto is known for has been taking the world by storm over the past few years under Gaucher's leadership. And to cope with this success, the company will officially inaugurate an extension to the factory next month and bring in an extra 150 employees.
Founded in 1947 by Rose Repetto at the behest of her dancer son, Roland Petit, Repetto has become synonymous with ballet and dance. It made its first street shoe when actress Brigitte Bardot famously requested a pair that would be as comfortable and light as her Repetto dance shoes.
Six decades on, Repetto is experiencing a renaissance with the rainbow-coloured selection of ballet flats (like the iconic BB named after Bardot) and ever-expanding styles that include men's footwear and some clothing. For instance, there's La Garde-Robe de Repetto, an 18-piece ready-to-wear line by Rodier designer Emilie Luc-Duc, which released its first look recently.
More fashion-forward designs and colours have been added, but Gaucher is keen to keep it "authentic". Repetto's world is still one "legitimately linked" to dance.
In the 1950s and '60s, its following included celebrities Bardot and Serge Gainsbourg, who reportedly only ever wore Repetto lace-up men's shoes for years. Now the likes of model Kate Moss, and actresses Sarah Jessica Parker and Reese Witherspoon don the elegant flats. Even Hillary Clinton is a fan.
But the story of Repetto was not always so rosy. The unique construction of this dance-inspired footwear was almost lost, Gaucher says, when he first acquired the company in 1999.
In the late 1980s and 1990s, after Rose Repetto's death, it fell out of favour with the stylish set and was only popular with older people. The company became mired in debt.
Poor sales figures were probably what persuaded the bank holding its debts to sell to him, Gaucher says.
A former Reebok distributor in France, he insisted on retaining Repetto's labour-intensive "stitch and return" process. It is now a source of great pride, with Gaucher opening a Repetto training school dedicated to craftsmanship and leatherwork.
"I almost lost everything at the beginning of Repetto … I only started turning a profit in the fifth year," Gaucher says. "I wrote on paper three lines about what I wanted to do with the brand. On my first day I explained this to the employees and 13 years later it's still the same three lines.
"Worldwide brand, good design - exclusive product and the most technical product of the dance industry.
"The final thing was to place the brand in the luxury industry because we do a very specific quality product that's all manufactured by craftsmen in France.
"I wanted Repetto to come first when dancers thought about the best shoes … I wanted the brand to be walking all over the world with ballet."
Gaucher realised that rebuilding the brand in France would be difficult, so he looked to Japan: "A co-branding collaboration with a place that would help it reposition itself in the high-end luxury industry." First he approached designer Issey Miyake, who was inspired by dance in his own designs. Its success led to other collaborations with Yohji Yamamoto, Commes des Garçons, Karl Lagerfeld and Kate and Laura Mulleavy, the sisters who would make their name with Rodarte.
The French also revised their perception of Repetto as customers abroad acquired an almost cult-like appreciation for the brand. Soon retailers such as Printemps and Colette were queueing up to stock its designs and that was when its fortunes shifted, Gaucher says.
"I don't want to be a fashion brand, because fashion can be dangerous," he says. "I don't know how to design, I don't know what is the hottest colour, and I'm not Mr Lagerfeld. But I know how to run a company, I know how to position a brand and I think we have the best image possible ... dance - it speaks to all women. Repetto is dance."
This is clear from the factory floor, where the Repetto walking shoes are made alongside classic wooden-tipped ballet pointe shoes. Notes of individual dancers' specific measurements are pinned to the pale pink satin stacked on the shelves.
Gaucher is an unusual company boss. Since acquiring the ailing company 13 years ago, he has shown a passion for social and corporate responsibility. Concerned by high youth employment rates across Europe, Gaucher started Repetto's artisan school not only to ensure workers were skilled in the craft of making leather shoes and products, but also to offer locals the prospect of employment. His plan is to bring other brands to the school to expand skills sets and expertise.
There is much talk of the shrinking French luxury manufacturing industry as more brands move East. Gaucher, however, has increased his workforce from 35 at its lowest, to more than 200 workers. And he has stubbornly retained production in the small town of Perigord.
Is this is a patriotic statement?
"It's not about being patriotic," he says. "I'm a father of three kids, and I'm happy that they can go to school and work. But the situation today is difficult for young people, not just in France but all over the world. Socially,
I feel good when I visit the school and see people learning new skills.
"As adults, we have to give something to the young. I tell other brands to travel more, because when you go to places like Asia, people are buying [products] because it's made in France. So why are people trying to make things in China or in Vietnam, just for cost? It's crazy."
Gaucher's formula seems to be working.
In 2010, Repetto had only 13 stores worldwide. Since then, it has expanded rapidly in Asia, with 15 stores opening in Japan, six in South Korea and five in Taiwan. Four have opened in Hong Kong, and more are planned for Singapore, Malaysia, Indonesia and Thailand. The mainland will get its first stand-alone store next year.
The brand is clearly going places, but Gaucher good-humouredly declines to be drawn on its level of profits. "We've had a nice growth rate for a few years now, but it's not that important," he says. "If I don't do those three things I set out to do at the beginning,
I won't be happy."
Politically left-leaning, the businessman proudly tells others that he voted for Francois Hollande over Nicolas Sarkozy. And he is just as animated talking about his latest novel, the growing digital world and French politics as he is about Repetto and its new school.
"Me, I started working when I was 16, it was 1968, revolution time - I was a revoluationaire," he says. "I left school early, so I have only two diplomas. The first one is a certification that I can read and write, and the second one is a diploma for sports when I was 14."
The lack of formal training has given him a varied and lively career, from barman to farm worker in Britain, to factory worker and accountant.
For years Gaucher worked as a news sound technician with stints in conflict zones including Iraq and the Gaza Strip. Later he became the first distributor of Reebok in France, where he worked for 18 years before leaving to take over Repetto. Interestingly another colleague, who left Reebok at the same time, bought Ugg boots. The two have cornered perhaps the most specific niche-inspired mass footwear brands today.
These experiences have helped shape a rather unlikely outlook for a successful entrepreneur, who is also preoccupied with how to help young people. "Adults are not acting properly today. We have to give young people a chance to grow. Now, with finance leading the world, we have put a generation of people behind," he says.
Gaucher takes pains to be socially responsible in growing the company. Its success, he says, has allowed enabled him to pursue other projects that he is passionate about. The Repetto foundation, Dance for Life, helps dance schools around the world. The company has also donated towards aid efforts in crises such as the Japanese tsunami. An early encounter in Lebanon has also greatly coloured his life view.
"About 21 years ago, I was in Beirut at Sabra and Shatila, refugee camps for Palestinians. The Israelis attacked the camp and they destroyed nearly everything, the hospital, everything.
It was total chaos.
"Then there was the same sentence written everywhere and I asked people what it meant. And they said 'Life Keeps Going'."
This brave sentiment touched a nerve with Gaucher, who decided,
"I want to be like this, I thought, to keep looking forward."
This article appeared in the South China Morning Post print edition as: Walkthis way

Repetto's delicate ballet slipper is taking the world by storm. Jing Zhang meets the man behind the global expansion of the French brand