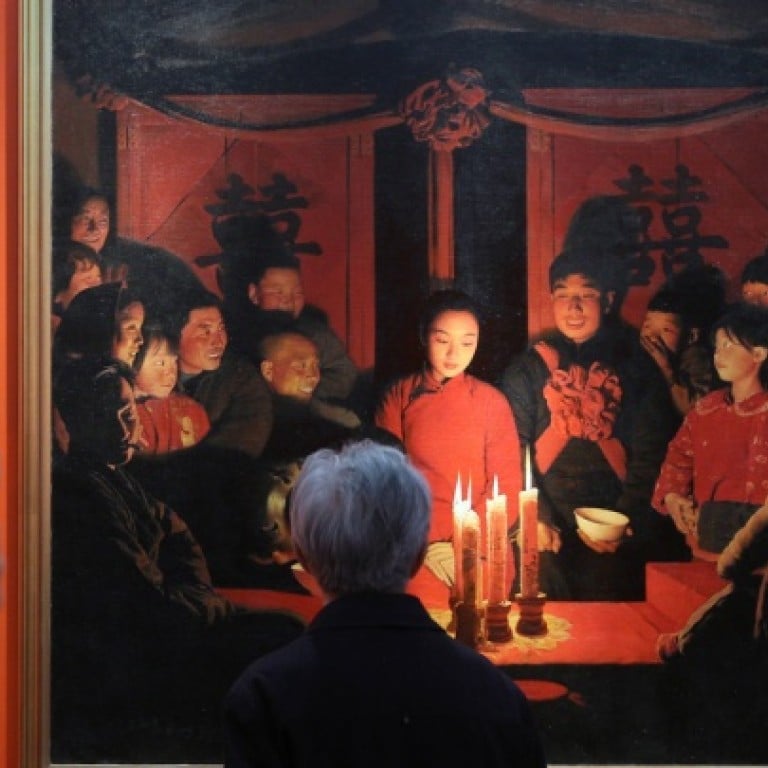 You can learn a lot from a man who's willing to pay HK$74 million for a bowl. Collector and antiques dealer William Chak made headlines last month when he bid that head-turning amount for a porcelain bowl, circa the Qing dynasty, at a Sotheby's auction. "You can never pay too much for something priceless," advises the industry veteran, who knows, perhaps a little too well, that collecting art is not always about money but a chance of a lifetime.
Unlike your limited-edition Bugatti or customised Birkin, a piece of art is one-of-a-kind and by its nature impossible to replicate perfectly – making it a truly exclusive luxury. Art is now considered a symbol of taste and at times an indication of social status, more so in emerging markets in Asia.
"It's like how the Wall Street elites used to shop for Picasso; it's starting in China and Asia at large," says Eric Chang, Christie's Hong Kong's senior vice-president and international director of Asian 20th century & contemporary art. "I've come across big corporation owners [who seek to] impress their international clients by hanging Picassos in the office."
Thanks to the growing population of multibillionaires in Asia, auction houses, art dealers and consultants are flocking to the region to help the wealthy become art connoisseurs and potentially sophisticated collectors who would later be able to curate collections for their private museums. The problem, as with most serious hobbies, is determining how and where to start.
"A perfect collection should be consistent and also diverse," Chang says. "Some collectors build their collections around an artist or a theme, such as portrait or scenery."
Chak, who has been in the trade for more than a decade, builds his antiques collection based on themes such as ceramics or Chinese stationery. "Having a direction is important and it also helps you score the top quality collectables," he explains. "There will always be a market for [high quality pieces]."
Keeping the market in mind is important, because unlike some other luxury assets that can depreciate in value with use, art pieces often appreciate in value over time.
"Art and property are probably the only two things that go up in value even after you've had them for years," Chang says. "Over the past 15 years, some artworks have been sold at 30 times their original value."
Nevertheless, you should always maintain a personal interest in your own collection, and you would be giving away the fun if you delegate the scouting work to someone else.
Gallery owner Edouard Malingue, whose Paris-based family has been dealing in art for 50 years, suggests aspiring collectors first enjoy what they look at. "If you enjoy it so much that you can't be parted from it, then you probably have found the one," he says.
To immerse in the world of art is the essence of collecting, Vinci Chang agrees. The former auction expert now runs her art consulting firm, Beautiful Mind, including a high-end art storage facility in North Point. "If you don't know which artist or which piece you should collect, just go out and see more," she advises.
With a good idea of what you want in mind, an auction house is a good place to start for the novice collector. "You might think buying art through auctions is not for first timers; it's rather the opposite," Christie's Chang says. "Auction experts curate a selection that has resale value. So even if you don't have an in-depth knowledge of a certain piece, you won't be too far off."
Chak, for example, is still a regular at auctions, even though he's able to acquire pieces from different sources.
"Having too many choices can be overwhelming.
Before I go to the auction, I always shortlist about five pieces and prioritise so I know my targets and expectations," he says.
Another option is to go straight to the artists, dealers, galleries and art fairs.
Art Basel Hong Kong, for example, has been the city's biggest annual art event since 2007. The 2013 edition opens on May 23 and will bring together more than 250 galleries representing 35 countries, which are in town to showcase their artists.
The impressive line-up includes famous galleries, such as Galerie Gmurzynska, Gagosian Gallery and Galerie Perrotin. Galleries also brush up their exhibition line-ups outside of the fair venue at the Convention and Exhibition Centre in the wake of the four-day fair, such as the one-night exhibition of Keith Haring works in Central Plaza, and up-and-coming French artist Fabien Merelle's large-scale installation titled Pentateuque at Statue Square Gardens. "It's a great opportunity to see a huge number of galleries and lots of art in a short period of time," says Magnus Renfrew, the Asia director for Art Basel.
Unlike auction houses, which focus on the secondary market – which deals with the resale of pieces, galleries are heavy on the primary market and predominantly represent emerging artists. In these cases, experts advise caution and patience.
"Even if you like [their work] now, wait for at least three years and see how the artist matures," Beautiful Mind's Chang says. She's not all talk either. She herself waited three years before buying a small sculpture created by Fumio Yamazaki, an emerging Japanese artist she discovered a few years ago in Osaka.
Once you start building your collection, experts at galleries and auction houses can provide services catered to your specific likings.
Through private sales, auction houses can offer a more tailor-made service, which has proven popular among collectors. Riding on their vast connections and databases, auction firms are able to match an artwork with a potential client and track down specific pieces for interested buyers, a process done with the utmost discretion.
"[Art] is at the top tier of luxury goods. We are dedicated to finding the product for you, which is not simply a watch, a pair of shoes but a Picasso," says Giovanna Bertazzoni, head of impressionist and modern art at Christie's London.
This process is well worth the effort, as it is extremely lucrative for the auction house. It is also beneficial to the collector because even though in most cases the client ends up paying about 25 per cent more than the estimated price at an auction, they can avoid the auction process where the sky is the limit, and an equally enthusiastic collector would push the final bid much higher. The service is exclusive and reserved for highprofile collectors. From May 23 to 26, Christie's Hong Kong will stage its first private sales exhibition of impressionist and modern arts, headlined by iconic Picasso works.
Without following an auction calendar, the duration of a private sale transaction can take a few days to half a year. Depending on the artist or the type of art you're looking for, there's a chance that an art gallery would be able to offer a more efficient transaction.
"We have very busy exhibition schedules, so a client knows that we came across certain artists and would ask us for certain pieces. If it's on the market, then we can help fetch a deal," Malingue says. "The process is usually faster than going through auction houses."
Prospects are high for the art market in Asia and industry know-hows see a much more sophisticated herd of collectors in this part of the world.
"They are becoming increasingly demanding and selective," Renfrew says. "Five years ago, people would go buy a piece from a big name artist but now they look for a piece from a particular date or of a subject from that artist."
Bertazzoni agrees that it's not all in the name anymore. "Asian clients are cultivated. They are not buying it as if they buy a Ferrari just to show off. They buy art for its beauty, culture and refinement."
Vinci Chang, who has been an auction expert for 15 years, sees a gap in Hong Kong that needs to be filled, and fast.
"There are so many things happening in the art world, yet it's extremely difficult to find satisfactory restoration and storage facilities ," she says.
In January, Chang set up Beautiful Mind, which offers topnotch services for fine arts restoration and storage, alongside her art consulting services. The facility in North Point spans about 10,000 sq ft, including 28 art storage units and an art restoration studio equipped with state-of-the-art tools.
Chang hired two professional, in-house restorers who boast top qualifications. Chen Pui-yu, who specialises in oil paintings conservation, trained at Versailles' École des Beaux-Arts and has worked extensively with international auction houses.
Fan Ting-fu, specialising in the conservation of Asian paintings on silk and paper, honed his skills at the National Palace Museum in Taiwan and the British Museum.
Before Beautiful Mind, such restoration services were exclusive to museums. To provide the ideal environment for fine arts restoration, Chang had the whole space, previously a newsroom, renovated to the highest standards. The temperature and humidity are carefully monitored.
The price for restoration work varies. Fixing minor damage, such as a statue with its base detached, costs about HK$8,000.
The highly secure storage units can only be accessed by fingerprint identification. The price of the storage units ranges from HK$108,000 to HK$240,000 per year.
Hailed as a maestro who revolutionised Chinese painting with abstract modern Western aesthetics, the late French-Chinese artist Zao Wou-ki's artworks have been topping the wish-list of seasoned collectors across the globe.
"In the 70 years [of his career], Zao has produced less than 1,500 oil paintings. His works are rare, considering that well-known contemporary Chinese painters produce many more paintings than that in 20 years," says veteran art dealer Philippe Koutouzis, who exhibited Zao's watercolours at gallery FEAST Projects last year.
The artist's recent death – last month at his Switzerland residence at the age of 93 – made his artworks even more coveted.
"The death of every important painter triggers a process of assessment carried out by the market and scholars at the same time," Koutouzis says.
"This process should point out which works are the most significant in the development of his expression."
Zao's limited creative output fuelled interest among collectors, especially those in Taiwan and on the mainland. In 2011, record sales of his works made Zao a top-selling, living Chinese artist at auctions. In the week of his death, a rare diptych of his titled 10.03.83 fetched HK$37 million at a Sotheby's sale in Hong Kong, where he holds a record of nearly HK$70 million for a single piece.
Born in an affluent banker family in Beijing in 1920, Zao was one of the second generation Chinese artists who apprenticed with Lin Fengmian – founder of Hangzhou Academy – and one of the pioneers of Chinese painters who later relocated to France. Zao's artworks have been painstakingly documented by Francoise Marquet, his wife of 40 years.
"Zao's death marks the end of a period, but also the beginning of another one," Koutouzis says. "He was an actor during a long period of modern history, now he belongs to history and will certainly be the first artist of Chinese origin to join the likes of Picasso, Pollock and Rothko in the pantheon of modern art."

Whether through a gallery or an auction, the hobby is gaining momentum in Asia, writes Vivian Chen