Designer Bradford Shellhammer's colourful ranch home is a bold collection of memories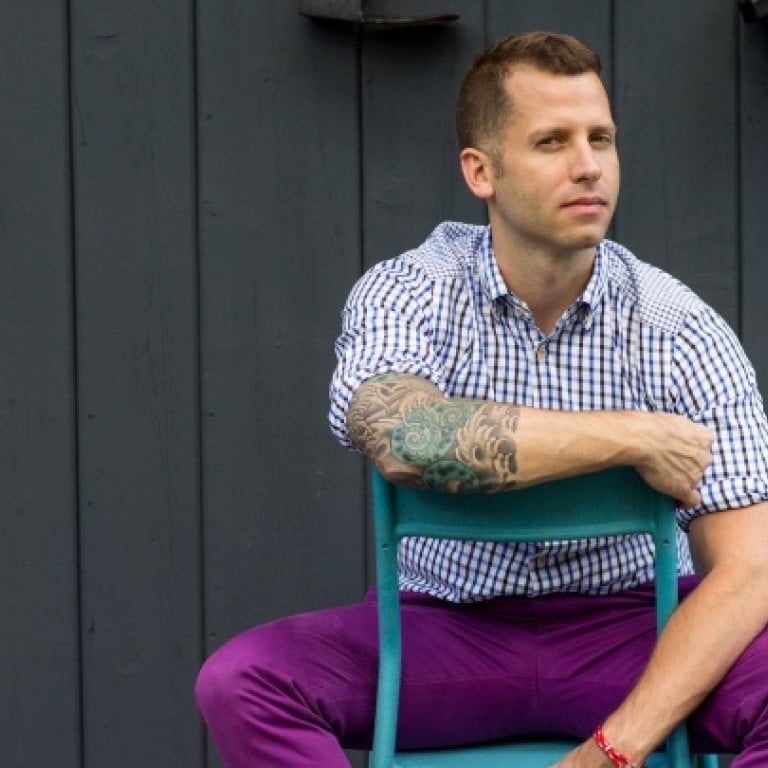 If you have in your possession a pair of plum-coloured trousers, multicoloured striped socks and aquamarine trainers, and started a company named Fab, it stands to reason that your home would be a touch on the colourful side - Bradford Shellhammer doesn't disappoint.
"I am loud and colourful and opinionated," Shellhammer declares. The founder and chief design officer of online design store Fab is all about living it large: he loves meeting new people, he loves travelling the world and most of all, he loves collecting. "Our home shows off many collections: art, toys, furniture, planes … We've also collected many memories here," he adds fondly.
This two-storey ranch in Orange County, New York, serves as a weekend home to Shellhammer and his partner, Georgi Balinov, and the design aesthetic is certainly a reflection of Fab's mission statement. "The vision [for the company] was to make shopping fun and to remove the elitism that's oftentimes confused with design. Design is for everyone," Shellhammer explains. Balinov let him run with the decoration and design, and he decided to make it a shrine to Fab, sourcing more than half of the home's contents from the online store.
It's hardly subtle - taxidermy, foosball table and dizzying graphic rugs aside - as the home is also a riot of head-turning hues, and that's exactly the way Shellhammer wants it. "It's a happy house filled with colour and decorated with love. We wanted as many materials and colours as we could pack into the house," he explains. "It's meant to make people smile and to remind our guests to never grow up."
The home's furniture, in loud, vibrant shades and bold shapes, certainly evokes the surreal quality of Neverland, but a closer look reveals that the furniture choices and design composition are no child's play. The living area, for example, looks like a treasure trove of iconic designer pieces, all of which seem to complement - rather than clash with or outshine - one another. Two bright yellow Eames compact sofas by Herman Miller manage to coexist in perfect harmony with cherry red Vitra Panton heart chairs, not to mention the Josef Albers nesting tables in orange, blue, green and yellow.
Shellhammer explains that the design process is instinctive. "I feel when I decorate, I simply fill the place with things that we love, then make sense of these things by placing them throughout the house, often thematically by colour," he says.
It's a method that works. A black and white, zigzag-patterned rug provides the perfect graphic backdrop to two yellow vintage Eames aluminium lounge chairs. The red Emeco Coca-Cola chairs offer a splash of colour to the wood, colour and stone in the dining area; outside, the popping hues of the Quinze & Milan jellyfish chairs and ottomans look right at home against the vivid blue and green of the swimming pool and surrounding trees.
With something to look at in every colour-drenched nook and cranny, it comes as a shock when Shellhammer says that the design process took only a week and a half. "[We wanted to] finish in time for the summer pool season," he admits. "We renovated and decorated the house in 10 days, which includes adding two bathrooms and replacing the floors and roof. Not a simple task, but we did it!"
The couple wanted the perfect weekend abode, large enough to host up to 10 people, with the clean lines and modern features of a mid-century American home. "We wanted the ultimate getaway house, where we can swim, cook, play games, watch movies and get to know our friends better," Shellhammer says. "We needed a big kitchen and pool."
The couple continued to update the house with modern luxuries, installing new decking, grills, bathrooms, appliances, heat, air conditioning and dishwashers - "Weekend houses should always have two of these for parties," he quips.
Nevertheless, even with all the elements he wanted to add, the Fab founder didn't want to change too much. "Many pieces you see are original to the house: the bar stools, dining room table, dressers and West German record player … we wanted it to feel very 1960s, so we kept the original panelling, rosewood kitchen and fireplace," he says. "We intentionally kept the spirit of the house intact."
It's no surprise - the ranch's own charm and good structural bones were what attracted the couple to it in the first place. The living area in particular, Shellhammer's favourite space in the home, made a lasting impression. "[It was] a gorgeous A-frame main room with a wall of glass … with a view to die for," he remembers. "We instantly knew it had to be ours." The couple certainly made the ranch their own, and with all that the home has to offer, the two are never bored. "No day is typical," Shellhammer says with more than a little pride. But, he adds, one thing remains the same: "Relaxation, good food and great wine … and wonderful friends!"

This two-storey ranch in Orange County, New York, serves as a weekend home to Shellhammer and his partner, Georgi Balinov