China proudly presents...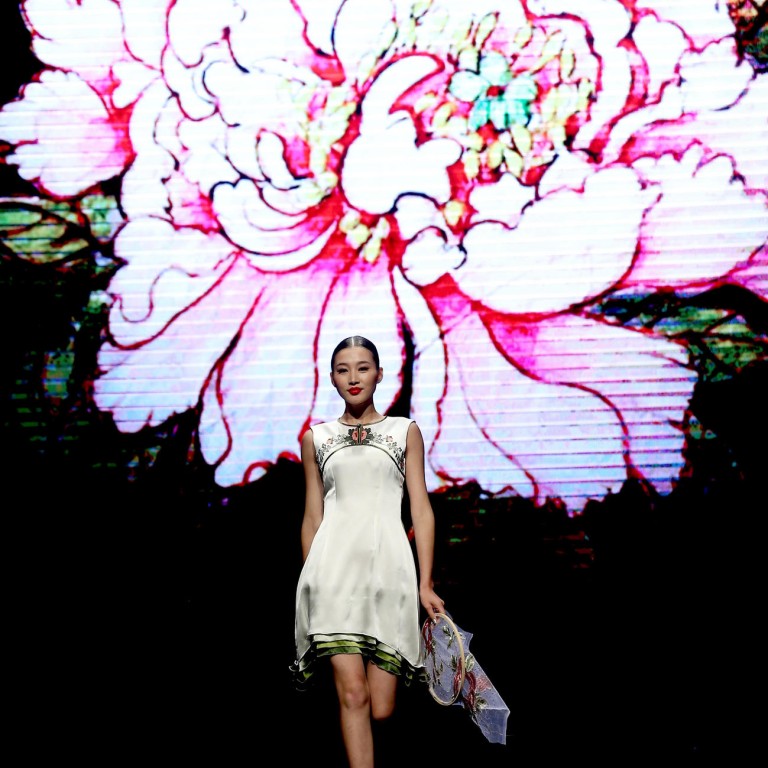 The blossoming of the love affair between East and West is being led by a young generation of Chinese designers who are not only bringing us the promise of something new, but are also making it their mission to redefine what "Made in China" means. Masha Ma, Qiu Hao and Zhang Huishan are proud of their Chinese roots.
Fashion developed late in China, as Masha Ma points out, "but developed with an unexpected speed". She says: "Now the fashion industry in China is offering valuable opportunities to local designers to express themselves."
All three designers trained at Central Saint Martins in London, the alma mater of Alexander McQueen and Stella McCartney. Ma graduated in 2008 and then worked for McQueen before launching her own label, which has bases in Paris and Shanghai.
Qiu sells his collection in Shanghai at One by One, which he founded and co-owns with his partner Qiao Qiao; the boutique also stocks Ma by Ma's Studio, her diffusion line.
Qiu had already established his own ready-to-wear line Neither Nor in China before going to London in 2004 to do an MA at Central Saint Martins. Two years later, he returned to Shanghai.
"I had started my business and wasn't planning to stay in London. I just wanted to upgrade my designs," he explains. "Sometimes I think it's unfair that most Chinese designers don't understand the rules of the Western fashion industry, and that's why Western customers think Chinese design is not fashionable." Qiu, however, was determined to learn the Western business system and build contacts before returning home to re-establish his own label.
Zhang, meanwhile, graduated in 2010, and a year of working in the haute couture ateliers of Christian Dior in Paris led to the launch of his own beautifully handcrafted demi-couture collection in 2011. His first collections were snapped up by Browns boutique in London and Joyce in Hong Kong, and are now available in the United States, the Middle East, Russia and China.
Unlike Ma and Qiu, Zhang chose to remain in London, but he produces his collection in his home city of Qingdao. His autumn collection is full of eyelet embroidery in wool (a bit of a signature), lace appliqué and crystals.
"When I started, people didn't make luxury products like that in China," he says.
Buyers initially reacted with scepticism about the quality of the collection, which Zhang says was a bit controversial at the time. "They thought the garments looked good and the quality was excellent, but they suggested that I produce them somewhere else. But I insisted on keeping my production base in China."
Chinese factories have played a key part in the supply chain of the fast-growing fashion industry. "'Made in China' is not synonymous with low quality," Qiu says.
"For example, the workshop that produces our collections also makes collections for labels such as Celine and Nina Ricci. Many buyers would be amazed by the exquisite techniques of Chinese machinists. Right now, I don't think 'Made in China' is any worse than 'Made in Italy' or anywhere else."
Chinese manufacturing, however, is geared towards mass production. Finding facilities that do small, high-quality production runs has not been easy for young emerging designers, but the situation is slowly improving. Ma's first collection in 2008 aimed to shake up ideas about "Made in China", but she admits, "it's not something that can be achieved by one person. The whole industry has to root for this".
Although there is still a long way to go, Ma says: "People are giving me positive feedback on the improvements that they are seeing each season. I hope I can [make a difference] with my hard work."
Qiu's focus for now is his Chinese stockists - expansion into Europe and America will come later, although one-off presentations in Paris, Sydney and Stockholm have piqued international interest in his dramatic sculptural style. Ma, meanwhile, has ambitions of building a global brand.
Ma and Zhang have Paris showrooms during Paris Fashion Week, but they have completely different selling strategies. Ma has a blossoming business in her homeland for her feminine, cutting-edge designs, but wants a global presence. She currently sells to Milan and the website
thecorner.com
. She wants to build a brand image and believes that Paris is the right place to do that.
Zhang, who is shortlisted for this year's prestigious Dorchester Prize, which will provide funding and mentoring for his label if he wins, is stocked around the globe, but only has a small presence in China through Joyce. He wants to establish his reputation in the West, but his ambition is China. "Ultimately, China is where I want to make it big," he says.
QIU HAO
Qiu's bold, innovative collections would blend well with the work of Rick Owens and conceptual Japanese and Belgian designers. The way he uses fabric to wrap the body like a kimono and his monochromatic palette has an Eastern rather than a specifically Chinese flavour. Nevertheless, he feels strongly about the roots of his design.
"I think it's unnecessary to talk about Eastern and Western design aesthetics due to the fact that the lifestyle of the modern Chinese has been greatly influenced by Western culture," Qiu says. He does not feel any need to parade his nationality to pander to Western consumers.
ZHANG HUISHAN
The fashion world has a tendency to pigeonhole designers from different cultures, always looking for differences in their aesthetics which offer individuality to their designs. Zhang has built his reputation on blending Eastern details with Western wearability. His Western silhouettes have appeal in Asia, and the Eastern intricacy of his clothes attracts Western customers, although he says his Chinese aesthetics always go down well in Asia.
"My brand is about Chinese heritage meeting Western influence, that's how I define myself," he says. "I am a Chinese designer established in London, and my nationality definitely gives me an edge in the international fashion market."
MASHA MA
Ma's Chinese heritage is barely perceptible in her work. "I care more about 'where it will be' rather than 'where it comes from'," she says. Her cuts and styling are feminine and Westernised. Her summer collection was architectural – she used white graphically – and her latest designs are soft and rounded, wrapping the body and based on a wintery theme with decorative appliquéd snowflakes in Swarovski crystals.
"I grew up in China and learned fashion at Central Saint Martins, so you will find Western aesthetics along with Chinese culture and philosophy in my design," she says.
This article appeared in the South China Morning Post print edition as: China proudly presents...

A young generation of designers are proving that the mainland can lead global trends, writes Francesca Fearon