Roles of fame: Gong Li returns for new movie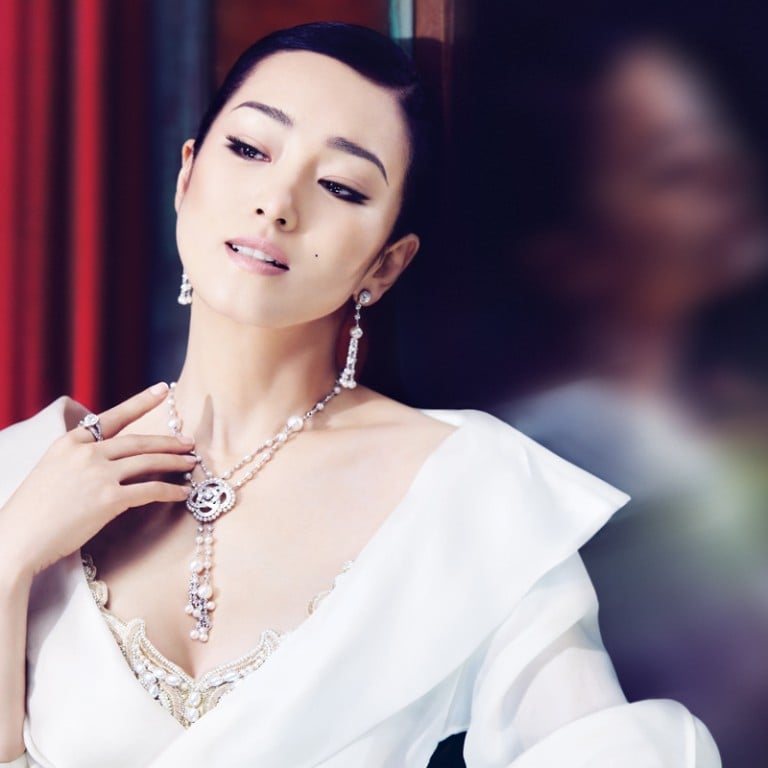 Like the many rooms she has entered, Gong Li owns this one the moment she walks into the suite at The Peninsula Hong Kong. Arriving for our interview, the beauty flaunts her femme-fatale physique in a sleek ensemble of monochrome pant suit, leaving us smitten with her megawatt beam.
More than 25 years in the film industry have transformed the once innocent daughter of academics into a sophisticated incarnation of a celluloid dream. The beginning of that dream can be traced back to 1987, when she was in Beijing's prestigious Central Academy of Drama and was cast by fellow alumnus Zhang Yimou in his directorial debut, Red Sorghum.
Her raw beauty and effortless acting wowed audiences at home and abroad.
The film garnered critical acclaim and won the coveted Golden Bear Award in Berlin. However, it only earned Gong a pay cheque of 200 yuan (HK$255).
The actress laughs when this is mentioned, explaining: "[Zhang and I] were both young and the only thing we knew and the only thing we did was make movies."
The film also started a prolific chapter for the long-time collaboration between Gong and Zhang.
Years following Red Sorghum's success, the two became intimate partners in business and in private life.
The golden couple's obvious chemistry shone through in prominent films such as Ju Dou (1990), Raise the Red Lantern (1991) and The Story of Qiu Ju (1992). These films invariably starred Gong as a tough, rebellious heroine.
Such celebrated and award-winning works contributed to the rise of the so-called fifth generation of Chinese filmmakers in light of the post- Cultural Revolution era. They also made Gong the most recognisable face of the renaissance of Chinese cinema.
However, Zhang and Gong's romantic relationship was doomed, in similar fashion to the tragic endings of on-screen lovers in the many films they had made. The pair ended their filmmaking collaboration after Shanghai Triad in 1995. This opened a world of opportunities for Gong. Famous filmmakers, such as Chen Kaige, Wong Kar-wai and Sun Zhou, put her in a diverse spectrum of characters, from the Cannes Palme d'Or-winning Farewell My Concubine to Breaking the Silence.
"My goal is to live the different lives of my characters – their highs and the lows," she says. "My dream is to leave behind memorable characters for the audience."
Gong's exceptional works earned her a seat on the judging panel of international film festivals in Berlin, Venice and Tokyo, and invitations from Hollywood filmmakers.
Offers kept flooding her way, but Gong didn't rush to commit.
"I choose my characters carefully," Gong says.
"When I play a character that can tap into my potential and fully unleash what I have to offer, I can't get enough of it. But if I get an average character, I just can't wait for filming to end."
The actress adds that, nowadays, she rarely takes on a role she thinks she will not love. She even turned down an offer to play a Bond girl in one of the James Bond installments.
"Even though [a Bond girl] is a supporting role, she still needs to have character," Gong says. "I don't want to play just another pretty woman waiting to be rescued."
She joined more serious Hollywood forays, such as Memoirs of a Geisha (2005) and Miami Vice (2006), because of the trust she had already built with the filmmakers.
Rob Marshall, who cast her as Hatsumomo, a talented yet tragic geisha, in Memoirs of a Geisha, had been in touch with Gong years before the production, while Michael Mann of Miami Vice had hoped to cast Gong in his 1995 crime thriller Heat.
"If I don't believe in the filmmaker, I won't commit," Gong says. "I have a lot of trust in Rob. He's a great filmmaker and he appreciates my acting. We have mutual respect for each other."
While many Chinese actresses fight for the chance for fleeting appearances in Hollywood productions, Gong sees it differently.
"I don't want to play an irrelevant role in a Hollywood production just for the sake of it," she says.
In the same year as Miami Vice's global release, Gong reunited with Zhang in Curse of the Golden Flower, an epic drama set in the imperial court of ancient China. The film is a reinterpretation of Cao Yu's famous play Thunderstorm.
Unlike their earlier collaborations, the film, starring Chinese heavyweights such as Chow Yun-fat and singer-filmmaker Jay Chou, was a lavish production boasting a whopping budget of nearly HK$350 million. Gong's impressive portrayal of Empress Phoenix won her a great deal of recognition including the Hong Kong Film Award for Best Actress.
Gong's professionalism impressed the film's award-winning costume designer Yee Chung-man, who dressed her in revealing Tang dynastyinspired gowns.
"She was co-operative and down to earth," the artistic director recalls, revealing that: "You don't see a lot of actresses like her. Her beauty is timeless and international."
Seven years on, Gong is working with Zhang again, not in another commercial blockbuster, but portraying a complex character that the veteran actress finds a challenging role.
Gong plays a compassionate wife separated from her husband during the Culture Revolution and suffering from amnesia before their reunion in Zhang's upcoming drama. Aptly named The Return, there is much interest in the film as Zhang is viewed to be revisiting his earlier works and going back to telling stories about the lives of ordinary people.
The challenge, Gong says, is exactly why she decided to take the part.
"It's one of those characters that the audience will either love or hate – there's no grey area," she says. "The character suffers [from] amnesia but she's not crazy. The acting needs to be delicate and genuine. For me, it is challenging and rewarding."
Artistic director and long-time friend Yee remembers an anecdote on the set of Curse of the Golden Flower that also says so much about Gong's approach to acting.
"It was a monologue scene, and she would cry just one drop of tear, no more and no less. She did that in all four takes," Yee says.
Gong's genius and appetite for hard work made her one of China cinema's most famous exports. She has won nearly all the coveted awards at international film festivals, what else does she expect to gain from The Return?
"Rather than winning awards, it's more important that the film is recognised on an international level," she says. "Films are not produced just to make money – they are a limitless form of art."
Back on set with Zhang, Gong says their chemistry hasn't diminished.
"The passion we had is still there," she says.
"What has changed is now that I'm in full control of my performance, I look at the bigger picture for better storytelling. Zhang is a devoted filmmaker."
Many say her relationship with Zhang goes way beyond friendship or romance. "They are like family," Yee says.
Rumours, however, persist. Now she's back on the paparazzi radar, Gong's personal life has become a hot topic. Speculation about her suspected divorce from Singaporean tycoon Ooi Hoe Seong began three years ago.
Gong shrugs and looks as if she couldn't care less about the side effects of her stardom.
"Rumours have become a part of my life. Nothing can really hurt me. I don't have anything to hide," she says.
"I'm not going to change to make people like me because I'm not an entertainer. I'm an actress. It's my profession and it's my pride."
MILESTONES
1985
Admitted to Central Academy of Drama in Beijing
1987
Made film debut in Zhang Yimou's Golden Bear Award-winning Red Sorghum
1990
She played a teenage girl sold as a wife to an elderly man in the controversial Ju Dou. The film, initially banned in China, became the first mainland film nominated for the Academy Awards
1992
Won Best Actress award at Venice Film Festival for her performance in The Story of Qiu Ju
1996
Married Singaporean tycoon Ooi Hoe Seong
2000
Became jury president at Berlin International Film Festival
2005
Made her Hollywood breakthrough with Memoirs of a Geisha
2006
Reunited with Zhang Yimou in Curse of the Golden Flower
2013
Filming Zhang's The Return, co-starring with Chen Daoming and Liu Peiqi

A true professional, Gong Li is back in the limelight as she collaborates with long-time friend and former partner Zhang Yimou on a new film, writes Vivian Chen