Chill out: glacial kayaking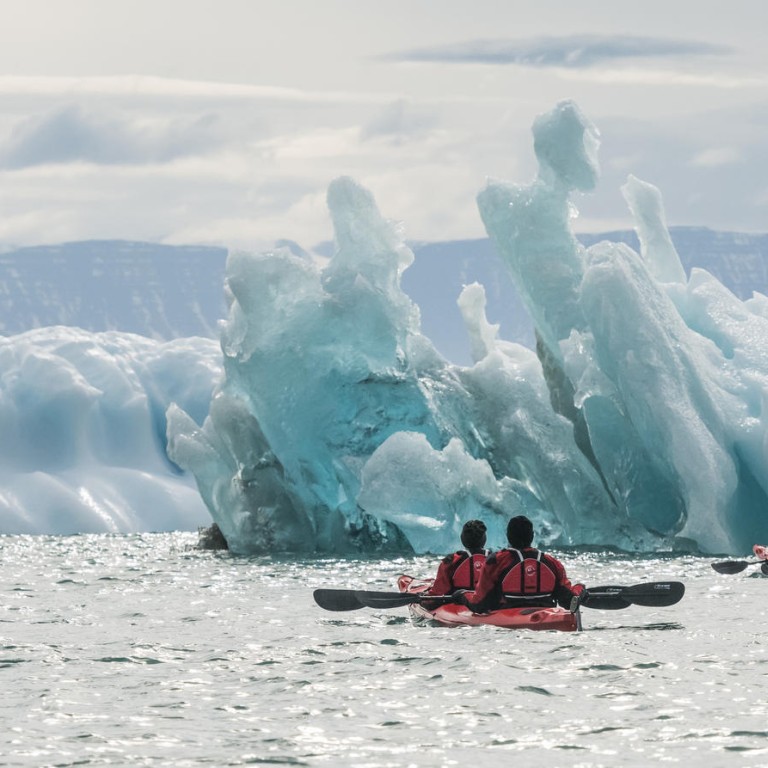 Pulling the blinds open at the Lago Grey Hotel in Patagonia was the only wake-up call I needed - no coffee necessary. It was one of the few times where my breath was truly taken away. The sight was surreal and far prettier than a picture: Grey Lake, snowcapped trees and icebergs, with Grey Glacier as a bold backdrop luring us out of bed and on to the boat.
According to Shelli Ogilvy, a head kayaking guide for Quark Expeditions, arctic adventures have become increasingly popular in recent years. Ogilvy says when booking such trips for their clients - the globally savvy, active-adventure set - they are fulfilling requests for exciting and unique escapades. This has made glacial or ice kayaking the excursion of choice.
And that's why our group of intrepid travellers was in Patagonia. Snapping pretty pictures aside, we were there to experience extreme arctic thrills. On the day's docket was glacial kayaking.
We were able to board our motorboat, the Grey II, only a few minutes from our hotel. The boat could accommodate as many as 50, but fortunately there were fewer than 10 on board that morning. Cruising out, we felt like we had Chile's iconic Torres del Paine National Park all to ourselves.
It was autumn to me, but spring in Patagonia. It was early in the season and early in our day, so the silence and the arctic ambience were tremendous. As cold as it was, I couldn't help but stand on the outside deck for the better part of the journey.
My face was as frozen as I was, transfixed by the glacial beauty before me. It was a frigid flipbook of otherworldly images as we soared by: crystal blue water, walls of ice, whitewashed mountains, large balls of snow and icebergs.
Our normally chatty group remained relatively quiet on the ride out, as there was nothing anyone could possibly say that could trump what we were seeing.
Ninety minutes later, we arrived at Big Foot Adventure Patagonia's base camp by Grey Glacier, which is part of the Southern Ice Fields, the third-largest freshwater reserve in the world. The goal of the day was to get as up close and personal with the glacier as possible.
We had been set to go ice climbing in the park, but due to winds they rescheduled us for ice kayaking instead. I was initially disappointed, as I had kayaked all over the world but had yet to try ice climbing.
After we were suited up, briefed and given a quick lesson, we were off. Our confident guide, Alexis Romo, radiated early-season exuberance as he led us through the icy water. We all had kayaked before but quickly realised this was far from your average paddle. We were instructed by Romo to use our oars to literally chop through the ice in order to move.
The chill quickly wore off as we worked our way through the frozen water. I forgot that we were even headed to the glacier, instead becoming distracted by the apartment-sized walls of ice and snow surrounding us, which were grand and majestic enough. They were artfully displayed like curated, site-specific arctic artworks. Holes in large snow walls and evocative icy entrances begged us to paddle through and explore more.
As utterly enticing as they were, Romo reminded us to keep a safe distance from the icebergs. According to Big Foot's Marena Garcia Oro, icebergs and glaciers have become far less stable today due to global warming. But that didn't keep us from free-form climbing the side of Grey Glacier once we arrived.
We were shocked when Romo showed us how much of it had melted in recent years. Later, as we paddled away, we got the full scope of the gorgeous glacier from our kayaks, which Romo claimed to be the best perspective.
Proximity to frozen scenery aside, kayaking is almost always available, sometimes twice daily, on cruises offered by Quark Expeditions in Iceland, Greenland and Antarctica. But hiking, snowshoeing and skiing are often limited due to a shorter season.
With ice kayaking, the adventures can be endless, as no two days or tours are ever alike. Garcia Oro says due to the constant change in the glaciers, there are no set trails when kayaking - all you can expect is the unexpected. And icebergs and fjords aside, on an Antarctic cruise you may end up paddling alongside penguins, seals or whales.
Kayaking with whales is common in Greenland. The sport is a local invention that was used for centuries as a means of survival - Greenlanders would sneak up on whale pods for hunting.
Now, the hunt is on for great adventure in Greenland, where you might come upon icy crevasses, discover lakes hidden in the tundra or hear the thundering sound of massive columns of ice breaking away from a glacier.
As this was Big Foot's first paddle of the season in Patagonia's Torres del Paine, we chopped through the ice for a good portion of our way back to base. In between chops, I took a few moments to simply bob in the water and soak up the sense of serenity surrounding me, along with the stunning sights, the silence punctuated by paddles cracking through ice, and the cool arctic breeze in my face.
Before giving up our kayaks and getting back on the boat to head back to the hotel, we took a break on top of an icy mountain. There, Romo and the Big Foot crew poured Johnnie Walker Red over fresh glacial balls of ice and served Chilean cheeses and meats. As I gazed at the frozen expanse below, I sipped my chilled whisky and thought: "If I wasn't me, I would definitely be jealous of me."
This article appeared in the South China Morning Post print edition as: Chill out

Stunning glacial beauty and arctic adventures draw jet-setters to ice kayaking, writes Karen Loftus