Wine-lovers can take it a step further by creating their own wines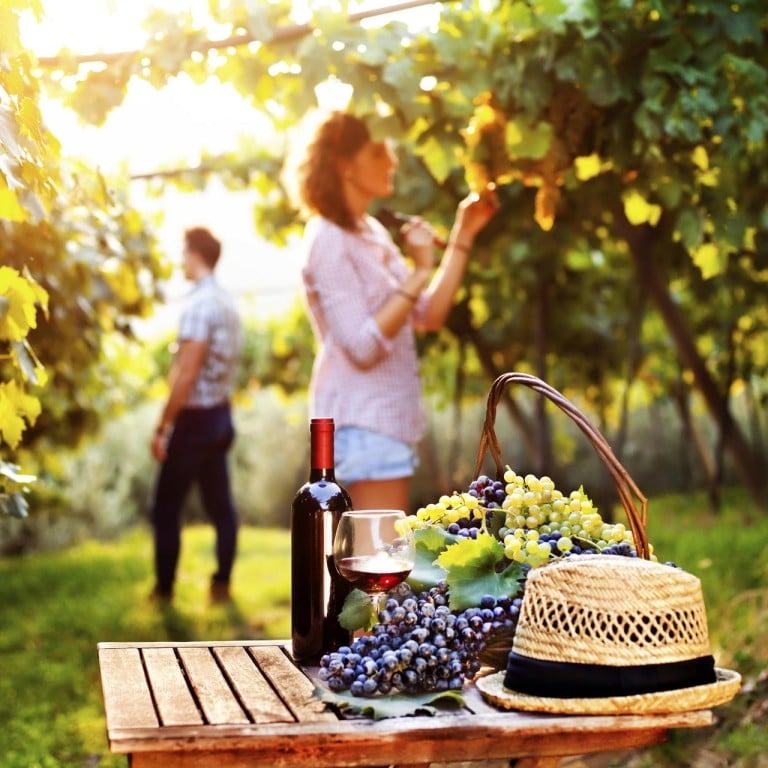 You have decanted the 2011 Shiraz Grenache and let it breathe. Taking in the aroma - subtle tannins with a hint of oak and spicy plum characteristics - you swirl the medium red in its appropriate Riedel wine glass before tasting this gold medal vintage. However, it does not quite live up to expectations. There is a reason, and it has nothing to do with an unsophisticated palate. It has to do with the moon, gravity and the actual day you taste the wine - the biodynamic wine.
For wine aficionados who want to take their passion to the next level, there are a number of ways to have a special tasting experience which can offer a new dimension of wine appreciation. Biodynamic, for example, is not a new gimmick created by enterprising winemakers, but rather one of the oldest forms of organic agriculture stemming from Europe. It includes following a specific timeline when fertilising soil, planting and growing seedlings.
According to Christina Keung Mee-yee, CEO of Tina Cellar, who has been importing biodynamic wines to Hong Kong since 2008, a calendar needs to be adhered to when drinking the wine for it to taste its best. "We have to follow the moonphase. You have to drink it according to the biodynamic calendar."
There are four days in the biodynamic calendar - a fruit, flower, root and leaf day. "If you drink the wine on a fruit day, it is really scrumptious and fruity. Then if you drink it on the flower day, it's the floral notes are more obvious, and if you drink it on a root day, you taste a lot of mineral - from the same bottle of wine. On a leaf day, you smell a lot of herbaceous, green notes," Keung says.
Apart from following an agricultural lunar timeline when growing the grapes, biodynamic winemakers prescribe to nine different preparations for fertilising the soil. This includes filling a cow horn with manure and crushed powdered quartz - which can be done separately - and burying it in the ground in the autumn, where it is left to decompose during the winter and recovered the following spring. Other soil preparations include adding yarrow, chamomile blossoms, stinging nettles, dandelion and horsetail. Many Old World vineyards have incorporated biodynamic agriculture for centuries, but in recent years New World winemakers in countries such as Australia and the US are also adopting these natural methods and getting certified. This is a trend that will not be going away anytime soon, according to Keung, who says that more fine-dining restaurants and hotels are adding biodynamic wines to their menus.
Gabriel Leung, executive assistant manager, food and beverage, at The Royal Pacific Hotel and Towers, says such wines are promoted with pairing menus in the hotel's restaurants. "We have some regular guests who ask for biodynamic wines and Champagnes," Leung says, pointing out that customers say they don't have hangovers after drinking them.
Keung says: "This is because there are no chemicals in the wine."
Meanwhile, oenophiles who want to take it a step further and possess a truly unique vintage can now produce their own wines without leaving their day jobs. Britain's Berry Bros & Rudd has partnered with Bordeaux-based winery VINIV to provide this opportunity with old-vine vineyards on Bordeaux's left and right banks such as Margaux, Pauillac, Saint-Émilion, Saint Estèphe, Canon Fronsac and Graves, among others.
Wine lovers with money to spare can produce their own wines to suit their palates each year. The minimum quantity is one barrel, or 288 bottles. The process takes six to 24 months, and members can participate in winemaking decisions ranging from choosing the vineyard to finalising their blends.
Adam Bilbey, sales director at Berry Bros & Rudd Hong Kong, says: "We have discovered that our clients want to learn so much more about wine. As part of that process, there is a real hunger to meet producers, to visit vineyards and Domaines. We are also seeing some of the wealthier wine collectors taking the next step and investing in vineyards, whether in Bordeaux, Burgundy or the Napa Valley.
"VINIV acts as a perfect gateway to fulfilling a wine lover's dream: making their own wine, but without the capital outlay and risk. I think this is certainly the key to success. It combines a hands-on education element and the pleasure of drinking your own, personally crafted wine. Some of our clients who have purchased barrels have actually gone on to retail their wine and supply to restaurants or sell to their friends."
The cost of a barrel starts at £6,900 (HK$86,000), with the price rising when adding intricate and personalised labels and embossed corks.
Bilbey adds: "The sky is the limit in terms of cost of this experience, as on top of the cost of the barrel, the client can choose to fly to France and visit the vineyard as many times as they like, meet with the wine growers and be as hands-on as they choose."
For more indulgent adventurers, a new luxury wine and travel concierge is opening up a world of food and wine, tailor-making rare wine, whiskey and gastronomic experiences in countries such as France, Spain, Italy and Australia. For an ultra-exclusive experience, ask for the Chanel and Ferragamo private estates itinerary.
"For centuries and millennia, families have been cultivating vineyards and striving to make the best wine, either as their primary activity or as a hobby. That is why families like Chanel and Ferragamo have wineries, which in most cases are not under their 'brand' name... wine-growing and winemaking is like a little baby they want to pass on from generation to generation," says Julien Yung Mameaux, CEO of The Experience Company, which provides this service.
"The experiences we provide are unique, from tasting in the cellars to meeting the management or even staying at the property - these are moments you will never forget and will make you more passionate about wine."
Tracey Furniss

Once widespread in Modena, Italy, the ruggine grape variety now has only one hectare dedicated to it, found in the Rubbiara district. Known for its brown, rusty-looking hue when ripened, ruggine sparkling wine is fresh and well-developed with fruity notes, but bottles are few. There are several ruggine wines, blended and clean, recommended on Vivino's wine app. Ruggine wine can be paired with tortellini and tortelloni.

Indigenous to the Greek island of Santorini, the katsano grape is extremely rare, with only 1 per cent of the vineyards here dedicated to the grape. Wine made from this old grape is only available through Gavalas Winery, which makes varietal and blended wines with it. The katsano grape is usually blended with another rare variety called gaidoura. Katsano produces a yellow wine with green highlights, good acidity and sweet lemon-blossom and honey aromas. It can be paired with Greek cheese in its homeland or pork-stuffed bean curd in Asia.

On the brink of extinction, mayolet is indigenous to the Valle d'Aosta between Saint-Vincent and Avise in Italy. Usually blended with petit rouge, it is sometimes made into varietal wines which are delicate, lightly spiced cherry and blueberry characters with good acidity. It pairs well with grilled beef and goat cheese, polenta with smoked bacon or, in Asia, Vietnamese pancake with pork and prawns.
This article appeared in the South China Morning Post print edition as: A thirst for novelty

Unique wine experiences for oenophiles