Luxury train rides offer the opportunity to sit back and relax and enjoy the view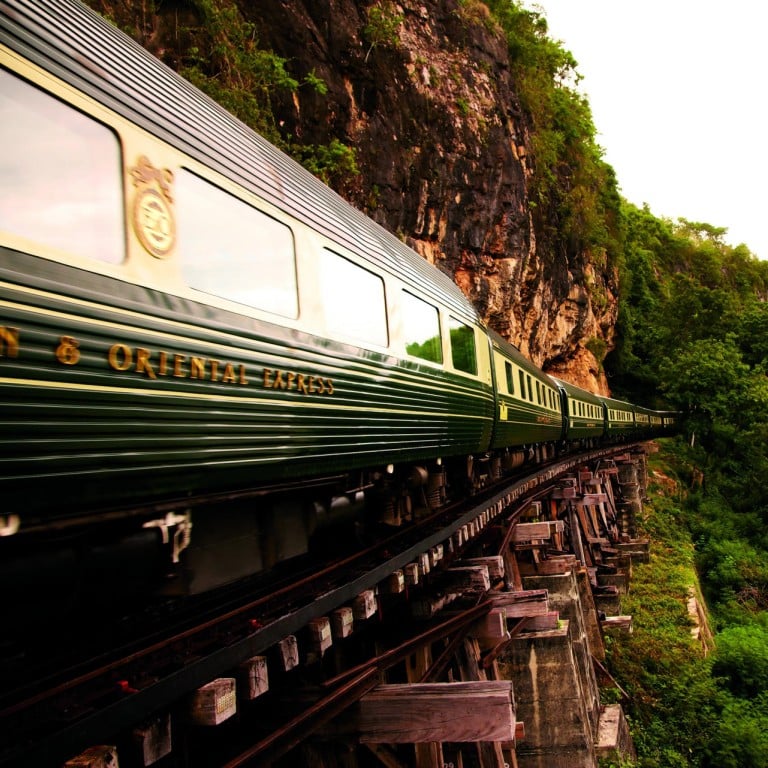 have replaced yesteryear's rail travel for the most part, as speed and efficiency supersede the decadence of taking your time to get anywhere. The modern day nomad now comes equipped with an iPad, some fast talk and a whole lot of haste. But old-school rail and classic, faithful locomotives have come to remind us that an unhurried journey can prolong the enjoyment and luxury of a true escape.
"People have a fascination with trains - even those who aren't engineers can appreciate the sense of history that you get from trains that you just don't get from a plane," says Marianne Grimshaw, a senior travel consultant at Wild Frontiers Adventure Travel in London. "Travelling by train is a relaxing and interesting way of moving around with the scenery out of the window, and of course to easily converse with fellow travellers."
The ambience of luxury train travel is much the same as 100 years ago. It was the American industrialist George Mortimer Pullman who introduced what some called a "hotel car" in 1864. Soon after that was the dawn of luxury trains as they spread to Europe and Asia, with the first being the Orient Express, its maiden journey leaving Paris and travelling across the continent.
The golden age of cocktails, peacock dressing and the ceremony of a non-occasion are exalted on board a luxury train. The days and nights slow down, and a welcoming, leisurely pace conducts everything.
Today's train ride will include all that and more, with such modern considerations as a health spa and organic food for the luxury traveller.
"Rail 'cruising' is more relevant today than any time since the 1960s, as it exemplifies a safe, 'unpacking-once', picturesque method of travelling without the concerns of airline safety or baggage restrictions," says Brenda Vos, communications manager at Rovos Rail, Africa's No 1 luxury train. "We bring the world to them."
Also, the opening of previously inaccessible parts of the world means luxury travellers are looking for ways to access these privileged places, and a train does just the trick.
The Vos family launched Rovos in 1989, and its fleet of lounge, dining, observation and sleeper cars have all been restored to their original 1930s aesthetic and eminence. Rovos' observation cars, originally 28 dining cars, obtained special permission to run at the back of the train in 1988. This enabled a substantial enlargement of the windows and the construction of unique open-air balconies. Now, the most remote and beautiful African landscapes are now in perfect full view.
The Edwardian design features on the train have an aesthetic that's on wheels. It feels like a celebration of the good life that's in deep contrast with the puritanical values of the previous Victorian design of trains. Cushioned benches, extra-shiny wood panelling and carpets that give way to bury your feet slightly all combine to offer a distinct sense of the swank old world.
Life on board most trains is simple. TVs, Wi-fi and other connectivity are often abolished (but quietly available), while chess, bridge and inexhaustible conversation soar.
On Rovos, South Africa's best fine wines are lined up for their delectation by on-board sommeliers, and the chef's feasts revolve around local tang, where game meat is a speciality. Daytime dress is smart casual, a unique South African way of dressing, whereas in the evenings the ladies and the gentlemen trick out for the occasion. The general consensus about train travel is to let the passengers view the commute as the actual experience for once. Aboard Japan's Seven Stars train, a little extra is how they delight travellers, such as with a "Sweets Train" that serves fine dining dishes and desserts designed by Narisawa, a restaurant that's ranked highly by The World's 50 Best list.
For Seven Stars, "we strive in making interesting trains which will themselves become an attraction - not just the destination or means of transport", says Simon Metcalfe, international sales manager for Kyushu Railway Company (JR Kyushu).
But the journeys aren't always the highlight of some train experiences. For Golden Eagle, known for its Euro-Asia routes, it's all about exploring destinations along the way. "Travelling directly through the heart of a country, guests have the privilege of seeing the country from a new perspective, seeing the different communities and landscapes that make that country unique," says Natasha Baker, sales and marketing manager for Golden Eagle Luxury Trains.
Golden Eagle offers more active journeys, including the Arctic Explorer, which includes a range of outdoor activities in Kirkenes, Norway, including husky dog-sledding, snowshoe walking and king crab fishing. It also offers a Winter Wonderland Trans-Siberian journey where guests can take snowmobiles over a frozen Lake Baikal and try their hand at ice fishing.
The Canadian super luxury train VIA Rail caters to the divine art of socialising in a dining car all dressed up as well as to the practice of meditating with one's own thoughts. "Whether you decide to spend some time in your private cabin reading a book, watching a movie on a tablet or laptop or enjoying the chance to sneak in a quick, or long nap, the train creates a perfect environment to relax in," says Ryan Robutka, senior manager of sales and marketing, Americas, for VIA Rail Canada.
"Additionally, outside of your cabin, you'll find other passengers to mingle with, activities such as wine and beer tasting, educational chats from our staff about the train and the scenery it's passing, freshly prepared meals in the dining car and, probably best of all, sitting in the 360-degree dome car to watch the Canadian landscapes pass by."
Belmond, with its recent merging with the famed Orient Express, now operates famous routes including the Venice Simplon-Orient-Express and the Eastern and Oriental Express in Southeast Asia. From August, it will also run Ireland's first-ever luxury sleeper train, the Belmond Grand Hibernian.
"Often described as museums on rails, the carriages of the Venice Simplon-Orient-Express and Belmond British Pullman are also pieces of history," says Gary Franklin, managing director of trains and cruises for Belmond. Many of their carriages have taken heads of state or members of royal families to state occasions. And of course, mystery novellist Agatha Christie travelled in one of the carriages aboard the Venice Simplon-Orient-Express from Paris to Istanbul, which inspired her most famous work, .
But trains are not just for the rich and famous, the romantics or the train-spotters - nowadays it's for everyone looking to slow down. So whether you are the hardline train-jumper type or not, a simple life rolled away from time is the perfect place for, if nothing else, reflection.
VIA Rail offers a four-night meander across Canada from Toronto to Vancouver (
viarail.ca
)

Rovos Rail showcases the sights on a slow journey through South Africa, from Pretoria to Cape Town or the inverse (
rovos.com
)
Belmond lets you take in the beautiful sights from London to Venice in style (
belmond.com
)
For a rail journey, only a stylish trunk will do. Samsonite's classic cases will keep your belongings safe (
samsonite.com
), while Tumi has some limited-edition trunks that are ideal (
tumi.com
).
This article appeared in the South China Morning Post print edition as: INSIDE TRACK

Railways have made a comeback as a means of transport to kick back and relax in, not to mention the amazing views and fun activities on the way