In a tiny room inside the Mebiol Research and Development Center, a little over an hour outside of Tokyo, baby Cos lettuce leaves are growing in a tray under magenta-coloured lights. On another shelf, a miniature garden of microgreens is blooming across the surface of a salad dish. The seedlings have been cultivated without soil – atop a thin, transparent polymer film.
"Can you see the roots?" asks Hiroshi Yoshioka, Mebiol's vice-president, lifting the edge of the plant-covered film to reveal a tangle of fine, pale filaments. He pulls the sheet off the plate and holds it in front of him like a leafy green carpet.
The polymer film is the key to a cutting-edge farming method that makes it possible to grow fruits and vegetables on practically any flat exterior. Made of hydrogel – a super absorbent material typically used in household products such as disposable diapers – the film works by soaking up water and nutrients through a multitude of nano-sized pores measuring one millionth of a millimetre in diameter. Plants grow on top of the film, but instead of digging into the ground, the roots spread across the surface of the membrane in wispy, fan-like formations.
Film farming is the brainchild of Yuichi Mori, the chemical physicist who founded Mebiol in 1995.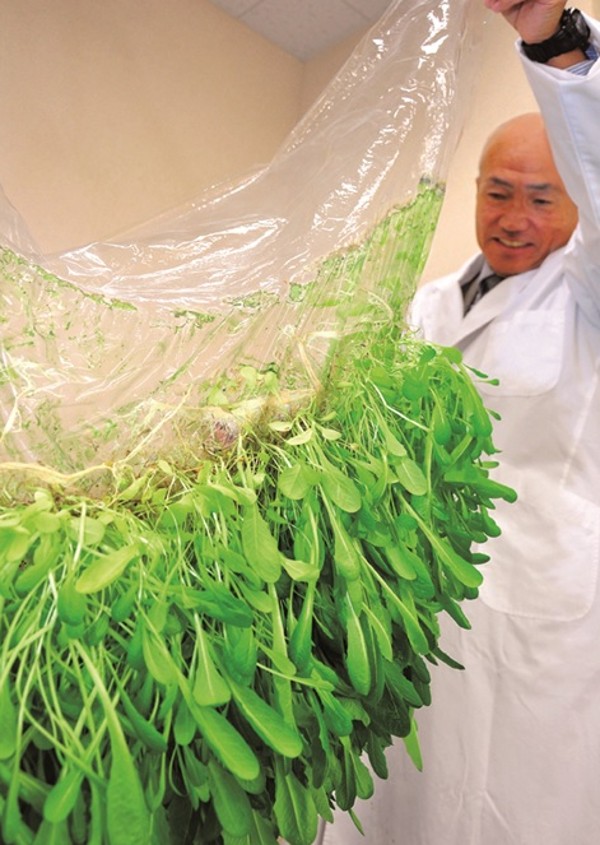 A spry 75-year-old in a crisp blue-and-white striped shirt and navy blazer, Mori spent the majority of his career developing polymer technologies for the medical industry. However, he had long been fascinated by plant biology and found inspiration in the adaptability of the vegetable kingdom.
"In many ways, plants are more remarkable than humans," he observes, pointing out that they sustain life on earth by providing a source of food for animals and removing excess CO2 from the air. "I was always thinking of how to maximise the power of plants."
The idea of applying polymer technology to agriculture that came to him as he was building an artificial kidney nearly 20 years ago. He wondered if the same mechanisms used to construct synthetic blood vessels and membrane filters could be used as a growth medium for vegetables.
"Plants can solve many of society's problems – from lifestyle diseases to environmental issues," he explains. "I envisioned a world where we could take plants everywhere."
He began by growing a small patch of grass on hydrogel film under LED lights. After more than a decade of experimentation, Mori and his colleagues developed a soil-free farming system that could be used to cultivate crops in greenhouses on a large scale.
I envisioned a world where we could take plants everywhere
According to a 2015 study by the University of Sheffield's Grantham Centre, the planet has lost a third of its arable land due to pollution and erosion in the past 40 years. The combined effects of over-cultivation and heavy fertiliser use have depleted soil at a rate that far outpaces the earth's natural ability to recover. Climate change and extreme weather events have accelerated erosion, exacerbating the situation. The dramatic loss of fertile land comes at a time when the demand for food is rising: by 2050, food production will need to increase by 50 per cent to feed the world's projected population of 9 billion.
Water shortages pose further risks to food security. The availability of fresh water has plummeted along with the decline in soil – shrinking by nearly two-thirds over the past four decades in regions such as the Near East and Africa.
Film farming can help by offering an alternative to resource-intensive agriculture. The Mebiol system uses 90 per cent less water than conventional farming.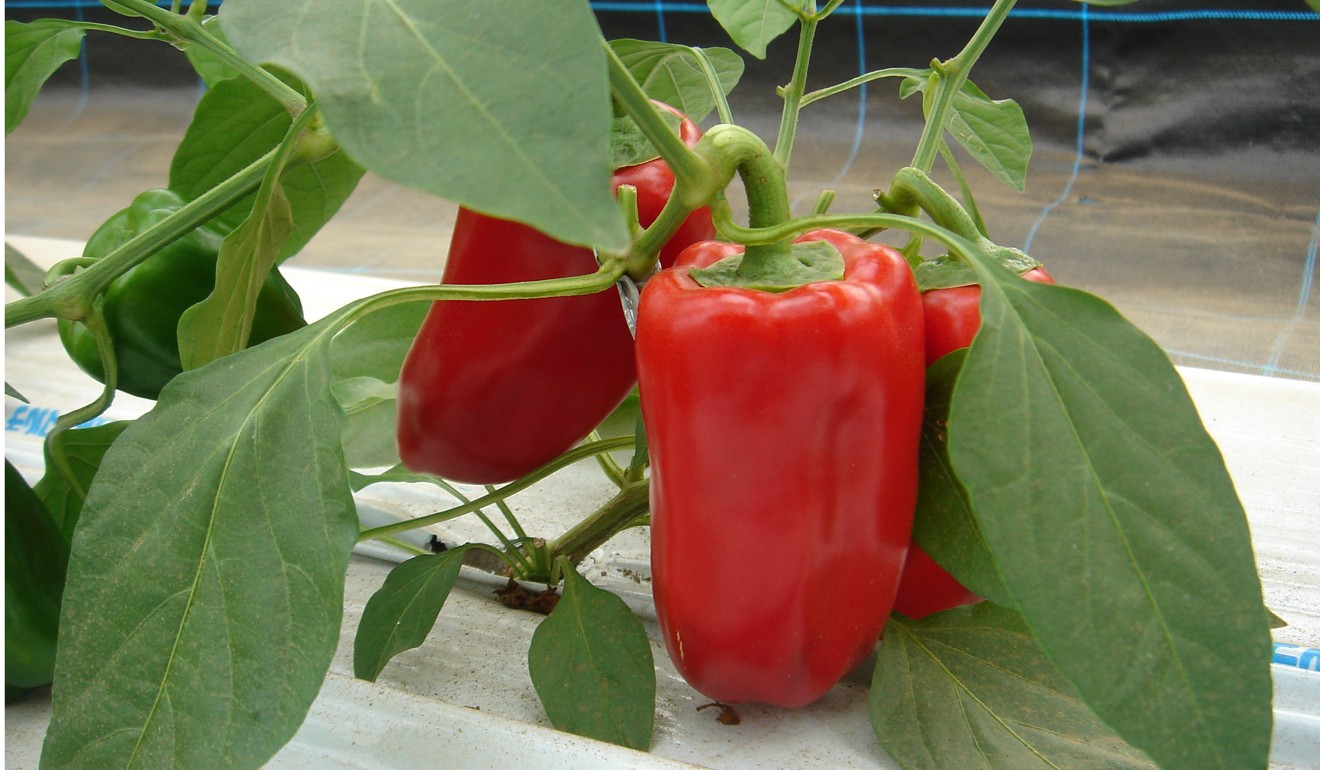 The polymer membrane's microscopic pores also block bacteria and viruses, eliminating the need for harmful pesticides. Since soil is not necessary, sustainable farms can be established virtually anywhere – in the desert, on city rooftops, and even on top of contaminated land. The method is being used in 150 locations around Japan and one in China – as well as on a farm in the middle of the desert in the United Arab Emirates. Mebiol plans to export its technology to Europe and other countries in the Middle East later this year.
Initially, farmers were sceptical, but the method is catching on among younger producers such as Ayaka Miura, the president of Drop Farm, which grows boutique tomatoes in Ibaraki Prefecture. Because the polymer film holds on to water molecules, the plants on top have to work hard to absorb water and nutrients. The stress causes them to develop higher levels of sugars, amino acids and phytochemicals. In much the same way that growing wine grapes in poor soil produces concentrated fruit.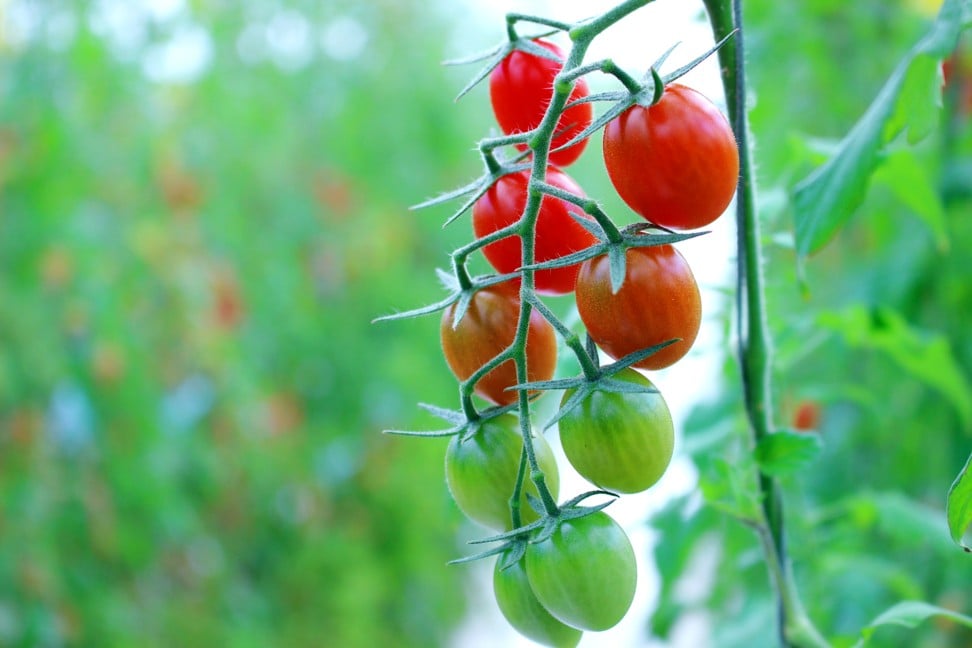 Drop Farm grows boutique tomatoes in Ibaraki Prefecture, using polymer film farming technique. In Japan, the products are mainly sold at high-end department stores, but film-farmed tomatoes have also started showing up on menus at restaurants such as Tokyo's Celeb de Tomato, while upscale eateries like Dubai's Le Petit Maison will begin using the ingredients in spring.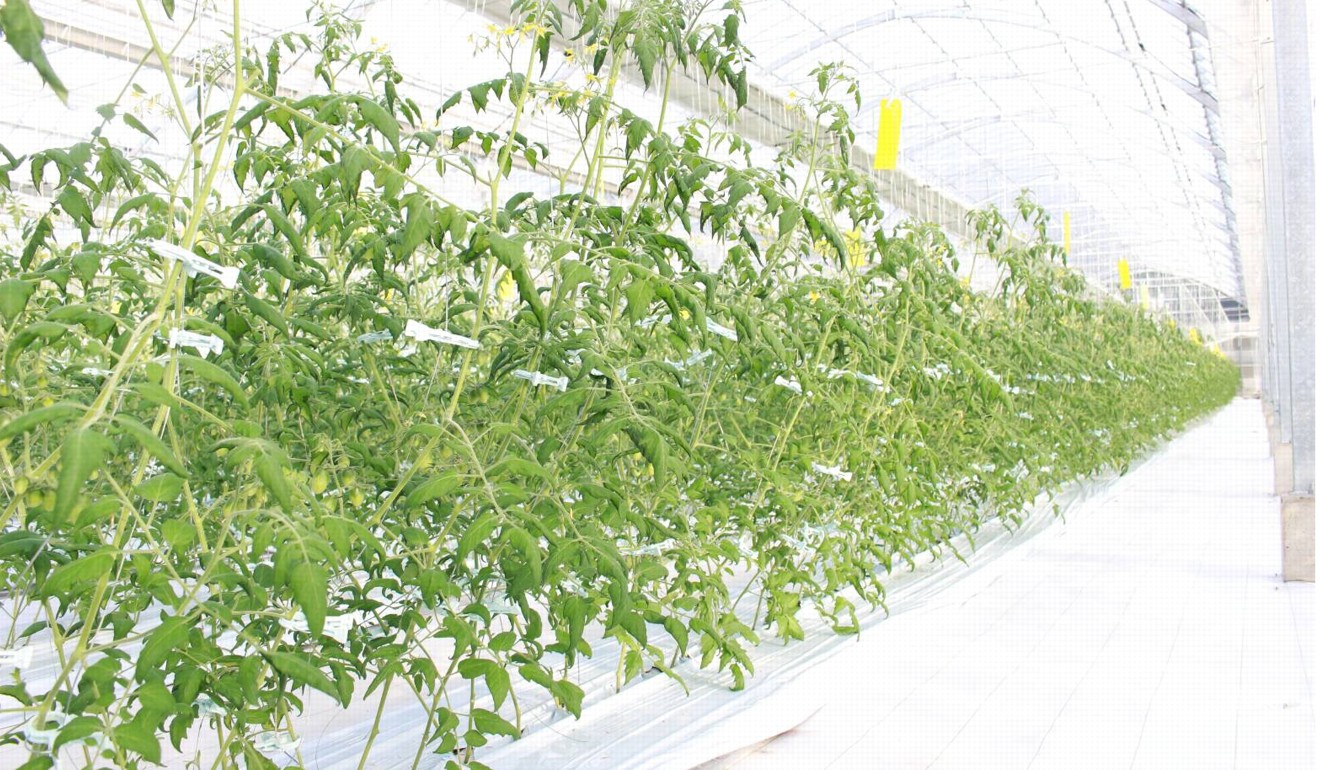 When I meet Mori on an unseasonably warm day, he offers me a bowl of cherry tomatoes grown on Mebiol's test farm. Biting into the bright-red fruit, I feel as though I'm tasting in surround-sound; the flavours vibrate with treble notes of sweetness and base chords of mouth-filling umami. Mori gives me a knowing look.
He has seen the future of farming – and the future is sweet.
The future of farming: Japan goes vertical and moves indoors