As Valentina Shevchenko gets ready to fight Jennifer Maia in UFC 255, who is the Kyrgyzstani-Peruvian flyweight champion they call 'The Bullet' of MMA?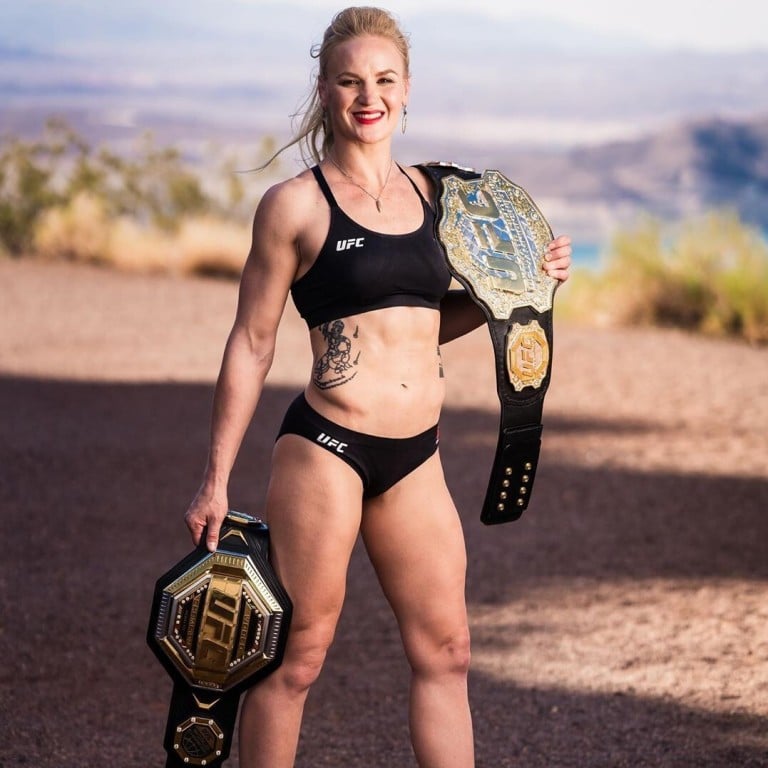 "Bullet" was so named because in the ring she was dazzlingly fast. It seems she's just too fast. No one can catch Valentina Shevchenko, the current Ultimate Fighting Championship (UFC) flyweight champion.
"My ring name … was given to me by [long-time coach Pavel Fedotov]," Shevchenko says. "It's [tradition] for your coach to give you your fight name. There's a superstition that says if your fight name matches who you are as a person, it will give you a lot of success in your fighting career."
And so, it's true. She is widely considered one of the best female mixed martial arts (MMA) fighters in the world. Her worldwide rankings prove it:
No 1 Current Best Female Flyweight
No 2 Current Best Pound-for-Pound Female MMA Fighter
No 15 MMA Fighter of the Year for 2019
No 11 MMA Fighter of the Year for 2018
No 15 MMA Fighter of the Year for 2017
No 37 Top Fan Favorite MMA Fighter
No 50 Greatest MMA Striker of All Time
All the greats are itching to fight her. In fact,
Weili Zhang
, current UFC Women's Strawweight Champion, has called for a fight with Shevchenko.
"I really want to fight Valentina because I think [she] is one of the best," Zhang said at UFC 242. "If you want to be the best, you have to fight the best. I think it will be a very exciting fight for the fans, and I believe one day we will meet."
Shevchenko has had a great couple of years, resulting in an 18-3-0 record, and she has gone 4-0 since moving from bantamweight to flyweight. She has defended her flyweight title twice this year, most recently defeated Liz Carmouche by decision in August. She will next defend it in February 2020 against American Katlyn Chookagian, according to ESPN's Ariel Helwani.
Fighting style and origins
"[Martial arts] made me the person I am. It formed me into a good person," Shevchenko told the Bleacher Report last year "My understanding of the world is all through the prism of martial arts. It's affected every aspect of my life. I can't imagine my life without martial arts. I would be a different person."
Shevchenko was born in Frunze, Kirghizia, USSR as a Russian and then later became a Kyrgyzstani citizen following the break-up of the USSR. She later became a citizen of Peru when her family moved to Lima in 2008.
Attracted to fighting sports, she began taekwondo at only five, thanks to the interests of both her older sister, Antonina, and her mother, Elena, who was herself a black belt in taekwondo and the president of Kyrgyzstan's national Muay Thai association. She introduced both daughters at a tender age to Fedotov's gym. By 12 years old, Shevchenko already showed great promise in Muay Thai and freestyle Vale Tudo.
She would soon become a decorated kick-boxer, known for her precise defensive counter-striking, dodging an opponent's strike, countering with a fast right hook, a spinning wheel kick or a spinning back fist. This southpaw's key offensive strategy involves forward right hooks and two-punch combinations, with an outside leg kick. A versatile MMA fighter, Shevchenko is also trained in grappling and is a black belt in Judo.
"Martial arts for me is not just some kind of job to gain some money or whatever," Shevchenko said last year. "No. Martial arts for me is my lifestyle, my religion, my philosophy … martial arts are everything for me."
Budding film career
Shevchenko, who earned her undergraduate degree in film directing from University of Arts Kyrgyzstan, starred in Into the Fire (2011), UFC Embedded: Vlog Series (2014) and UFC (2011). However, all of that is about to be overshadowed by her role in Halle Berry's directorial debut Bruised.
Written by Michelle Rosenfarb, the film features Berry as lead character Jackie "Justice". Justice is a disgraced MMA fighter who is trying to get her child back and rebuild her life. The pugilist is also training to fight an up-and-coming star of the MMA (Shevchenko plays Berry's main opponent). Other professional fighters are also in the film, including IBJJF Hall of Famer Gabrielle "Gabi" Lemos Garcia, who is a Brazilian professional martial artist, and Amanda Nunes – a Brazilian mixed martial artist and champion of the women's bantamweight and featherweight divisions, the first woman to become a two-division UFC champion.
Want more stories like this? Sign up here. Follow STYLE on Facebook, Instagram, YouTube and Twitter .

She's the current best female flyweight, is 2019's No 15 MMA Fighter of the Year and is starring in Halle Berry's Bruised, but Valentina Shevchenko is more than just a kick-boxing legend