Hong Kong icon Bruce Lee's legacy offers lessons in style, not just kung fu – learn how to dress like the legendary martial arts hero on what would have been his 80th birthday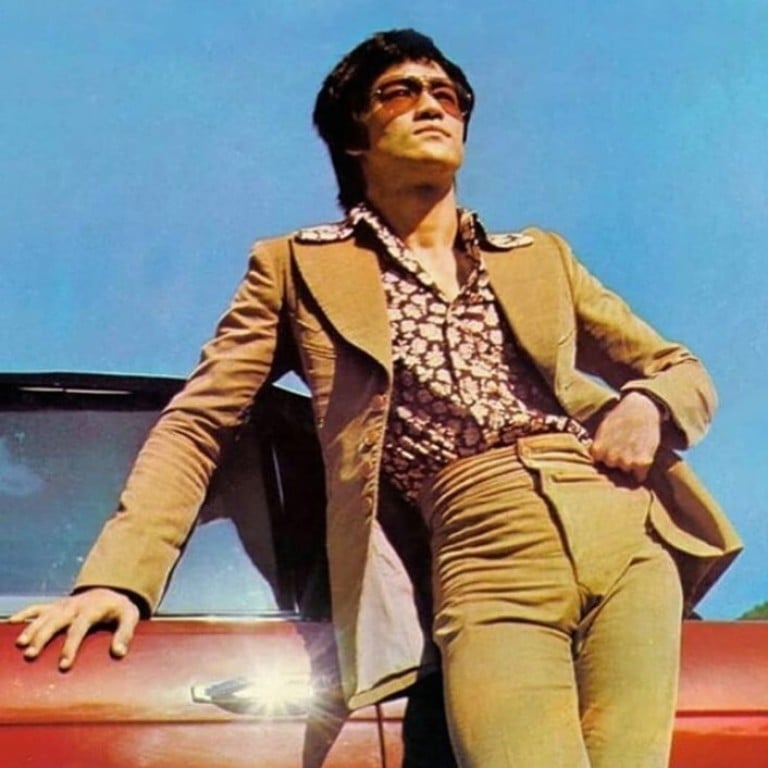 Bruce Lee is a hero to many – not just for how he portrayed his on-screen characters, but also for
his snippets of wisdom
and trailblazing sense of style. Though his flamboyant outfits have been emulated in films and Halloween costumes alike (think yellow with black piping), the clothes the man wore in his daily life were the epitome of confidence and bravado.
On what would have been his 80th birthday, we celebrate the legend's boldest looks and show how you can cherry-pick to elevate your own wardrobe.
Tinted sunglasses
Tom Cruise famously wore Ray Ban Wayfarers in his early films like Top Gun, a decision which rescued the company from the brink of bankruptcy.
Lee's vision was less singular – he chose to wear bold and unusual frames, which set a decidedly groovier tone. Lee liked larger aviator styles and opted for lighter amber shades that showed off his intimidating glare, inspiring an entire generation to choose 60 per cent tinted sunglasses. Fashion is cyclical, and tinted lenses are apparently rolling back around again.
Where to find: This new wave style has been endorsed by the likes of Native Sons and Moscot this season. In Hong Kong, head over to Woo Ping Optical Shop (278 King's Road, North Point) for vintage gems that date back to the 1960s and 1970s.
Iconic white Henley
A cousin of the humble T-shirt, a Henley is signified by a short placket below the neckline which is usually lined with two or three buttons. This is the garment that Lee was perhaps mostly commonly seen in, exposing his impressive physique and toned biceps.
Though this style of shirt has been produced by countless brands, none have replicated the original Hong Kong staple still sold by traditional makers, Lee Kung Man. Lee wore this brand exclusively and modern flâneurs have adapted to wearing them under robust denim shirts with a hint of white peeking out. The fabric is still made at a slow pace by colonial-era shuttle looms, ensuring a thin but surprisingly sturdy cotton weave.
Where to find: Accept no substitutes, and head to one of the few Lee Kung Man locations dotted around Hong Kong. Expect to pay around HK$100 (US$13) for the standard issue cotton iteration with ribbed cuffs.
Classic charcoal suit
A man tends to look his best in a well-cut suit, and this was no different even for the kung fu master. For press junkets and interviews, Lee often smartened up his look in a charcoal suit paired with a white shirt and thin tie. The devil is always in the details and he showed his sartorial flair so subtly that only the eagle-eyed noticed. Softly curved lapel notches and matching cloth-covered buttons gave Lee's suits a decidedly British Mod edge, a movement popular with baby boomers that frequented jazz clubs in the 1960s England.
Where to find: Thom Browne (available at Joyce in Hong Kong) is the reigning king of the truncated suit, with modified proportions that may not be for traditionalists. His palette consists mostly of grey tones, and if Lee were around today it wouldn't be a surprise to see him donning some of Browne's wares.
Wide lapelled jackets
Wide lapels and baby blue mohair may not sound all that appealing a combo for the office today, but it was all the rage during the intoxicating 1970s. Though Lee frequently showed film-goers just how much power he could pack into a single human fist, he exercised more restraint in his dress. Note the picture here: while the lapels are generous, other details point to more traditional Savile Row proportions. Embrace the bohemian and consider trying a wider lapel on the next visit to the tailor.
Where to find: Polymath Tom Ford is the first port of call for opulent tailoring, and many of his jacket offerings embody the spirit of Lee's luxurious style. Opt for a wide peak lapelled jacket that could pull double duty – from the stuffiest of settings to late night rooftop parties.
Big belt buckles
Nothing says "yee-haw" like a big belt buckle. Ever the pioneer, Lee was at the forefront of this movement back then, and dared to pair them with tailoring. In recent years, the once novelty accoutrement has experienced something of a resurgence. Designers have focused on refining the buckle and more wearable iterations are hitting the market. Whether you wear it with jeans or more formal items, the key is finding one with ideal proportions that flatter your physique.
Where to find: Vintage stores are a great place to start, and Daychild Vintage & Goods in Hong Kong's Causeway Bay stocks a wide variety of aged authentic garments. For a more luxurious option, The Armoury (which has stores in Hong Kong and New York) has worked together with Japanese leather wizard Hidetaka Fukaya of Il Micio to produce a well balanced and timeless number.
Want more stories like this? Sign up here. Follow STYLE on Facebook, Instagram, YouTube and Twitter .

Ditch the Tom Cruise Ray Bans and channel the martial arts maestro with lighter glasses that show off your mean stare paired with a wide-lapelled jacket from Tom Ford or classic-cut suit from Thom Browne