SNSD's Jessica and F(x)'s Krystal Jung aren't the only famous Korean siblings – think NCT's Doyoung and Gong Myung, Twice's Jeongyeon and Gong Seung-yeon and K-pop duo AKMU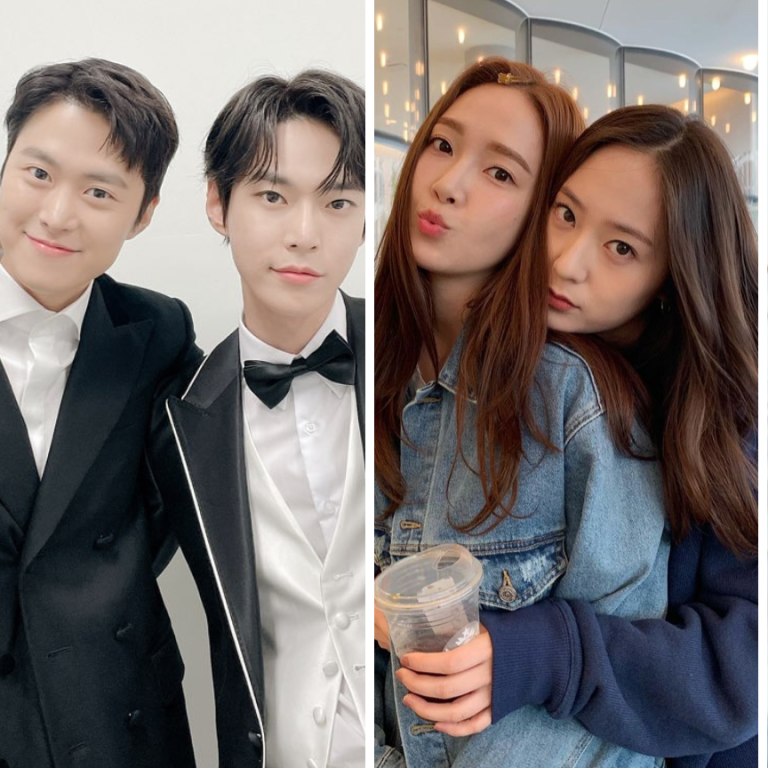 The apple doesn't fall far from the tree, the saying states – and when it comes to Korean idols, that goes for singing and dancing skills as well as good looks. But even though they're celebrities, the sibling dynamics of famous brothers and sisters are just like ours – they bicker and tease, but also support each other.
Read on to find out more about these sibling stars in the world of K-pop and K-drama.
NCT's Doyoung and Gong Myung
The brotherly bond between NCT's Doyoung and actor Gong Myung – born Kim Dong-young and Dong-hyun – is often spotted on-screen. Most recently, Gong announced NCT as the winner of the Worldwide Fan's Choice award at
2020's MAMA.
But do they ever fight? Not really, Gong shared on a SBS radio show in 2019. And when they do, it's usually for small reasons, like Gong annoying Doyoung with frivolous tasks like asking his brother to fetch him a cup of water.
When it comes to talent, the brothers are both skilled singers. Gong used to be part of 5urprise, a five-piece group comprised of actors that debuted in 2014 with the single From My Heart. Meanwhile, Doyoung and NCT just released new album "NCT Resonance: Pt. 1" this year.
Jessica and Krystal Jung
Jessica then debuted in Girls' Generation in 2007 and Krystal in F(x) in 2009. They often performed onstage together and even did a reality show called Jessica & Krystal in 2014.
Fans are still eagerly awaiting a second season, but now Jessica is busy with her fashion business Blanc & Eclare and her new book Shine. Krystal has moved into other arenas, too, making her film acting debut in More Than Family this November.
As for their relationship, it sounds like a very positive one. In a 2017 interview with Seoul Economic Daily, Jessica shared that Krystal is a driving force, encouraging her to work harder as she wants to be a good example for her sister. And in an iMBC interview this November, Krystal thanked her sister for supporting her and understanding her throughout the years, saying that she got on much easier with Jessica's help.
Twice's Jeongyeon and Gong Seung-yeon
The sisters were initially both trainees for a girl group – albeit in different agencies. Jeongyeon, of course, joined JYP Entertainment and
debuted with Twice in 2015
. But Gong Seung-yeon actually trained at SM Entertainment with Krystal before kick-starting her K-drama acting career in 2012.
The two seem to enjoy teasing each other. On a SBS radio show this June, Jeongyeon recounted how she would send Gong pictures of herself all glammed up at various events, to which her sister would reply "this is a fraud", commenting on how Jeongyeon looked in the photos compared to her usual appearance.
But they support each other where it matters. Jeongyeon even sent a coffee truck to the set of the movie Handsome Guys while Gong was filming last month. Gong also shared a photo celebrating Jeongyeon's birthday on November 1 with the caption, "Our maknae [youngest], happy birthday. Let's be happy."
Lee Chan-hyuk and Su-hyun
This brother and sister pair actually debuted together as the duo AKMU in 2014, combining Chan-hyuk's song writing skills with Su-hyun's stellar vocals. They first caught the attention of the media and other celebrities – like JYP Entertainment founder Park Jin-young and
K-pop legend Boa
– when they won SBS survival audition TV programme
K-pop Star 2
in 2012, donating their US$275,000 prize money to charity. Fans loved their realistic, down to earth attitudes.
Offstage, there seems to be a bit of fuss over who follows who on social media. Fans noticed that Chan-hyuk had unfollowed his sister on Instagram earlier this month, gasping over a potential conflict between the two. But Chan-hyuk explained on music show Yoo Hee-yeol's Sketchbook that he simply preferred to follow people who matched his vibe on social media. Su-hyun, meanwhile, humorously responded, "I've also wanted to unfollow him for a while … So I'll take this opportunity to officially state that I will unfollow him back."
Fans might also remember them frowning while having to share a microphone during a fan meeting in 2017.
But when it comes to music, they always help each other out. When Su-hyun went solo this October with a dance-pop single – a different style of music compared to her AKMU work – she told Sports Chosun that she felt reassured after asking for her brother's advice. The two also released the new song Happening this month.
Want more stories like this? Sign up here. Follow STYLE on Facebook, Instagram, YouTube and Twitter .
For more great stories on Korean entertainment, artist profiles and the latest news, visit K-post, SCMP's K-pop hub.

Lee Chan-hyuk and Su-hyun debuted together as AKMU while Jessica and Krystal Jung were both scouted by SM Entertainment – who are the star siblings of the K-pop and K-drama world and what are their relationships really like?