O

pi

n

i

on

/
From Fan Bingbing to Milla Jovovich – 6 mindful female stars share the simple things they love about life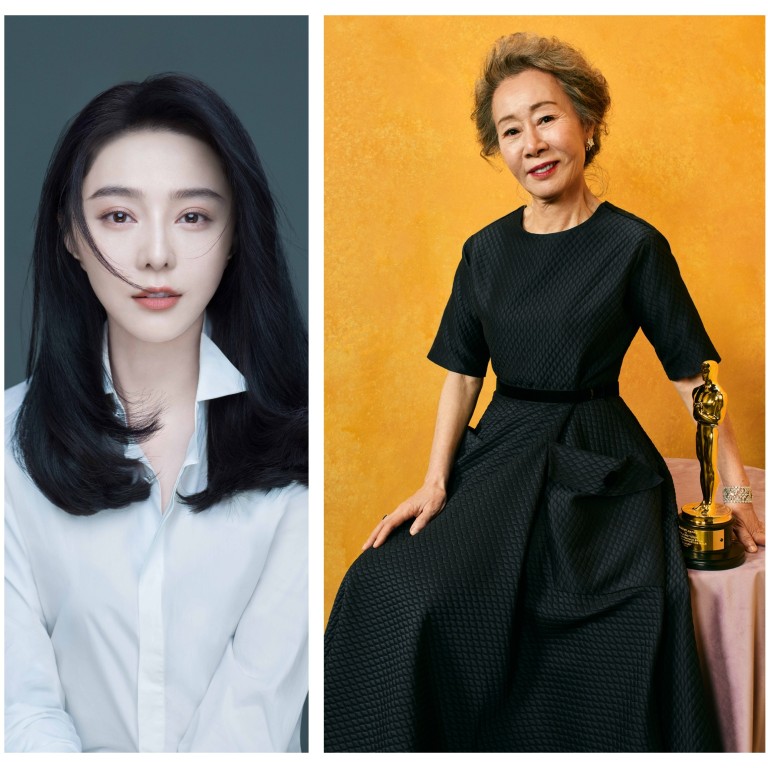 This piece is part of Alvin Goh's Beautiful Inside/Out column
We have all been living with the pandemic for more than a year now – and the profound impact it has had on us physically, mentally and emotionally. While it's human nature to take things for granted, it's never been more apparent that nothing is permanent in life and that we should treasure what we do have.
A quarter of a decade ago, Oprah Winfrey popularised the idea of a "gratitude journal", a log in which we note five things we're grateful for every day, be it a compliment from someone or simply the weather. Winfrey claimed this practice changed her life, and it seems she's not the only one who thinks so.
In my line of employment, I've worked with people in the entertainment industry known worldwide for their talent and beauty (most recently
Oscar winner Youn Yuh-jung
). For this story, I spoke to some of the most impactful women I know and asked them to share what gratitude means to them. 

Youn Yuh-Jung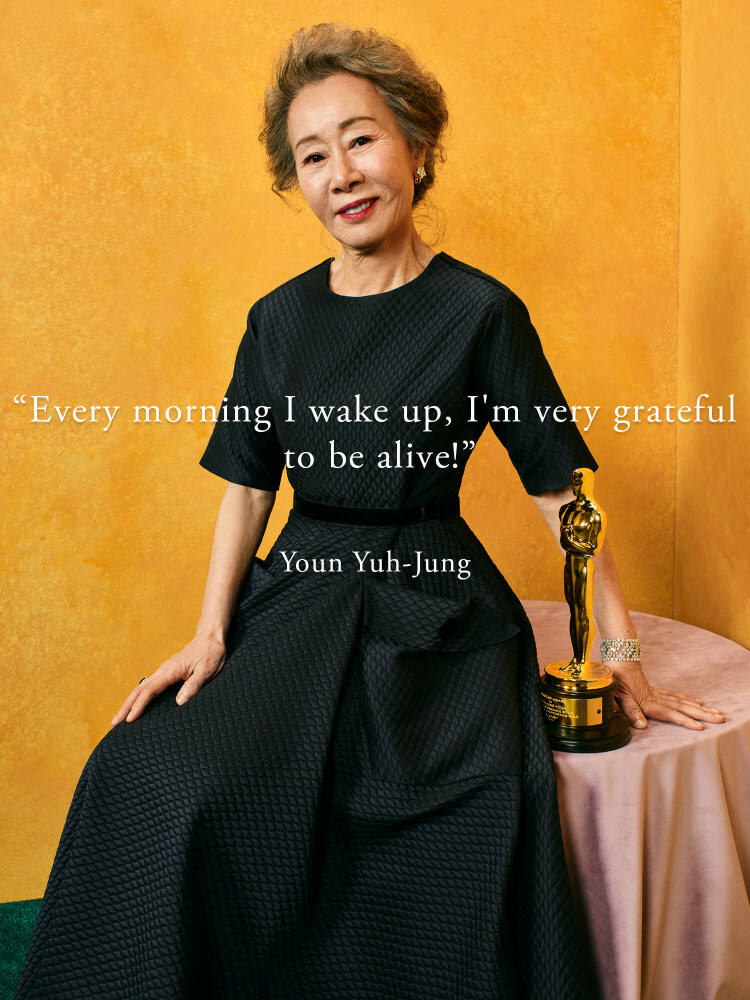 The veteran actress has had an illustrious career spanning more than five decades, starting from her 1967 TV drama debut in Mister Gom, all the way up to her 2020 role in American film Minari. The latter won her a slew of international awards, including this year's Academy Award for best supporting actress, making Youn the first Korean actress to receive this award.
I had the honour of styling her for this event as well as the Baftas, and her grace, kindness and compassion astounded me. Most remarkably, even given her success, her humility remained intact; when I asked her what she was grateful for, the 73-year-old's answer was simple: "Every morning I wake up, I'm very grateful to be alive!" 

Fan Bingbing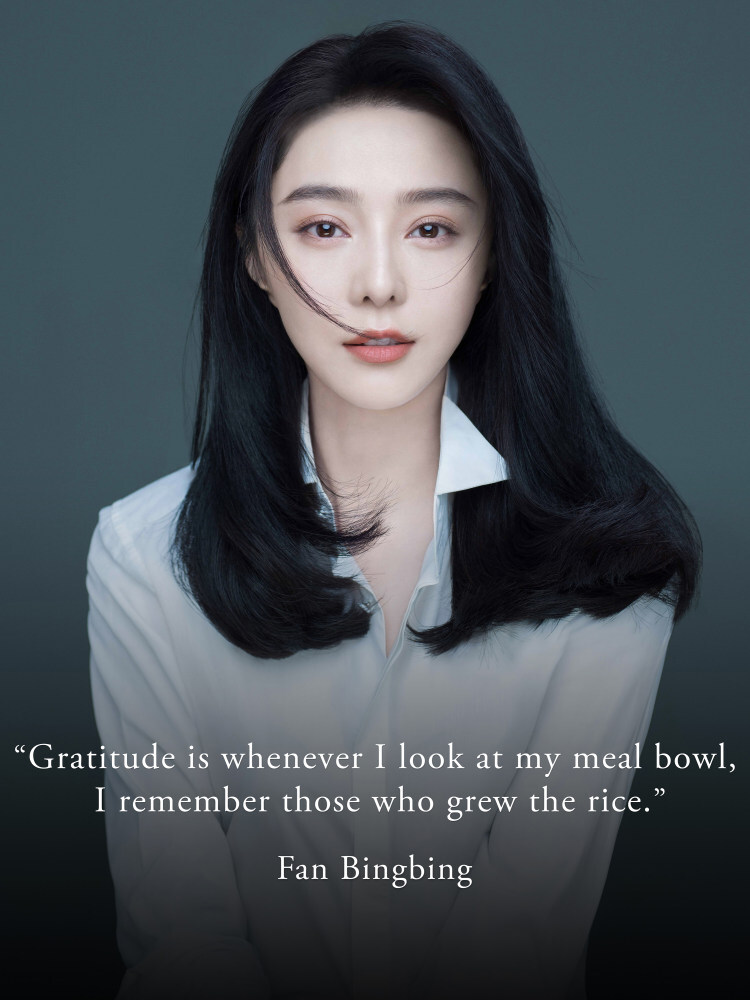 Despite being one of the highest-paid actresses in China, at one point claiming the top spot on Forbes' "China Celebrity 100" list four years running, she has nevertheless learned to appreciate the little things in life: "Gratitude is whenever I look at my meal bowl, I remember those who grew the rice".

Milla Jovovich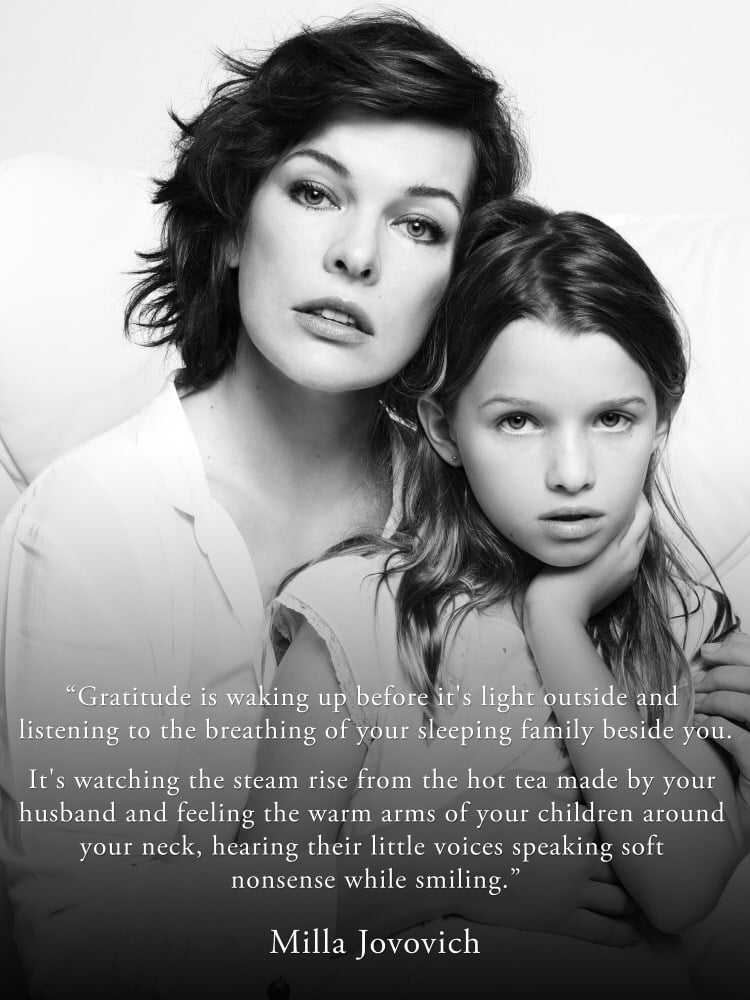 Jovovich first burst onto the entertainment scene when she was only 15, in her role in the 1991 film Return to the Blue Lagoon. Since starring roles in The Fifth Element, The Messenger: The Story of Joan of Arc, and playing zombie destroyer Alice in the Resident Evil franchise, she has became a household name in the film industry.
While Jovovich continues to take on movie roles as well as modelling work, it's clear that her focus now is on her family. When I asked her about what gratitude meant to her, her response was far away from the Hollywood hills, somewhere much more private and intimate: "Gratitude is waking up before it's light outside and listening to the breathing of your sleeping family beside you. It's watching the steam rise from the hot tea made by your husband and feeling the warm arms of your children around your neck, hearing their little voices speaking soft nonsense while smiling."

Michelle Reis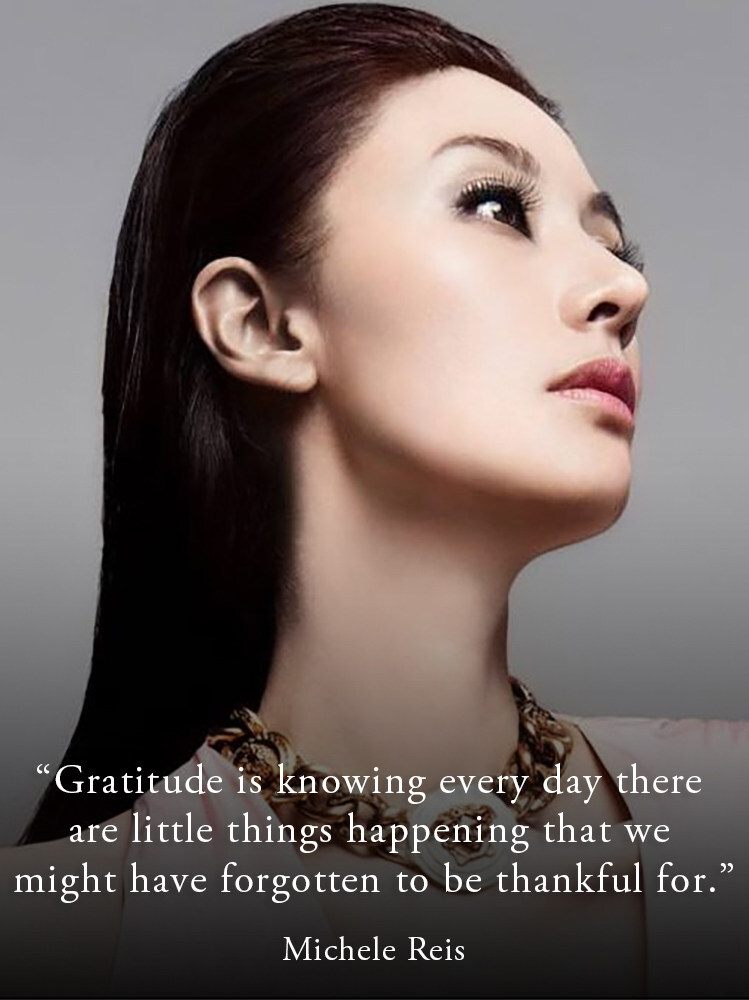 The
Portuguese-Chinese actress from Hong Kong
is known as much for her acting work as she is for her beauty, having won several beauty pageants in the past. Despite living a life of fame and privilege today, she has previously spoken out about her troubled childhood, and she emphasises that happiness isn't always about the big, shiny things: "Gratitude is knowing every day there are little things happening that we might have forgotten to be thankful for."
Sammi Cheng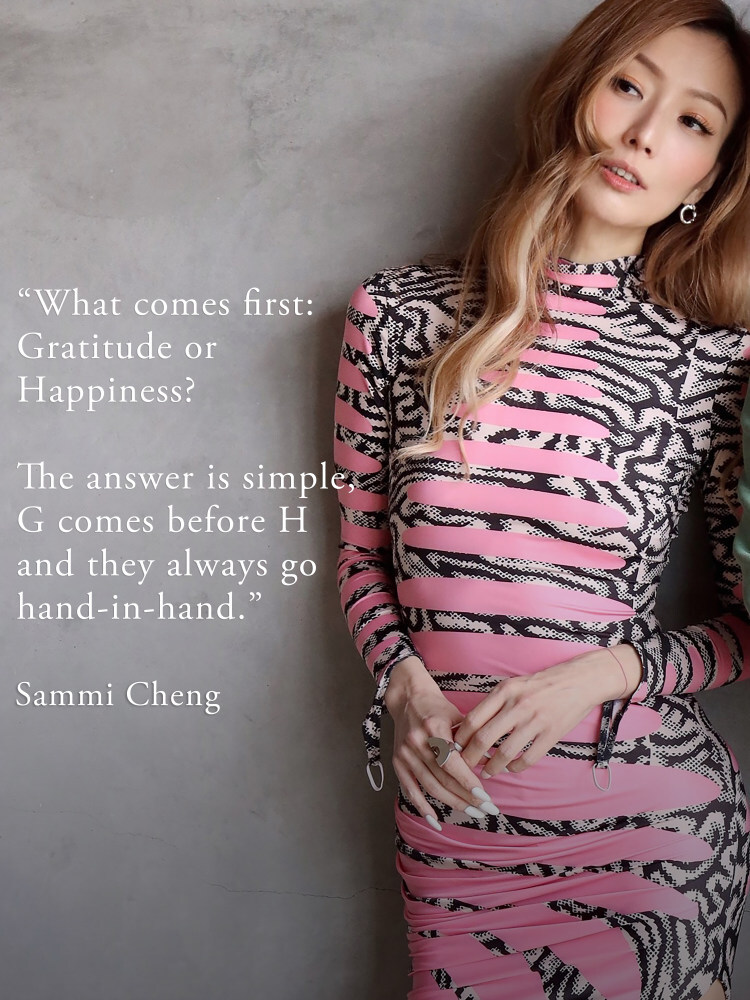 Sammi Cheng Sau-man is an actress
as well as one of the most prolific and successful singers in Hong Kong, with a number of best album sales records under her belt as well as countless music awards over the years. Even with the dizzying array of honours, she still manages to keep things simple: "What comes first: gratitude or happiness? The answer is simple: G comes before H and they always go hand in hand." 
Shi Nansun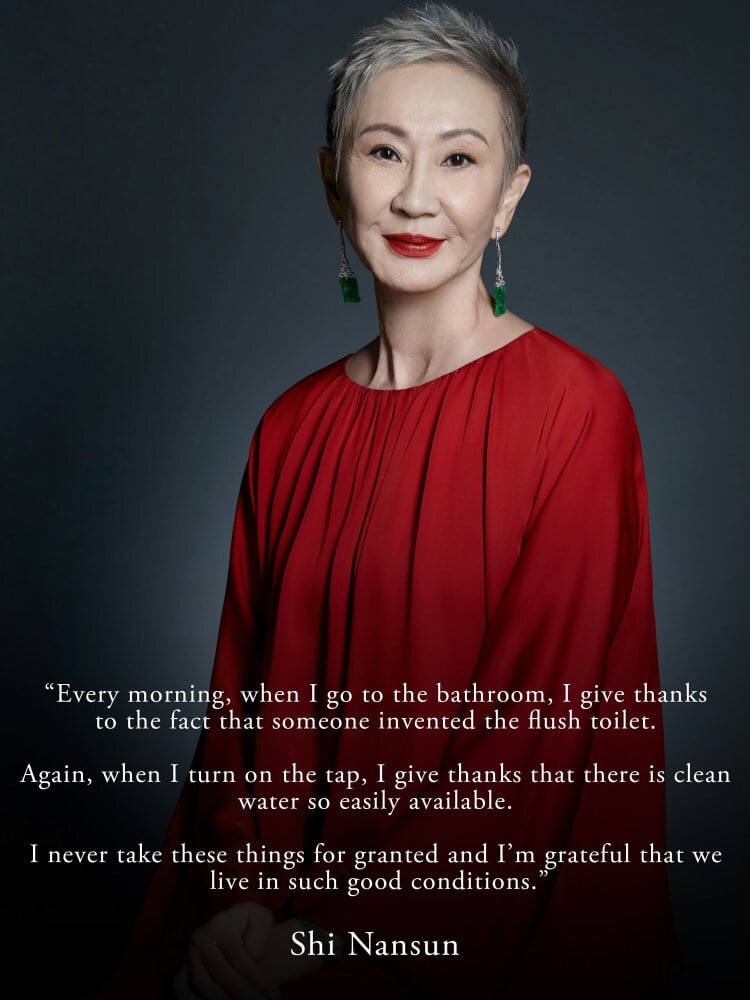 Hong Kong film producer Shi Nansun has many things to be grateful for.
Music legend Leslie Cheung
called her his "sister",
Taiwanese actress Brigitte Lin
counts her as a good friend, and her contributions to the local film industry have been significant. Her gratitude list, however, starts at the rather lowly commode: "Every morning, when I go to the bathroom, I give thanks to the fact that someone invented the flush toilet. Again, when I turn on the tap, I give thanks that there is clean water so easily available. I never take these things for granted and I'm grateful that we live in such good conditions."
Through speaking with these incredible women, I've learned that acknowledging even the smallest things – whether they're good or bad – does allow you to be more receptive to all the bigger, more meaningful things that life has to offer. More importantly, every experience is a lesson, and I'm grateful to be a student.
Want more stories like this? Sign up here. Follow STYLE on  Facebook,  Instagram,  YouTube and  Twitter.

Minari star Youn Yuh-Jung – who recently became the first Korean actress to win an Oscar – says she feels grateful to be alive every time she wakes up
Hong Kong film producer Shi Nansun is 'sister' to legend Leslie Cheung and friend of iconic actress Brigitte Lin – and thanks her flushing toilet every morning