All of Donald and Melania Trump's Met Gala looks, when they still got invited: she wore Alexander McQueen, Roberto Cavalli and Vera Wang … while Don wore the same suit and bow tie every year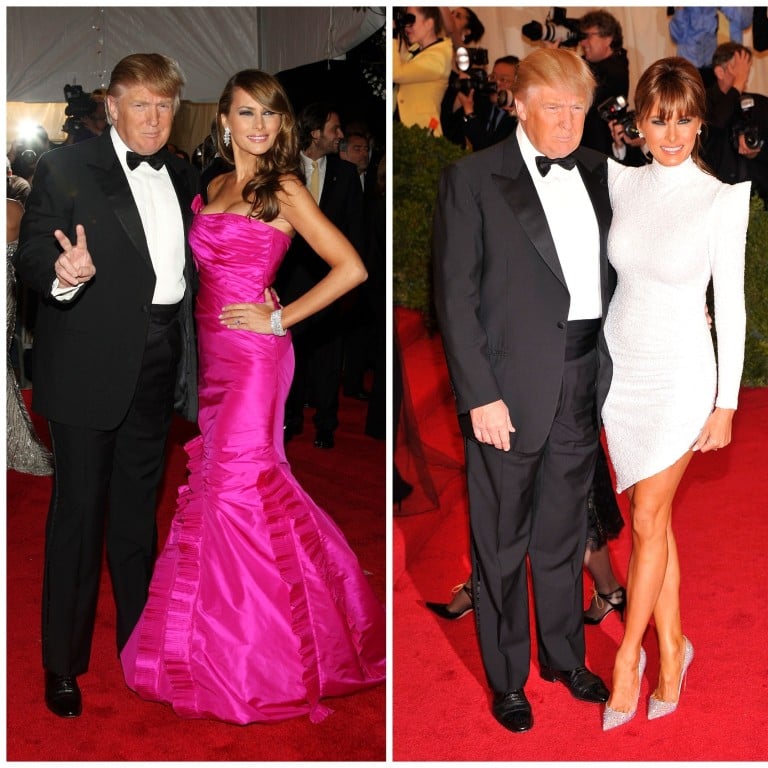 Before he was president of the United States, Donald Trump was a fixture at the Met Gala. He appears to have worn the same tuxedo to the event every year, while
his wife Melania's outfits
varied throughout the years. The former US first lady often wore lavish gowns from designers like Dolce & Gabbana, Vera Wang, Roberto Cavalli and more.
2004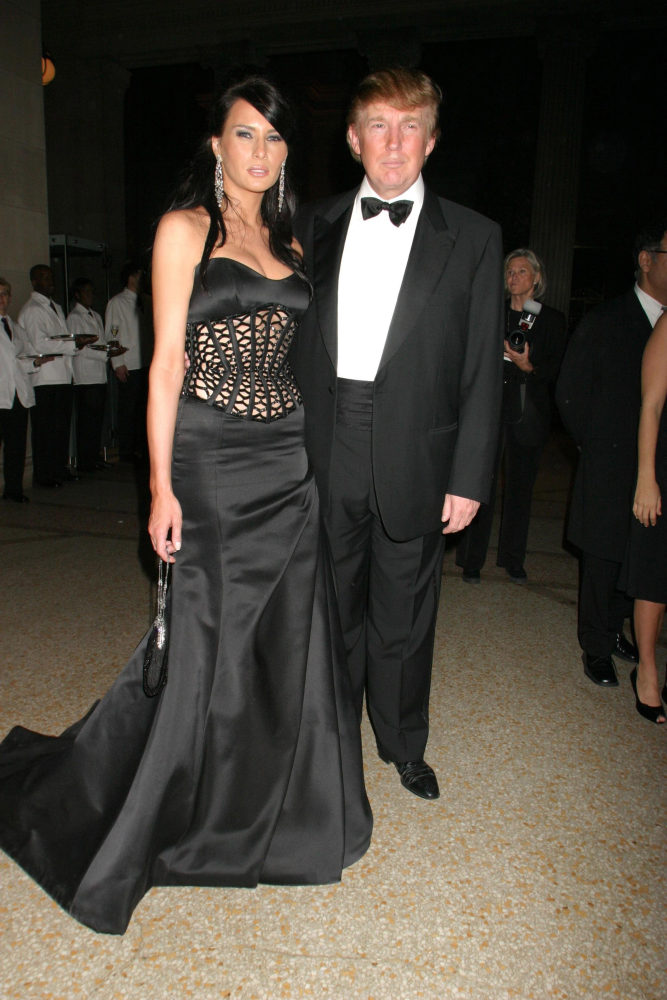 Melania Trump (then Knauss, before her marriage) joined Donald at the Met Gala in 2004 in an all-black, floor-length gown.
The theme of the 2004 gala was "Dangerous Liaisons: Fashion and Furniture in the 18th Century."
2005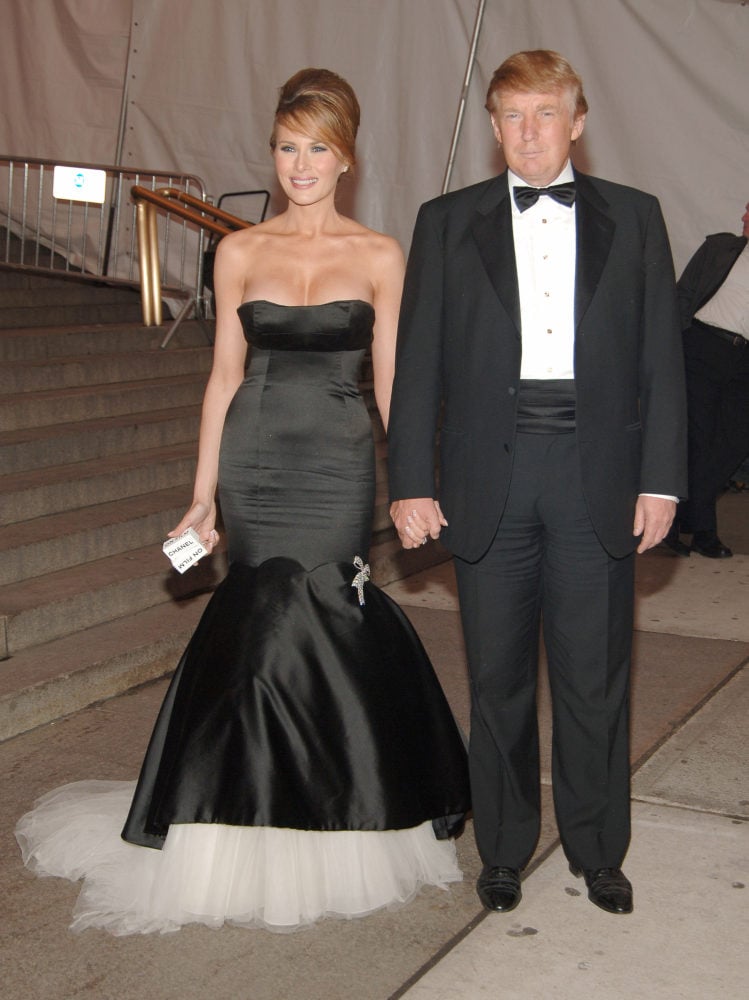 Melania wore an Alexander McQueen ball gown in 2005.
2006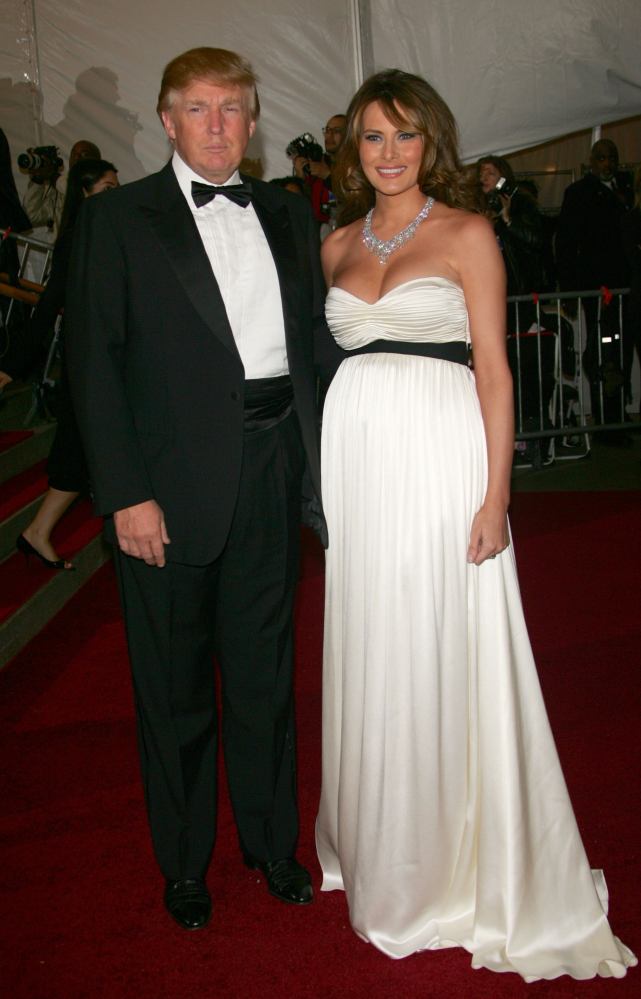 While pregnant with
Barron
, Melania wore a white empire-waist dress with a black belt. The theme of the gala was "Anglomania".
2007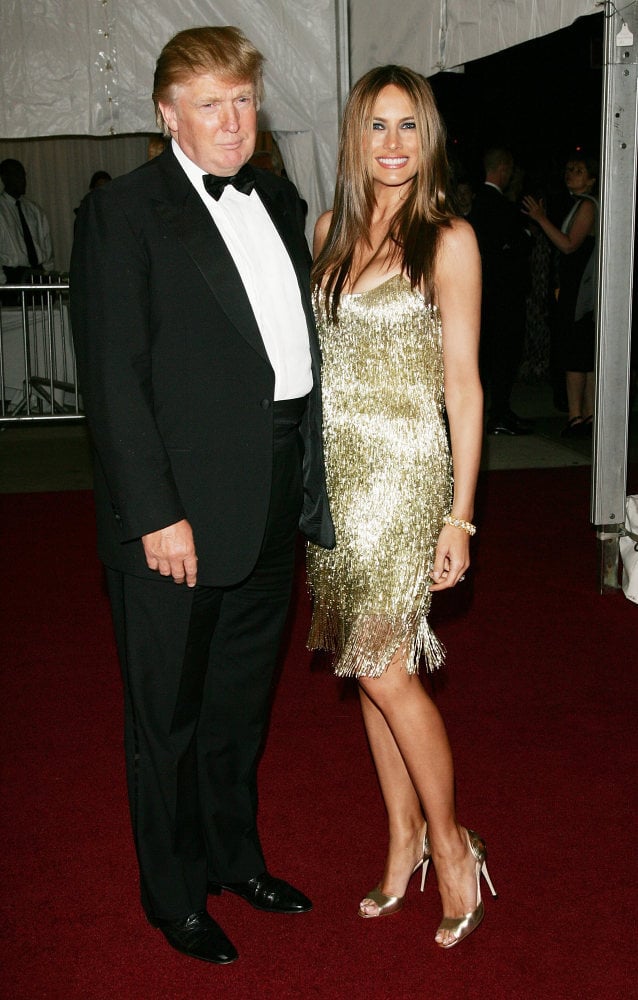 At the 2007 gala, Donald wore his black tuxedo with a bow tie, and Melania wore a shimmering gold dress designed by Roberto Cavalli.
2008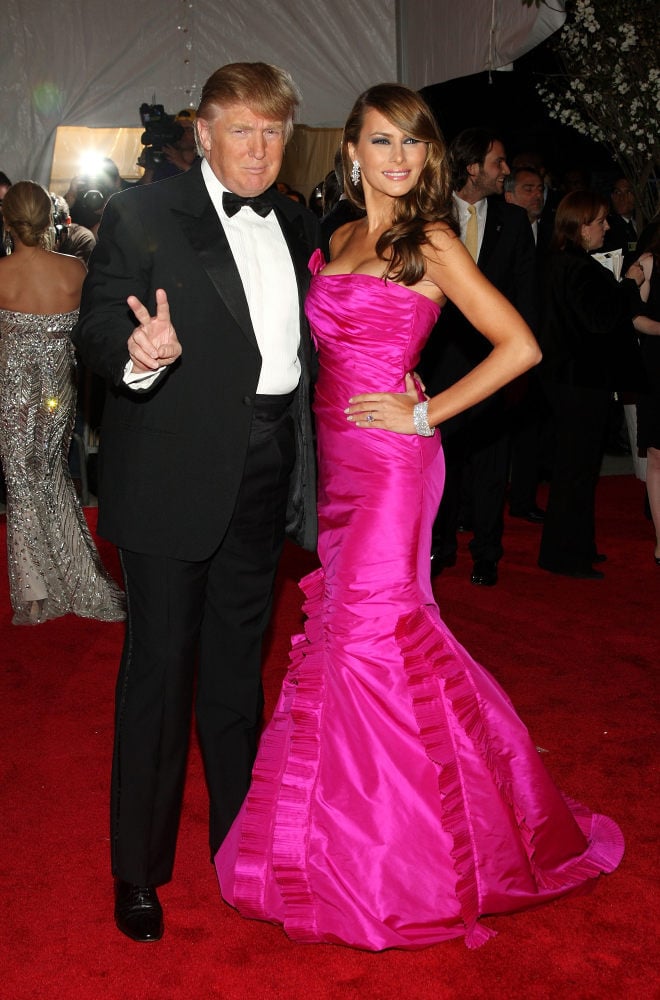 Melania wore a hot pink Vera Wang gown in 2008. The theme of the 2008 gala was "Superheroes".
2009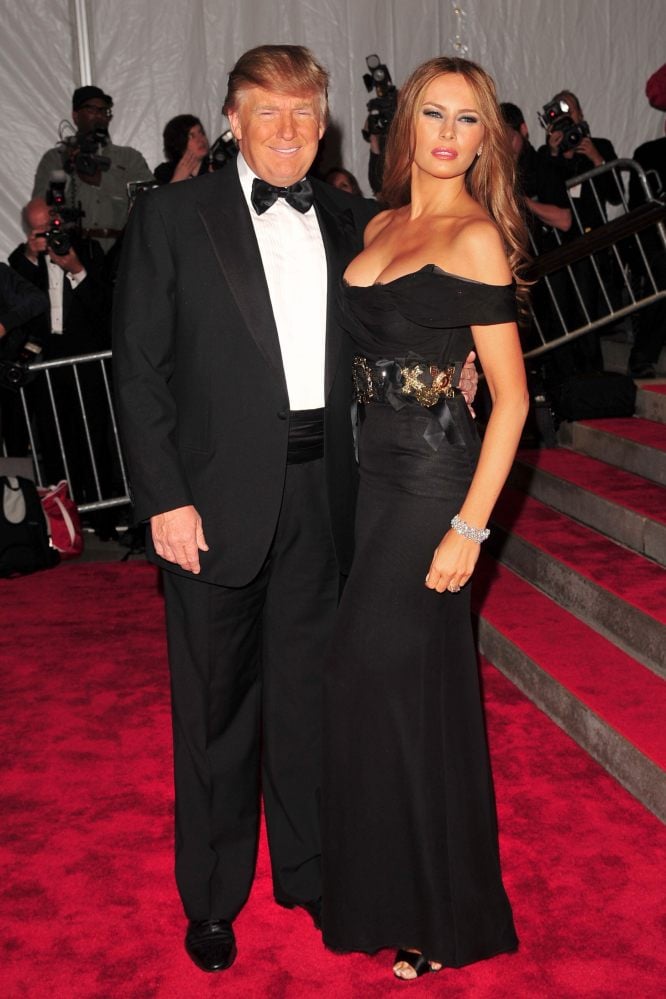 The tuxedo made another appearance at the 2009 gala, while Melania wore a black Dolce & Gabbana dress. Guests dressed according to the theme "The Model As Muse".
2010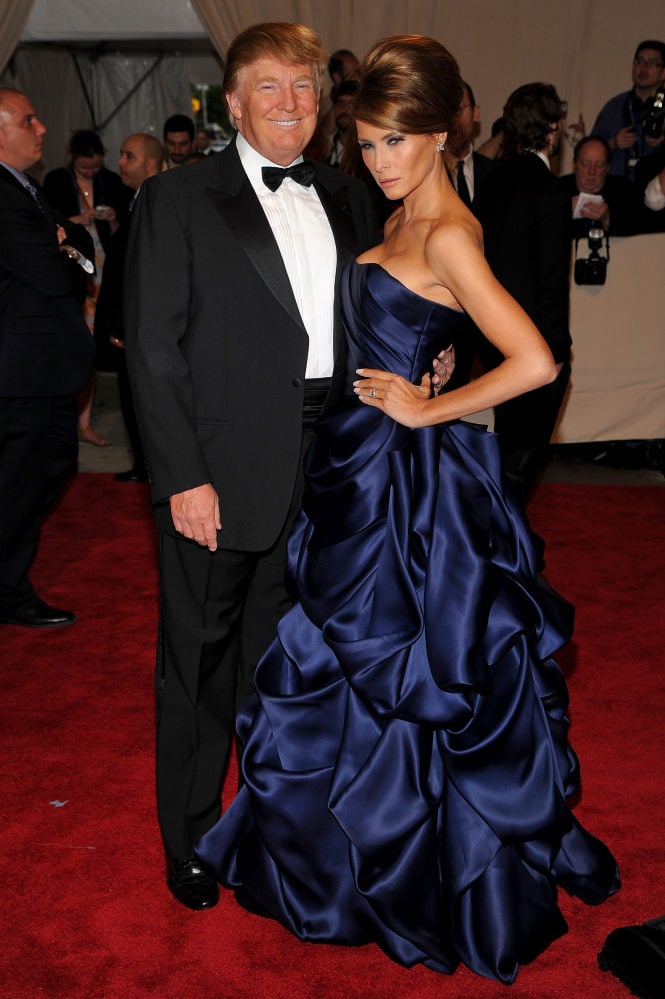 In 2010, Trump sported his go-to tux while Melania wore a navy satin dress
by Christian Siriano
. The designer later stated that he would not dress Melania while she served as first lady.
"I think for a while everyone was trying to figure out what to do. Unfortunately, it really doesn't have anything to do with [Melania], but she is representing what's happening politically and what's happening politically right now is not really good for anyone," he told Time magazine in 2017.
2011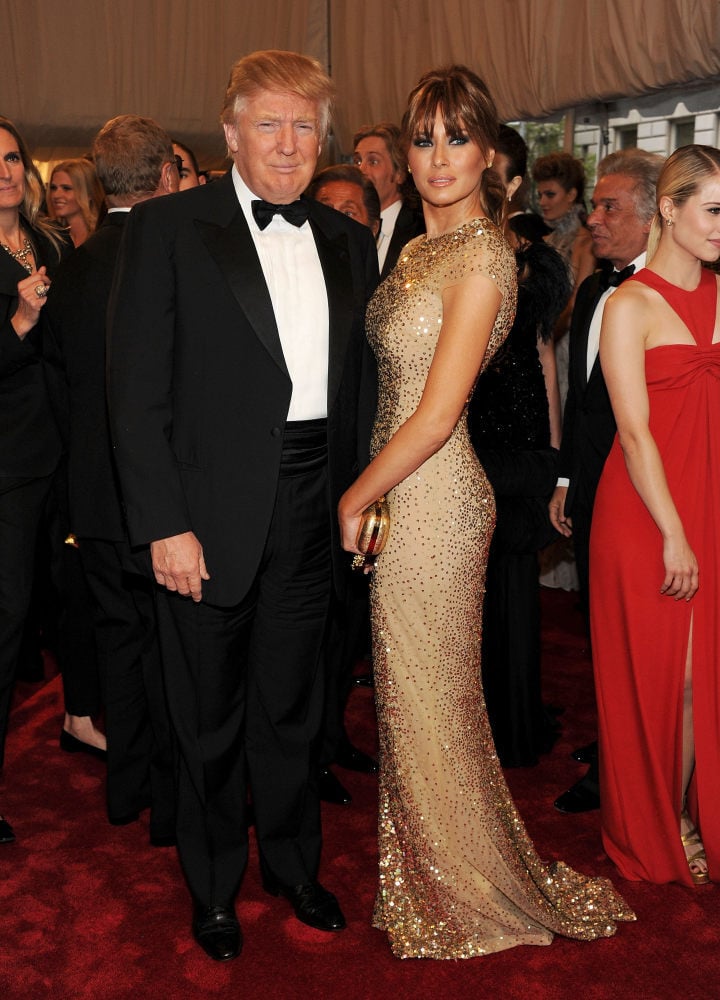 For the "Alexander McQueen: Savage Beauty" Met Gala in 2011, Melania wore a gold dress by Reem Acra. She paired the dress with a gold Alexander McQueen bag, while Trump wore his go-to tuxedo.
2012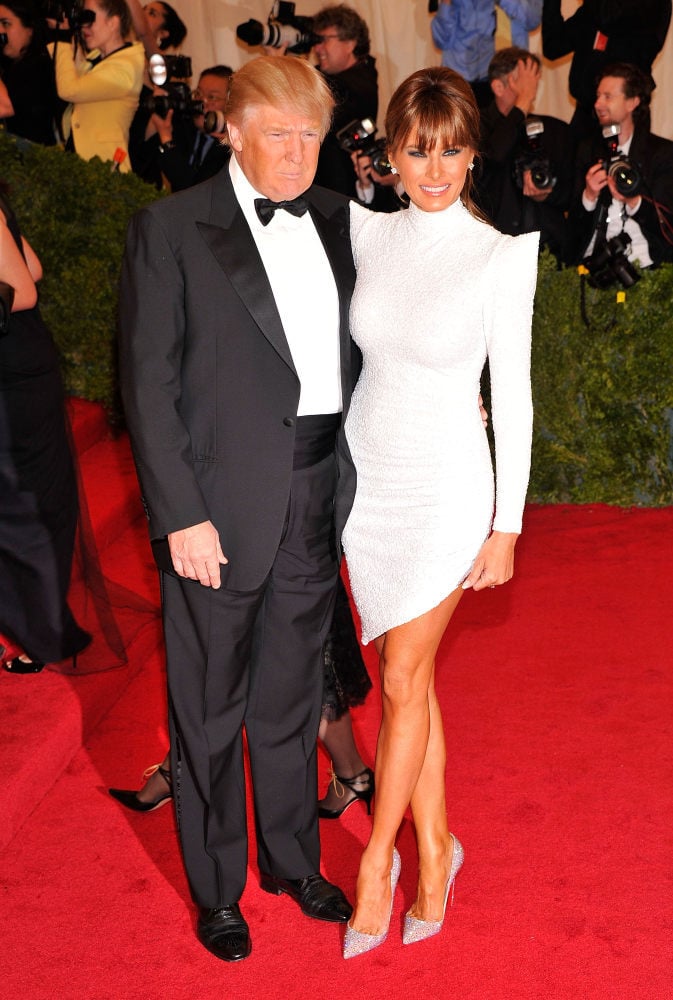 At their last Met Gala appearance, Trump wore what appears to be the same tuxedo, and Melania chose a dramatic white minidress with pointy shoulder pads. The theme that year was "Schiaparelli And Prada: Impossible Conversations".

Before he was the US president, reality TV star Donald Trump was a fixture at the Met Gala, sporting his go-to tux while his wife Melania donned luxury designer gowns
Melania's 2010 navy satin dress designer Christian Siriano later stated that he would not dress the former US first lady while she served in the White House