P. Diddy's mansion in Los Angeles' Beverly Crest neighborhood is up for sale for US$14.5 million. Photos: @diddy/Instagram, toptenrealestatedeals.com
Do it like Diddy! Sean Combs' epic 'bachelor pad' mansion is back on the market for US$14.5 million – take a look inside Puff Daddy's former playboy palace
Sean 'P. Diddy' Combs' luxury home is located in Beverly Crest – past and current famous residents include Mark Wahlberg, Denzel Washington and Sylvester Stallone
The Grammy award-winning rapper and owner of clothing line Sean John lived in the mansion when he starred in A Raisin in the Sun and won a number of BET awards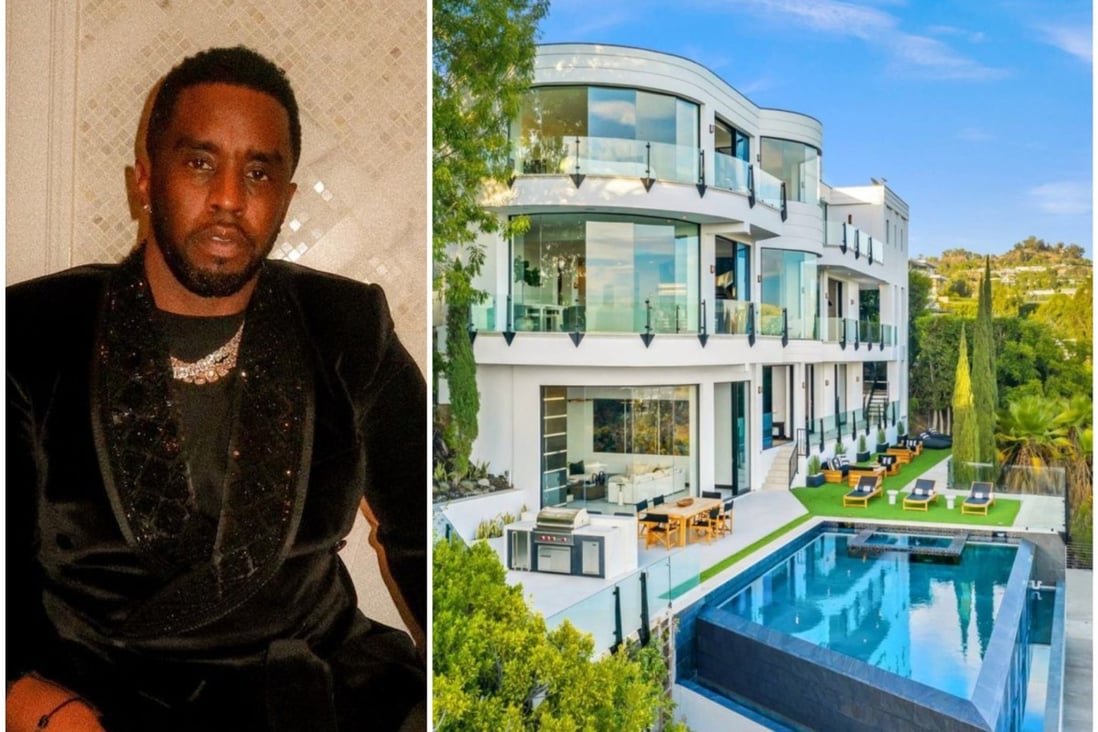 P. Diddy's mansion in Los Angeles' Beverly Crest neighborhood is up for sale for US$14.5 million. Photos: @diddy/Instagram, toptenrealestatedeals.com
Sean "P. Diddy" Combs' LA mansion just came on the market for US$14.5 million. More specifically, the mansion where he lived when he starred in the TV movie A Raisin in the Sun, won BET awards as part of the group Dirty Money and single Hello Good Morning, grabbed multiple MTV awards, developed several clothing lines, and opened two restaurants and a very successful liquor business.
The 52-year-old rapper lived in the 2004-built, recently updated home from 2008 to 2013. Located in the Beverly Crest neighbourhood where the crème de la crème of LA society live in their secluded mansions, the home includes five bedrooms and six bathrooms on three floors.
Something a bit different, but convenient for entertaining and late-night munchies, the well-equipped kitchen is located on the middle floor.
Almost everything about P. Diddy's former bachelor pad is connected in some way to the home's dramatic views – at every level. Visitors enter through the top floor into a grand foyer with a large skylight, dramatic chandelier, museum-quality finishes and postcard views of Los Angeles from the Pacific Ocean to Downtown.
Also on the top floor is the master suite with a lounge, fireplace, balcony and a white marble bath with dual vanities, showers, soaking tub and more sweeping views.
In addition to the kitchen, the middle floor includes the dining area and a separate seating area with an entertainer's bar and an office.
The first level includes three more bedrooms and a living room with a fireplace and glass doors that open into a large backyard with an infinity pool, sunken spa, grass lawn and even more views.
Beverly Crest might be LA's best neighbourhood, with its celebrities, gorgeous views and the world-famous 90210 postcode. Located next to Beverly Hills between Bel Air and the Hollywood Hills, Beverly Crest's hills and canyons provide the starting canvas for homes such as the Hyatt Family 49,300 sq ft hilltop home, with current values reaching the US$100 million stratosphere.
Famous residents, past and present, include Rock Hudson, Mark Wahlberg, Denzel Washington and Sylvester Stallone.
Born and raised in New York, P. Diddy got into the music business as a talent director working with entertainers such as Usher and Mary J. Blige in 1993, and founded his own record company, Bad Boy Entertainment.
He then started producing his own music and, by the late 90s, was one of the world's biggest stars, on his way to multiple Grammy, MTV and BET awards. His song I'll Be Missing You was the first rap song to debut at No 1 on the Billboard charts. Somehow, P. Diddy also found time to start his very successful clothing line Sean John.

Want more stories like this? Follow STYLE on Facebook, Instagram, YouTube and Twitter.