How male celebs are levelling up their red carpet jewellery: Timothée Chalamet dazzled in Cartier at this year's Oscars, while Pharrell Williams kicked off the trend in Chanel pearls and diamonds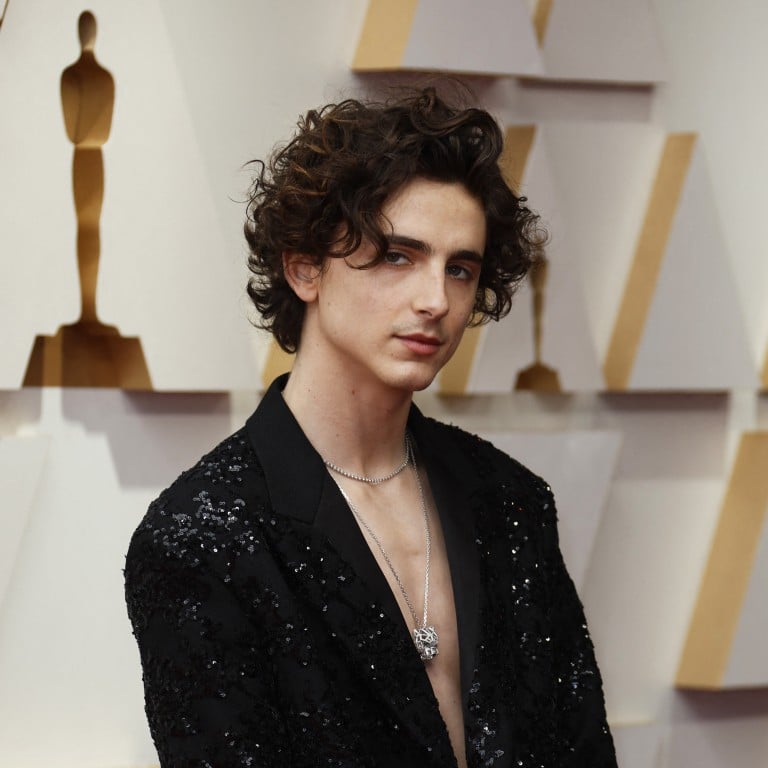 From the kings of Egypt and Roman emperors, to Britain's royals, the Russian tsars and India's maharajas, throughout history, wealthy and powerful men have worn at least as much jewellery as their female opposites. Today, following several decades where jewellery for men had fallen out of favour, we're seeing
a renaissance in gem-set gentlemen's adornment.
"The history of men and jewels is a story of gradual reduction," says James Sherwood, author of a recent coffee table book on the topic, Jewellery for Gentlemen. "From the Tudors onwards we see pearls, diamonds and coloured stones gradually disappear from ears, fingers, necks and sewn onto garments and caps. Now we are in an era of 'ambisextrous' style that has opened the door for men to wear as much precious sparkle as they choose."
Nowhere is the return of jewellery for men more evident than
during the music and film industries' awards season
. Pharrell Williams is often credited with kick-starting the red carpet men's gems trend by wearing head-to-toe Chanel at the 2017 Academy Awards, including a diamond, pearl and platinum brooch on his lapel, and heaped strands of black pearls around his neck.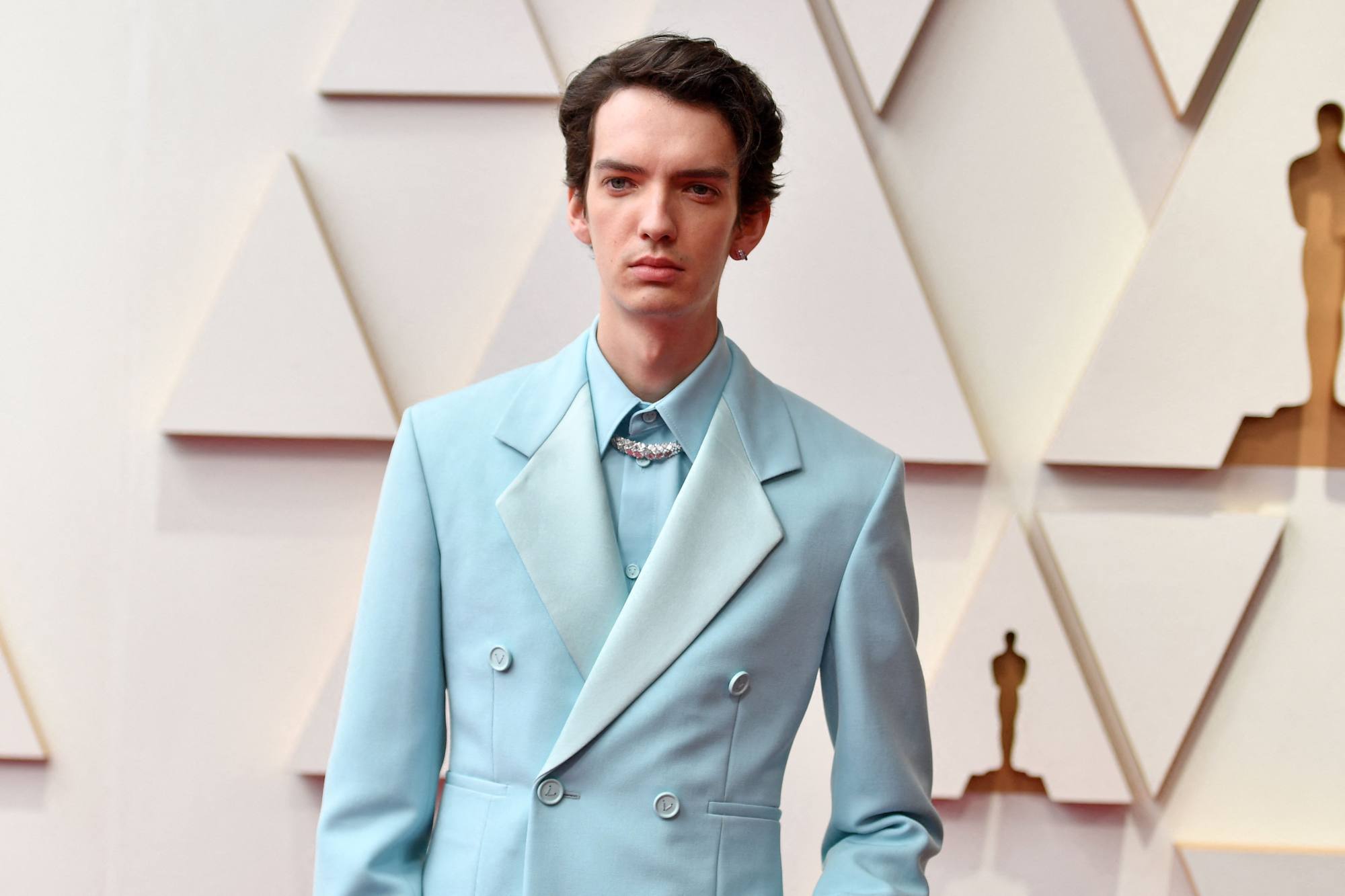 At this year's Oscars, jewellery from Cartier was particularly prominent. Rami Malek coupled a Prada tuxedo with a Clash de Cartier lapel pin, with a chain spanning two cabochon-cut jewels. "It feels unique but still maintains the elegance of the look," he remarked. Kodi Smit-McPhee sported powder-blue Bottega Veneta tailoring with a diamond-encrusted Cartier Révélation d'une Panthère watch and an iced-out necklace in place of a bow tie.
Following on from his appearance at the 2020 Oscars in a vintage 1955 Cartier brooch with diamonds and Burmese rubies, this year, Timothée Chalamet accessorised a sequinned Louis Vuitton women's suit with several pieces of Cartier jewellery. Underneath, Chalamet went shirtless, adorning his bare chest with a Cartier Panthère pendant.
Other bejewelled gents at the 2022 Oscars included Jason Momoa, wearing chunky Sacred Skulls hand candy with his Henry Poole bespoke dinner suit; Jay Ellis, in a Dolce & Gabbana tuxedo with a diamond and emerald lapel pin from David Yurman; and Joe Jonas, who wore a Tiffany & Co. Victoria diamond necklace to a Vanity Fair red carpet event.
The 2022 Grammy Awards also saw many male musical stars turn the glitz volume up to 11. Jon Batiste, who took home five awards including album of the year, coupled a sequinned Dolce & Gabbana suit with two Boucheron diamond necklaces, plus rings set with bold rubellite and tourmaline gems.
Soul star Leon Bridges wore a Bulgari Serpenti Viper necklace, valued at around US$200,000 and set with nearly 15 carats of diamonds, as well as rings from David Yurman, Shay jewellery and Jacquie Aiche. Lucky Daye collected his first Grammy in a suite of Cartier jewellery comprising diamond Panthère hoop earrings, a baguette diamond choker and a diamond and sapphire brooch.
R&B hitmaker Giveon gave shades of 2017 Pharrell, wearing a Chanel suit in "black sequin fantasy" tweed with numerous necklaces, including a transformable necklace of pearls and diamonds with a large camellia motif pendant that can also be worn as a brooch. "Chanel is classic, timeless and elegant," he said after the ceremony. "I wanted my Grammys look to communicate that as well."
Questlove of The Roots DJed Silk Sonic's celebratory Grammy party dressed to replicate the look of a late-80s hip-hop MC, with what appeared to be dozens of heavy gold chains draped from his neck. In fact, this was a tromp l'oeil jewellery piece created by Amsterdam-based designer Uli Rapp in collaboration with Questlove's stylist, Rebecca Pietri.
Sherwood decrees Billy Porter the reigning champion of men's award show bling. "Porter leads the charge, wearing precious estate jewellery that was once the sole territory of rich old white women," Sherwood says. "I love to see a strong black gay man expressing himself and feeling free to wear exquisite jewels. Anyone who tries to judge comes across as arcane and bigoted."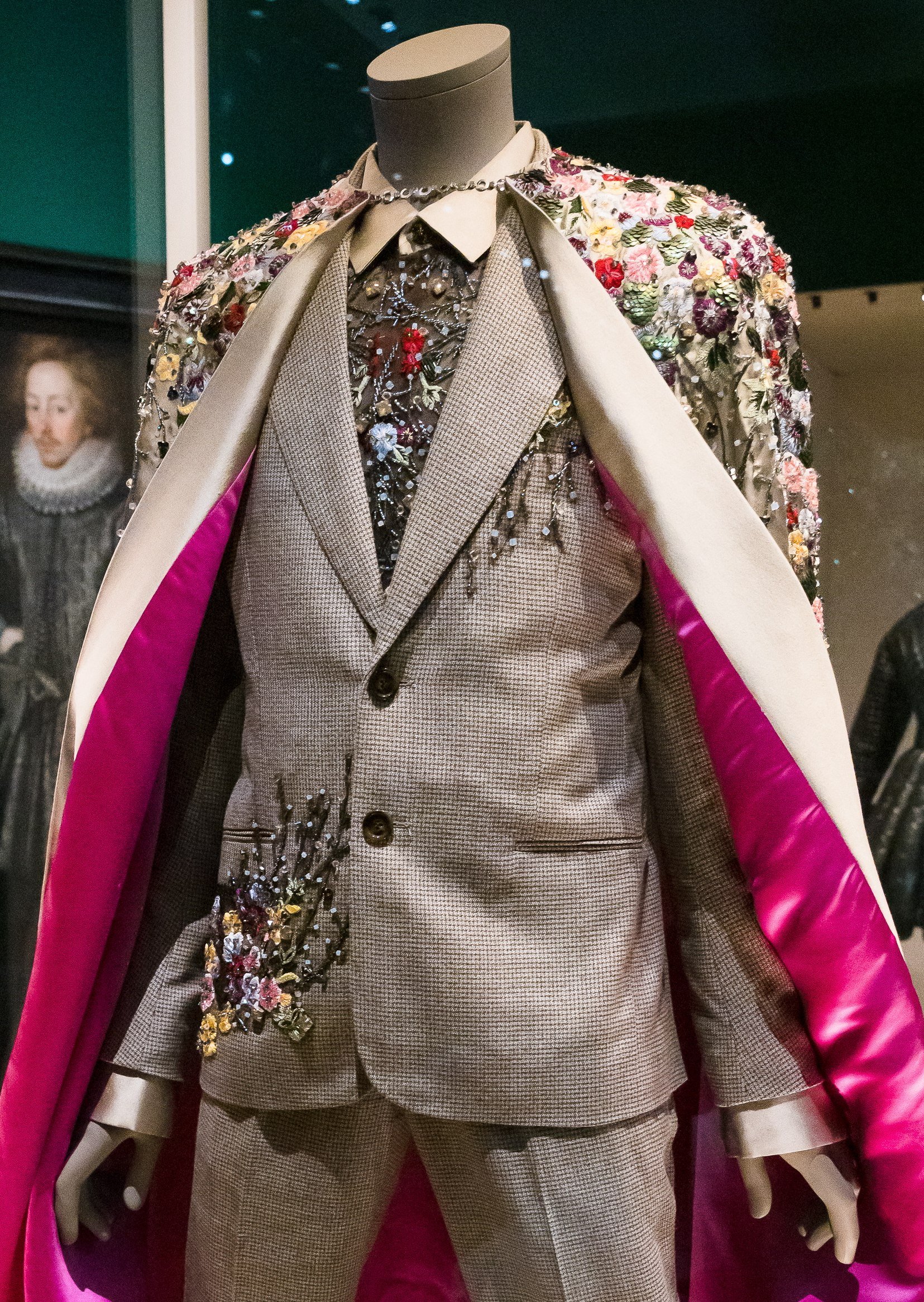 Porter made a dazzling impression in a trio of diamond, ruby and enamel Oscar Heyman brooches at the 2019 Golden Globes, and levelled up at the Oscars in 2021, when he worked the red carpet in a Lark & Berry white gold collar necklace, studded with 500 diamonds. As
Porter said last year
, "In this moment, I am a leader of the revolution, de-gendering fashion."
Sherwood singles out several other bejewelled gentlemen for praise. "Marc Jacobs always wears Grima jewels with immense style and I like the bling ring of cool younger dudes like Justin Bieber, Lucky Blue and Adam Lambert, who do not give a damn what anyone thinks – other than Madonna."
Men tempted to emulate the shimmering style of celebs strutting contemporary red carpets needn't be blessed with a budget of millions like those superstars of stage and screen though. "I am a huge fan of costume jewellery, which is all an author can afford," Sherwood suggests.
And men's jewellery needn't be restricted to the evening.
"I like a daytime brooch on a tailored jacket," says Sherwood, one of Britain's foremost men's style commentators, who has written several books on Savile Row tailoring. "It's so much more polysexual and fabulous than a limp handkerchief."

Williams started the trend at the 2017 Academy Awards in head-to-toe Chanel, with black pearls around his neck and a diamond, pearl and platinum brooch
Young celebs like Marc Jacobs, Justin Bieber and Adam Lambert don't care what anyone – other than Madonna – thinks of their fondness for wearing bling