Ariana Grande's 20 most iconic fashion looks ever: inside her style transformation from Nickelodeon teen starlet to pop princess donning Versace, Alexander McQueen and Giambattista Valli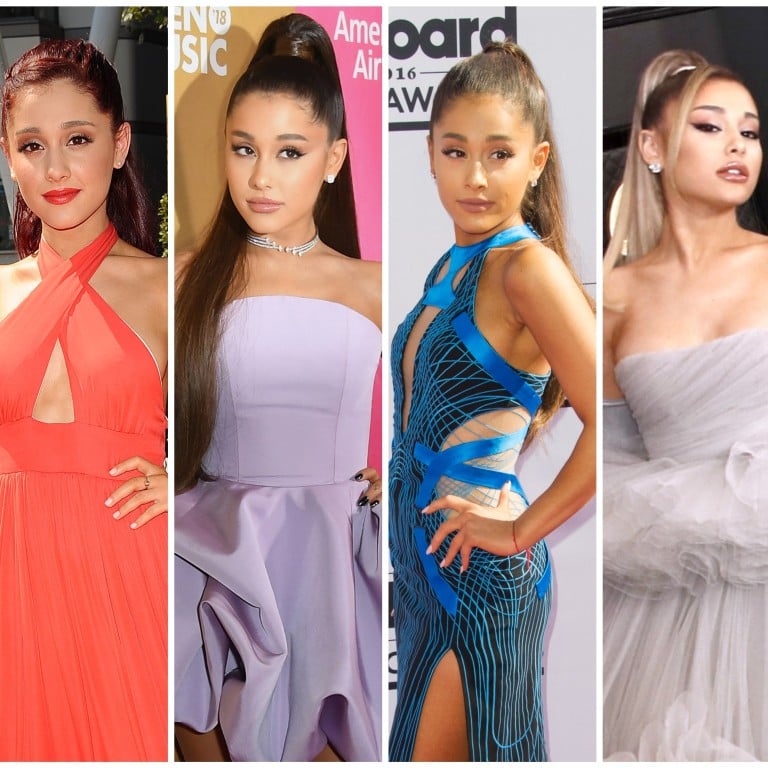 Ariana Grande's style has evolved greatly over the last nine years. Where the singer's leather Moschino red carpet look at the 2014 MTV Music Awards was one of her boldest, her 2018 Met Gala look remains the stand-out.
Here's 20 of her most daring red carpet looks …
1. Emmy's 2012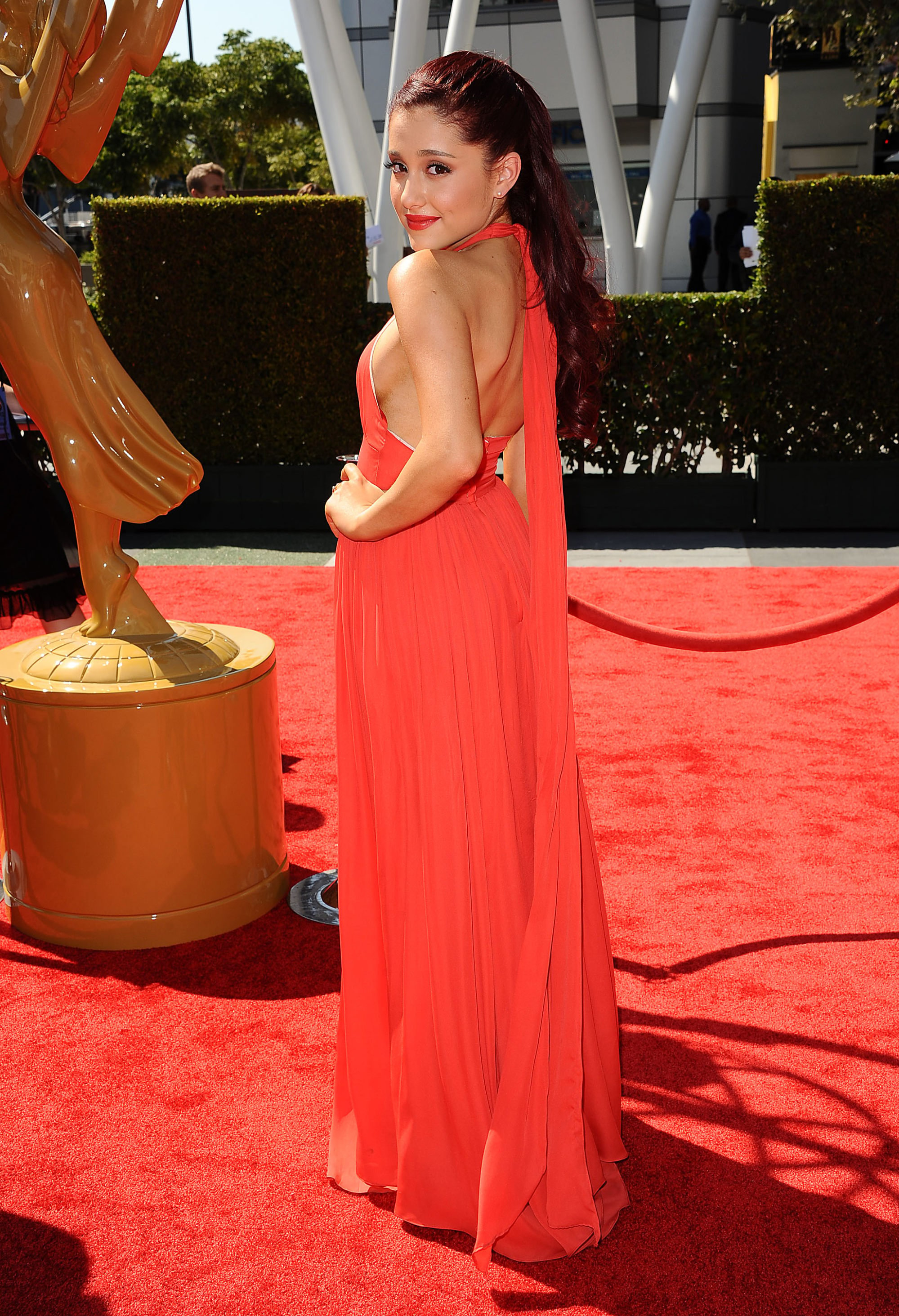 Grande's transition from an age-appropriate teen starlet to a daring pop sensation was slow and steady. Many of Grande's early looks seemed like she was trying to define her style, likely explaining her experimentation with statement colours like crimson here.
Her 2012 Emmys red carpet gown, a vivacious backless halter gown with a flowing skirt, was the beginning of her halter dress era, which persisted for years.
2. Country Music Awards 2013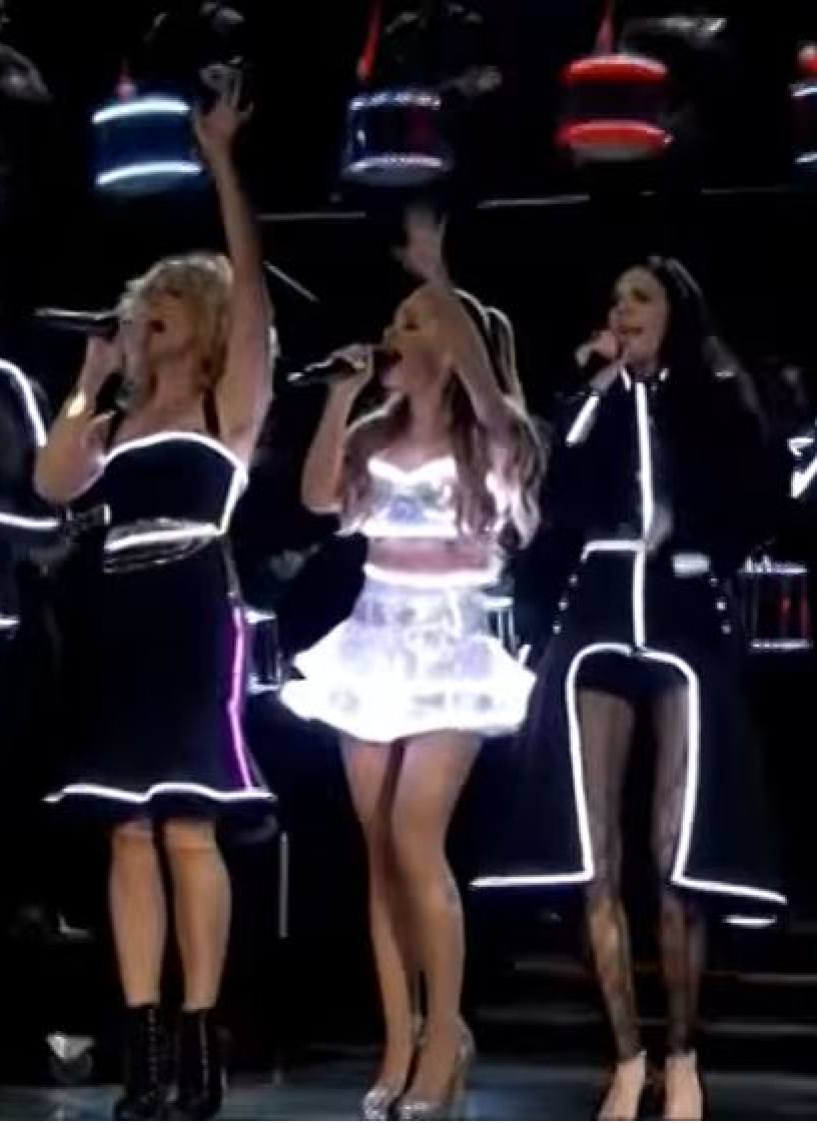 Around this time, Grande had just released her first album, and she was finding her own style as a budding pop star.
The bright neon-lit two-piece outfit that she wore to perform at the 2013 Country Music Awards alongside Little Big Town was unique, and solidified her as an artist to watch, and potential style icon.
3. American Music Awards 2014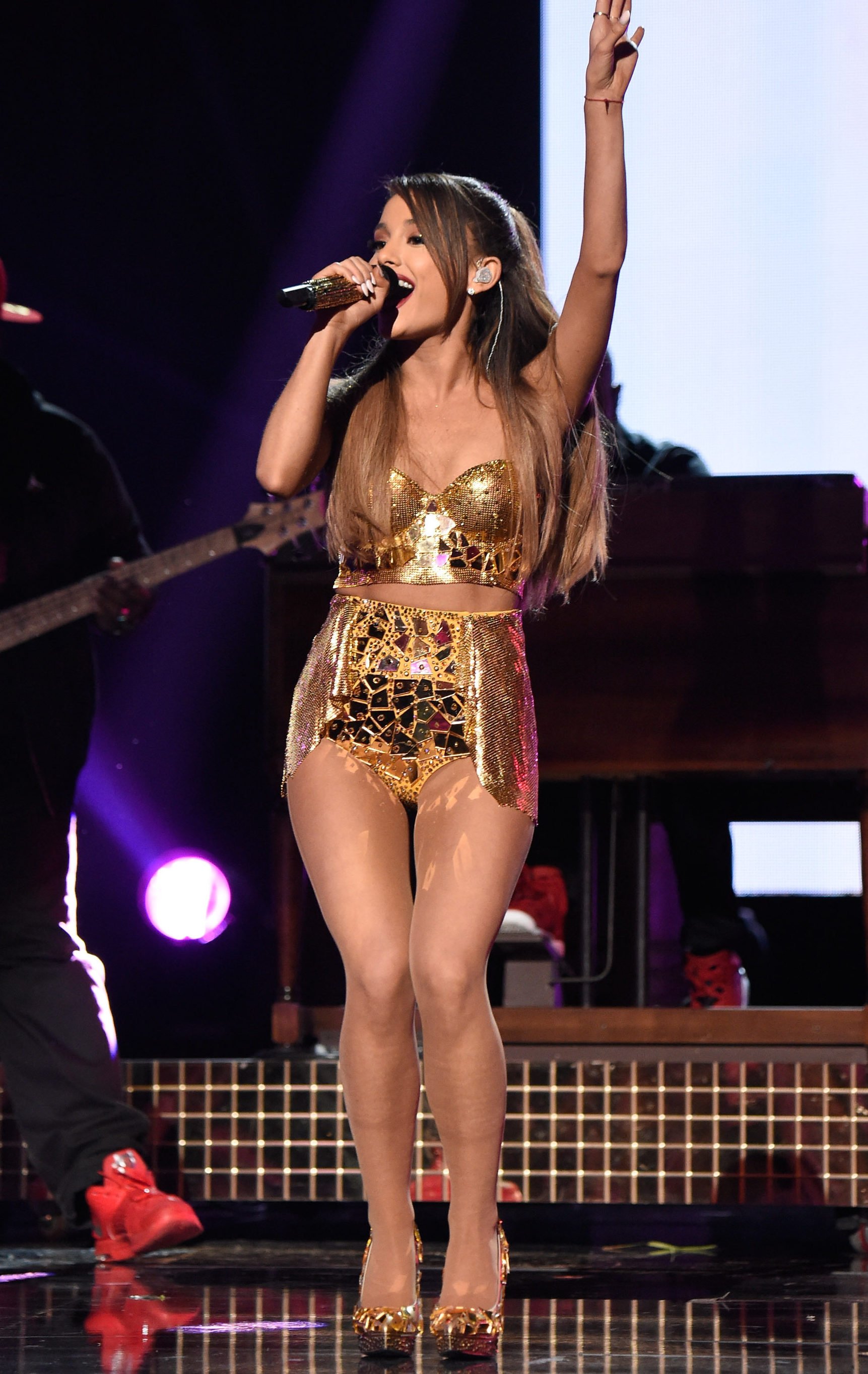 The golden two-piece performance outfit sparkled under the stage lights of the 2014 American Music Awards, illuminating Grande's golden hues and added substantially to her style evolution.
4. Moschino at the MTV VMAs 2014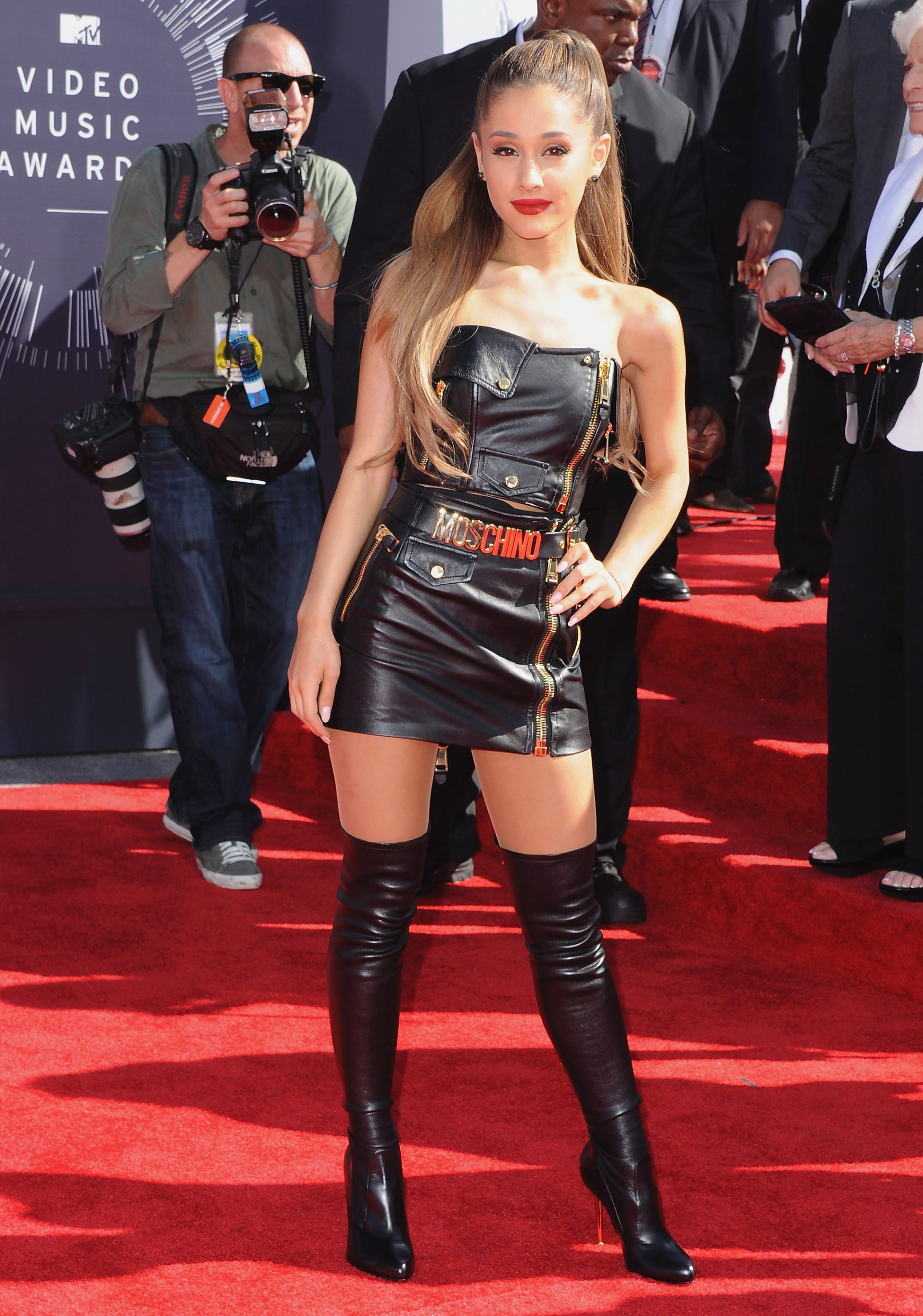 In the beginning of Grande's career, she was a sweet Nickelodeon teen sensation, but soon after her intro into the music scene, she blossomed into a full-fledged woman.
After transitioning from kid star to pop star, Grande began experimenting with her look.
Her leather Moschino minidress at the 2014 MTV VMAs was one of her first daring red carpet looks. She paired it with matching thigh-high leather boots, adding to the drama.
5. Bambi Awards 2014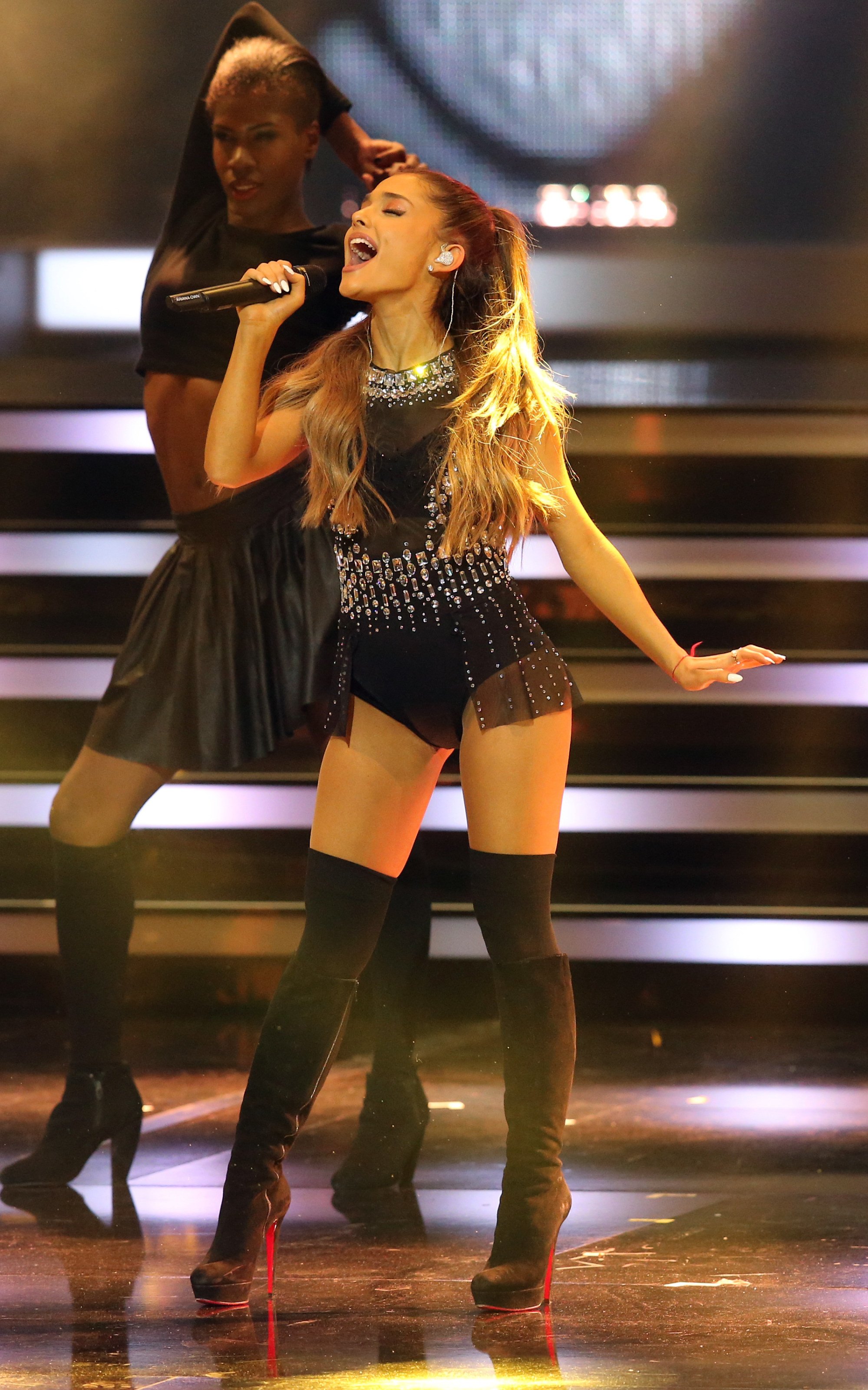 The 2014 Bambi Awards showcased Grande in a sultry light, with her sheer bodysuit and thigh-high boots.
6. American Music Awards 2014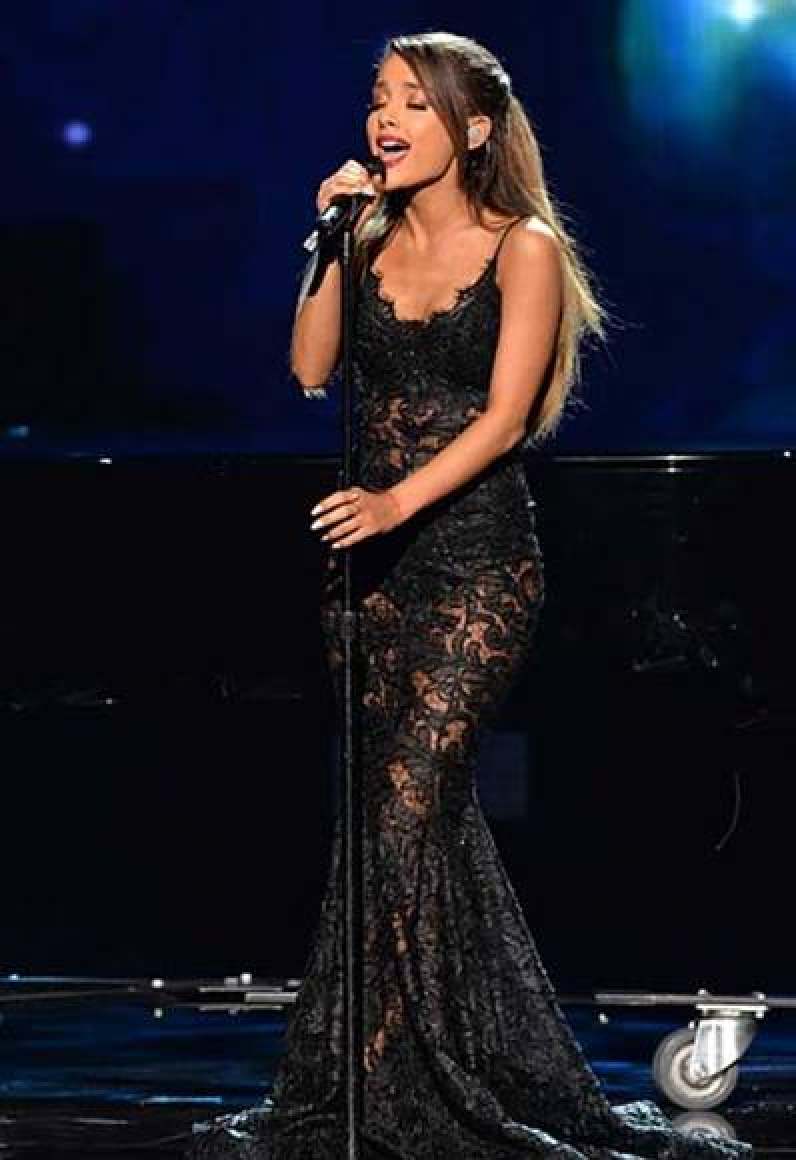 This look, a see-through lace patterned dress designed by MT Costello, was pure elegance, and was very much on theme for the typical looks that were popular for Grande around this time: sheer dresses, red lips and high ponies.
7. Versace at the Grammys 2015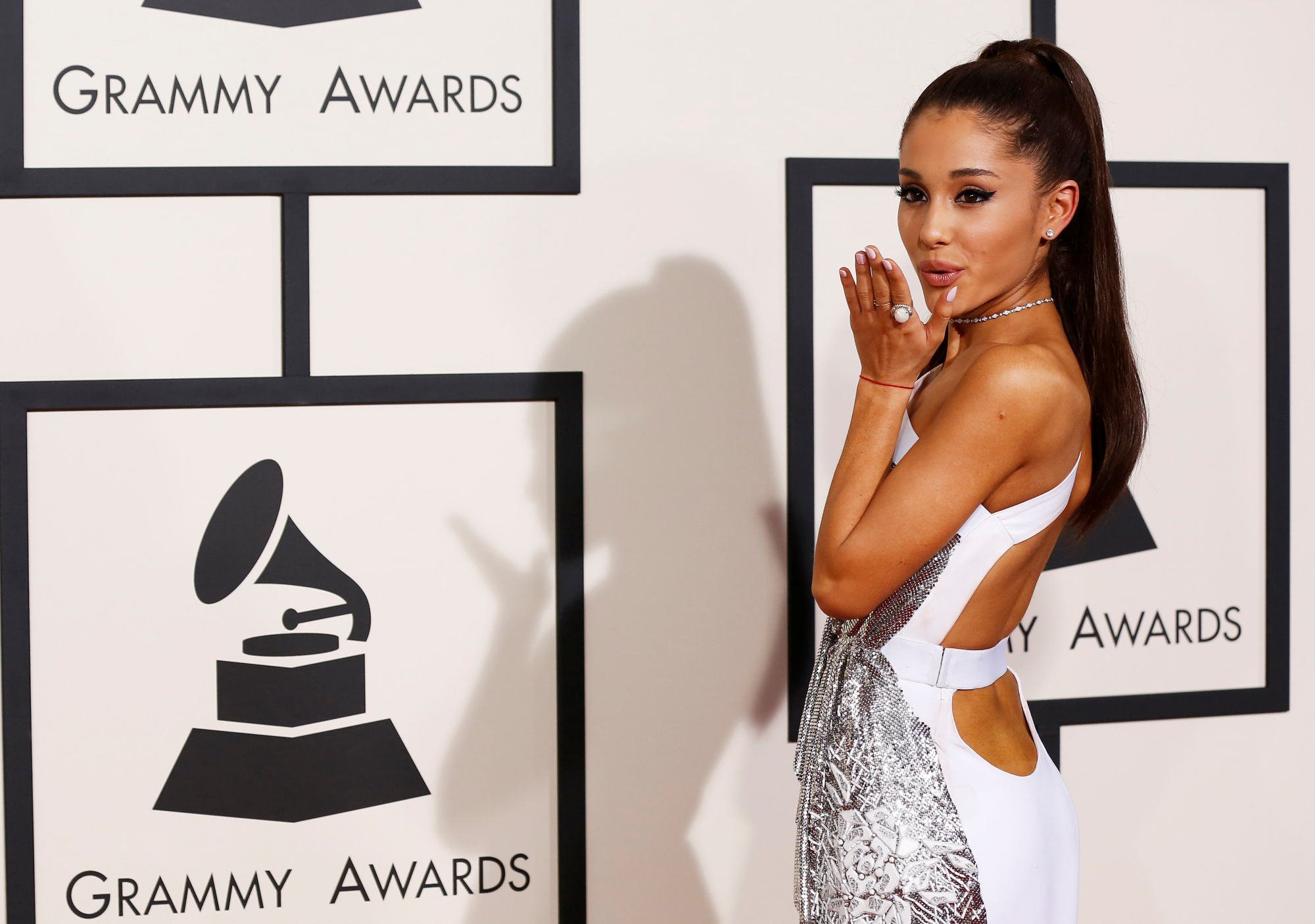 This white and metallic Versace dress Grande wore to the 2015 Grammys showed quite a bit of skin, with its slit and back cut-outs, and was the beginning of her experimentation with being more daring.
8. Grammys 2015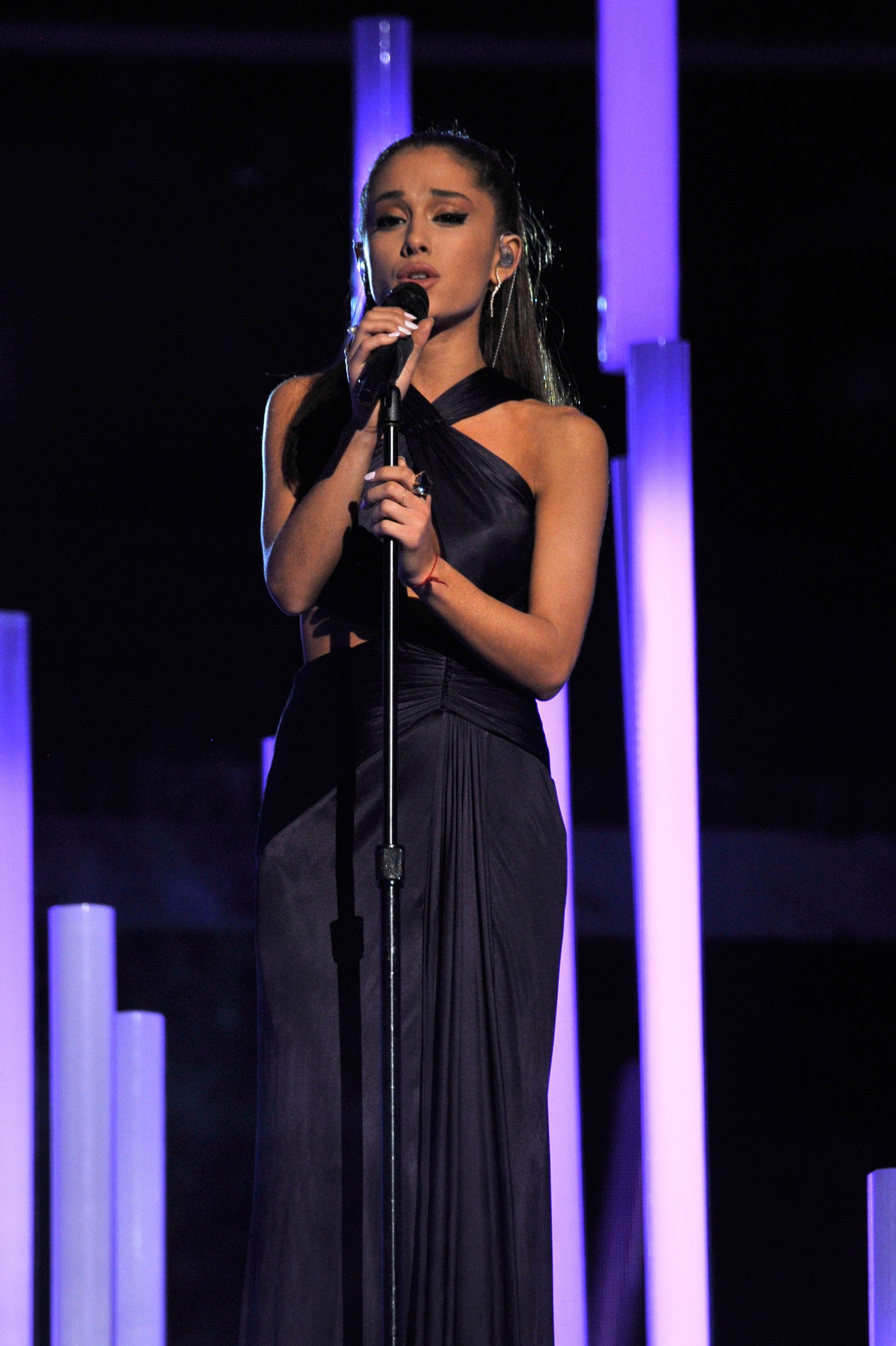 Sophisticated keyhole gowns with a moderate amount of cleavage were one of Grande's signature looks during 2015 Grammys stage. This gown featured a keyhole cut-out on her torso.
9. Atelier Versace at the Billboard Music Awards 2016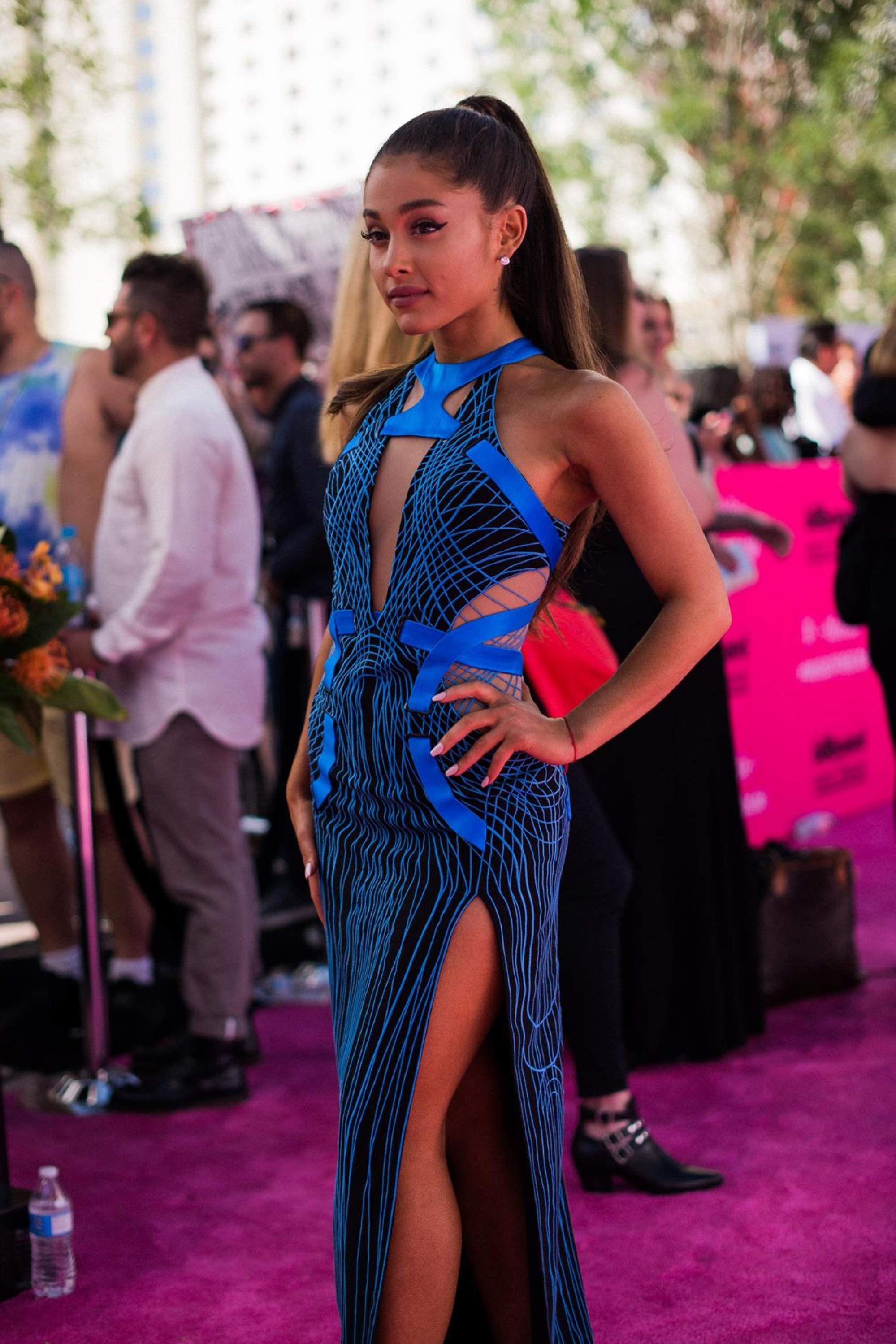 Some of Grande's best red carpet looks involve her in sleek cut-out dresses, like the one she wore to the 2016 Billboard Music Awards. The black gown had another thigh-high slit and cut-outs with electric blue accents.
Once again, she made Versace proud by wearing their haute couture section of their collection, Atelier Versace.
10. Alexander Wang at the MTV VMAs 2016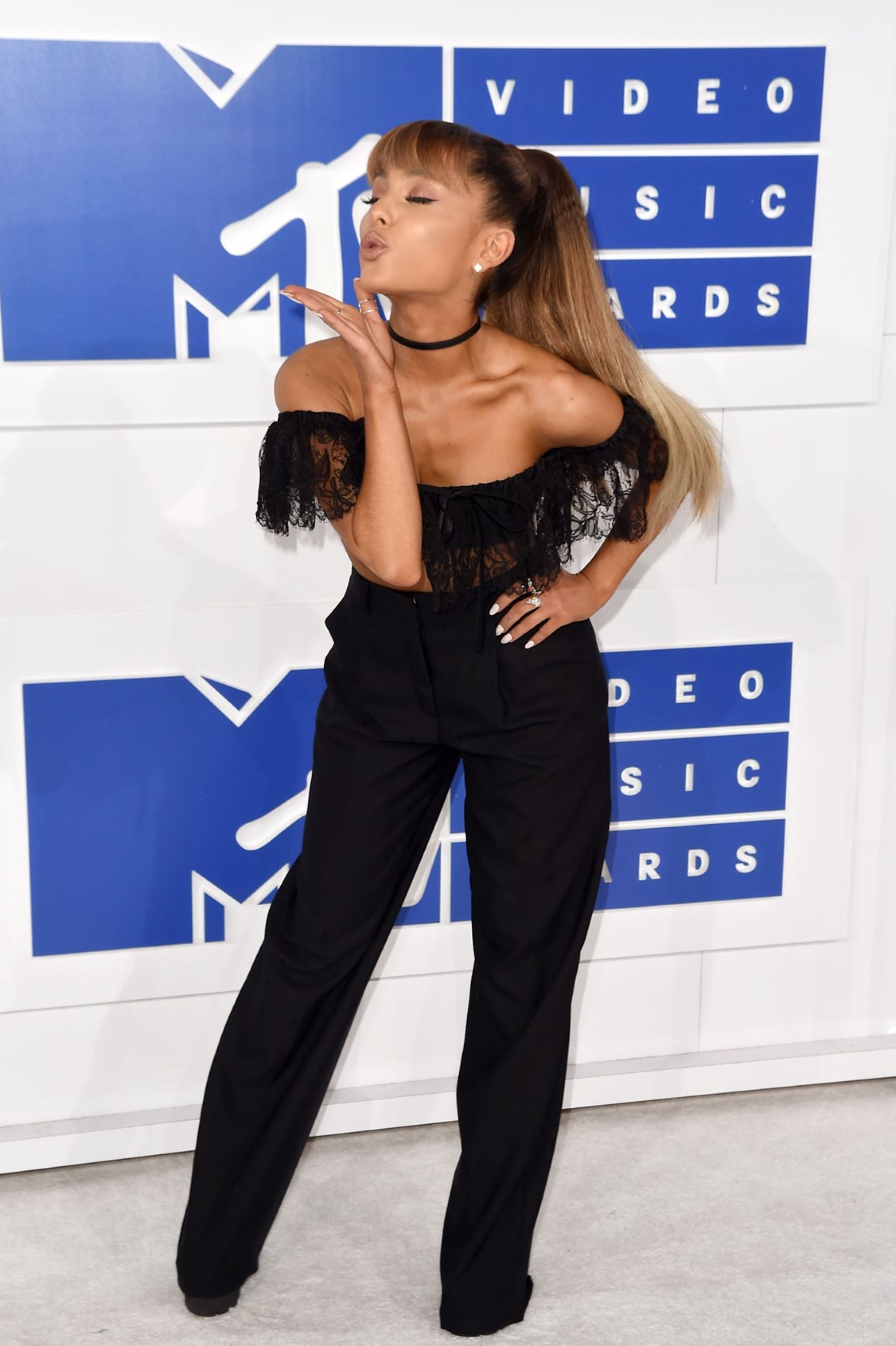 Straying away from gowns and tightfitting dresses, Grande popped up at the 2016 MTV VMAs celebrity carpet in a classy business casual two-piece look that managed to balance both the sophisticated trousers and the on-trend tiny crop top.
The lacy black off-the-shoulder Alexander Wang crop top was paired with black high-waisted trousers.
11. Alexander McQueen at the American Music Awards 2016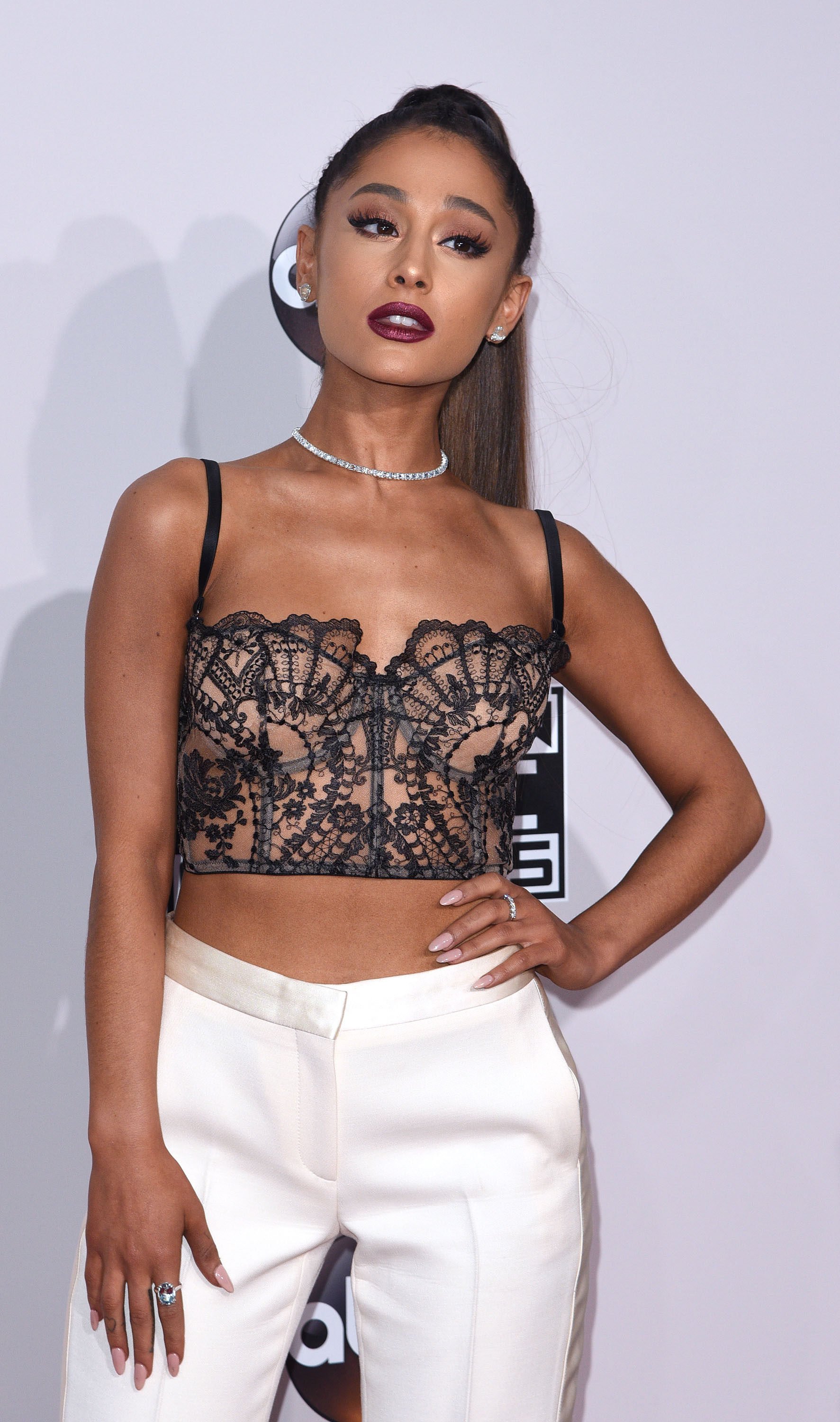 When Grande finds a style that works for her she loves to stick to it, as evidenced by her back-to-back high-waisted pants looks. This time, she paired a lacy spaghetti-strap bustier with white Alexander McQueen trousers.
12. "Dangerous Woman" tour 2017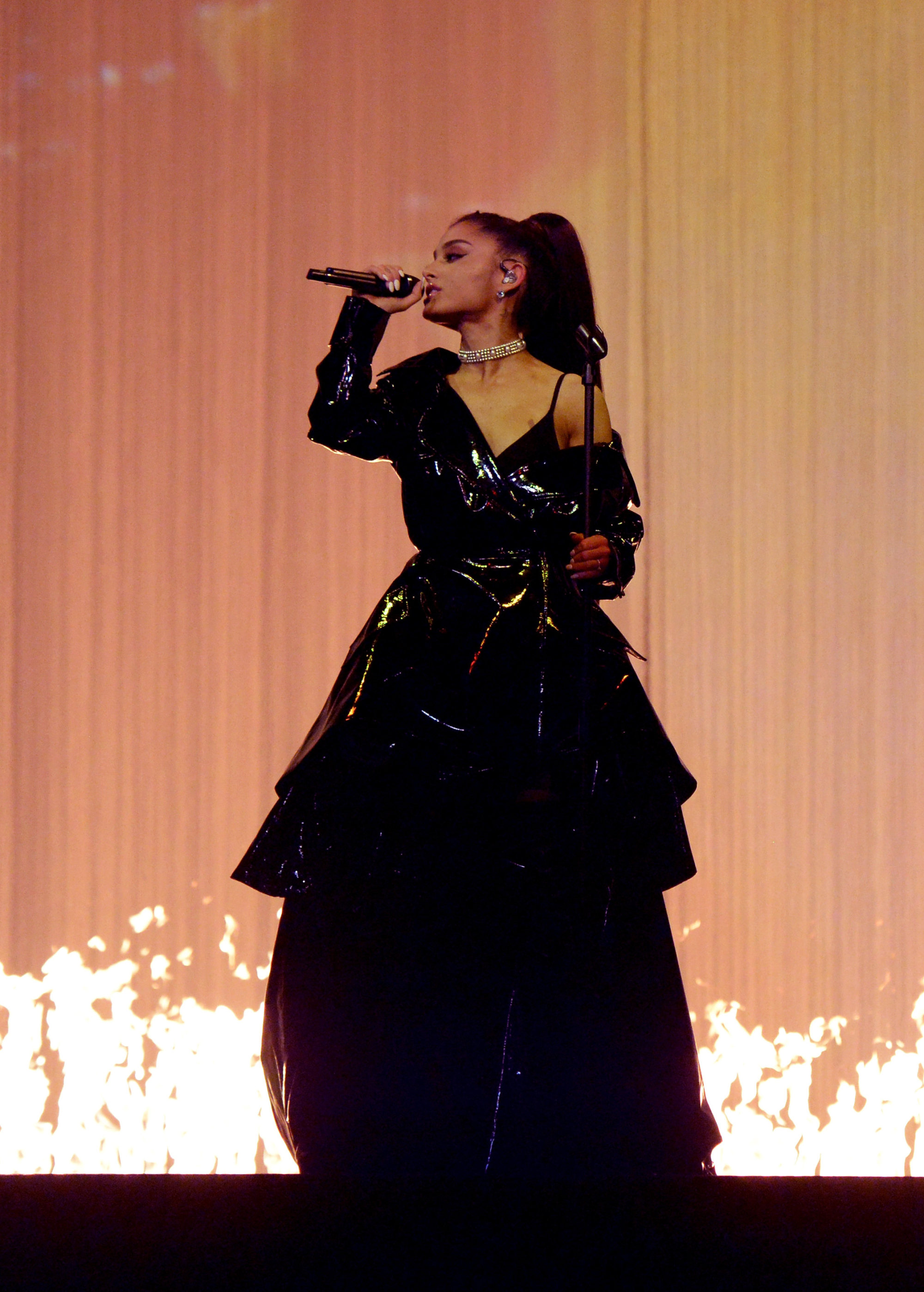 An edgier side of Grande was displayed during her 2017 "Dangerous Woman" tour.
Grande's tour fashion designer and stylist, Bryan Hearns and Law Roach, produced looks for her that were an amalgamation of street fashion and haute couture, such as this ruffled trench coat gown and diamond choker.
13. Channelling Wonder Woman at the MTV VMAs 2016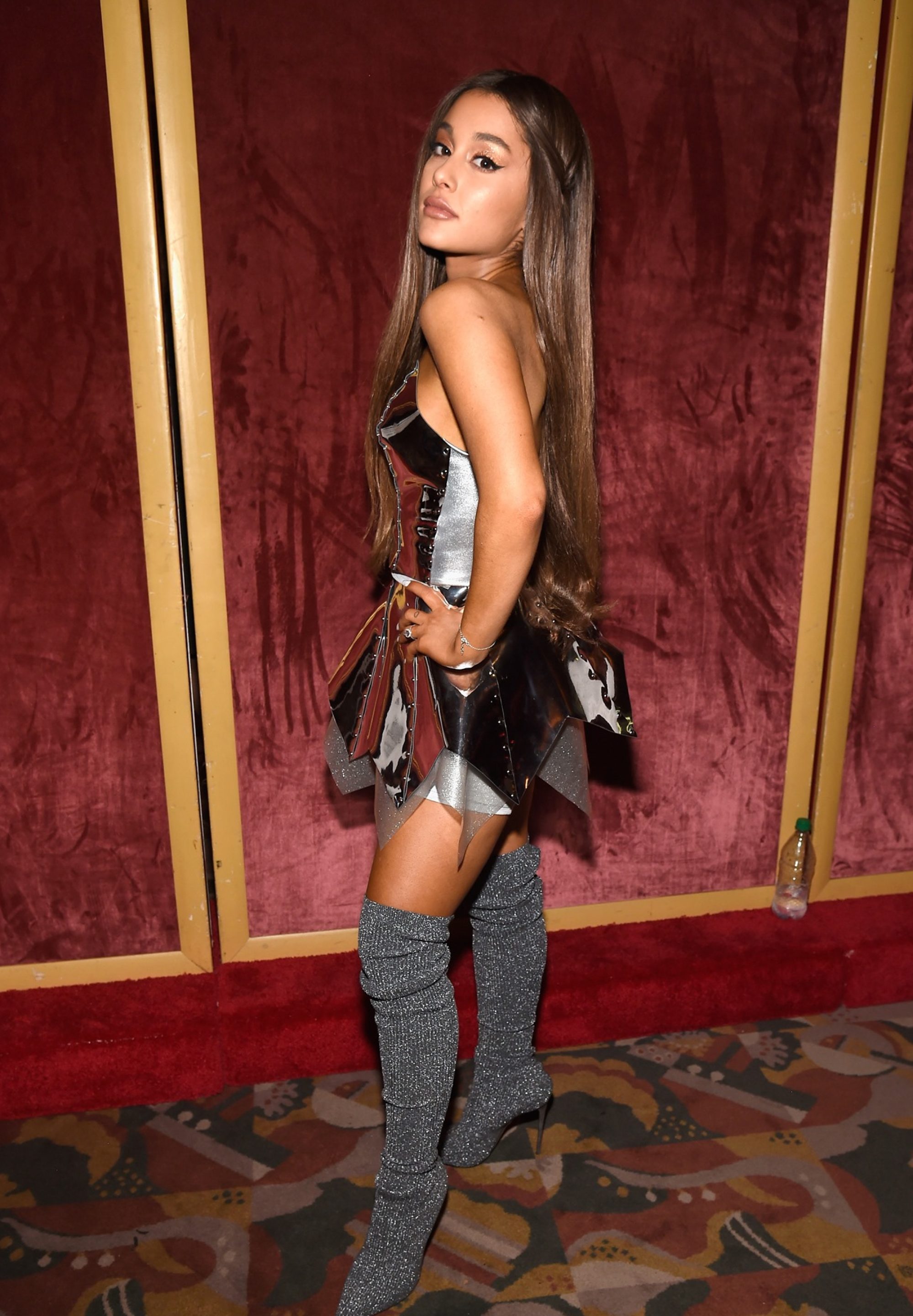 Grande donned a Wonder Woman-inspired metallic minidress and gunmetal-grey thigh-high boots for the 2016 MTV VMAs. Her warrior-like look consisted of a silver strapless bustier, a pair of metallic biker shorts, a metallic miniskirt and thigh-high Le Silla boots. She looked ready for combat.
14. Christiano Siriano at the Billboard Women in Music Awards 2018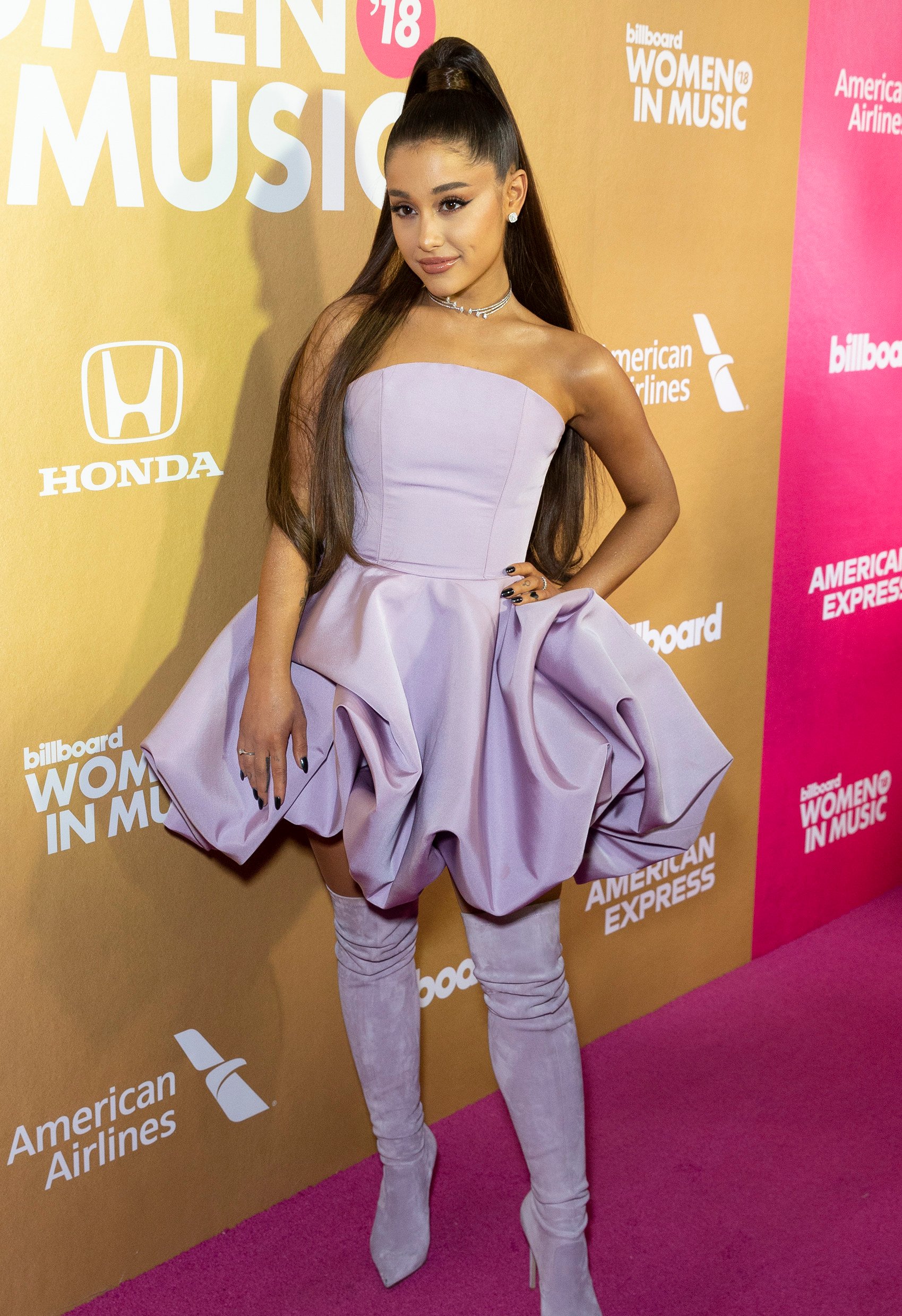 The Christian Siriano dress, a lavender number with a bubble skirt, worn by Grande at the 2018 Billboard Women in Music Awards was a mature version of looks she used to wear when she was still coming up the ranks as a Nickelodeon star. She paired the dress with matching over-the-knee suede boots.
15. The Tonight Show with Jimmy Fallon 2018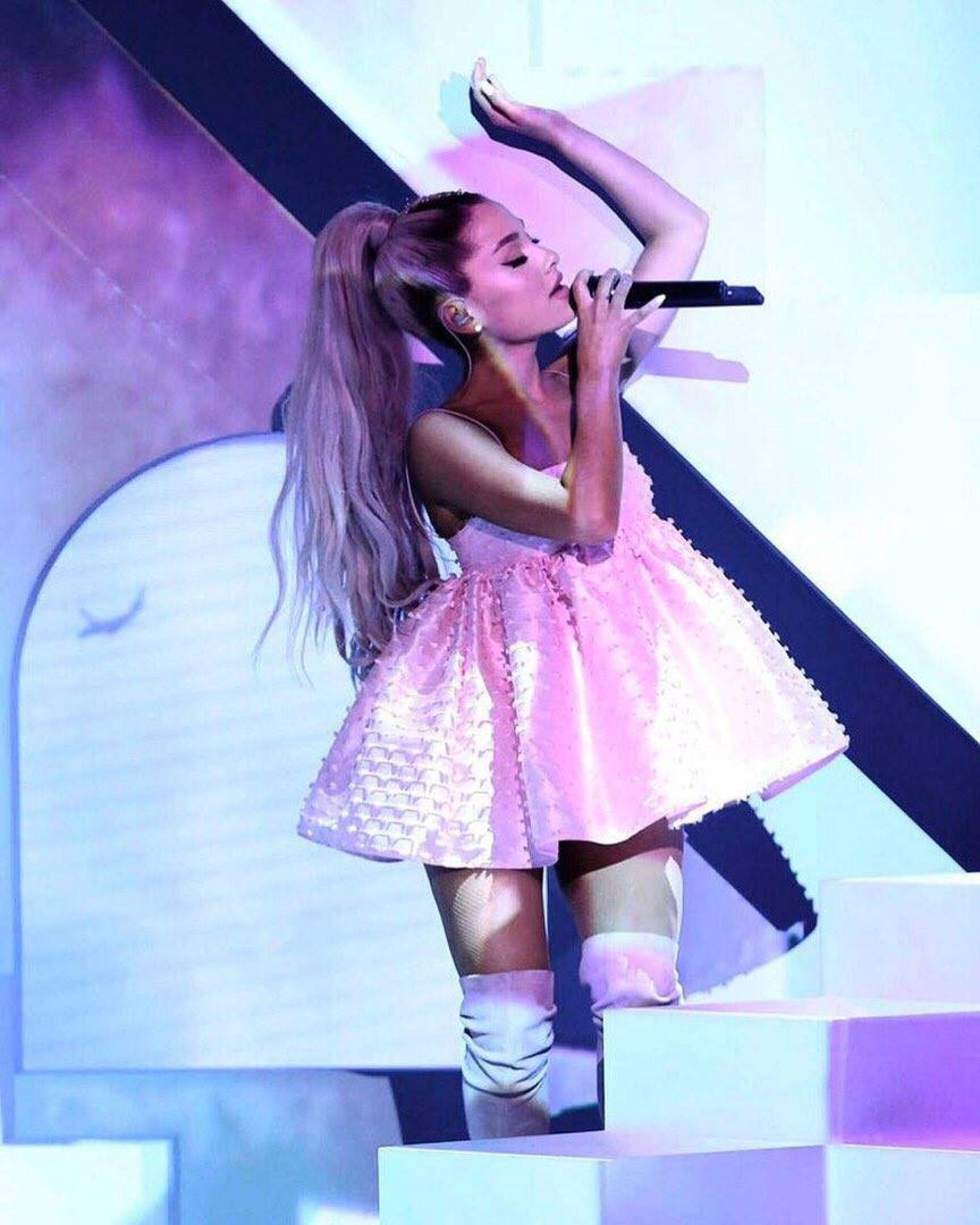 Grande's spaghetti-strapped cotton-candy-coloured Cecilie Bahnsen baby-doll dress and her signature suede thigh-high Le Silla boots she wore at the 2018 episode of The Tonight Show with Jimmy Fallon is one of her most stand-out styles. The pink dress was both ultra-short and ultra-feminine.
16. Vera Wang at The Met Gala 2018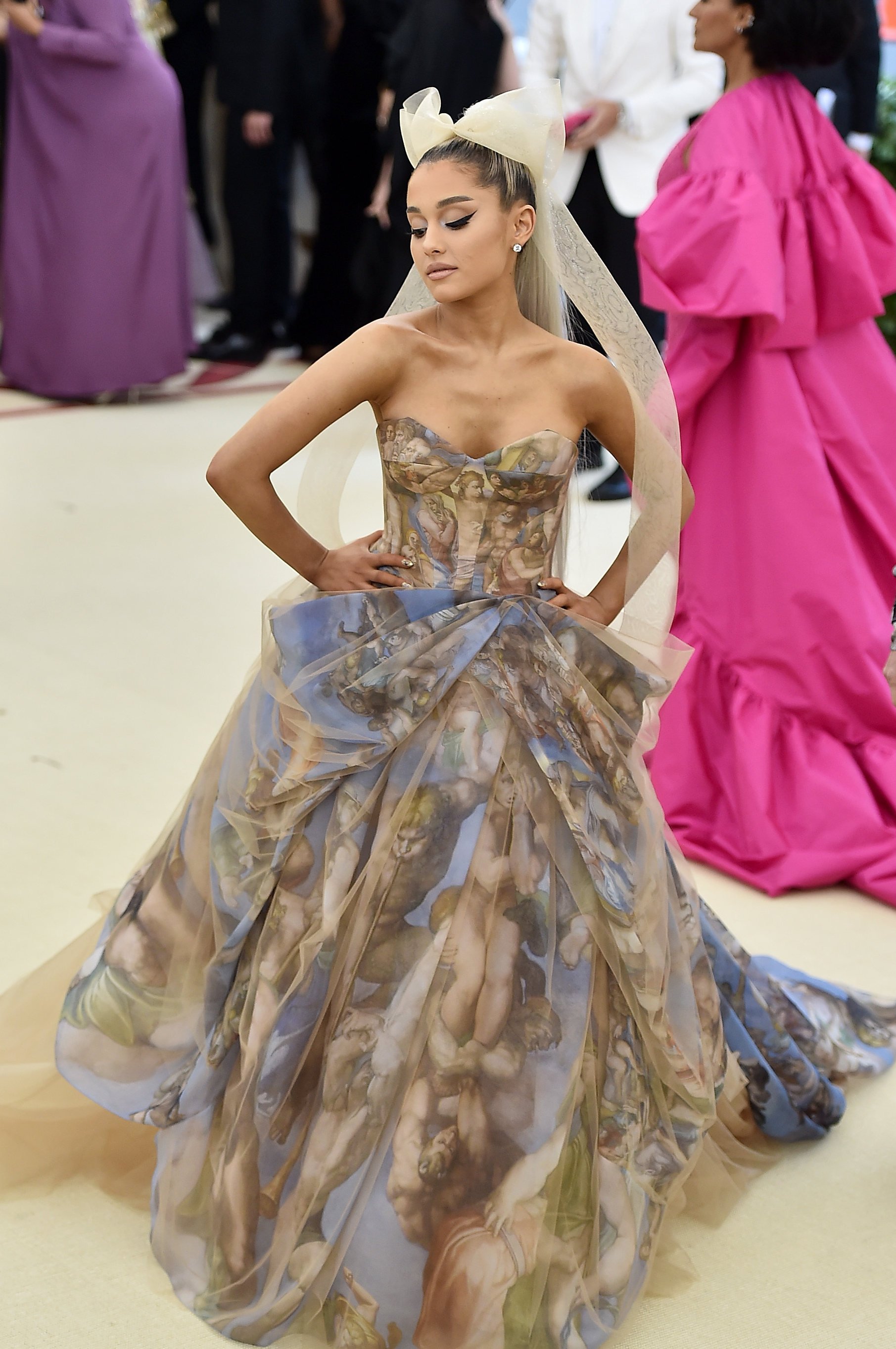 Grande paid homage to the Catholic Church with a custom Vera Wang dress. Roach kept her aligned with the 2018 Met Gala theme, he also intentionally made the overall look still Grande-appropriate.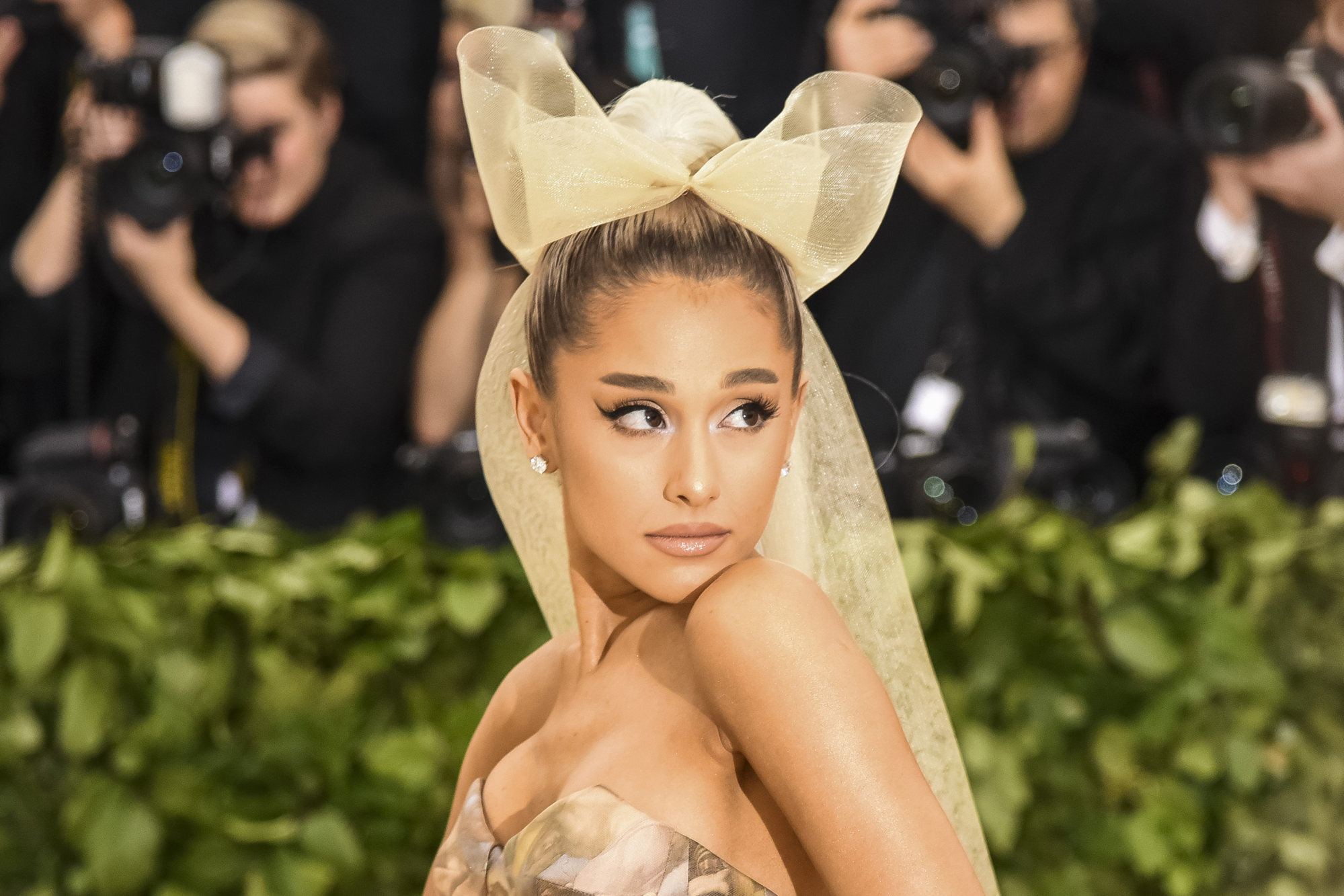 "It was just all about romance with her," Roach told Women's Wear Daily. "There is a bit of drama there, there is a silhouette that we are used to seeing her in but, of course, more elevated and more appropriate for the event. It is very recognisably Ariana Grande, for sure."
17. "Sweetener" tour 2019
With input from famed celebrity stylist Roach, Grande was able to wear some of her best ensembles on her 2019 "Sweetener" world tour, including this monochromatic red bondage-inspired two-piece with platform boots.
"I always like to say if you put anyone behind a screen with a long pony, an A-line skirt, an over-the-knee boot, the first thing that comes to everybody's mind is now Ariana Grande," Roach told People. "I really do think that one of her ponytails will end up in the Smithsonian one day, that's how iconic I believe that ponytail is."
This look specifically consisted of a belted crop top with puffy sleeves, a studded leather skirt and thigh-high patent leather boots.
18. Prabal Gurung on The Voice 2021
Everything about this pretty-in-pink cowgirl outfit screamed country chic, and the fabulous monochromatic colour scheme was designed by the one-and-only Prabal Gurung. She added a string of pearls, elbow-length gloves and a white cowboy hat to complete the look for a performance on season 21 The Voice.
19. The Voice 2021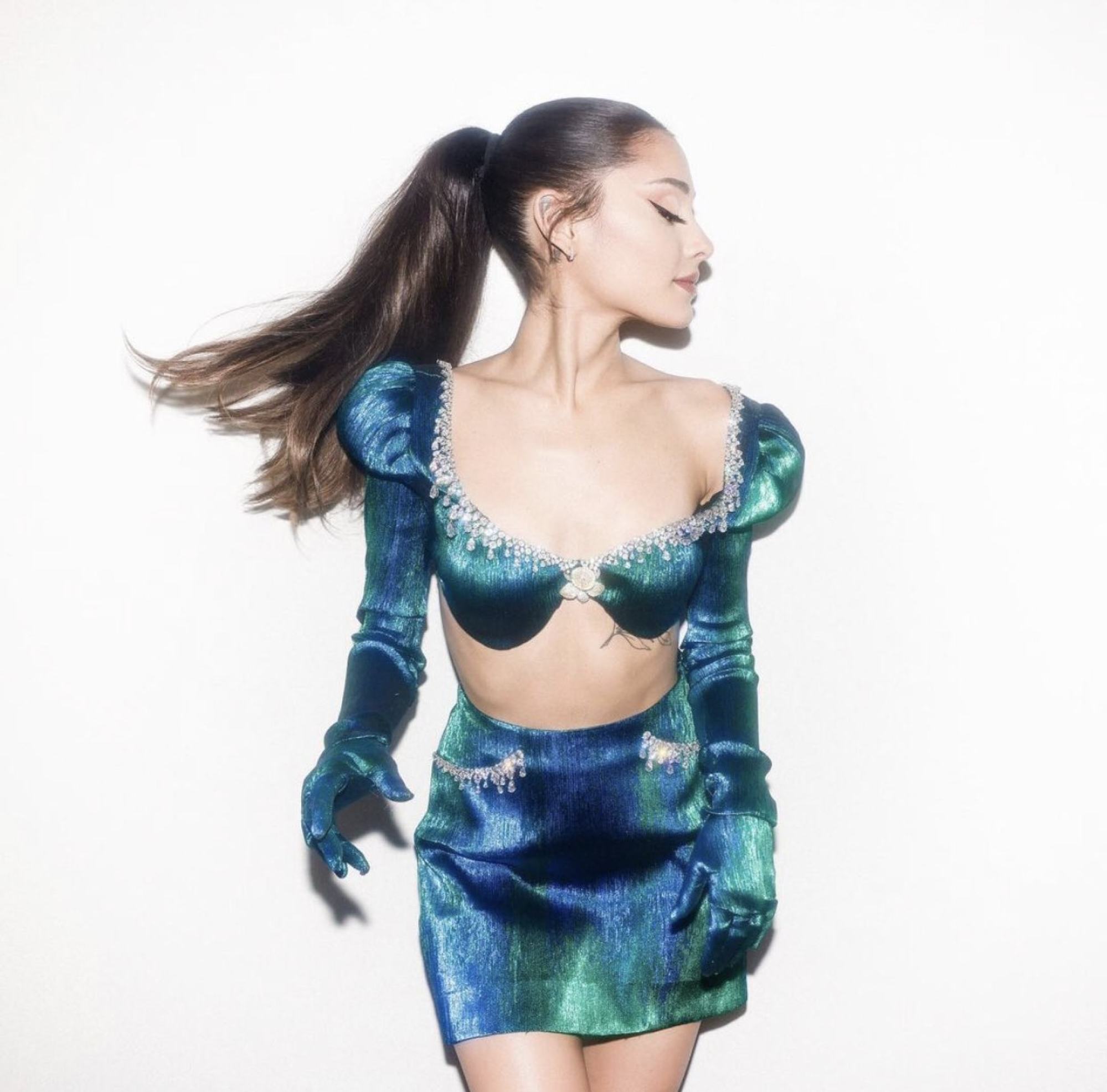 Grande's petite frame was accentuated by both the high-waisted pencil style miniskirt and the long-sleeved bustier crop top featuring padded shoulders she wore during season 21 of The Voice.
Grande's choice to wear the outfit, a peacock-patterned two-piece, designed by Sohee Park, is testament to her new daring fashion outlook.
Classified as a new-gen couturier, Park's designs are vibrantly illustrative pieces inspired by escapism, and best summarised as demi-couture.
20. Giambattista Valli at the Grammys 2020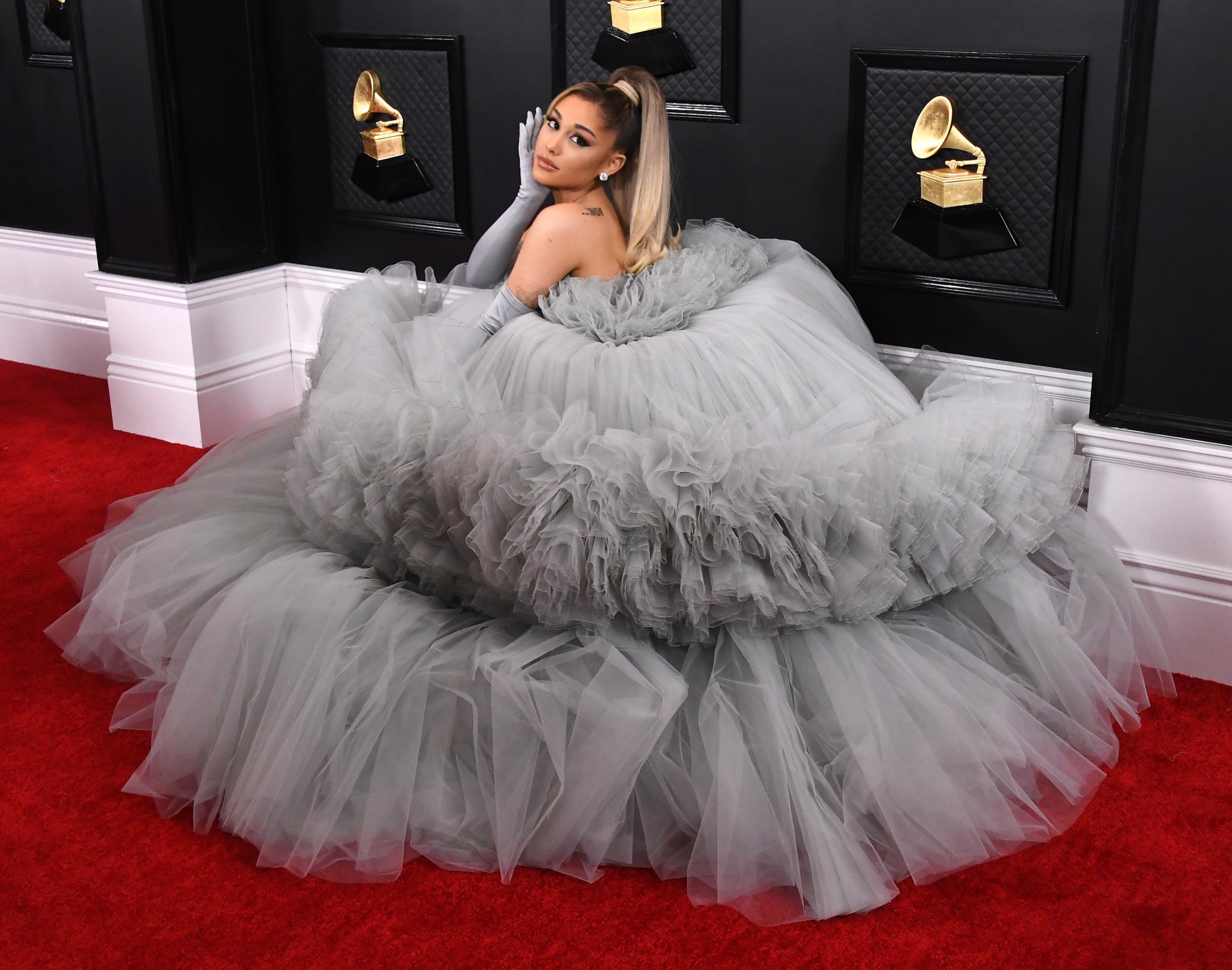 At the 2020 Grammys, Grande reached peak excellence in her fashion journey. She looked like total fashion royalty in this grey dress, a custom Giambattista Valli ruffled grey ball gown, paired with her signature high ponytail and opera-length grey gloves, styled by Roach.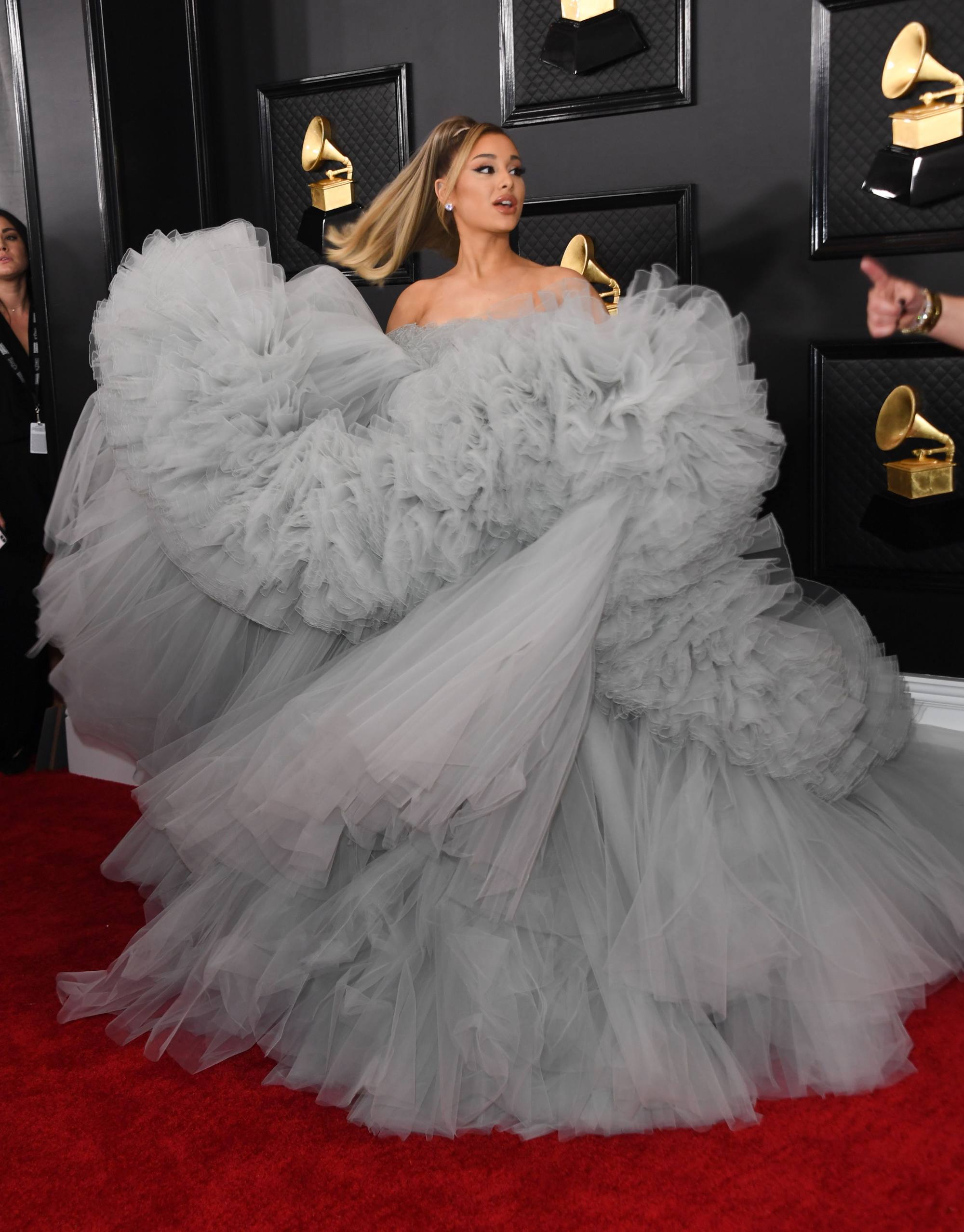 During E!'s 2020 Grammys coverage, correspondent Zanna Roberts Rassi shared that Grande's frequent fashion collaborator and stylist Roach told her that "the moment [Ariana] tried this on, he burst into tears and [Grande] was like, 'well, this is the dress then'."
This article originally appeared on
Insider

Grande's style has truly evolved over the last decade, from her leather Moschino minidress for the MTV Music Awards red carpet, to her iconic ruffled ball gown for the 2020 Grammys
Her 'Dangerous Woman' and 'Sweetener' tours produced some of her most iconic looks – but we're still all over her custom Vera Wang gown from the 2018 Met Gala