Lily-Rose Depp's 10 best Chanel red carpet looks: Johnny Depp and Vanessa Paradis' model-actress daughter favoured pink for the Met Gala and shone in a Karl Lagerfeld-designed ruffled gown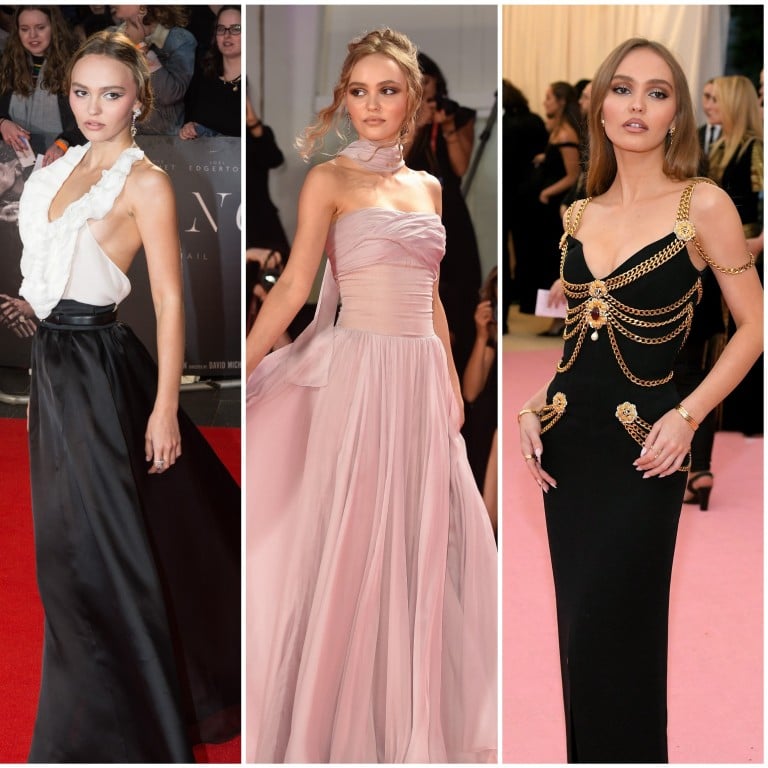 Lily-Rose Depp is known for her chic style consisting of suits, black lace and delicate gowns. The
23-year-old model
became the face of Chanel No. 5 in 2015 and often wears the brand to events. Here are her best and most daring looks from the runway to the red carpet.
1. Met Gala 2016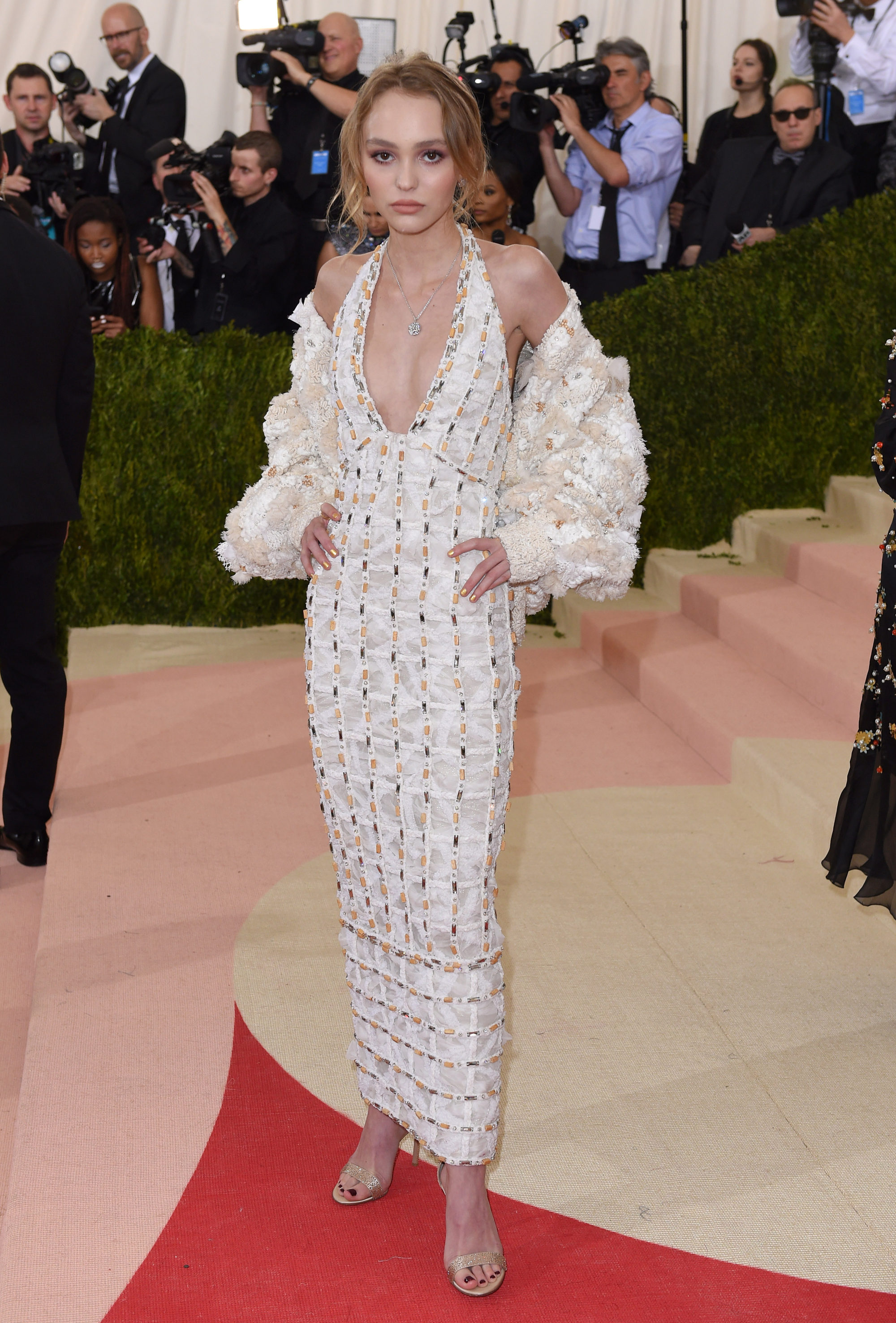 Depp opted for a
Chanel
dress for her very first Met Gala in 2016,
Teen Vogue
reported. The theme of the annual event was Manus x Machina: Fashion in an Age of Technology, and Depp arrived in a white halter-neck maxi dress with a plunging neckline.
The fabric was classic Chanel with its gold-and-silver rectangles woven into the white fabric. Depp amplified the look with gold stilettos and a textured jacket that she wore off-the-shoulder.
2. Chanel spring/summer show 2017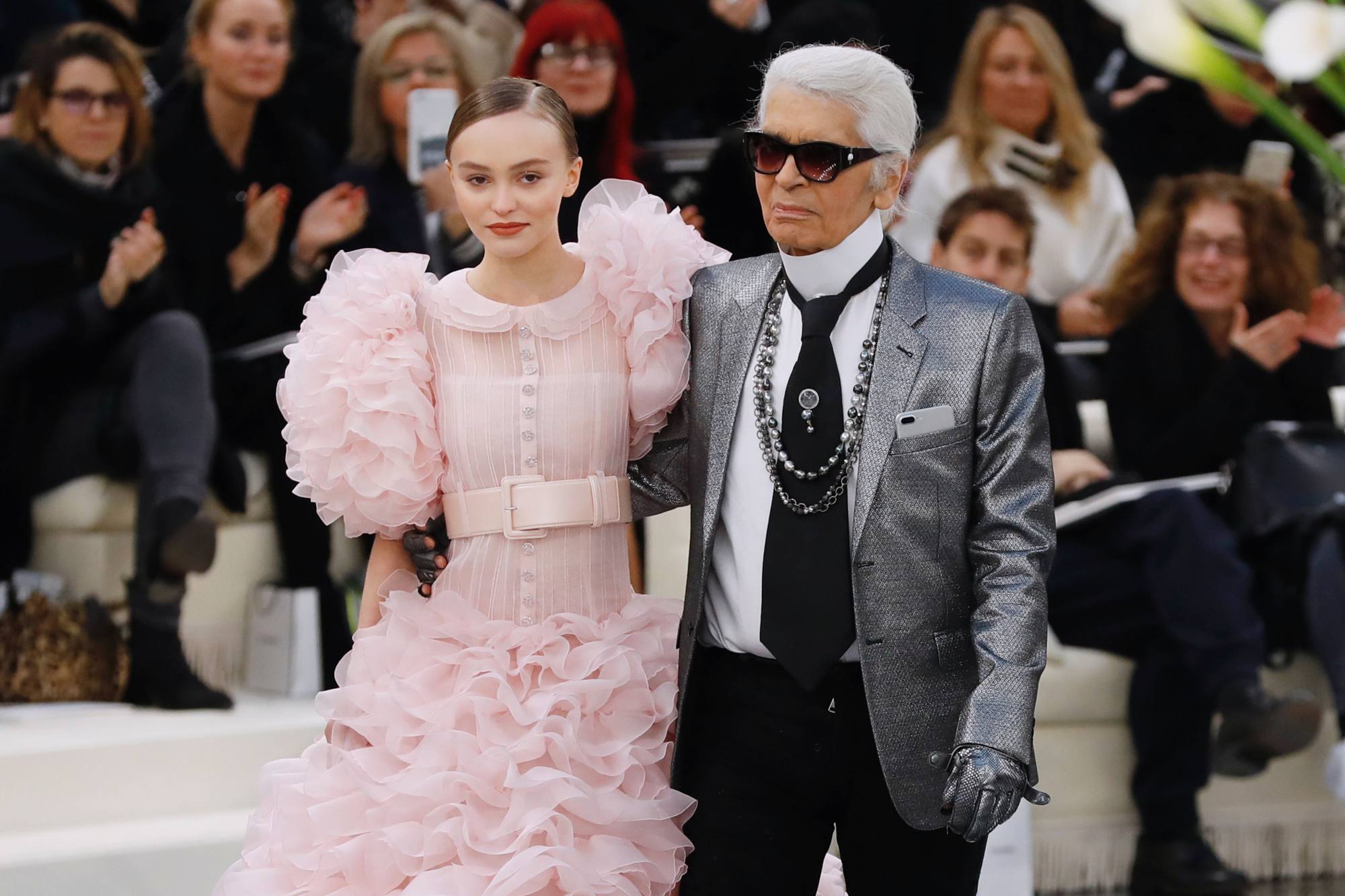 Depp brought the Chanel spring 2017 haute couture show to a dramatic close wearing a pink tulle bridal gown, Vogue Arabia reported. The floor-length gown, designed by Karl Lagerfeld, featured a tight, ruched bodice with large ruffled sleeves, a matching skirt and a statement satin belt.
Depp wore her hair in a sleek bun and finished the look with silver pointed heels.
3. Met Gala 2017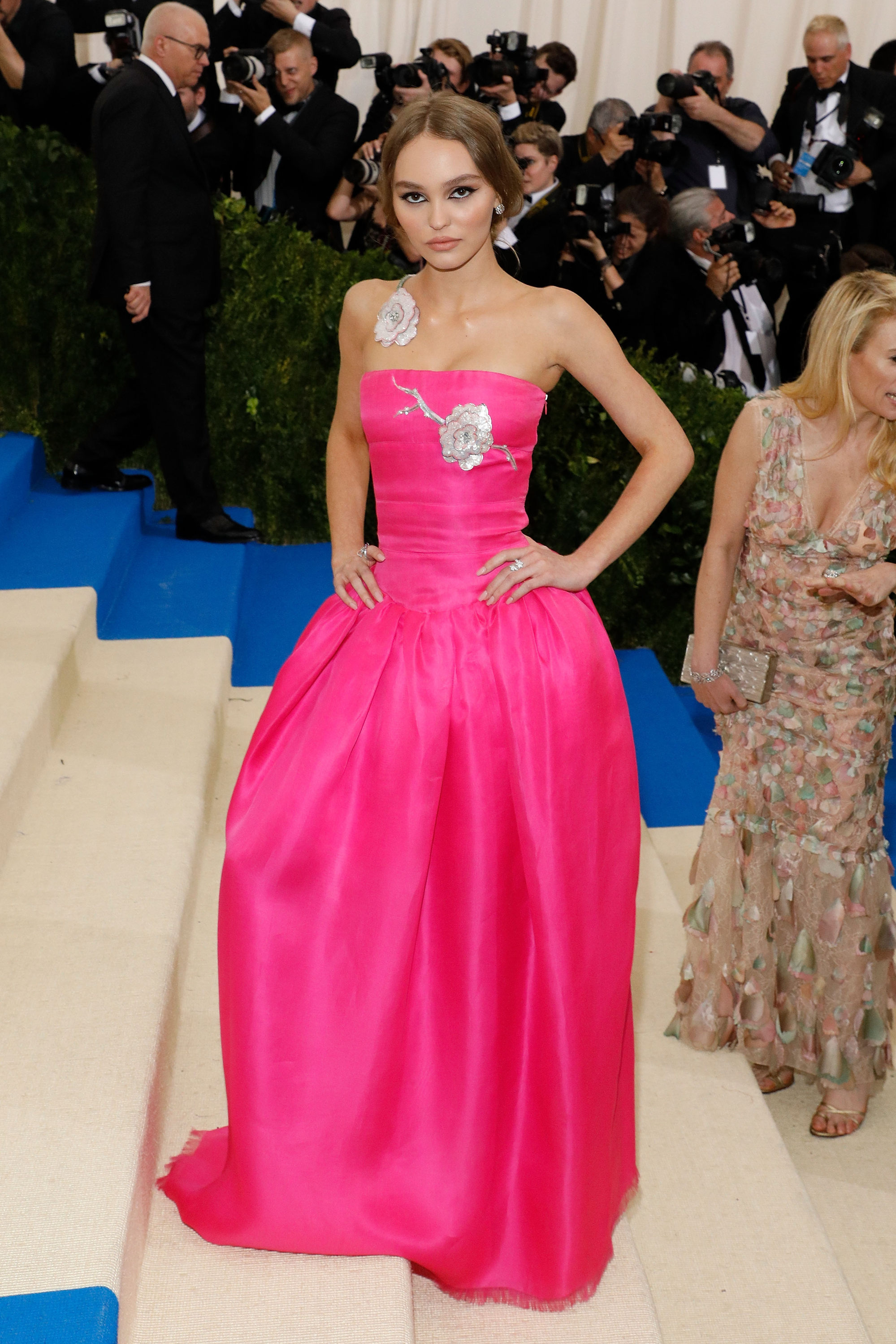 Once again in a Chanel gown, according to Vogue, Depp attended the Rei Kawakubo/Commes Des Garçons: Art of the In-Between Costume Institute Benefit in 2017.
The
model and actress
wore a bright-pink sleeveless gown with silver flowers on the bodice and shoulder and a puff skirt. Depp wore sizeable yet simple diamond earrings in her ears and her hair was styled loosely up.
4. César Revelations event, 2017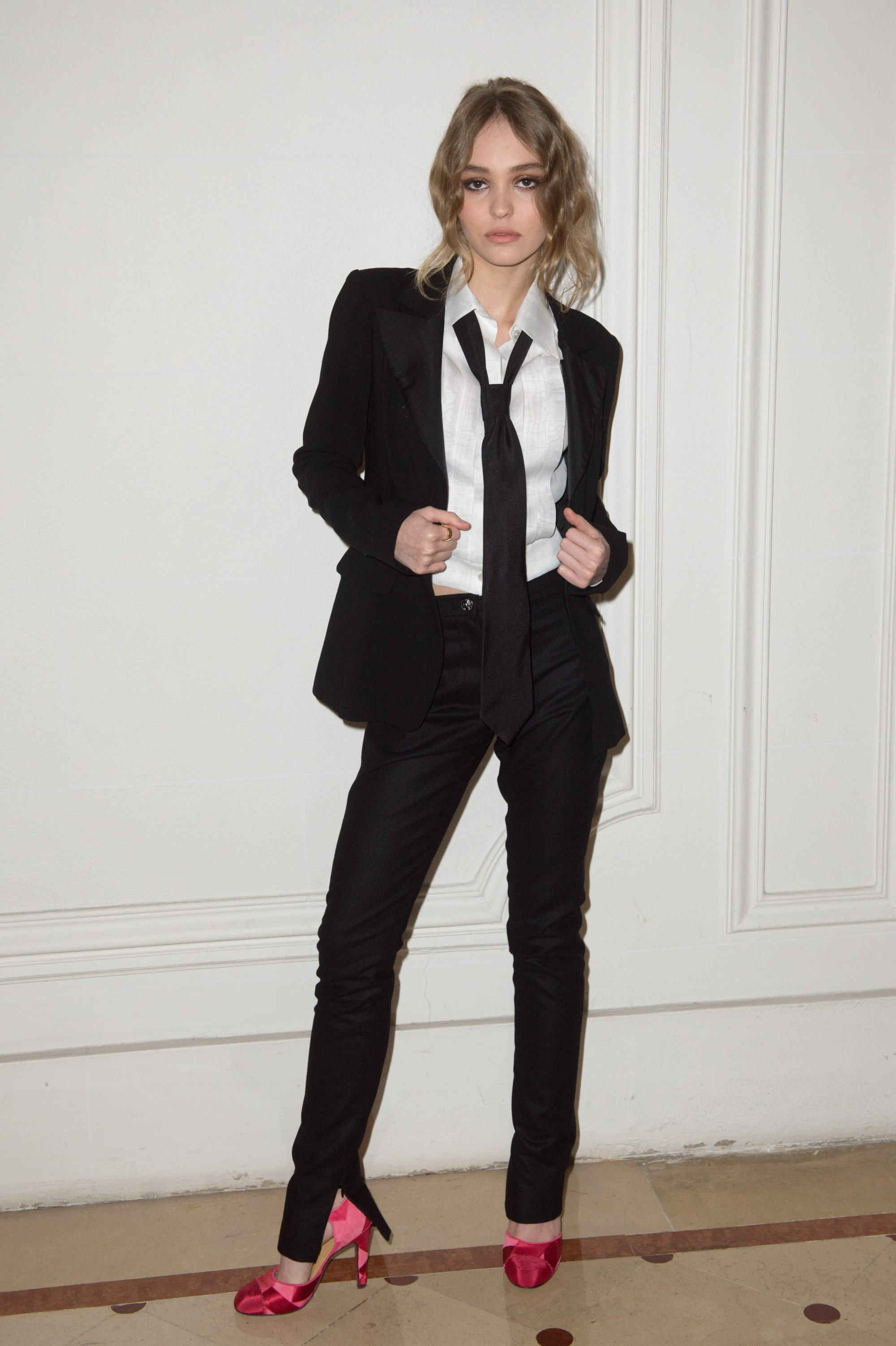 Opting for a suit instead of a dress, Lily-Rose Depp posed at a photo call for the 2017 César Revelations awards dressed in Chanel. The black trousers and blazer were styled with a crisp white shirt that Depp wore slightly unbuttoned, with a loosened black tie and bright-pink patchwork heels.
5. César Revelations 2019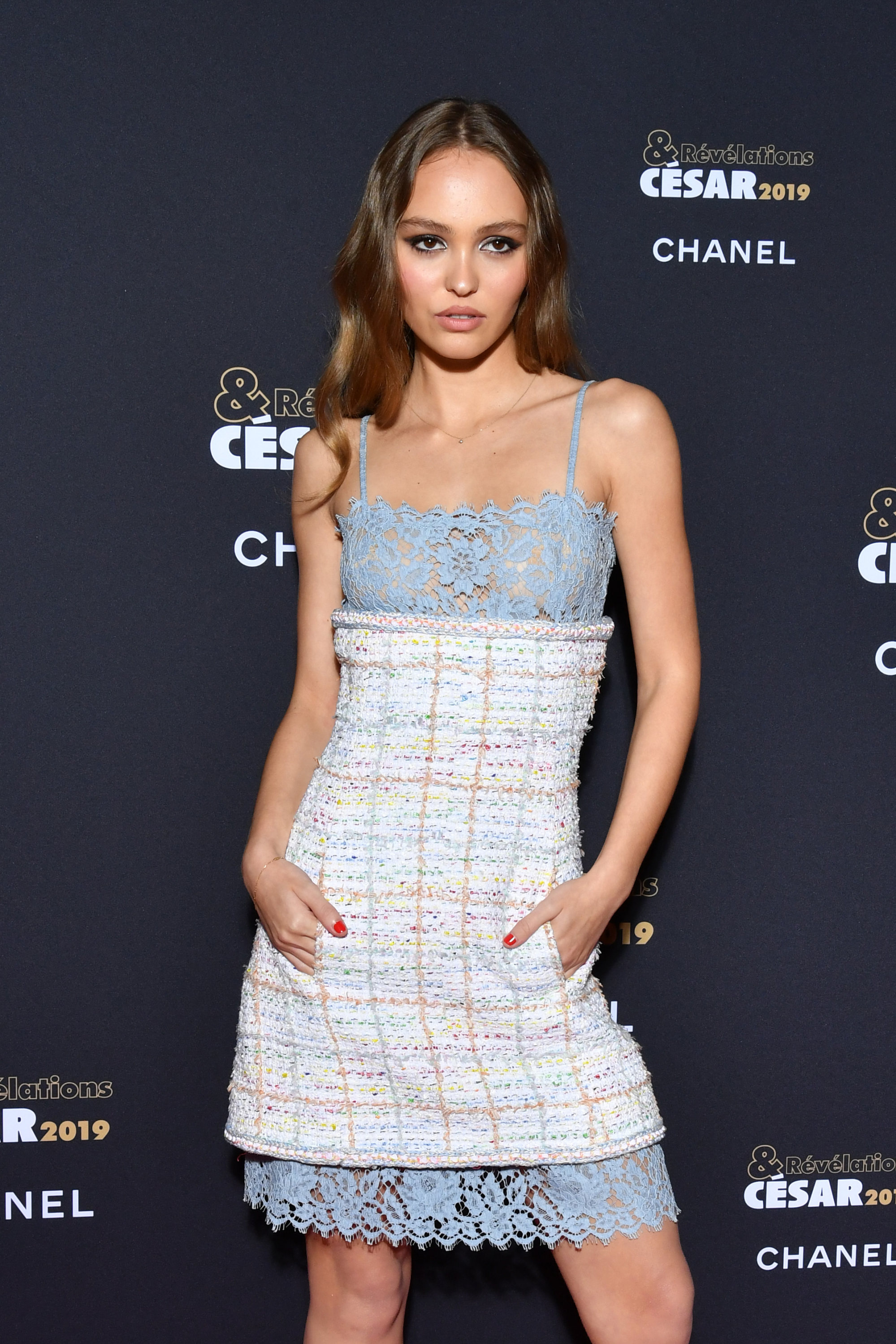 Two years later, at the 2019 César Revelations award event, Depp wore a powder-blue, sheer lace cami dress with a panel of multicoloured pastel-toned woven material in the middle. According to Vogue, the distinctly French design was another Chanel garment, and Depp kept the styling simple with black-and-silver metallic heels.
6. Met Gala 2019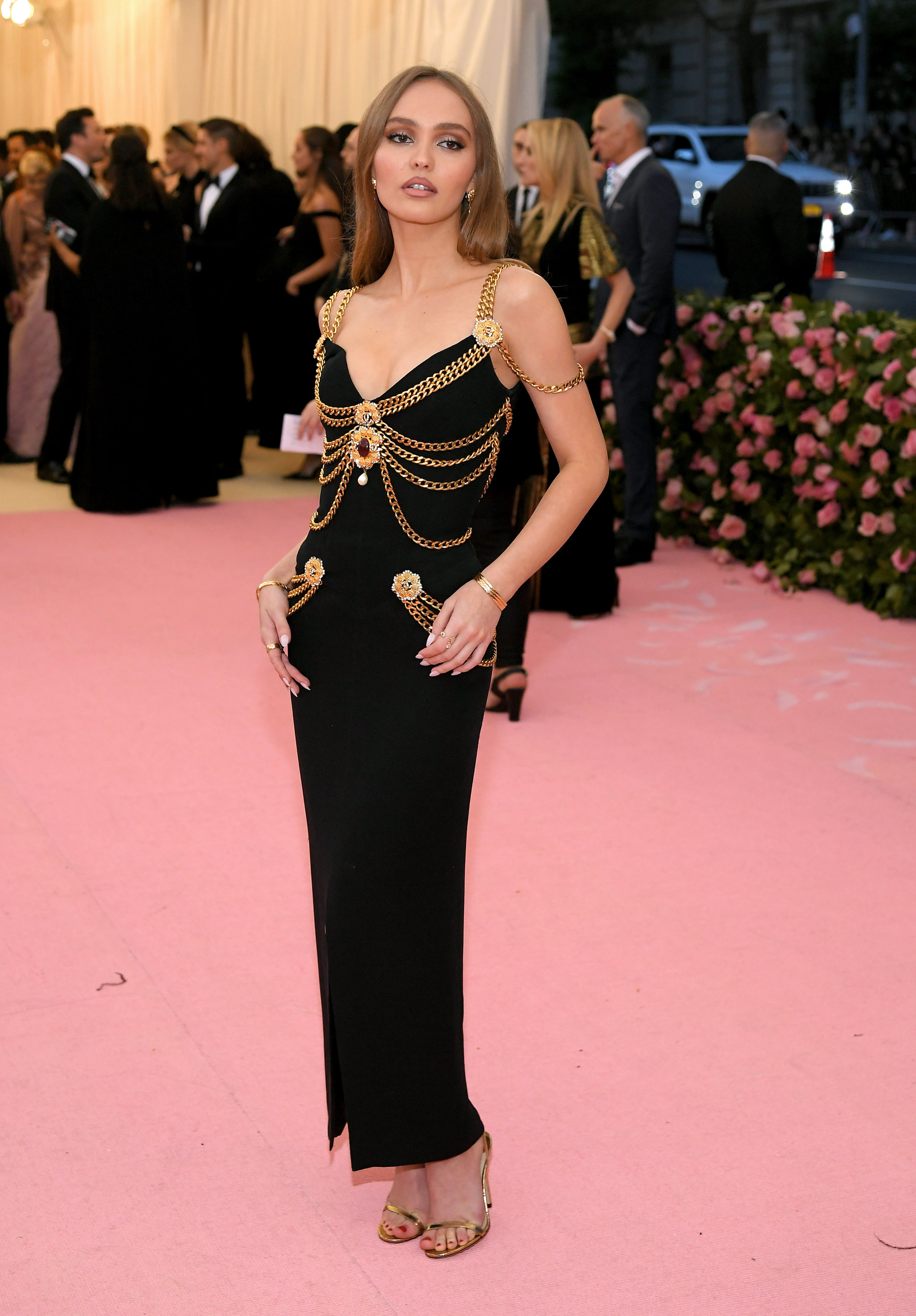 Depp attended the 2019 Met Gala subtly observing the theme "Camp: Notes on Fashion" in a black maxi dress with a sweetheart neckline and gold chains as straps. The dress was a Chanel design, according to the luxury design house's website, and it had further chains cascading from gold floral brooches on the bust and hips.
7. Venice Film Festival 2019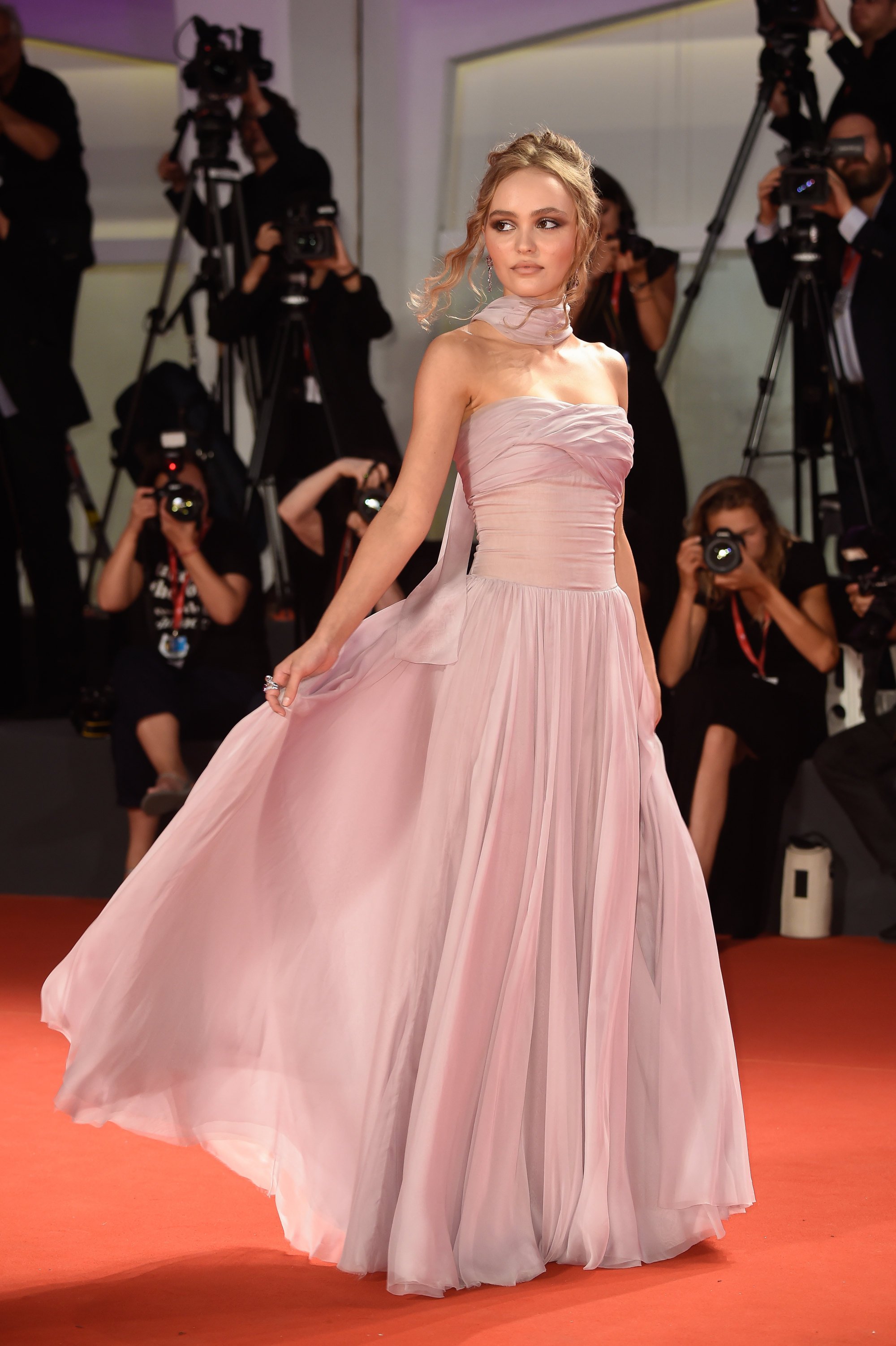 Depp dazzled on the 2019 Venice Film Festival red carpet in a dusky-pink sleeveless gown with a ruched bodice and silk scarf. According to Vogue, the silk chiffon garment was another Chanel design. Depp wore simple jewellery and her hair up with loose strands to frame her face.
8. London Film Festival 2019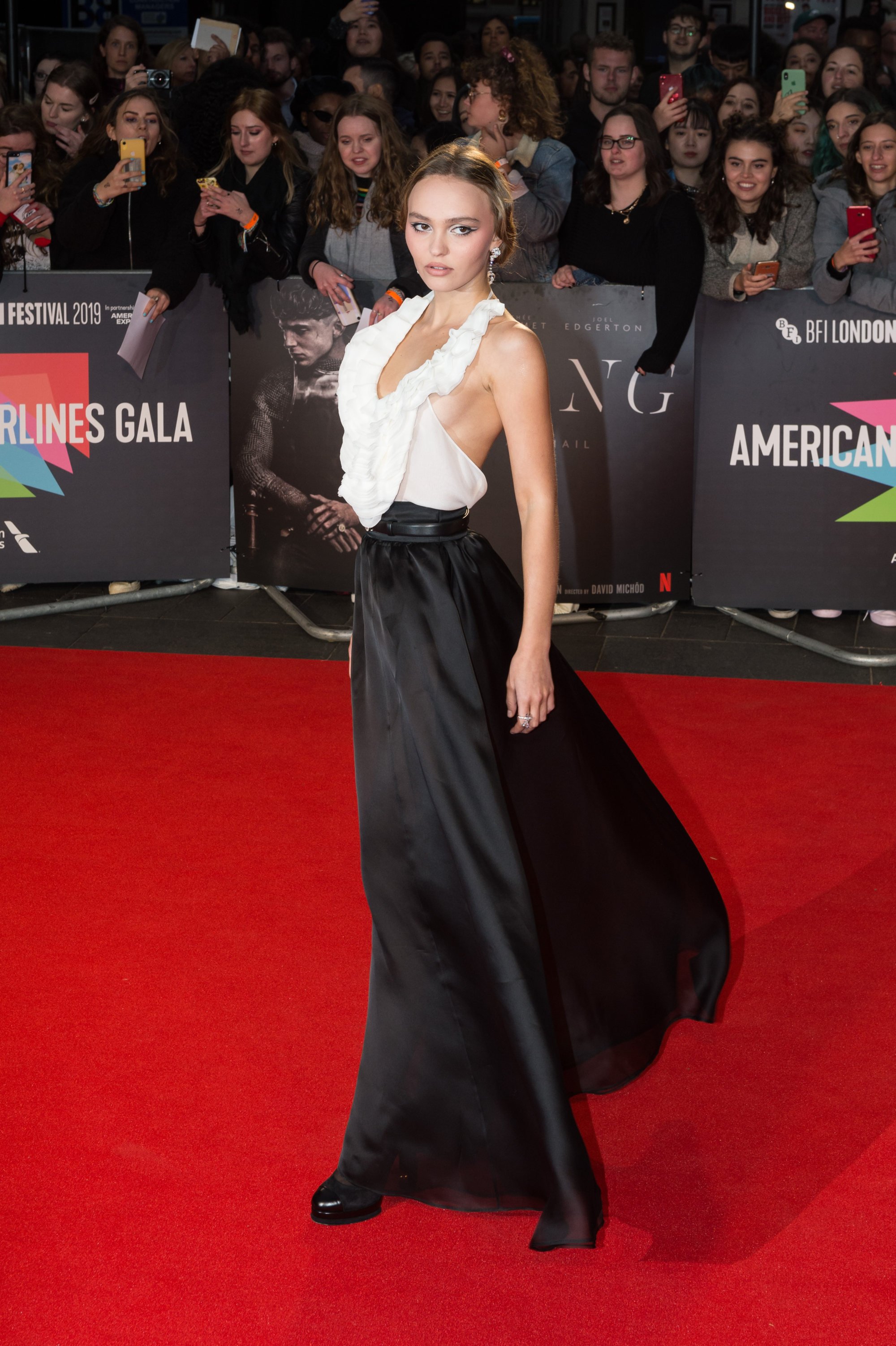 Depp brought her brand of ethereal French chic to the London premiere of The King at the 2019 London Film Festival.
She wore a look from Chanel's spring 2020 ready-to-wear collection, consisting of a white sheer vest with a deep V-neckline and textured ruffles, as well as a high-waisted black satin skirt with a belt. Depp wore black boots, diamond drop earrings and a touch of silver eyeliner.
9. Met Gala 2019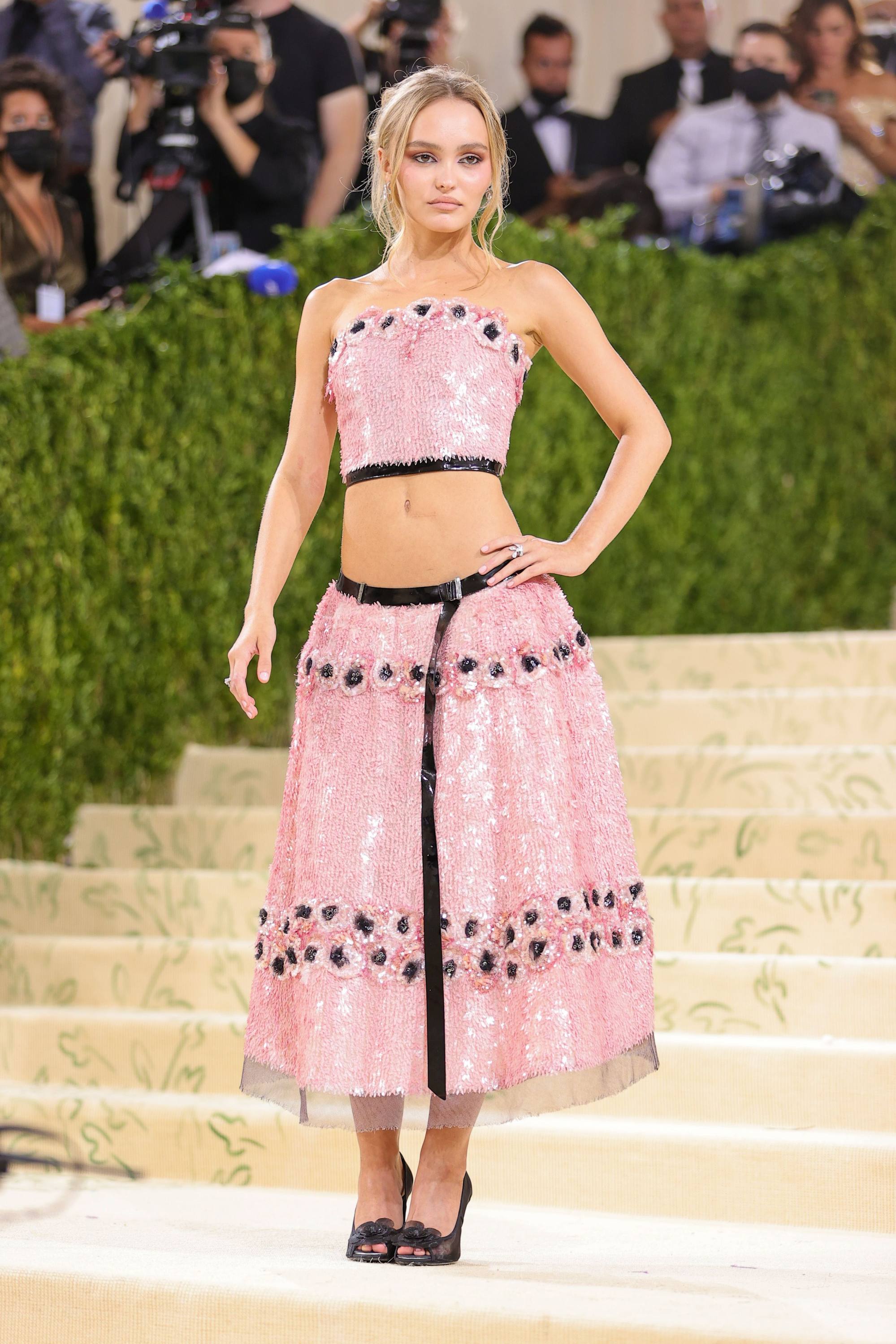 Depp attended the 2019 Met Gala celebrating "In America: A Lexicon of Fashion". Her sparkly, bubblegum-pink bralette and skirt were perfectly coordinated, and both by Chanel, according to Popsugar.
The chic ensemble had patches of black sequins and leather piping circling the garments. Depp wore sheer black heels with tulle flowers on them and her hair in a signature up-do with loose strands.
10. Chanel's spring/summer show 2022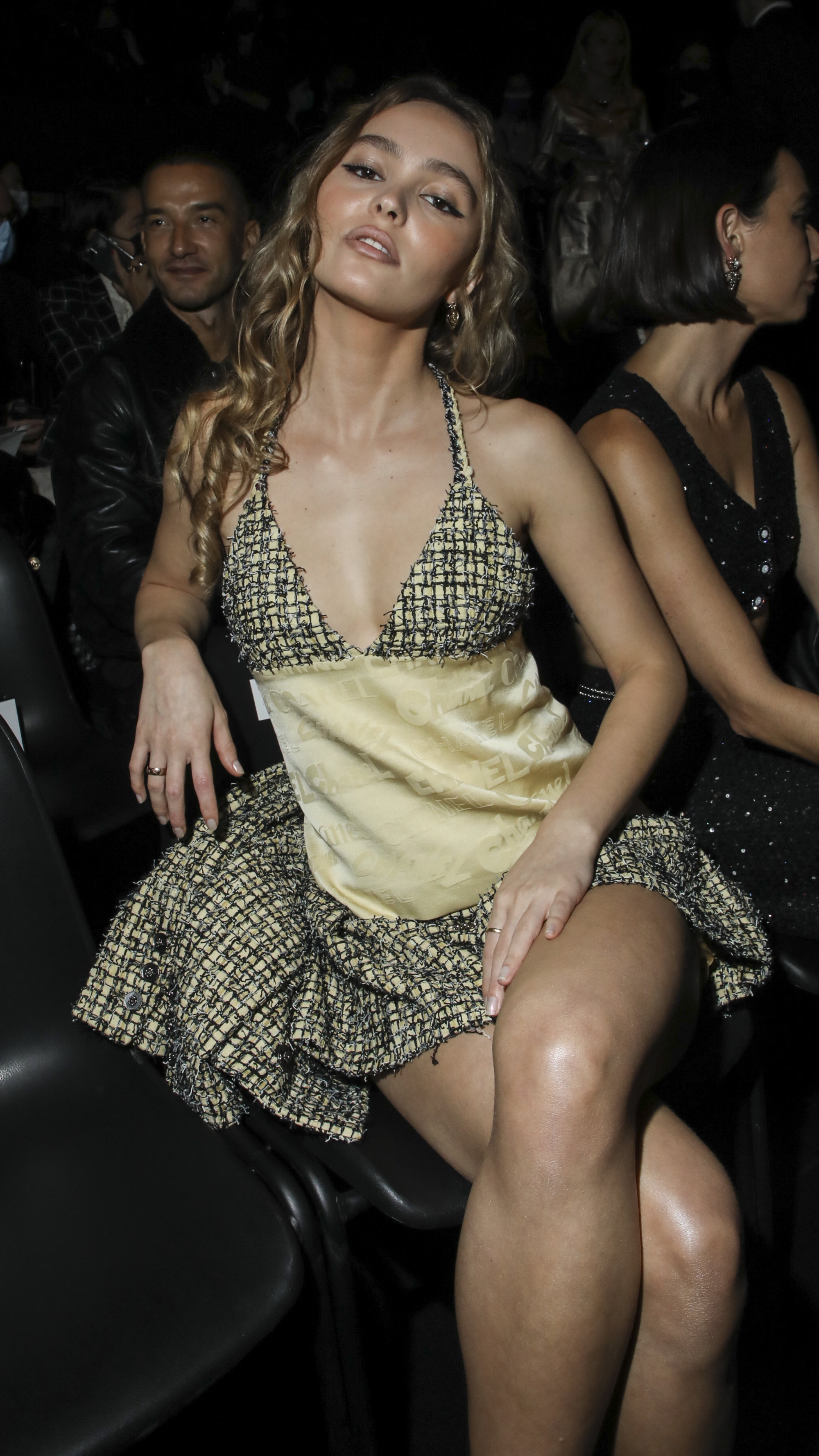 In another distinctly "
Chanel" look
, Depp sat in the front row at the brand's spring/summer 2022 show in a tweed dress and blazer combination.
The strappy dress consisted of a black-and-white tweed bra and matching skirt, with a contrasting yellow satin panel in the middle. She wore a matching blazer on top and opted for simple black pointed heels.
This article originally appeared on
Insider

Johnny Depp and Vanessa Paradis' 23-year-old daughter became the face of Chanel No 5 in 2015, and is often seen wearing the brand to events like the Met Gala
Lily-Rose stuns in flirty dresses on red carpets like the Venice and London film festivals and at fashion shows, but has also rocked a suit at César Revelations