12 of the Kardashian-Jenner family's biggest fashion fails: from Kim's 'diaper' jumpsuit and Kylie's sewn-on zip at the Met Gala, to Khloé's exposure on The X Factor and Kendall's see-through leggings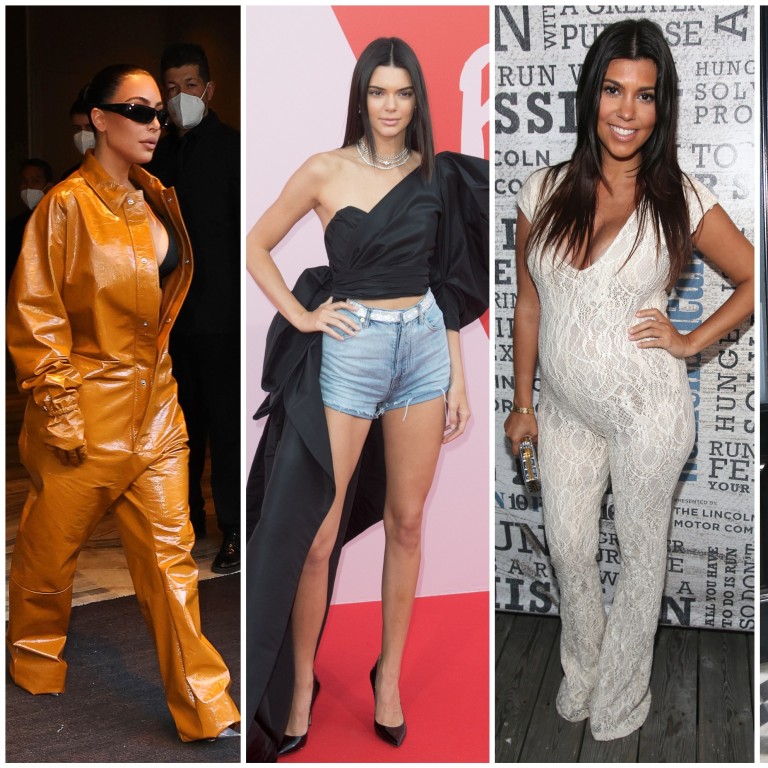 The Kardashian-Jenner family members are often in the spotlight for their stylish fashion choices, but like most celebrities in the limelight, not all of their outfits are considered slick.
Whether it's a wardrobe malfunction or straight-up questionable clothing choices, the reality TV stars may have started plenty of trends, but their lesser loved ensembles are no strangers to scrutiny.
Here are 12 of the biggest fashion faux pas made by Kim,
Kendall
, Kylie, Kourtney, Kris and Khloé so far …
1. Kim Kardashian's baggy "diaper" jumpsuit
In the third episode of
The Kardashians
season two, Kim, 42, flew to Italy to support her sister Kendall during Milan Fashion Week.
However, her younger sister didn't exactly give it her stamp of approval when Kim showed her the look in the episode. "It kind of looks like you have a diaper on," Kendall said.
2. Kim's unzipped dress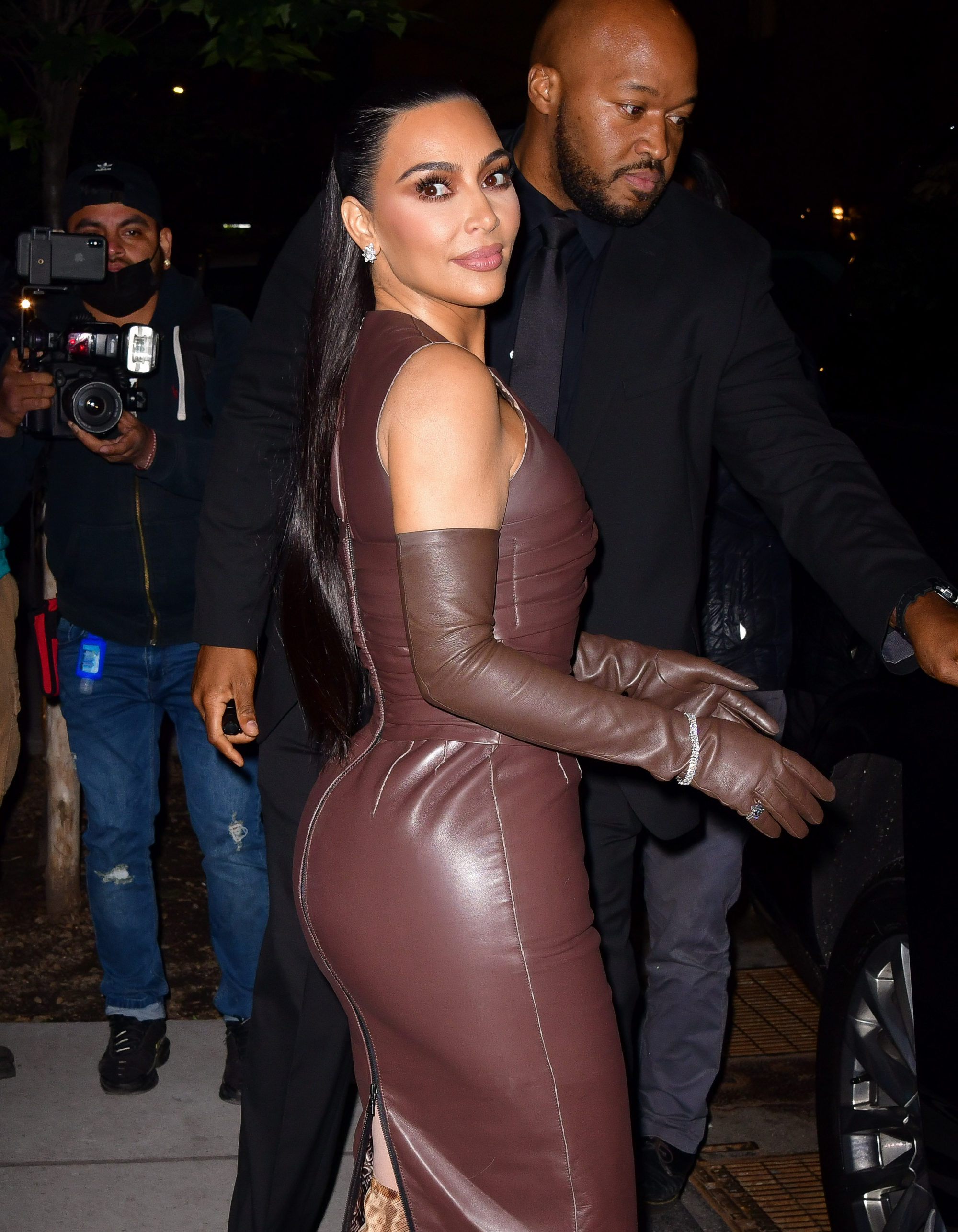 Kim got more than she bargained for at the 2021 Wall Street Journal Magazine's Innovator Awards when she got up to accept an award wearing a Skims x Fendi collection skin-tight leather dress that started to unzip itself the moment she started getting up.
In her speech, she told the audience her dress had unzipped and exposed the
Skims shapewear
she had on underneath, People reported at the time.
"Thank god I had Skims on, or this would have been a very different kind of show tonight," she joked.
3. Kim's floral maternity dress that launched a thousand memes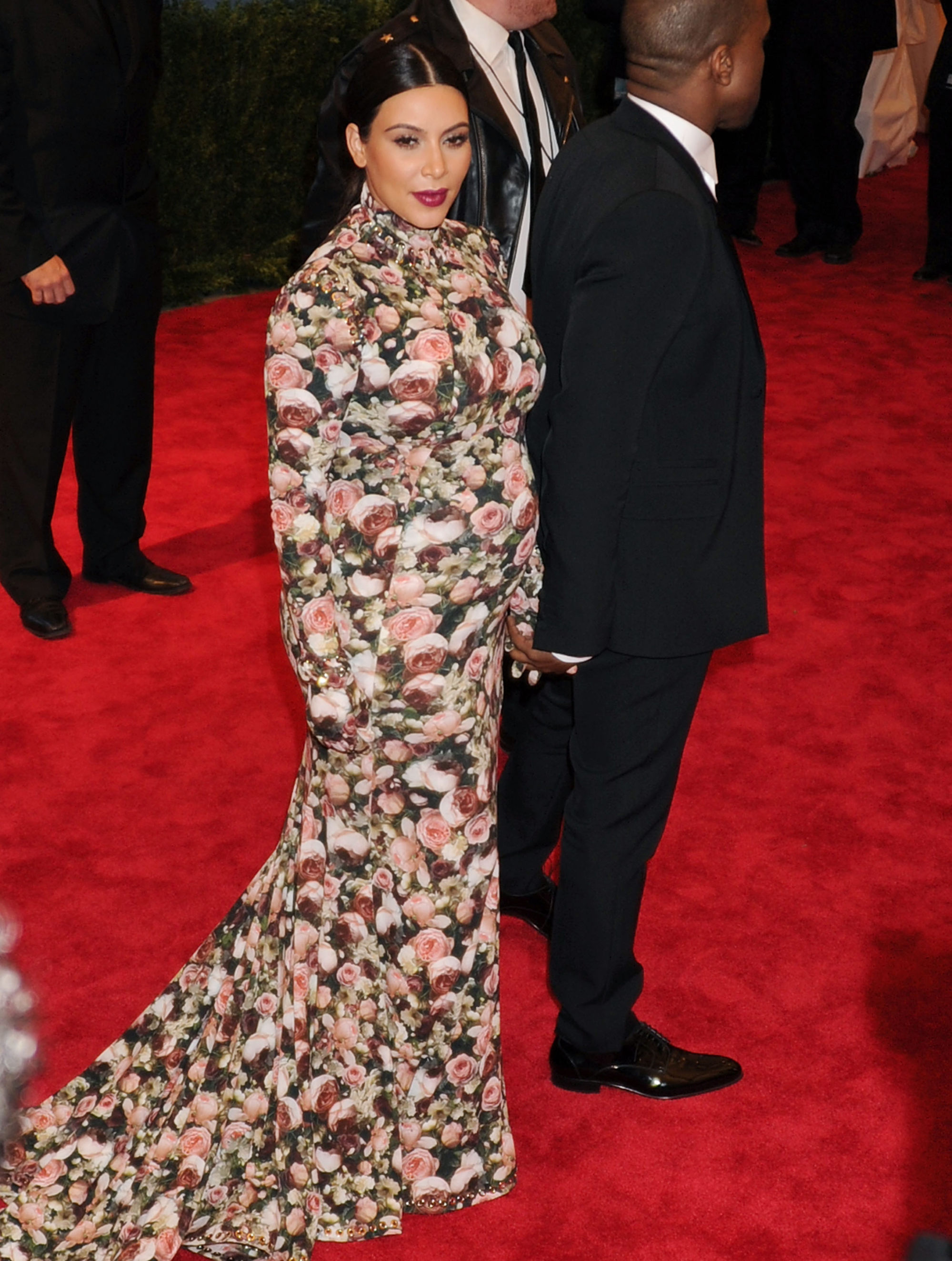 When Kim stepped out in a floral patterned Givenchy gown for her Met Gala debut in 2013, she had no way of knowing it would be the dress that launched a thousand sofa memes.
Discussing the outfit in a fashion look-back video with Vogue in 2019, she said she broke into tears the whole way home after the gala.
"I was crying, like, the whole way home because I just couldn't believe it," she said. "There were all these memes about me and this couch."
4. Kim's "yellow jacket moment" faux pas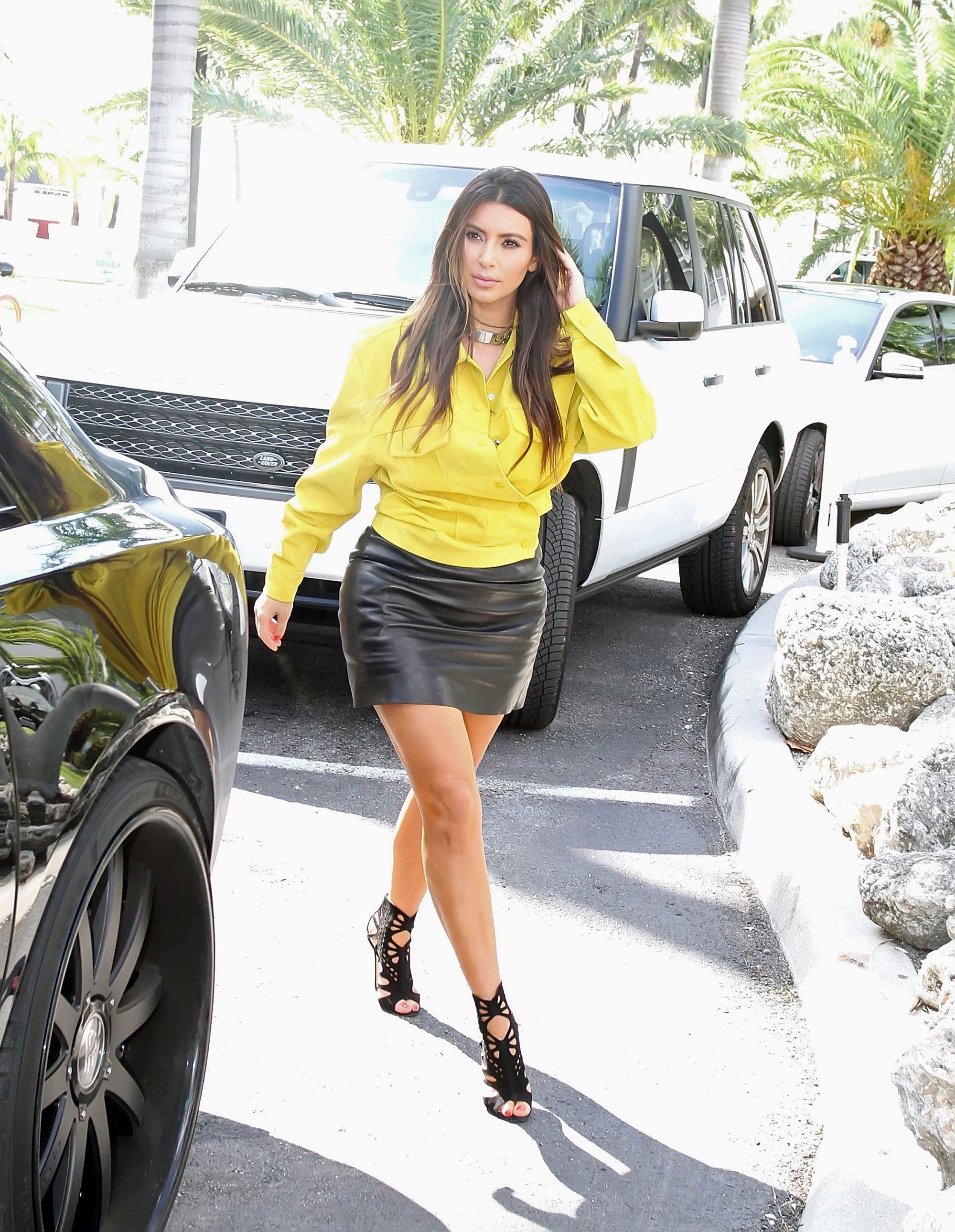 According to the Belfast Telegraph, Kim and her ex-partner Ye, formerly known as
Kanye West
, used the code word "yellow jacket moment" when referring to a fashion faux pas that started after she was seen walking around Miami in a yellow jacket that she said was ill-fitting.
"One time in Miami where I wore this yellow suede jacket, and it was tighter here [at the wrists] and the sleeves got big and it was cropped, and oversized," she said, according to the publication. "It would look really cute on someone that was tall and it was not for my body type."
5. Kendall Jenner's slightly see-through leggings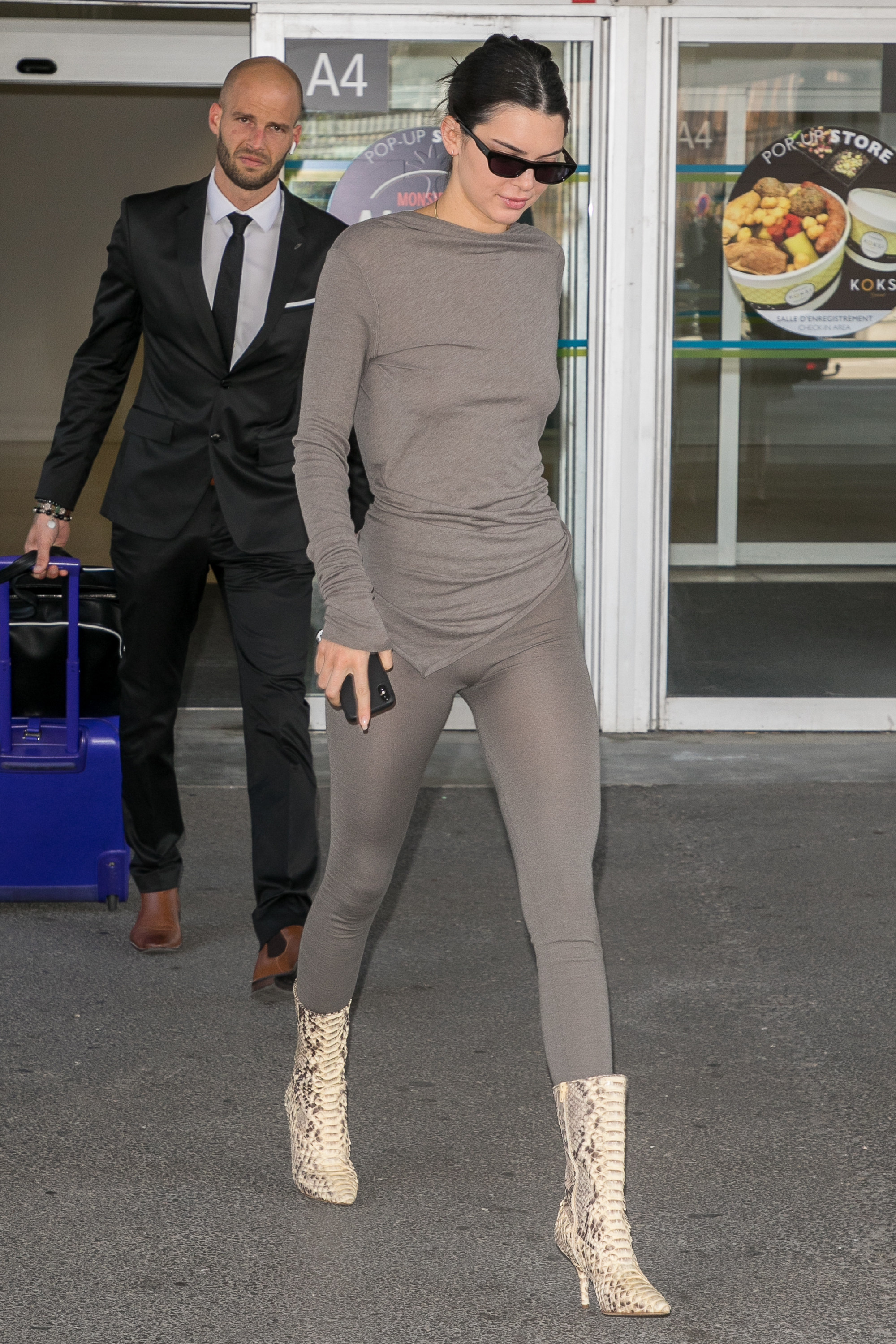 It's unclear whether Kendall, 26, knew that her all-grey post-flight ensemble in Nice, France was sheer.
The model, who was arriving in France for the 2018 Cannes Film Festival, exited the airport in the matching grey long-sleeve and leggings set, which was
daringly transparent
, along with a pair of snakeskin heeled boots.
6. Kendall's jean shorts on the red carpet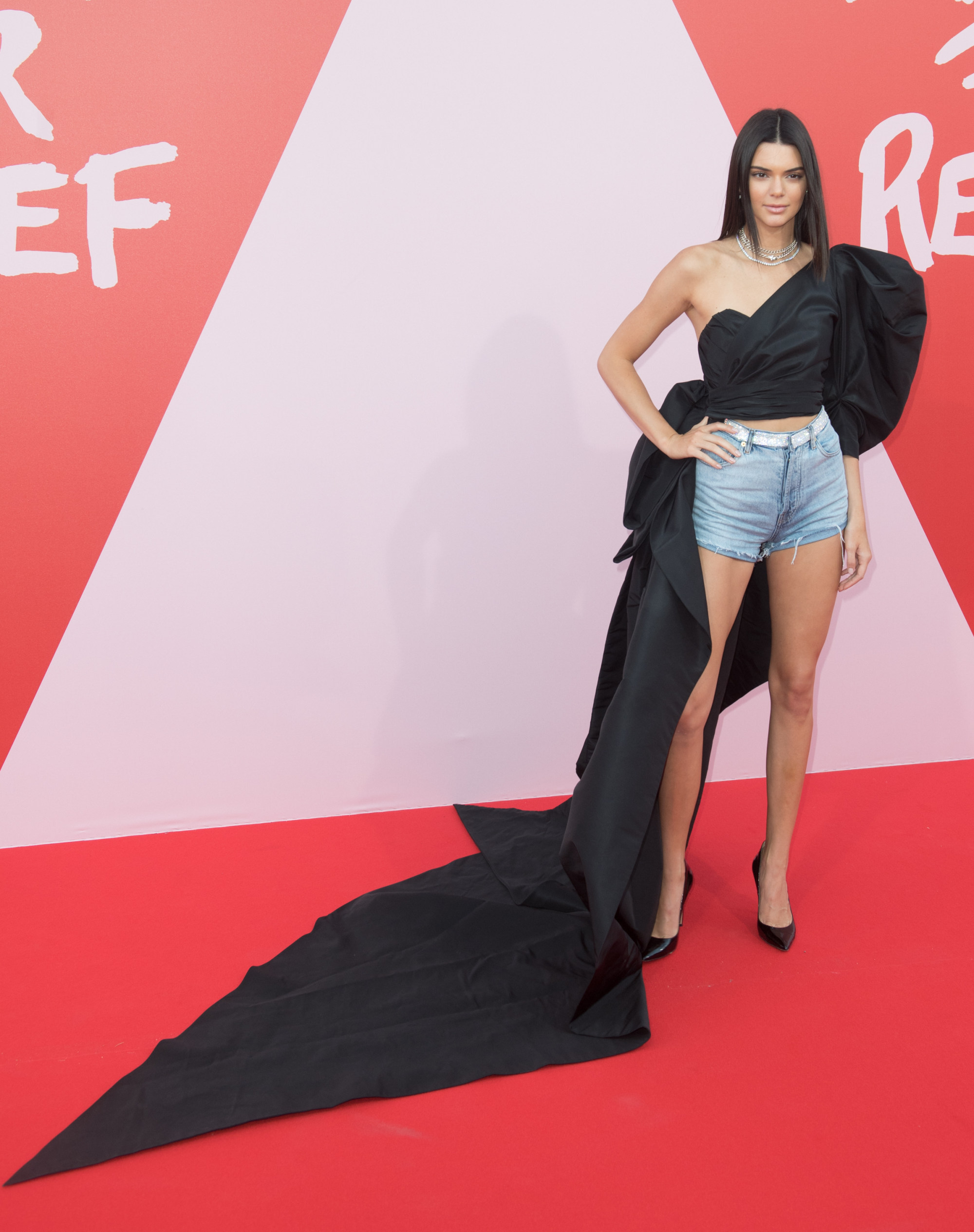 In 2017, Kendall stepped out at the Fashion for Relief event during the
Cannes Film Festival
wearing an Alexander Vauthier Haute Couture top and a pair of jean shorts that she dressed up with a Swarovski crystal belt, Elle reported.
At the time, publications like E! News speculated as to whether she had broken the dress code of the film festival. However, it wasn't an official Cannes Film Festival party, according to Nylon.
7. Kendall's jean shorts that had fabric attached to ankle cuffs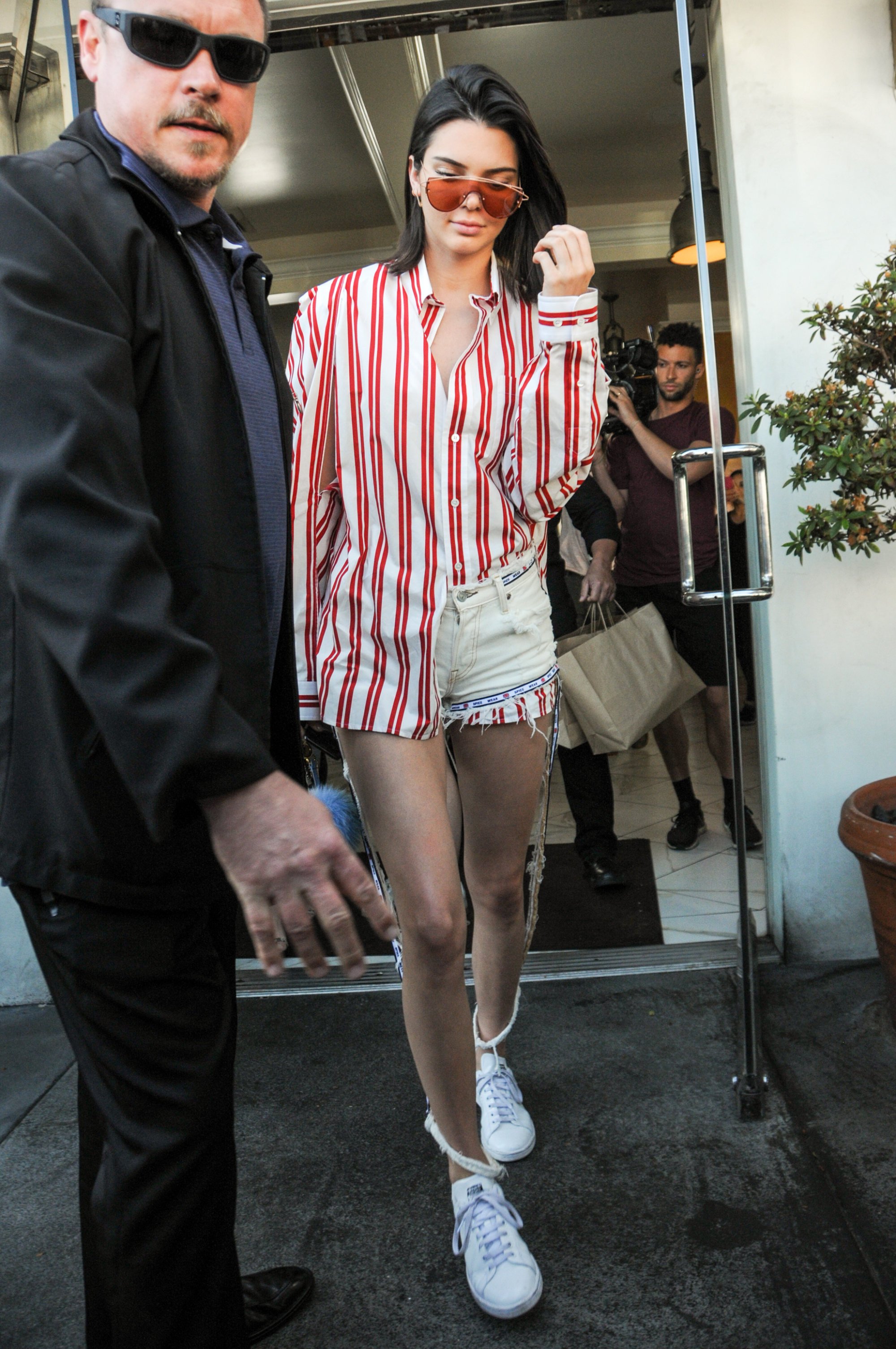 Kendall stepped out in LA wearing a pair of white jean shorts that appeared to still have a tiny sliver of fabric draping down each side, attached to the ankle cuffs.
The fashion faux pas went on to be the focus of an article in The Cut, headlined: "Please send Kendall Jenner to the Jorts Court".
8. Kylie Jenner's sewn-on zip after her dress burst during a last-minute fitting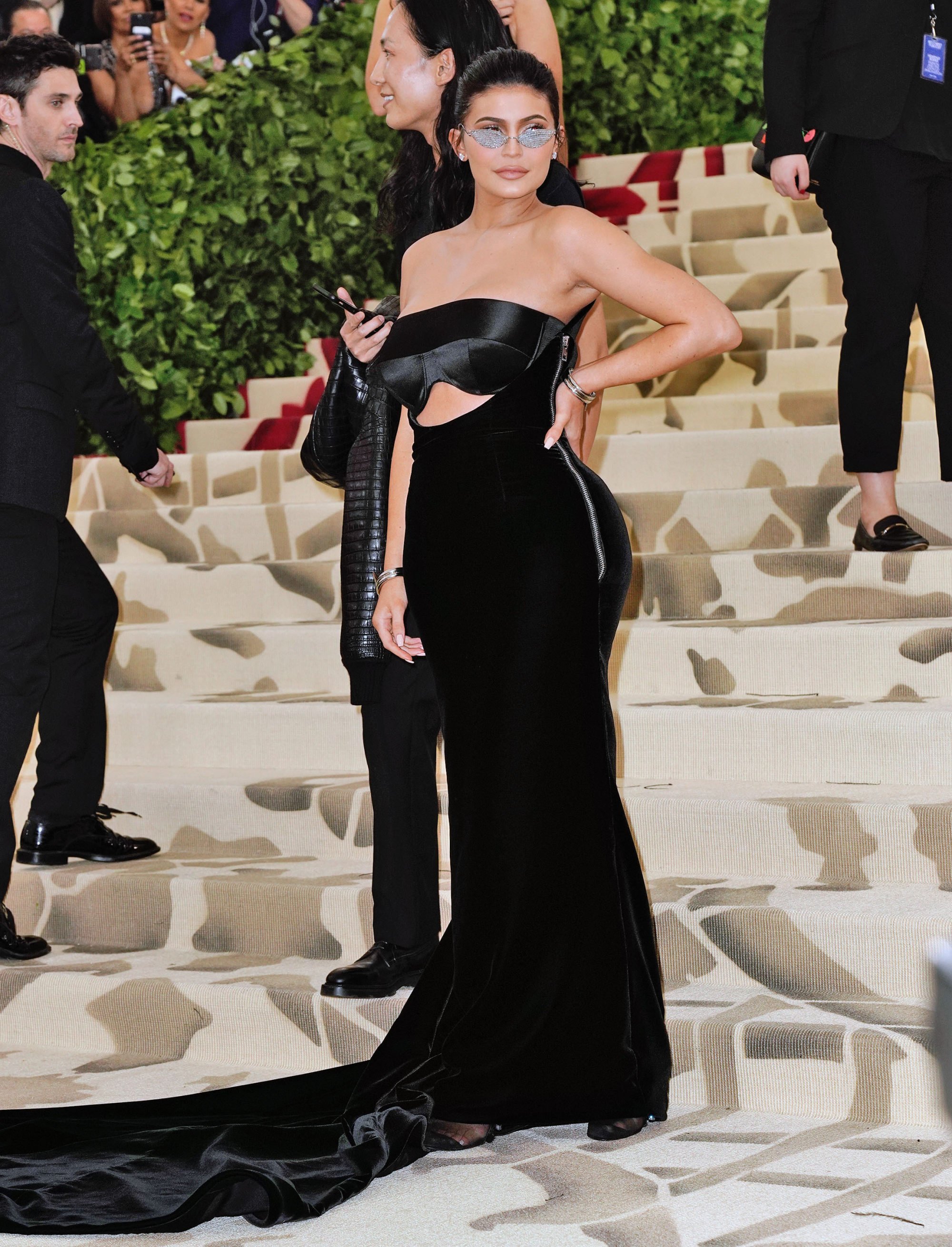 Kylie, 25, and Travis Scott, 31, made their Met Gala couple debut back in 2018. However, their red-carpet moment nearly started in disaster after her black Alexander Wang dress burst moments before they headed out the front door, Kylie revealed in a 2020 Instagram Story, as reported by Cosmopolitan.
"This dress wasn't supposed to have a zip but it ripped as I was squeezing into it, so we added it on the way out the door," she said, according to the publication.
9. Kris Jenner stepped out in a slightly see-through dress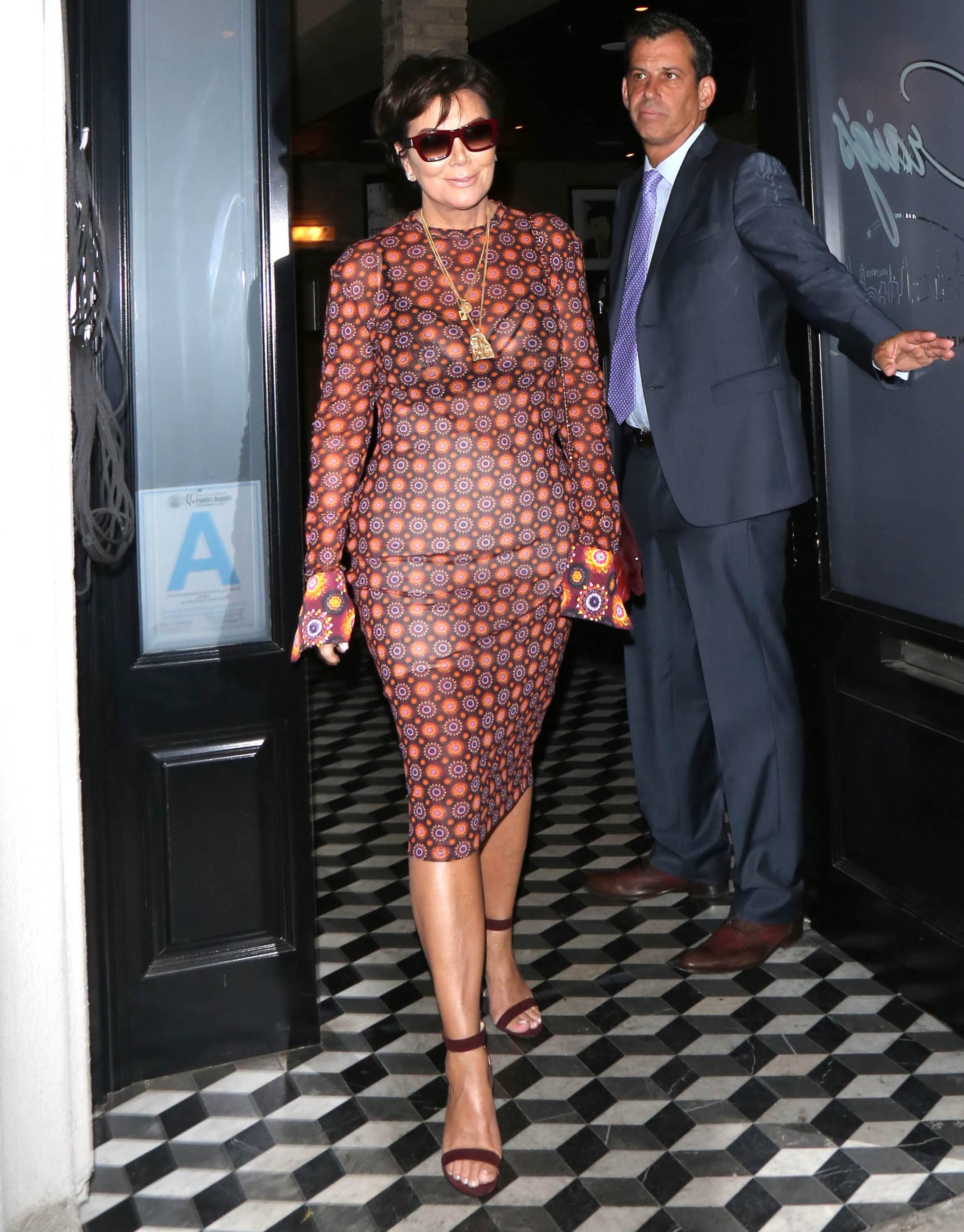 The Kardashian matriarch
, 66, had her own fashion faux pas moment on a night out at Craig's in Los Angeles with her boyfriend Corey Gamble in 2017, Hollywood Life reported.
Kris, then 61, didn't appear to be aware that her 1970s print dress was sheer, exposing what looked like beige shapewear underneath.
10. Khloé Kardashian's improvised suit jacket after her T-shirt ripped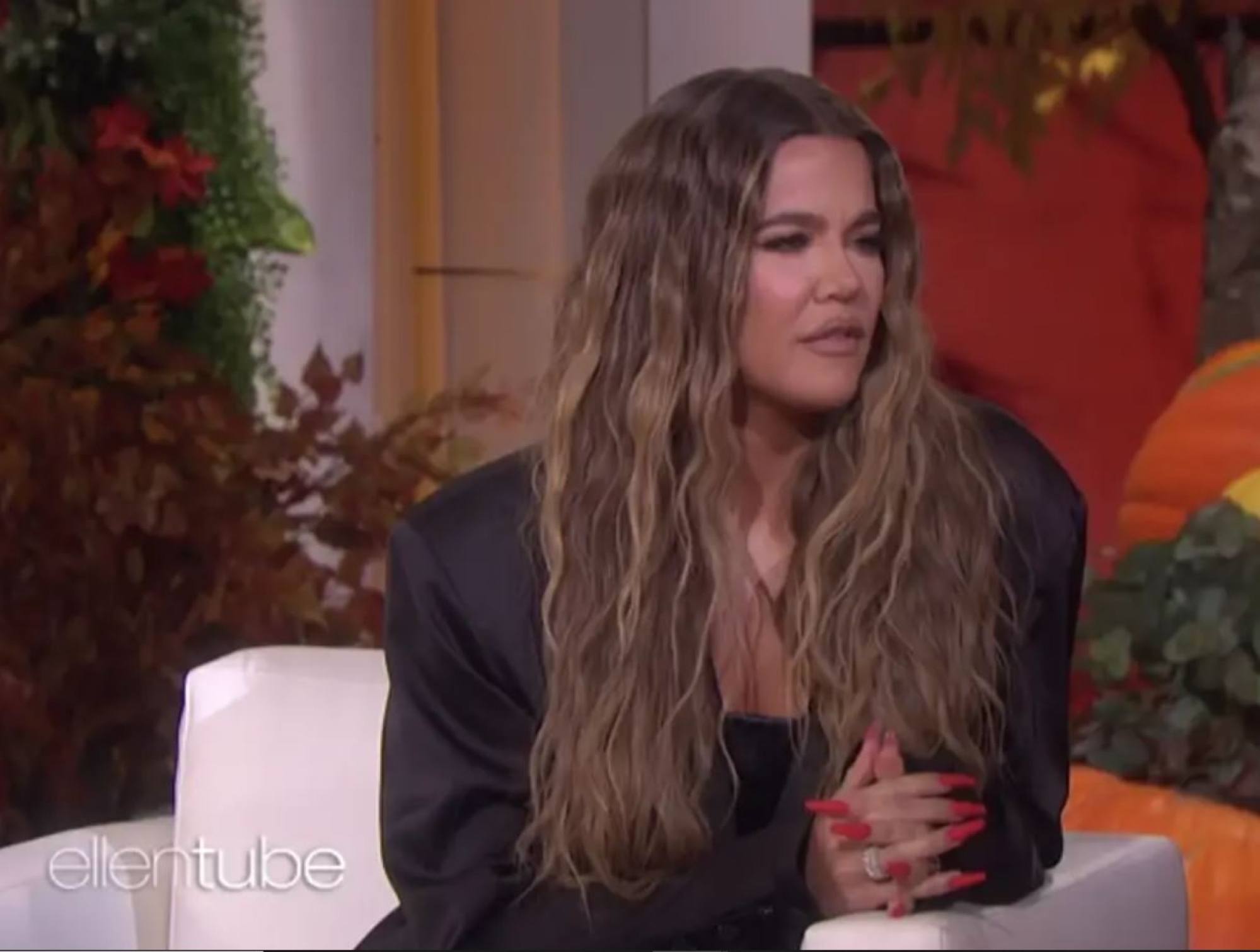 Khloé
, 38, needed to improvise quickly before her appearance on
The Ellen DeGeneres Show
in 2021. Speaking to People afterward, she said that the T-shirt she planned to wear on the programme split last-minute down the back.
"I ended up putting on a really baggy blazer and I looked really menswear chic," she said. "But the whole time, I'm kind of scrunched over because I don't really have a top underneath. I'm like, 'Oh my gosh, what's happening?'"
11. Khloé's accidental exposure moment
During her first night co-hosting The X Factor in 2012 alongside Mario Lopez, Khloé suffered a slight exposure-related wardrobe malfunction.
According to Radar Online, she made light of the minor faux pas at the time by tweeting out: "I think I had a little nip action earlier LOL."
12. Kourtney Kardashian's white-lace bodysuit that wasn't quite tailored to her height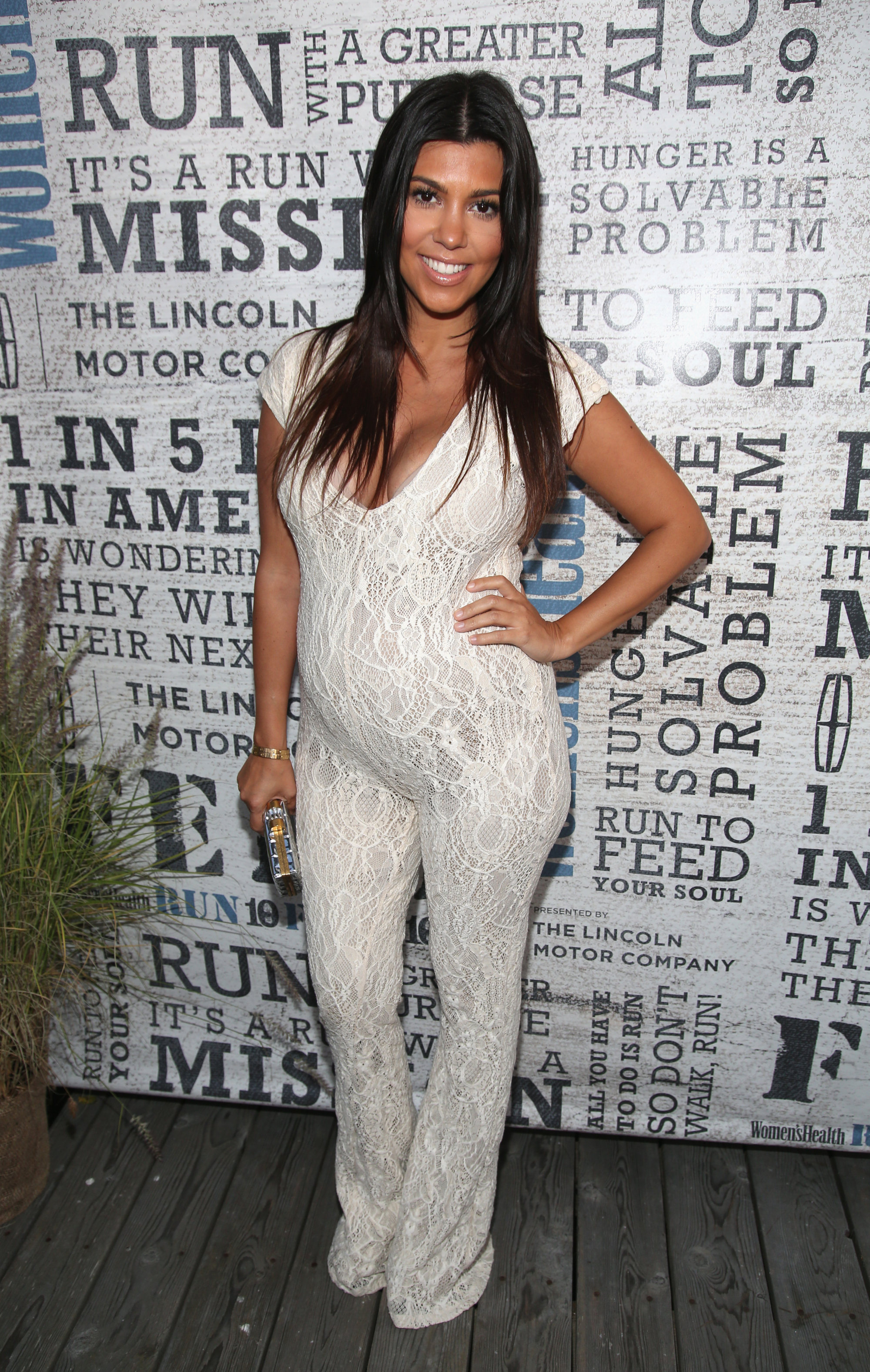 Years before Kourtney, 43, was rocking an
edgier style alongside her husband
Travis Barker, 46, she attended a Women's Health event in 2014 wearing a white lace bodysuit alongside ex-boyfriend Scott Disick.
The only issue was that the outfit wasn't exactly tailored to fit her petite frame, and the excess material covered her shoes, seemingly dragging on the floor.
Read the original article on
Insider

Kim was criticised by Kendall on The Kardashians for her baggy 'diaper' jumpsuit at Milan Fashion Week, and her Fendi dress once unzipped itself to reveal Skims
Kris wore a very sheer dress when out with Corey Gamble while Kourtney donned a bodysuit that was too long for her – but what about Kim and ex Ye's 'yellow jacket moment' code phrase?