Whatever happened to Taylor Swift's celebrity 'squad' of friends? From Selena Gomez and Ed Sheeran to Gigi Hadid, Camila Cabello and Cara Delevingne, here's who's still close with the Midnights singer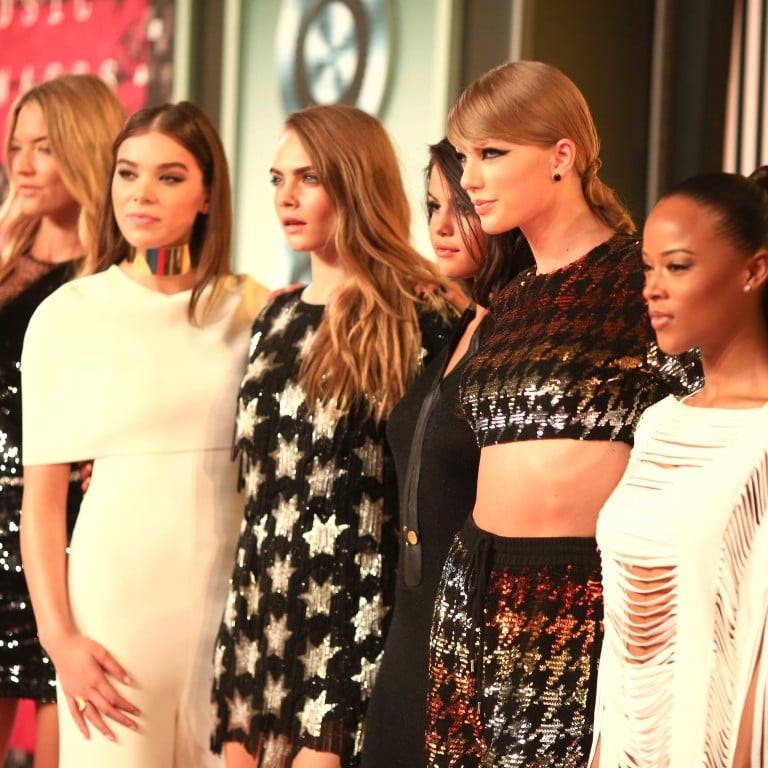 Taylor Swift, 32, has a lot of famous friendships with A-listers who have been referred to as members of her "squad". Stars like Selena Gomez, Lorde and Gigi Hadid are some of the original members.
With the release of Tay Tay's new album Midnights (3am Edition), which has already broken Spotify streaming records, fans are wondering which "squad" members are still around to support the Grammy award-winning star.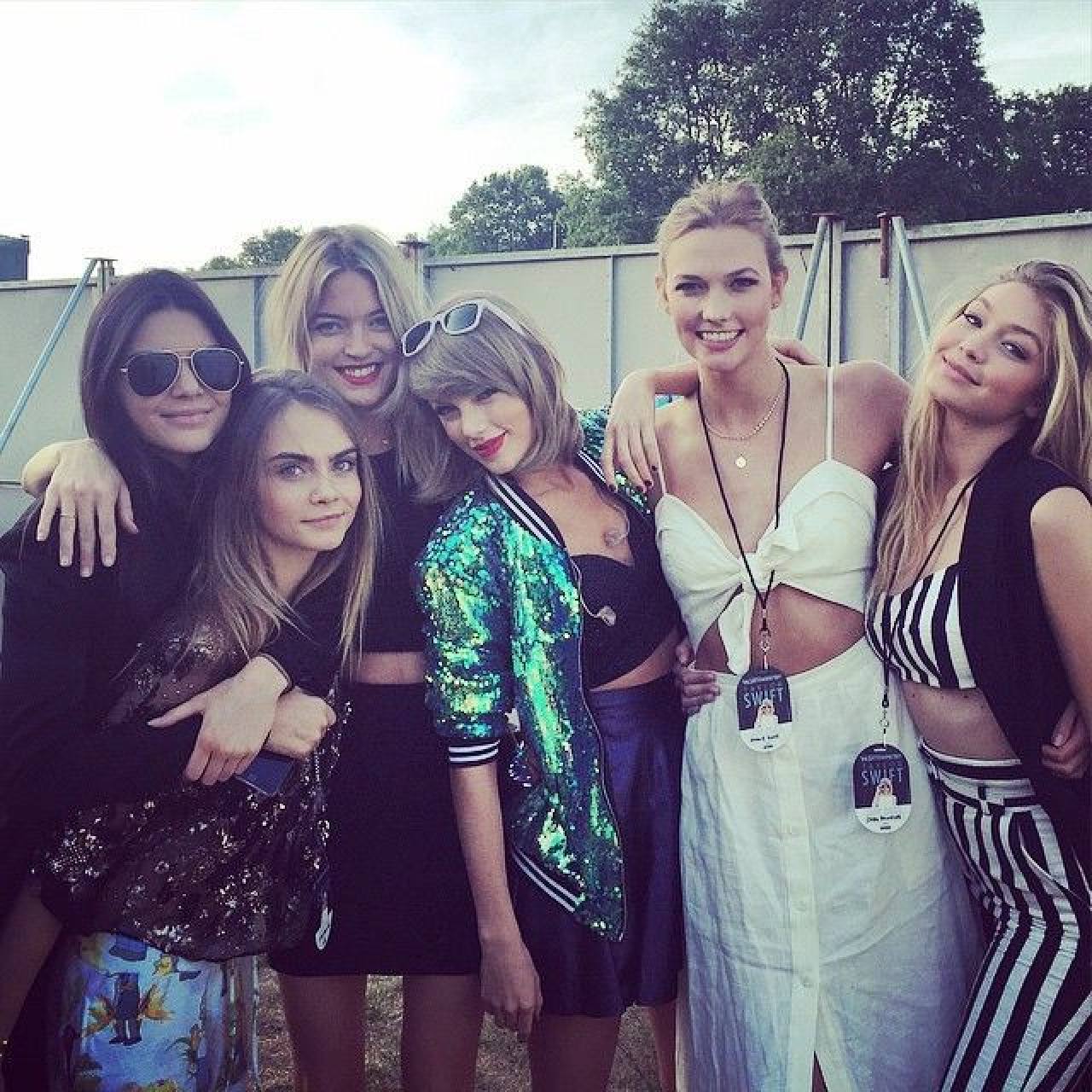 So, who has left the fold and who is still on Swift's speed dial? Let's take a look …
1. Karlie Kloss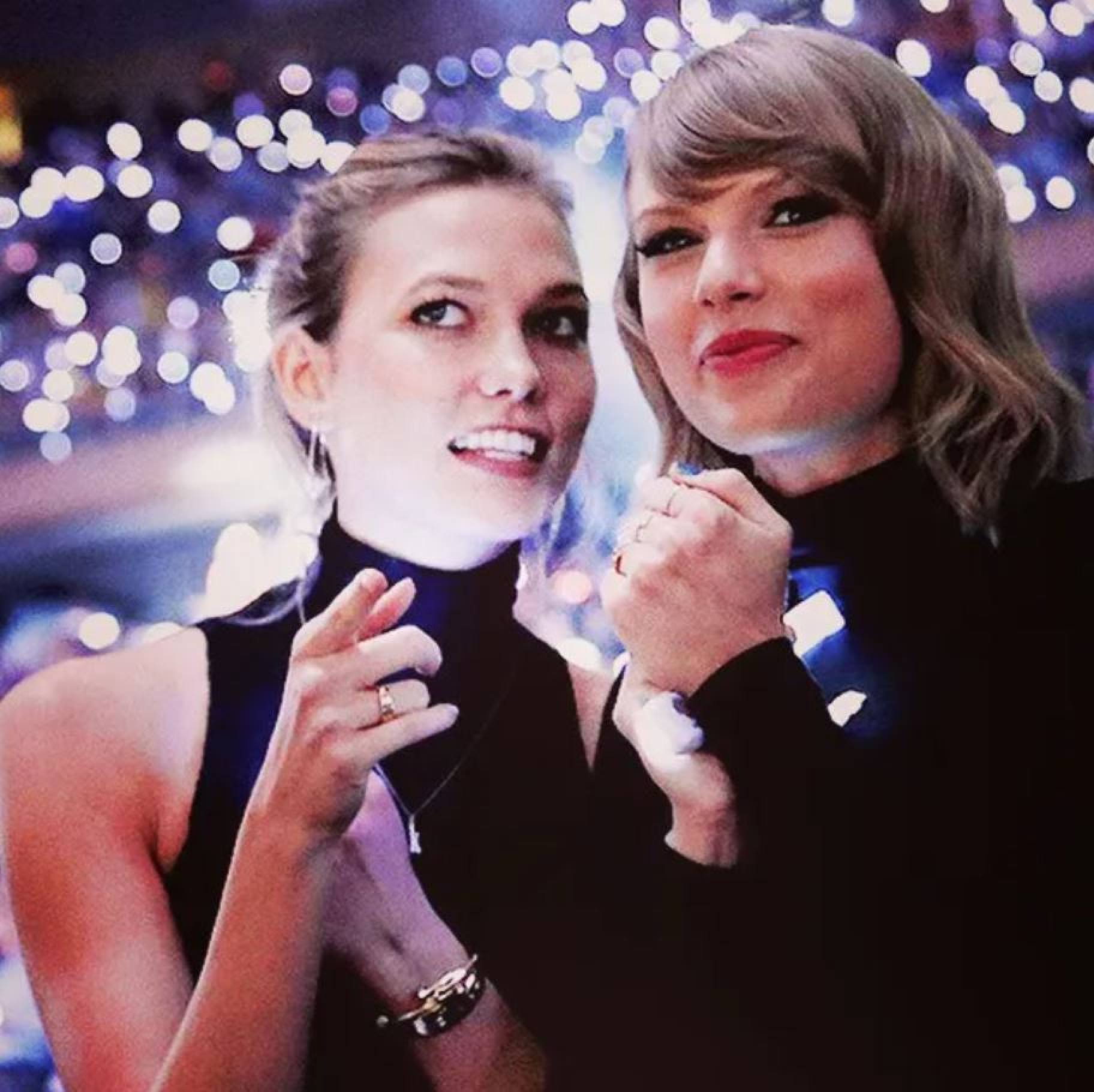 Karlie Kloss, 30, was once famously considered to be Swift's best friend.
At the time they met, Kloss was a new model on the scene, and she and Swift solidified their new friendship with a well-documented road trip to Big Sur in 2014. Over the years, the tabloids liked to speculate that the two had a falling out, but in a 2019 interview with Time magazine, Kloss confirmed she is still friends with Swift.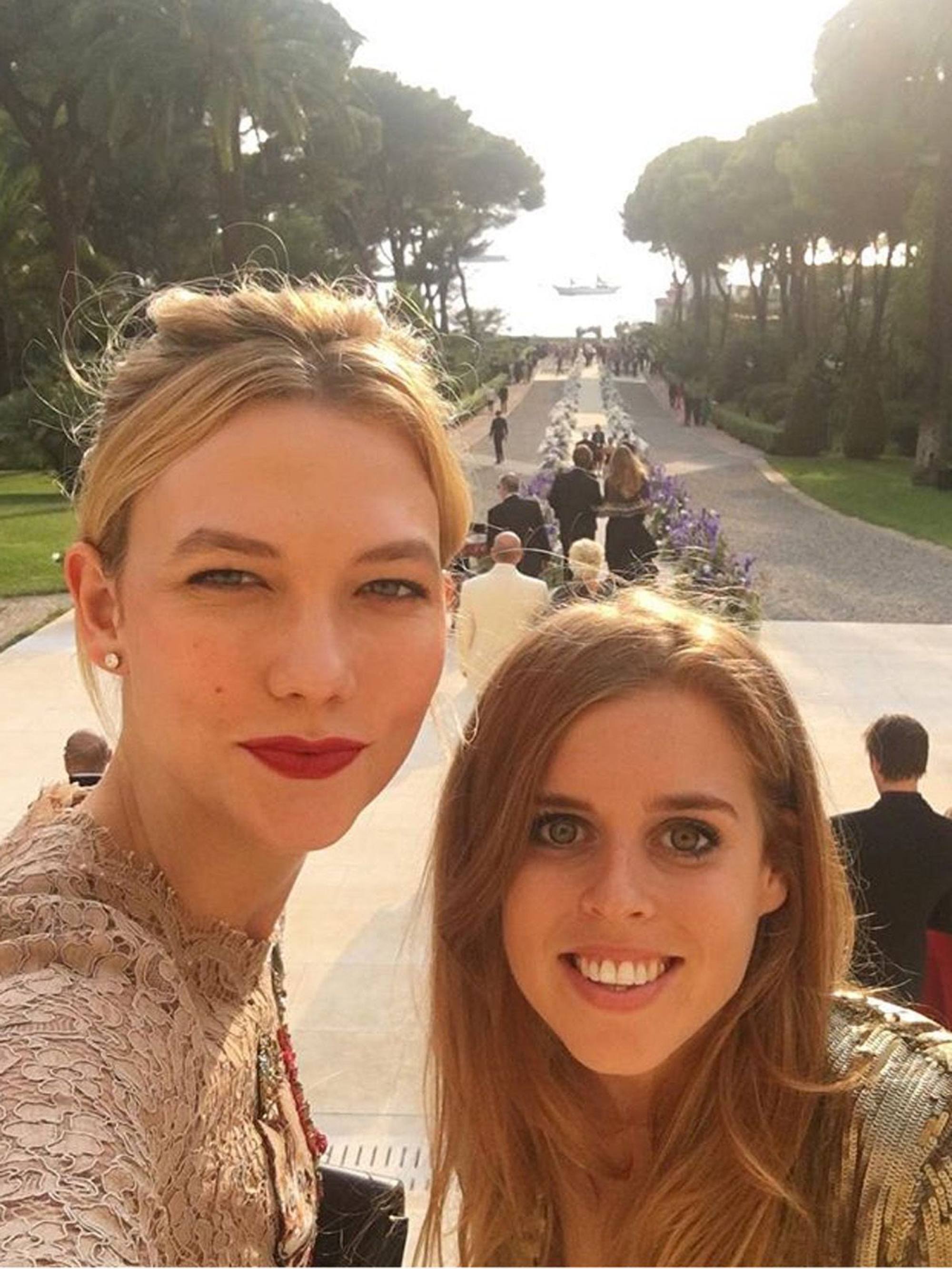 But the model was spotted in photos on social media holidaying and hanging out with Scooter Braun amid Swift's feud with the music manager, which led fans to speculate about another rift.
Fans have also recently theorised that Swift's song "It's Time to Go" is about the model.
2. Cara Delevingne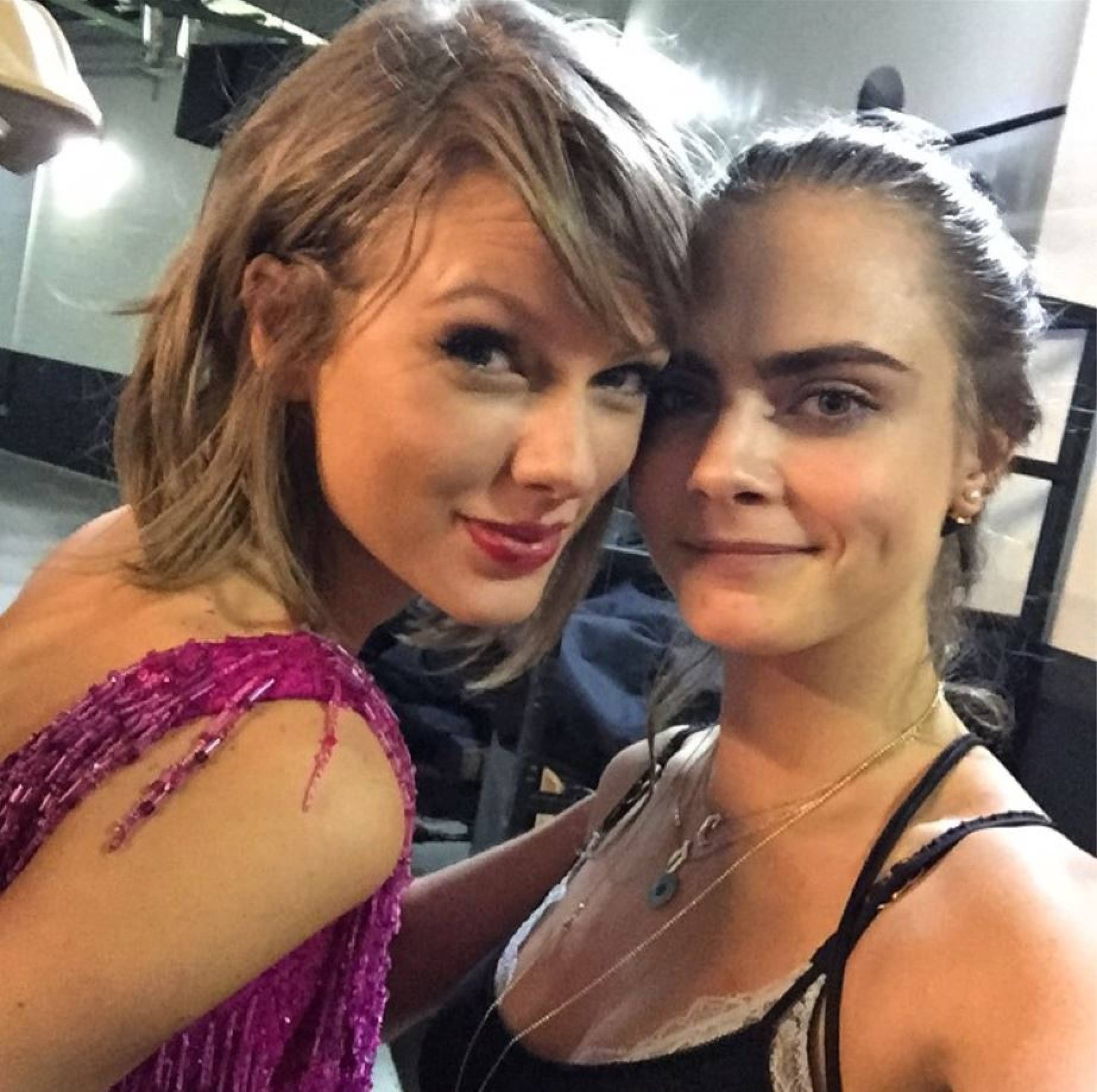 Cara Delevingne, 30, and Swift seemed to link up after the 2013
Victoria's Secret Fashion Show
, which Swift performed at and Delevingne modelled in. Soon after, the two were spotted hanging out in New York City.
Delevingne was one of Swift's friends who appeared in the "Bad Blood" music video. Delevingne has spent a lot of time acting, and she and Swift are still social-media friends. The two friends have not been spotted together in a few years – and, in 2017, fans pointed out that the model wasn't name-checked on Swift's "squad shirt" in the "Look What You Made Me Do" music video.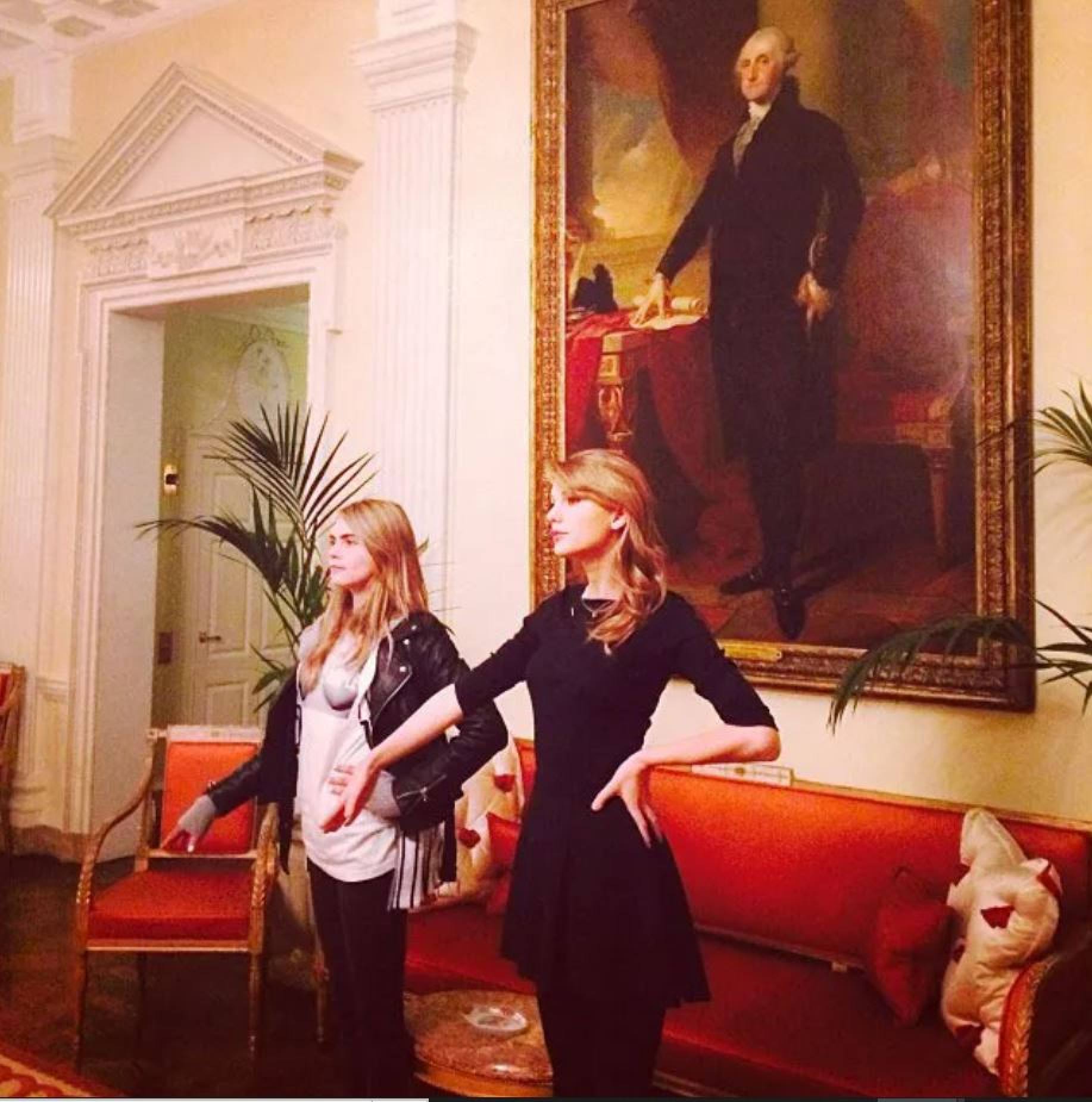 But, in 2019, Delevingne made it clear the pair are still friends by supporting her amid the Swift-Braun feud.
Delevingne was featured on the June 2020 issue of Variety, and Swift sent an email to the publication for the cover story, writing, "Cara is extreme, eccentric, hilarious, loving and deeply loyal."
3. Selena Gomez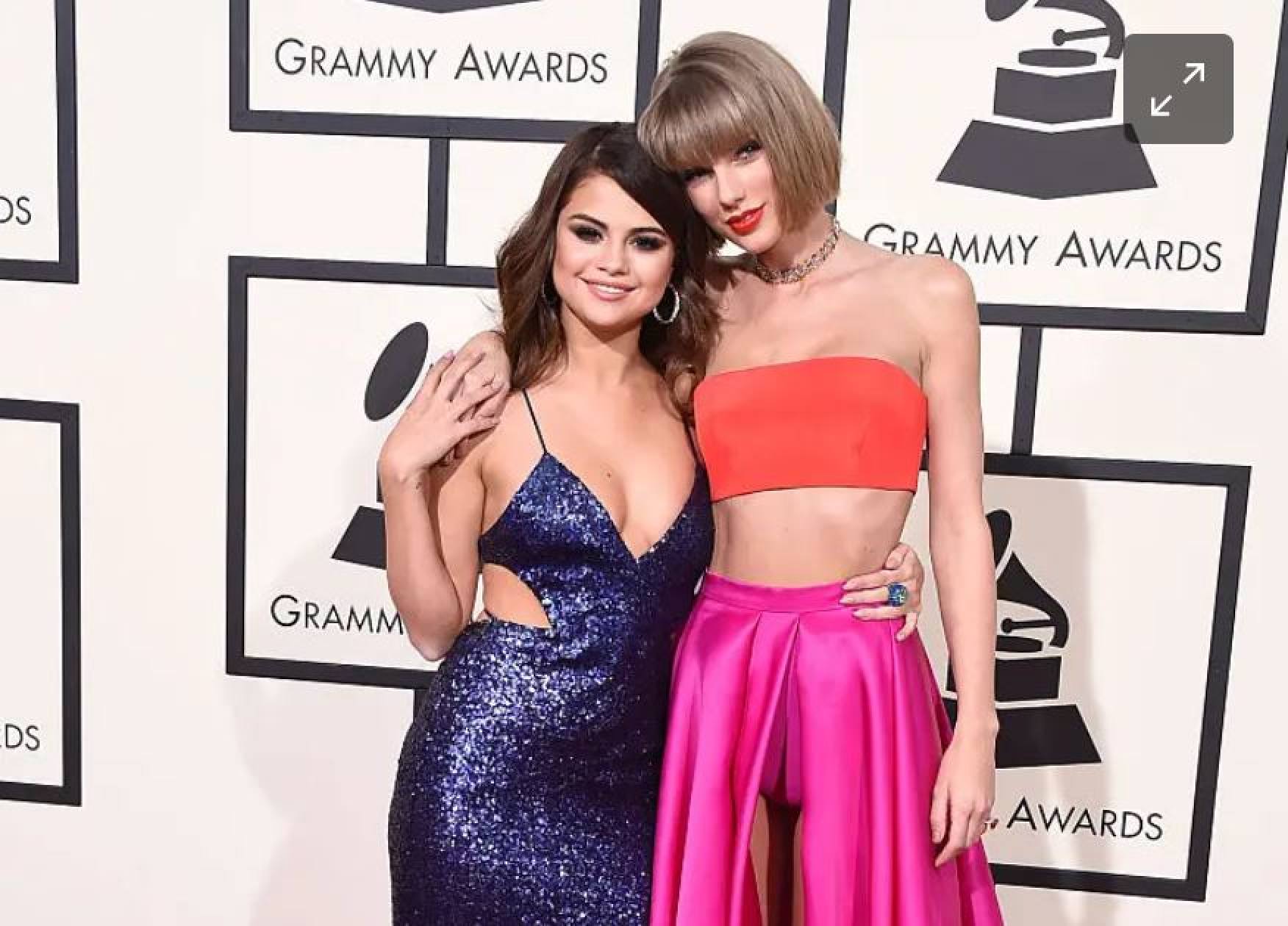 Selena Gomez, 30, and Swift met way back in 2005. Gomez told Kiss FM UK that they met because they were both dating
Jonas brothers
at the time.
"She [Swift] was the girl with the big curly hair and the bracelets and the cowboy boots, and I was definitely up-and-coming. We just clicked," Gomez said.
"The reason why she's [Swift's] one of my best friends is because this person has never, ever judged me for a decision I've made. She's always met me where I've been," Gomez said onstage during a performance with the country-pop singer in 2018. "She encouraged me when I had nothing to be encouraged about. And I don't know if I would be as strong as I am if I didn't have you and your family."
Swift and Gomez are still close friends, and often show encouragement for each other online. When Swift released Lover in 2019 and Gomez released "Lose You to Love Me" from her album Rare, both of them promoted the other's songs on their Instagram Stories.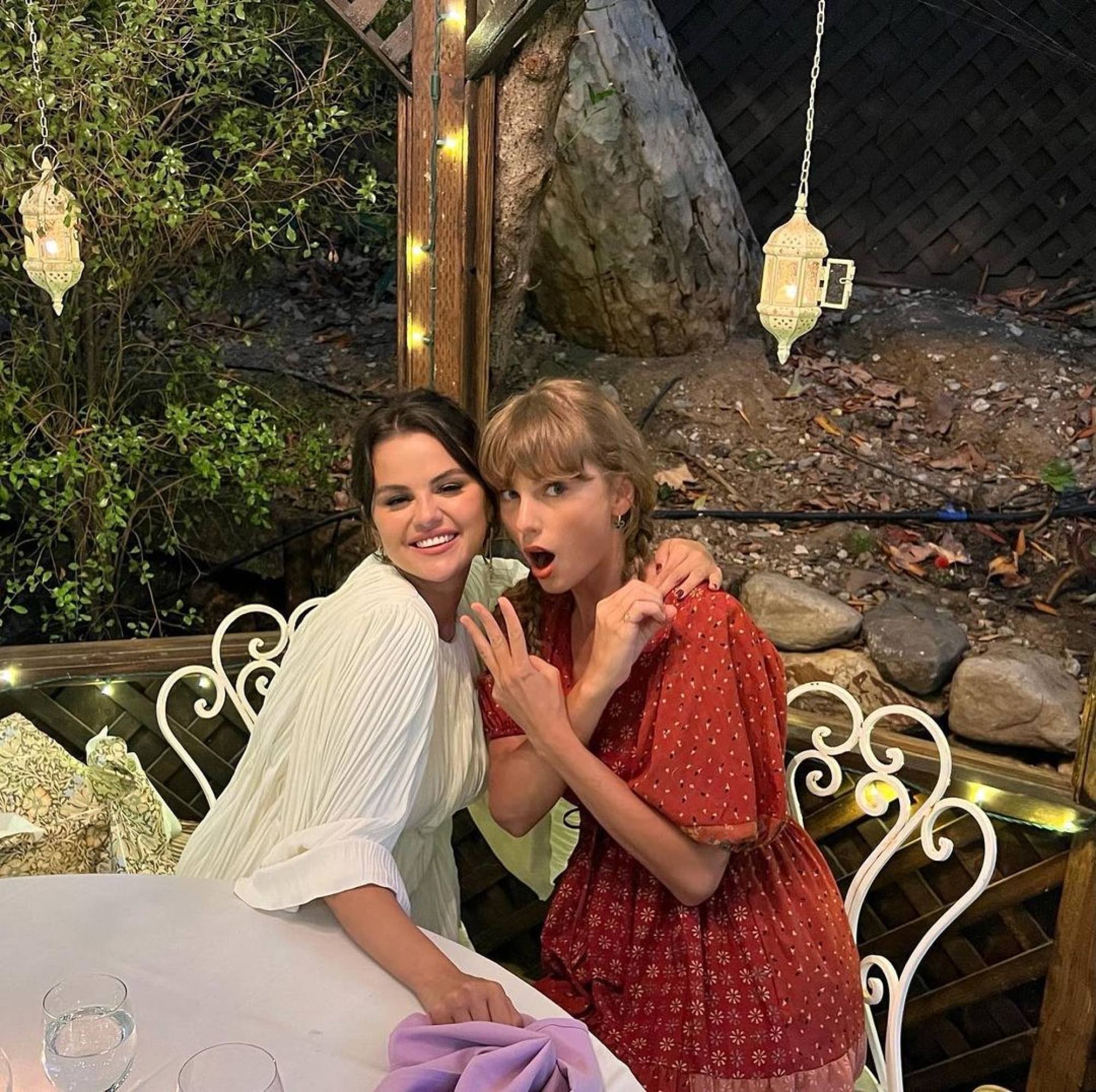 That same month, Selena launched her new HBO Max cooking show and Swift made a surprise video-call appearance on one of the episodes. She introduced Swift to celebrity chef Roy Choi as her "best friend".
In November 2021, Swift posted a TikTok of her and Gomez hanging out backstage during Saturday Night Live and, in July, the friends also got together to celebrate Gomez's 30th birthday.
4. Blake Lively
Blake Lively, 35, met Swift around 2015 but laid low when it came to the "squad" pics. They were first spotted hanging out at a theme park in Australia together in 2015.
Lively and her husband Ryan Reynolds also attended Swift's iconic "Taymerica" Fourth of July party in 2016.
The two still seem to be close. Lively's daughter James' voice is heard on Swift's 2017 song "Gorgeous", she and Reynolds appeared in photos from Swift's 2019 New Year's Eve party and, at the end of 2019, the couple was part of the crowd that helped Swift celebrate her 30th birthday.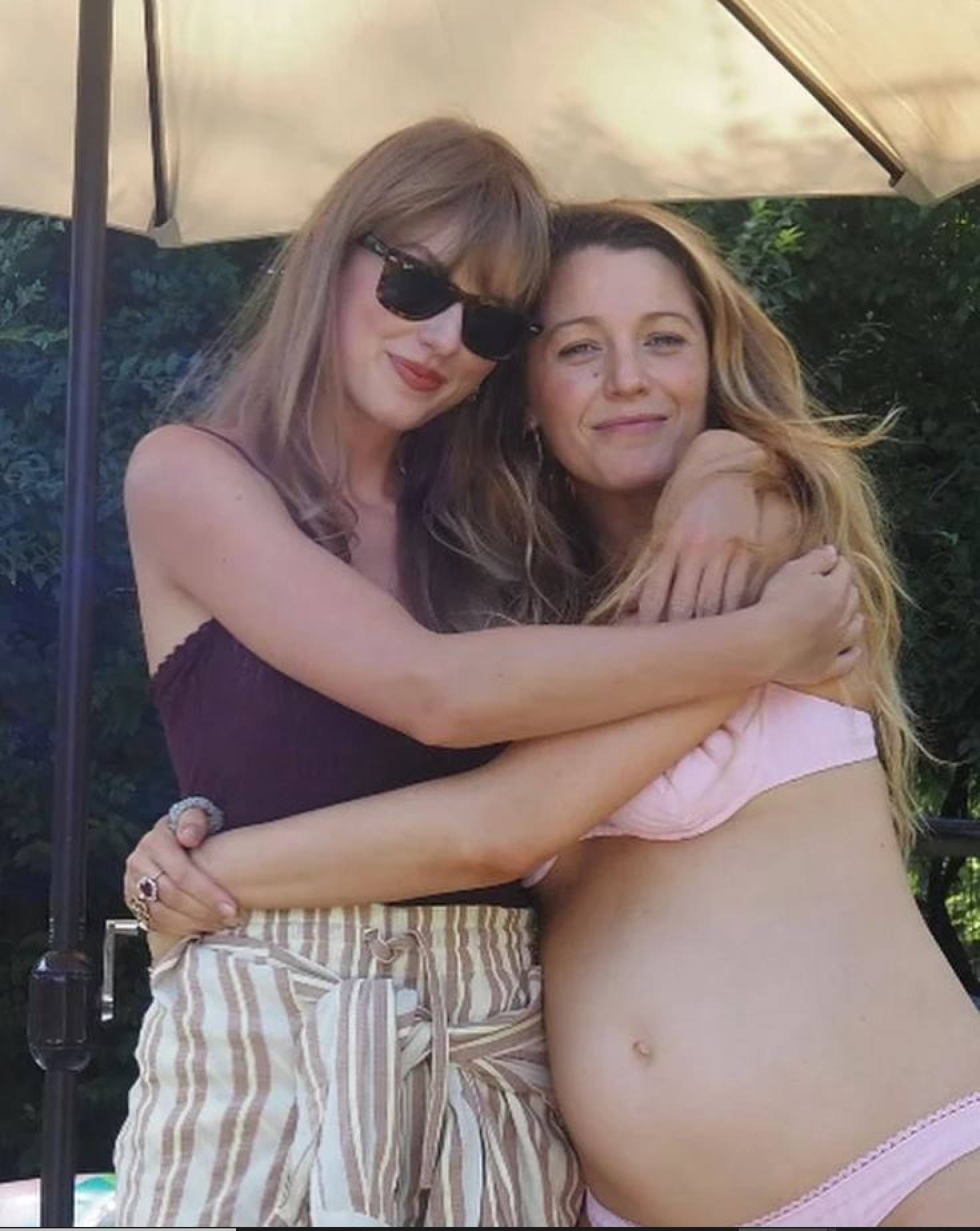 During the 2021 Grammys, Swift thanked Lively, Reynolds and their three kids in her speech after she won album of the year for "Folklore".
Then later that year for Halloween, fans think Swift – donned in a squirrel costume she posted on Instagram earlier in the day – joined Lively and Reynolds for trick-or-treating in NYC.
Lively posted a carousel of images in September of her pregnancy including Swift in one of the pictures.
5. Lorde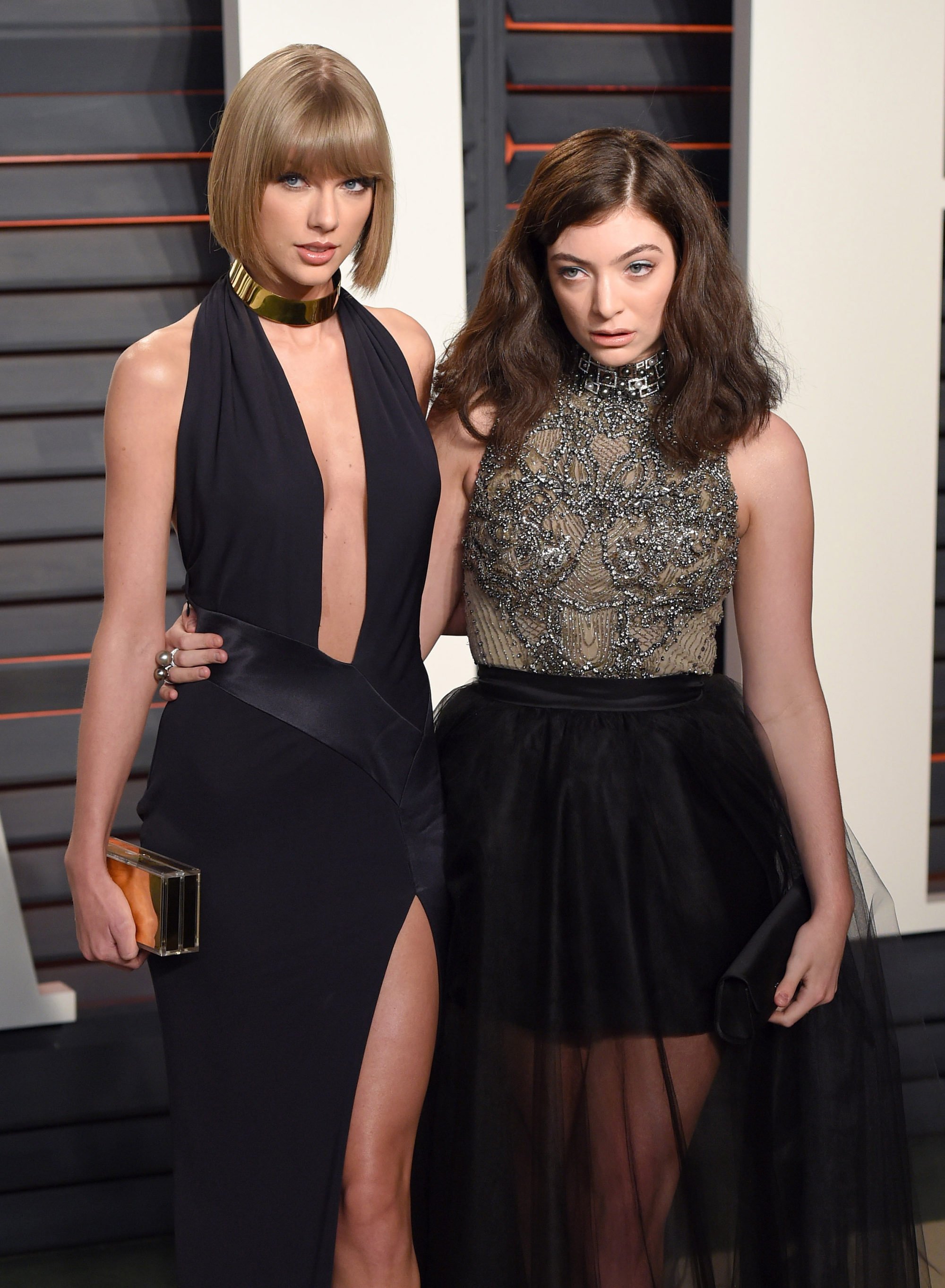 After Lorde, 25, burst onto the scene with her breakout single "Royals", Swift sent her flowers. Eventually, the two singers met up (at Shake Shack, no less) and formed a friendship.
In fact, Swift told PopCrush that Lorde was one of the first people to hear her 1989 album before it was released because Swift said the young singer gives awesome advice.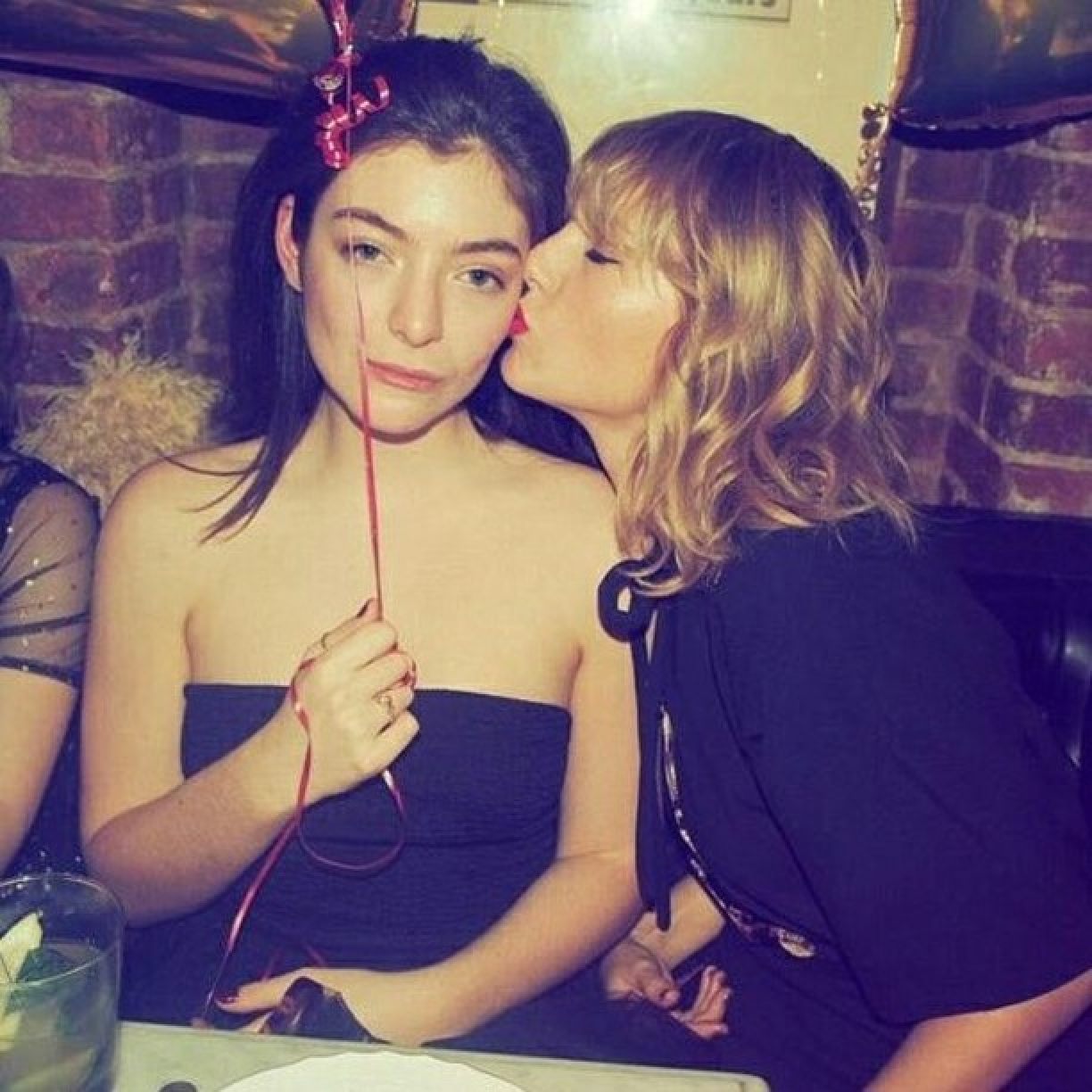 Lorde's career took off as she battled reports about her friendship with Swift being over. In 2017, after a publication mistakenly reported that she and Swift were on the outs, Lorde tweeted: "I want to say one more time that Taylor has been there for me in all my dark and light moments these past five years. All of them."
Since then, however, Swift and Lorde haven't been seen together much.
6. Hailee Steinfeld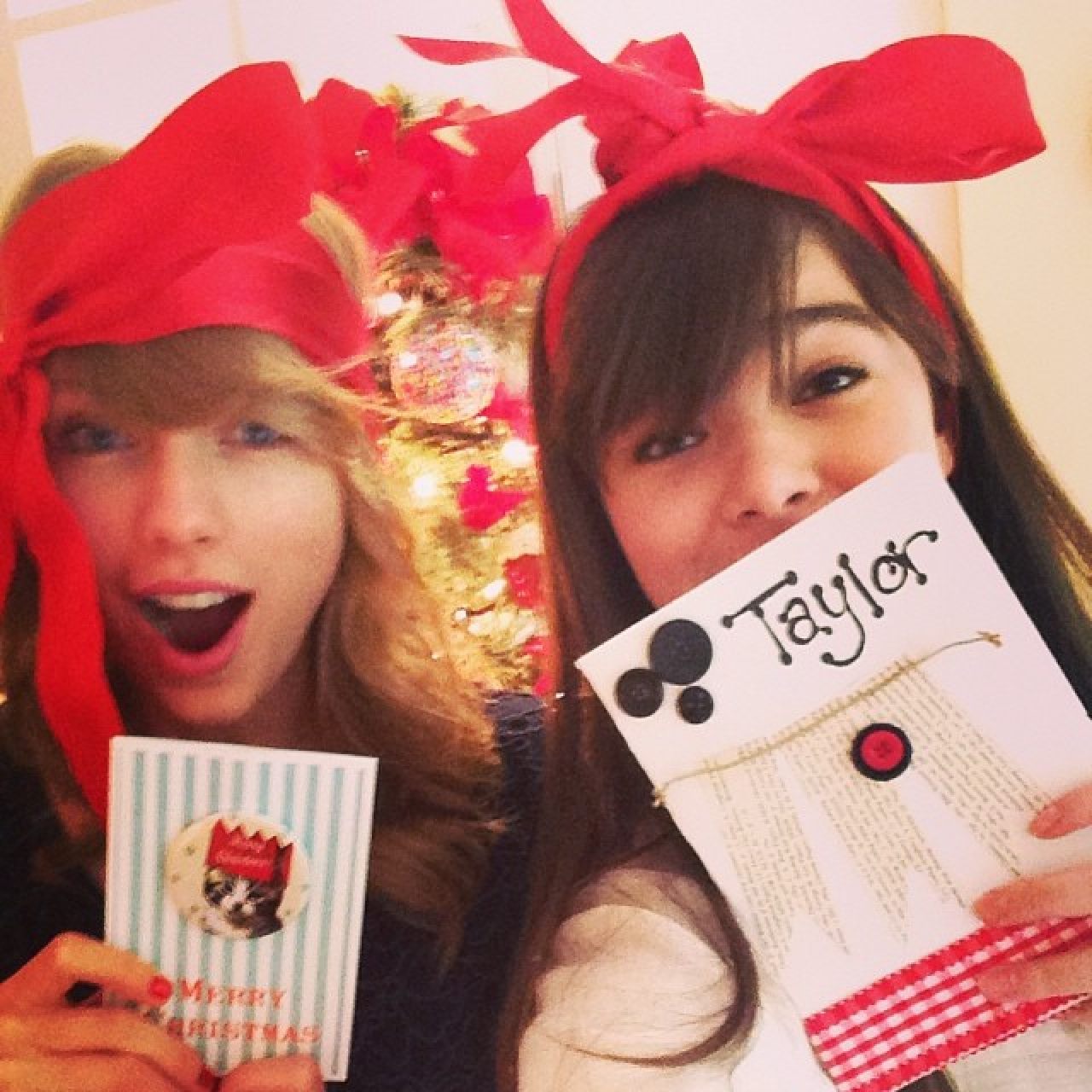 The 25-year-old actress/singer appeared in a ton of Swift's Instagram posts in the pre-2015 "squad era", was in the "Bad Blood" video and even walked onstage during one of the famous "squad" appearances from the "1989" tour.
It's unclear if Swift and Steinfeld are still close, but Steinfeld's career is on the rise. Steinfeld told Seventeen magazine in 2016 that she didn't spend as much time with Swift as people might have assumed, but that she does consider her an "amazing" friend.
7. Camila Cabello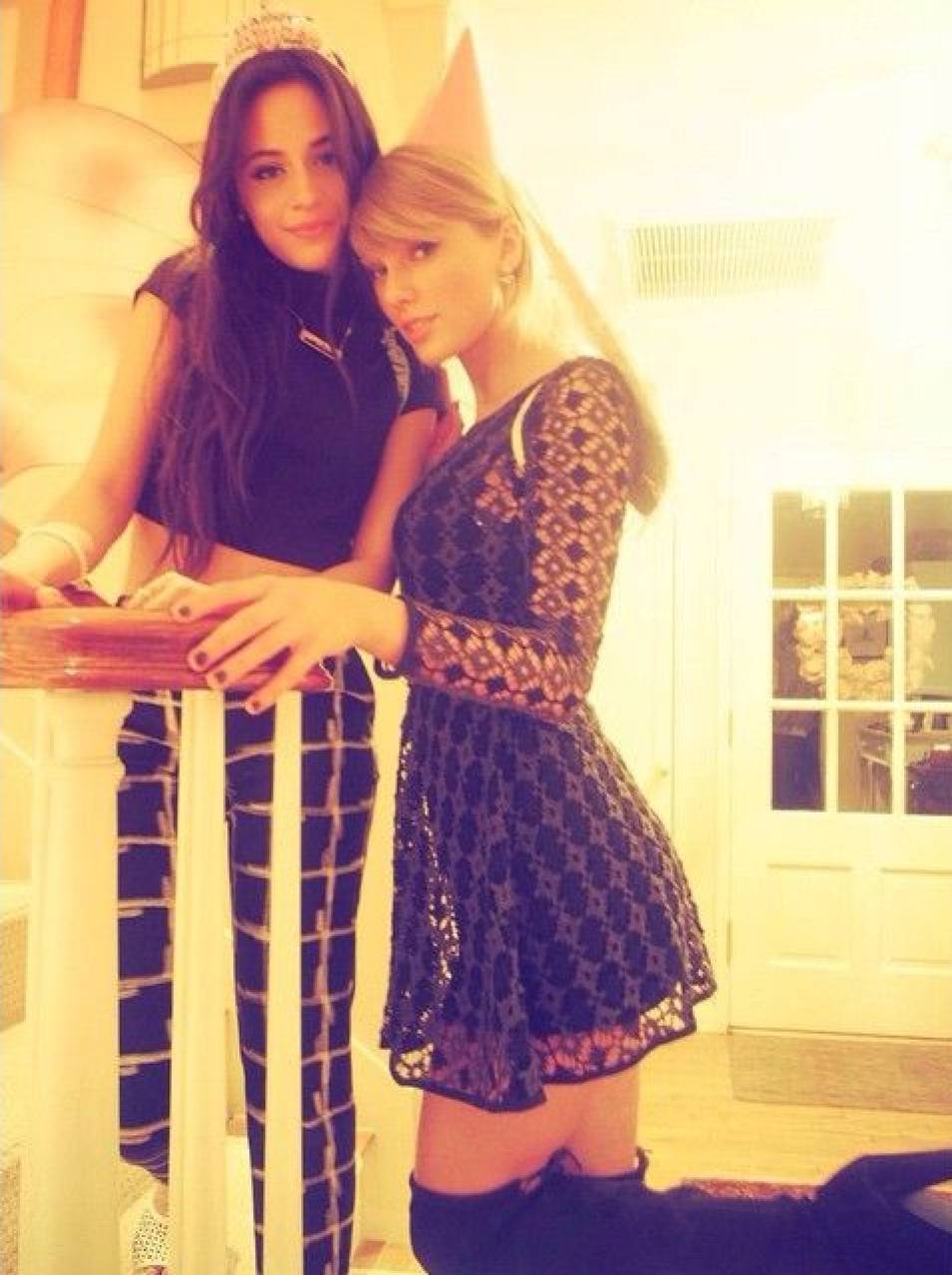 Camila Cabello, 25, told Billboard that she first met Swift in 2015 and she worked up the courage to say hello to her and tell her how big of a fan she was.
The two hit it off quickly as friends and, in March of 2015, Swift even threw Cabello an epic 18th birthday party attended by fellow "squad" members Gomez, Steinfeld, Lorde and Haim.
Cabello and Swift are still close friends, and Cabello even opened for Swift on her "Reputation" tour in 2018. The following year, Cabello attended Swift's Christmas-themed birthday party. The singer also posted photos with some gifted "Red (Taylor's Version)" merch.
8. Emma Stone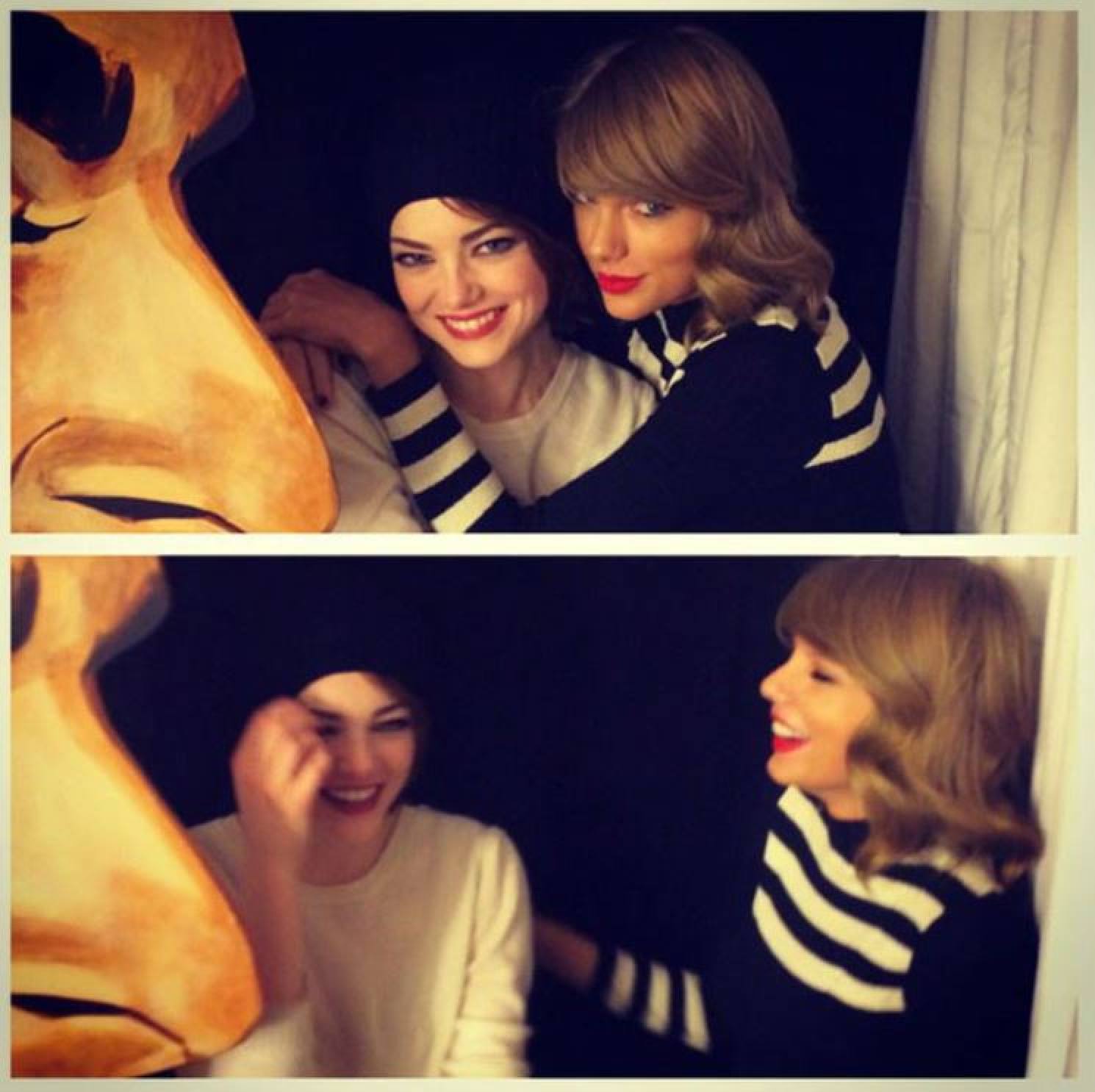 Emma Stone
, 33, and Swift reportedly met at the Young Hollywood Awards in 2008 and became fast friends. At the time, Stone had already been in the hit comedy
Superbad
(2007) and was quickly on her way to the A-list.
Stone even brought Swift as her date to the 2010 premiere of her movie Easy A. Although Stone doesn't have Instagram and actually didn't appear in many of the Swift "squad" photos from the 2015-2016 era, she appears to still be acquainted with the singer and even attended the Reputation tour in New Jersey in July 2018.
9. Ed Sheeran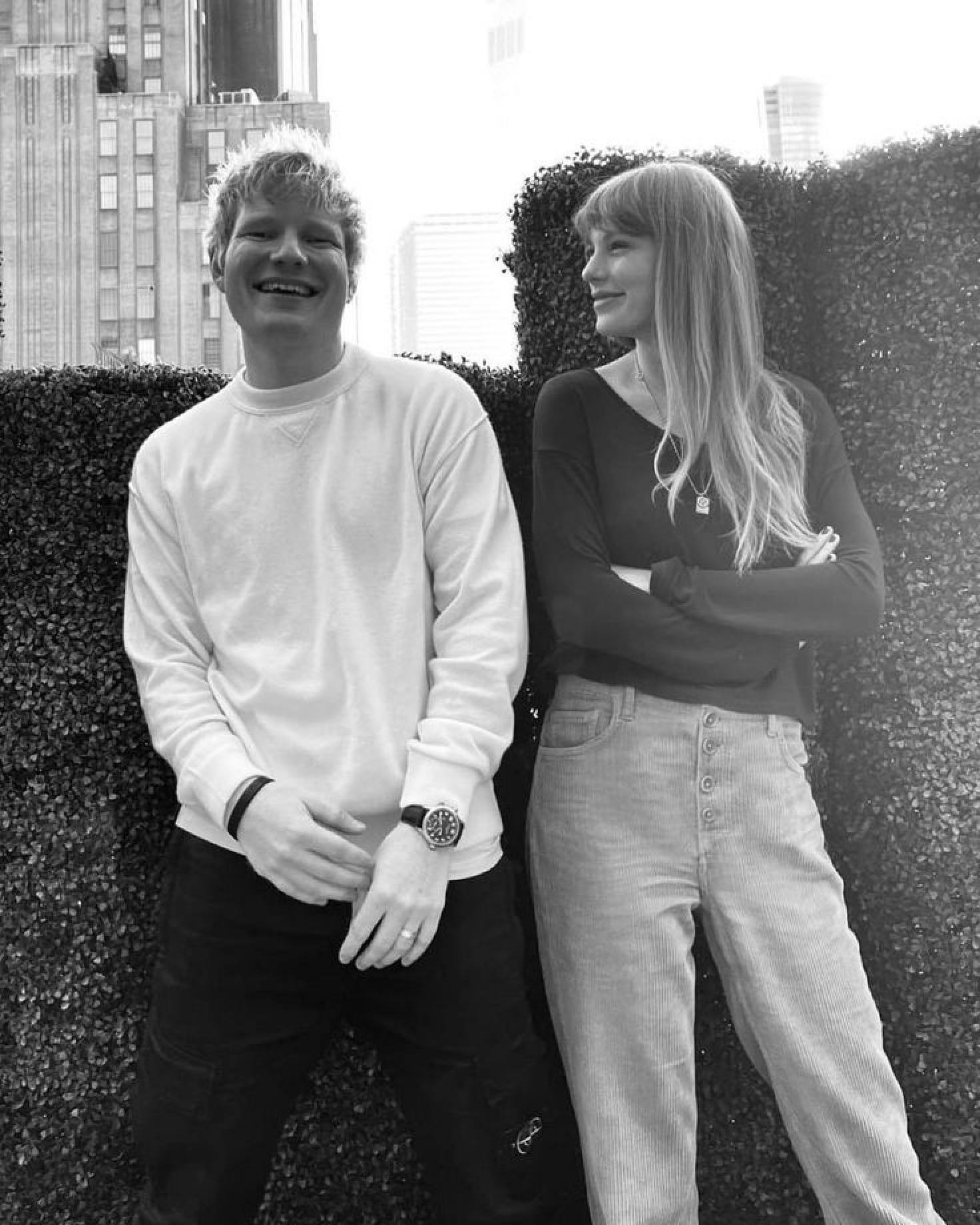 Ed Sheeran, 31, and Swift performed together at the Z100 Jingle Ball in 2012 after Sheeran was featured on a song from her album Red that released that same year.
Swift also had Sheeran open for her Red tour, solidifying his place in the "squad". Sheeran collaborated with Swift again on her Reputation album, which was released in 2017. Sheeran is currently on a hiatus from music and social media, but he and Swift still seem to be friendly.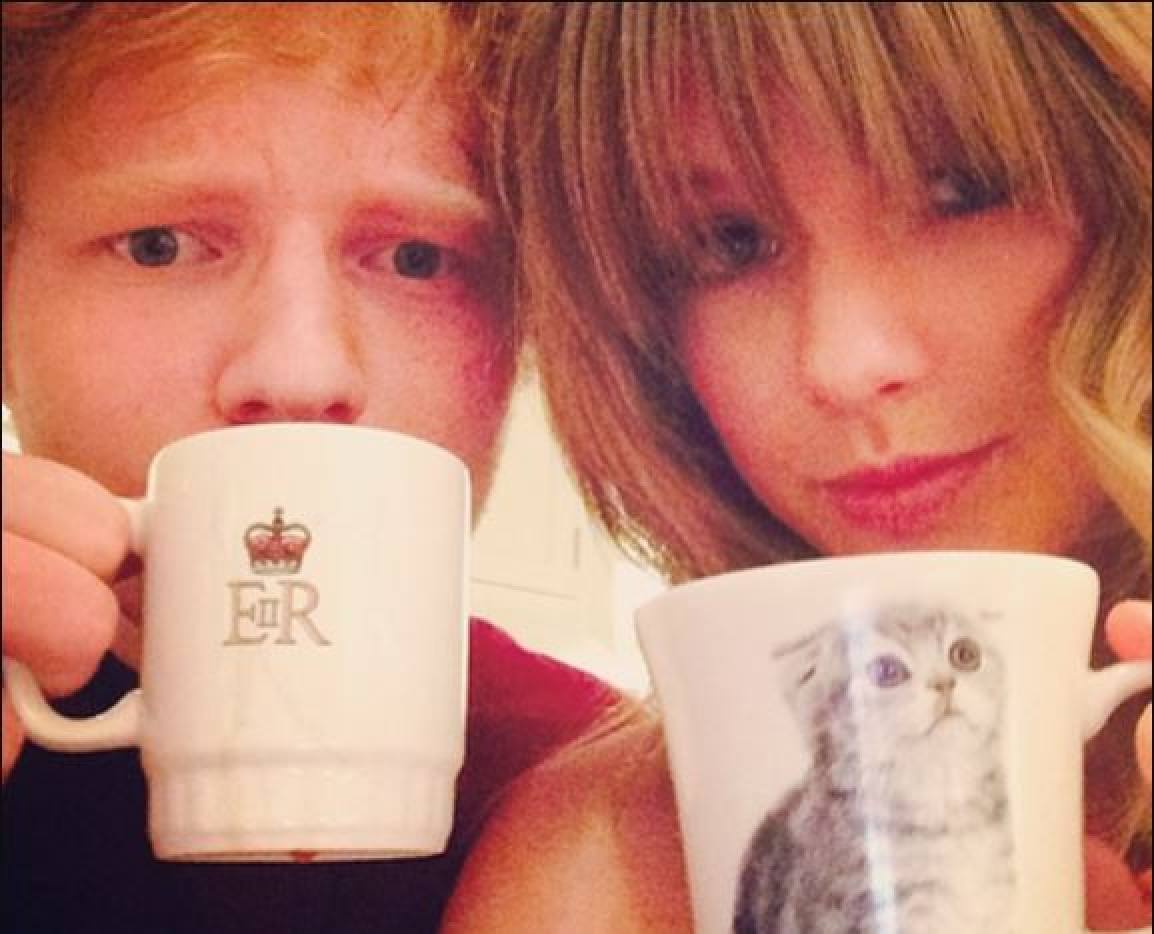 In February 2020, an eyewitness source told E! News that Sheeran and his wife, Cherry Seaborn, were spotted at dinner with Swift and
her boyfriend, Joe Alwyn
. They were reportedly celebrating Alwyn's 29th birthday in a high-end London restaurant.
When Swift released Midnights, Sheeran took to his Instagram Stories to tell his fans, "So great! @taylorswift loving the whole album, everyone check it out."
10. Gigi Hadid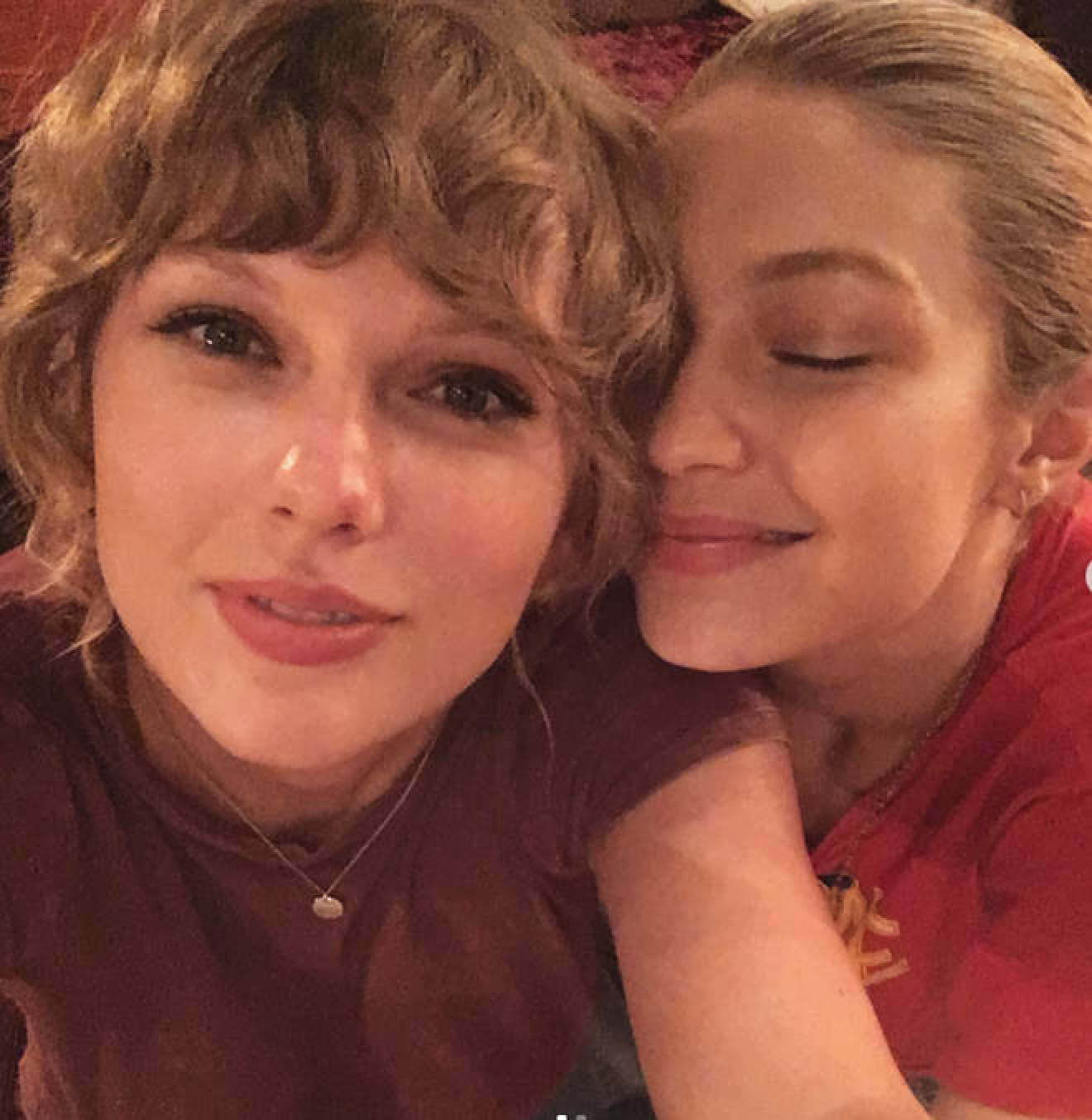 Gigi Hadid
, 27, reportedly met Swift in 2014 at a pre-Oscars bash with mutual pal Kloss.
A year later, Hadid appeared in Swift's "Bad Blood" music video, and in May 2015, Hadid joined Swift on stage as a special guest for one of her 1989 tour stops. Hadid has regularly spoken highly of Swift to the press, and the model told Elle Canada the same year that the "squad" was a source of female empowerment.
She's still close with Swift and called her a "blessing and an inspiration to me and so many" in an Instagram Story on Swift's 29th birthday in 2019. That same year she attended Swift's New Year's Eve party.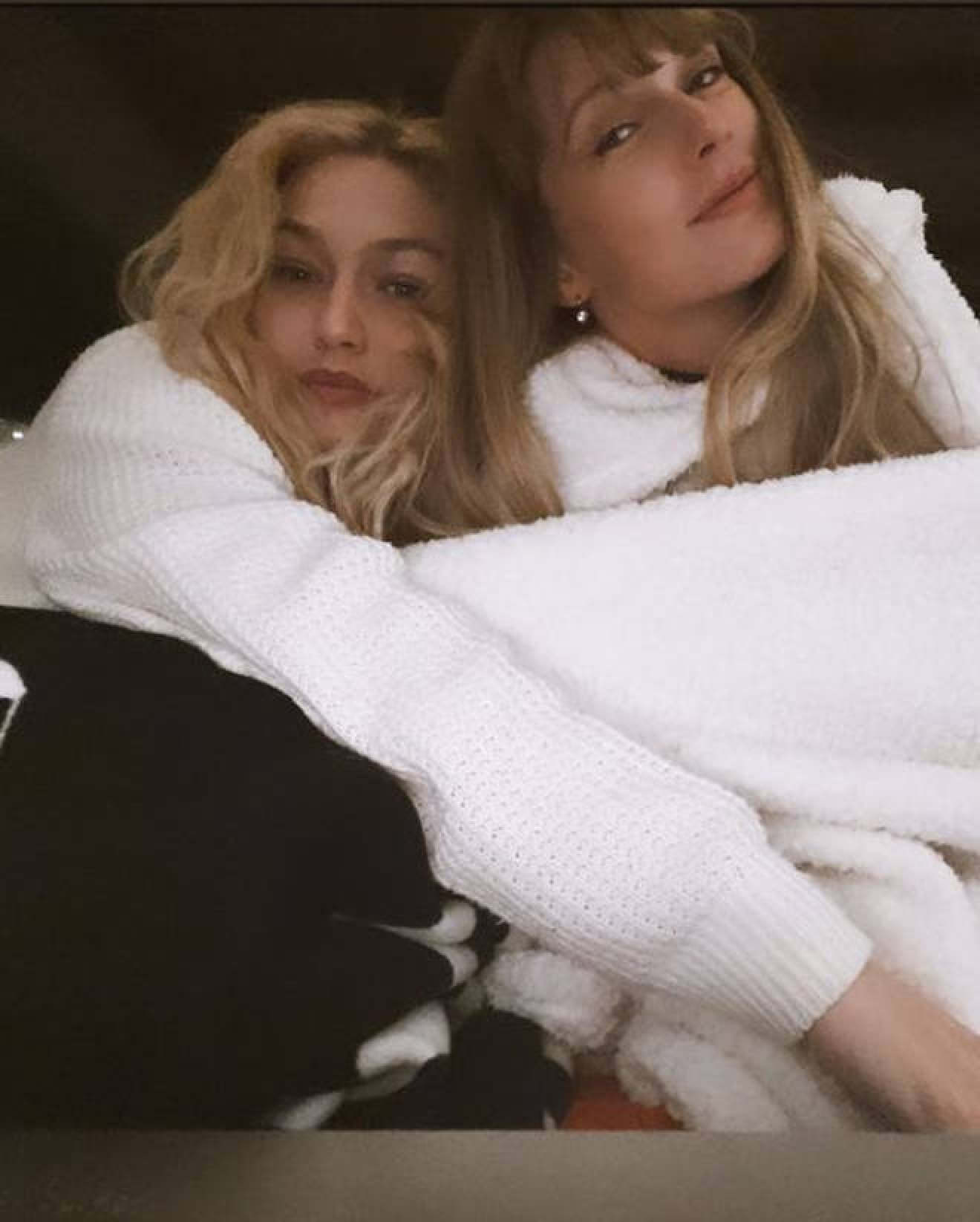 She was also present for Swift's jolly 30th birthday celebration at the end of 2019. Recently, Swift made an appearance at the launch party for Hadid's new cashmere brand, Guest in Residence. Swift then wore a piece from the brand in a TikTok video for her "Midnights Mayhem With Me" series, and Hadid gave it a shout-out in an Instagram Story.
11. Haim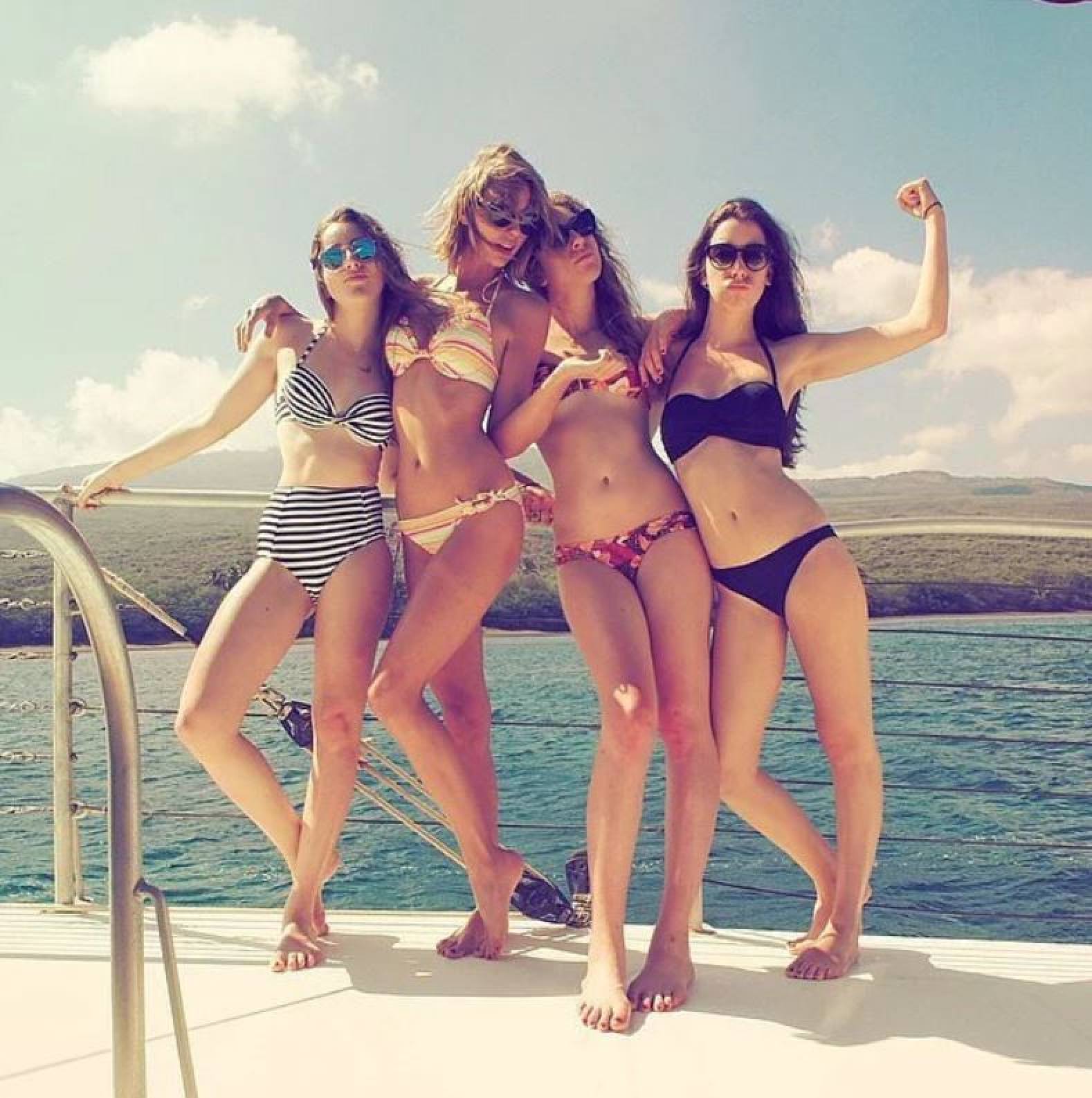 Haim is a band comprised of three sisters: Este, 36, Danielle, 33, and Alana Haim, 30. Swift and Haim's relationship began online after both of them tweeted about their love for one another's music.
Swift hung out with the band at a Golden Globes party in January of 2015, and later that month they all took a trip to Hawaii together.
Swift then invited the band to open for her 1989 tour later that year.
The band recently collaborated with Swift on her 2020 album "Evermore". They were featured on the track No Body, No Crime.
"Our dream of singing on a country folk song with the one and only queen of storytelling, miss Taylor Swift is our second Hanukkah present to you," the group wrote in an Instagram post.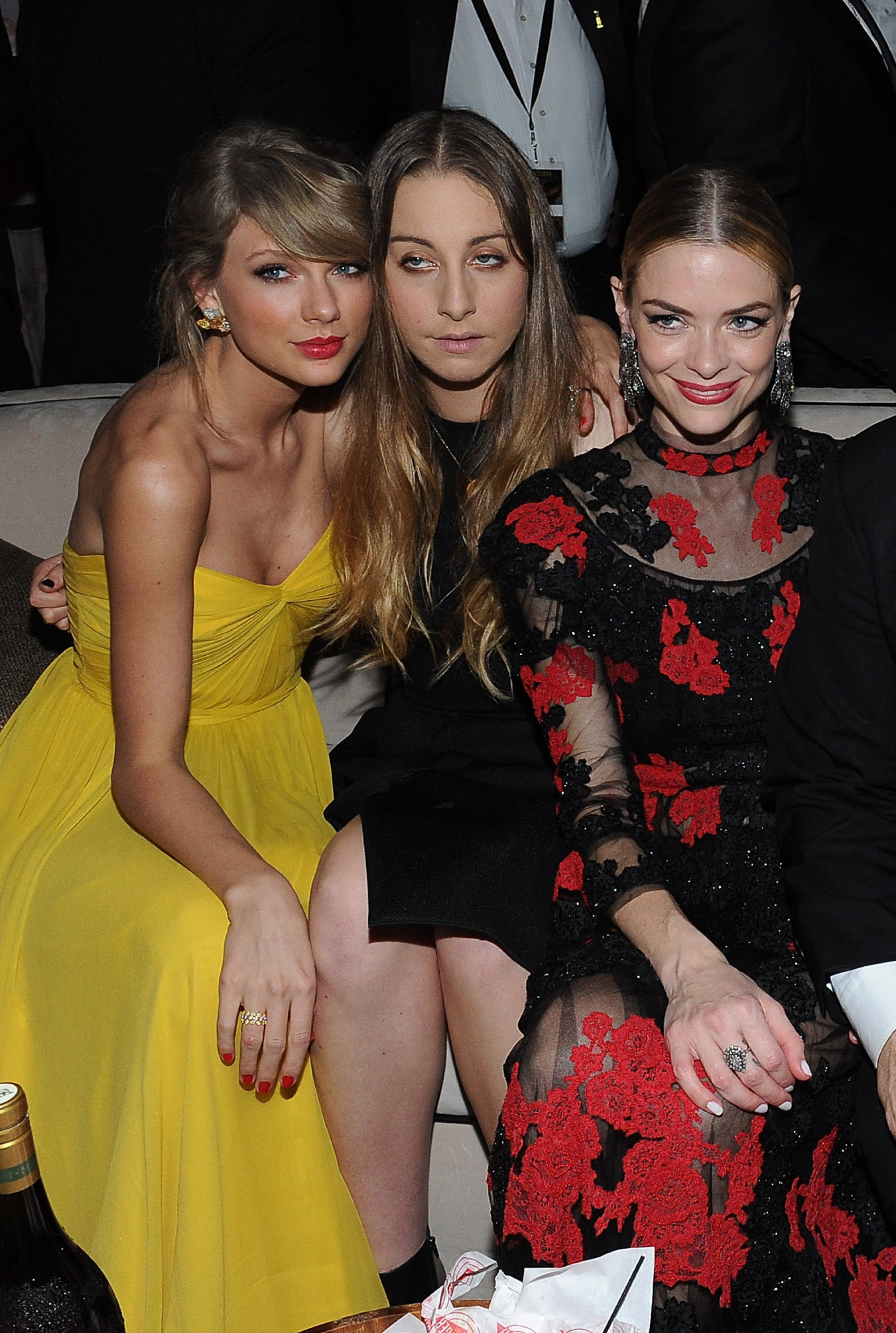 In February 2021, Swift posted a photo on Instagram of her and the Haim sisters hanging out in footie pyjamas and eating pizza. Then, on a Tuesday in May, Swift posted a photo of them hanging out with the caption, "We meet up every Tuesday night for dinner and a glass of wine" – a lyric from "No Body, No Crime".
In July, Swift surprised fans by coming on stage with Haim at the band's London concert. And when Swift released a teaser trailer for her Midnights music videos this month, the Haim sisters were credited at the end, so all must be well.
12. Lena Dunham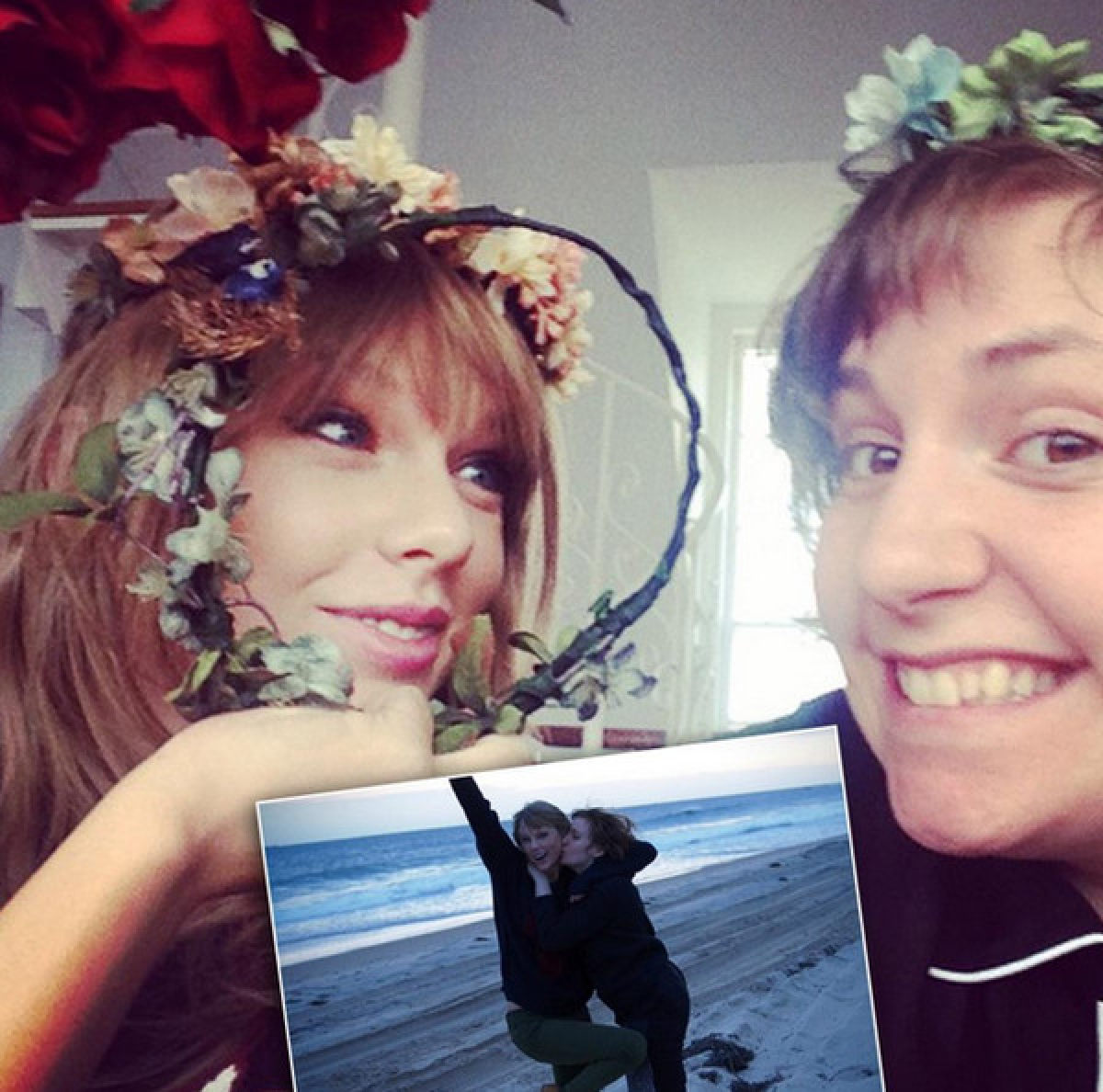 In 2012, breakout actress and writer Lena Dunham praised Swift's music on Twitter, saying she would have written papers about the singer in university had the Red album existed then.
Swift responded and said she loved Dunham's HBO show Girls, and then Dunham supposedly sent her a DM saying she was excited to become friends.
In 2013, the two met in person at the Grammys, and in 2015 Dunham was a part of the "Bad Blood" music video.
Dunham attended Swift's Reputation tour in 2018 and told The Cut in November of that year that even she was surprised that she was still friends with the superstar.
Dunham also showed her support for Swift in 2018 after the singer broke her political silence by publicly endorsing two Democrat candidates in Tennessee.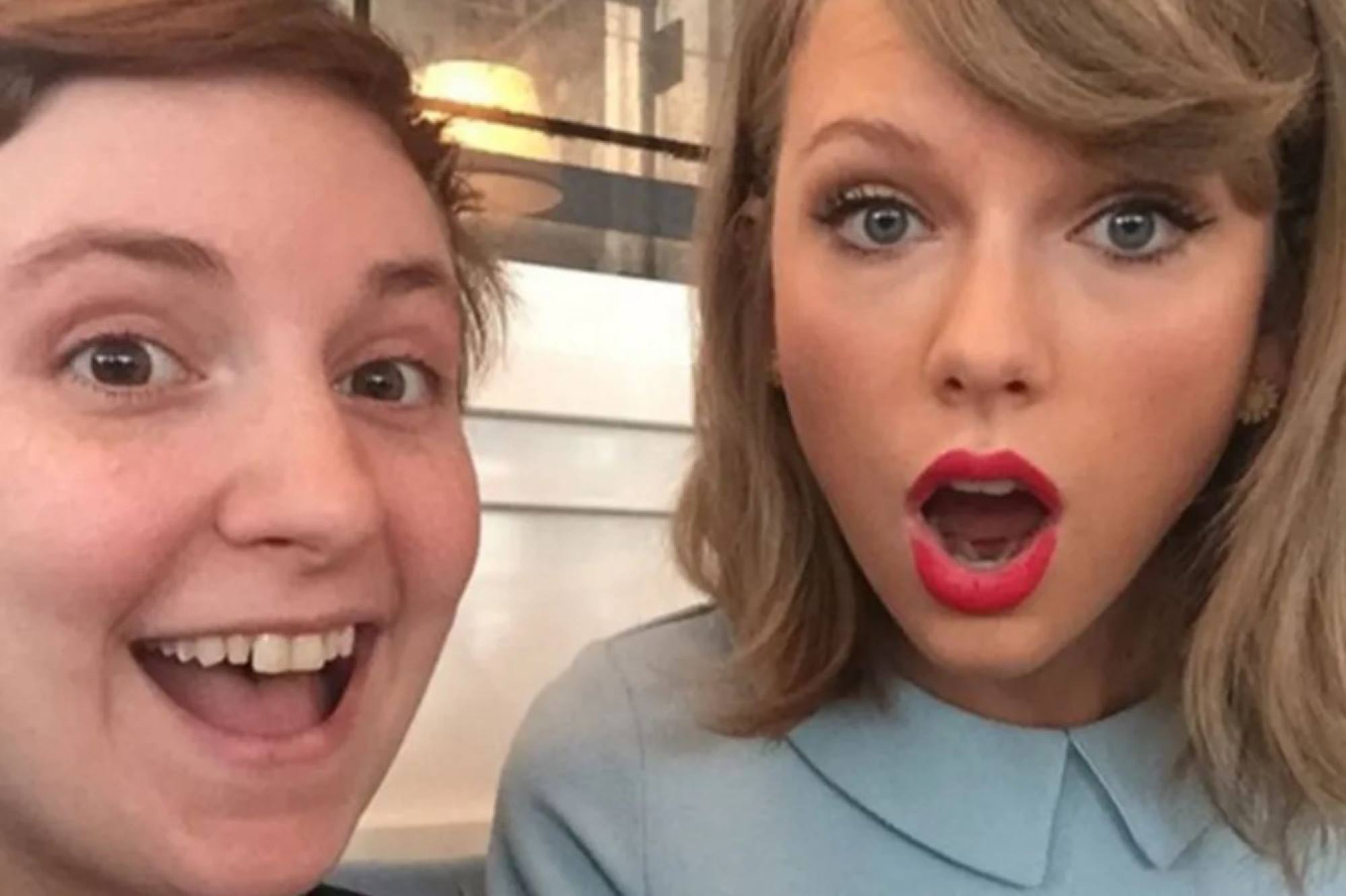 In 2019, she praised Swift on Instagram for her "Me!" music video and posted a heartfelt message for Swift's 30th birthday later that year.
In September 2021, Swift was one of Dunham's bridesmaids at her wedding to Luis Felber, according to Vogue.
Dunham also supported her friend's Midnights album via an Instagram Story.
Part of the post read, "It's an honour and a pleasure to watch you best yourself again and again – which is hard to do when you're the best. Fan, friend, it's all the same. Now back to repeat listens."
Read the original article on
Insider

With Taylor Swift releasing her new album Midnights (3am Edition) – which has already broken Spotify records, we take a look at her star-studded 'squad' – from the 2010s till now …
Selena Gomez met Swift when they were both dating Jonas brothers, Ed Sheeran opened for her Red tour, and Haim was credited in her new music video teaser trailer