Ivanka's hot-and-cold relationships with the Trump women: Donald's daughter was a bridesmaid at Tiffany's wedding and created Lara's engagement ring, but cropped Kimberly Guilfoyle out of a pic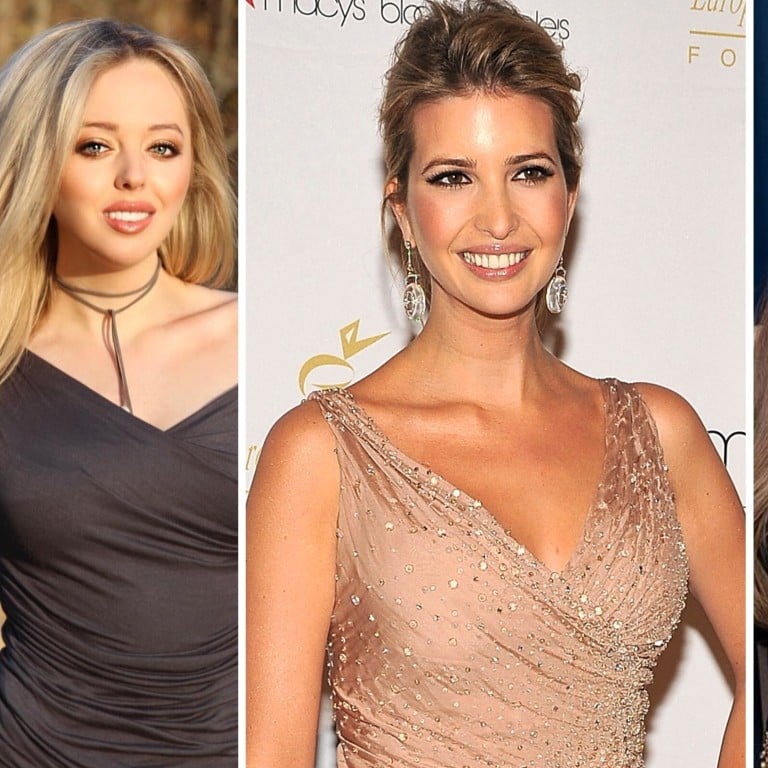 Ivanka Trump and Tiffany Trump – Donald Trump's daughters from his first marriage to Ivana Trump and his second marriage to Marla Maples, respectively – reportedly had a strained relationship growing up, with
Donald's children from his late first wife Ivana
allegedly keen to protect their inheritance from their half-sister. But now the public is seeing the more positive side of their relationship.
Ivanka has also split the spotlight with her sister-in-law Lara Trump, married to Eric Trump, and Kimberly Guilfoyle, Ivanka's future sister-in-law who is engaged to her brother Don Jr.
Here's what you need to know about Ivanka's relationship with Donald's other daughters … and daughters-in-law.
Ivanka, Tiffany's doting big sister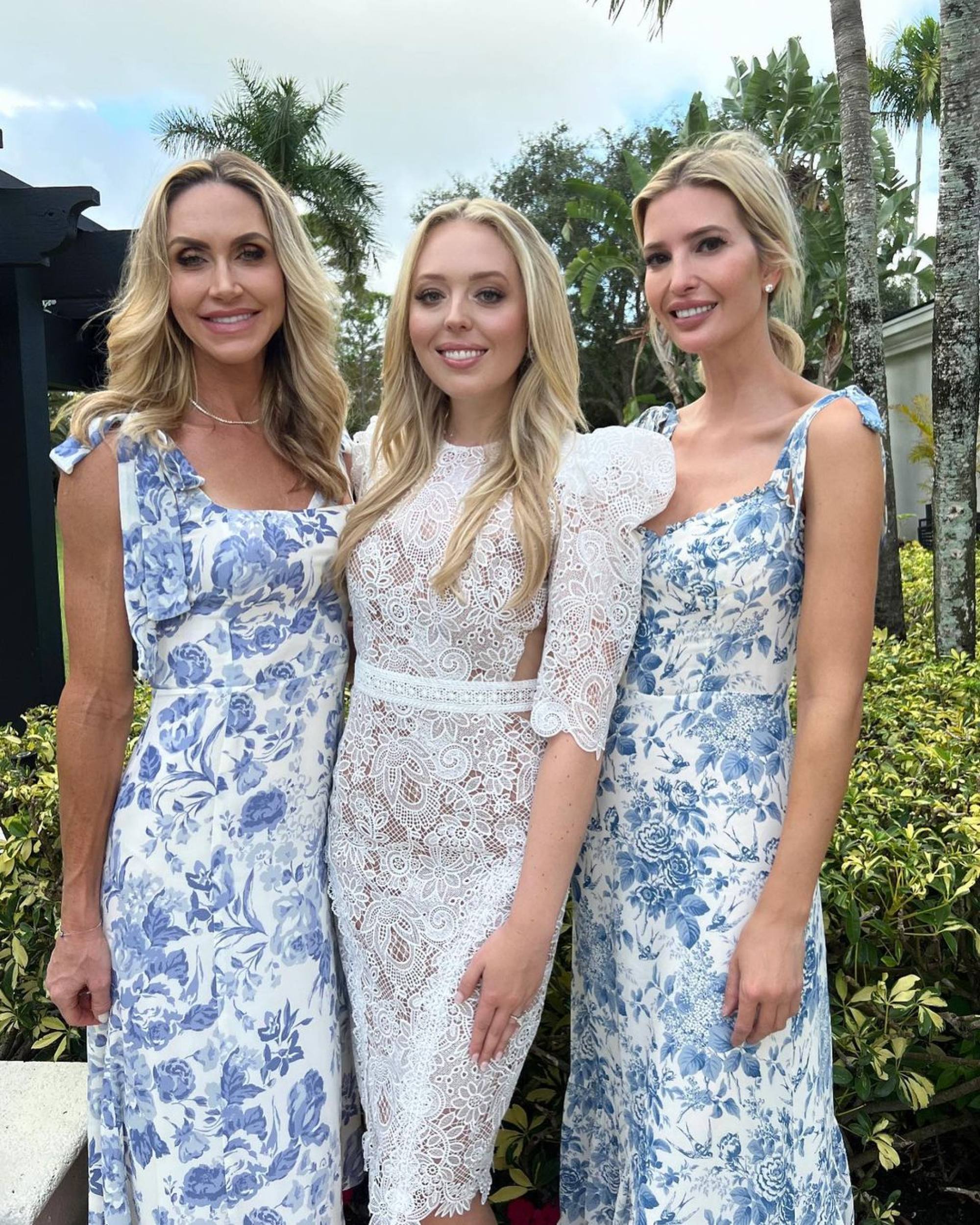 In November 2022, Ivanka was the picture of a proud elder sister: she gushed over Tiffany as she declared on Instagram that she was back in Florida, celebrating her "beautiful, brilliant and kind sister" at her bridal shower.
In an image posted on her Instagram account in the week leading up to Tiffany's nuptials, Ivanka posed alongside her younger half-sibling and Lara, who wore a coordinating floral dress.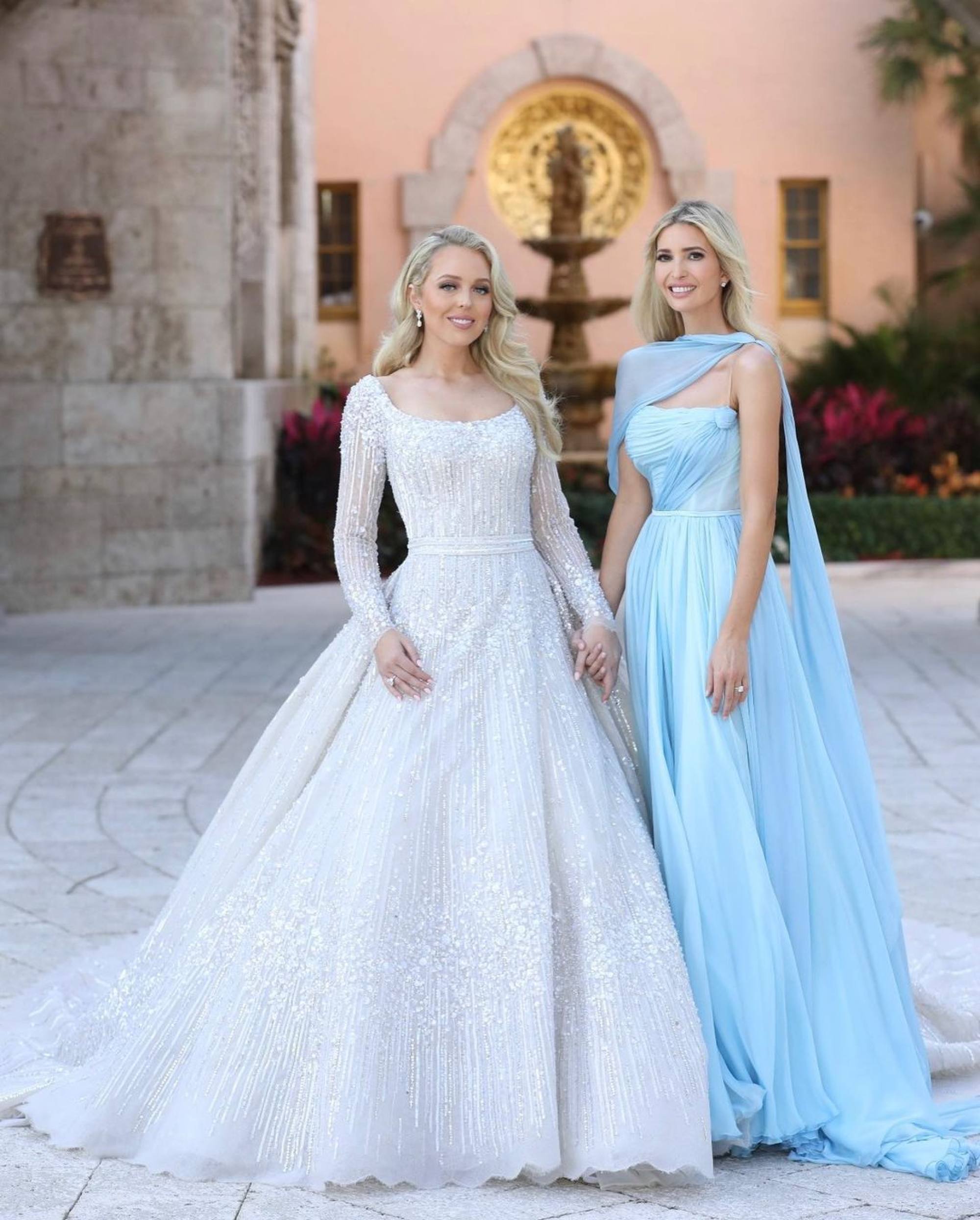 "When I was 12 years old, my dream of having a baby sister came true! From the first moment I held @tiffanytrump in my arms and looked into those big, kind, curious blue eyes I was smitten," she told her millions of followers on Instagram.
Ivanka even spoke about what a wonderful wife her sister would make as she highlighted Tiffany's personality traits in another post on Twitter.
"Tiffany radiates love, compassion and grace – attributes that she will bring into her marriage with Michael," Ivanka continued as she shared photos including a snap of her holding hands with Tiffany. "I wish Tiffany and Michael an abundance of happiness and joy as they begin their lives together as husband and wife! May their love be a source of light in this world!"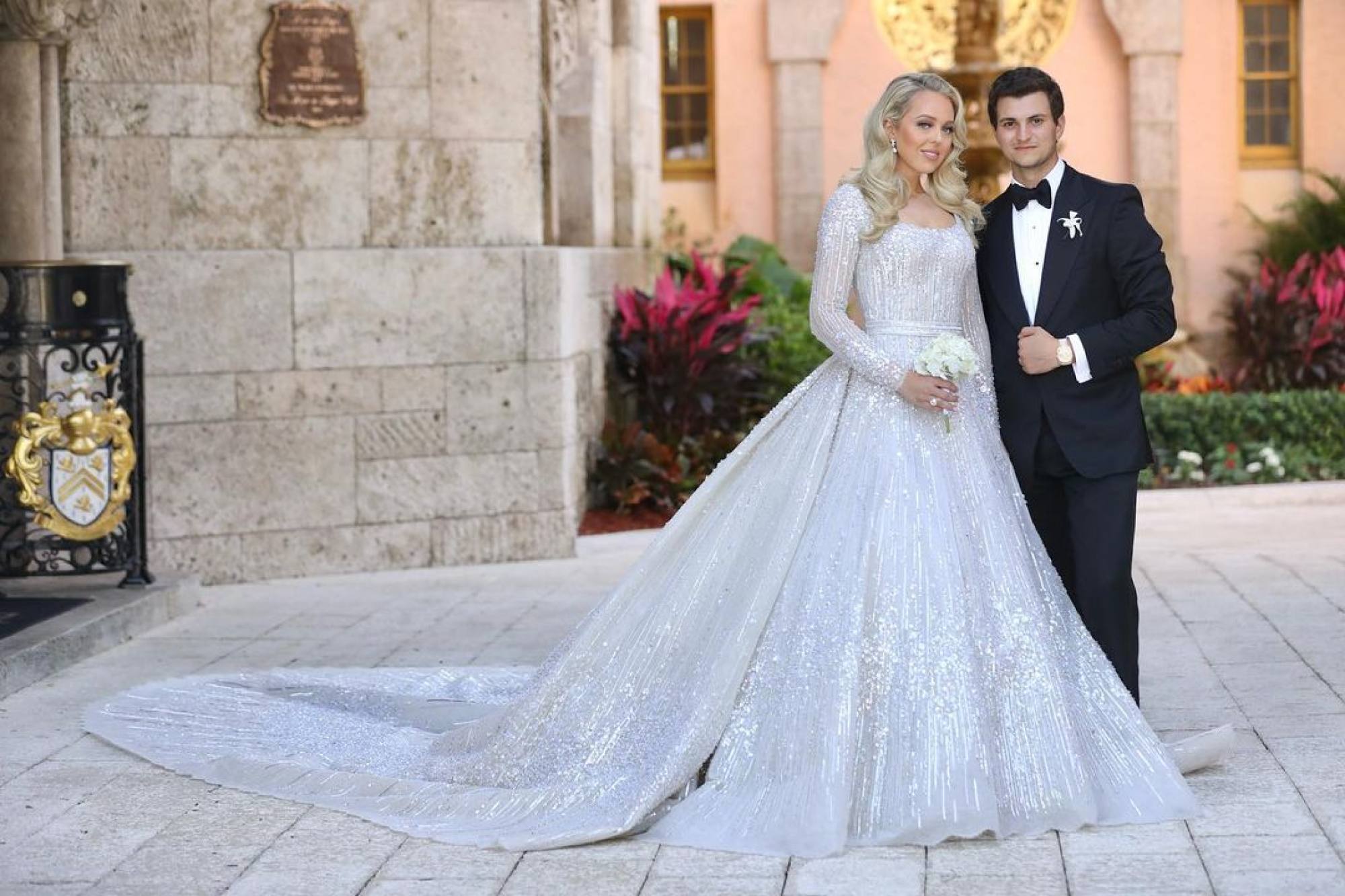 Perhaps the most telling was the prominent role Ivanka had in Tiffany's bridal pictures, often being in the centre helping Tiffany hold her Elie Saab dress that she wore to walk down the aisle or among the bridesmaids on what the bride called "the most magical day" on her Instagram.
Sister drama with Kimberly already?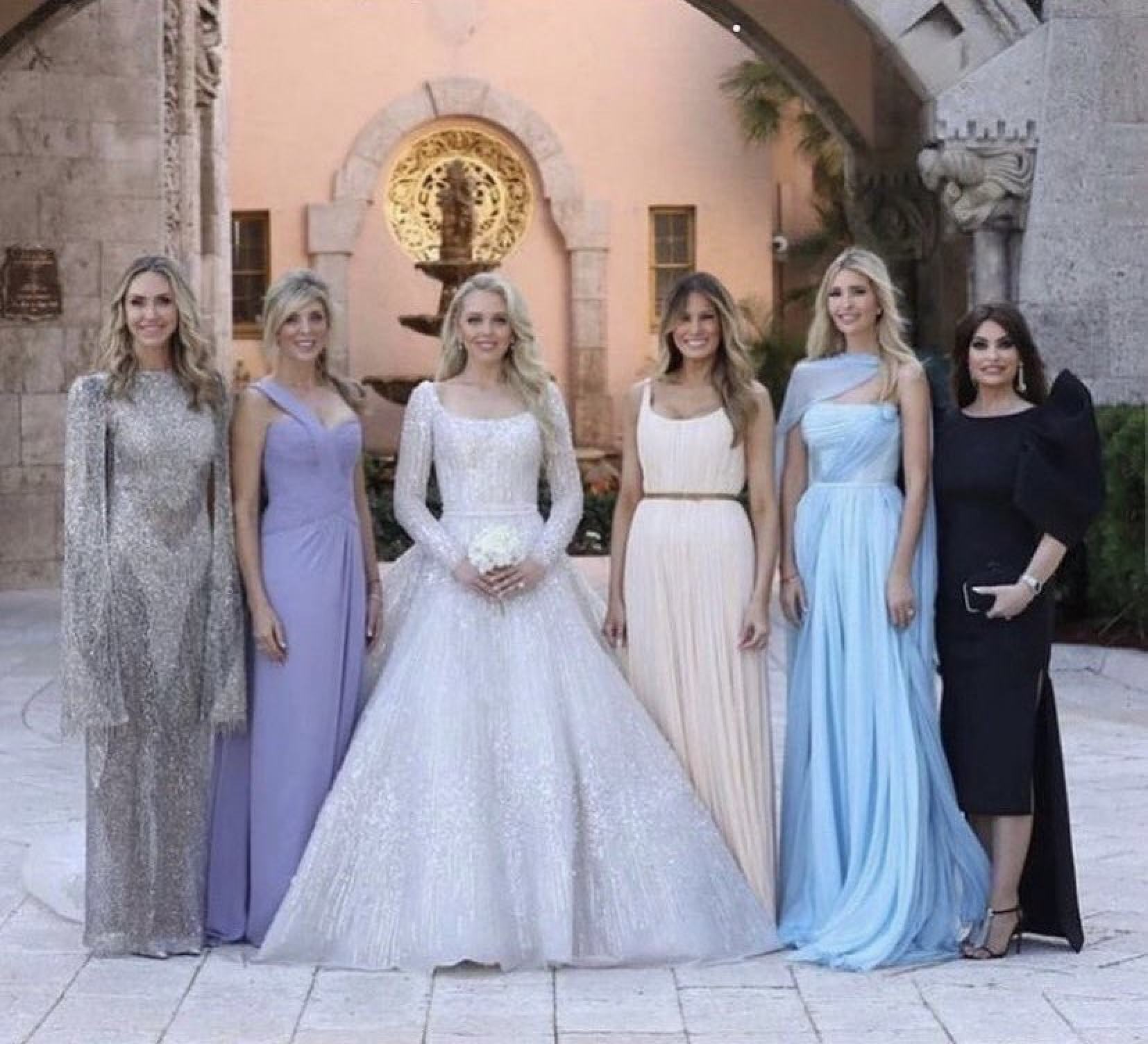 Don Jr. hasn't even married
his fiancée Guilfoyle
yet, but Ivanka has already been accused of snubbing her. According to British media, Ivanka seems to have cropped Guilfoyle out of a picture from Tiffany's wedding day. Twitter users have shown that the full snap widely circulating on social media actually included Guilfoyle in it. Other social media users speculated that Guilfoyle may have been cropped out simply because she was wearing a dark dress while the rest of the women donned light or pastel colours.
Ivanka later posted the full version of the image on her Instagram Story, but by then the rumour mill was already in motion.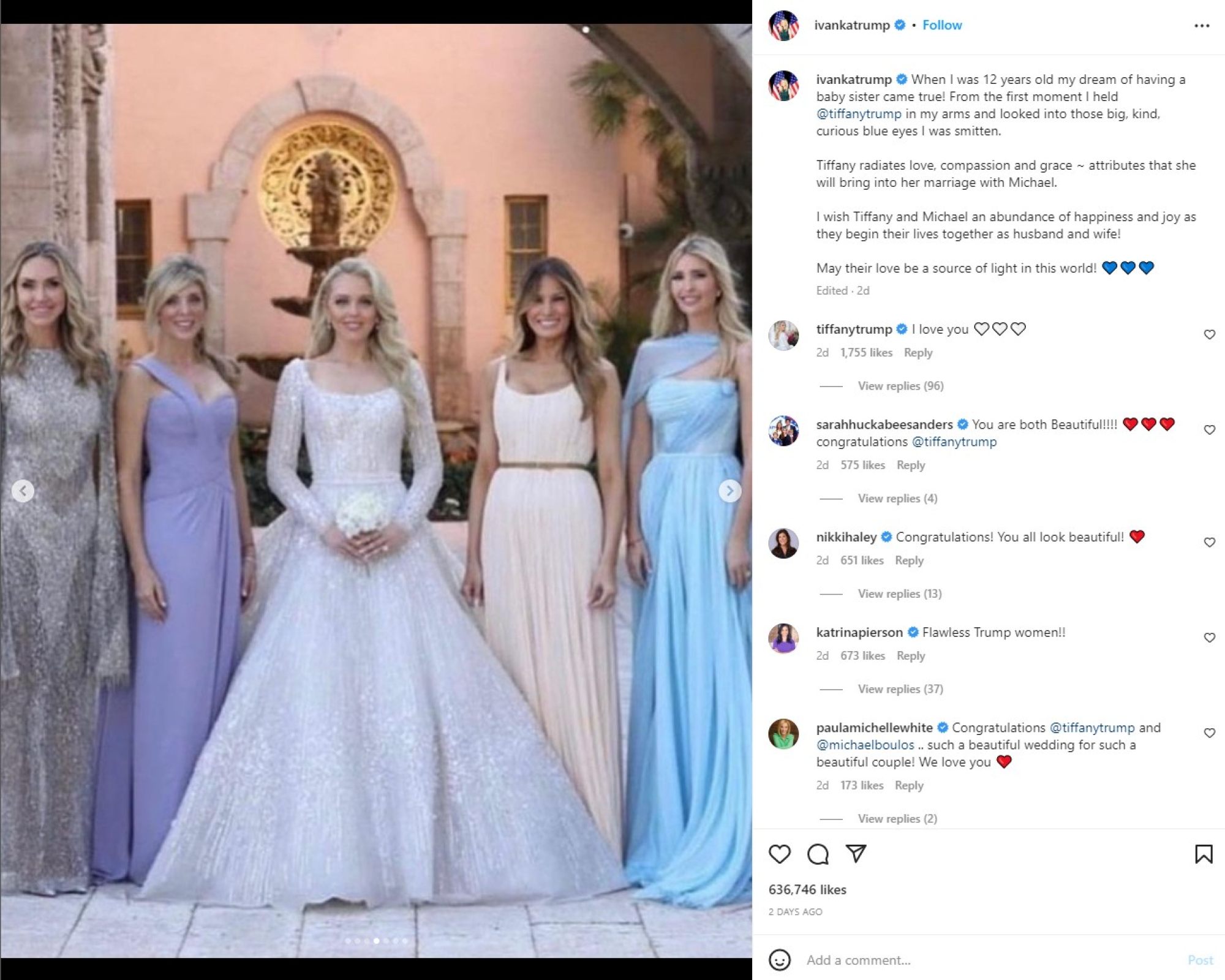 The drama comes after Guilfoyle took on a prominent role on Donald's campaign circuit, making speeches at events, even sparking discussion of her potential to become
the next first lady of the United States
. But Ivanka perhaps accidentally showed that, even if Guilfoyle fills Ivanka's shoes on the campaign trail, the sister role to her siblings Tiffany and Eric is not one that's up for grabs.
Lara keeps Ivanka close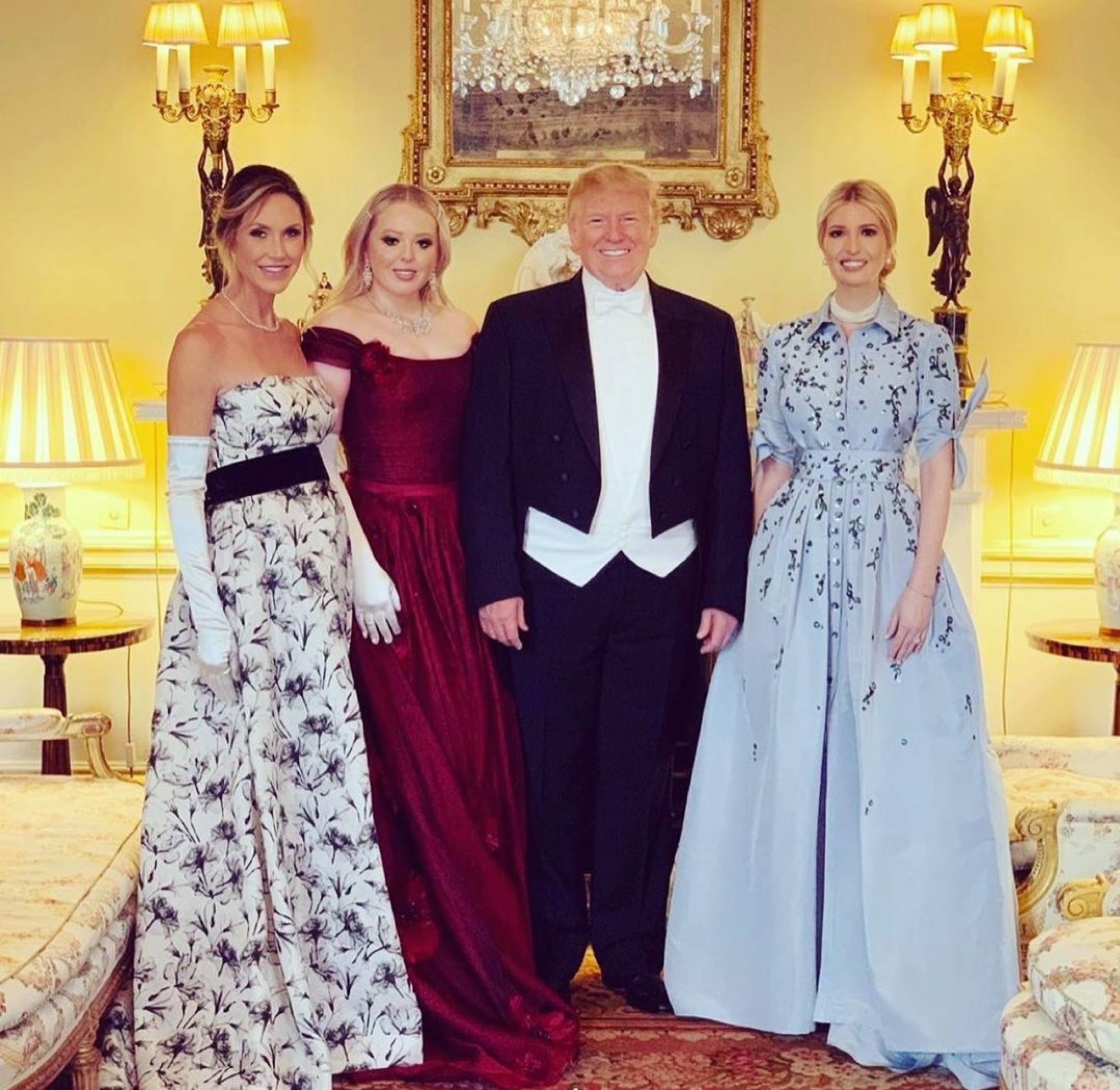 One glimpse at Lara's social media shows that she's probably closer to Guilfoyle than Ivanka. Perhaps it's no surprise with the pair both following similar career paths as TV presenters. Lara used to be a producer on entertainment television and now she is a commentator on conservative TV news, years after Guilfoyle left her role at Fox News before pursuing politics.
But both Lara and Ivanka do seem to be on good terms – at least publicly. The sisters-in-law have put on a harmonious front at events. In fact, Lara's
diamond platinum engagement ring
even comes from Ivanka's now-defunct jewellery line.

Ivanka gushed about her younger half-sister Tiffany Trump recently, praising her on social media after the latter married Lebanese billionaire heir Michael Boulos
Sister-in-law Lara Trump's engagement ring is from Ivanka's now discontinued high jewellery line – but Lara seems to hang out more with future sis-in-law Kimberly Guilfoyle