8 celebrities who wore outfits inspired by other stars – from Adele's Dolly Parton dedication to Megan Fox's nod to Pamela Anderson, and Doja Cat's Marilyn Monroe-inspired dress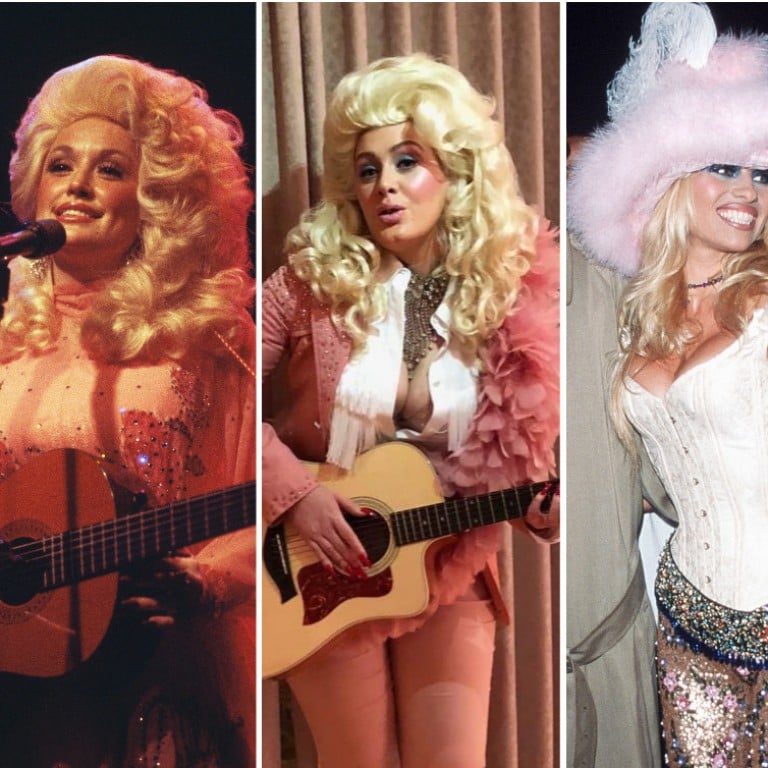 We all know that imitation is the sincerest form of flattery and, over the years, many celebrities have talked about drawing style inspiration from other stars – some overtly, and some in more subtle ways.
While Adele went all out to imitate Dolly Parton in tribute to the singer, Doja Cat and Taraji P. Henson merely channelled Marilyn Monroe and Diana Ross. Megan Fox, meanwhile, opted to wear the fluffy pink hat Pamela Anderson wore to the 1999 VMAs – something more of an homage?
Here are eight celebs who mimicked other celebs.
1. Adele dressed up as Dolly Parton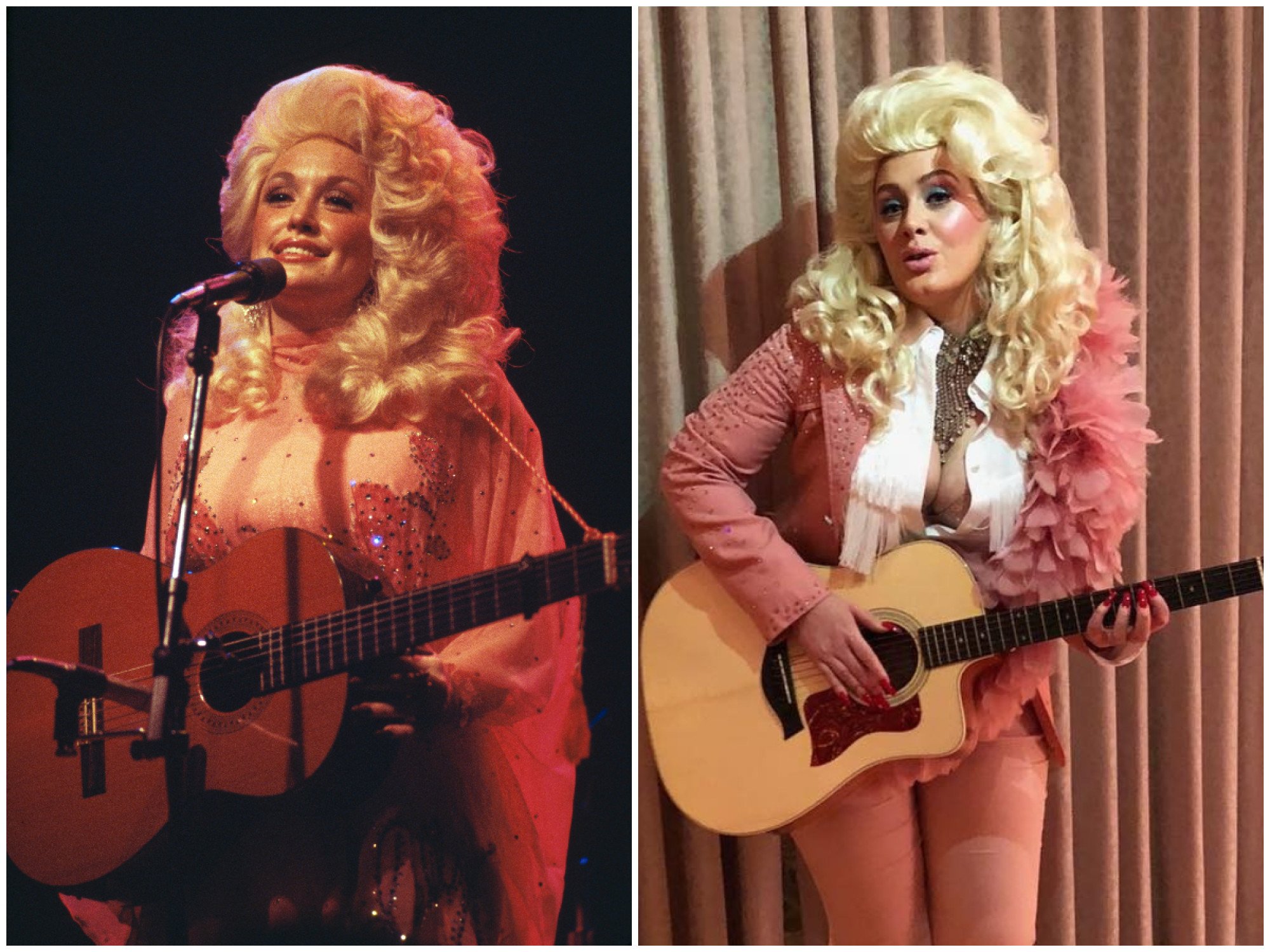 Adele shared her love for Dolly Parton when she dressed up like the country singer in a 2018 Instagram post.
Adele's imitation
of the famous singer-songwriter was highly convincing: she wore a voluminous blonde wig and a ruffled pink jacket while she mimed singing and playing the guitar.
"The effortless queen of song, Dolly Parton! We love you! We wish we could possess an ounce of your ability. You were the hero of our night! A hero of my life. I'll always love you," the "Easy on Me" singer wrote on her post.
Parton even responded with a video on Twitter the next day, telling Adele that she nailed her signature style.
"I think I had an outfit just like that back in the day. In fact, I thought that was a picture of me back in the day," she said.
2. H.E.R. was inspired by Prince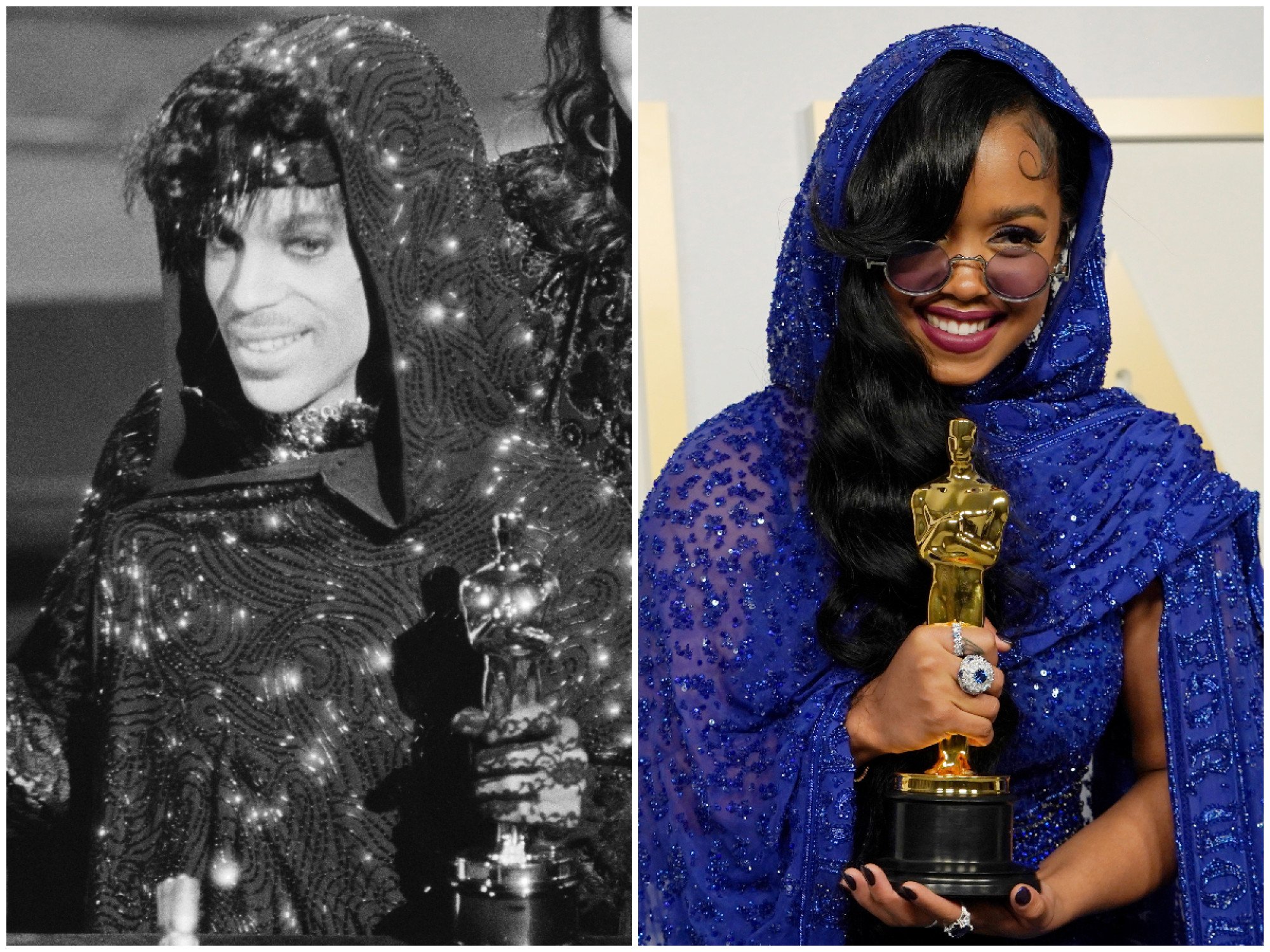 H.E.R. was inspired by Prince's music and bold style when she attended the Oscars in 2021. When the singer was nominated for best original song at the awards, she wore a semi-sheer Dundas jumpsuit featuring wide-leg trousers, a hood and glittering embellishments.
The designer behind the brand, Peter Dundas, told InStyle that month that he used Prince's sequin outfit from the 1985 Academy Awards as his vision. The iconic artist won the award for best original score for "Purple Rain" at the ceremony.
"H.E.R. expressed how Prince has been a lifetime inspiration for her and had built the foundation for her musical identity," Dundas said.
Stylist Wouri Vice also told the outlet that because Prince is one of H.E.R.'s favourite artists, they "decided to channel that winning energy".
3. Gabrielle Union made Cicely Tyson's floral dress her own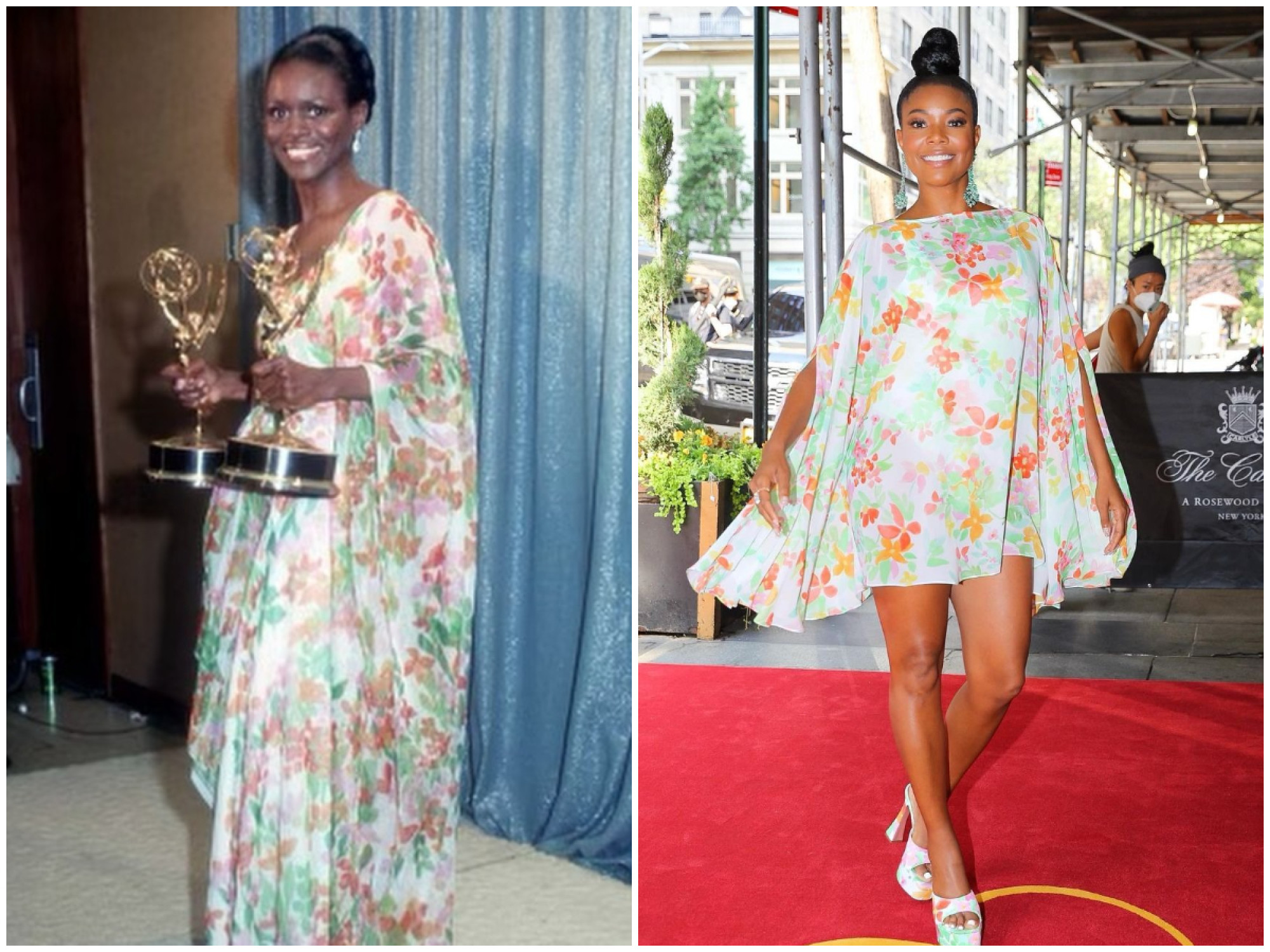 Gabrielle Union
went for a version of Cicely Tyson's floral print dress at the Met Gala in 2021.
Although Union wore a different gown to the actual event on September 13, 2021, she wore a custom-made Samantha Black dress earlier in the day in a tribute to Tyson. The acclaimed actress died in January of that year aged 96.
"My tribute to an American icon. I wanted to honour Ms. Cicely Tyson and the dress she wore to the 1974 Emmys (one of my favourite red carpet looks of all time) by asking one of my favourite designers to create this dress as an homage to Ms Tyson," Union wrote in an Instagram post in September 2021.
Union's minidress utilised the same colours, print and flowing silhouette as Tyson's gown.
4. Taraji P. Henson channelled Diana Ross' onstage glam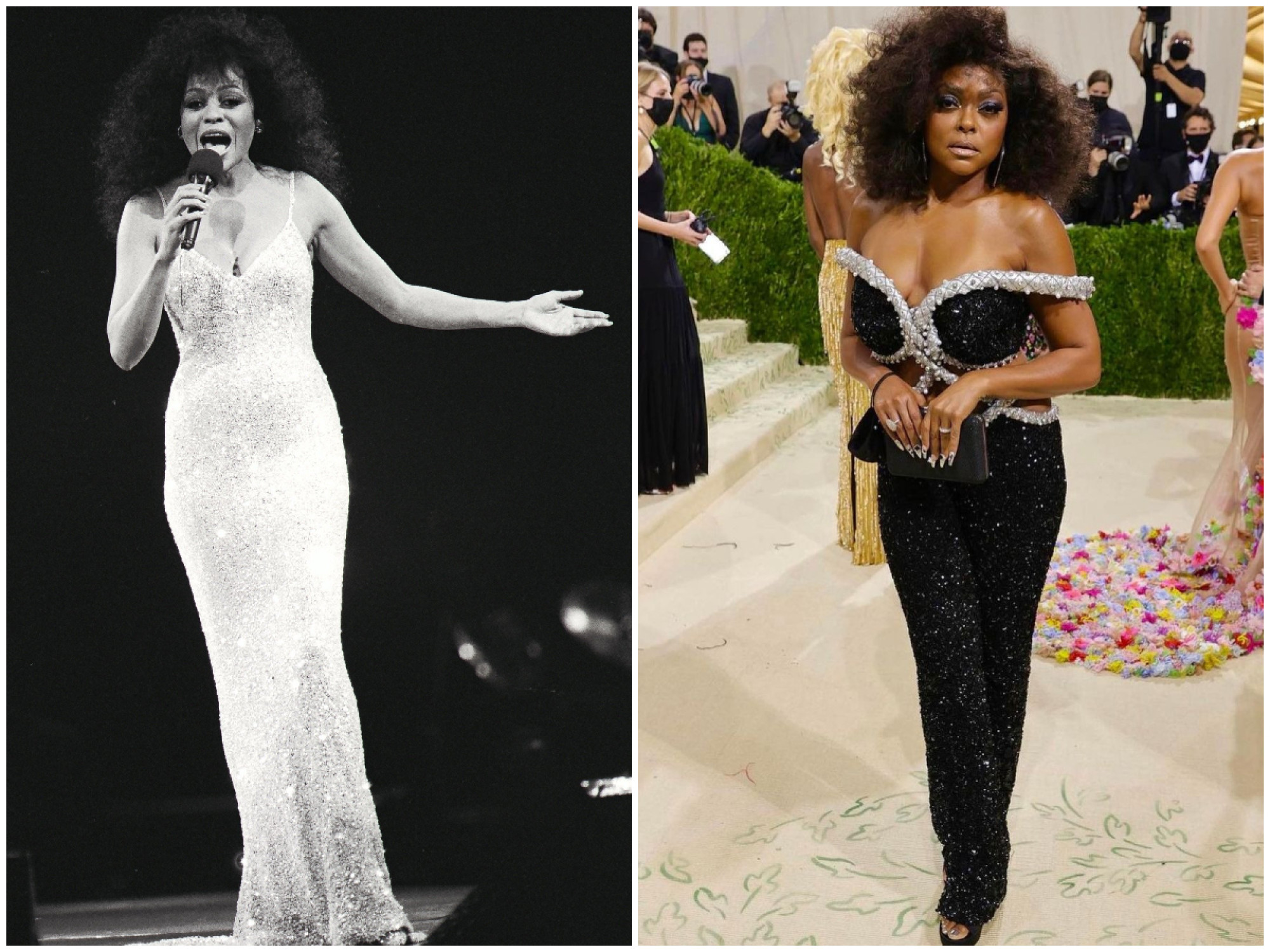 Taraji P. Henson was influenced by Diana Ross' 1970s glamour at the Met Gala in 2021. Henson told The Cut in September 2021 that she grew up wanting to be Ross, calling the singer "iconic".
"She's everything that embodies Hollywood, glam and fashion," she said. "Growing up in the hood and watching her gave me something to aspire to be."
The actress wore a black jumpsuit, which The Cut reports was designed by Moschino creative director Jeremy Scott. The piece was covered in geometric cut-outs and silver trim.
Henson's stylist Jason Bolden also told the publication that the "flamboyance and courageousness of innately fashionable black women during
the time of disco
" served as their inspiration.
5. Doja Cat took after Marilyn Monroe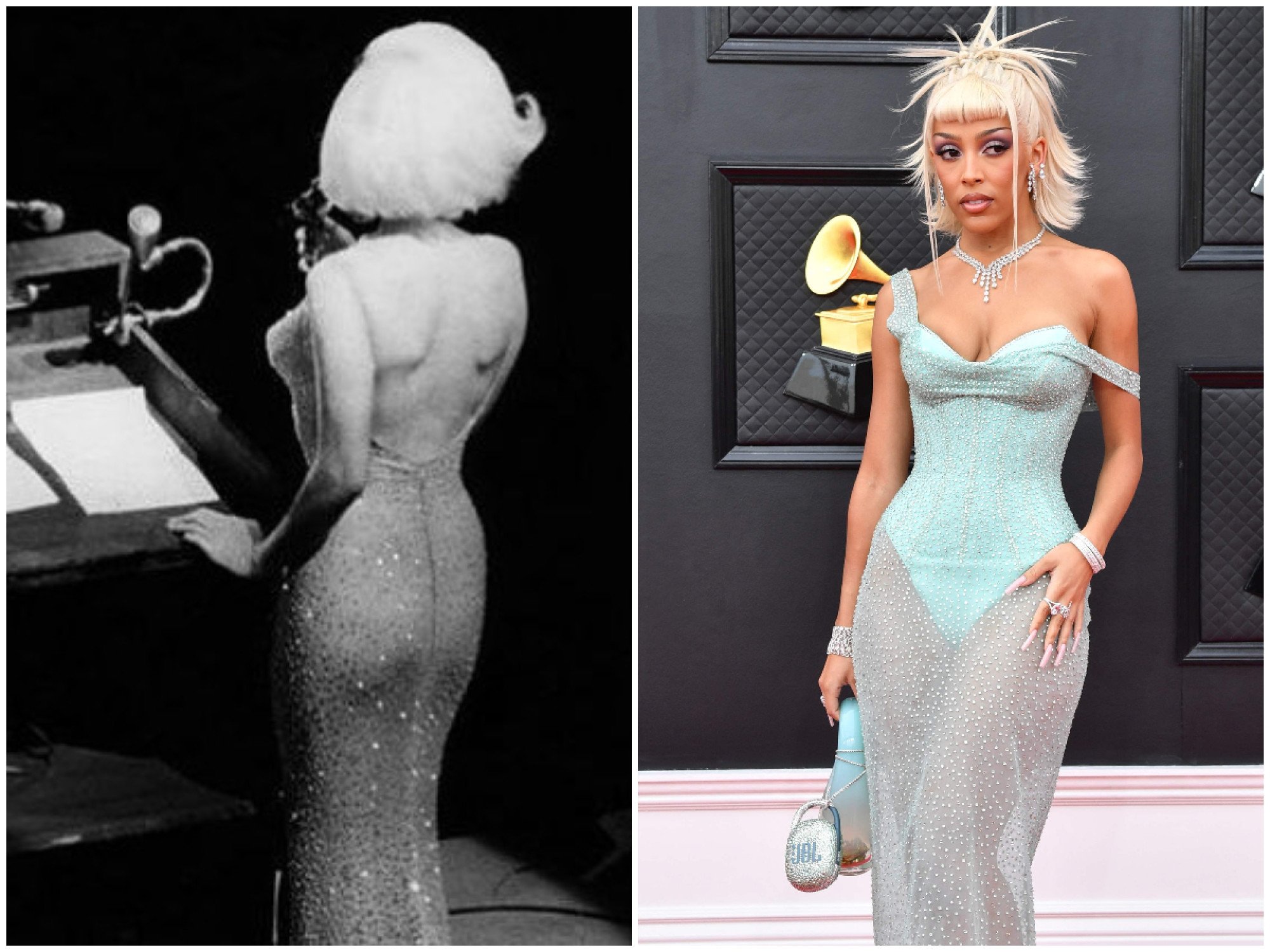 Doja Cat took after Marilyn Monroe at the 2022 Grammys, wearing a sparkling dress inspired by one of the actress' most iconic looks. A month before the 2022 Met Gala – where
Kim Kardashian donned the dress
Monroe wore to sing Happy Birthday to President John F. Kennedy in 1962 –
Doja drew inspiration
from it as well.
According to an Instagram post from Versace, the rapper's icy blue dress took 475 hours to make. Doja's stylist and creative director Brett Alan Nelson told Vanity Fair in April that Monroe was part of his original vision for the custom gown.
"I reached out to the team and told them that we wanted to give sex, in a mint blue colour, sheer with a little hint of Marilyn Monroe, but with an edge," Nelson said.
6. Julianne Moore went the full Jackie O for last year's Met Gala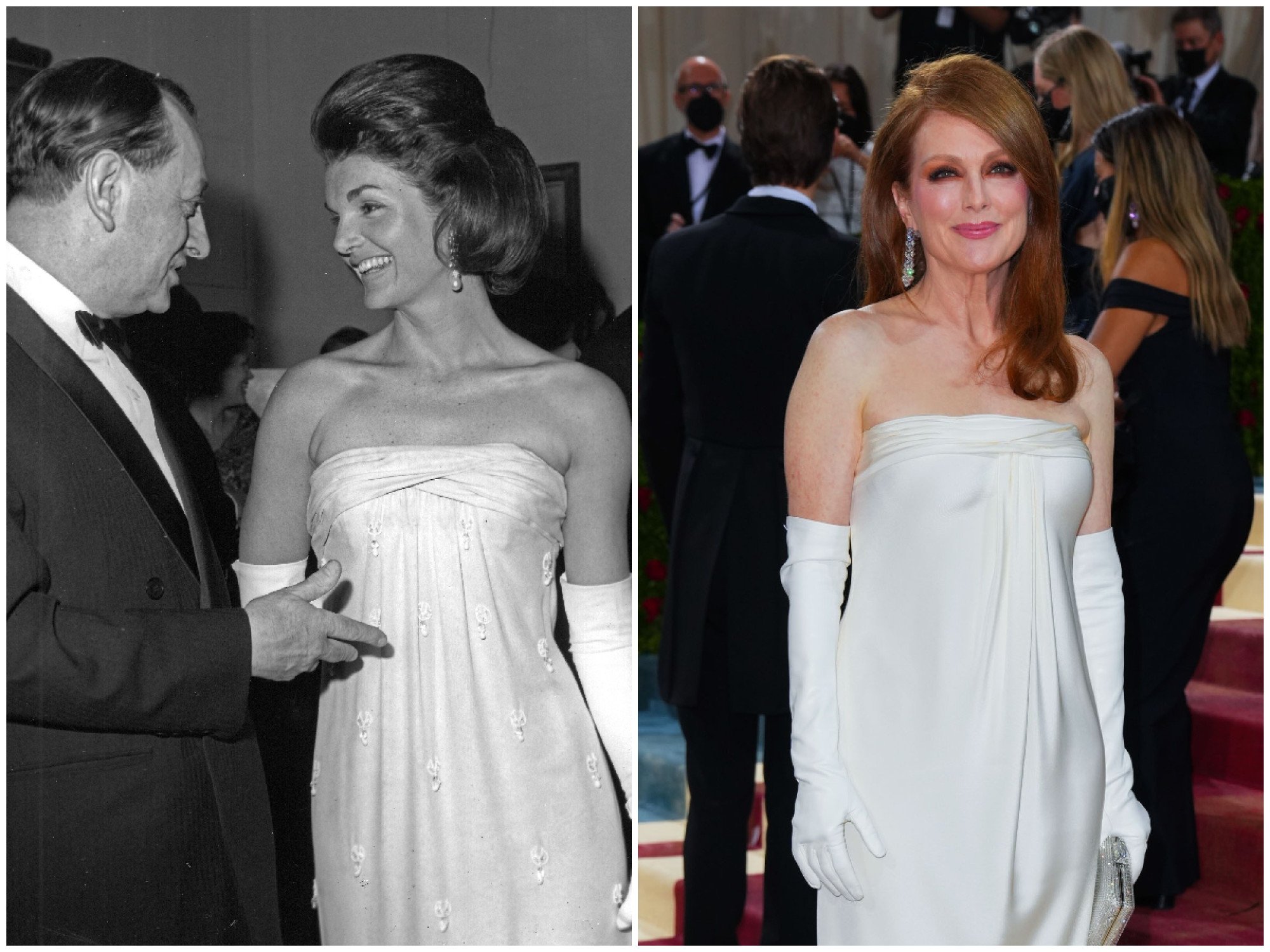 Julianne Moore's 2022 Met Gala dress made her a convincing copy of Jackie Kennedy Onassis. Moore's
Tom Ford
gown was inspired by a dress that Kennedy Onassis wore to the National Gallery of Art in 1963.
The actress told The New York Times that she thought the former first lady was "somebody who was just indescribably elegant". Moore also said she knew Ford was the right choice to help her nail the look.
"I usually want to wear something that makes me feel good," she said. "Tom [Ford] is very much about classic beauty and classic American fashion."
7. Naomi Biden channelled Grace Kelly on her wedding day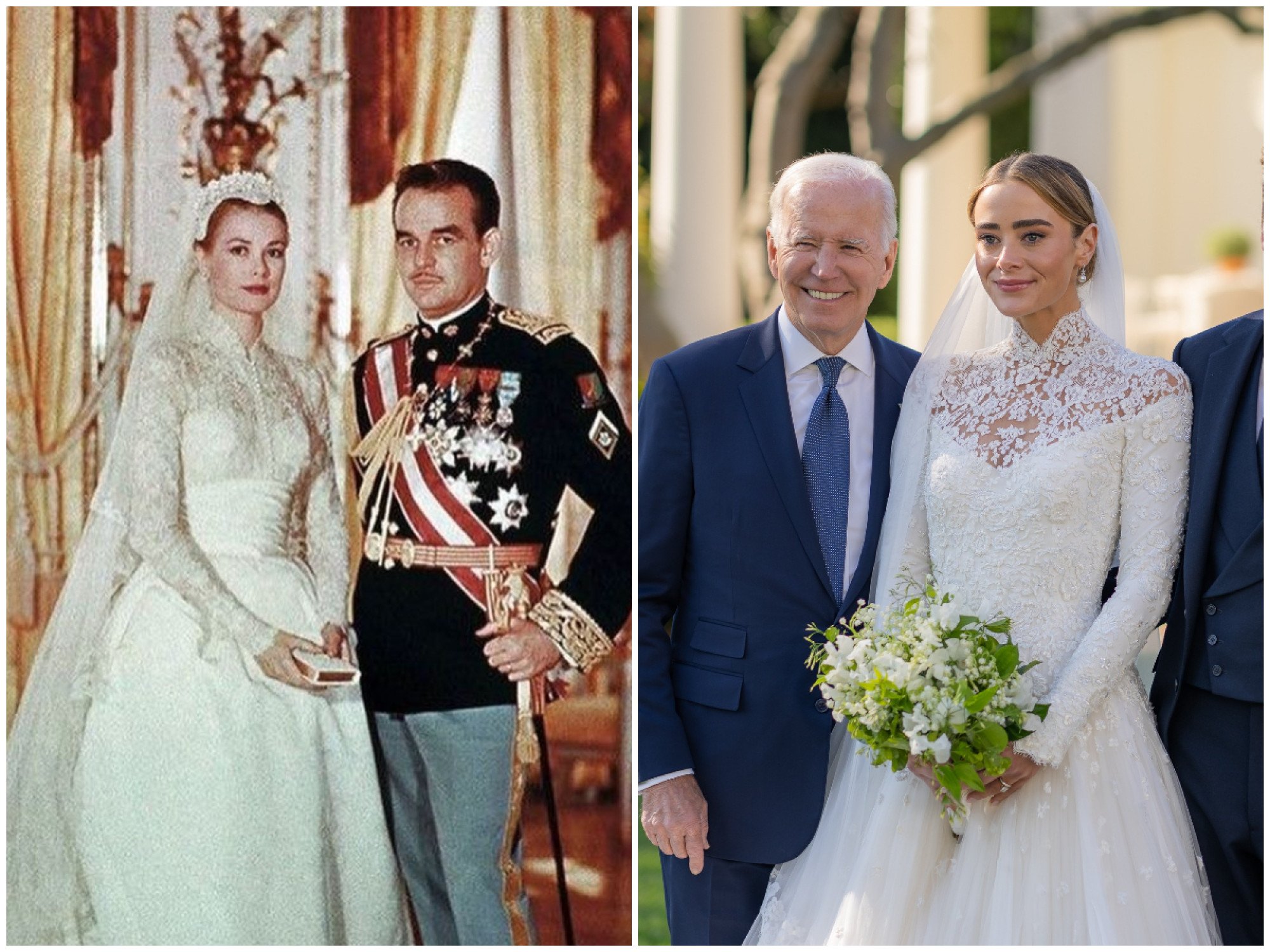 For her nuptials last November
, Naomi Biden channelled Grace Kelly's elegance at her 1956 wedding. The president's granddaughter wore a Ralph Lauren gown that looked strikingly similar to the long-sleeve wedding dress Kelly wore when she married Prince Rainier III of Monaco in 1956.
"Like every little girl, I had a vision in my head – it was Grace Kelly's dress I loved," Naomi told Vogue in November.
Naomi also included a nod to her grandmother in her look, including lace sewn in from
first lady Jill Biden
's own wedding dress.
8. Megan Fox's rocked a hat like Pammy's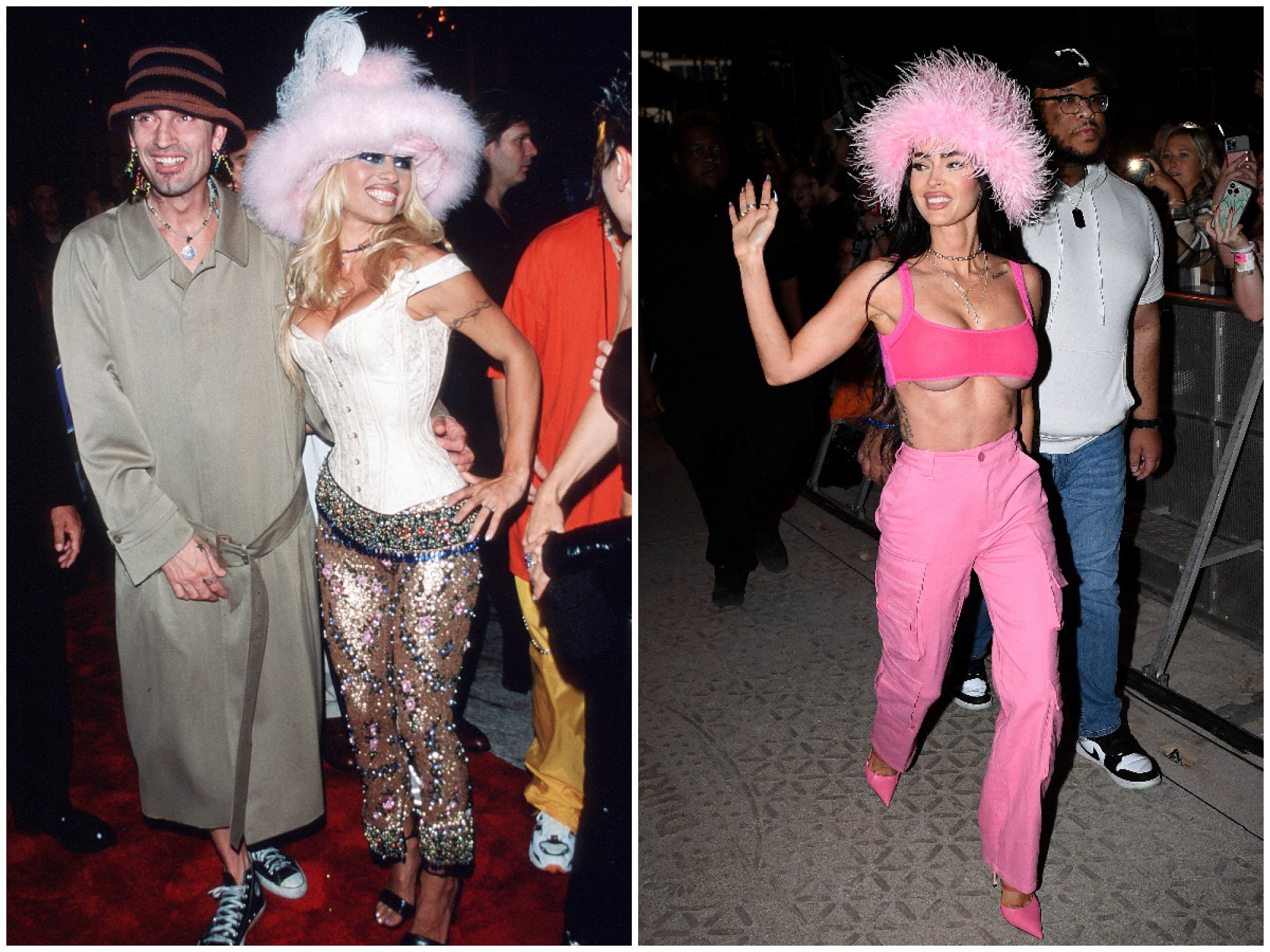 While attending a festival in Fort Lauderdale, Florida,
the Transformers star
stepped out in an all-pink look featuring a fluffy hat similar to the one
Pamela Anderson
wore in 1999.
The hat closely resembles the oversized piece Anderson wore to VMAs in the late 90s. While Anderson wore hers with a corset and sequin trousers, Fox paired hers with a bra top and cargo trousers.
Fox also dressed up as Anderson for Halloween last year, donning a blonde wig and a minidress for photos shared on her Instagram.
Fox's fiancé Machine Gun Kelly
dressed as Anderson's ex-husband Tommy Lee.
This article originally appeared on
Insider
.

Many celebrities have talked about drawing style inspiration from stars they admire – Gabrielle Union's tribute to the late Cicely Tyson is a case in point
Joe Biden's daughter channelled Grace Kelly at her wedding, and Taraji P. Henson went for a Diana Ross-inspired look at the Met Gala – H.E.R. even wore the same outfit as Prince for the Oscars