Kate Middleton's 41 best fashion looks since becoming a royal: from a backwards Gucci blouse, sparkly Jimmy Choo heels and Kate Spade florals to the time she went full Disney princess in Diana's tiara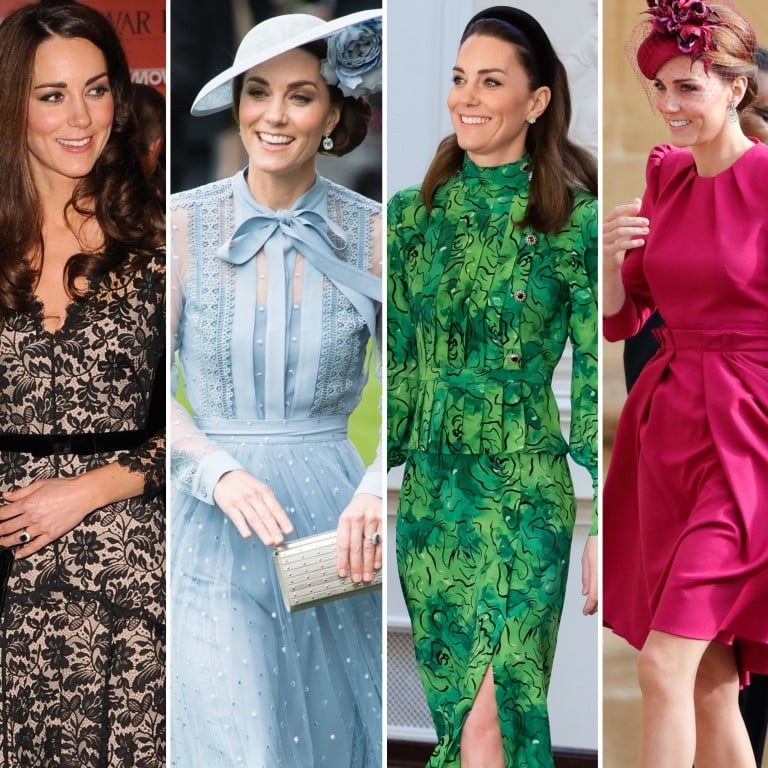 Kate Middleton turned 41 on January 9, and her style remains as on point as ever. Whether she's rocking a signature Erdem dress, or an accessory by
wedding day favourite
Alexander Queen, royal fashion followers continue to keep an eye on her public appearances to see what she'll wear next.
To celebrate the Princess of Wales' recent birthday, here are 41 of her best looks …
1. The blue Issa wrap engagement dress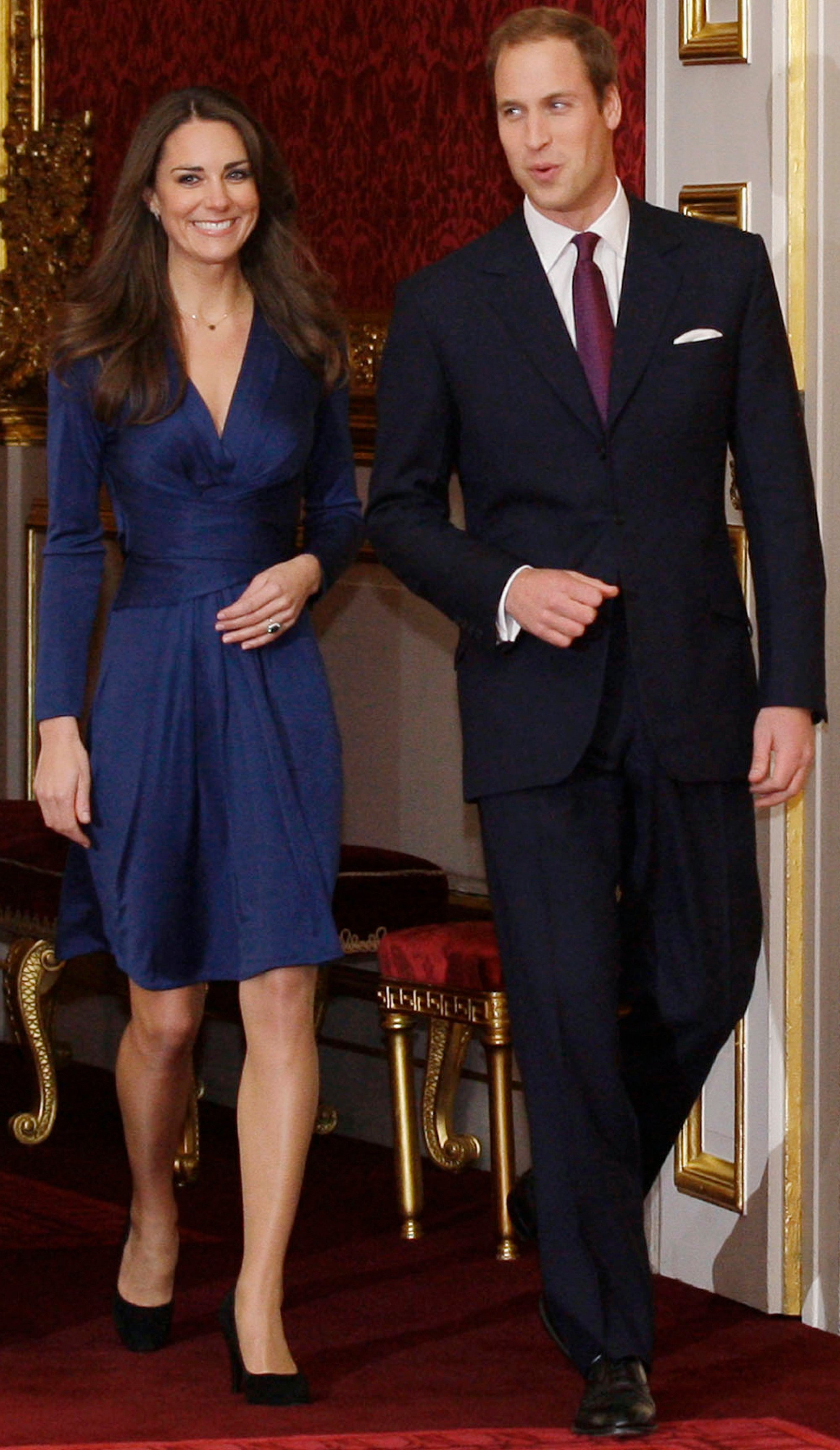 In 2010, Middleton wore a blue dress to match the sapphire engagement ring Prince William proposed with. The bride-to-be wore a blue Issa wrap dress after announcing her engagement in 2010. The dress was so popular that it sold out within 24 hours.
2. Her Grace Kelly-inspired wedding gown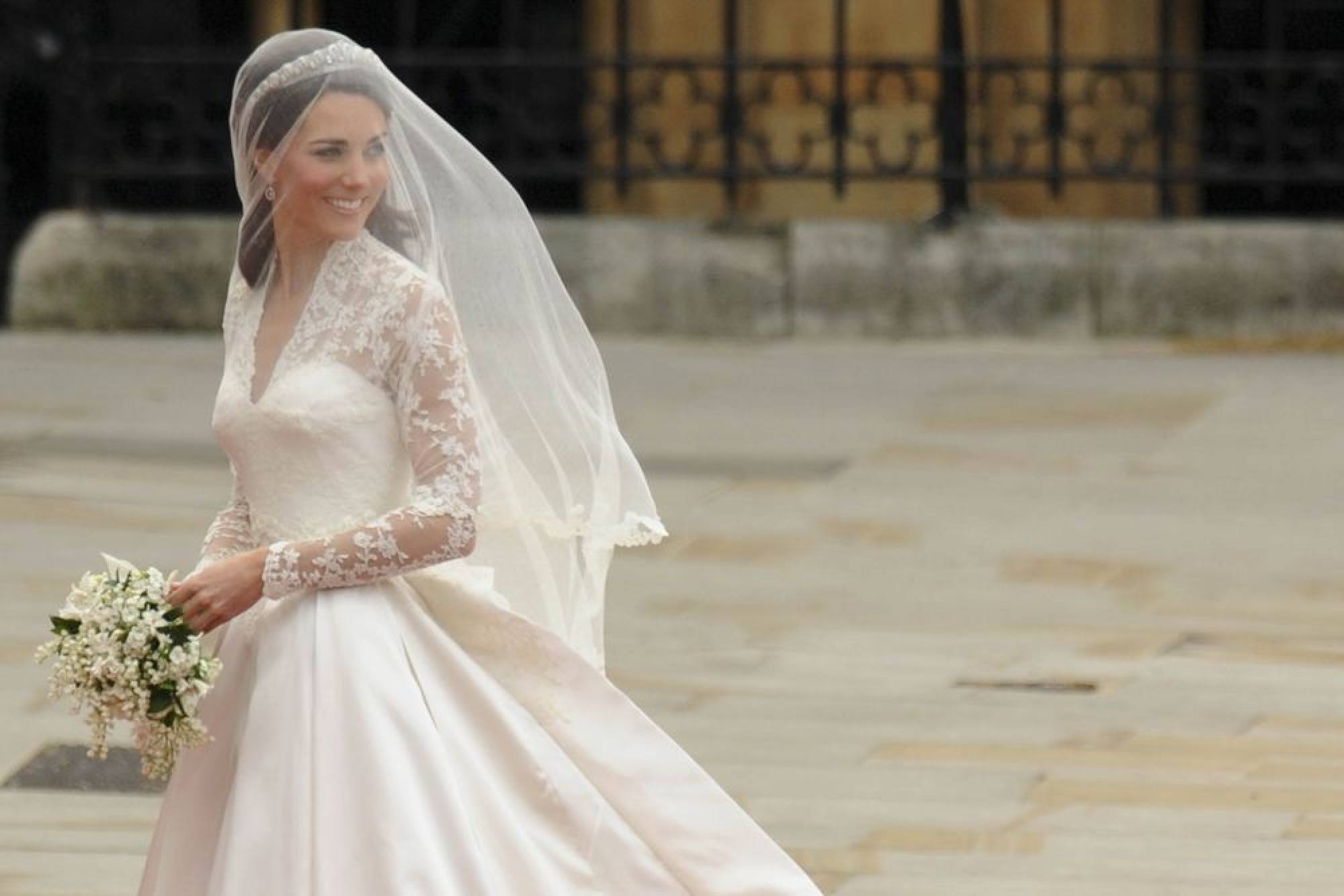 Middleton wore a custom design by Alexander McQueen for her extravagant royal wedding. The gown is her most expensive outfit to date and is estimated to have cost US$332,000.
3. Red-carpet Alexander McQueen
She was the epitome of elegance at a BAFTAs reception in California in 2011 when she opted for Alexander McQueen again – this time a lilac gown with a silver belt.
4. Gothic beautiful in Temperley London
Middleton showed off a darker side in this lace gown at the UK premiere of War Horse. She arrived at the red carpet in a black lace Temperley London gown that featured a cream-coloured lining.
5. Floor-length Roland Mouret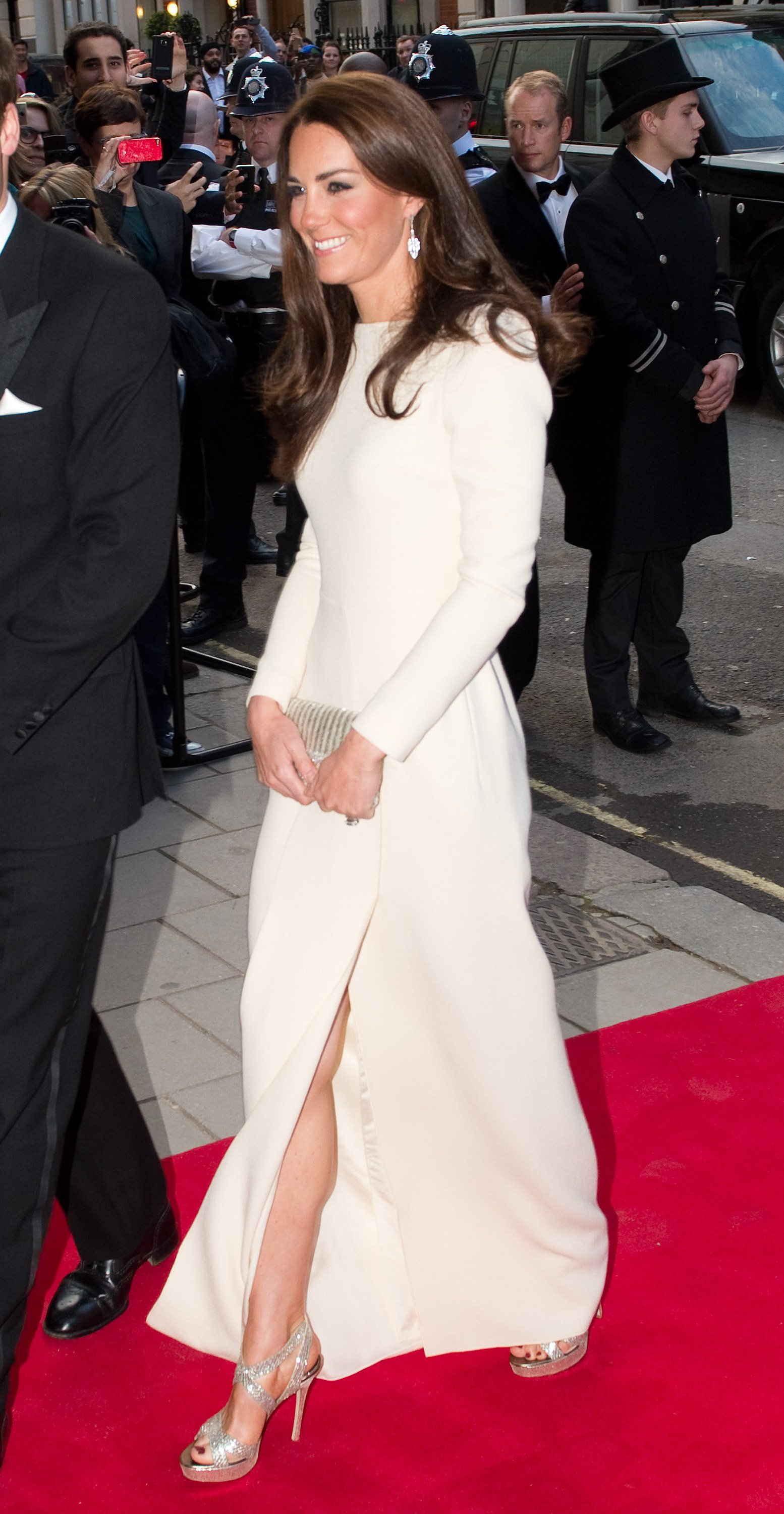 Middleton looked regal in a floor-length white Roland Mouret gown for a dinner in London in 2012. The princess paired it with silver Jimmy Choo sandals.
6. Stepping out in an olive green high street coat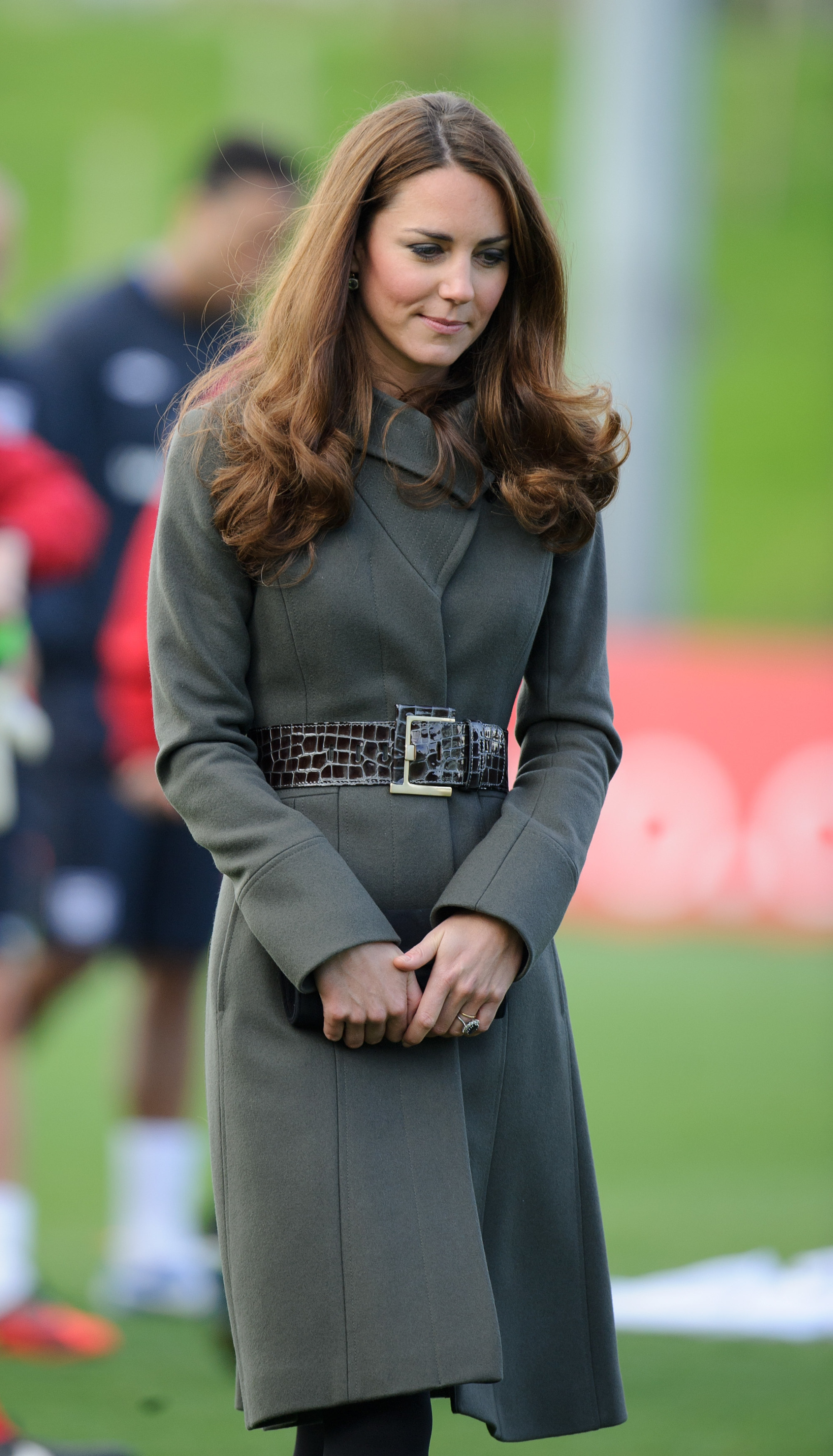 The then-duchess of Cambridge looked cosy in Reiss at a football launch event. Middleton paired the olive-green coat with a statement crocodile belt, black trousers and matching boots.
7. Sheer polka dots by Indian designer Saloni
Middleton wore a daring, semi-sheer dress to attend a reception ahead of her royal tour to India and Bhutan. She took a risk wearing a high-collared Mary Dot Illusion Dot Dress by Indian designer Saloni. The original design was completely sheer, but a nude panel of fabric was added to the bodice of her dress for a more modest look, per Us Weekly.
8. Bright and breezy in Kate Spade florals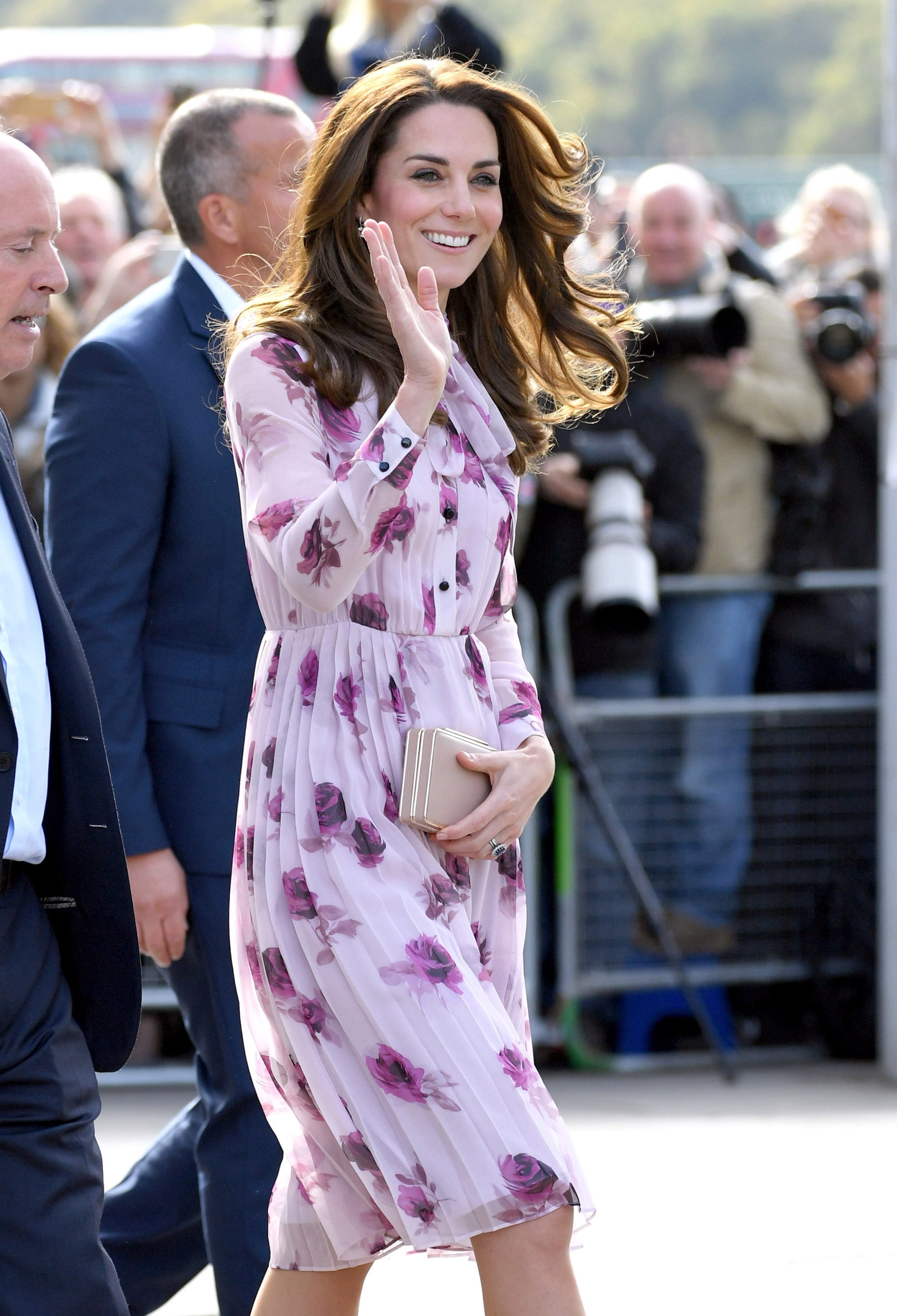 It's no secret that Middleton loves to wear florals. She arrived at a World Mental Health Day event in London in 2016 wearing a pink Kate Spade dress with purple flowers printed throughout. She kept the look simple with a pair of nude pumps.
9. Tweed Erdem chic
Middleton had a fabulous tweed moment while visiting the National Football Museum. She wore a tweed pink-and-blue Erdem coat with navy suede heels to match.
10. Princess Diana's Lover's Knot tiara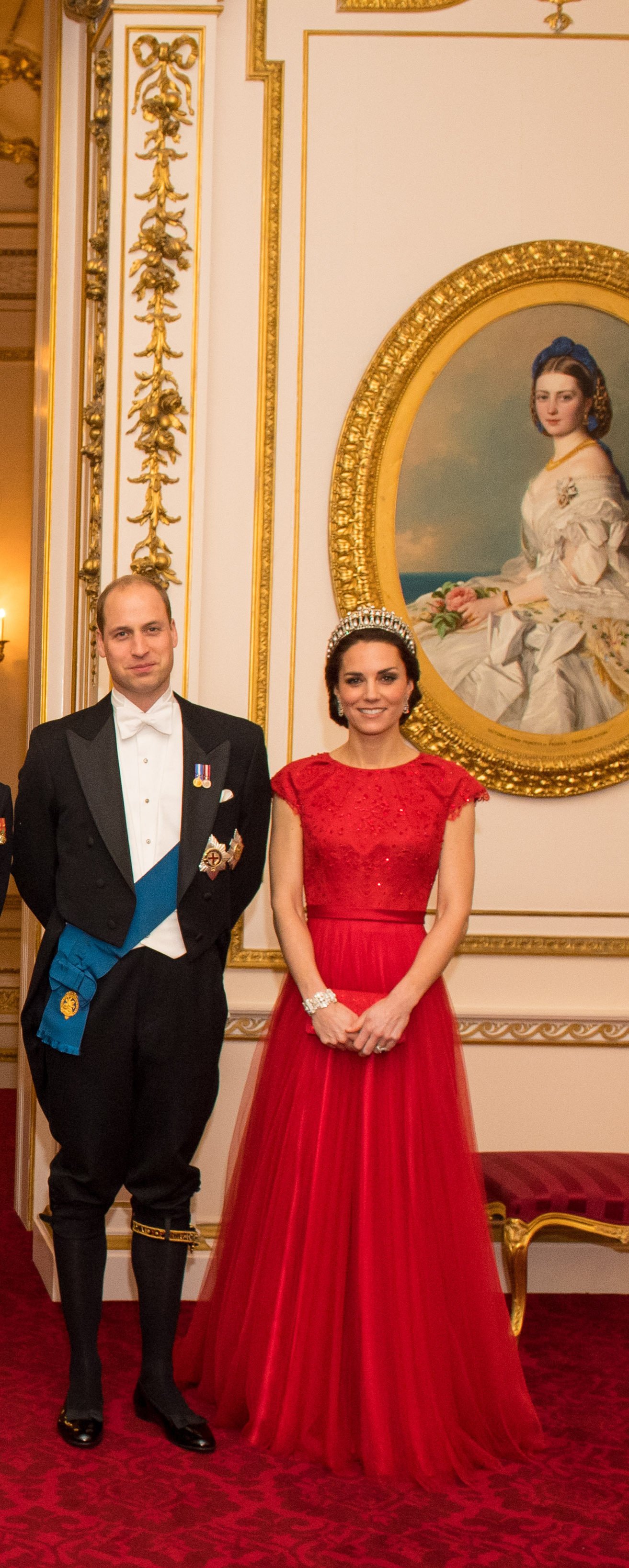 Middleton wore Princess Diana's favourite
Lover's Knot tiara
for a reception at Buckingham Palace. The tiara was originally given to Princess Diana as a wedding present from the queen, and it has been worn by Middleton on multiple occasions since.
The then-duchess paired the tiara with a red Jenny Packham dress.
11. Green Temperley London lace

Middleton turned to her go-to colour for the 2017 Portrait Gala. The then-duchess arrived in a green, long-sleeved Temperley London gown, which she dressed up with gold accessories.
12. Regal in a red Marchesa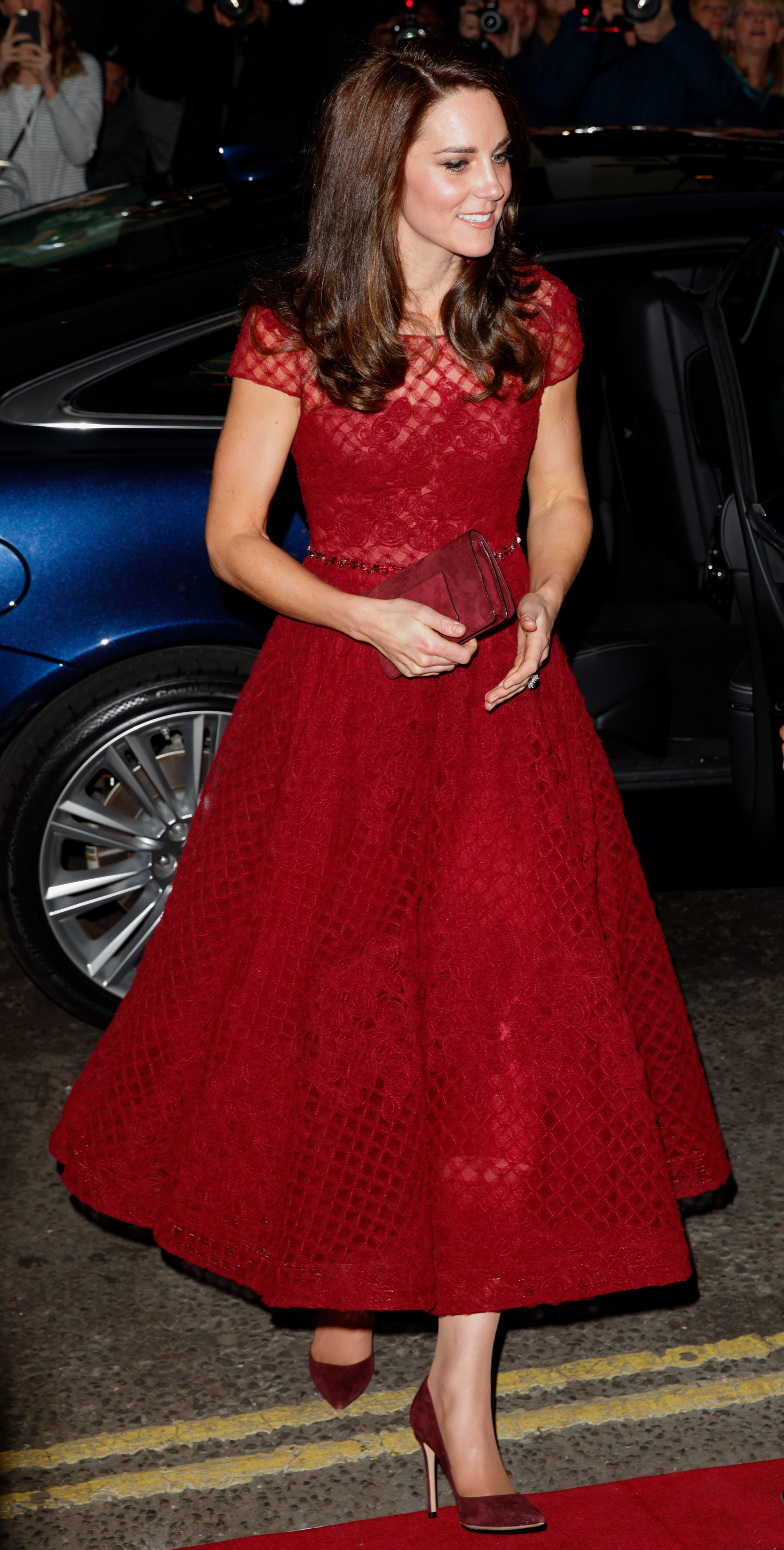 She went back to red for the opening night of 42nd Street at the Theatre Royal, wearing a bright-red Marchesa Notte dress that featured a textured geometric pattern. She accessorised her look with matching tassel earrings and suede pumps.
13. Her sparkling-blue Cinderella moment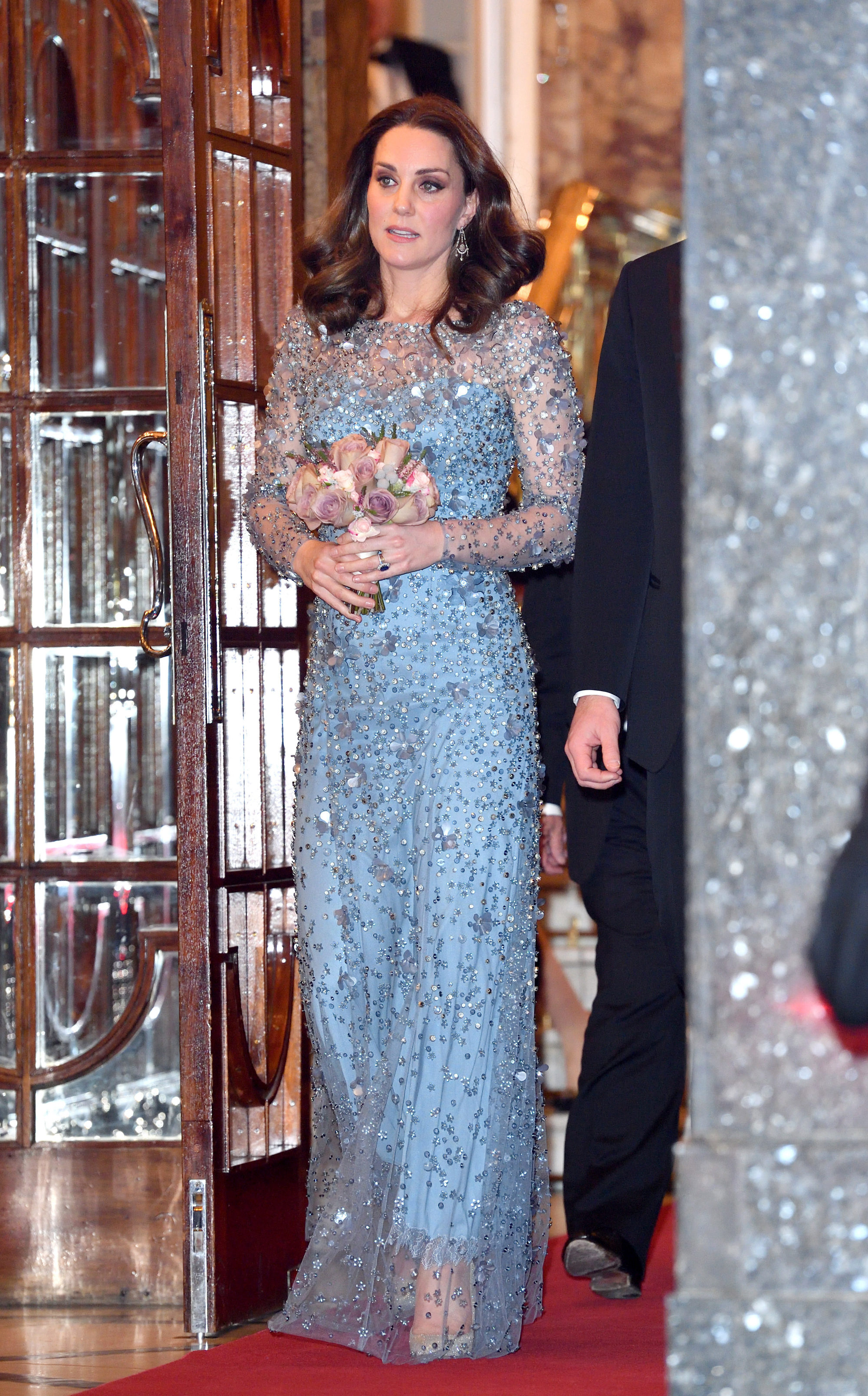 Middleton looked like Cinderella in a sparkling-blue gown at the Royal Variety Performance in 2017. She wore an ultra-delicate baby-blue Jenny Packham gown for the event. She offset the blue of her dress with sparkly silver heels.
14. Nailing maternity style in blue velvet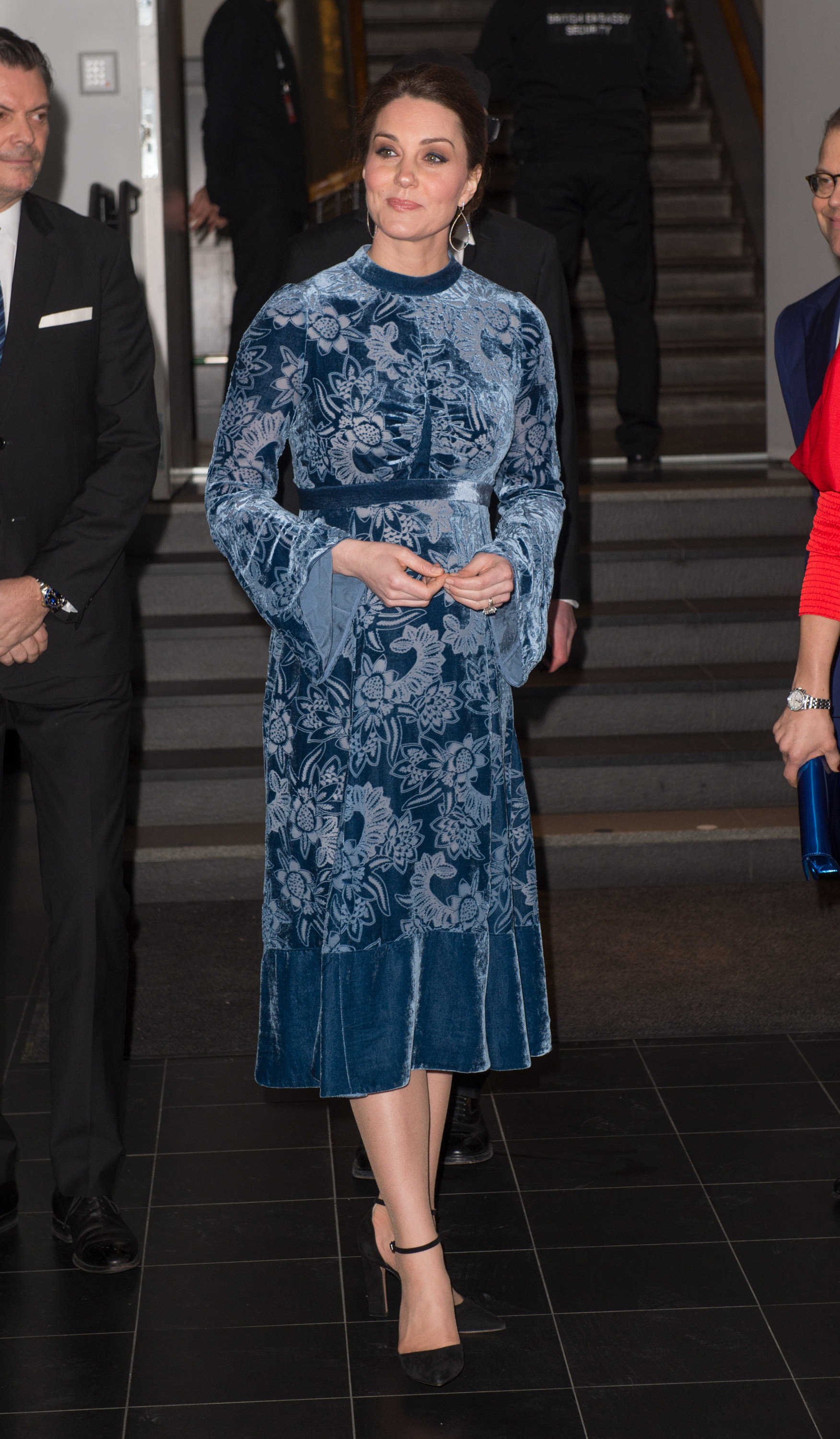 The Princess of Wales wore a soft velvet dress during a royal visit to Sweden when she was several months pregnant with the couple's third child, Louis. Her velvet Erdem midi dress featured a stunning floral pattern. She paired the bold dress with a simple pair of black pumps.
15. Perfect in a plaid Erdem number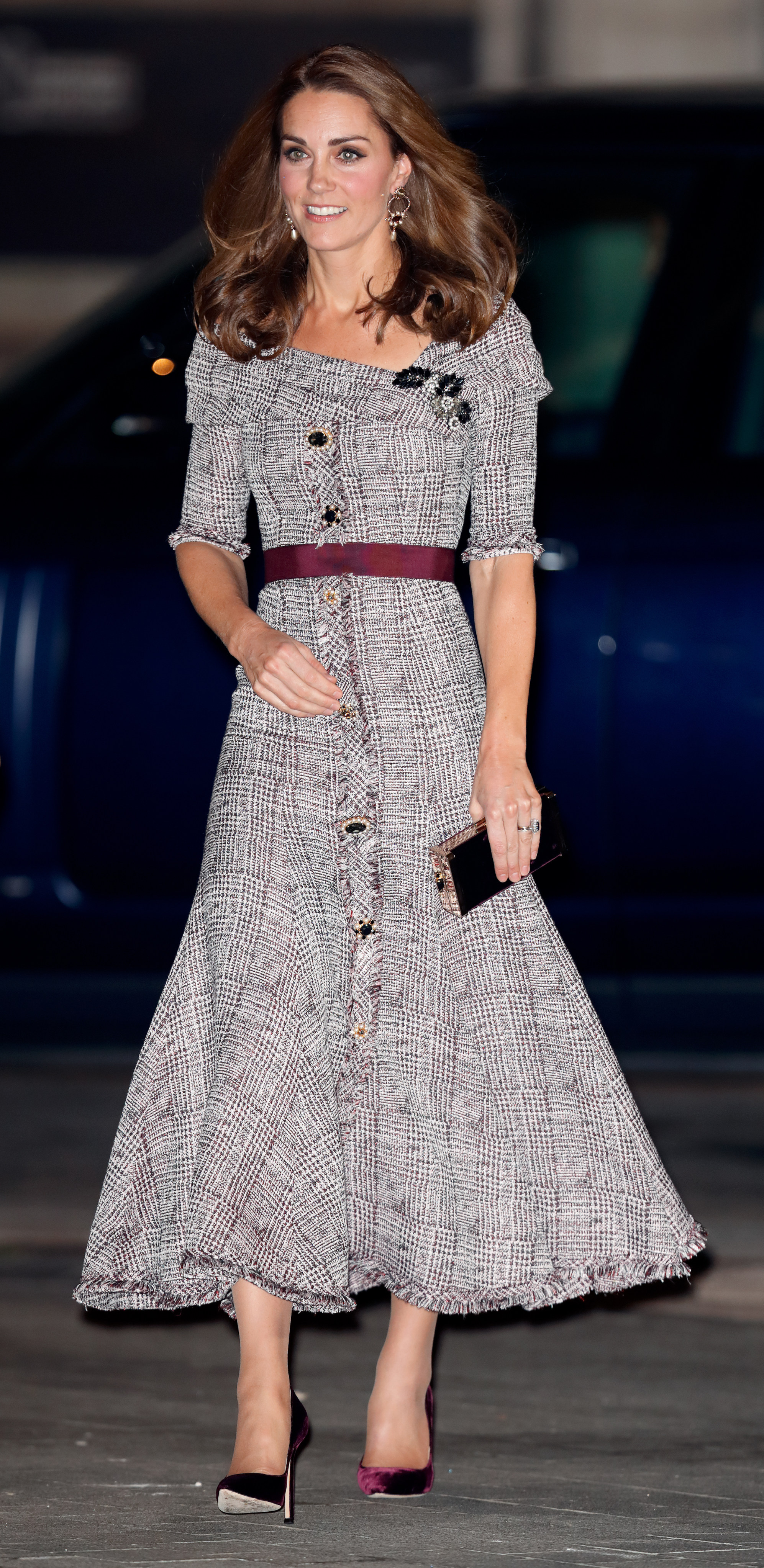 Middleton wore a plaid dress after returning from royal maternity leave in 2018. The then-duchess paired the plaid dress by Erdem with maroon heels and a boxy clutch. The accessories matched the red details of her dress perfectly.
16. Pretty in pink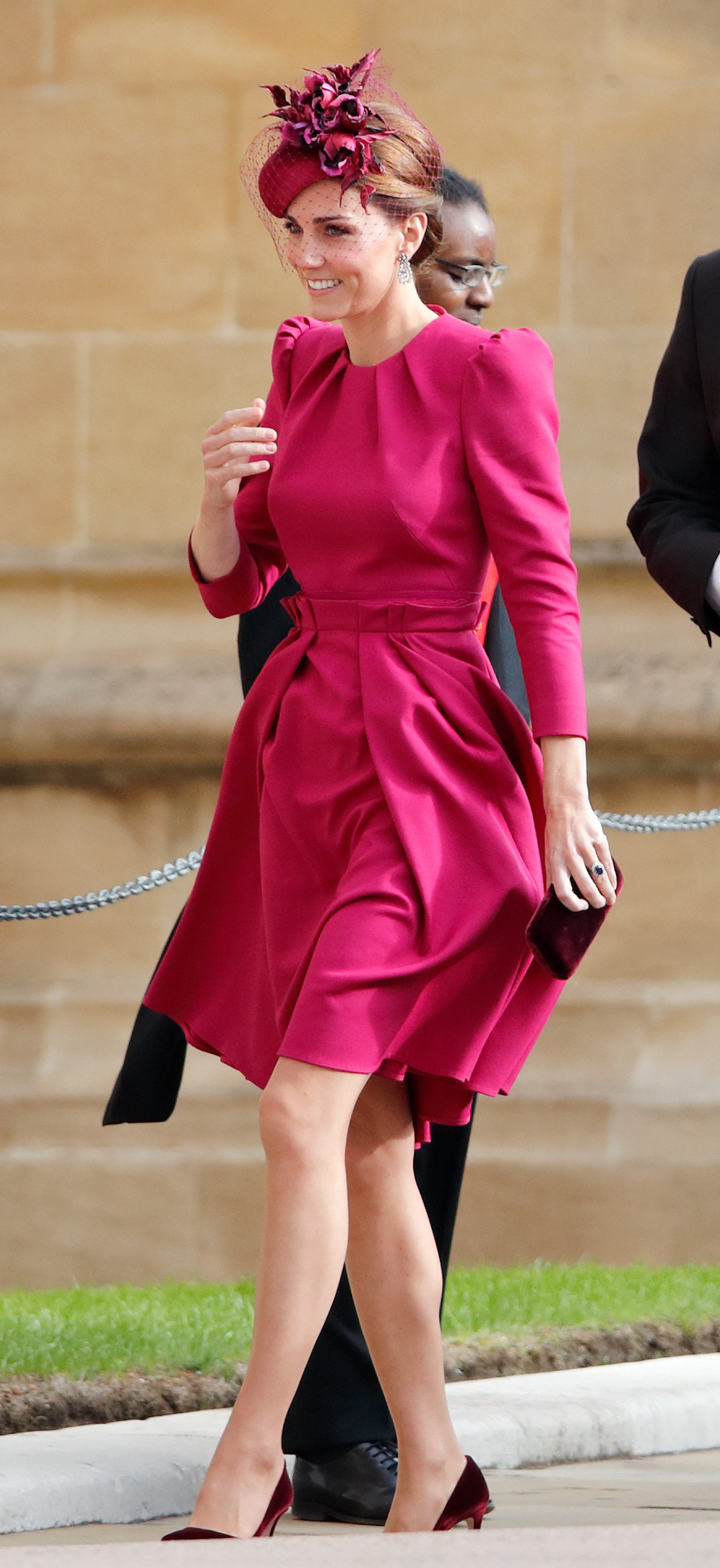 Middleton opted for a bold pop of colour at
Princess Eugenie's wedding
. She stuck to one of her favourite designers, Alexander Queen, for the occasion, sporting a fuchsia-pink dress with a matching fascinator.
17. Seeing double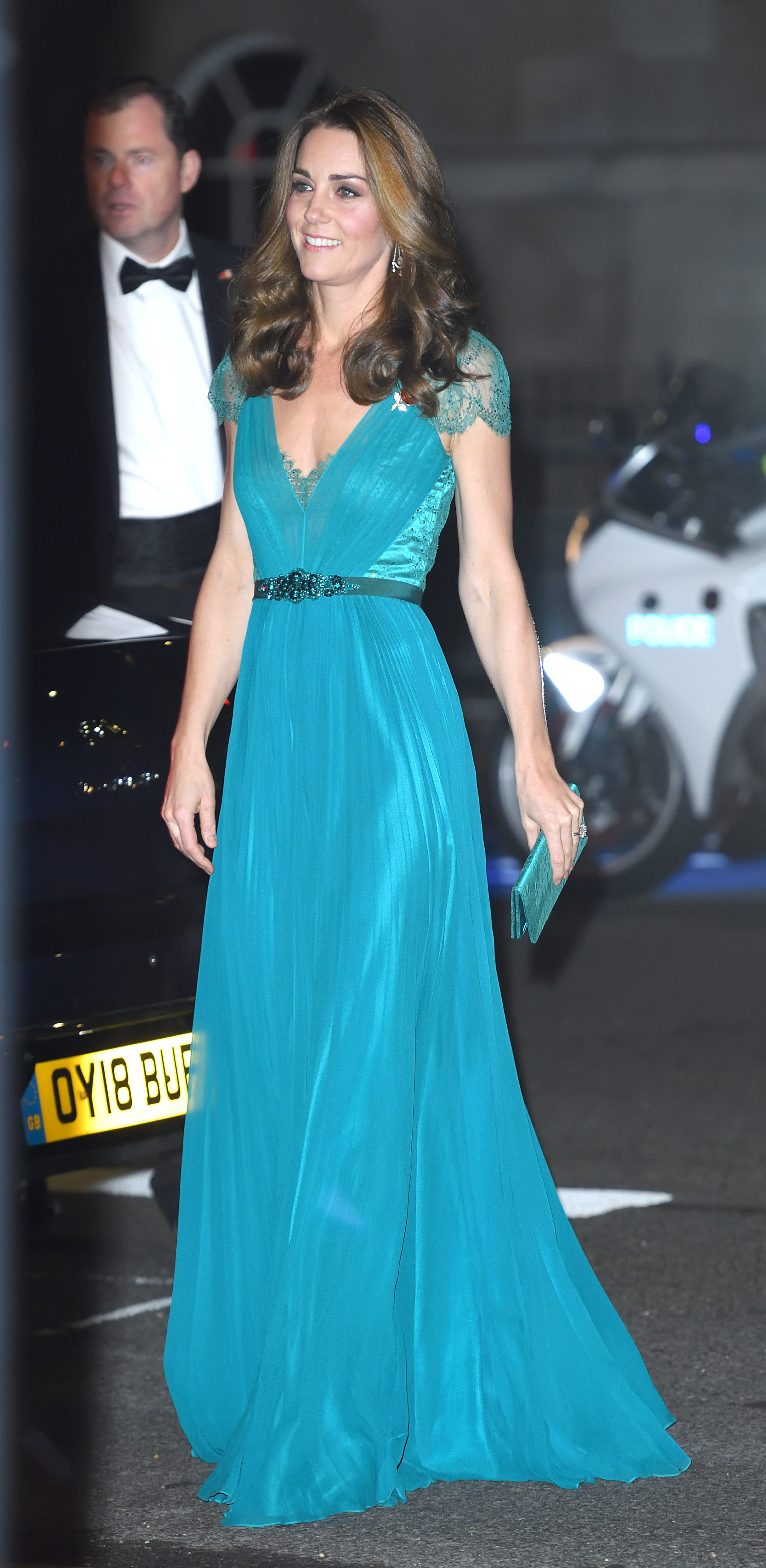 Middleton loves to repeat outfits and this dress is no exception. The Princess of Wales recycled this teal Jenny Packham gown, which she first wore in 2012, for the Tusk Conservation Awards in 2018.
18. Disney princess 2.o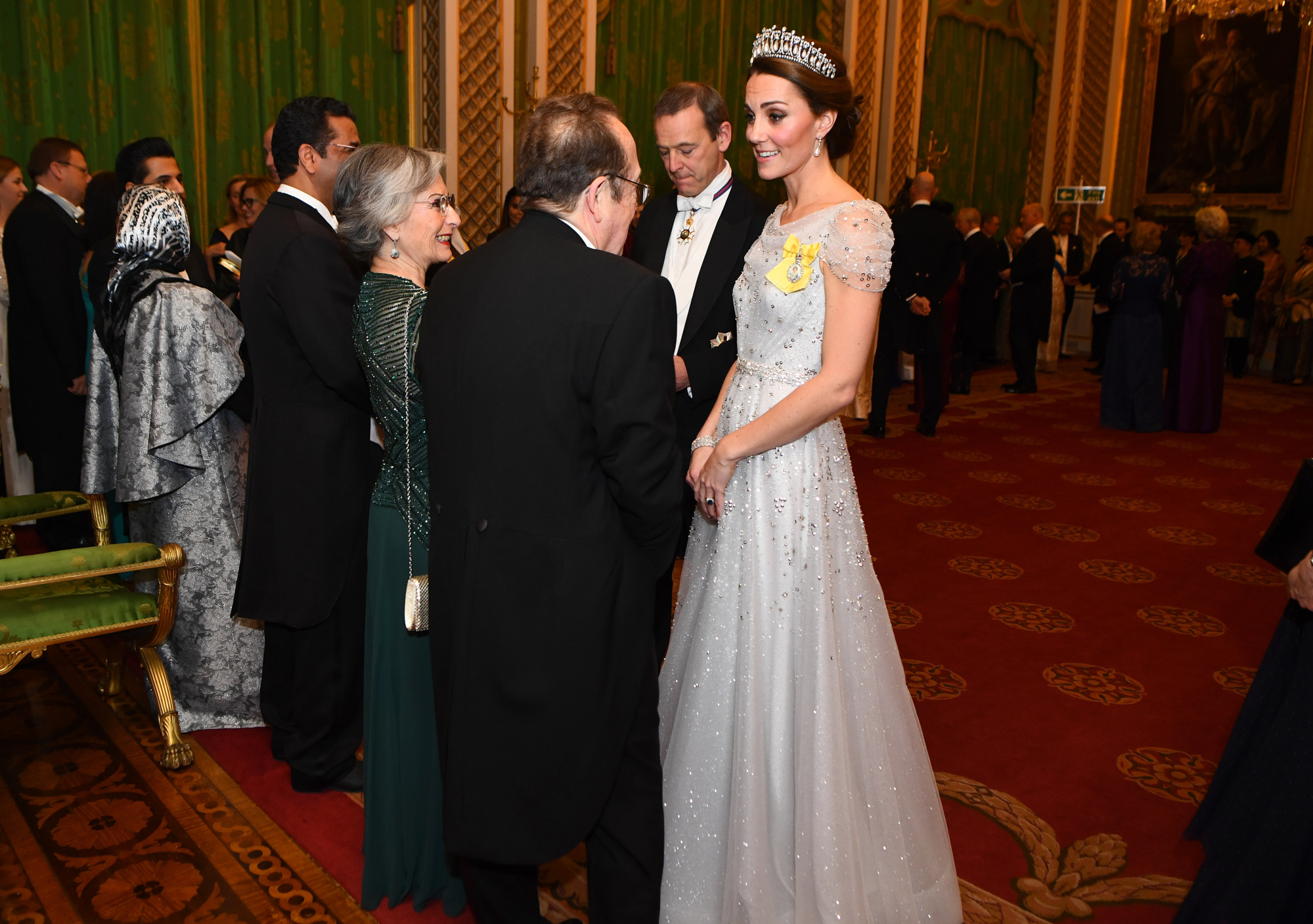 Middleton looked like a Disney princess in this Jenny Packham gown, which featured sheer cap sleeves and silver embellishments. She paired the dress with the Lover's Knot tiara for the annual Diplomatic Corps reception.
19. Goddess in white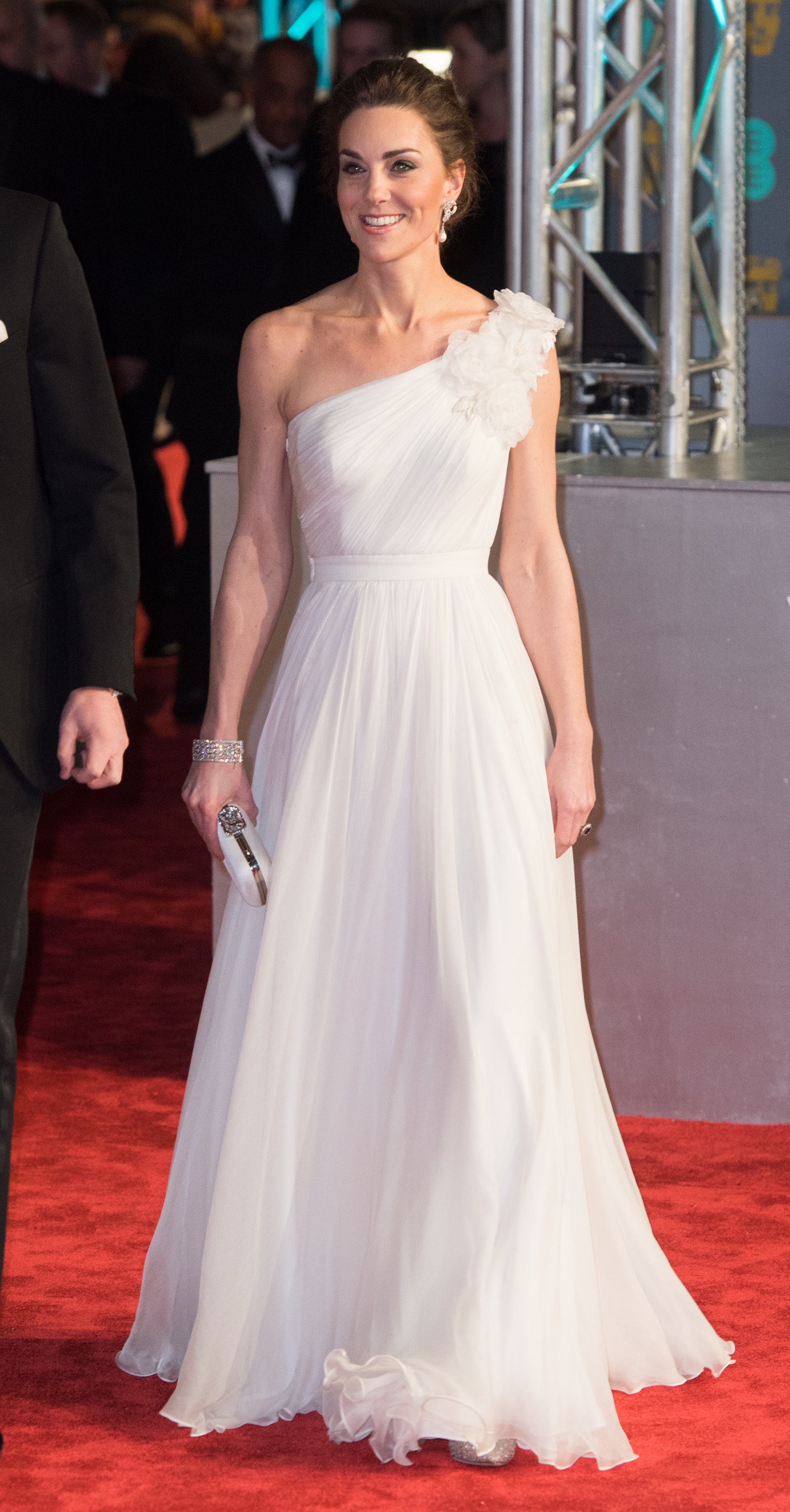 Kate Middleton was the epitome of elegance in a one-shoulder gown at the 2019 BAFTAs. She wore an Alexander McQueen dress with a flowing skirt and white appliqué flowers, completing her look with a pair of Princess Diana's earrings and sparkly silver Jimmy Choo pumps.
20. Ethereal in rose-coloured Gucci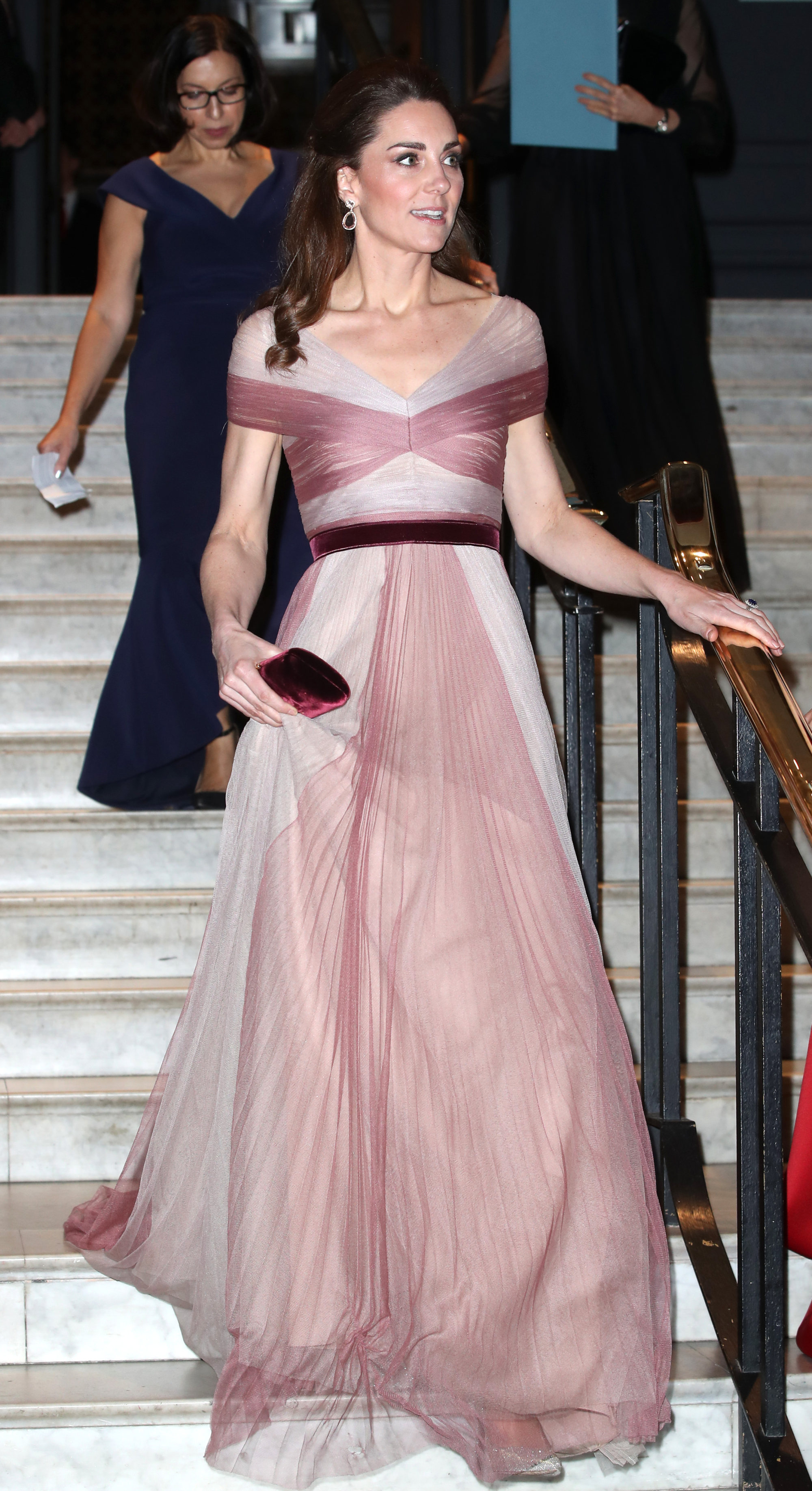 Middleton arrived at the 100 Women in Finance Gala in a rose-coloured Gucci gown, which she wore with a raspberry velvet clutch and pear-shaped earrings.
21. Elegant in mint-green Missoni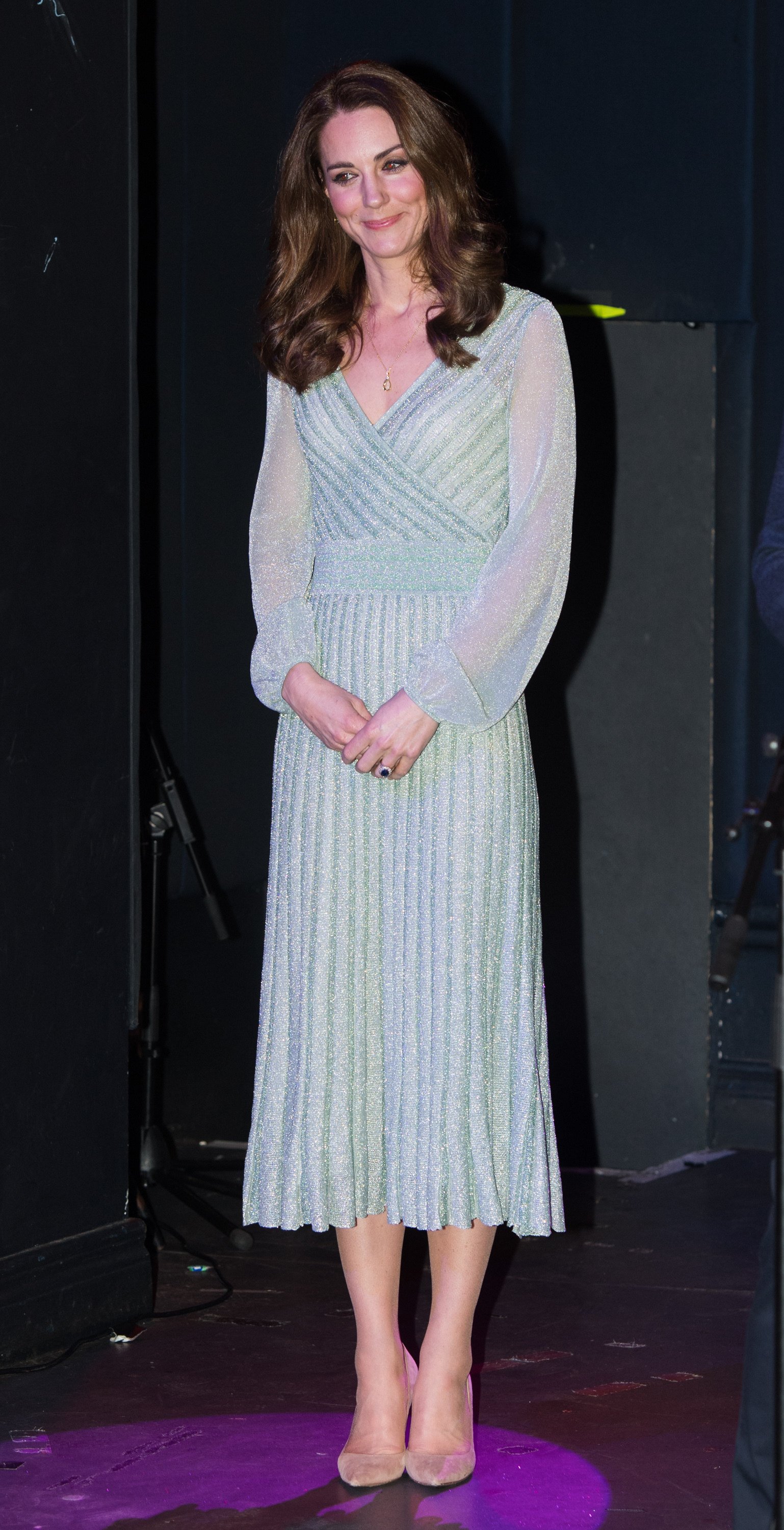 Middleton shimmered in a mint-green party dress during a surprise visit to Northern Ireland in 2019. The royal paired the US$2,480 Missoni midi dress with nude suede heels and a pink clutch.
22. Her backwards Gucci blouse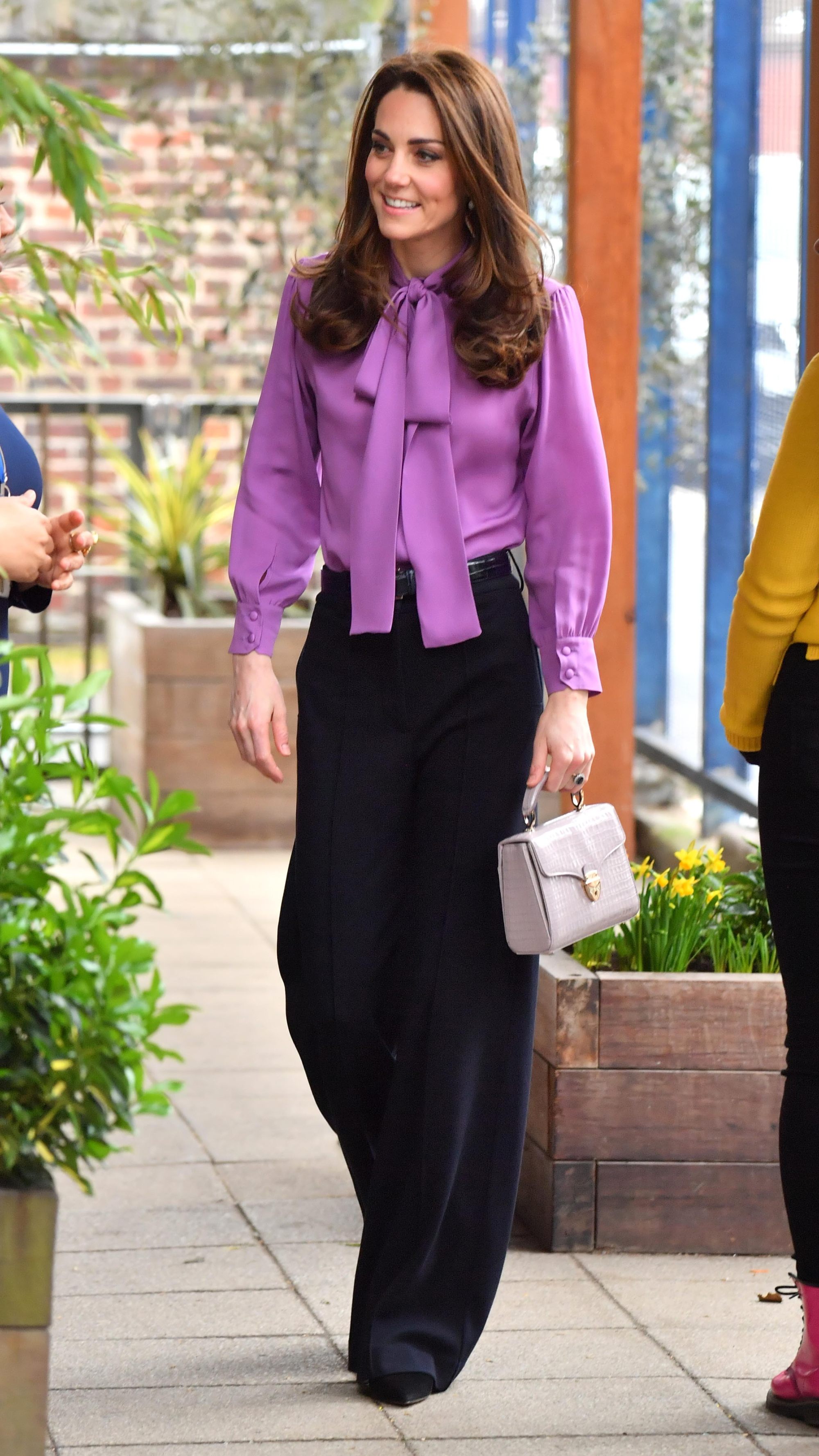 Middleton made a statement in a purple blouse and flowing wide-leg trousers in 2019 when she visited a children's centre in London. The US$1,300 blouse was by Gucci while the trousers were created by Jigsaw. She also carried a lilac crocodile-print Aspinal of London bag. Middleton even put her own spin on the purple blouse by wearing it backwards.
23. Full length floral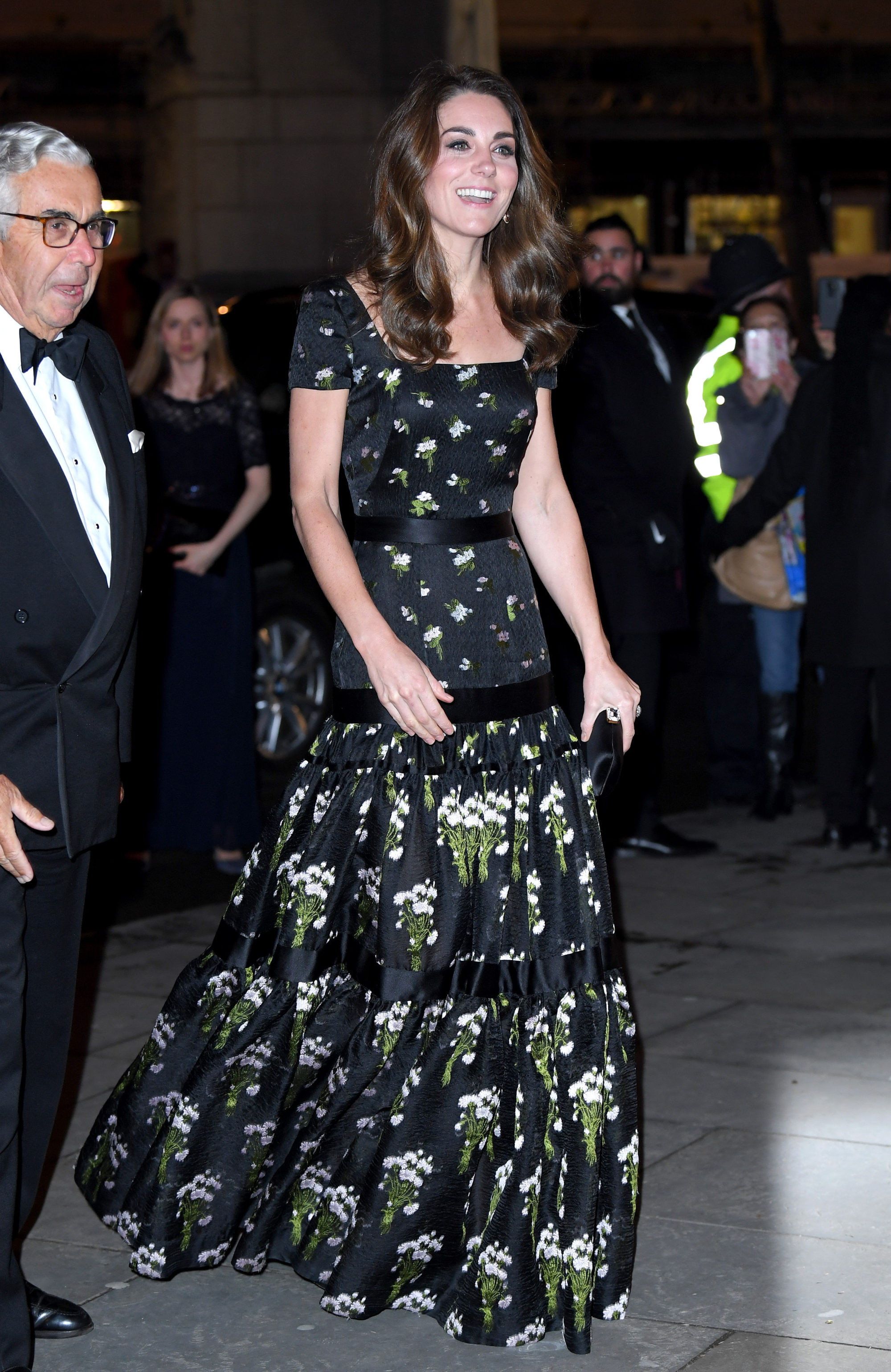 Middleton recycled an Alexander McQueen look from 2017 for an appearance at a London gala. She wore the tiered Alexander McQueen dress with a black Prada clutch.
24. Channelling Princess Diana in a polka-dot dress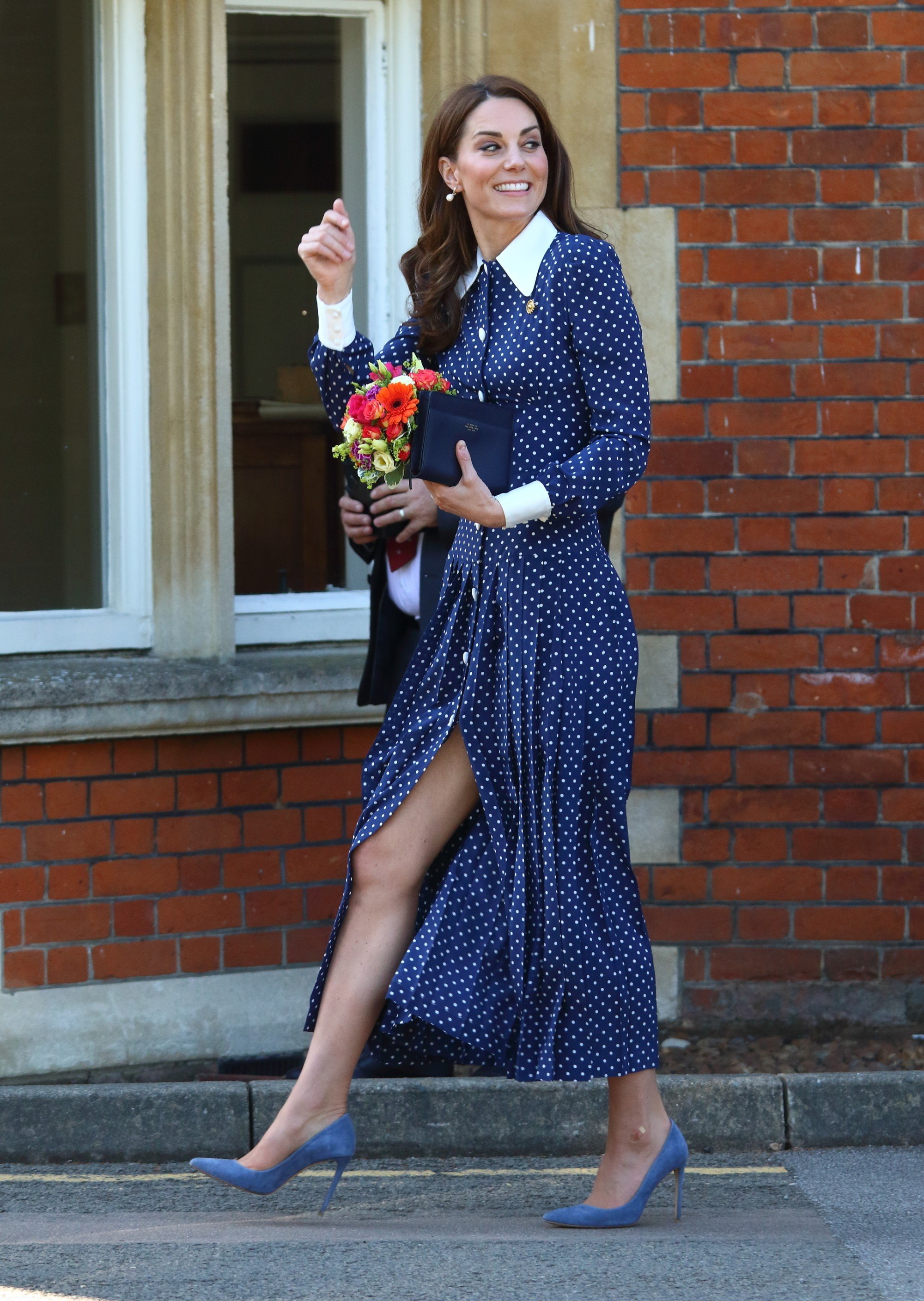 For a visit to Bletchley Park's special D-Day exhibit, Middleton wore a navy Alessandra Rich dress with light-blue suede pumps. People were quick to point out that the outfit was similar to one Princess Diana wore in 1985.
25. Erdem for the Chelsea Flower Show
Middleton wore florals to the evening portion of the Chelsea Flower Show. The royal paired her flowery Erdem dress with US$190 wedges – despite reports that she and
Meghan Markle
were not allowed to wear the style of shoe in front of the queen.
26. Ruffling feathers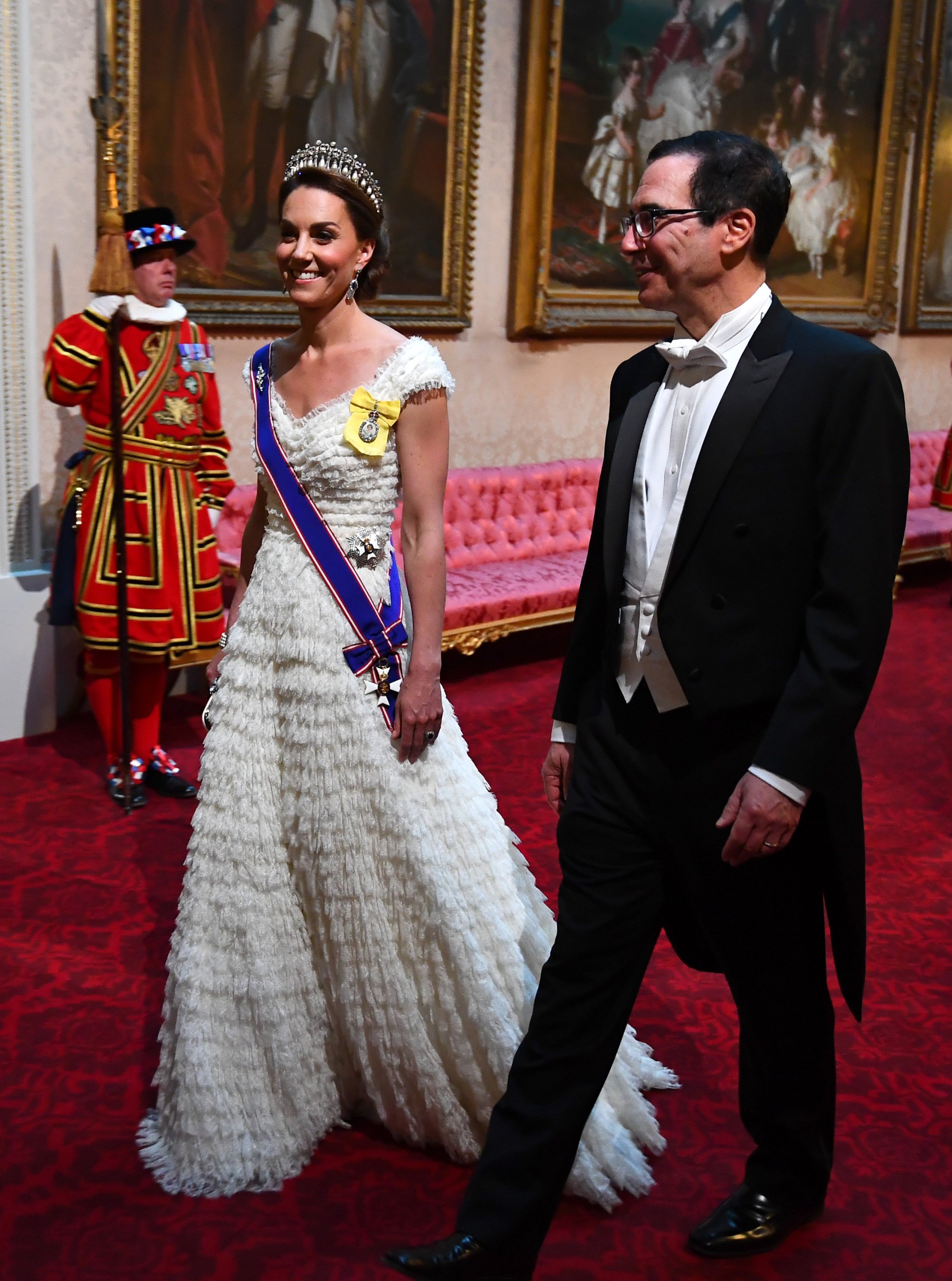 Middleton wore a white cap-sleeve dress to a state banquet with former President
Donald Trump
in 2019. She turned to her trusted designer, Alexander McQueen, for her look: a ruffled dress which she paired with the Lover's Knot tiara and the Queen Mother's
sapphire and diamond earrings
.
27. Those sparkly Jimmy Choos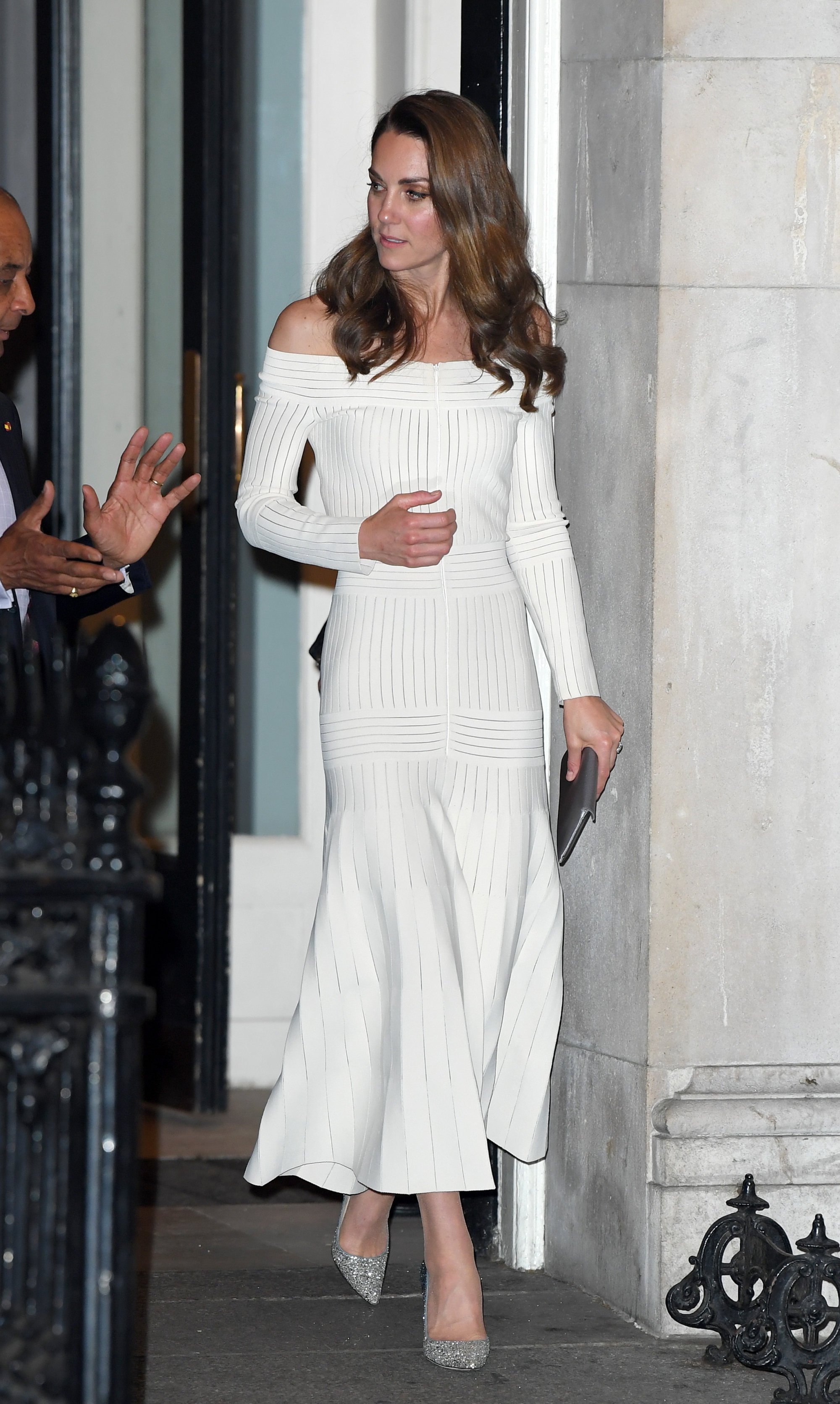 Middleton recycled an off-the-shoulder dress for Action on Addiction's gala dinner in 2019. She first wore the fitted white Barbara Casasola dress in 2016, but this time she paired it with sparkly silver-and-blue Jimmy Choo heels.
28. Off to the races in powder-blue Elie Saab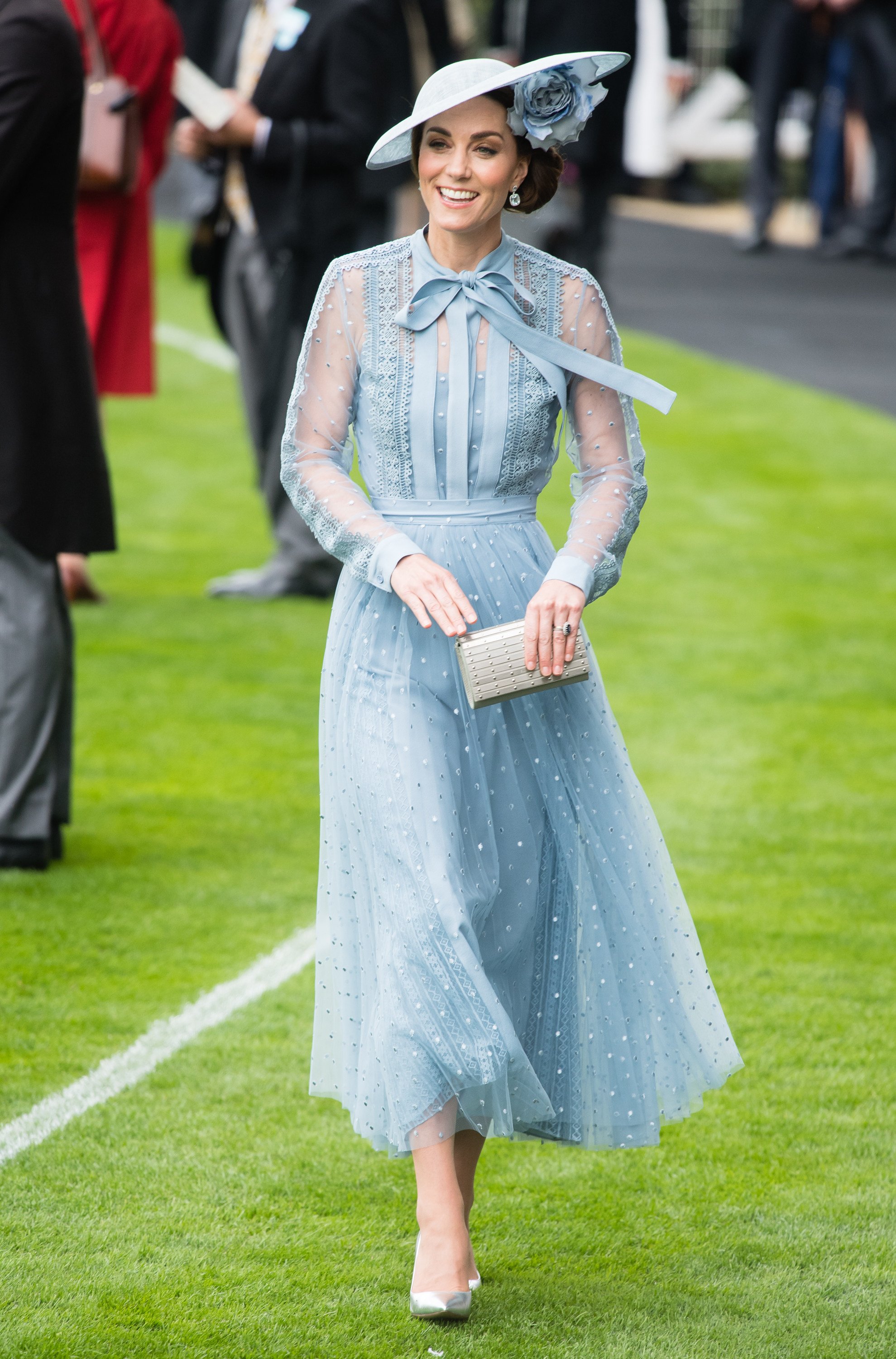 Middleton wore a head-to-toe blue ensemble for Royal Ascot. She arrived in a textured, powder blue Elie Saab dress with sheer sleeves.
29. Another classic teal look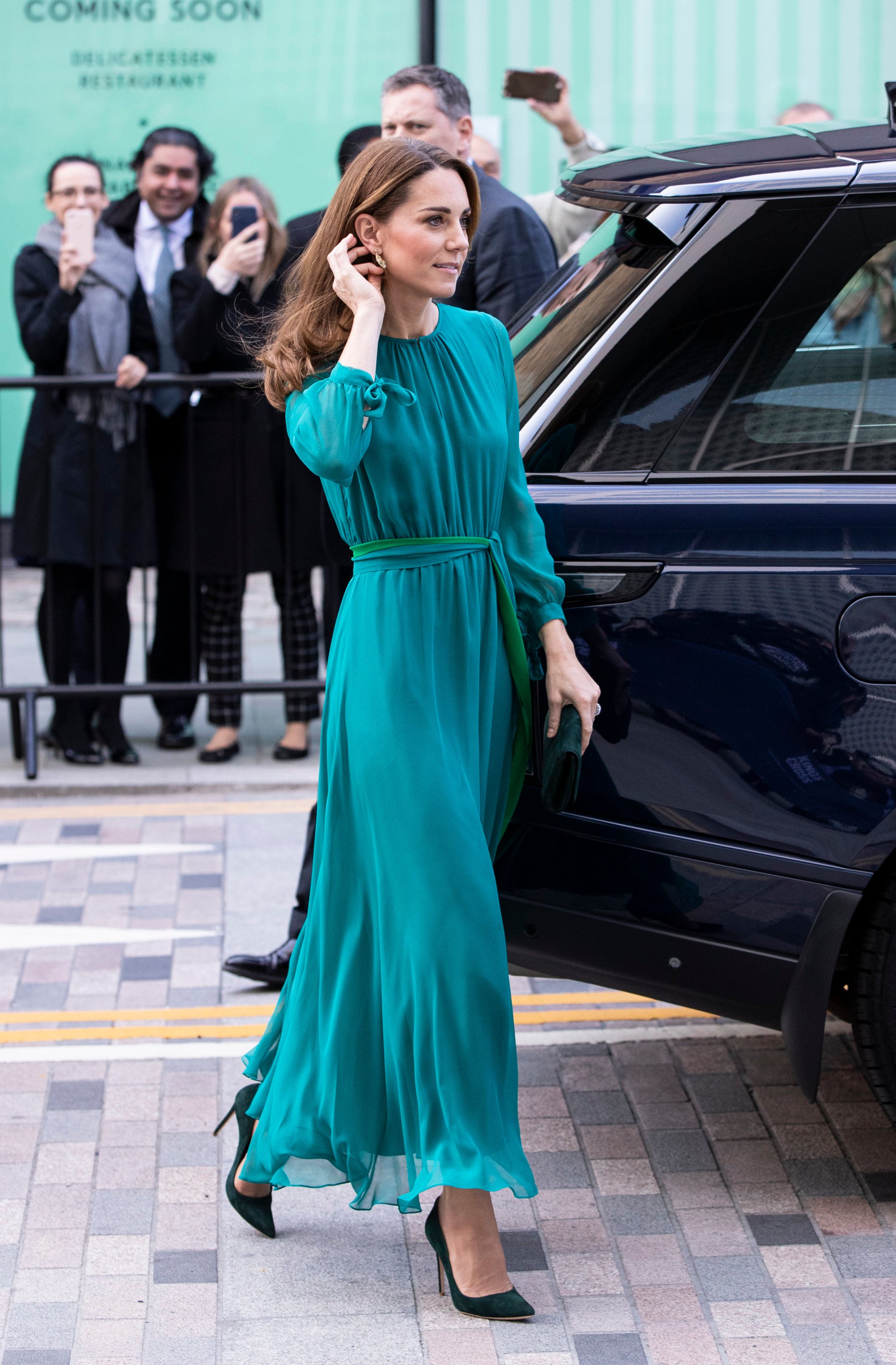 Middleton looked fabulous in a simple teal dress for a visit to the Aga Khan Centre in London. The royal paired her teal A Ross Girl dress with forest-green suede pumps and a matching clutch.
30. The Catherine Walker shalwar kameez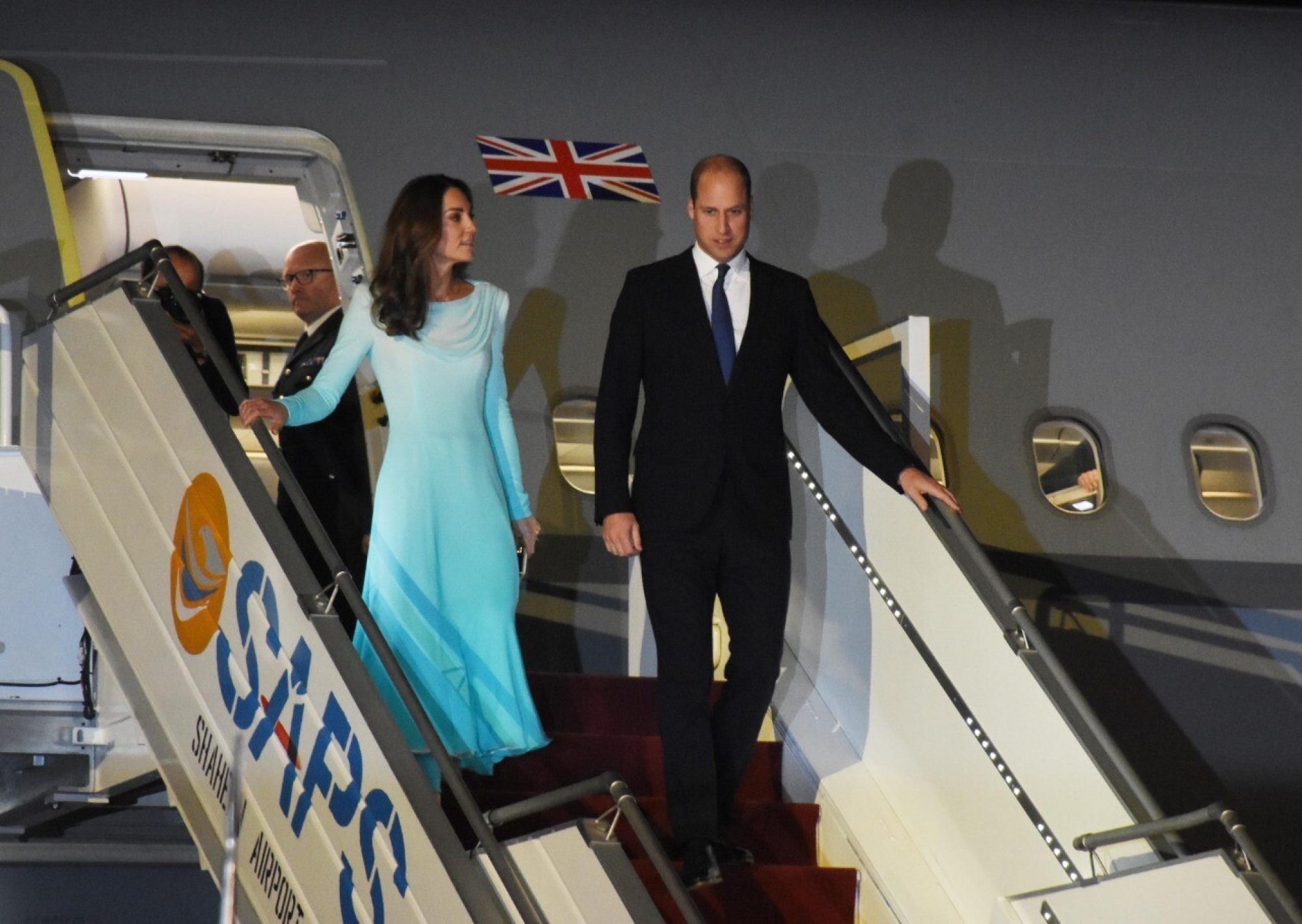 In 2019, Middleton arrived in Pakistan for a royal tour wearing a traditional outfit. She wore an ombré shalwar kameez designed by Catherine Walker, which she paired with a Zeen clutch.
31. Sparkling emerald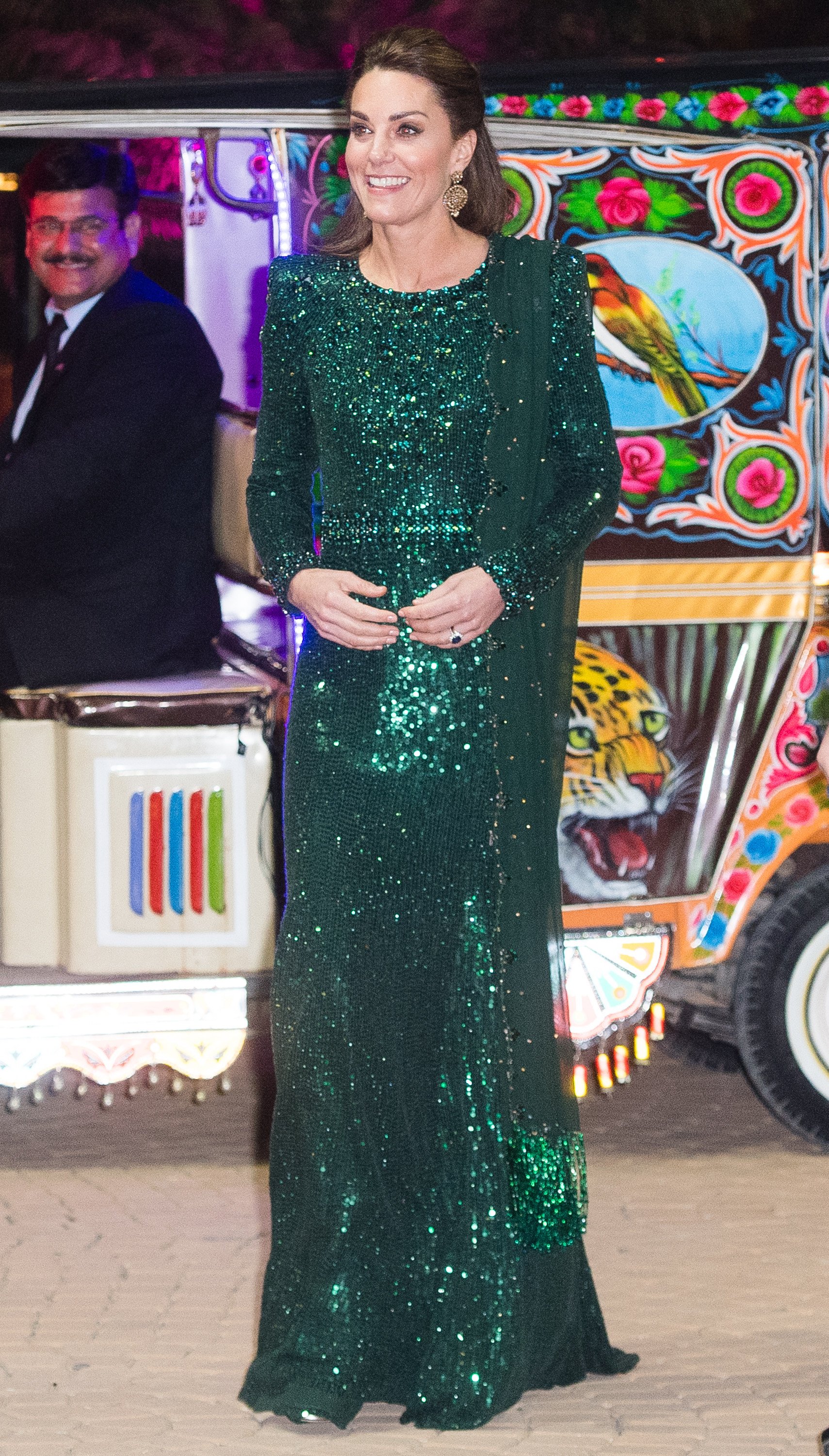 During the same trip, the then duchess arrived at an evening reception in Pakistan in a gorgeous, sparkling green dress designed by – who else? Jenny Packham, of course.
32. Back to black (lace)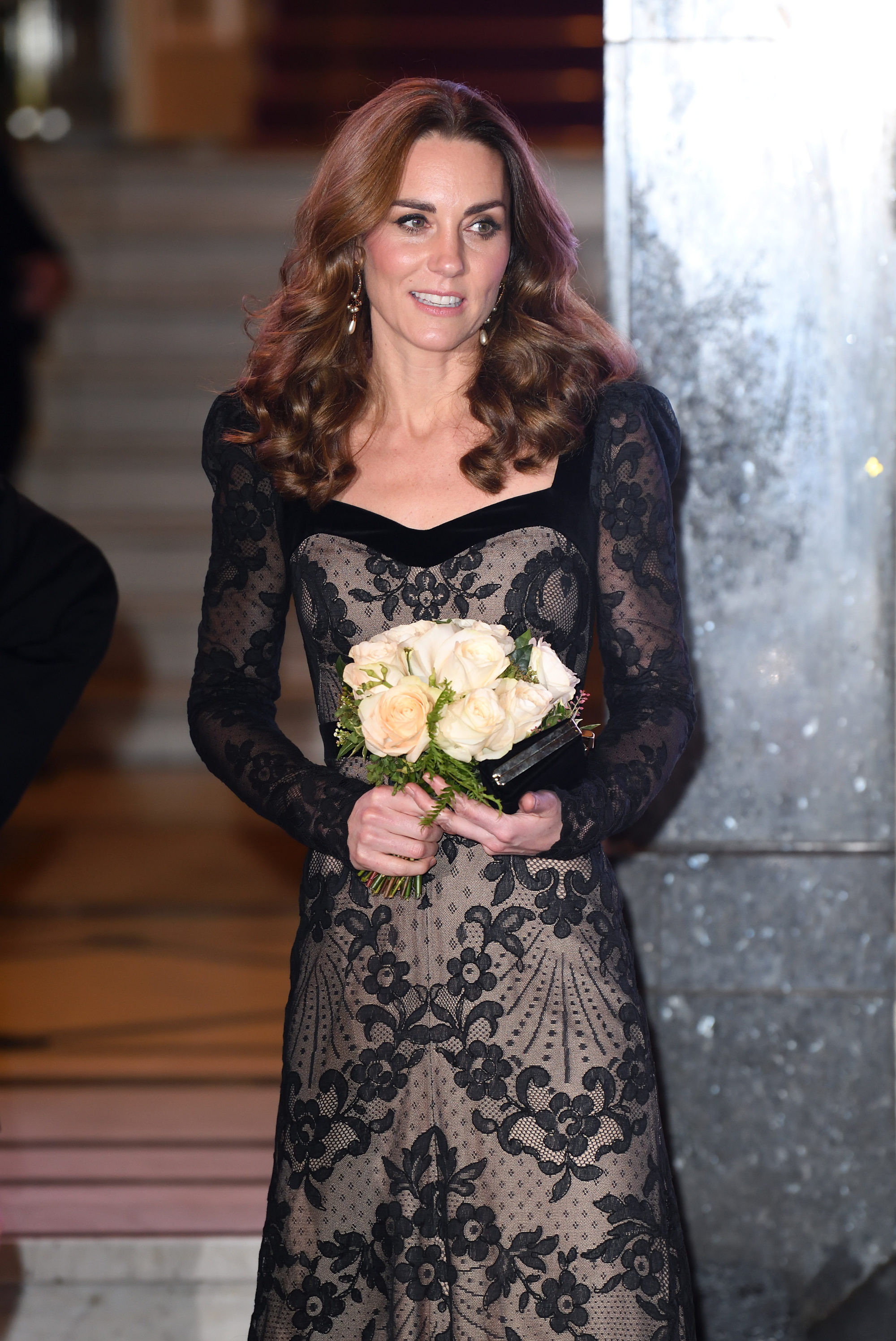 Middleton went back to wearing black for the Royal Variety Performance in London. She arrived at the London Palladium wearing a black, floor-length lace gown by Alexander McQueen.
33. Royal jewellery pairings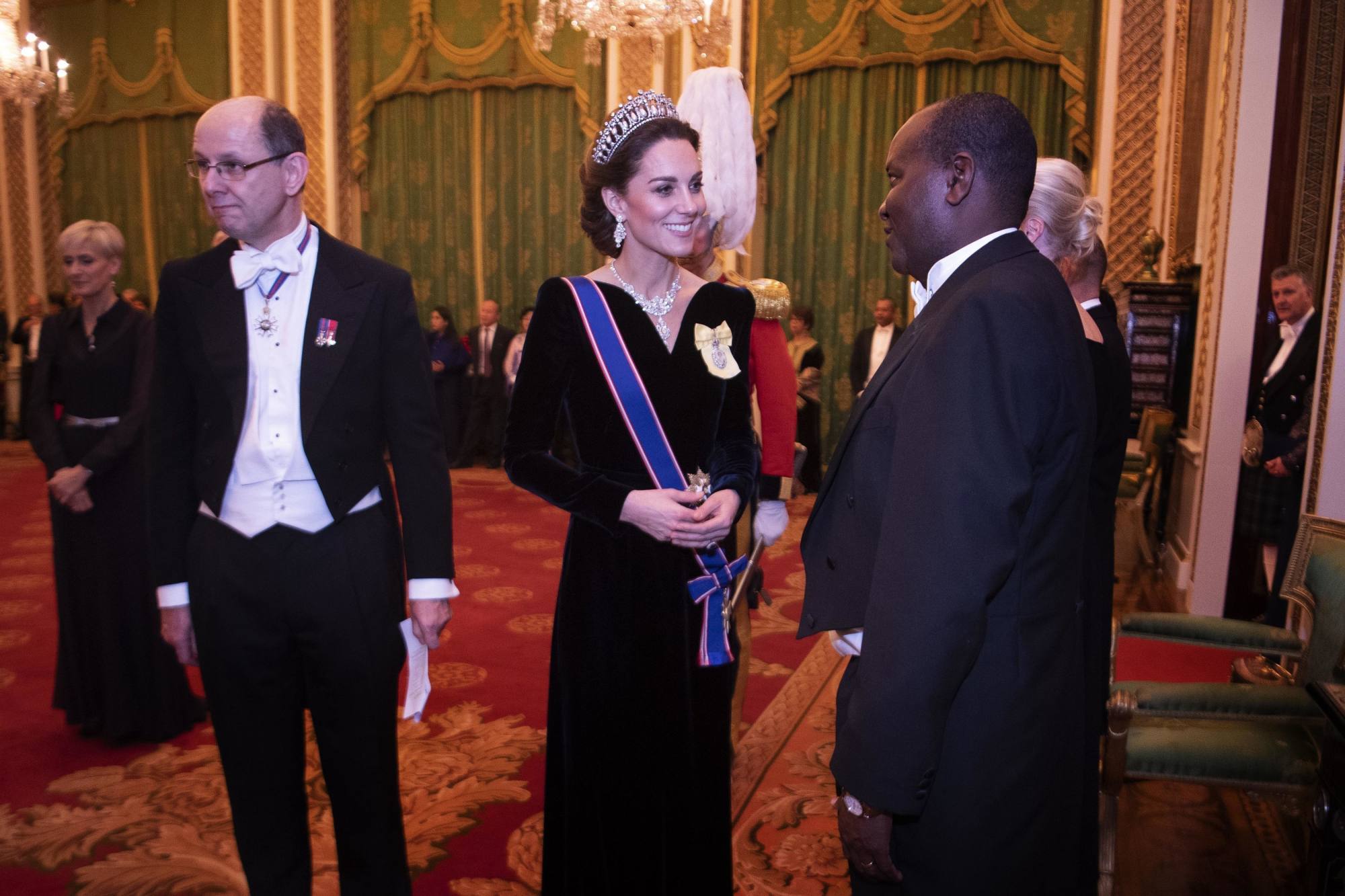 For yet another evening reception for members of the Diplomatic Corps at Buckingham Palace, Middleton wore a stunning Alexander McQueen gown with the Lover's Knot tiara and a necklace that belonged to the queen too.
34. Medieval McQueen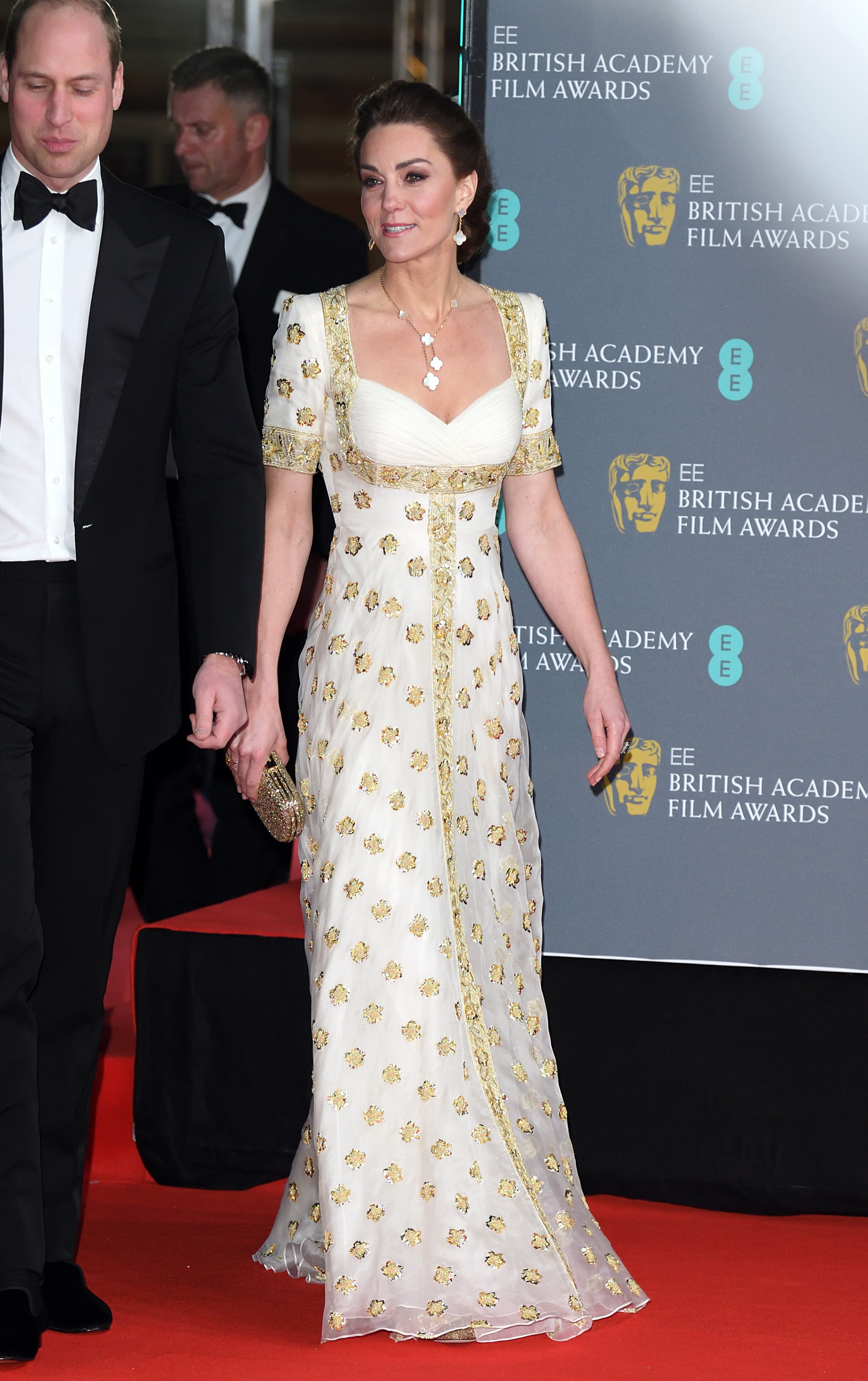 Middleton attended the 2020 BAFTAs in an Alexander McQueen look she previously wore in 2012. The event invited guests to "dress sustainably", which lent itself perfectly to Middleton's fondness for rewearing outfits.
35. On-brand in Ireland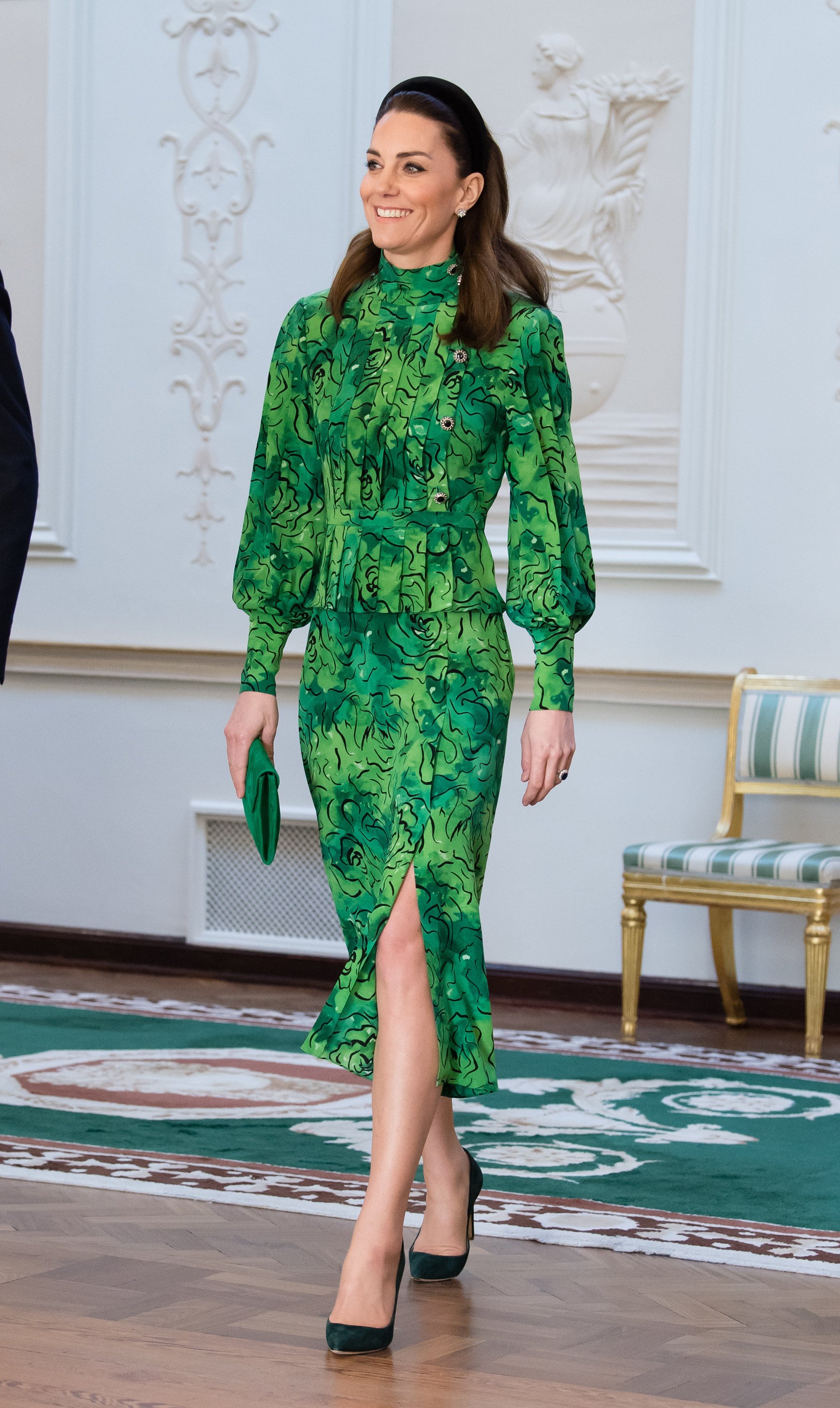 For her first engagement during her 2020 royal tour of Ireland, Middleton opted for a festive green printed midi dress. The royal paired the bold look with emerald-green pumps, a matching headband and a simple green clutch.
36. Her My Fair Lady look
Middleton looked like a modern-day version of Audrey Hepburn in My Fair Lady at last year's Royal Ascot. The royal kept her look simple, feminine and chic with a black-and-white high-neck dress covered in polka dots. She paired the dress with neutral camel-coloured heels and a festive floral hat.
37. Pink champagne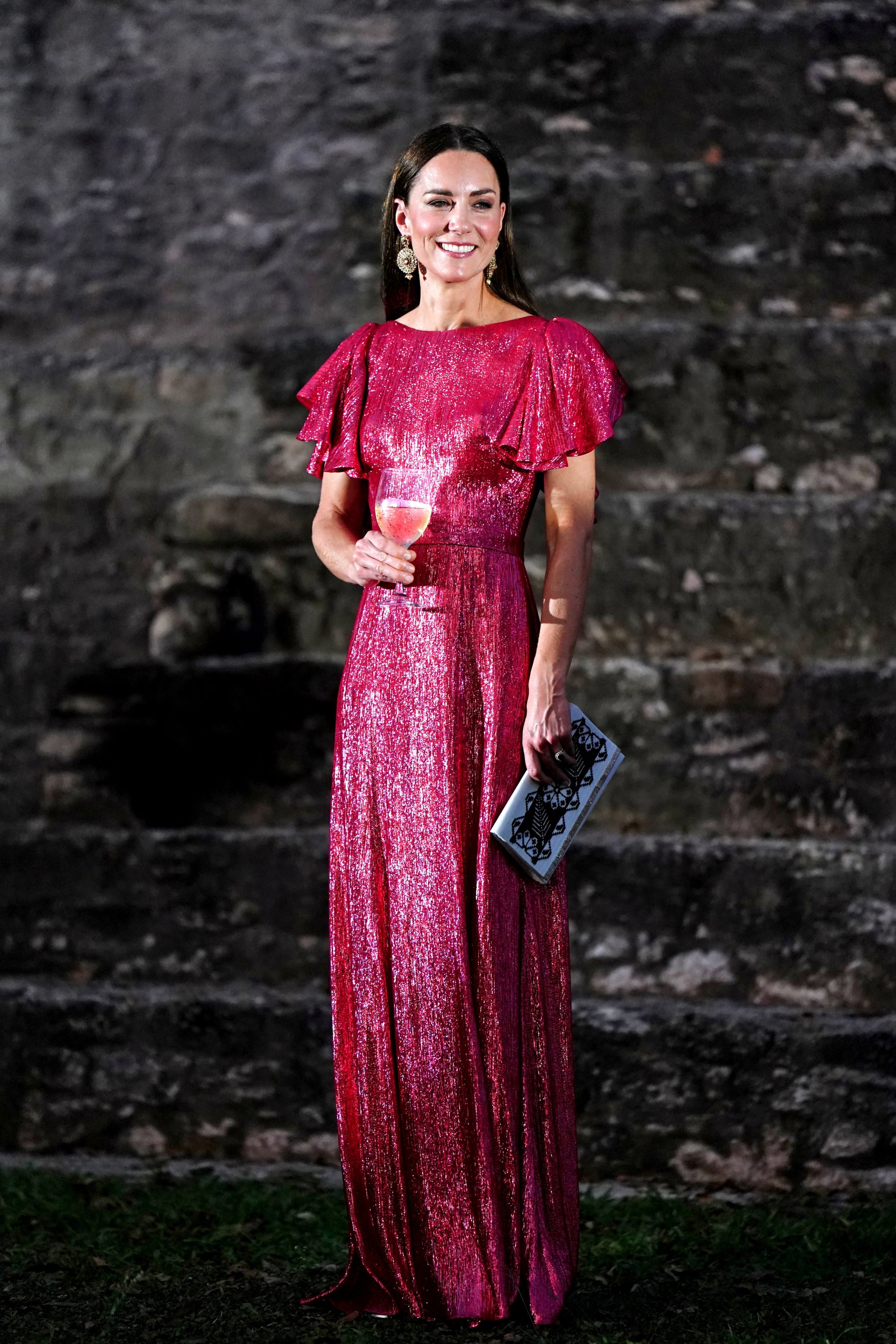 Middleton wore a sparkling pink dress with feminine butterfly sleeves to a dinner reception at the Mayan ruins during her 2022 tour of Belize. Designed by the brand The Vampire's Wife, the dress reportedly retails for around US$3,000. She paired the look with dangly earrings and a black-and-white clutch.
38. Off-the-shoulder glamour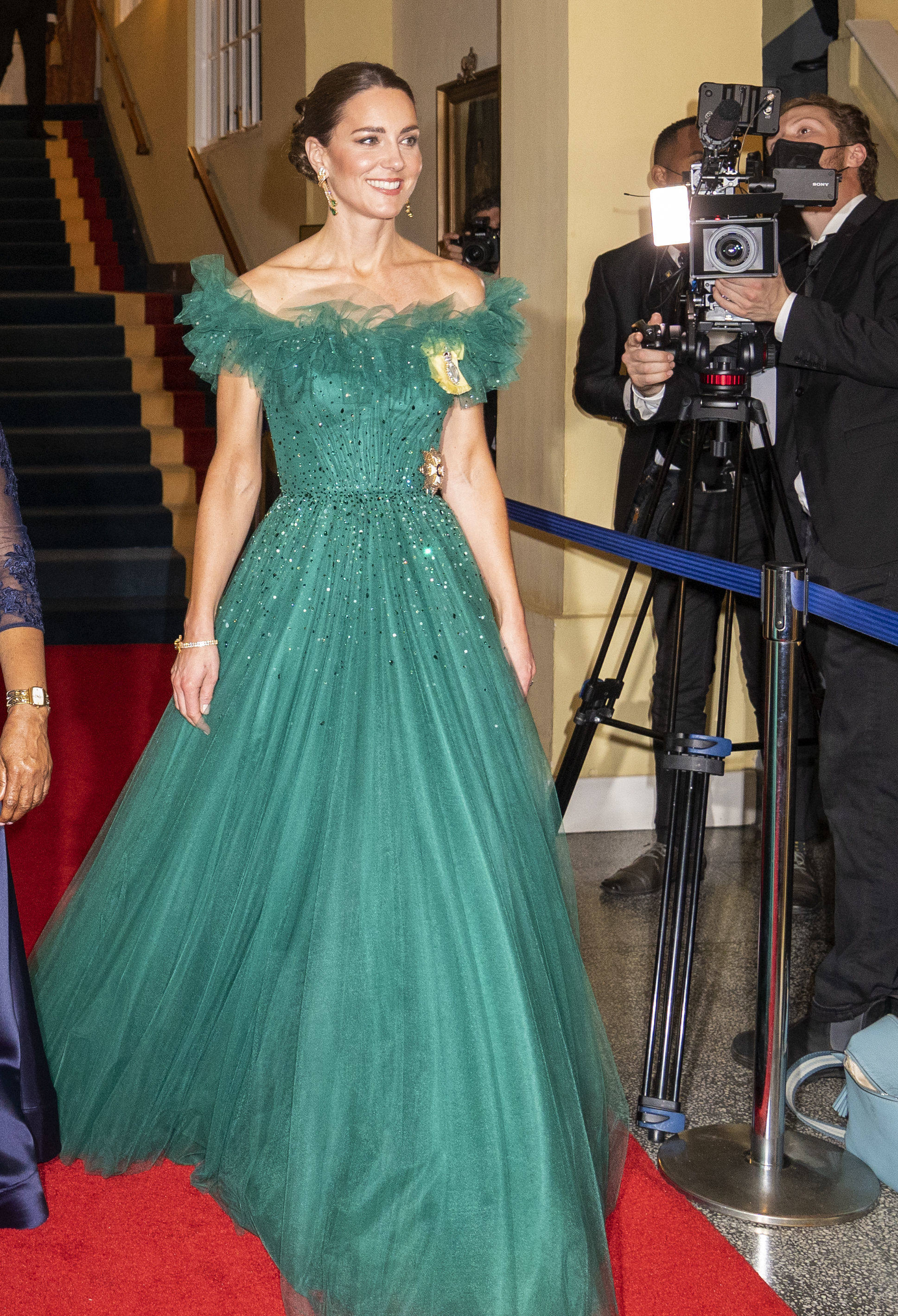 Middleton attended a 2o22 event in Jamaica wearing an emerald off-the-shoulder gown with tulle detailing that paid homage to the colours of the Jamaican flag. In addition to wearing an official insignia and family badge pinned to her gown, she wore heirloom jewels loaned to her by Queen Elizabeth, People reported.
39. That timeless white lace shift and fascinator
Middleton wore a white lacy Alexander McQueen dress and matching fascinator to attend an inaugural military parade on her last day in Jamaica. She paired the look with simple white heels and a pearl bracelet.
40. Satin and pearls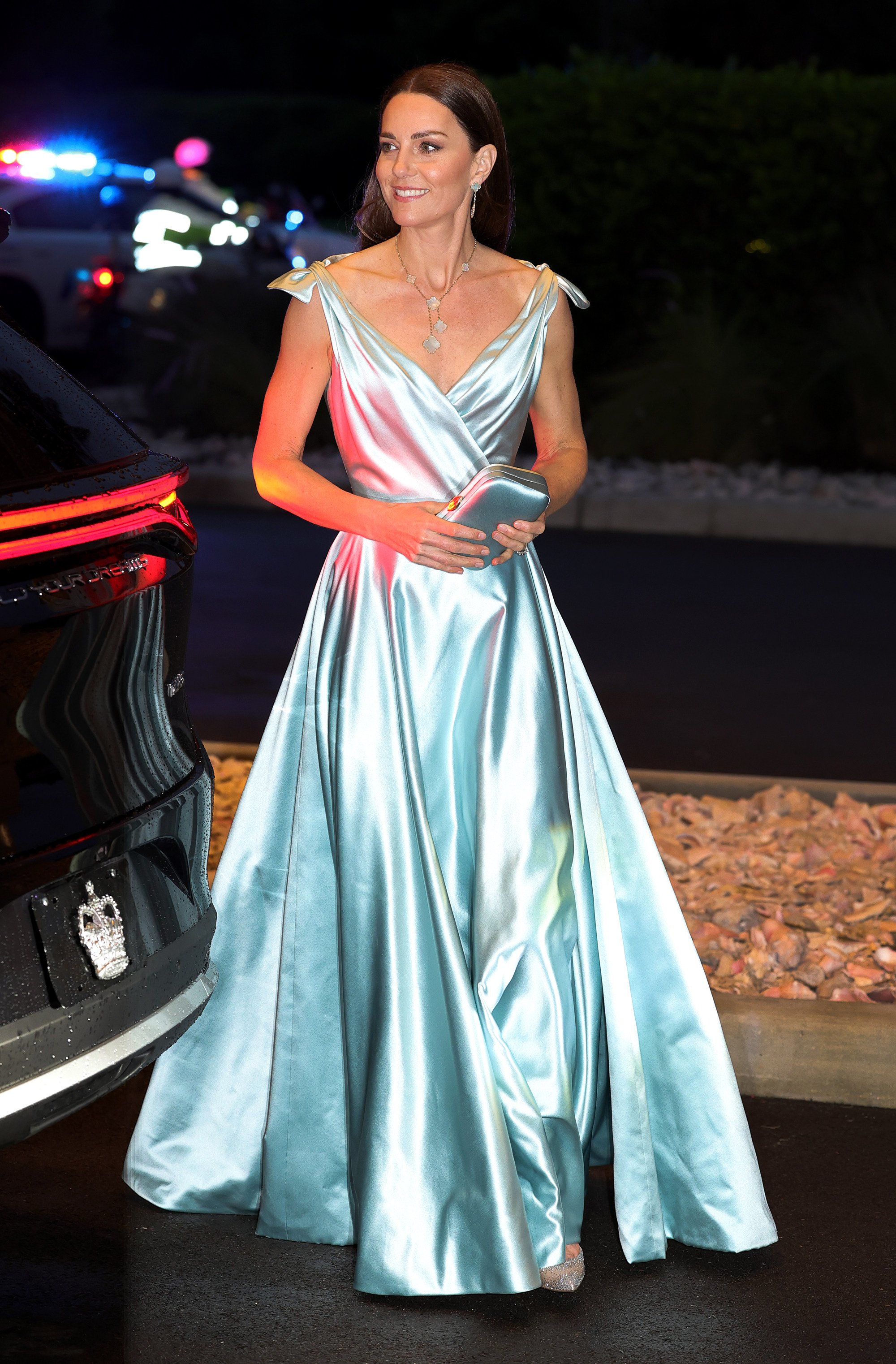 Middleton seemed to channel Cinderella again when she was spotted at a reception in the Bahamas wearing a pastel-blue satin ball gown. The princess paired the eye-catching gown with a Van Cleef & Arpels mother-of-pearl earring-and-necklace set that she previously wore in 2020.
41. Championing British Canadian fashion in her favourite colour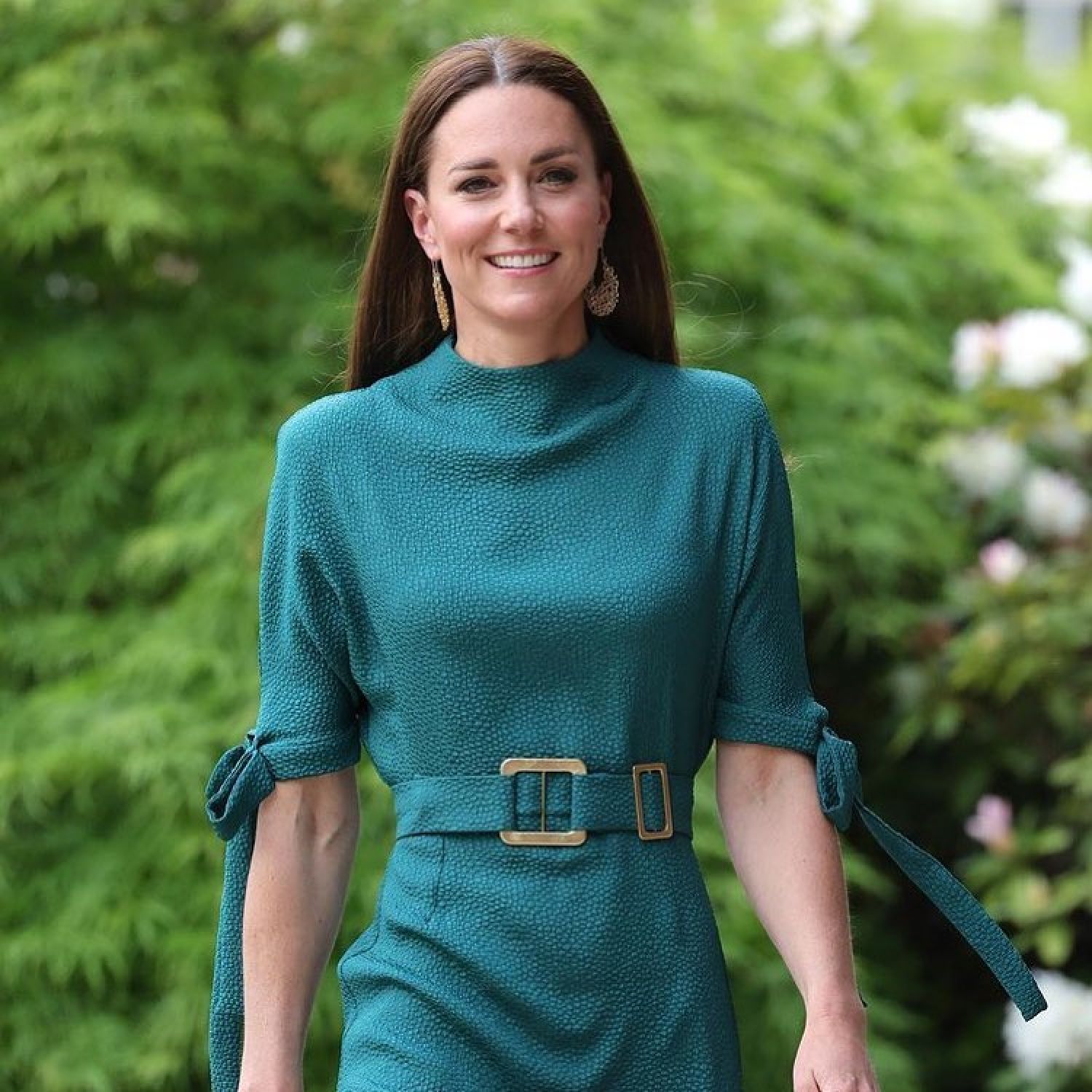 Middleton arrived at an event hosted by the British Fashion Council wearing a green belted dress with bow-accented sleeves. To present The Queen Elizabeth II Award for British Design, the royal wore an elegant green dress made by British-Canadian fashion designer Edeline Lee. She matched the dress' gold belt to her earrings and finished the look with her go-to shoe style, pointed suede pumps.
This article originally appeared on
Insider
.

As Kate Middleton turns 41, it's clear Prince William's wife knows what she likes when it comes to fashion, with Alexander McQueen, Erdem and Jenny Packham as her go-to brands
She's a master at accessorising too, adding Jimmy Choo heels, Prada clutches, Van Cleef & Arpels necklaces and jewellery handed down by Queen Elizabeth and Princess Diana to complete her looks