Remembering Lisa Marie Presley: 13 of her best fashion looks ever, from chic outfits with her ex Michael Jackson to a daring gown at the Versace-themed Met Gala and Valentino at the 2023 Golden Globes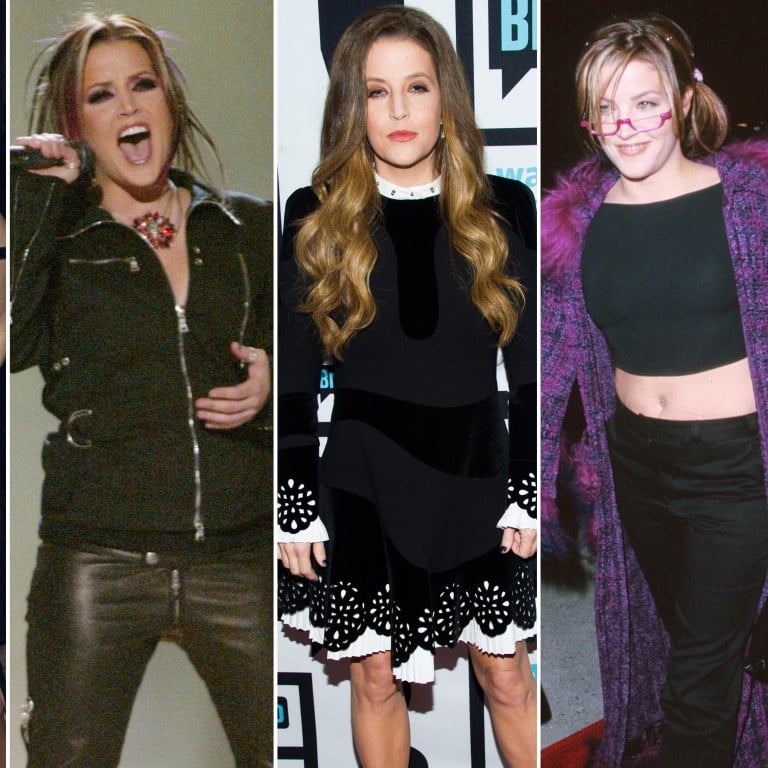 Lisa Marie Presley, the only daughter of Elvis and Priscilla Presley, died aged 54 on January 12. In life, the singer never shied away from wearing eclectic and eye-catching ensembles.
From gothic glamour to boho-chic, take a look at some of her most iconic looks over the years …
1. MTV Video Music Awards, 1991
Presley was around 23 when she attended the 1991 MTV Video Music Awards in Los Angeles, California. She was photographed in colourful jewels.
Her ensemble for the event echoed the colourful eye-catching looks worn by her father, rock 'n' roll legend Elvis Presley, before he died in 1977.
Reflecting on her father's legacy years later in a 2003 interview with Playboy, she said she "would never take back any part of who I am or where I came from", according to CNN.
2. With new hubby Michael Jackson, 1994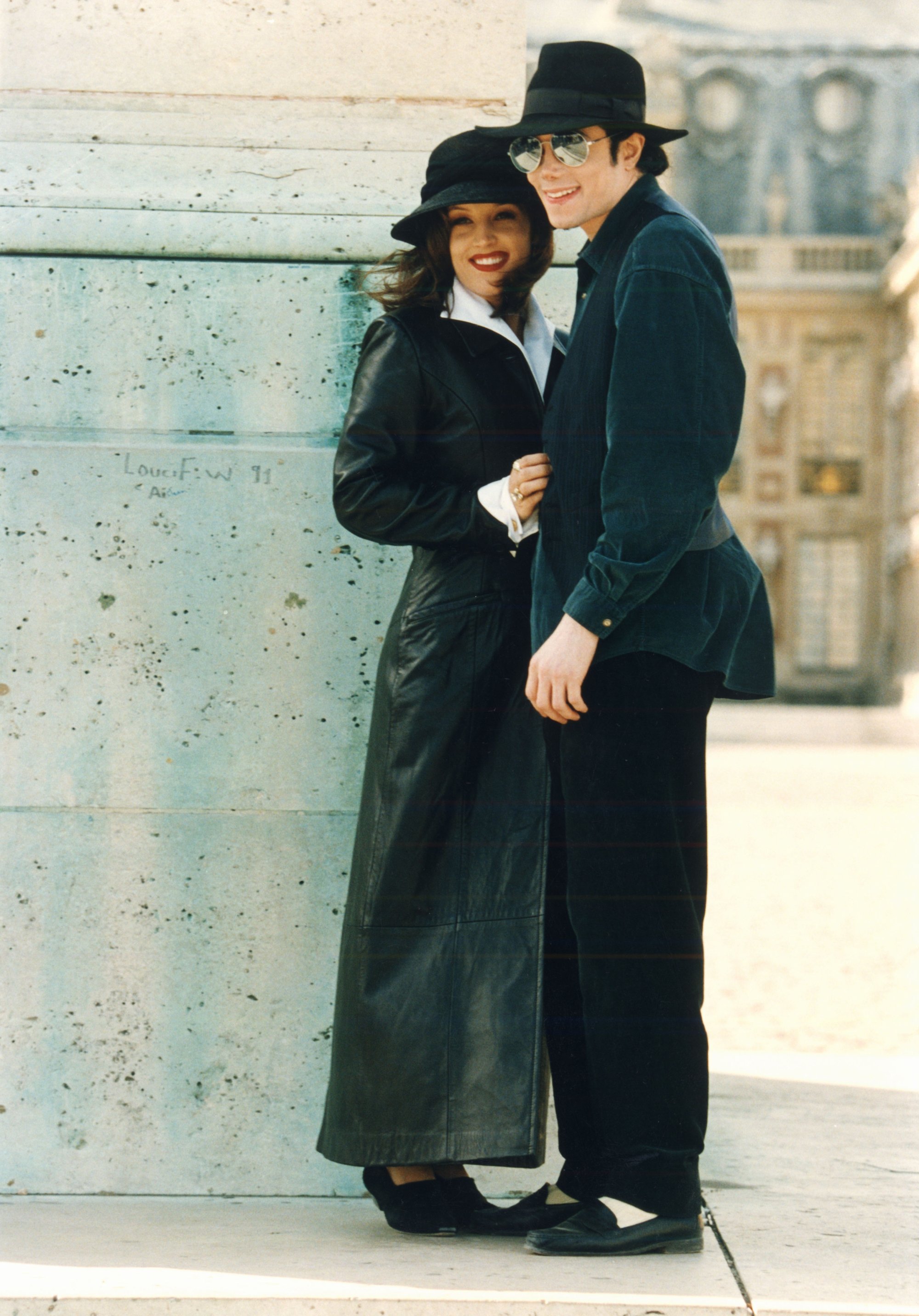 Before tying the knot with Jackson, she was married to her first husband, Danny Keough, from 1988 to 1994. During their six-year marriage, the couple welcomed two children – Riley and
Benjamin Keough
.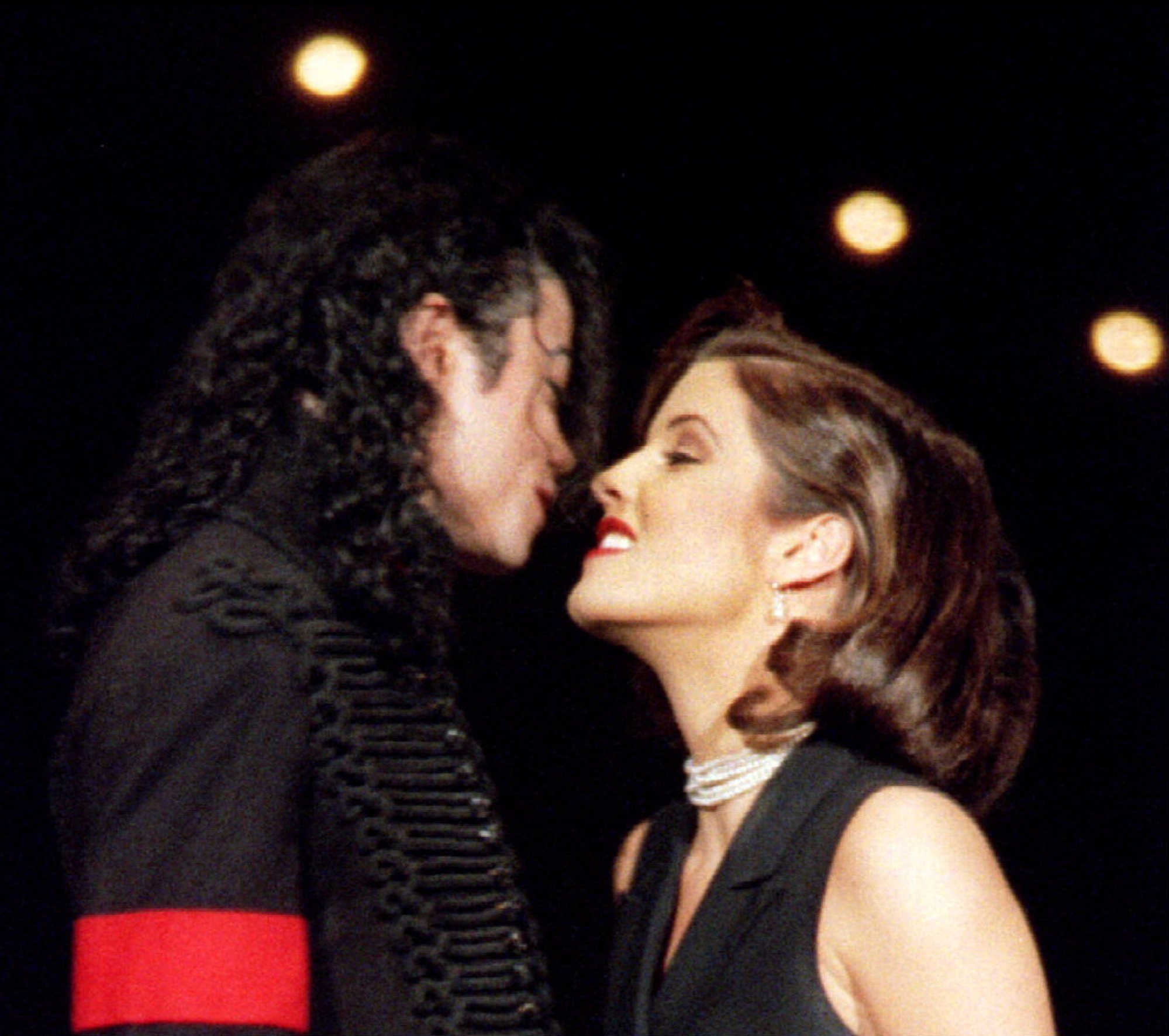 Presley and Jackson went on to tie the knot the same year of her divorce in a secret wedding in the Dominican Republic, according to People. The outlet reported that she confirmed the status of their relationship soon afterward, telling reporters that her married name was "Mrs. Lisa Marie Presley-Jackson."
"I am very much in love with Michael, I dedicate my life to being his wife," she added. "I understand and support him. We both look forward to raising a family."
3. Children's World Summit at Neverland Ranch, 1995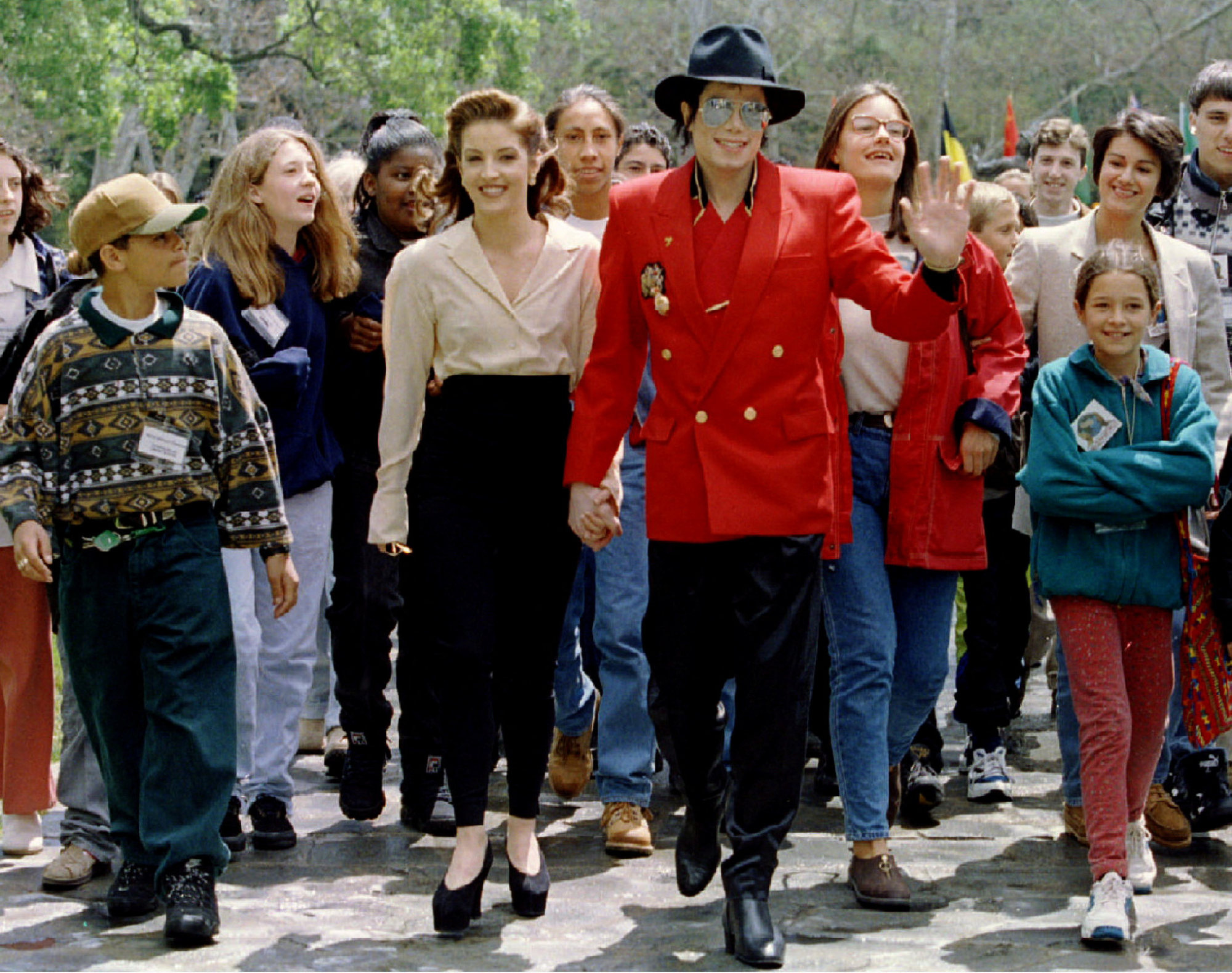 Presley perfected the business-casual look with her ensemble at the Children's World Summit at Neverland Ranch.
A year into their marriage, Jackson and Presley hosted a Children's World Summit at Neverland Ranch. She wore a pair of high-waisted pants with a loose white button-up. She paired her black pants and white shirt with towering black heels and wore her hair in a soft 1950s style.
The couple eventually split in 1996 but would continue their relationship on and off for the subsequent four years, according to Entertainment Weekly.
4. Gianni Versace-themed Met Gala, 1997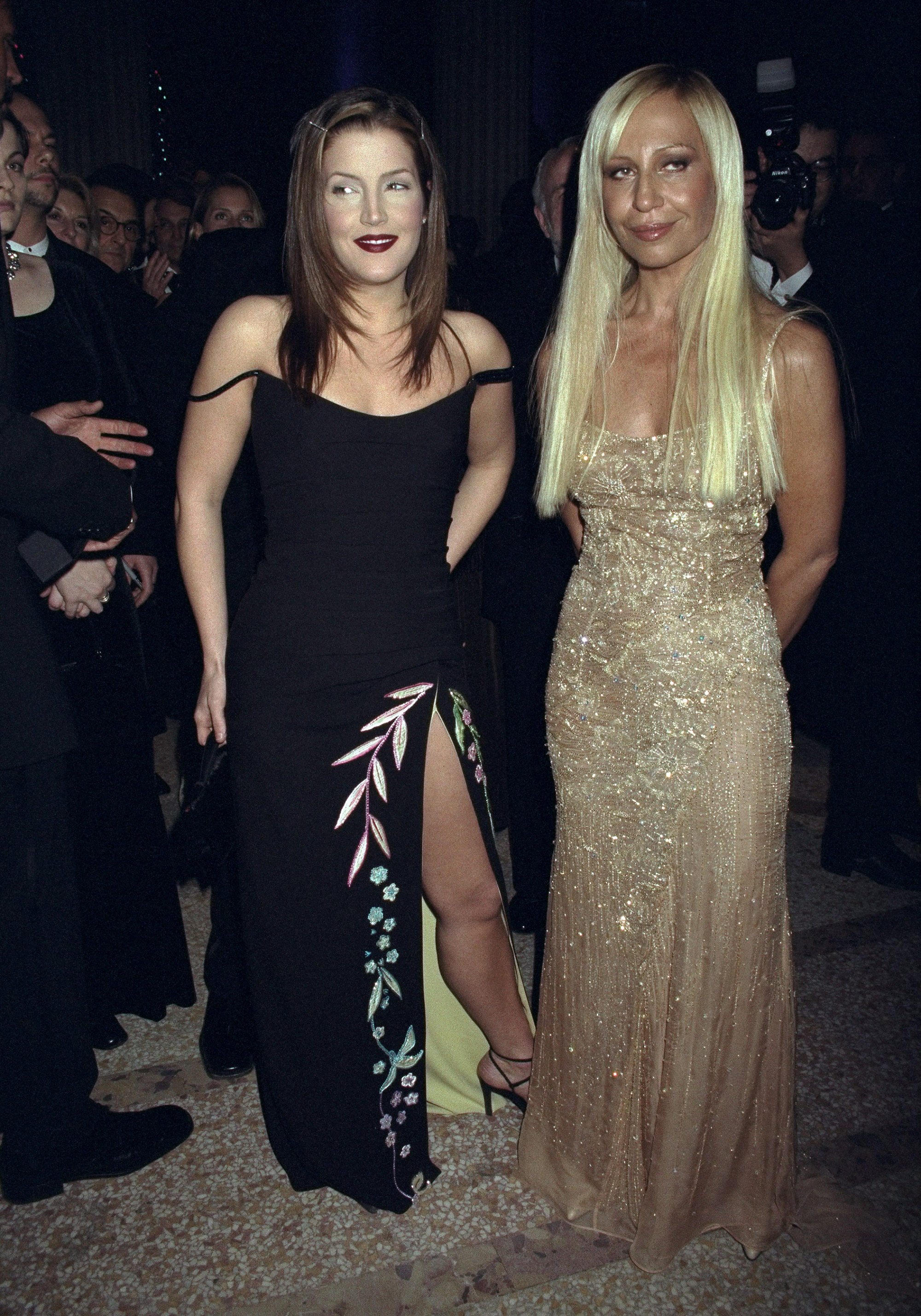 Presley attended the 1997 Gianni Versace-themed Met Gala wearing a glamorous off-the-shoulder gown with a thigh-high slit. Five months after Gianni Versace's death, his sister Donatella Versace and Presley were photographed at the Metropolitan Museum of Art Gala introducing an exhibition honouring the late designer.
While Presley may have gone on to be more well-known for her love of gothic and grungy fashion, she opted for a glamorous off-the-shoulder black gown with floral detailing here. The dress also featured a daring thigh-high slit, revealing lime-coloured panelling inside.
5. Clubland premiere, 1997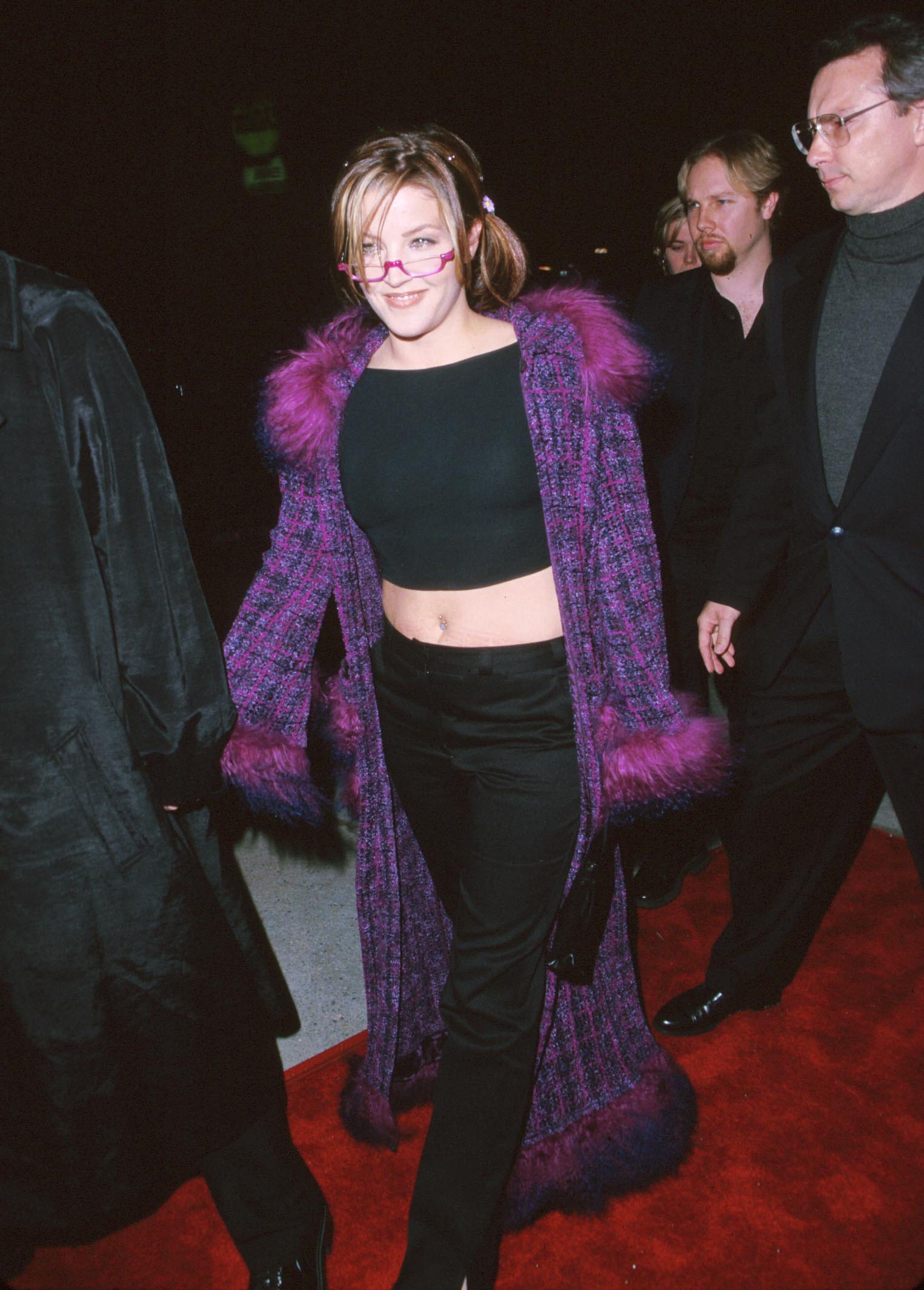 That same year, Presley attended the premiere of Clubland wearing a black crop top, low-waisted suit pants, and a funky floor-length purple cardigan. The singer's cardigan also featured purple-feathered sleeves. She paired it with chunky platform heels, a black leather bag and magenta half-rimmed glasses.
6. Jason Lee Host Private Art Exhibition, 2001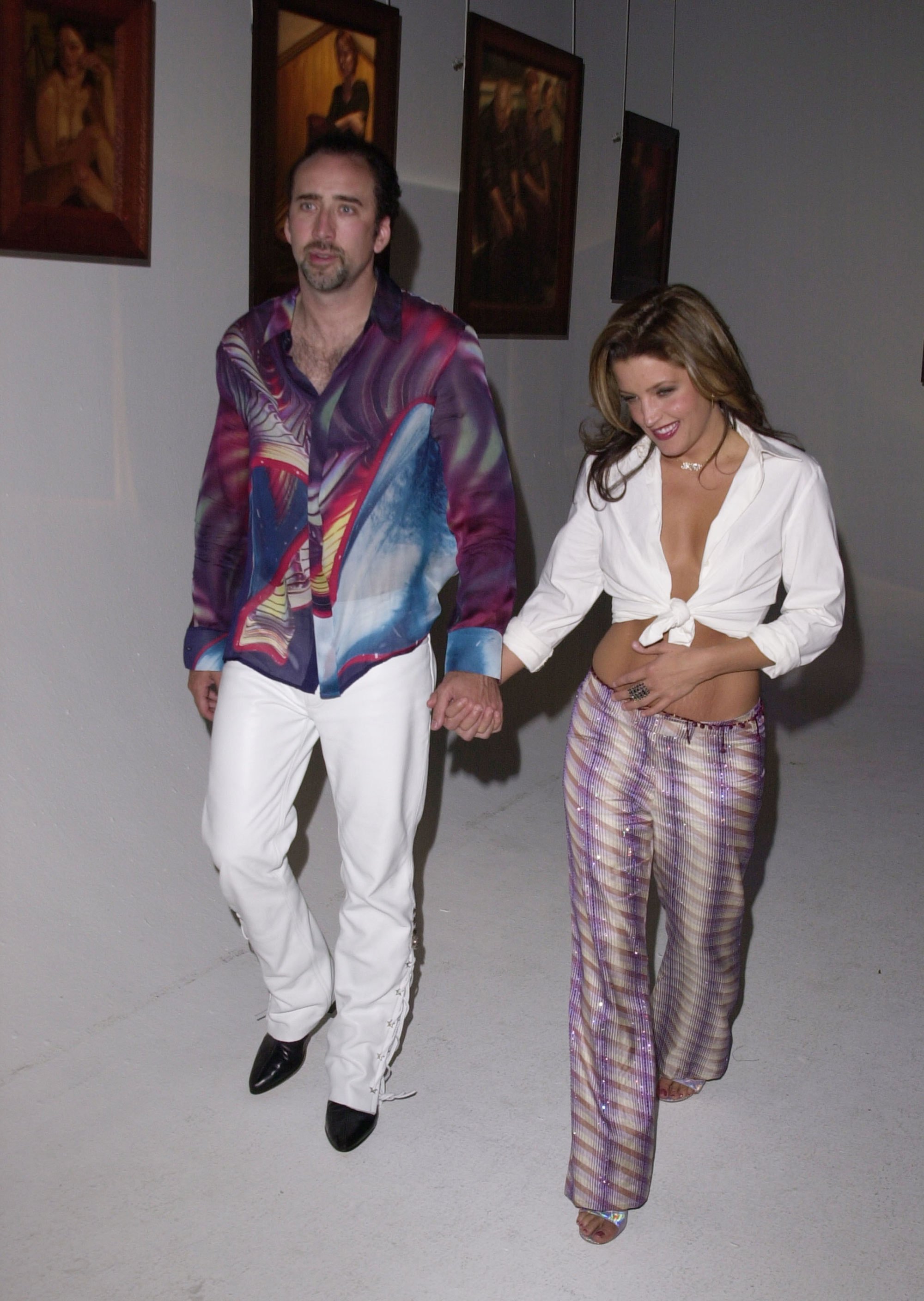 Presley, who was in a
relationship with Nicolas Cage
at the time, channelled a boho-chic look while attending an art exhibit in LA in 2001. Her outfit consisted of tie-dye low-waisted flares, silver heels and a knotted white long-sleeved shirt with a daring neckline.
At the event, she was photographed holding hands with Cage, who she was married to from 2002 until 2004. Speaking to Barbara Walters about the early days of their relationship, Cage said he had no idea who Presley was when he first met her at a party, according to InStyle. "We got to talking, we got to know each other, and she's hilarious and she's a real firecracker and she tells it like it is," Cage said.
However, their relationship was not to last. According to the publication, the pair filed for divorce 107 days after tying the knot in a destination wedding.
7. Captain Corelli's Mandolin screening, 2001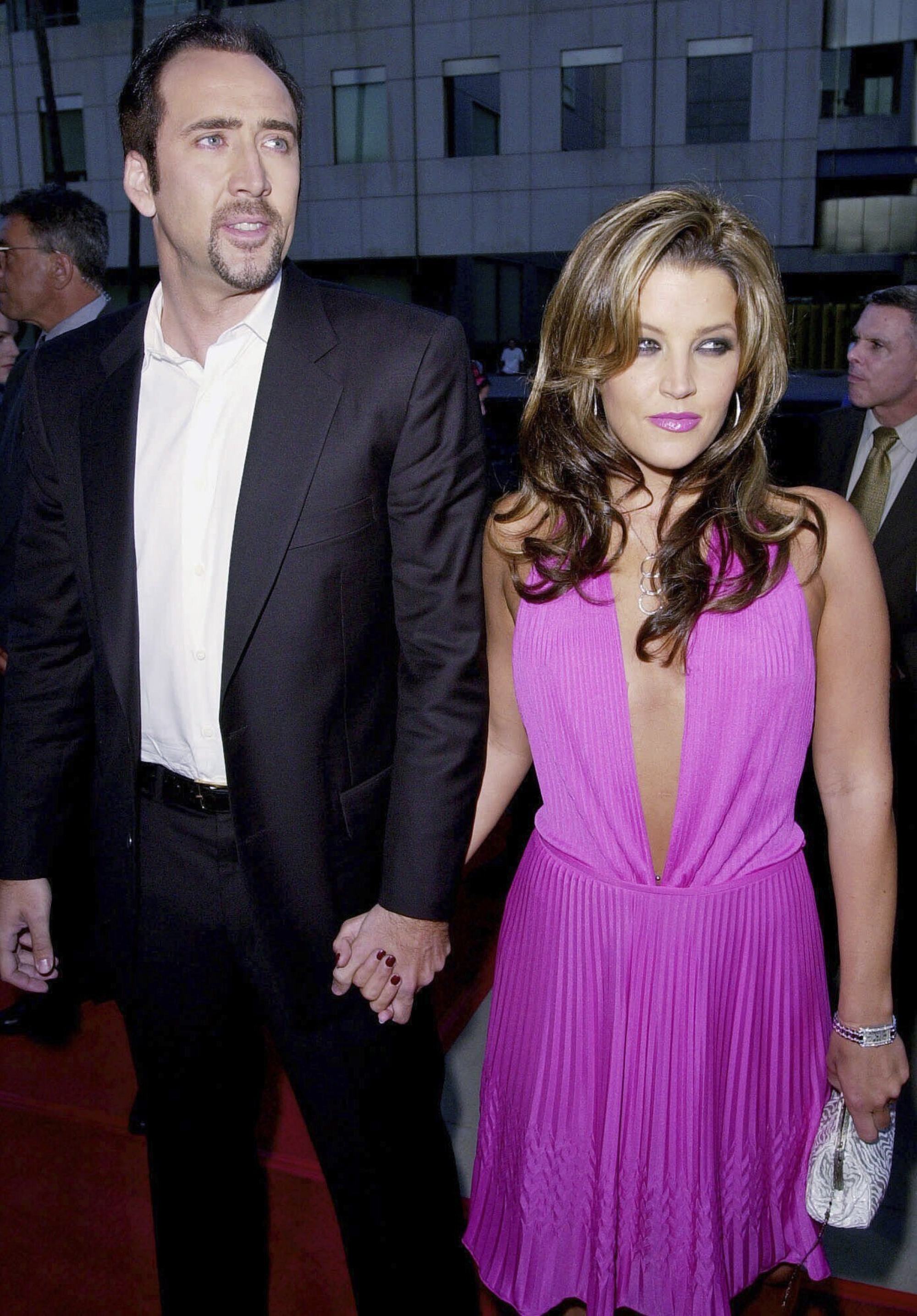 Before entering her glamorous grunge era, Presley wore a bubblegum-pink dress with a plunging neckline at the 2001 premiere of Captain Corelli's Mandolin. She paired the flowy gown with silver strappy heels and a matching clutch.
8. MTV Video Music Awards, 2002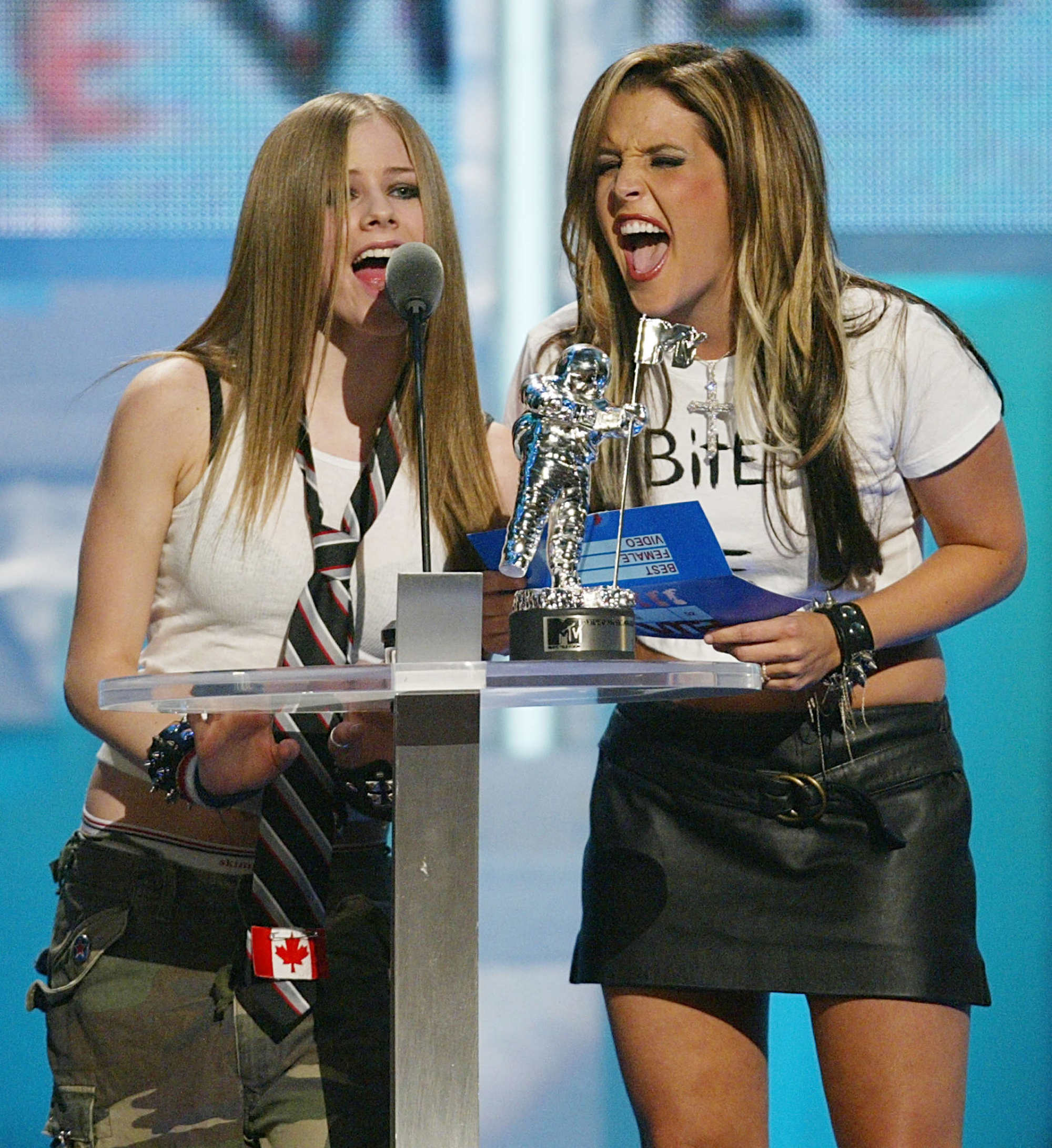 Presley's look was the epitome of punk rock at the 2002 MTV Video Music Awards. She wore a micro leather skirt and a cropped "bite me" printed T-shirt. During the event, she was pictured posing with
fellow punk stars such as Pink
and Avril Lavigne.
9. VH1 Divas Duets, 2003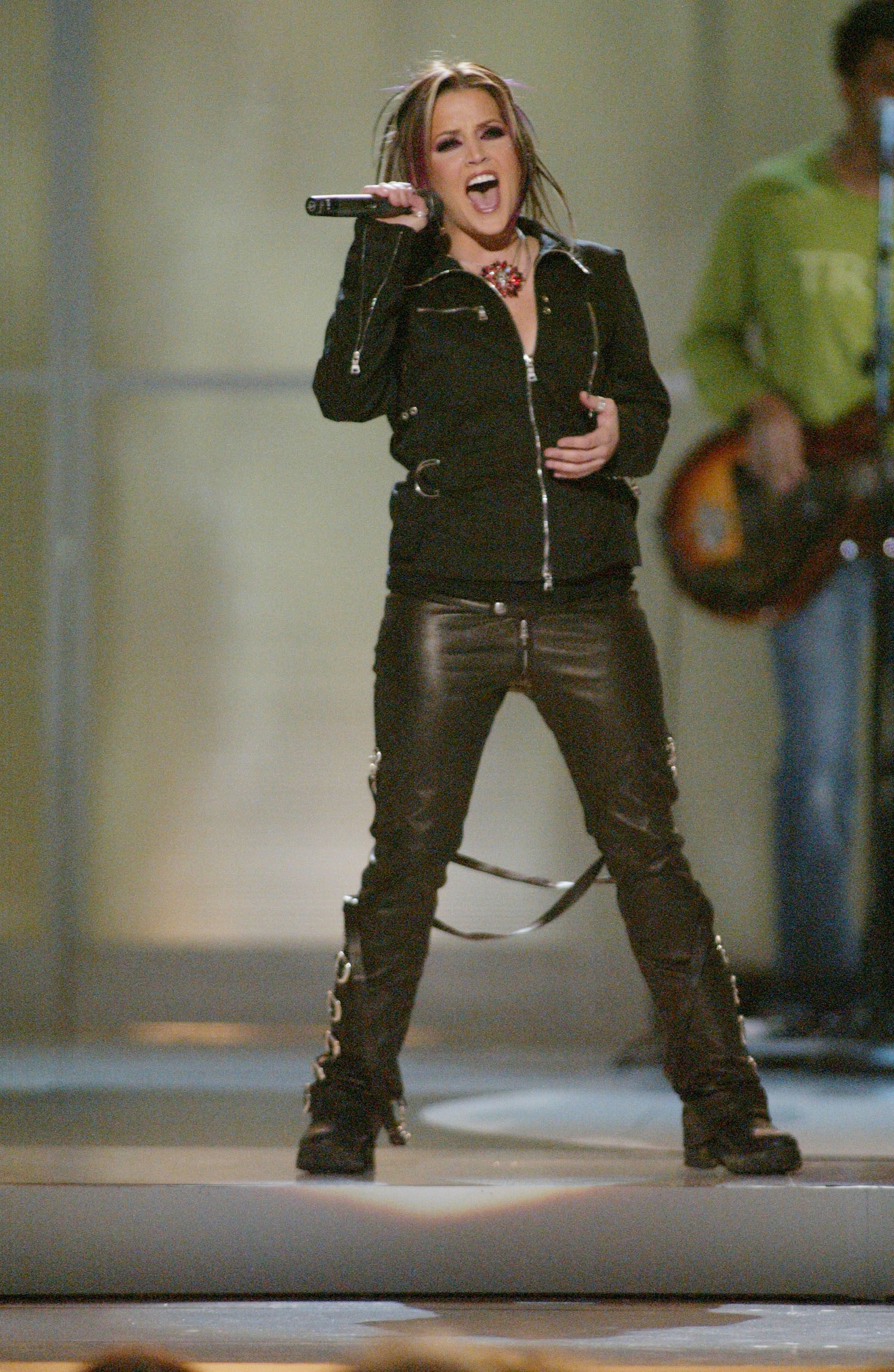 Presley continued her punk-rock style phase into 2003 when she performed at a benefit concert in Las Vegas wearing buckled leather pants and a black zipped jacket.
She followed in her father's singing and performance footsteps and debuted her first studio album To Whom it May Concern. According to a review of the album in The Guardian, several songs on the record were about losing her father.
10. Watch What Happens Live, 2013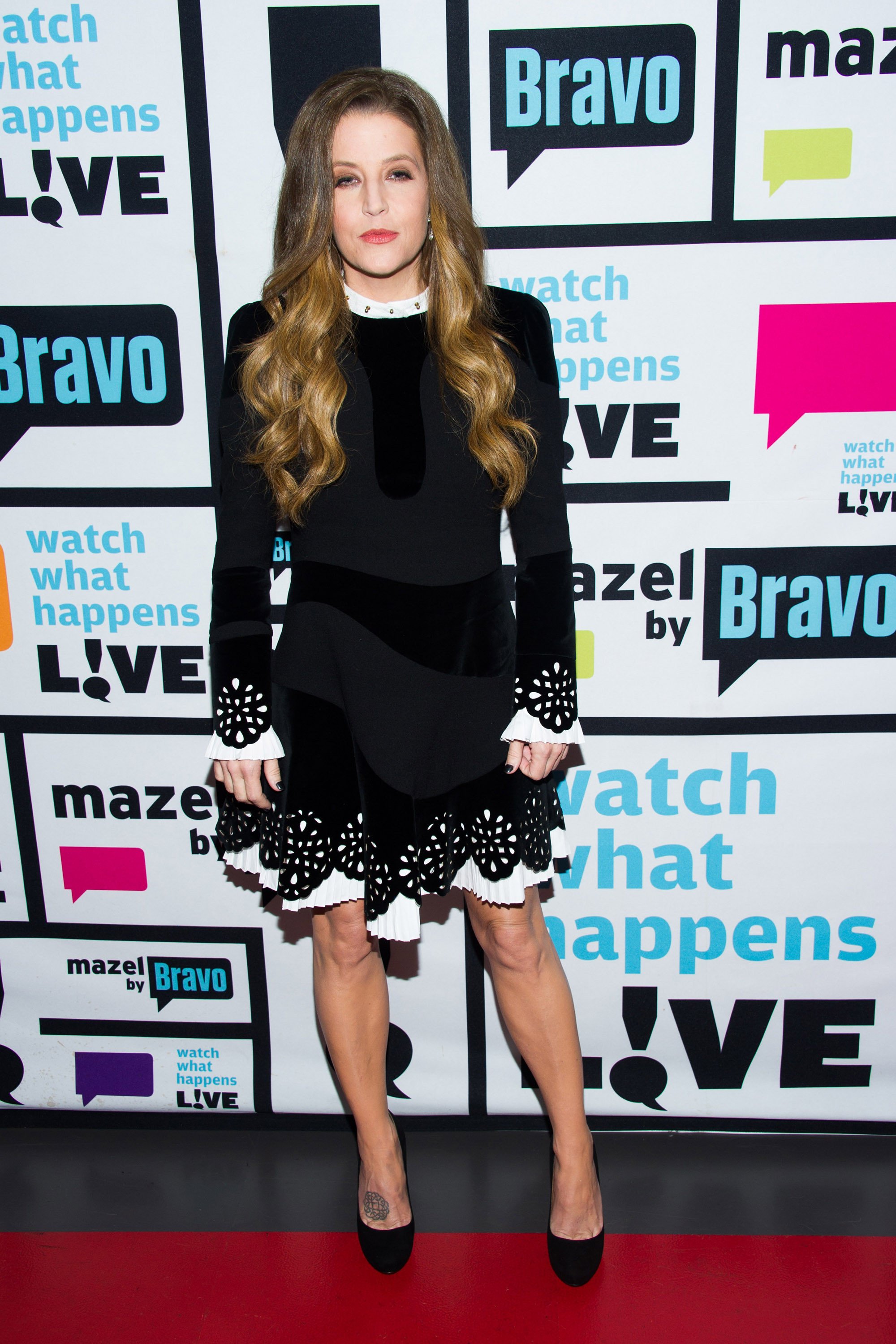 During a 2013 appearance on Watch What Happens Live, Presley arrived wearing a long-sleeved black dress with intricate detailing. The look showed how her love of wearing black evolved from grungy ensembles to chic formal gowns.
11. Premiere of Mad Max: Fury Road, 2015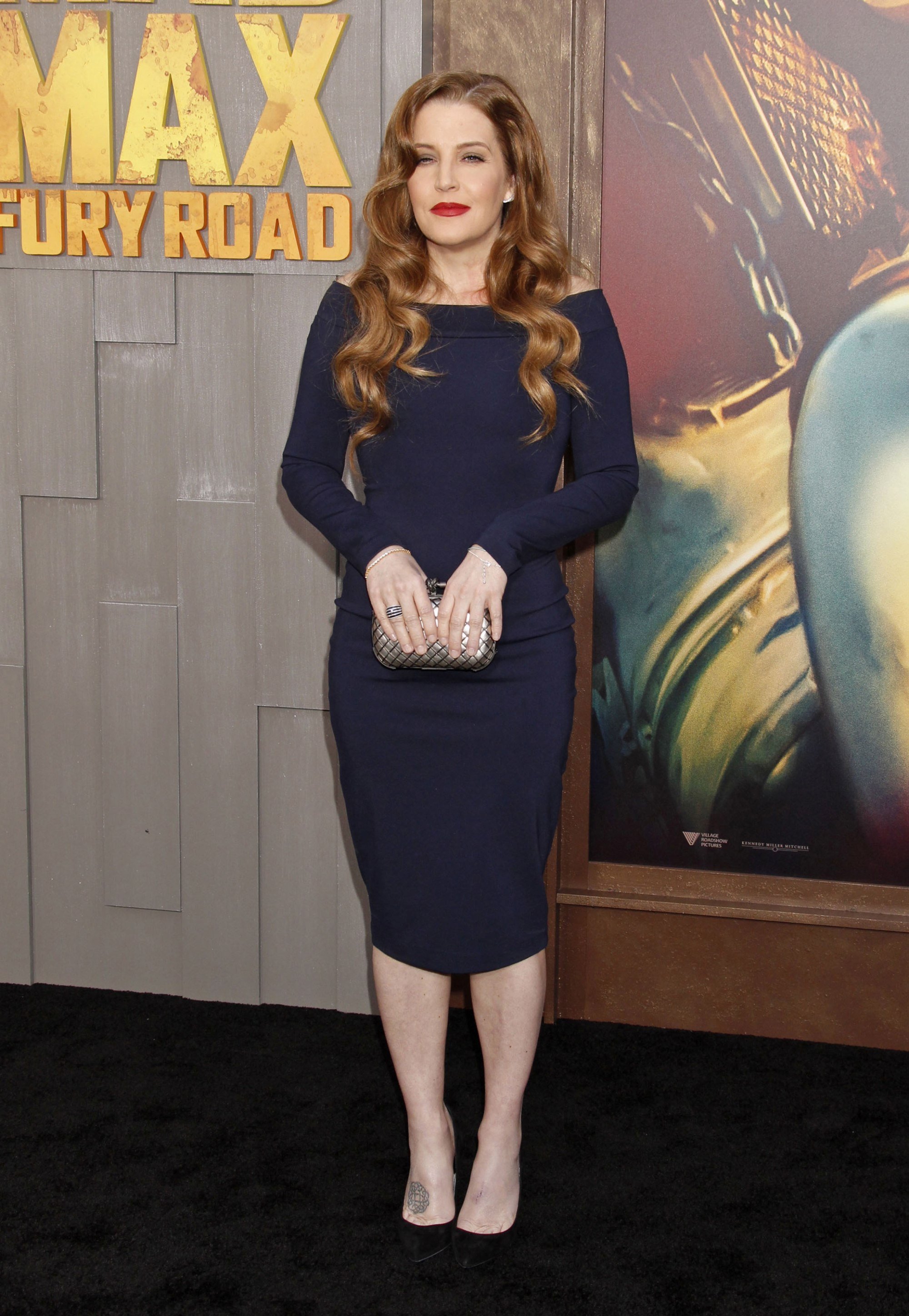 The singer turned out in support of daughter Riley at the premiere of Mad Max: Fury Road. She wore a navy off-the-shoulder pencil dress and paired it with sleek black heels and a silver clutch.
12. Elle's 24th annual Women in Hollywood celebration, 2017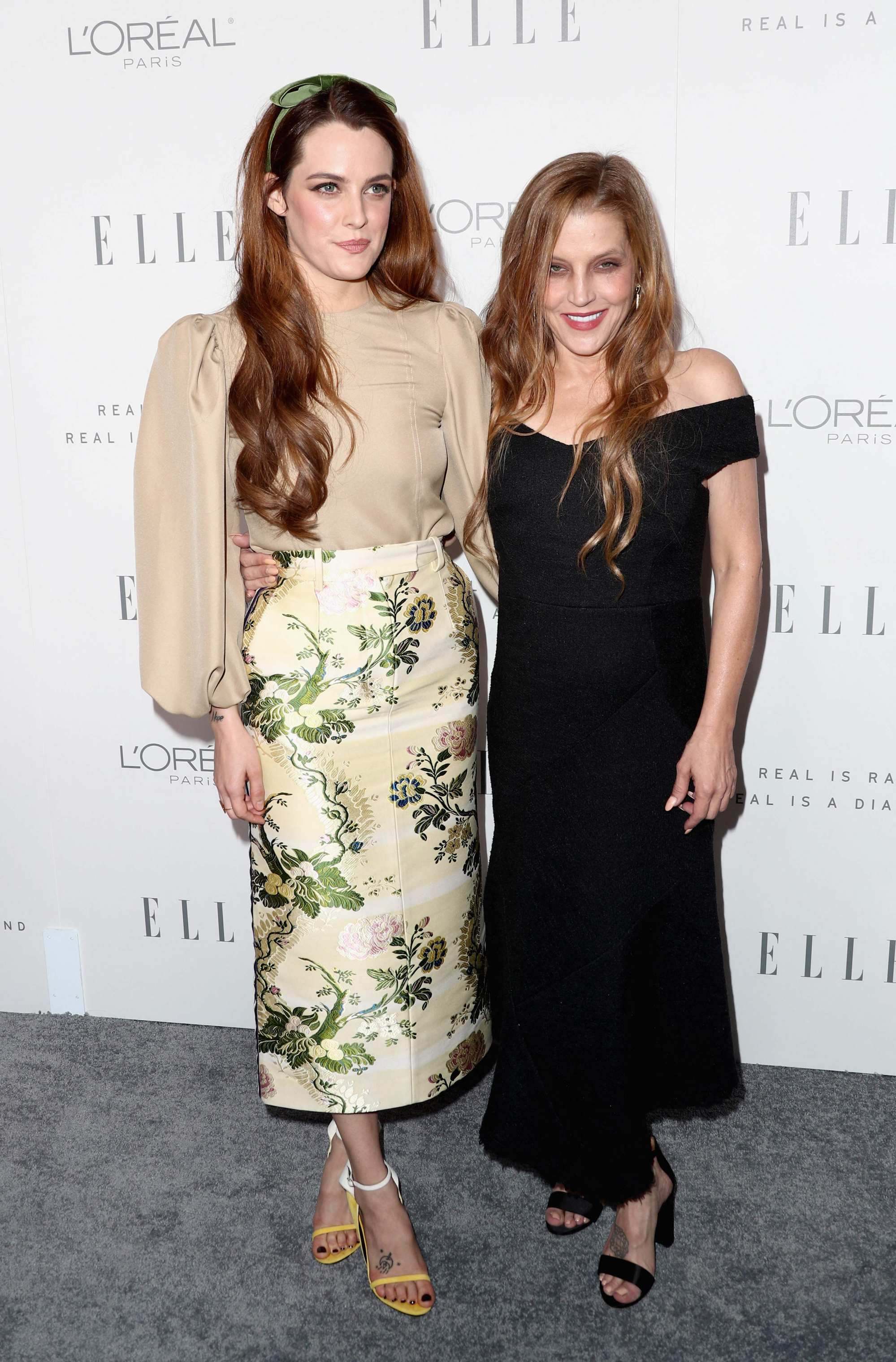 She also wore a similar style of gown to Elle's 24th annual Women in Hollywood celebration in 2017, where she was photographed with daughter Riley.
Riley and Presley appeared to share a close mother-daughter relationship. In 2020, Riley, who is set to star as the titular character in the upcoming Amazon Prime show Daisy Jones & the Six, told People her mother served as a lot of her inspiration for the role.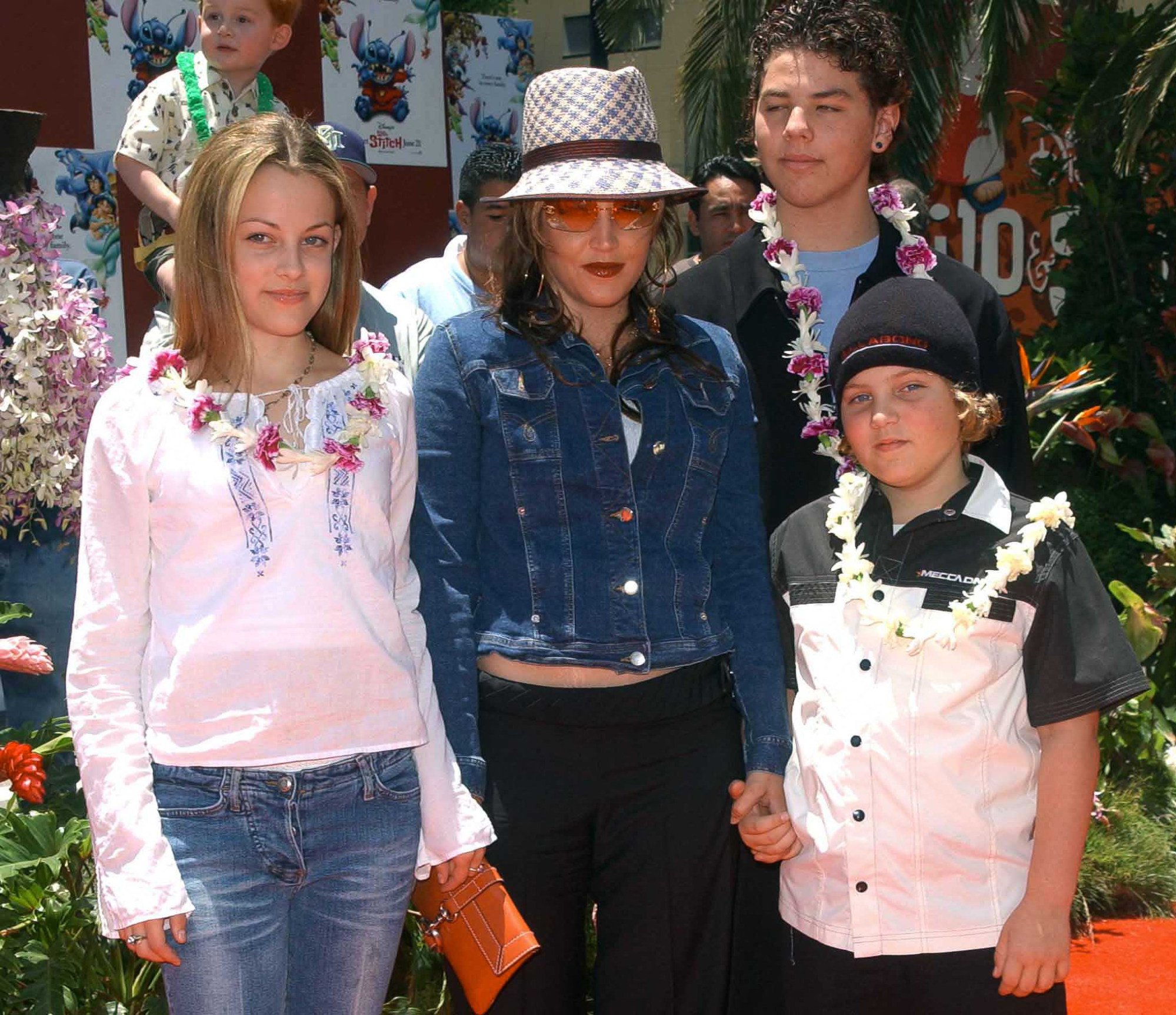 "I was raised by somebody who did their own thing and didn't really care what other people thought. She was definitely inspirational to me," Riley told the outlet in December 2022, and added, "I think just women who were liberated were inspiring to me."
13. Final public appearance at the Golden Globe Awards, 2023
Presley wore a sophisticated black-caped Valentino dress to her final public appearance at the 2023 Golden Globe Awards.
She was among the audience watching as
Austin Butler, who played her father
in Baz Luhrmann's
Elvis
, won best actor in a motion picture drama at the 2023 Golden Globe Awards for his performance in the film.
During his acceptance speech, Butler thanked Lisa Marie and her mother Priscilla for opening their hearts and their memories to him for the film.
"Lisa Marie, Priscilla, I love you forever," Butler said.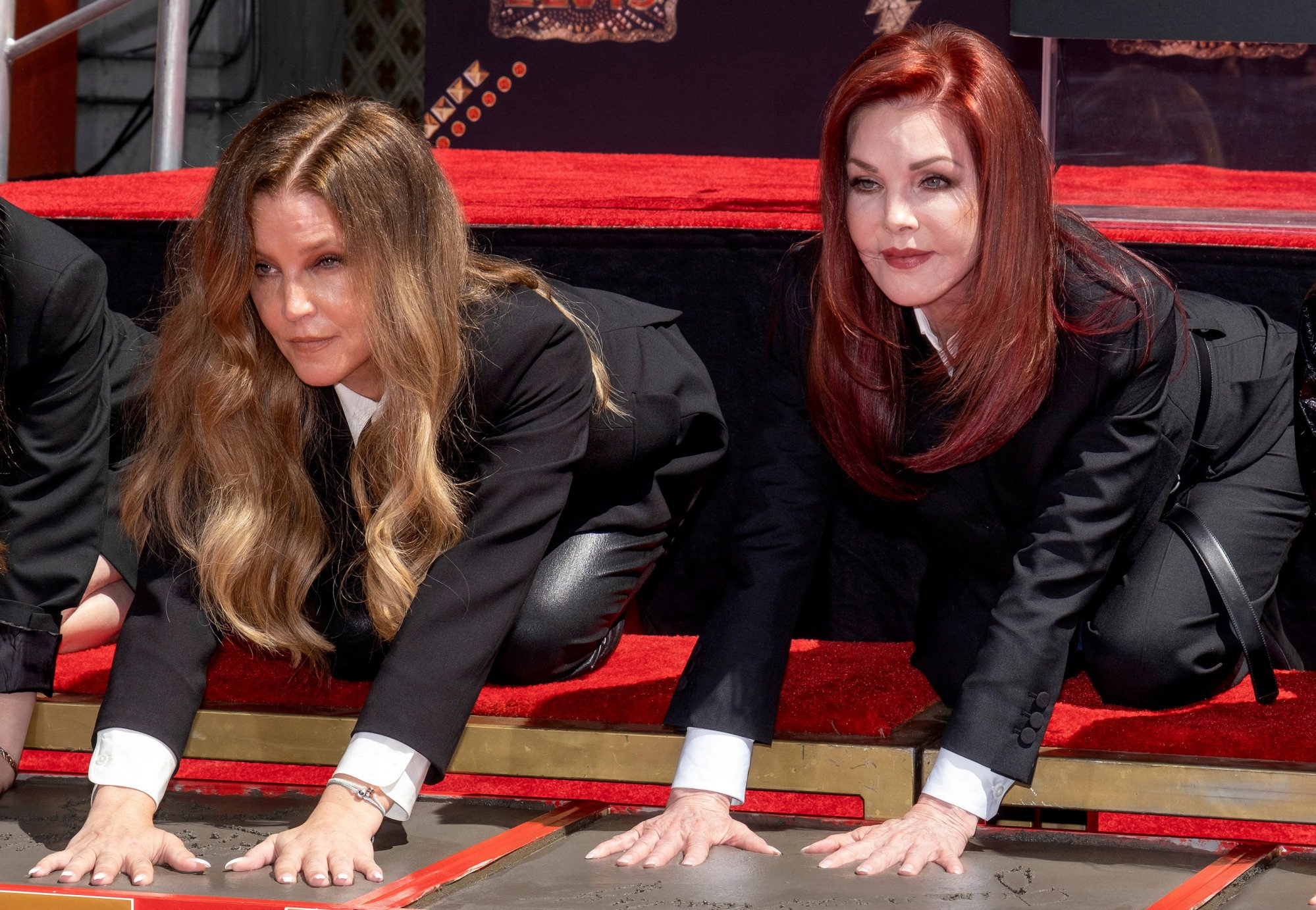 The event would mark Presley's last public appearance. On Thursday, her mother confirmed in a statement that she had died, according to the Associated Press. Earlier in the day, Priscilla had written in an Instagram post that her daughter had been rushed to the hospital.
"It is with a heavy heart that I must share the devastating news that my beautiful daughter Lisa Marie has left us," Priscilla said in her statement announcing her daughter's death. "She was the most passionate, strong and loving woman I have ever known."
This article originally appeared on
Insider
.

Lisa Marie was Elvis Presley's only daughter and it's no wonder that her star quality shone through her eclectic personal style – from gothic glamour to boho-chic
The late singer once wore a 'bite me' T-shirt with Avril Lavigne at the MTV awards, sported matching black hats with Michael Jackson and donned a Valentino dress to her final public appearance