10 celebrities who revealed pregnancies in bold fashion looks, from Rihanna's all-red Loewe catsuit at the Super Bowl and Meghan Markle's Carolina Herrera dress, to Beyoncé's iconic lingerie shoot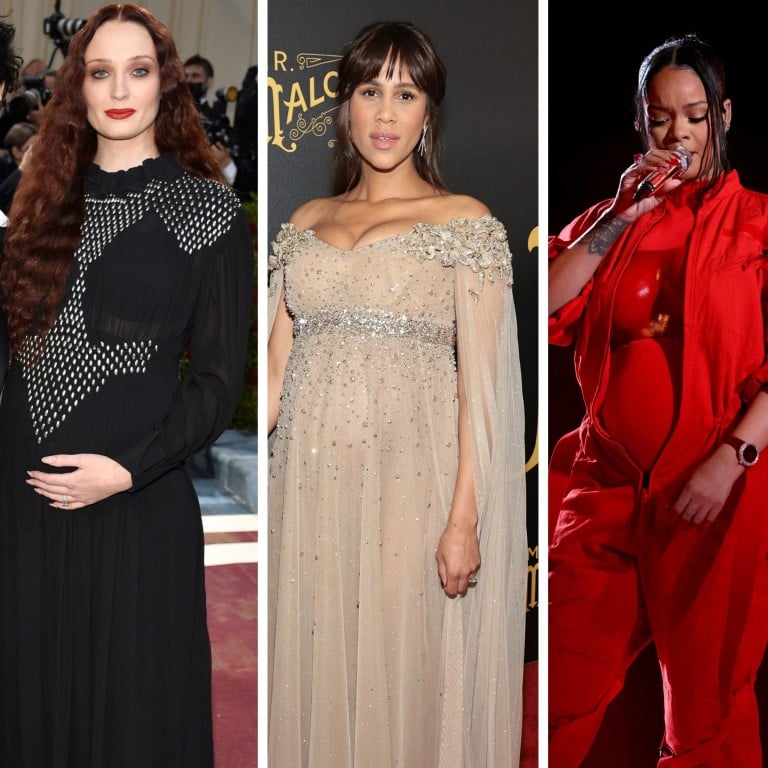 Celebrities are always making fashion statements – some even when they're expecting. In fact, instead of hiding their baby bumps, these stars opted to announce their happy news while donning stunning outfits.
Cardi B and Katy Perry wore sheer outfits when they shared they were expecting, while Rihanna rocked a monochromatic outfit when she revealed she was pregnant
at the Super Bowl.
Read on for 10 of our favourite A-listers who revealed their pregnancy news with bold fashion looks …
1. Beyoncé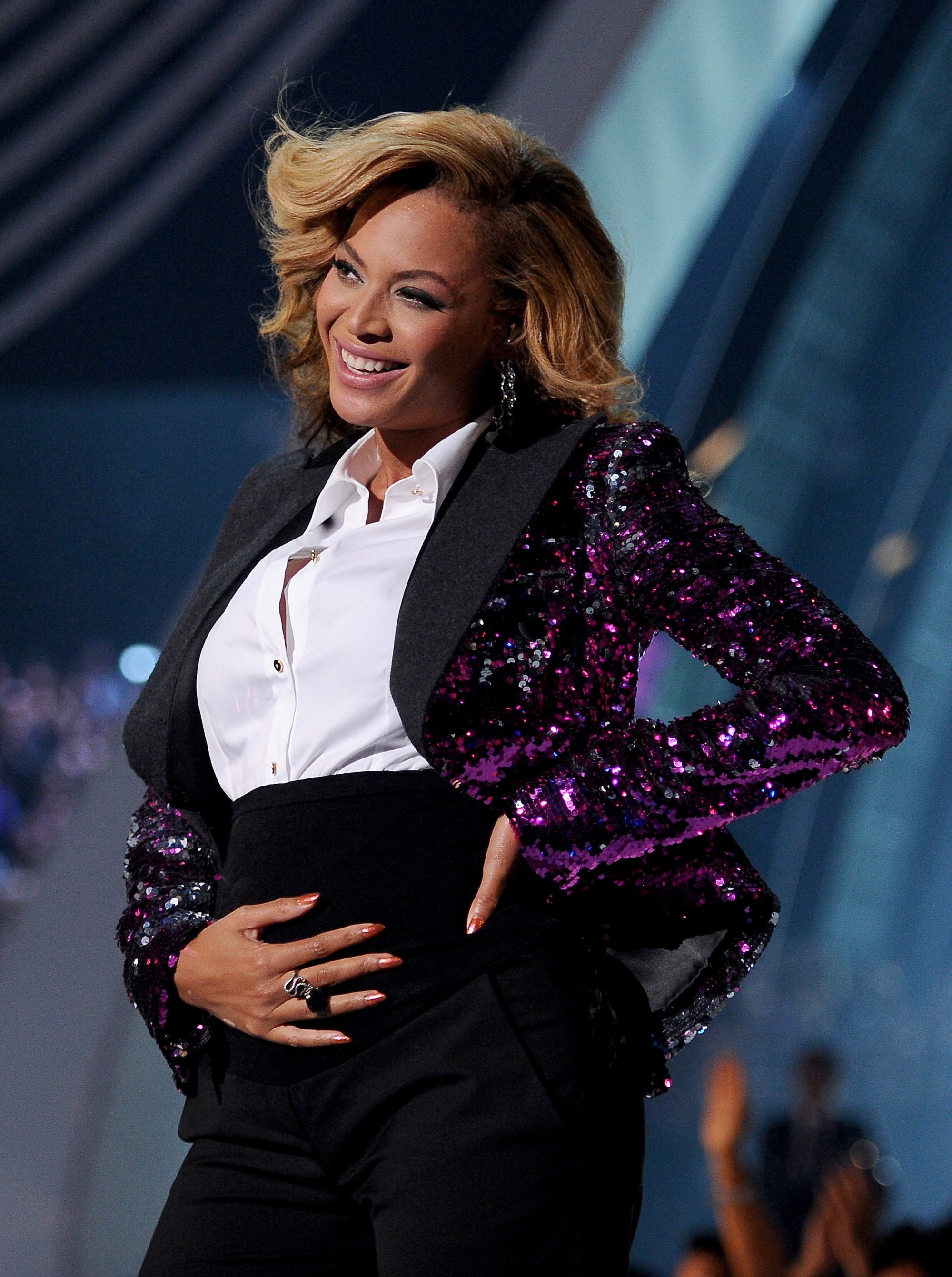 Beyoncé wore a sparkly jacket that concealed her baby bump until the end of her performance of "Love on Top" at the 2011 MTV VMAs.
She wore the sparkly, purple jacket from Dolce & Gabbana over a white blouse and black, high-waisted pants.
She didn't unbutton the jacket until the end of her performance, literally dropping her microphone to reveal she was pregnant.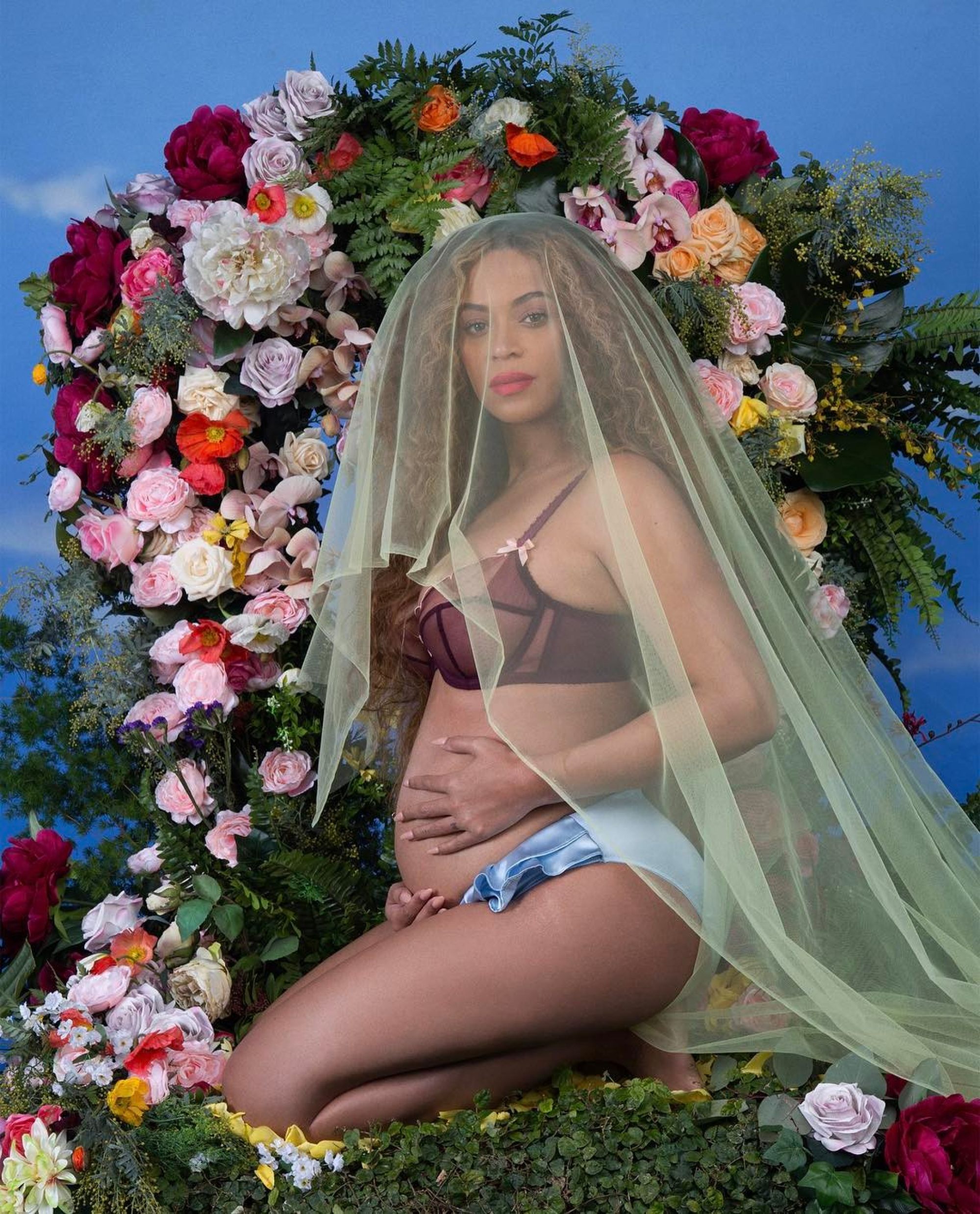 Beyoncé wore a daring lingerie set when she announced she was expecting twins in 2017. The singer shared that she was pregnant with twins on Instagram in February 2017.
She wore a brown, sheer bra and blue silk underwear for the photo shoot. A green veil completed the look, and she sat in front of an arrangement of flowers.
2. Cardi B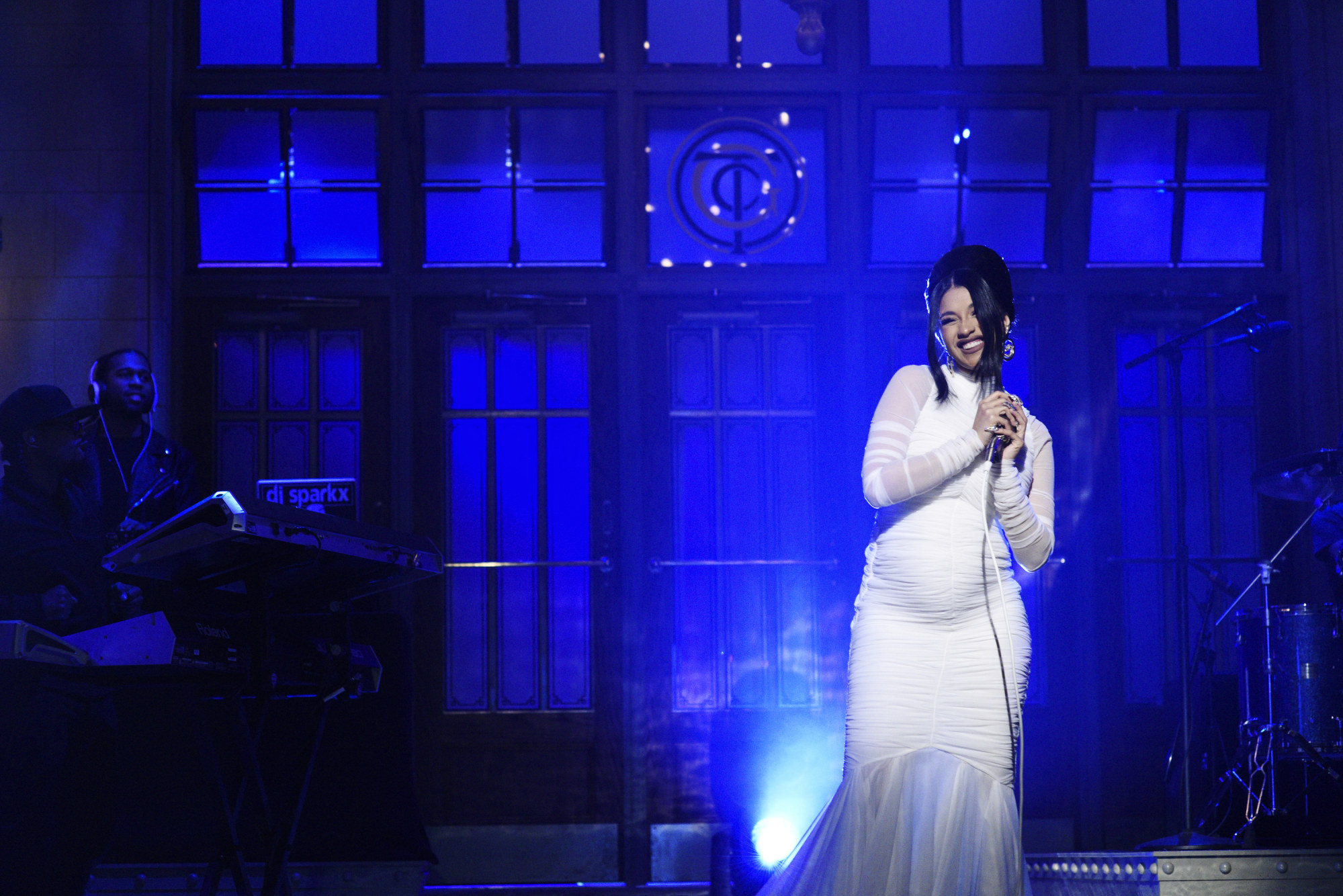 Cardi B chose a long-sleeve, semi-sheer white dress to share that she was expecting on Saturday Night Live in 2018. She performed as the show's musical guest.
The form-fitting, white dress was designed by Christian Siriano. The mermaid dress had a high neckline, a semi-sheer skirt and sleeves, and ruching across the gown.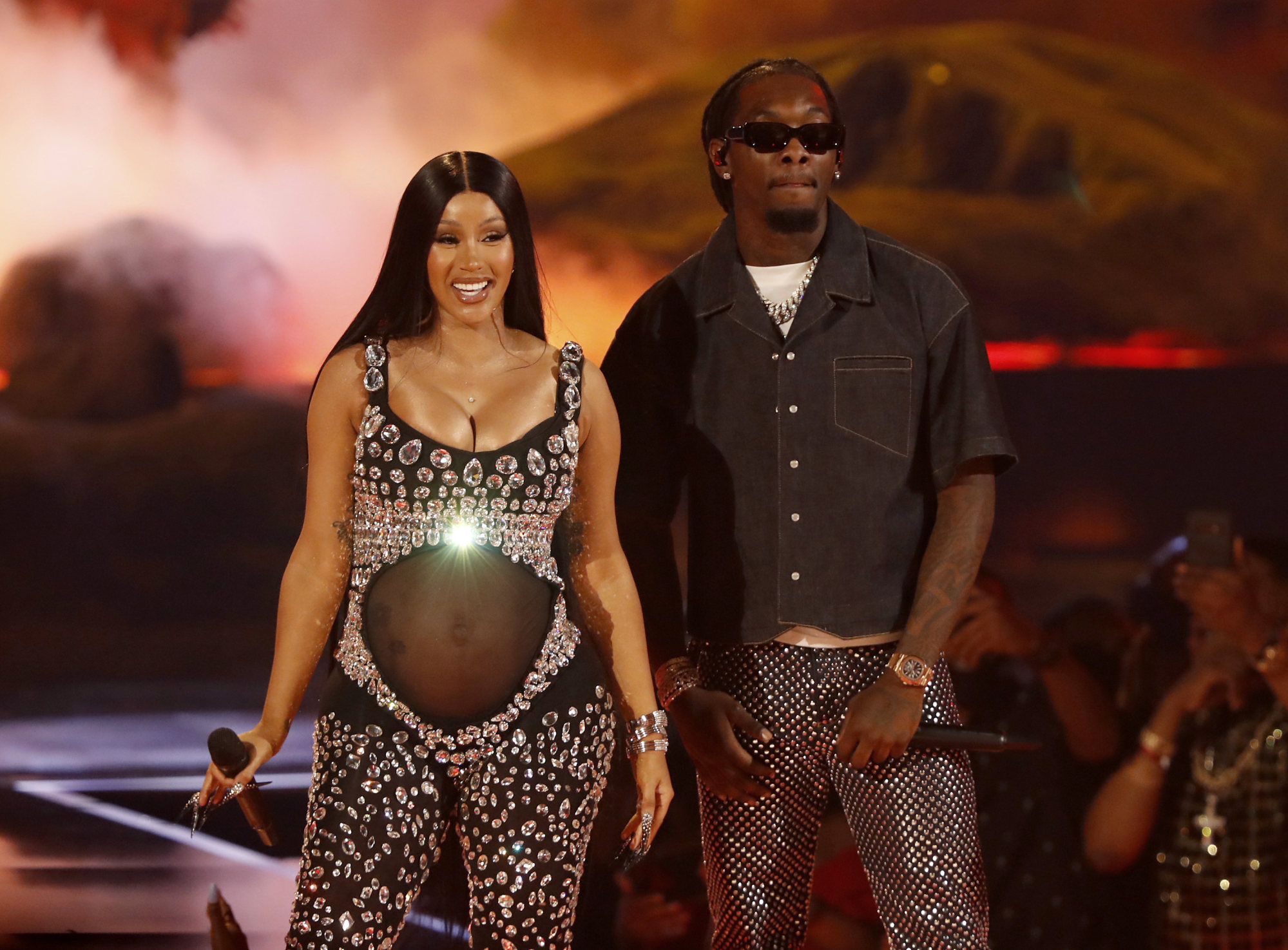 Cardi B wore another semi-sheer outfit to share that her second child was on the way while performing at the 2021 BET Awards, similar to how she shared the news she was pregnant with her first child.
She wore a Dolce & Gabbana bodysuit for the performance. The top of the bodice and pants of the bodysuit were covered in sparkly embellishments, while the centre of the bodice that covered the singer's stomach was emphasised by a panel of sheer black fabric.
3. Blake Lively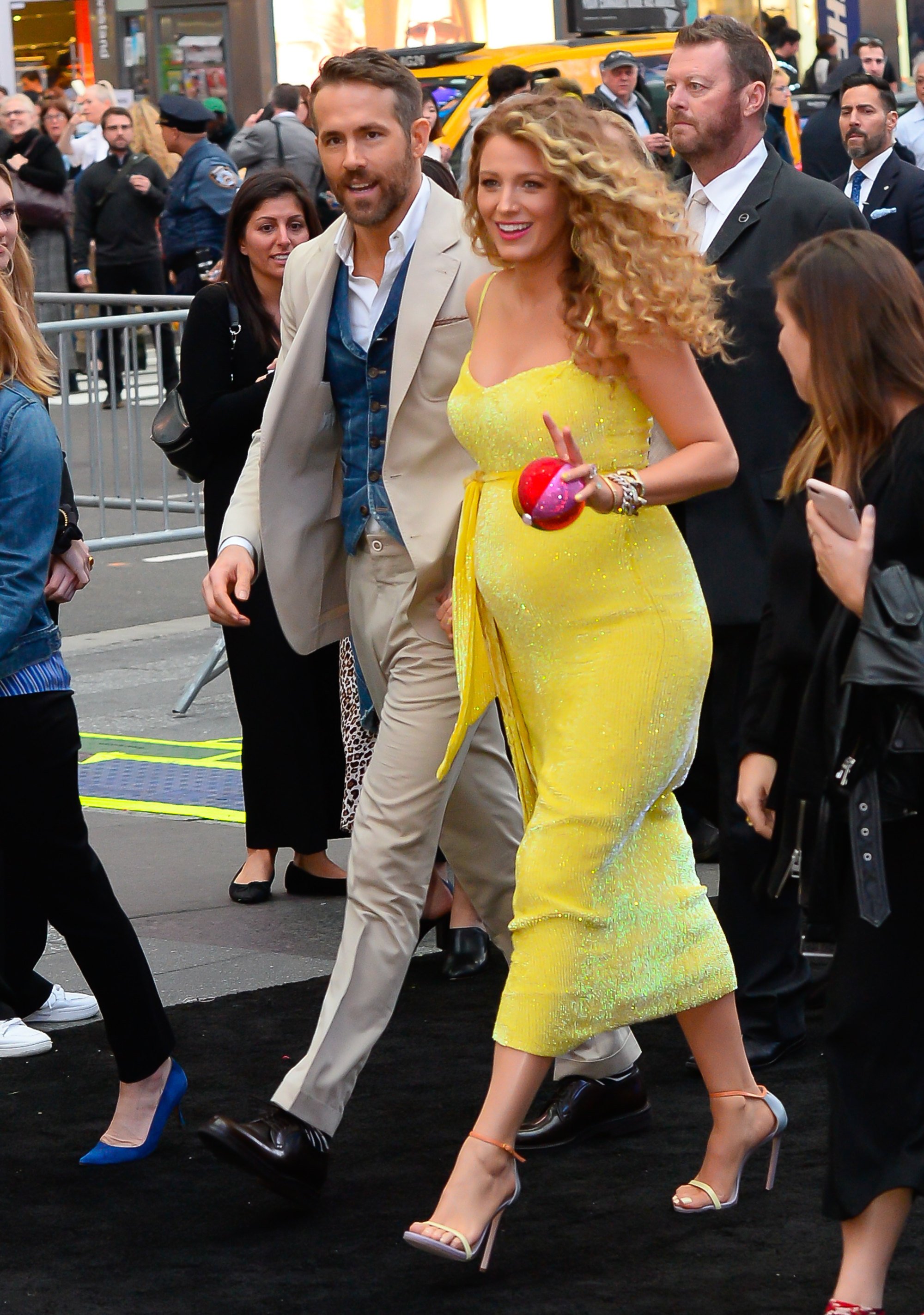 Lively announced she was pregnant at the 2019 premiere of Pokémon: Detective Pikachu, and not only did her outfit reveal she was expecting, but it also paid homage to Reynolds' film.
She wore a form-fitting yellow Retrofête dress that had sparkle embellishments, a thigh-high slit and a bow. The yellow dress nodded to Pikachu, who Reynolds voiced in the film, and Lively also had a Pokémon-themed manicure for the event.
4. Katy Perry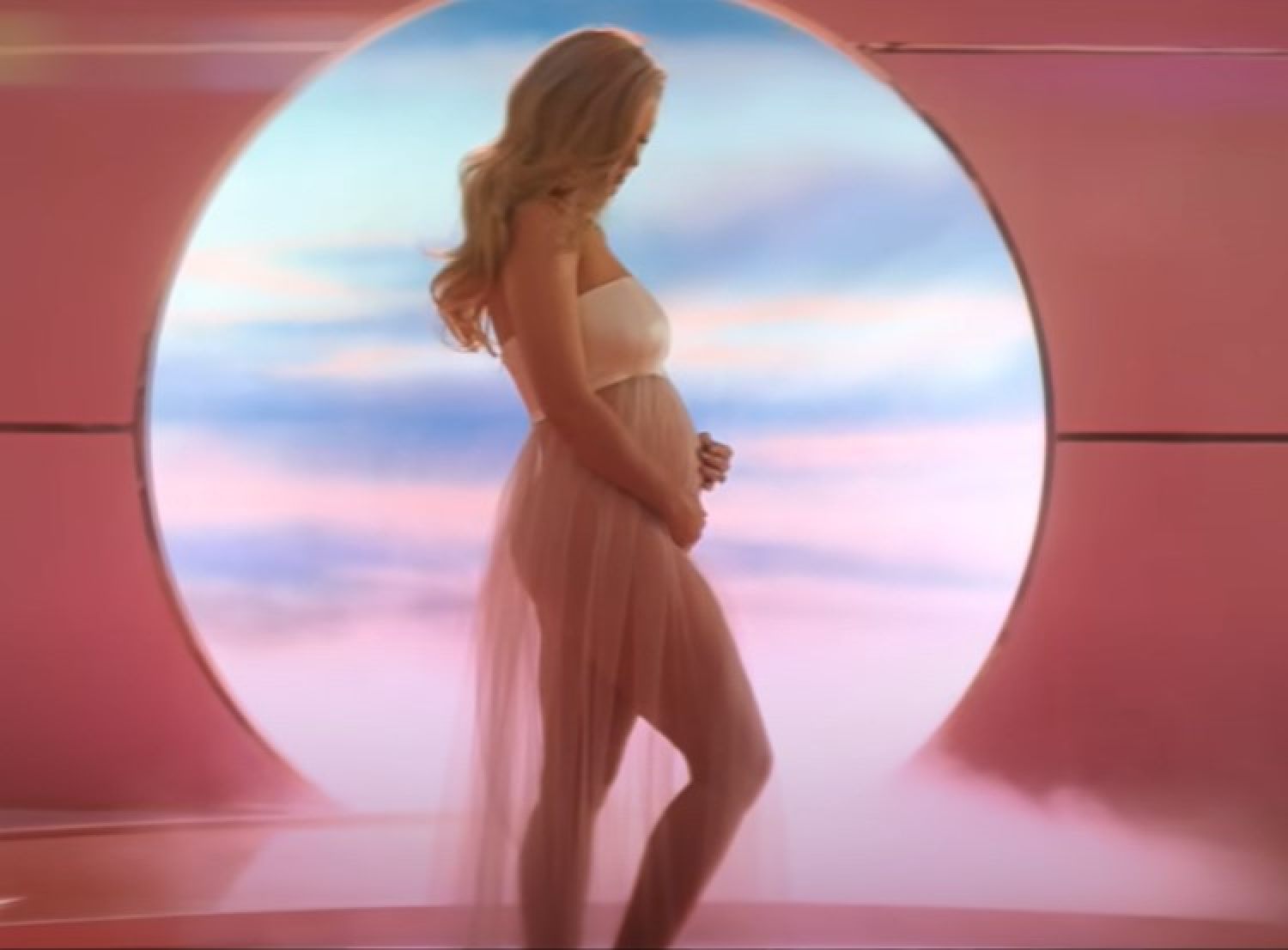 Katy Perry wore a sheer skirt to announce she was pregnant with her first child with Orlando Bloom. She revealed the news at the end of her "Never Worn White" music video released in 2020.
She wore a strapless dress that had a bandeau of white fabric on the bodice before flowing into an almost entirely see-through skirt. Perry cradled her bump as fog flowed around her.
5. Meghan Markle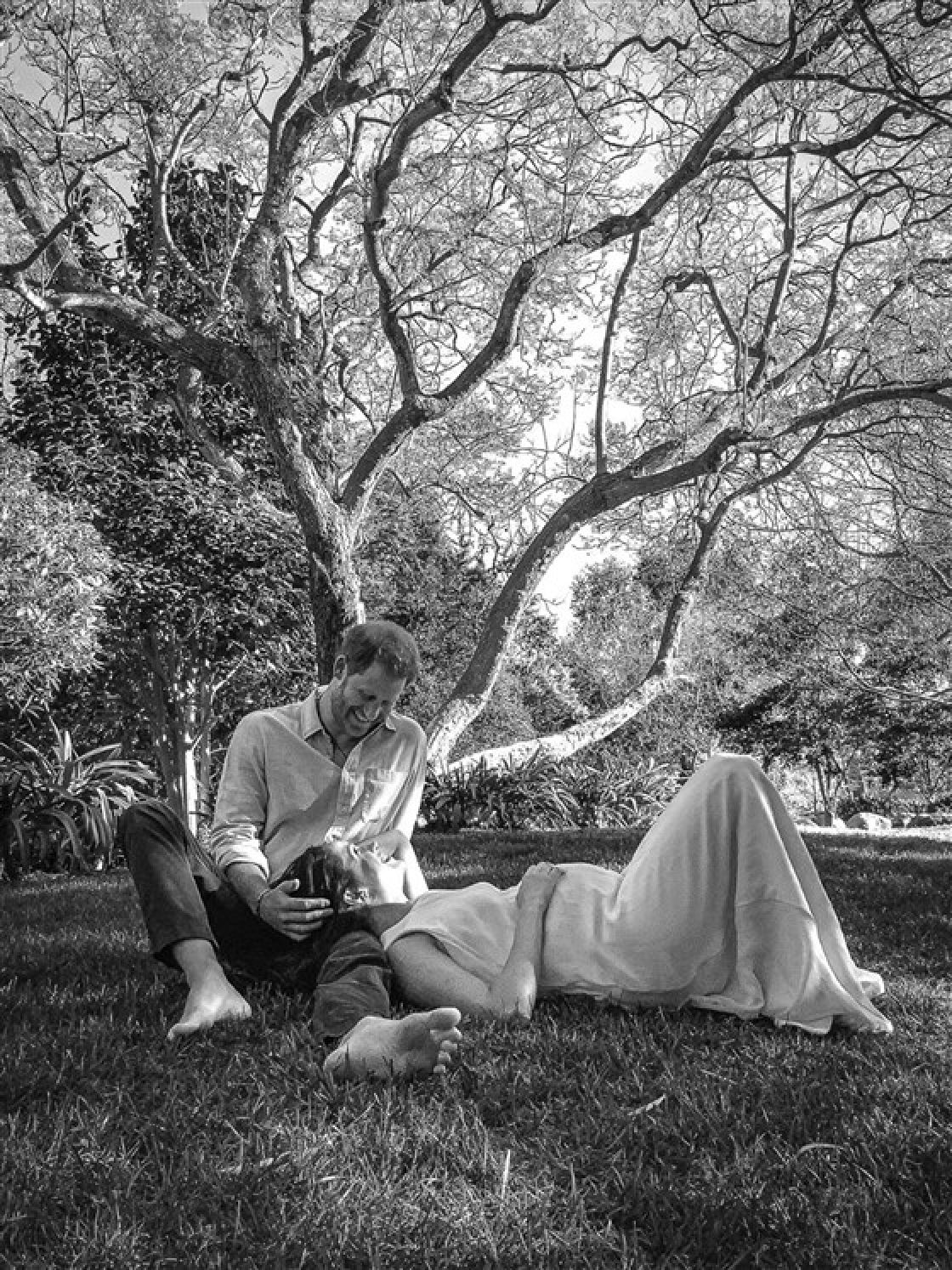 Meghan Markle chose a sustainable Carolina Herrera dress to share she was expecting her second child with Prince Harry in 2021.
Meghan and Harry shared they were pregnant with their son Archie through the royal family in 2019. But when they were expecting their daughter Lilibet in 2021, they had already stepped back as senior royals, so the duke and duchess of Sussex chose to share their news with a photo of Meghan lying on Harry's lap in a field that was taken by Misan Harriman.
Carolina Herrera designer Wes Gordon told The Telegraph in 2019 that Meghan wore a floor-length, sleeveless dress he made for her when she was pregnant with Archie.
"There's a reality, it's 2021, and we have a world to save, right? This is an undeniable crisis, and everyone has to do their part," Gordon said to The Telegraph about Markle rewearing a dress she already owned. "At Herrera, we're committed to pursuing sustainable fabrics. But the number one thing that someone can do for sustainability is hold on to those pieces you buy and use them for a longer amount of time. That's why I think what Meghan did is such a powerful message."
6. Kirsten Dunst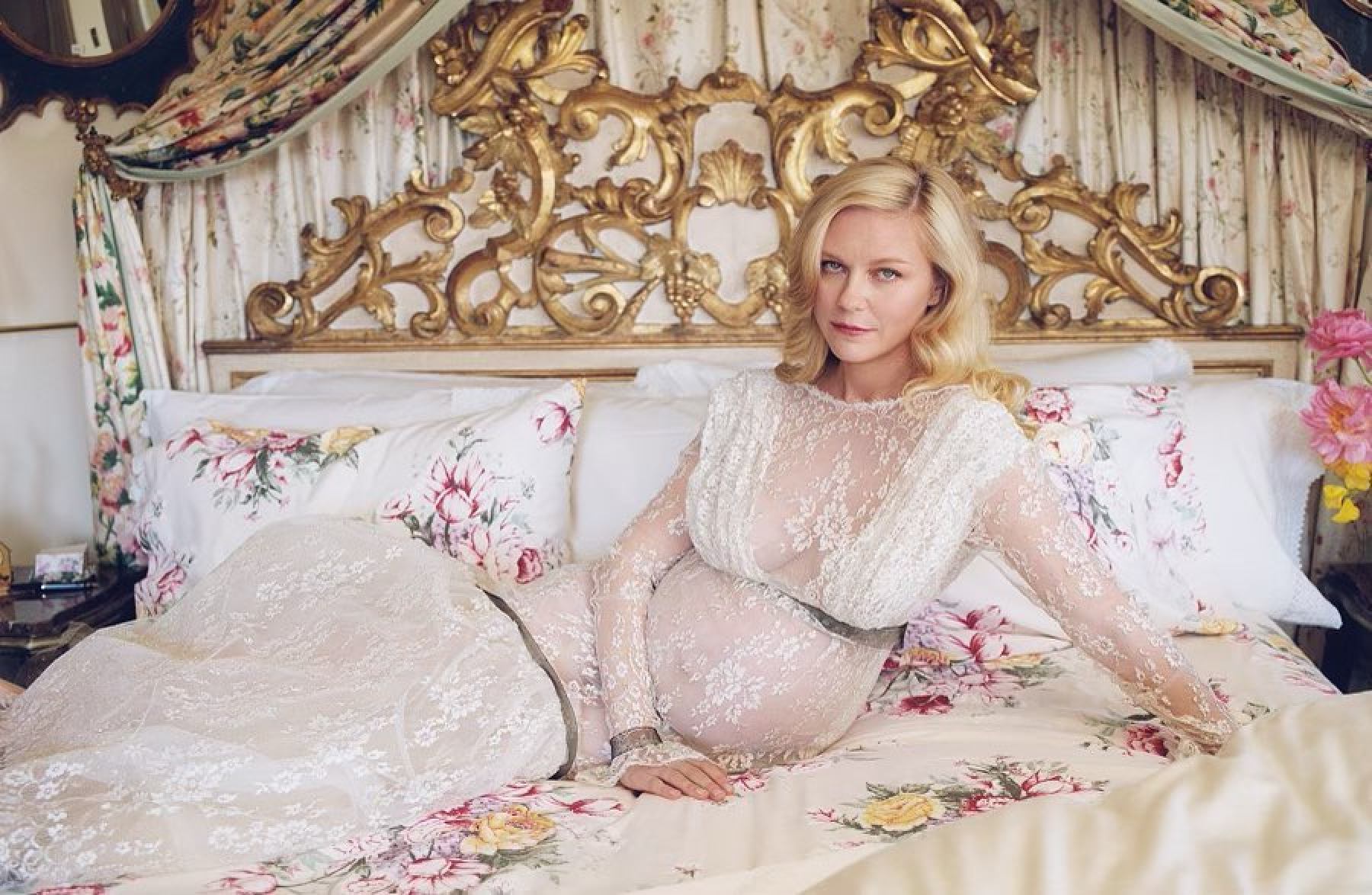 Kirsten Dunst wore a sheer lace dress to share she was pregnant on a W Magazine cover in 2021. She shared that she was expecting her second child while wearing a Rodarte gown that was almost entirely see-through and covered in delicate lace. Two panels of white fabric covered her chest.
The look was significant for Dunst, as she revealed she was pregnant for the first time in a Rodarte spread in 2018.
7. Sophie Turner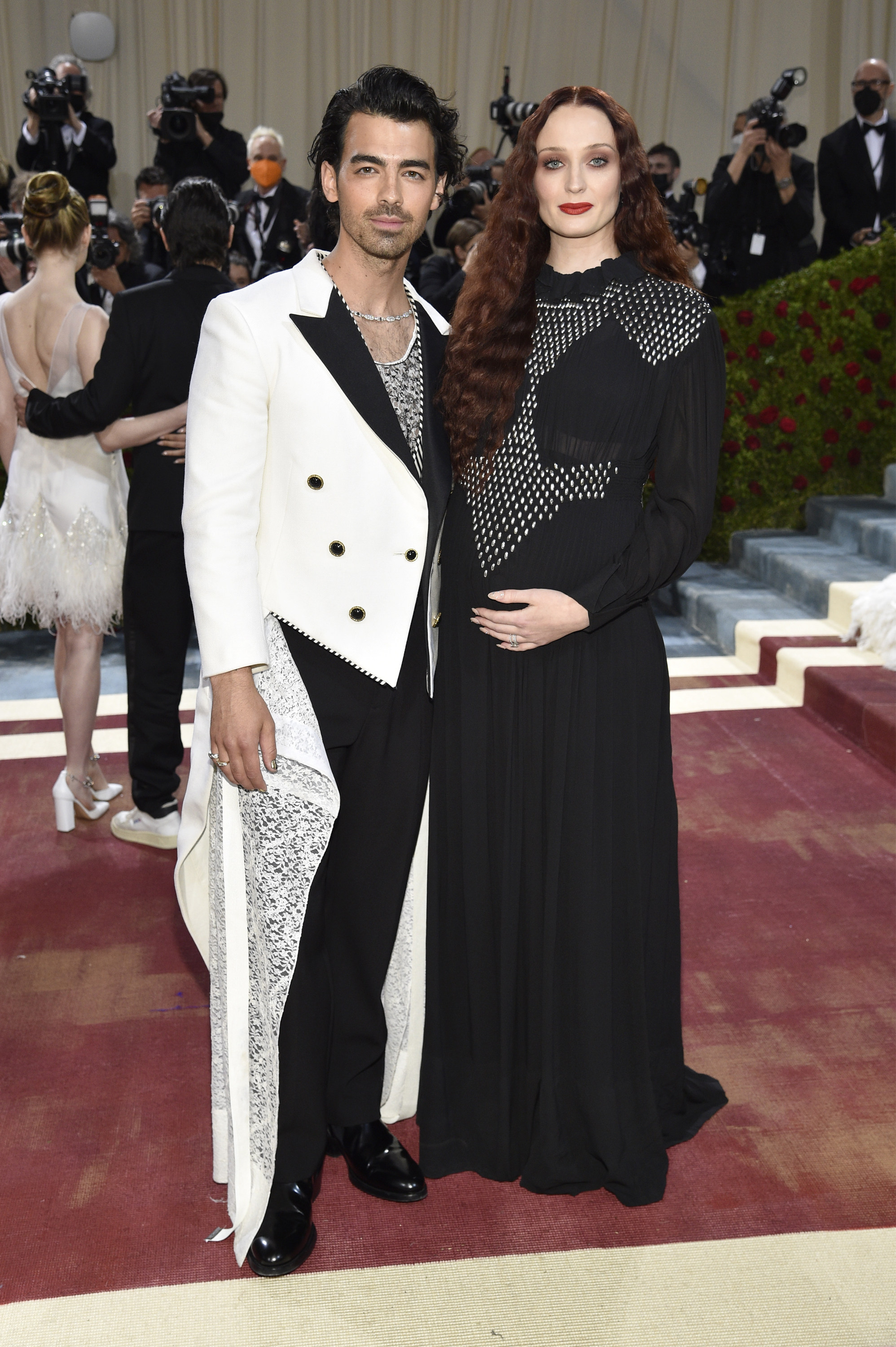 Sophie Turner wore a gothic black Louis Vuitton dress when she announced she was pregnant with her second child with Joe Jonas at the 2022 Met Gala.
The long-sleeve, semi-sheer gown had a high neckline and pleated skirt, though it was still fitted around her belly. Silver embellishments adorned the bodice, elevating the look.
8. Zawe Ashton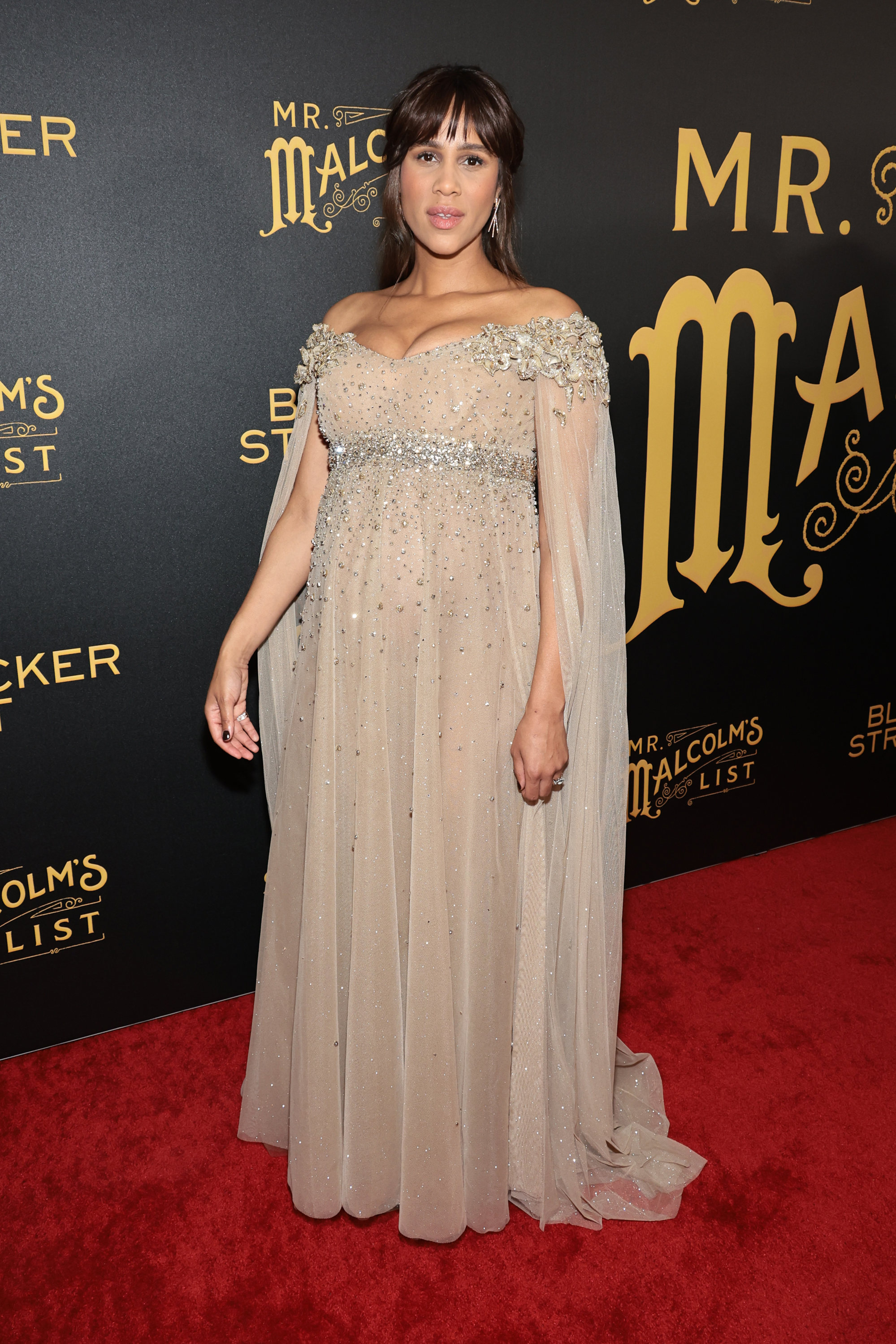 Zawe Ashton wore a sparkly dress when she walked the red carpet at the Mr. Malcolm's List premiere in 2022. Ashton also announced she and Tom Hiddleston were expecting their first child at the event.
She wore a tan Sabina Bilenko Couture gown that had a sweetheart neckline and off-the-shoulder sleeves, which flowed into a cape. The A-line gown belted on the bodice, and it was covered in sparkly embellishments.
9. Keke Palmer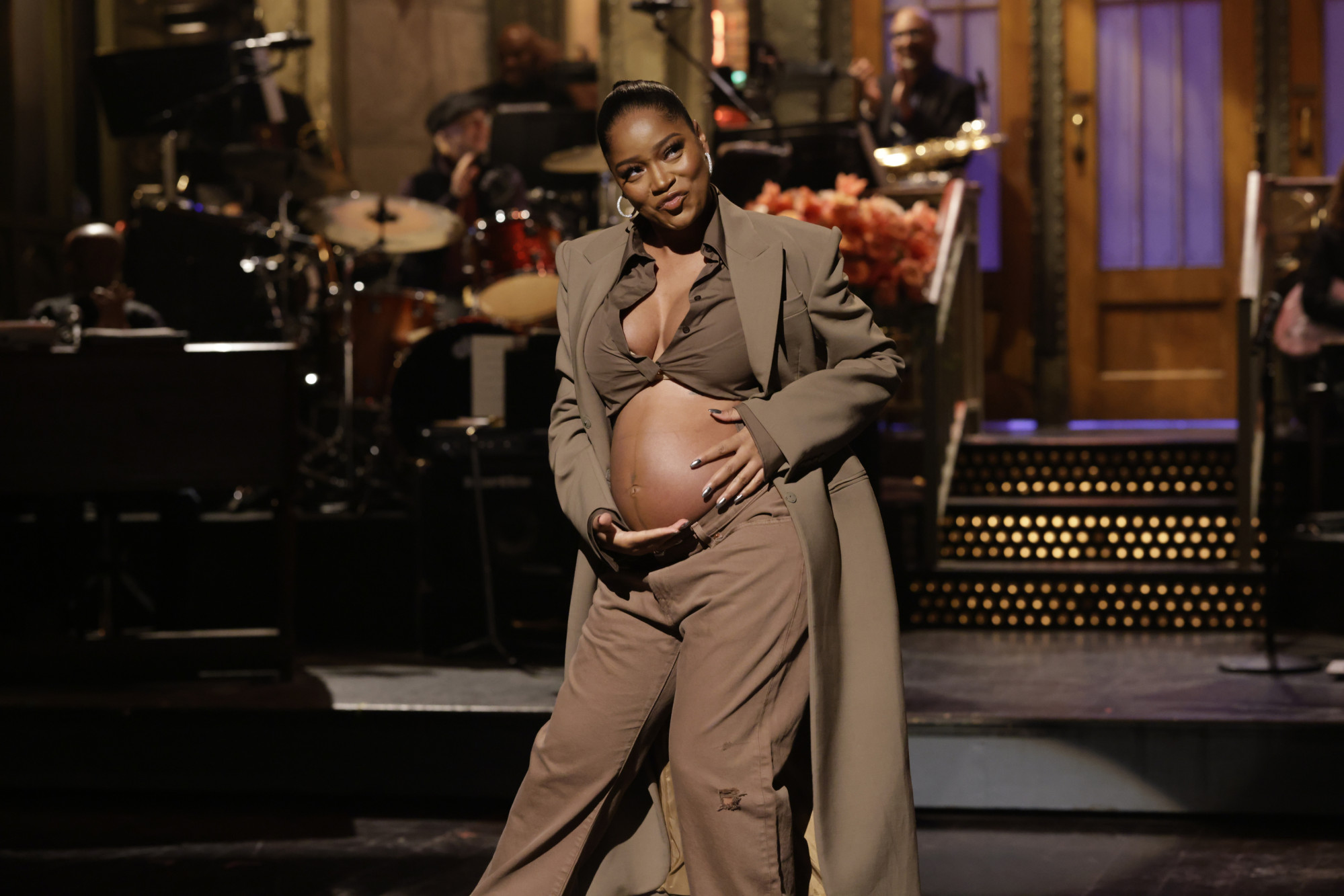 Keke Palmer wore a monochromatic outfit to announce she was expecting her first child on Saturday Night Live in 2022. Palmer shared that she was pregnant while hosting the show in December 2022, unbuttoning a coat during her opening monologue to show off her pregnancy bump with a cropped set.
The trench coat was designed by Max Mara. Under the jacket, she wore low-waisted brown trousers and a brown blouse that tied just below her chest.
10. Rihanna
At the 2023 Super Bowl, Rihanna wore an all-red ensemble to reveal she was pregnant with her second child. During her halftime performance, she donned a custom ensemble from Loewe that was inspired by "flight gear and the show's dynamic scenography", the brand shared in a statement on its website.
A red catsuit served as the base of the look, and a sculpted corset sat atop it. She wore a red flight suit over it that was belted at her belly line, revealing that she was pregnant with her second child.
For part of the performance, Rihanna also donned a red, puffy jacket from Alaïa that paid tribute to
André Leon Talley
.
This article originally appeared on
Insider
.

A-listers are known to make style statements on red carpets, in photo shoots and even for their pregnancy announcements – like RiRi just did during her epic Super Bowl half-time show
Meghan rewore a gown to share that she was expecting her second child with Prince Harry, while Cardi B revealed her news while performing on Saturday Night Live