The future of traditional catwalk shows is under threat. One of America's most critically acclaimed living designers sent models down a bare wooden catwalk in silence, striding through the middle of a cavernous room devoid of decoration and empty but for a long line of seated spectators.
In a break with the usual flash-mob frenzy straining to capture every move on cell phones, guests were kindly asked to refrain from taking pictures.
The layout gave an audience of around 300 each – in two back-to-back shows – a front-row seat on utilitarian fold-out chairs.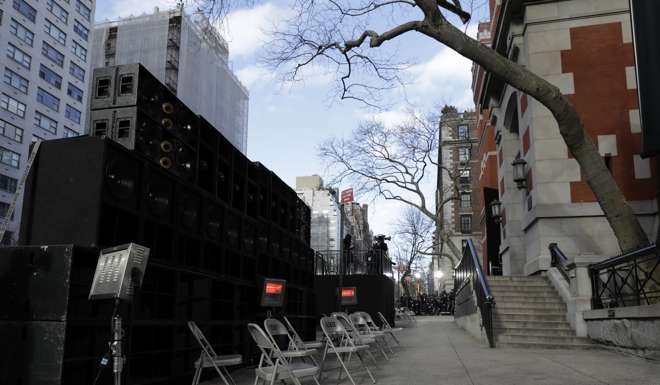 With no music, the only sound was the thud of models prowling the scuffed wooden floor.
Only when they exited the building onto Park Avenue could press photographers record the action as models took their own seats, ready to turn phones onto the guests as they poured outside.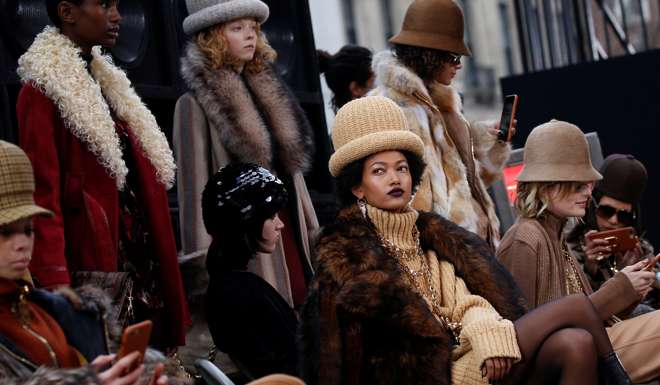 The music – so ubiquitous at fashion shows – blared out of loudspeakers as guests and models found themselves in a mobile phone face-off on a bitterly cold February afternoon.
Guest of honour Katy Perry, the most popular person on Twitter with 96 million followers, snapped away with other lesser mortals – the commentary on celebrity-obsession as deliberate as it was unsubtle.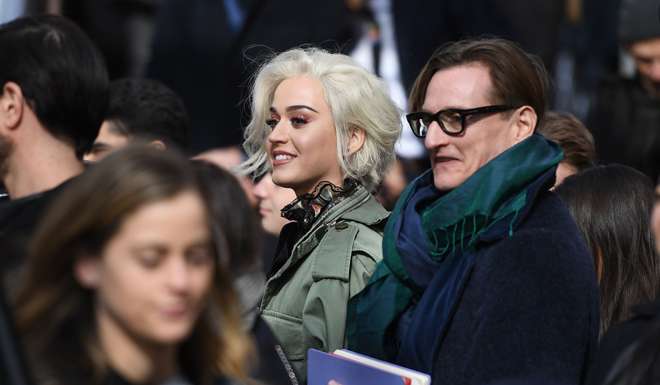 What New York fashion week tells us about Trump's US
Jacobs called his collection a "representation of the well-studied dressing up of casual sportswear" and hip hop the foundation of youth, street culture.
Jacobs' virtuosic skill, which channelled hip hop into instantly recognisable upmarket attire, was mesmerising, his palette camel, ginger, brown and gold – with hints of red and maroon.
Belted coats fell mid-thigh and were paired with short skirts and dresses. There were baggy track-style pants that trailed even chunky platforms.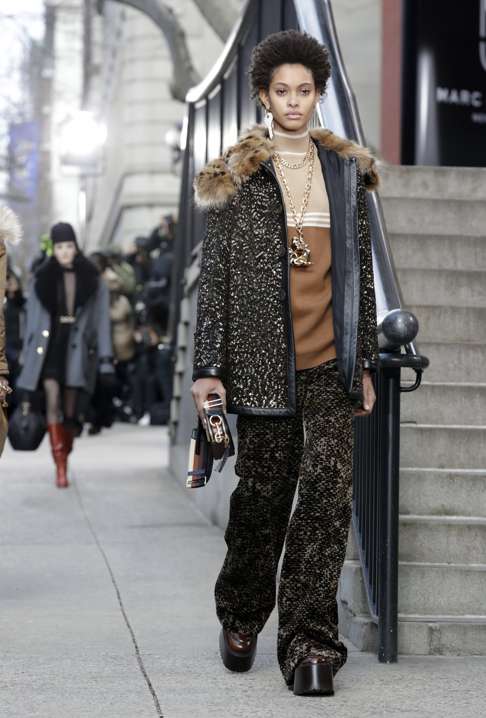 Standouts included pumped up hats that evoked hip-hop style, heavy gold jewelry and a handbag worn round the neck on another chunky chain.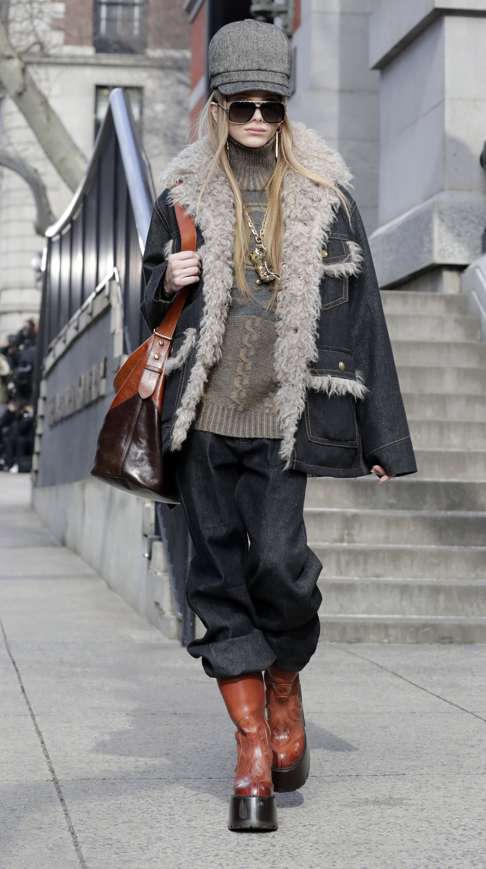 "This feels like a time to rethink not only what we say but how we say it," Jacobs told Women's Wear Daily, suggesting that people immerse themselves in the live experience of a fashion show much like going to the theatre.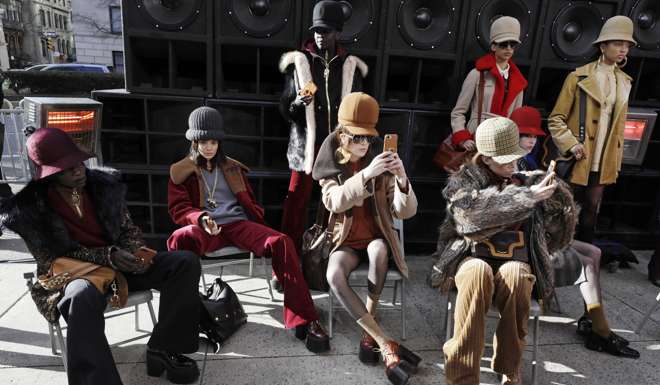 Oscar de la Renta's new designers redefine pretty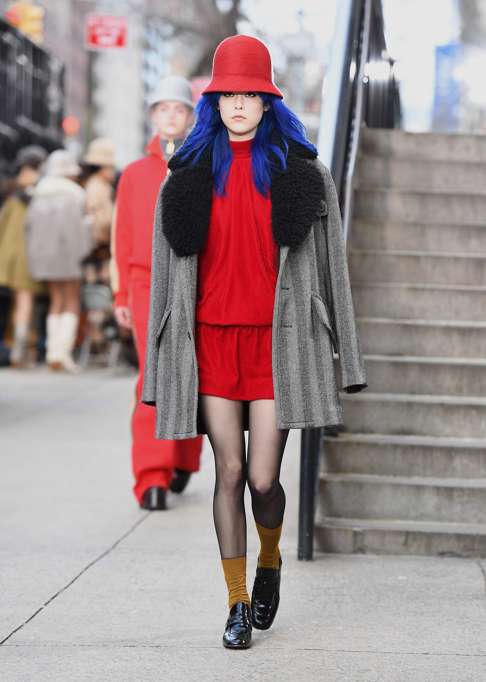 "It does feel that, in this moment, people pay much more attention to who one's showing on than what one's showing. You know, whether it's the Kendalls or the Gigis," he said of celebrity models Kendall Jenner and Gigi Hadid.
That said, Jenner walked the runway, as did models Winnie Harlow, who has vitiligo, Casil McArthur, who transitioned from being a woman to a man, and Hanne Gaby Odiele who recently revealed she is intersex.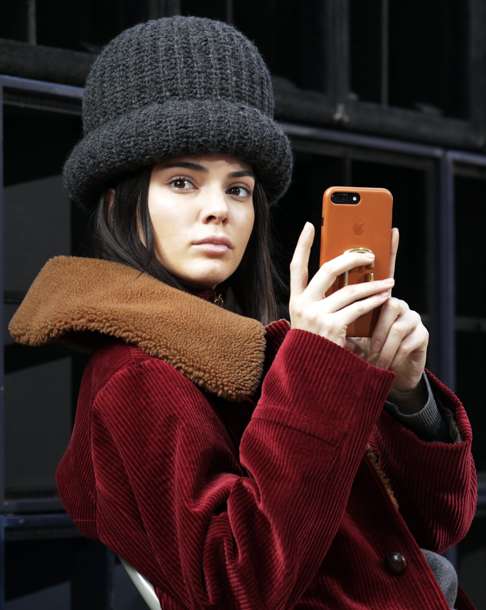 Designer Raf Simons helps Calvin Klein find its way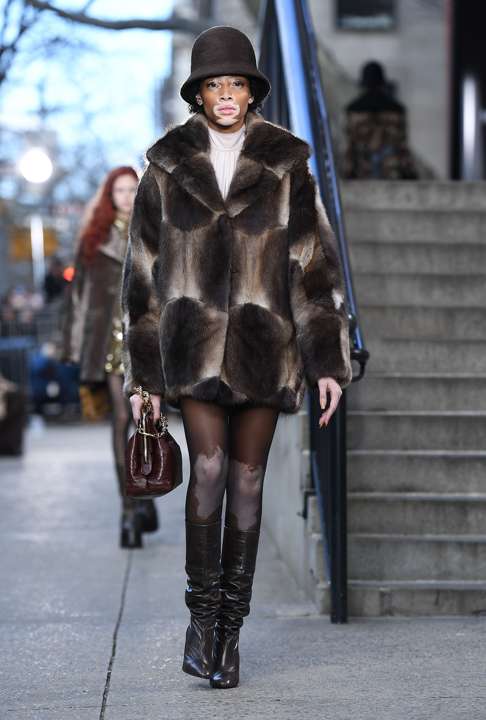 New York saw an increasing number of designers question the relevancy of the runway – especially considering the cost of wildly expensive catwalk displays – as the industry moves towards a more see-now, buy-now model, and designers have more options to communicate.