By 2025, millennial influencers so well-versed in social media, with a fashion sense all their own, will control 45 per cent of the market, according to a Bain & Co. analysis, along with the younger Gen Z cohort, roughly speaking today's young teens and tweens.
This is just the audience that has been gravitating toward conversation-starting blockbusters like the Netflix series 13 Reasons Why.
Star Tommy Dorfman took the front row at Fendi's show on Monday, one of the last of the three-day-run, and kept his Instagram followers apprised of his movements in the Fendi universe throughout his Milan stay. Backstage, Dorfman described the collection as "clean, and breezy, and easy to wear".
"The sandals, the oxford sandals, are so beautiful with the elastic straps. I love the see-through suits. And the jackets with the little coffee cups. I thought it was lovely,'' he said.
For the show, he was wearing a salmon-coloured tracksuit jacket with olive-striped trousers and a Fendi satchel. But within hours, a picture appeared on his Instagram account of him in the transparent plaid shorts suit along with German fashion blogger Caroline Daur -- part of his collaboration with the brand that garnered more than 37,000 likes by the next day.
"I like how accepting they are of different types of people, how diverse it is,'' Dorfman said of Fendi. "From the casting of the shows, who they are involving in the brand and partnerships. They really just want you to be yourself. I feel like we all embody that.''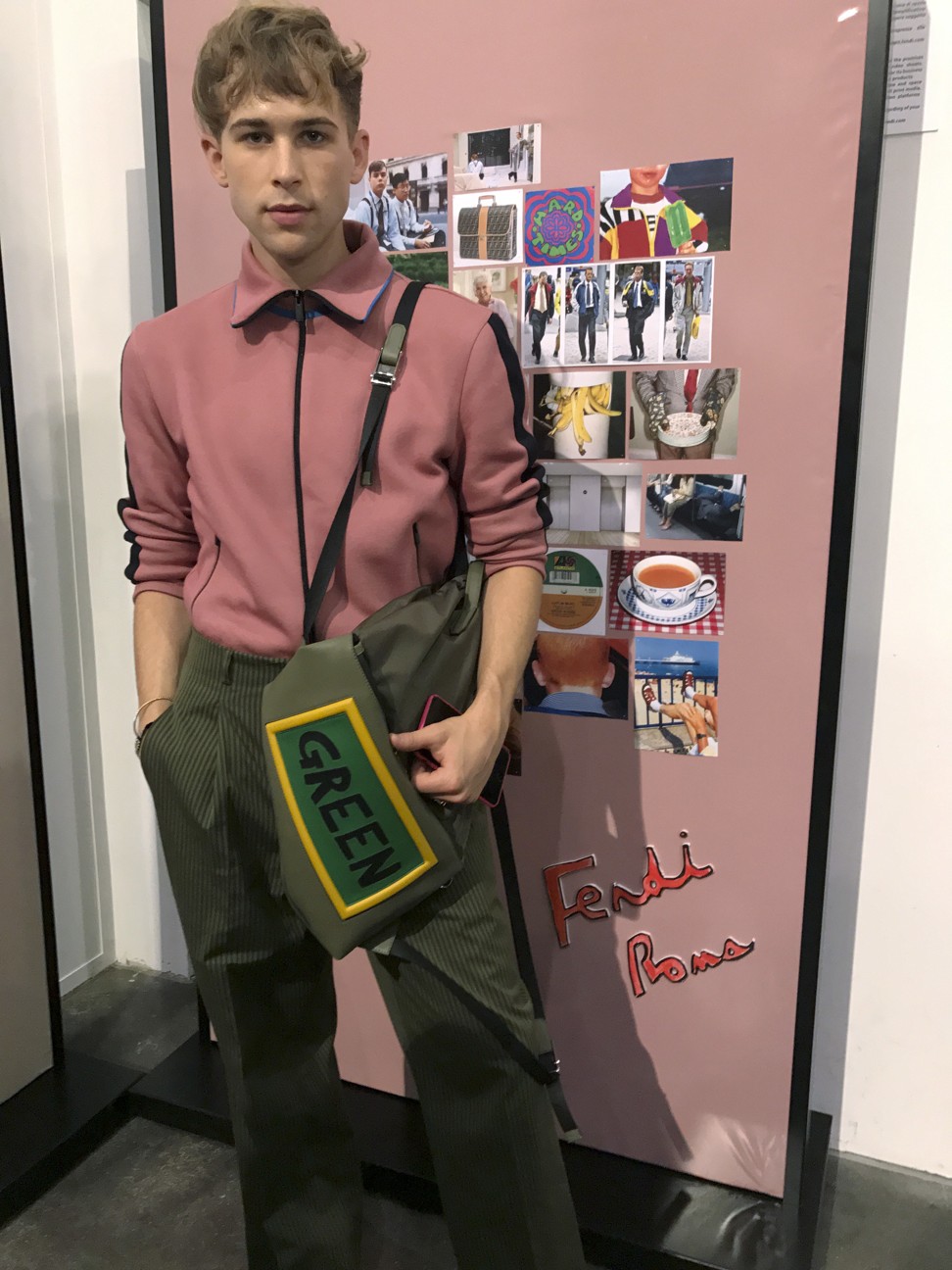 Milan Fashion Week: Armani invites Liam Payne; Fendi hosts Tommy Dorfman
A look back at more highlights from Monday. While fashion week was crammed into three days, there was so much happening it takes four to tell the story, despite major absences:
MADE IN ARMANI
"Wind-swept" and "beach-ready" describe Giorgio Armani's looks for next season, even if most are meant for an urban setting.
The collection opened with a sweeping, double-breasted linen trench with a kaftan feel, setting a casual note. The materials -- from crinkled linen to crumpled silk -- also contributed to the carefree mood.
The designer, who turns 83 next month, is securing his legacy of elegance. There was little that would challenge the norms of an Armani dresser, but plenty of fresh detail to maintain their interest. Tapered pants closed with a buckle. A shiny silken suit had a relaxed shawl collar and open pockets. A crinkly white trench was worn over a grey trouser, both with optical effects giving the impression of shimmery waves.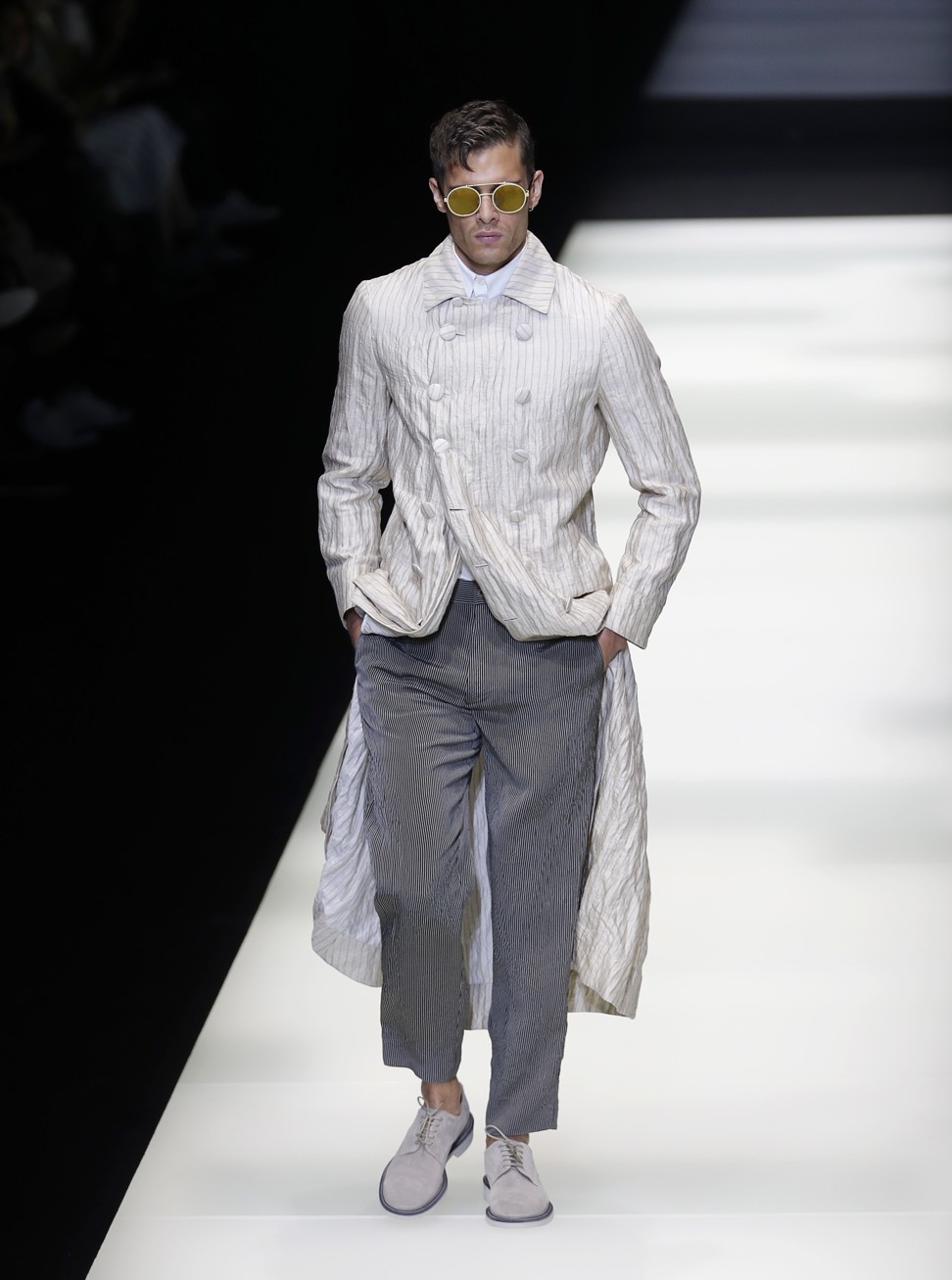 For fun, there were silky combinations of aqua-green and magenta top and bottom combinations, broken up by grey hoodies, and he played with proportions on youthful hybrid tops featuring knit fronts and shirt-cloth backs. For serious business, Armani sent five classic suits with ties down the runway.
For the final flourish, the designer reprised the key looks in all-white versions.
PLEIN HAT TRICK
Philipp Plein completed a hat trick during Milan Fashion Week, showing three distinct brands: his eponymous contemporary luxury fashion brand, his Plein Sport performance athletic wear and finally, his latest, Billionaire, the brand that bills itself as being for "playboys, fortune-makers and empire-builders".
Billionaire anchored the ambitious undertaking, three shows in three days, with looks inspired by James Bond. Models walked through a tunnel of lights in shimmering silver tuxedos, a purple smoking jacket with red polka dots and flashy yellow leather biker jackets with matching turtlenecks, leather gloves and trousers with enough stretch to get out of any bind.
Billionaire falls at the other end of the fashion demographic from the Millennial-seekers, rigorously featuring over-50 models.
"I see fashion brands that have the same clients as us at Billionaire putting young kids on the runway. It is so wrong. They will never wear this in their private lives," Plein said. "We wanted to turn that around. We want to appear in a way that the young generation says, 'When I get older, I want to look like these guys do over there'."
PALM ANGELS
Francesco Ragazzi puts an Italian take on American street fashion in his latest collection for the Palm Angels brand that developed from his work photographing the Los Angeles skater culture.
While the combined men's and women's collection was all about active fashion that both suggests and offers a level of freedom, Ragazzi imbued it with a somewhat dark side.
Rigorously belted nylon jackets and track suits alike had hoods that tightly hugged the faces, an effect that created an unnerving eeriness even when the hoodies were paired with purple wide-legged trousers with rainbow detailing. For women there were sheer nylon off-the-shoulder tops with matching trousers, or body hugging cropped tops with turtleneck zipped over the face, leaving only the eyes exposed, paired with matching leggings. Brimmed hats with a branded protective flap over the neck finished the look.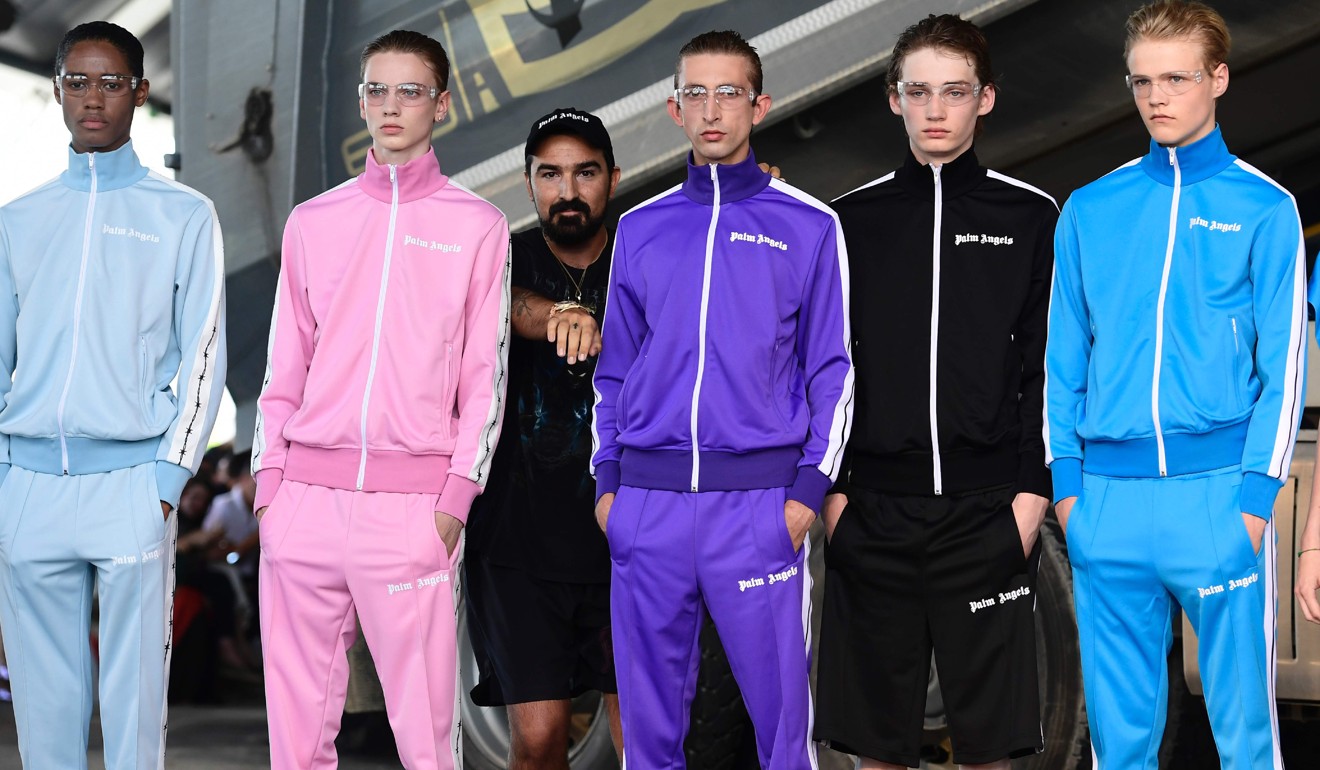 Still, Ragazzi finished the collection on an optimistic note: a rainbow of brightly coloured tracksuits shoulder to shoulder against the industrial backdrop of the open-sided warehouse venue.
Ragazzi launched Palm Angels in 2011 as a research project into the Los Angeles skating culture, developing the project into a book in 2013 and a clothing line in 2015. It currently has more than 160 sales points.