Sarah Burton opens new chapter for Alexander McQueen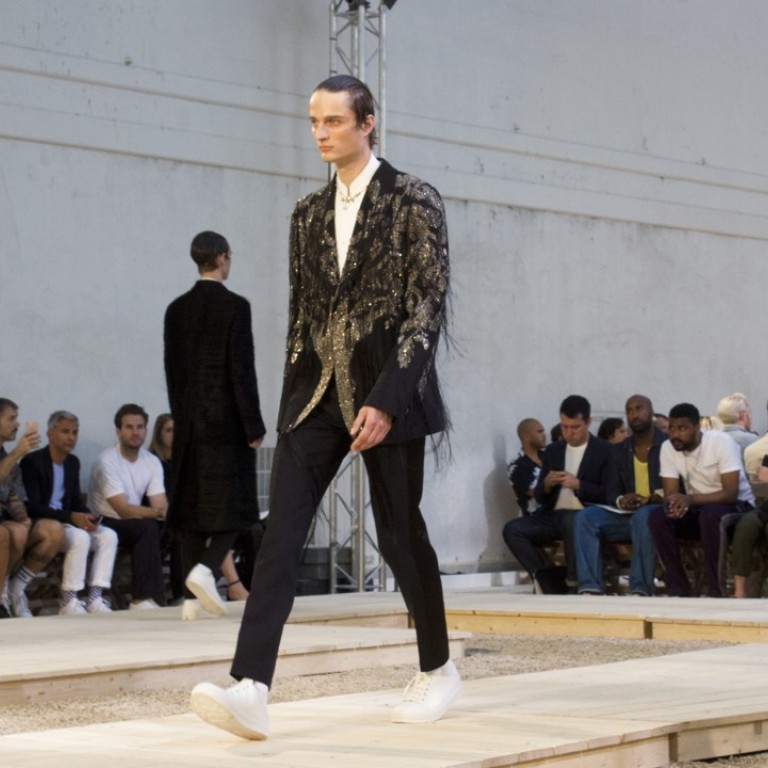 The storytelling of Sarah Burton for the house Alexander McQueen has always been deeply rooted in British heritage. Since the beginning of men's collections back in 2005, they had been shown in Milan, and then in London for a few seasons. Since then, the menswear collection has been absent from the catwalk, favouring instead presentations and sophisticated lookbooks.
This year, for the first time, Sarah Burton showcased her Alexander McQueen spring/summer 2018 collection in a runway format for the Paris Menswear Fashion Week. On the invitation card was the poem The Seasons: Spring written by James Thomson in 1728 for the Countess of Hertford. The poem was separated in a block structure made of red threads printed on tracing paper. The fashion show was presented in the orangerie of the French Senate in the grounds of the Luxembourg Gardens in Paris.
The late designer Alexander McQueen built a solid reputation in the fashion industry as a tailoring expert. He worked at Anderson & Sheppard, and then at Gieves & Hawkes, two of the biggest bespoke tailoring houses in London. Burton pursues his heritage in delivering sharp garments and went far beyond classical tailoring.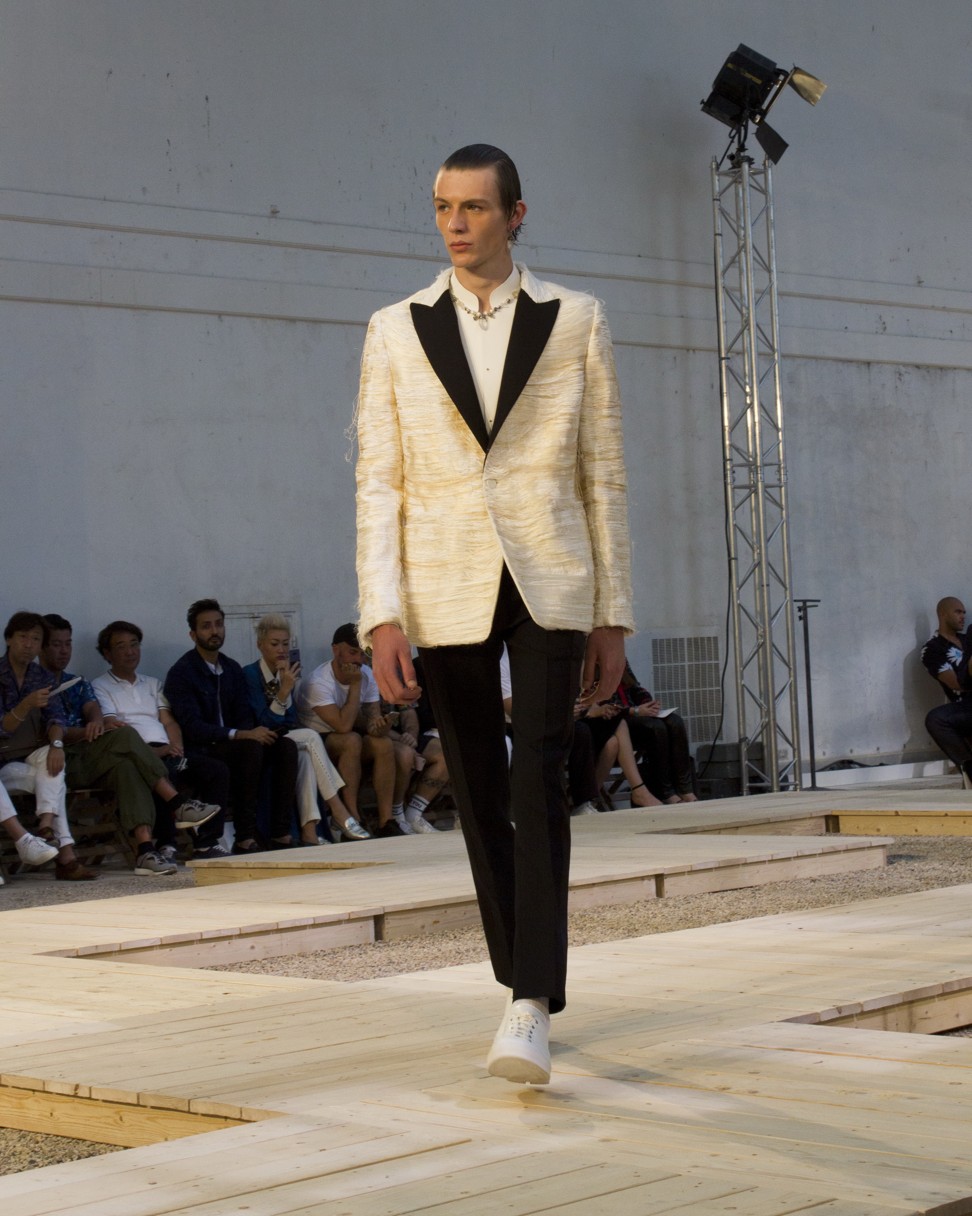 The show started with a clean double-breasted coat, 6 on 2 buttons, with peak lapels of black fabric. The second look was a double-breasted jacket with the same cut and details. On the third look, we saw a sleeveless stiff bib-fronted dress shirt in ivory leather. Black trousers were slim fitted with a large broad leather ivory or scarlet red stripe on the side.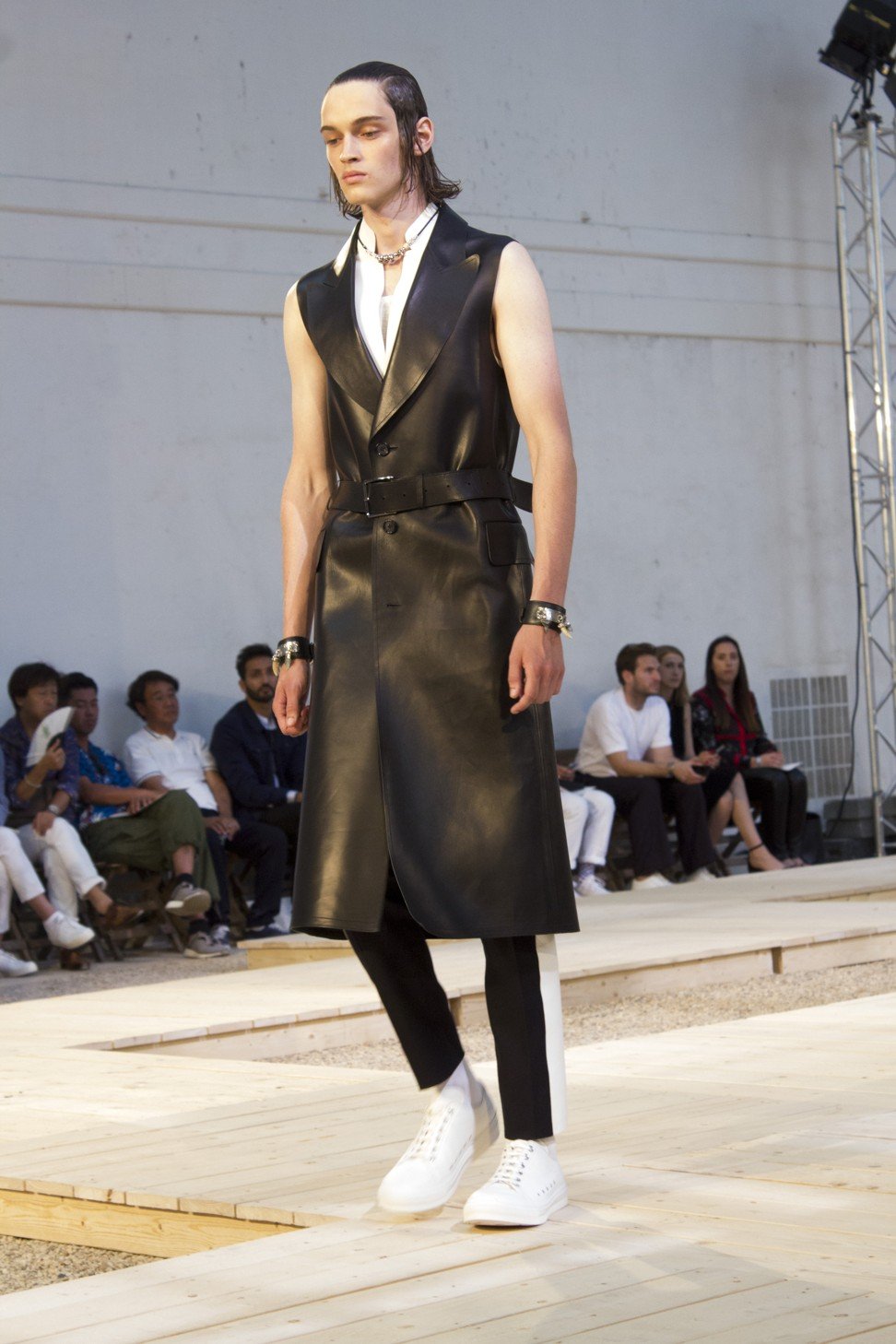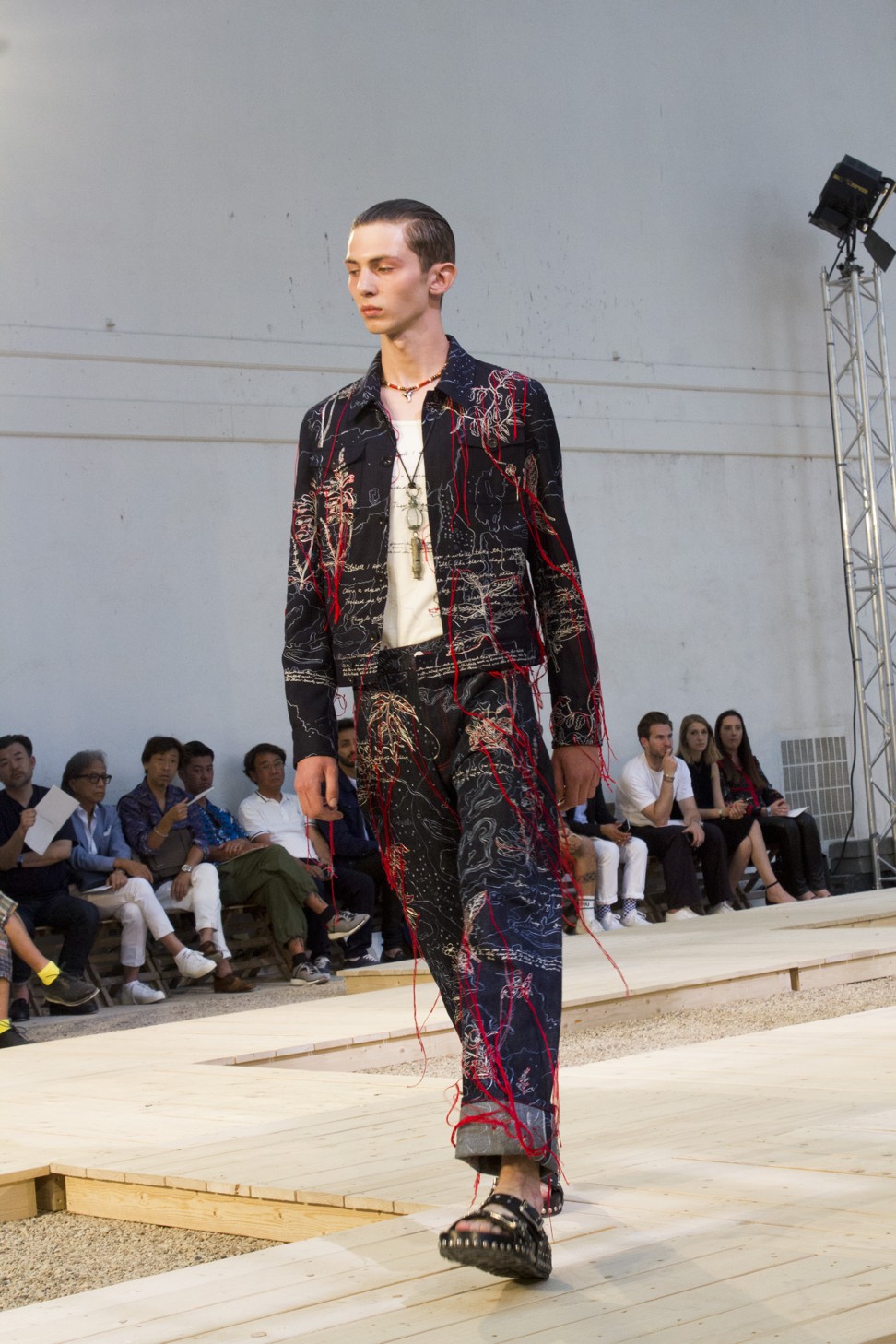 Later, Burton played with different types of fabrics such as bonded leather, washed leather, silk poplin, knitwear, selvedge Japanese denim, broderie anglaise, wool silk jacquard while maintaining precision of tailoring. The colour palette was black, beige, white, ivory and a great touch of scarlet and blood red.
Destructuring the basics of British tailoring, the oversized cotton garbadine trench coat was reversed inside out, revealing wool silk jacquard patchwork of a subtle guncheck. Suits made of patchwork Prince of Wales check matched perfectly, constituting a technical feat.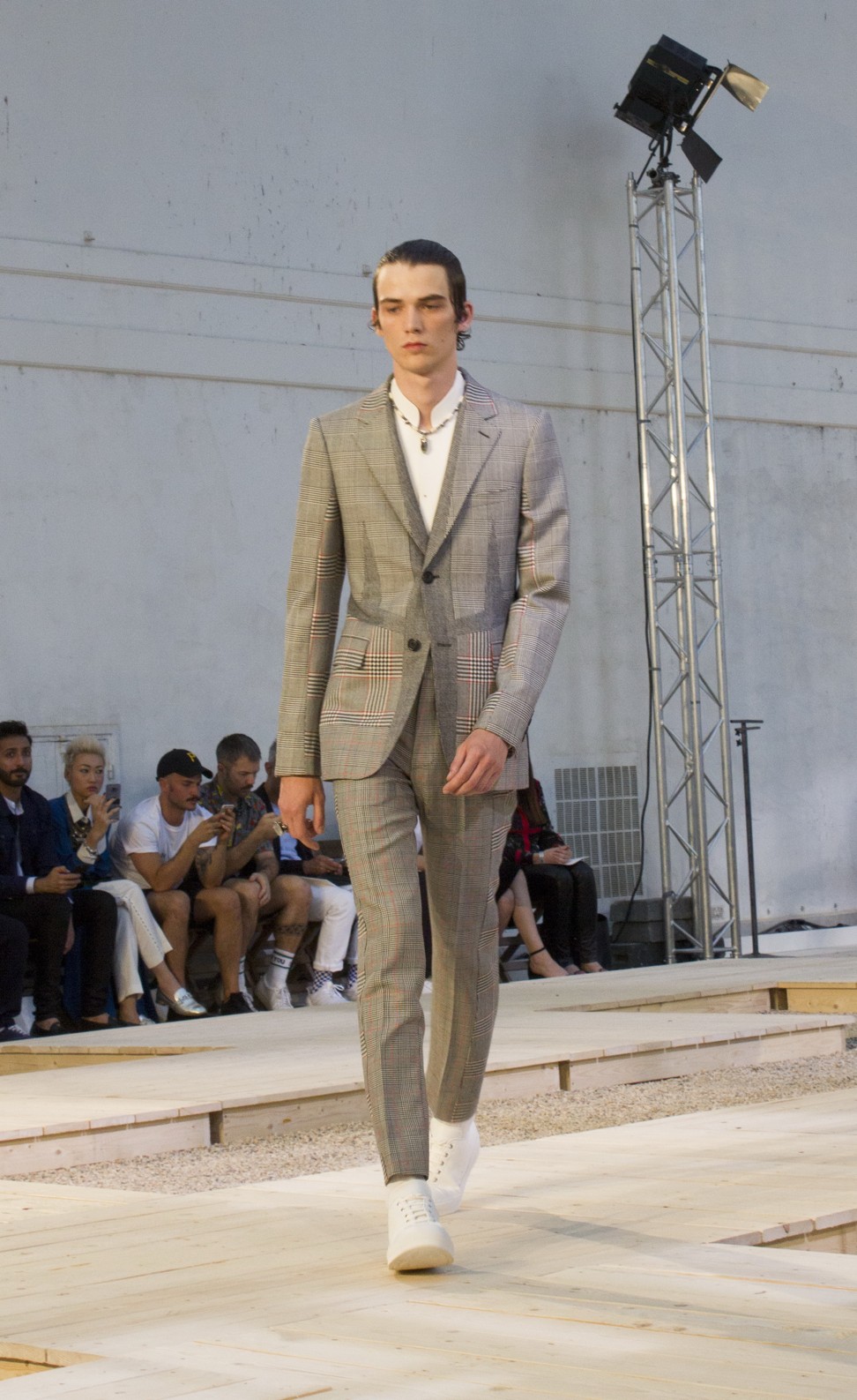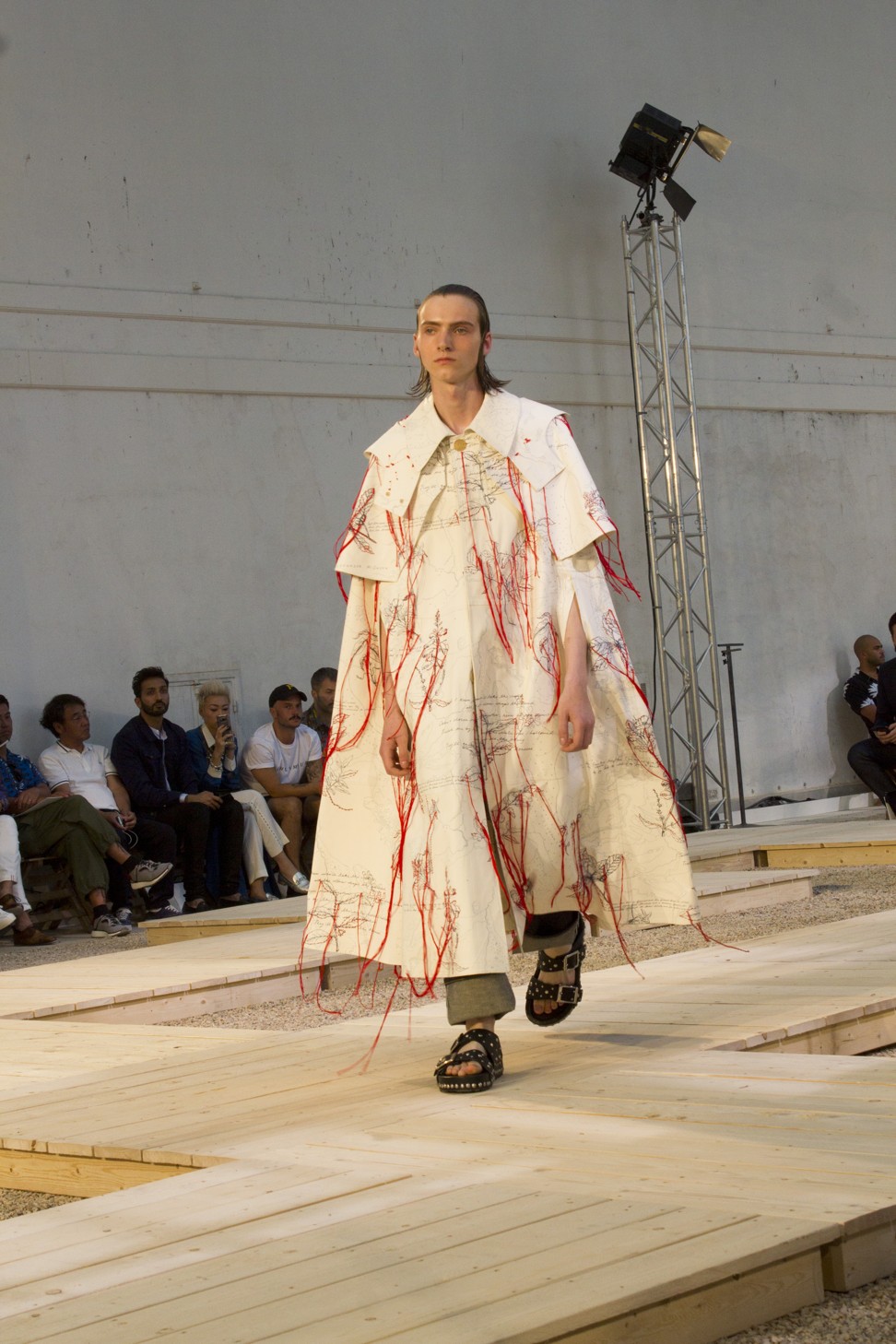 Then came a more dreamy silhouette: oversized shirts edged in broderie anglaise worn with pajamas trousers, chunky knitwear, selvedge Japanese denim with orienteering maps and drawings of Rudyard Kipling's poem The Explorercompleted with red threads.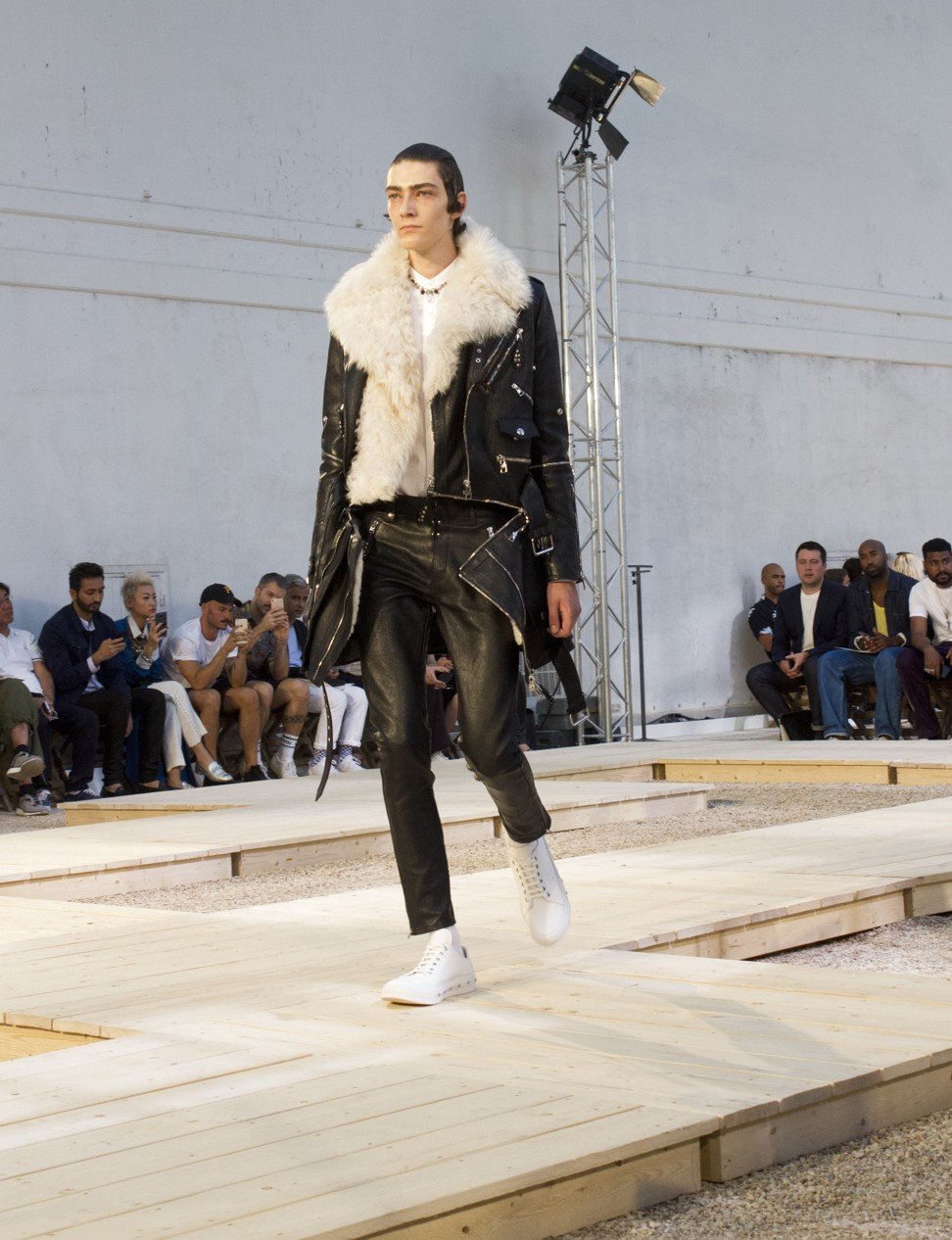 After the exploration, the Alexander McQueen man might have found his way in the maze. He was at peace with nature. His suit and coat were embroidered with colourful flowers.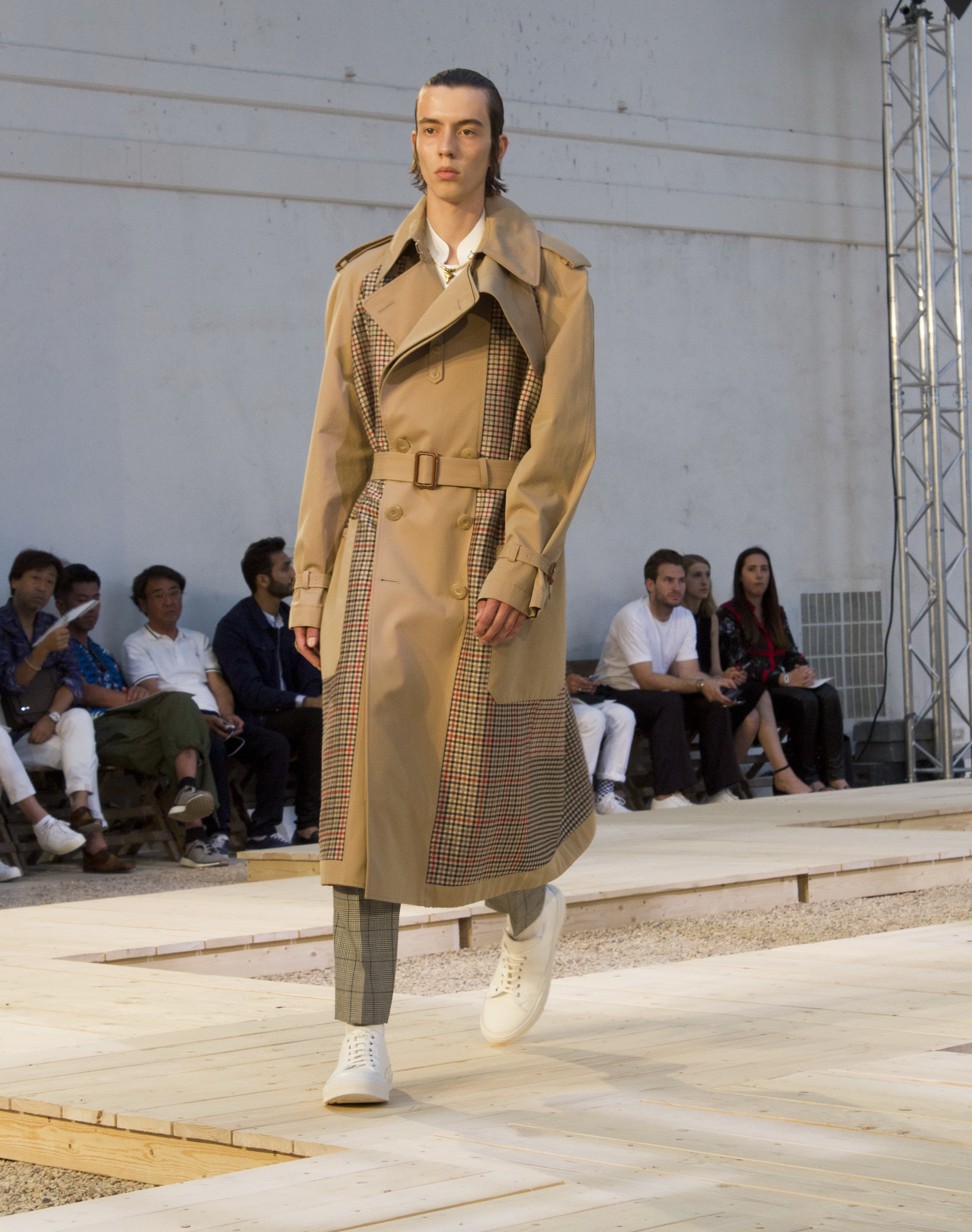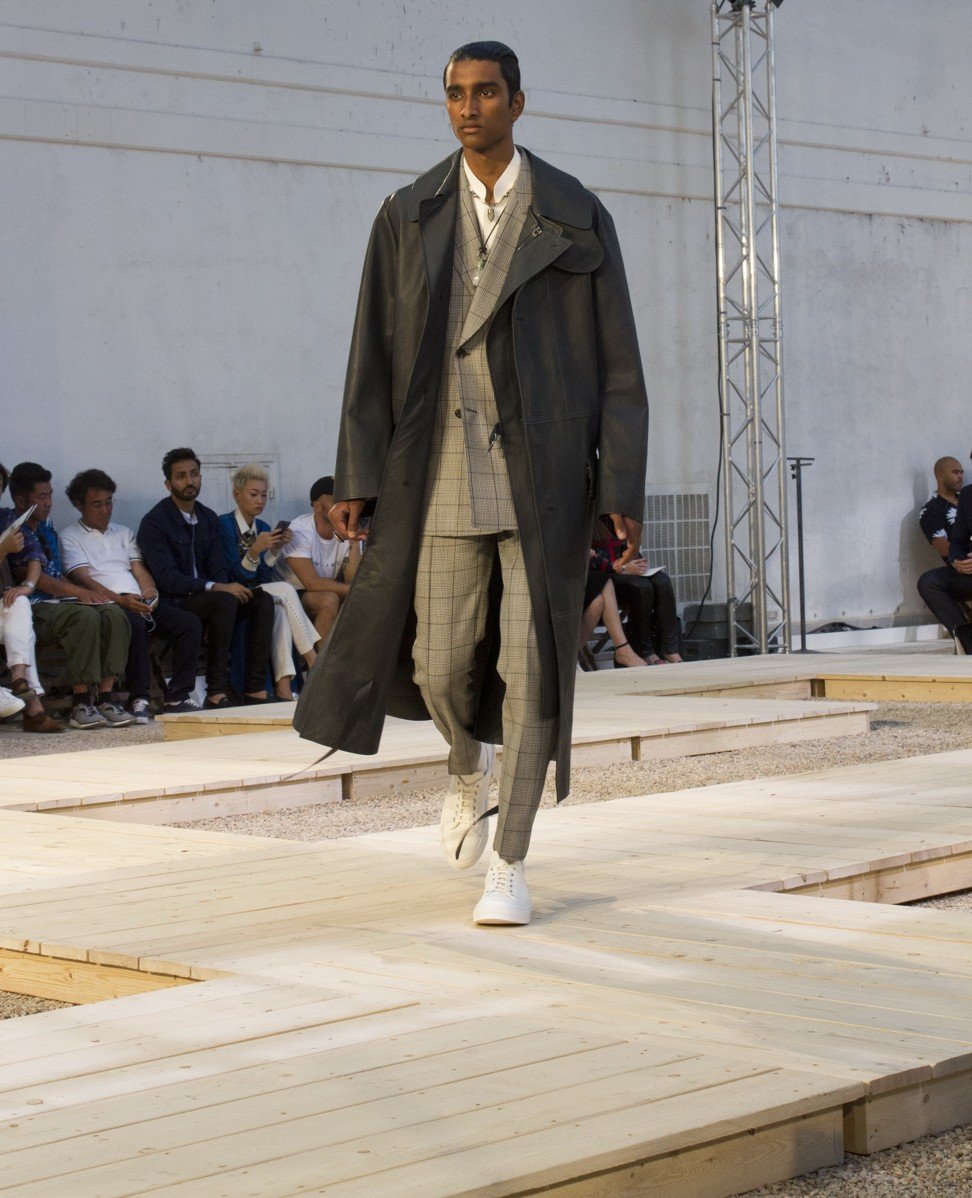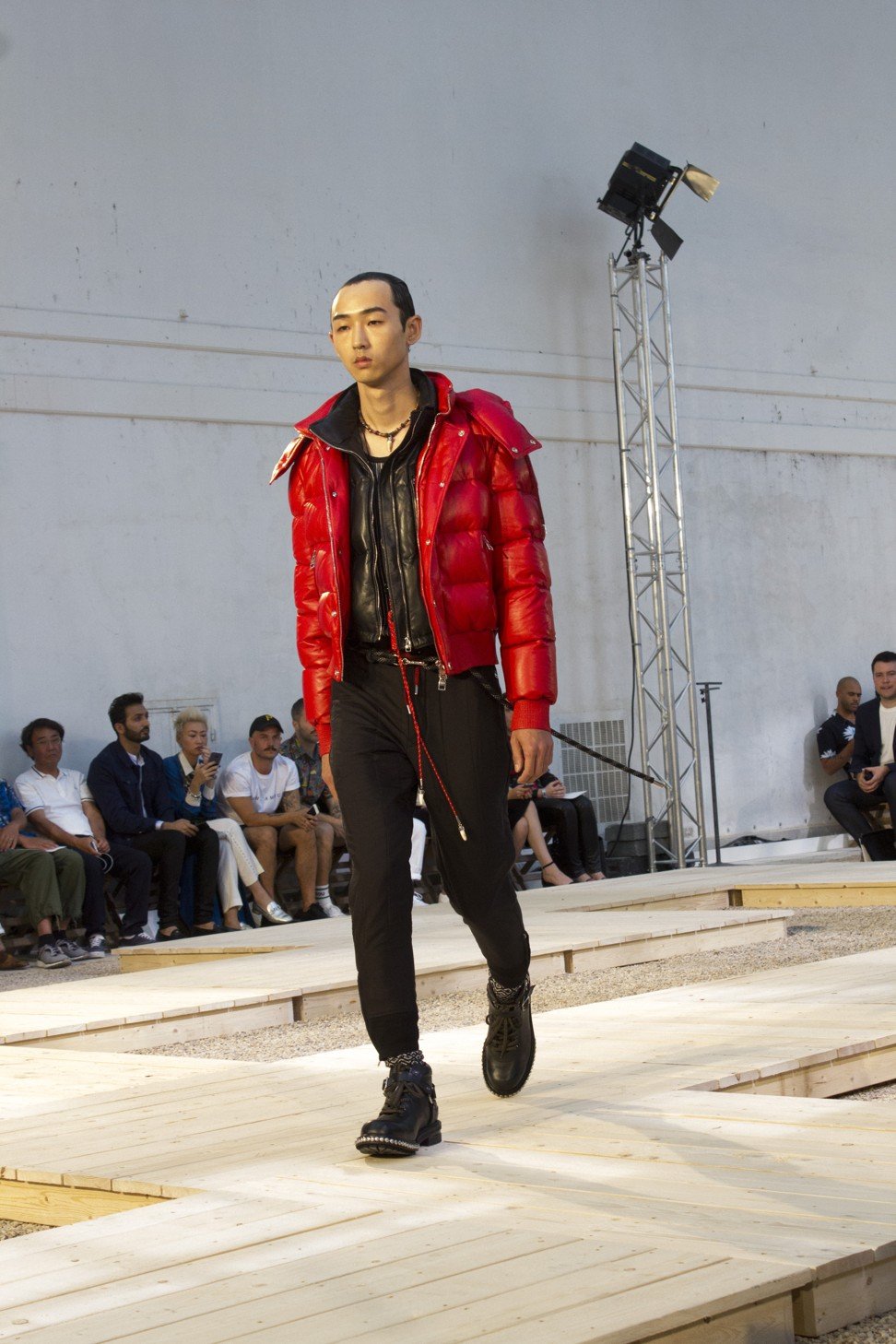 The raw beauty of wool silk woven jacquard is used inside out. The soft part is worn close to the skin, and loose threads of silk and wool gave an amazing complex structure to tuxedo jackets and coats. The last look, a stunning black coat with peak lapels, embroidered with a glittering "Tree of Life", was a technical masterpiece.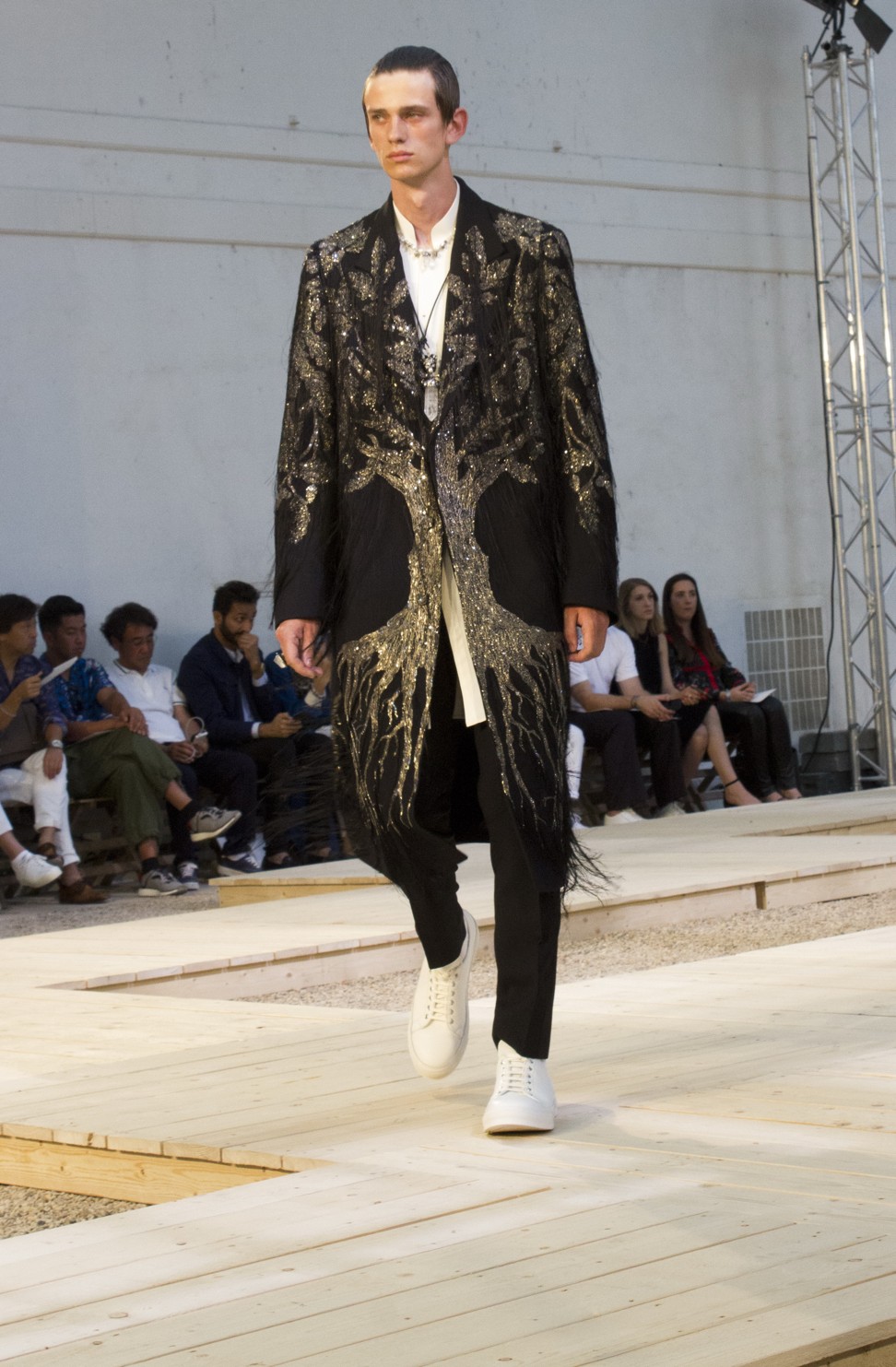 Without a doubt, Burton opened a new chapter for Alexander McQueen. Her poetic storytelling, subtle British touch, tailoring expertise, and flora and fauna embroidery resulted in a dreamy collection with elegant silhouettes.

Burton's poetic storytelling, subtle British touch and tailoring expertise results in a dreamy collection with elegant silhouettes