Watching Céline Dion twirl in Schiaparelli's Crystal² dress on the balcony of the couturier's Place Vendôme atelier for a photo shoot is so breathtaking it makes you want to capture the moment, frame it and hang it alongside the Salvador Dali masterpieces in the maison's workshop.
The regal beauty of the songstress is unequivocal, but the dress, made entirely with Swarovski crystals, is truly a work of art.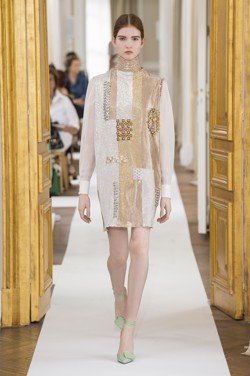 The Crystal² dress, shown during Paris Haute Couture Week in July, features elaborate 3D crystal embroideries on fine crystal mesh, which is one of Swarovski's latest innovations. With the multicoloured crystals, the iridescent dress reflects light from more than 4.7 million facets.
"There are only crystals on this dress, nothing else," says Bertrand Guyon, Schiaparelli's creative director. "The crystals specially made for us are so Schiaparelli – the purple tinted with lilac and the iridescent pink."
Rather than using existing fabrics, Guyon and other fashion designers and couturiers are increasingly focusing on creating unique textiles to highlight craftsmanship, inspire designs and promote sustainability.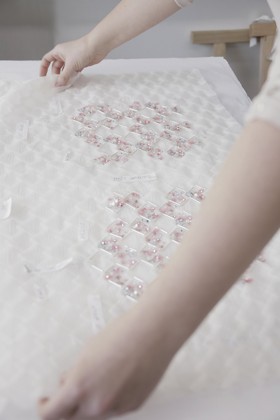 For haute couturiers, exclusive textiles are as crucial as designs. Some houses will go as far as acquiring heritage ateliers and fabric mills to ensure the uniqueness of their creations.
Chanel is one of the pioneers in the field. Not only does it have 10 prestigious artisanal ateliers under one roof – including Lesage and Montex, who are known for their embroidery work, Guillet, which specialises in creating delicate fabric flowers and plants, as well as Lognon, the pleater – it has also been celebrating the artisans with a Metiers d'Art show every year since 2002.
Chanel goes curvy for haute couture catwalk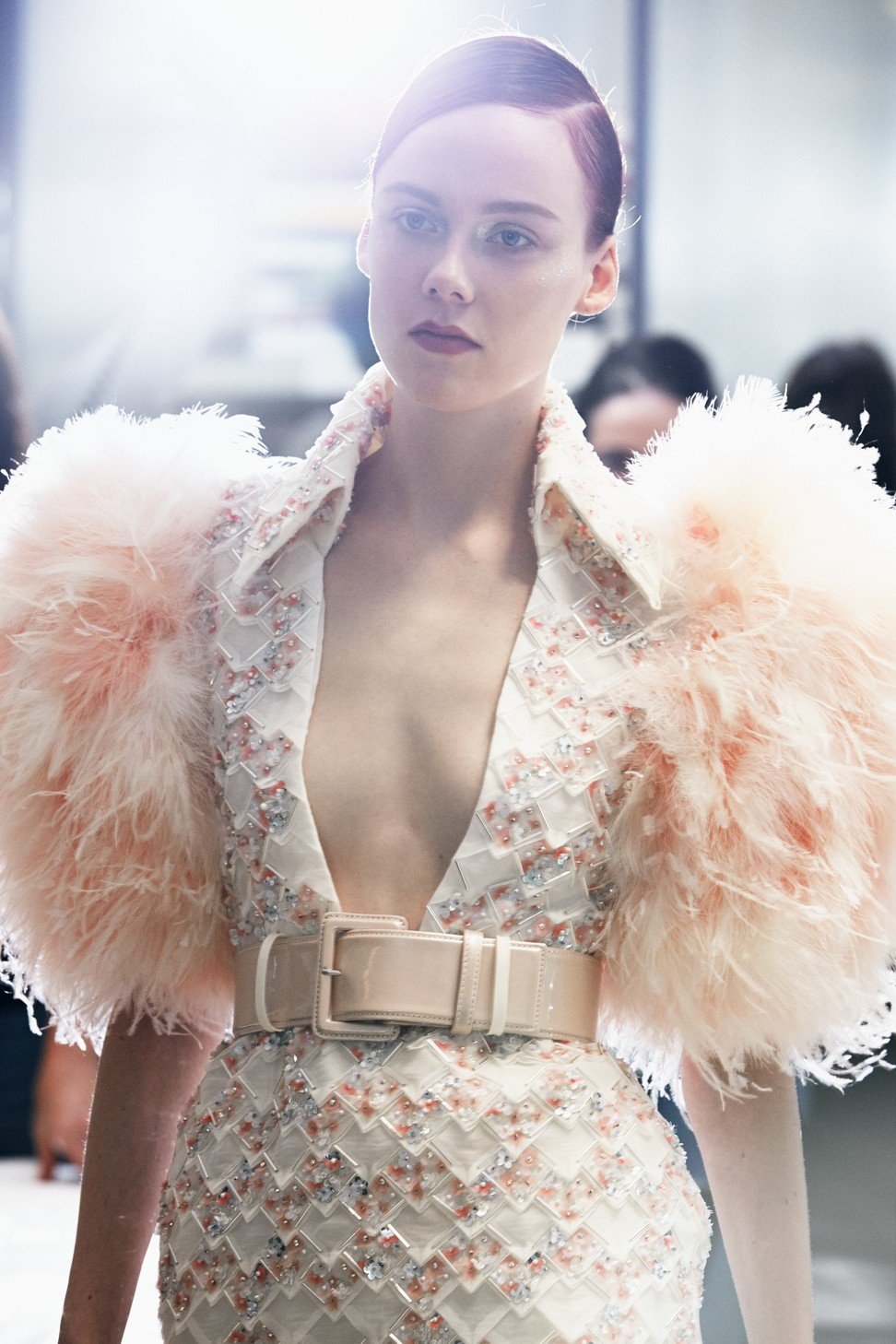 The purpose is that "the investment in these artisan ateliers is to preserve and nurture the valuable heritage and a vital part of its luxury style", Chanel says in a statement.
From Coco to Lagerfeld: the innovative evolution of Chanel's tweed
Meanwhile, the British haute couture house Ralph & Russo creates every single piece of textile from scratch with suppliers from around the world, from Switzerland to Italy and France. "Textiles are crucial because, for our clients, it's not just about the exclusivity of a dress, but also exclusivity of the different techniques that go into the designs," says Tamara Ralph, creative director of Ralph & Russo. "This is what makes haute couture, well, haute couture."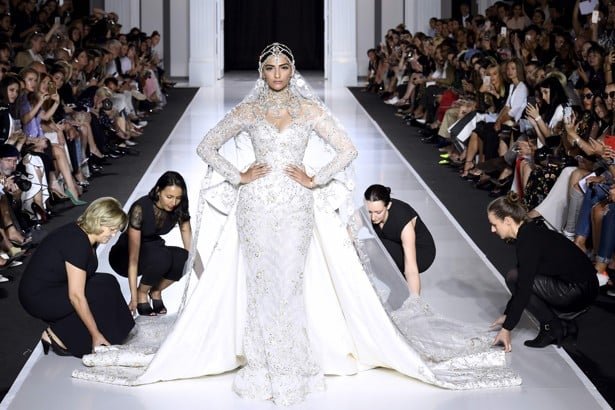 In addition to exclusivity, technical excellence is also important. Ralph cites the ornate bridal gown at the finale of its 2017 couture show, which featured embroideries that took artisans 6,000 hours to complete, and a delicate ball gown featuring hand-cut petals. which were each shaped with curling irons for a more natural and realistic look.
Ralph & Russo's haute couture collection adds a theatrical touch to the Paris catwalk
Chinese couturier Guo Pei, too, is no stranger to challenging techniques when it comes to developing unique textiles. Her iconic dress called Da Jin – meaning "magnificent gold" in Chinese – features embroideries with gold threads and pearls, which took 500 artisans about 50,000 hours to create.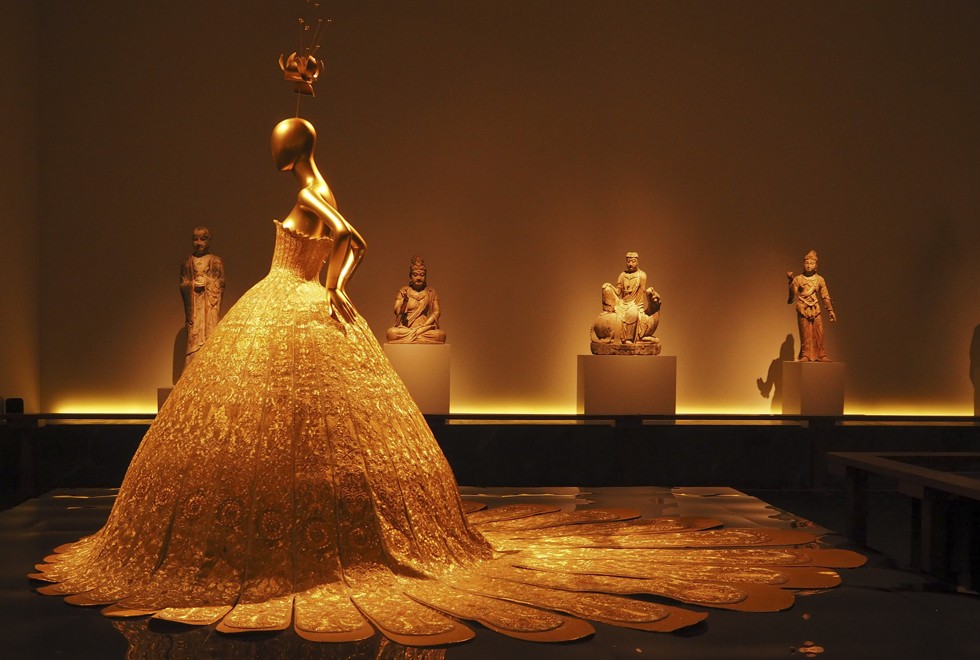 Chinese designer Guo Pei goes for gold at Paris Haute Couture Week
Apart from these lavishly decorated textiles, which are evidence of the craftsmanship and knowledge that goes into such creations, other less lavish textiles are also the result of impeccable know-how.
"It doesn't necessarily have to be the most elaborate piece that is the most time-consuming to make," Ralph says.
Guyon agrees and says the main challenge for the Crystal² dress was to develop a textile light enough so it is wearable and feels like a "second skin".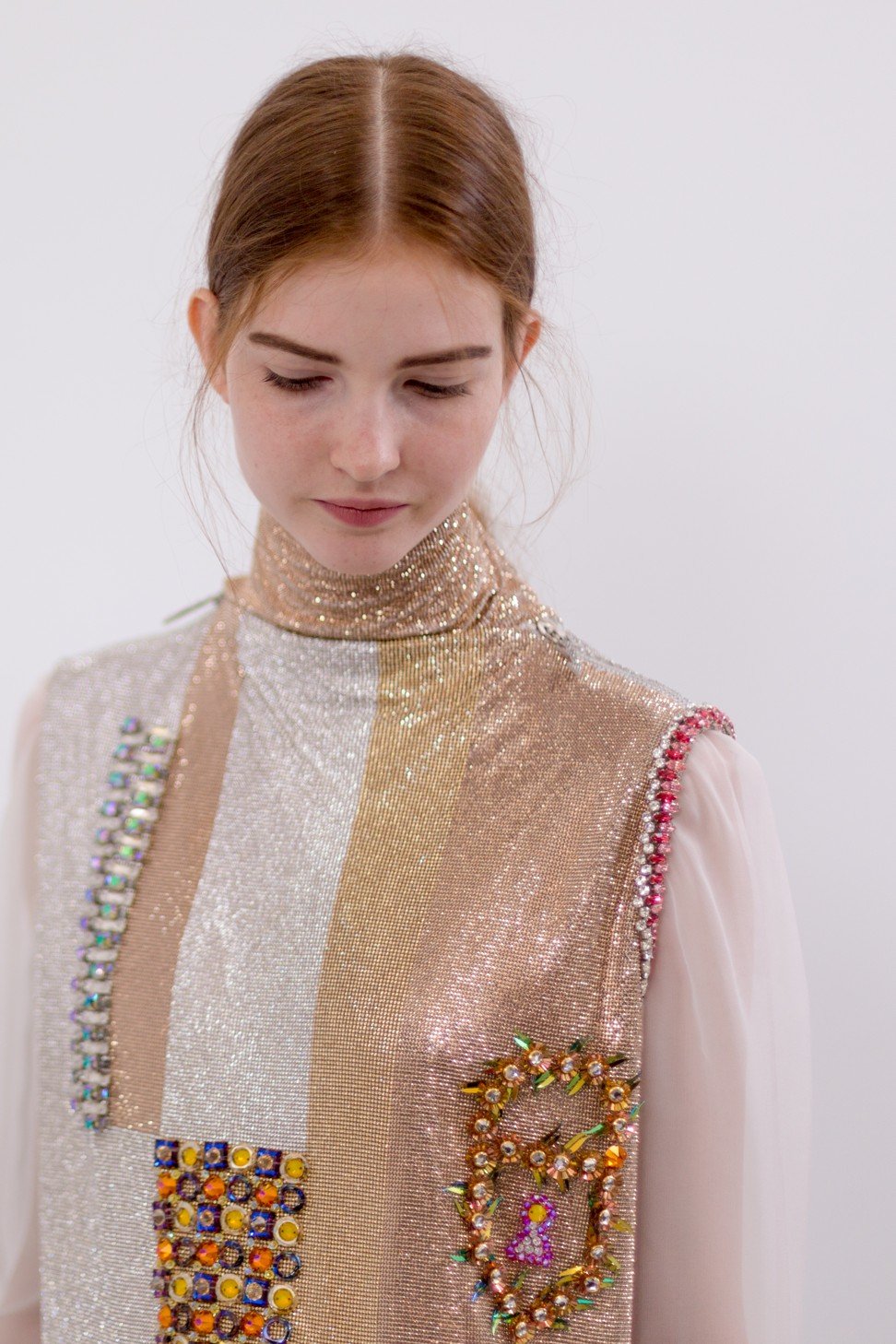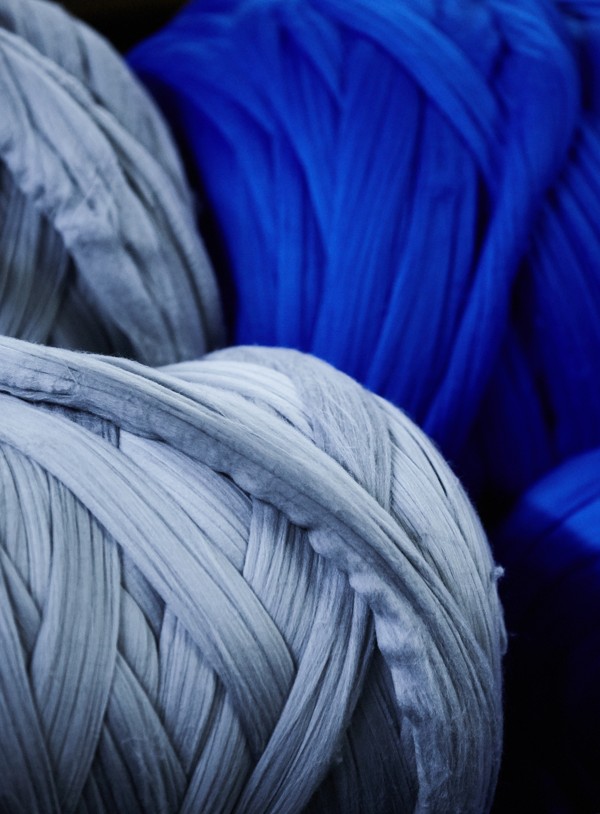 Subtly luxurious textiles and fabrics are perhaps more common in men's suiting. High-end luxury menswear brands such as Ermenegildo Zegna and Cerruti both have mills that manufacture exclusive fabrics in-house as well as consistently investing in researching and developing new textiles.
Zegna's Wool Mill, established in 1910, for example, is known for its high quality, "satin-like" wool, cashmere and noble fibres.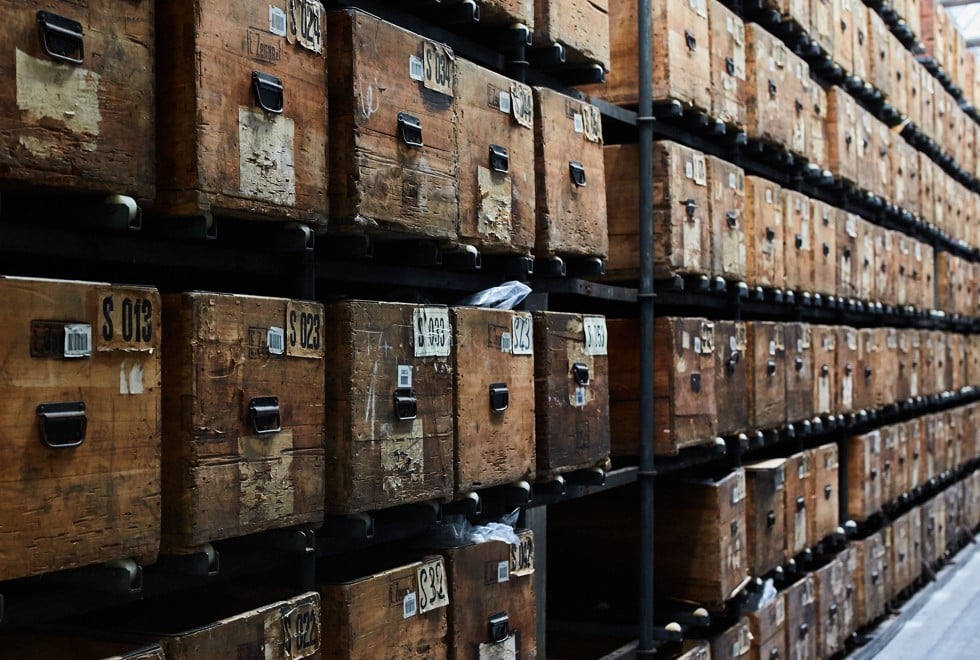 How fashion designers work with suppliers to develop textiles might vary, but the synergy is mutually beneficial.
At Chanel's couture atelier, for example, different artisanal ateliers work in harmony to interpret creative director Karl Lagerfeld's themes and inspirations to bring his ideas to life. It's a similar process at Ralph & Russo.
"It's hard to say whether design or textile comes first," Ralph says. "It's a marriage of the two."
The designer explains that she works closely with a team of artisans and embroiders to develop textile swatches and tweak the elements as they go forward.
"We start the process for the next collection as soon as we unveil our current collection," she says.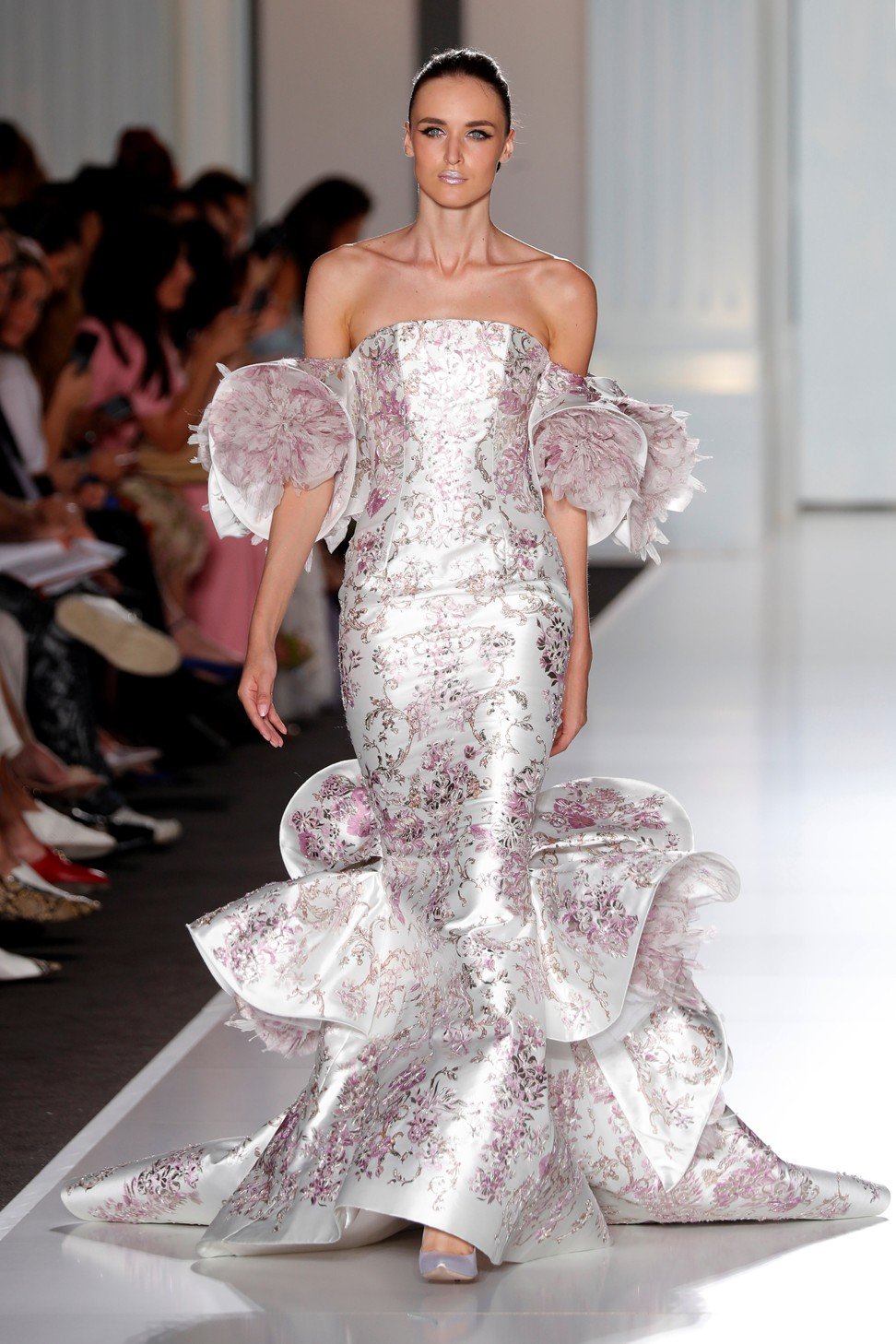 Guo, who is also actively involved in developing exclusive textiles for her creations, says that communication with the suppliers is key to bringing her dreams to reality.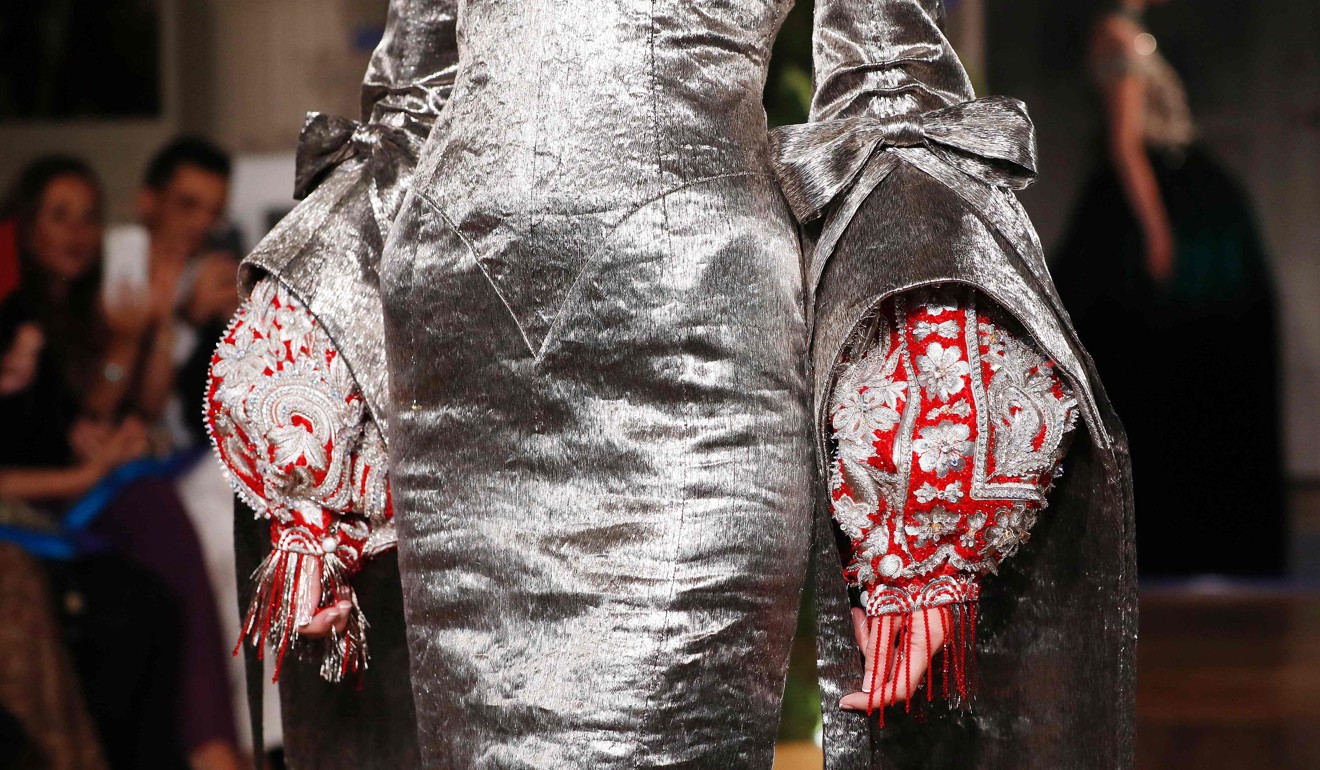 "The pattern of our striped pantsuits, for example, was created especially for my needs," she says. "I'm very particular with the widths of the stripes that can best bring out the essence of my vision for this particular look."
It's hard to say whether design or textile comes first. It's a marriage of the two
Yet it's not only the couturiers who are investing in textile developments. Ready-to-wear houses, such as Dries Van Noten and Stella McCartney, are also collaborating with textile innovators for creativity and sustainable causes.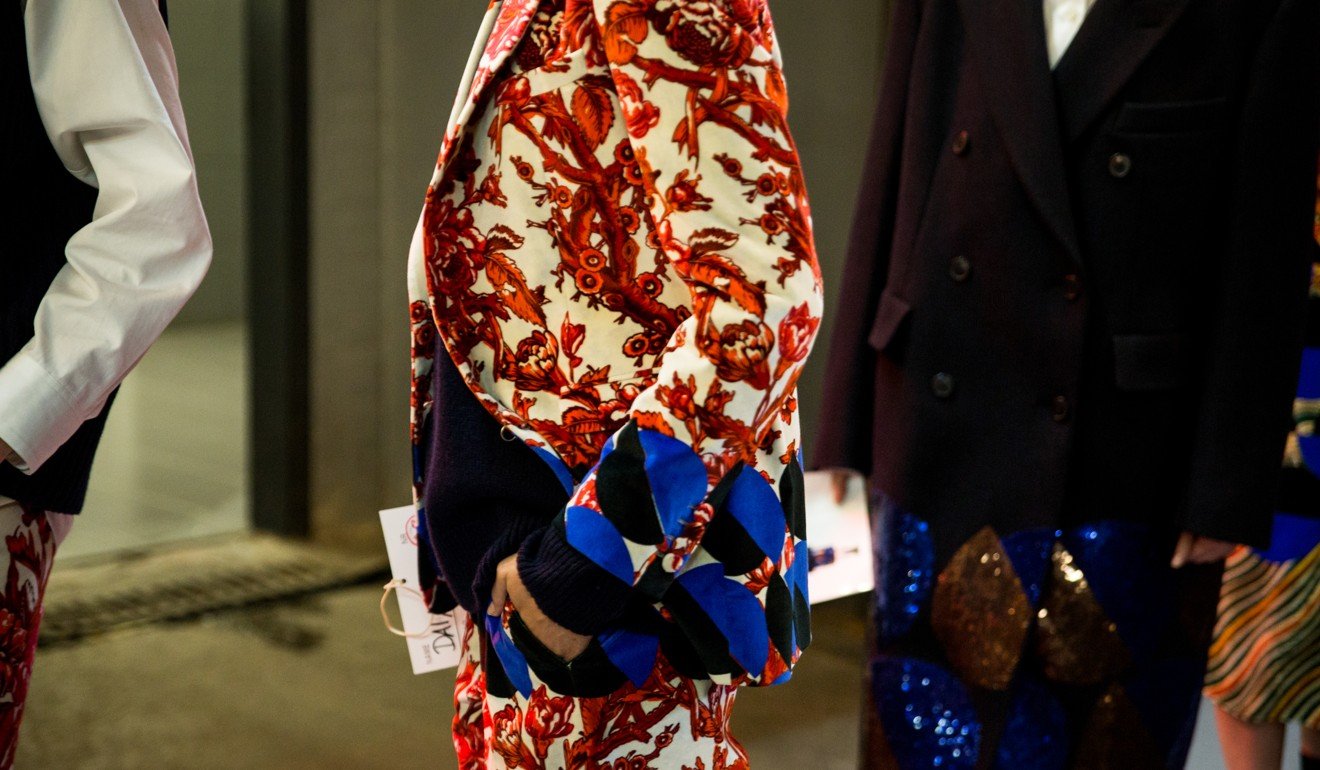 "I'm mad about fabrics and colours," Van Noten says. "They have to be very specific. [They have to have] the right shine and luminosity so I'm grateful that I have the possibility to create with the manufacturers."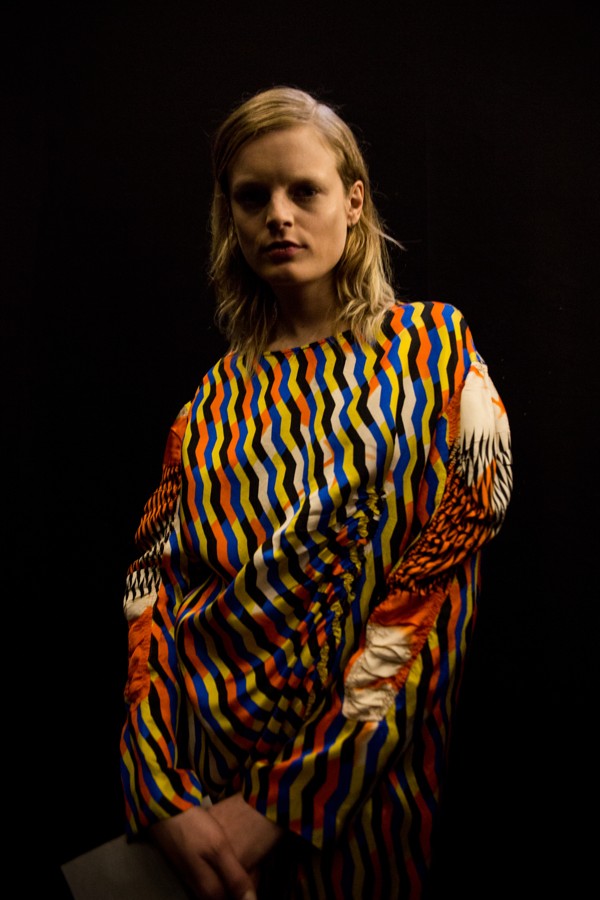 Van Noten, known for his unique prints and patterns, has long been working with artisans and embroiderers in India – some for 20 years.
"I appreciate their skills and I also feel responsible [for them]; I make sure that in every collection, I have enough work for them so they can continue their workshops instead of joining big commercial factories in the city," he says.
Dries Van Noten's 100th show pays homage to 90s models and celebrates bold prints
McCartney shares Van Noten's vision in promoting sustainability in fashion. The vegan designer works extensively with textile innovators for alternatives to animal products such as leather, silk and suede. One of her most recent collaborations was with Bolt Threads – a biotechnology company known for sustainable materials such as a yeast-based vegan silk.
Stella McCartney's eco-friendly fashion is fuelled by her innovative and tenacious spirit
The increasing focus on sustainability, coupled with the surge of technical innovations, has propelled textile design and development to fashion's centre stage.
Organisations such as The Woolmark Company are also helping with innovative textile development. It has already set up two fabric innovation centres in mainland China, aiming to educate and inspire designers.
As athleisure hits China, Particle Fever is helping to lead the way
"We want to work with designers, especially independent designers who might not have the same amount of resources as established big corporations," says Jeff Ma, The Woolmark Company's country manager in China. "I believe textile innovation is what [takes] these independent brands to the next level."