Despite having been in the trade for more than 30 years, Chinese couturier Guo Pei finds herself at the starting line again.
"Many of my friends are planning their retirement, but for me, it's only the beginning," Guo, 50, says at her Parisian showroom in Place Vendôme, just a day after her July couture show at Hotel Salomon de Rothschild.
Guo started her career as a fast fashion designer in the 1980s and opened her own made-to-order atelier in 1997. She went on to become one of the few Chinese designers invited by Fédération de la Haute Couture de la Mode as a guest member to take part in Paris Haute Couture Week alongside heritage couturiers such as Chanel, Dior and Valentino.
Chinese designer Guo Pei goes for gold at Paris Haute Couture Week
Although Guo had already built a strong fan following in China, counting A-listers the likes of Zhang Ziyi and Fan Bingbing as clients, she didn't get in the international spotlight until 2015 when Rihanna attended the Met Ball in one of her designs. The spectacular, yellow fur-trimmed cape gown with a lavish train decorated with Chinese embroideries took Guo two years to create.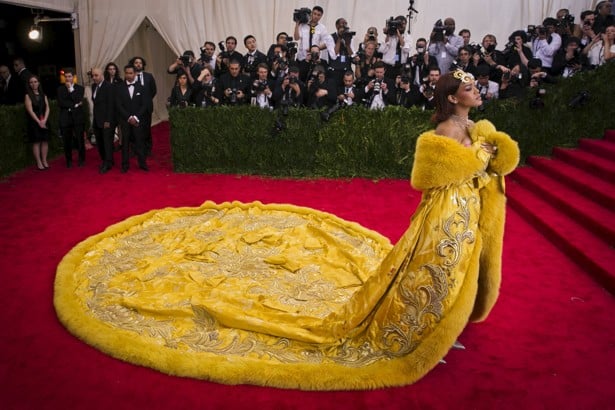 The wide coverage from fashion magazine spreads to internet memes earned Guo overnight fame, which unlocked more opportunities and possibilities.
She was invited to show in Paris two years ago, and her creations were featured in exhibitions at prestigious institutions such as New York's Metropolitan Museum of Art and Museum of Decorative Arts in Paris.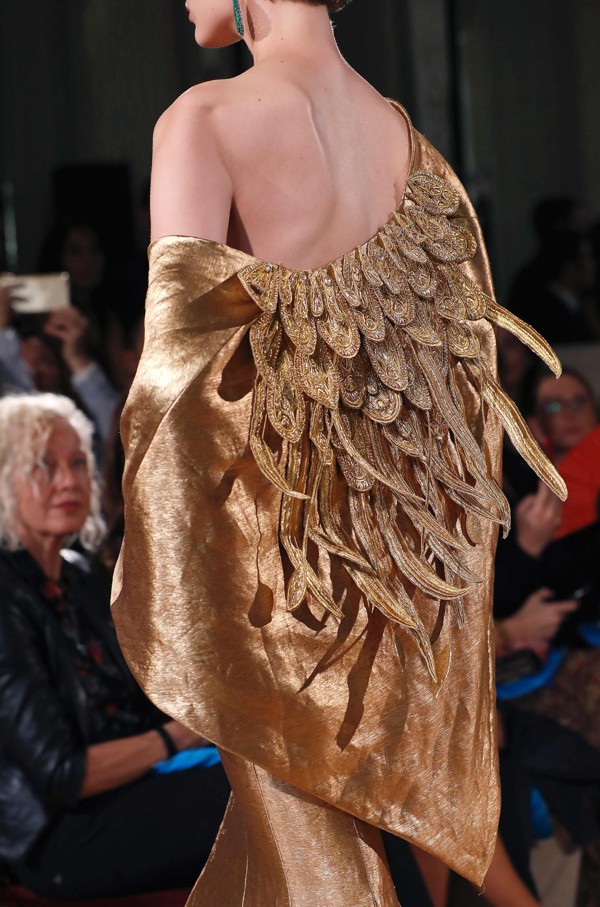 Being invited to show at Paris Haute Couture Week as a guest member, Guo says, was a steep learning curve.
"I respect the values of the couture federation as they respect their members' passion, craftsmanship and how they can contribute to the living art – haute couture – in the future," she says. "Being on the official couture calendar has really taken me and my team to new heights. I feel that we are growing with every collection." Following her breakthrough overseas, Guo received a warm welcome from her clients at home.
"Chinese clients who doubted whether my designs could rival the Western designers' were very impressed and proud of my [global] recognition," she says.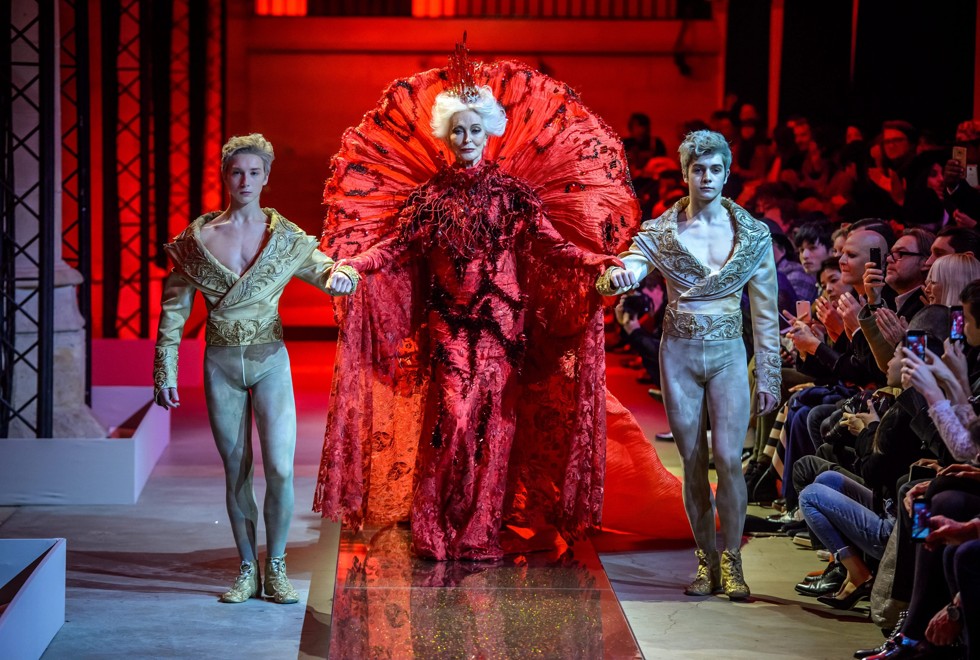 Affluent Chinese customers' growing appetite for sophisticated luxury has fuelled the development of home-grown designers, Guo adds.
"Although China's modern fashion industry doesn't have a long history, customers are learning fast," she says. "Their growing knowledge and appreciation of quality designs have kept me going. Without the clients who have grown with me, designers like me won't have the capacity to grow and the possibilities to prosper. They have learned to look beyond the price tag and understand the values of couture."
One of her clients was, in fact, the matchmaker for her recent collaboration with Chopard for her haute couture autumn/winter 2017 collection. The client asked for a piece of Chopard high jewellery to match a couture wedding gown by Guo Pei for her big day. The client brought Guo and Caroline Scheufele – Chopard's artistic director and co-president – together.
Being on the official calendar has really taken me and my team to new heights. I feel that we are growing with every collection
At Guo's July haute couture show in Paris, models donned Guo's statement couture gowns matched with Chopard's multicarat diamond high jewellery accentuated with colourful precious stones such as rubies and emeralds.
"The big challenge for us was to create our own collection – be it couture or high jewellery that truly complements each other," Guo says.
The starting point for Guo was the bright colours and elegant curves of high jewellery. "The jewellery makes a strong statement," she says. "They are complicated yet feminine. The jewellery really reminds me of my embroidery."
Inspired by the golden age of haute couture, Guo opted for classic ball gown silhouettes with feminine asymmetrical shapes and cut-out details. Echoing the shimmer of high jewellery, Guo incorporated metallic fabrics into the collection.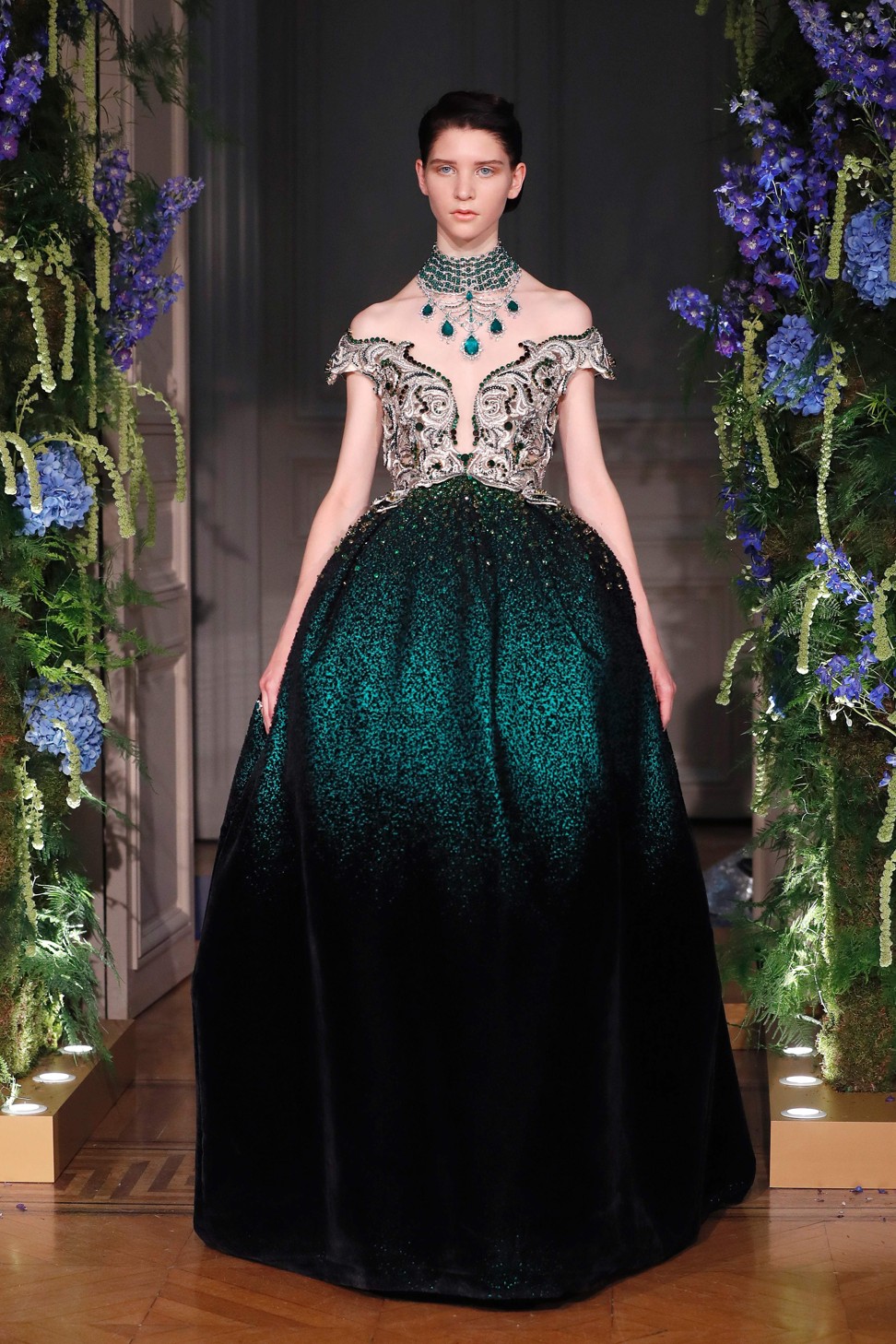 Fashion houses create their own fabrics to highlight craftsmanship
The labour-intensive details in the embroideries, floral appliqués and embellishments that Guo's best known for elevated the classic gowns to a whole new level, which suited the taste of the couture clients and high jewellery collectors on the front row.
The mesmerising details could not have been achieved without Guo's army of artisans – 500 of them to be exact – 300 of which are expert embroiders.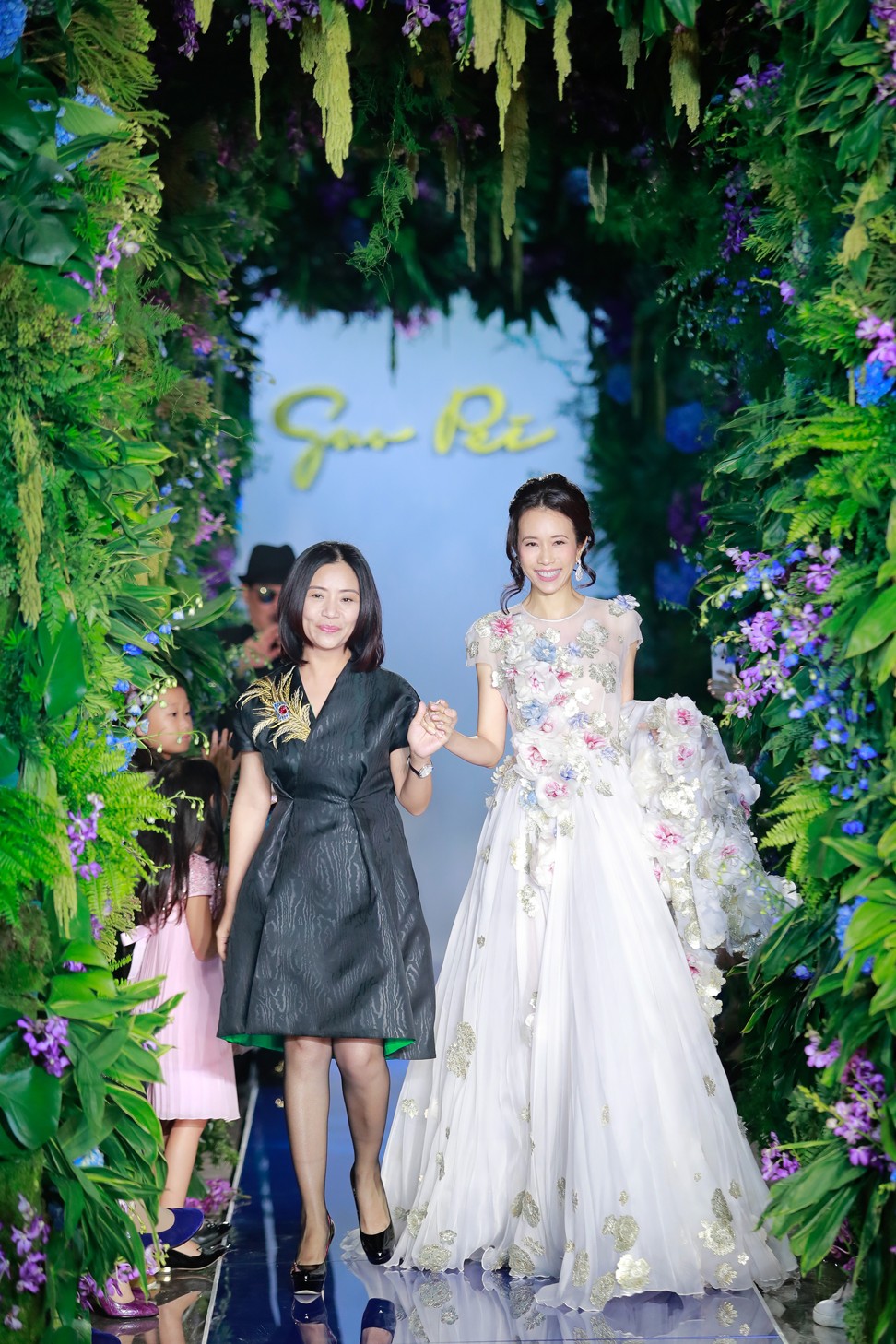 Guo has been recruiting artisans since 20 years ago when she started her own atelier called the Rose Studio.
Based on traditional artisanal skills such as su xiu (special embroideries made famous by artisans from Suzhou) and gong xiu (literally palace embroidery, often seen in garments of imperial families in ancient China), Guo has discovered her unique skills.
"The artisans are my most precious assets," says Guo. "I nurtured them from day one. When we first started, we didn't have many references or role models that we could follow. We started from scratch and I'm very proud of the work they do today."
Couture receives injection of vitality and 'street cred'
Da jing (literally magnificent gold) for example, the dress which took artisans 50,000 hours to make and one of Guo's signature designs that was exhibited at the Met museum, demonstrated the level of craftsmanship in her work.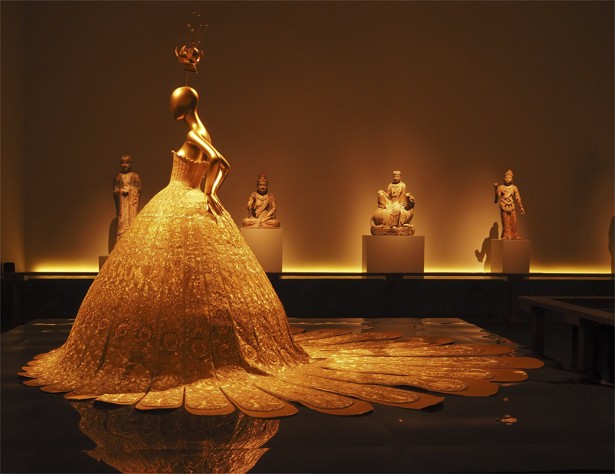 Despite being a Beijing-based Chinese designer, Guo deliberately didn't highlight her Chinese roots in her designs, but was inspired by her time in the West, such as a visit to an 18th-century Swiss cathedral last season, and the Russian princess or art deco diva in previous seasons.
"I think [Chinese influences] are in my blood," Guo says. "It's my design language. I don't want to be labelled as a Chinese storyteller. I think about a global audience."
Guo says she has built a solid foundation and that she's excited about what the future will bring.
"I have faith in my future because of the customers who have grown with me," she says.
"Now that I have gathered my 30 years of experiences and resources, I'm ready to take it further. I'm ready to fly."
Milestones
1967
Born in Beijing
1986
Graduated from Beijing School of Industrial Fashion Design
1987
Joins the fashion industry to design for major manufacturers
1997
Starts her own company, Rose Studio
2008
Designs folklore singer Song Zuying's dress for the closing ceremony of the Beijing Olympics
2015
Designs Rihanna's gown for the Met Gala
2016
Invited to show at Paris Haute Couture Week
2017
Collaborates with Chopard on autumn/winter 2017 haute couture collection