Designers are dreaming up new looks for brides getting married next year, with the latest bridal shows expressing emerging ideas and previewing a glimpse of styles to come.
Brides-to-be who are wary of the risqué wedding gowns that were almost entirely transparent bar a few strategically placed embroidered or lace embellishments can heave a sigh of relief.
A major bridal trend for next year is notably more demure, with a shift towards a timeless look that covers modesty. One of its key aspects is for gowns with long sleeves, no doubt helped along by images of celebrities such as Miranda Kerr, who wore a long-sleeved Dior wedding dress when she married in July.
At Hitched! Bridal, designers such as Studio St. Patrick, Limor Rosen and Temperley Bridal are interpreting the look in their own ways, using lace, embroidery and beading to create illusory
effects, and adding dramatic, billowing sleeves.
Which wedding cake is best for you? Timeless tiers vs opulent appliqués
Reem Acra, available at Trinity Bridal, paired long sleeves with a silk Mikado ball gown named "Captivating", which set the tone for a new era of elegance in bridal wear; think fluid fabrics and romantic silhouettes in contrast to the sultry, figure-hugging gowns of recent years.
Designers such as Monique Lhuillier and Vera Wang, at Central Weddings are also moving towards voluminous, regal ball gowns, using lighter materials in the skirts that give softer, dreamy silhouettes, as well as more freedom of movement to the bride.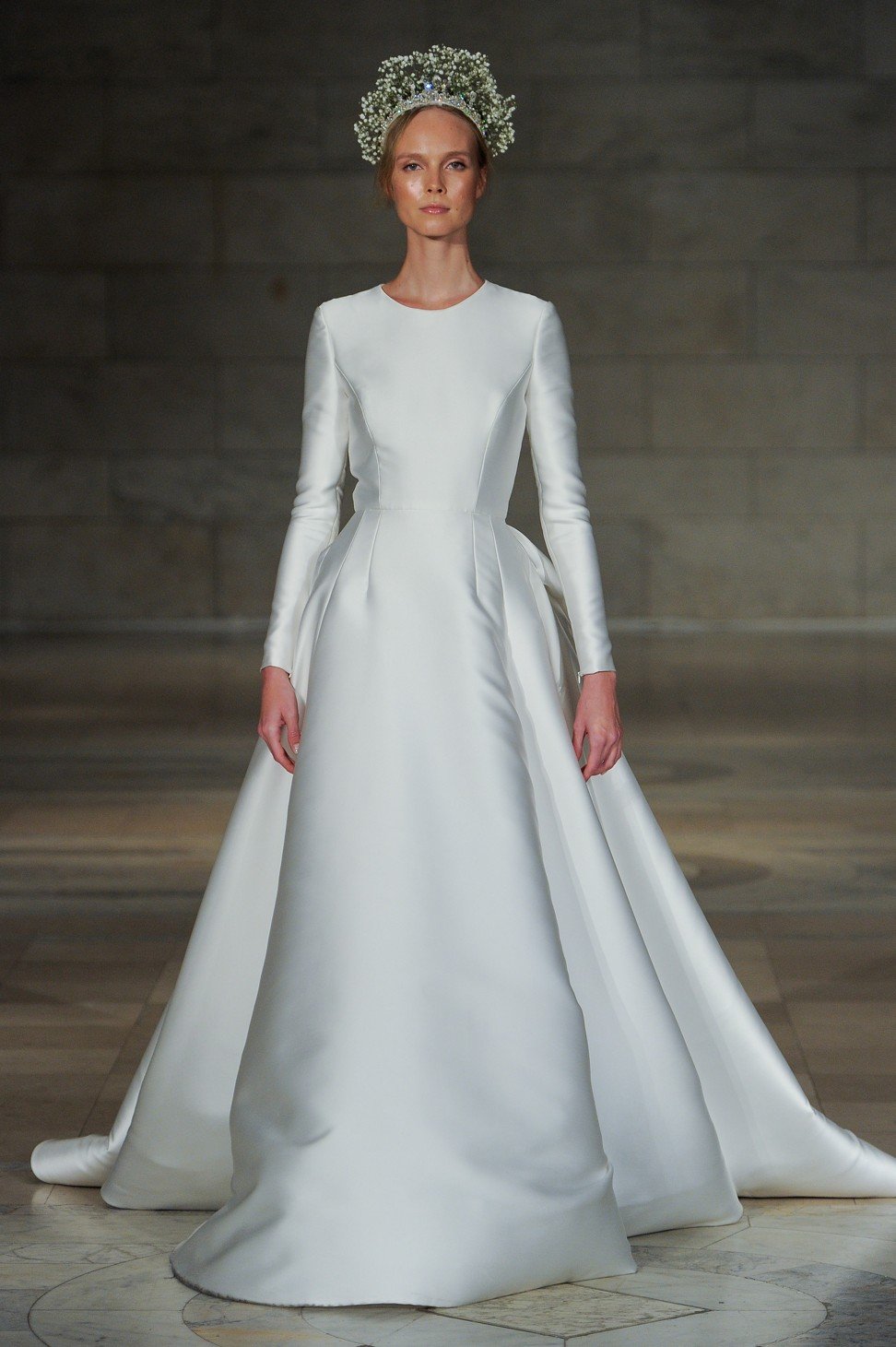 Gowns with corseted bodices that add sensuality to a feminine silhouette are re-emerging with designers such as Limor Rosen contrasting the look with simple crêpe skirts, while Vera Wang gives it her trademark edginess, and Monique Lhuillier reinterprets it with her elegant, romantic variations on
the theme.
"This Elizabethan-era detail adds a vintage touch to modern styles and also offers more support and structure in the bodice, accentuating the curves," says Carolyn Chow, co-founder of Central Weddings.
Obsessed with lace: Central Weddings' Yolanda Choy-Tang shares her treasured pieces
Capes have been on the periphery of bridal wear for a couple of seasons now, but look set to become a fully-fledged design feature appearing in collections by designers such as Studio St. Patrick, while others such as Ines di Santo and Galia Lahav at Trinity Bridal, pair tulle capes with floral and lace appliqué detail.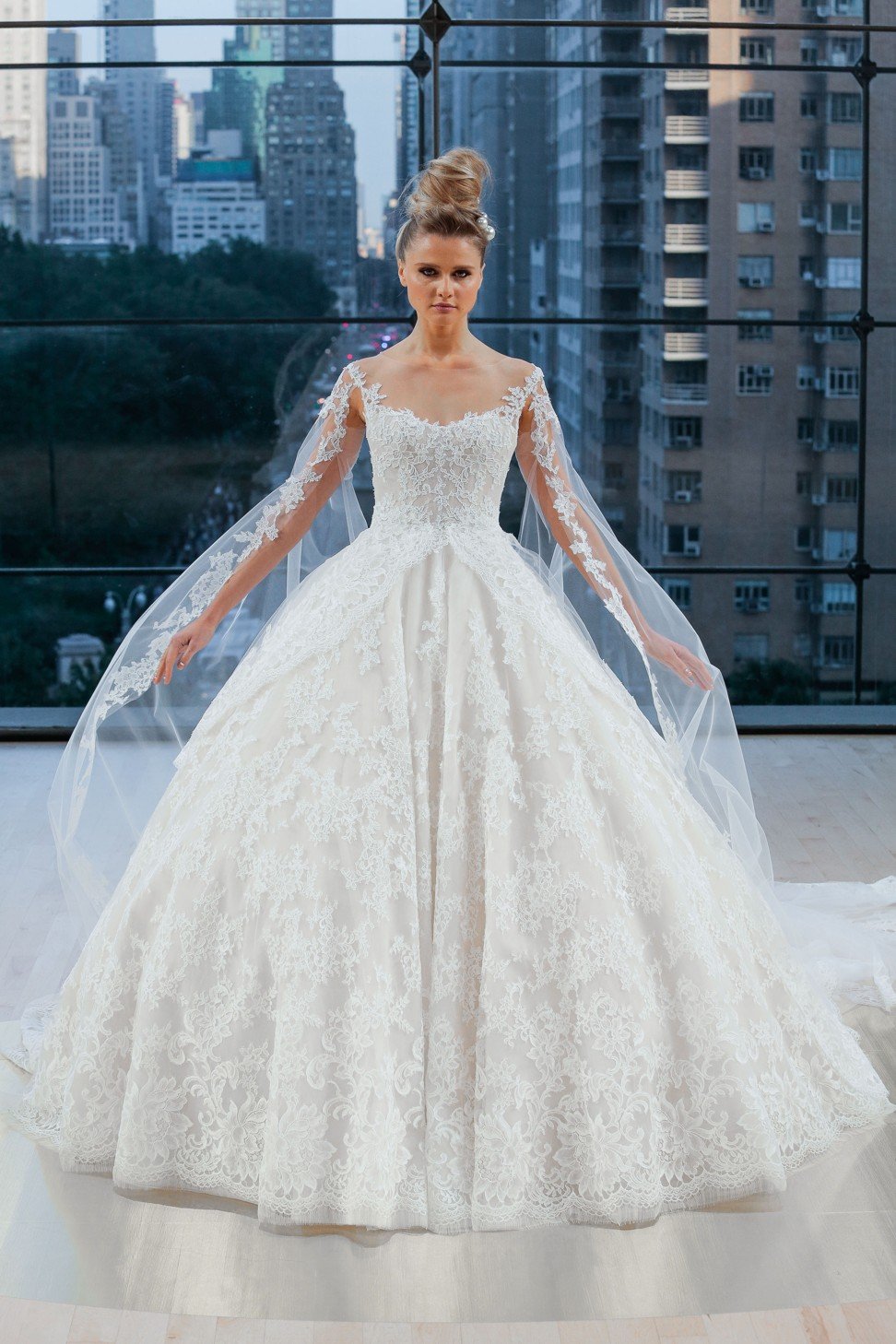 Whereas previously the cape may have been an addition to a wedding dress, this time around it is fully integrated and often in the same material and attached or sometimes, made of different fabric and can be removed.
"The tulle capes at Studio St. Patrick work as a great alternative to a veil – you get the same effect but a more fashionable look," says Dana Trang, founder of Hitched! Bridal. "The look is actually quite regal, and the best thing, it is detachable and you can remove it after the ceremony."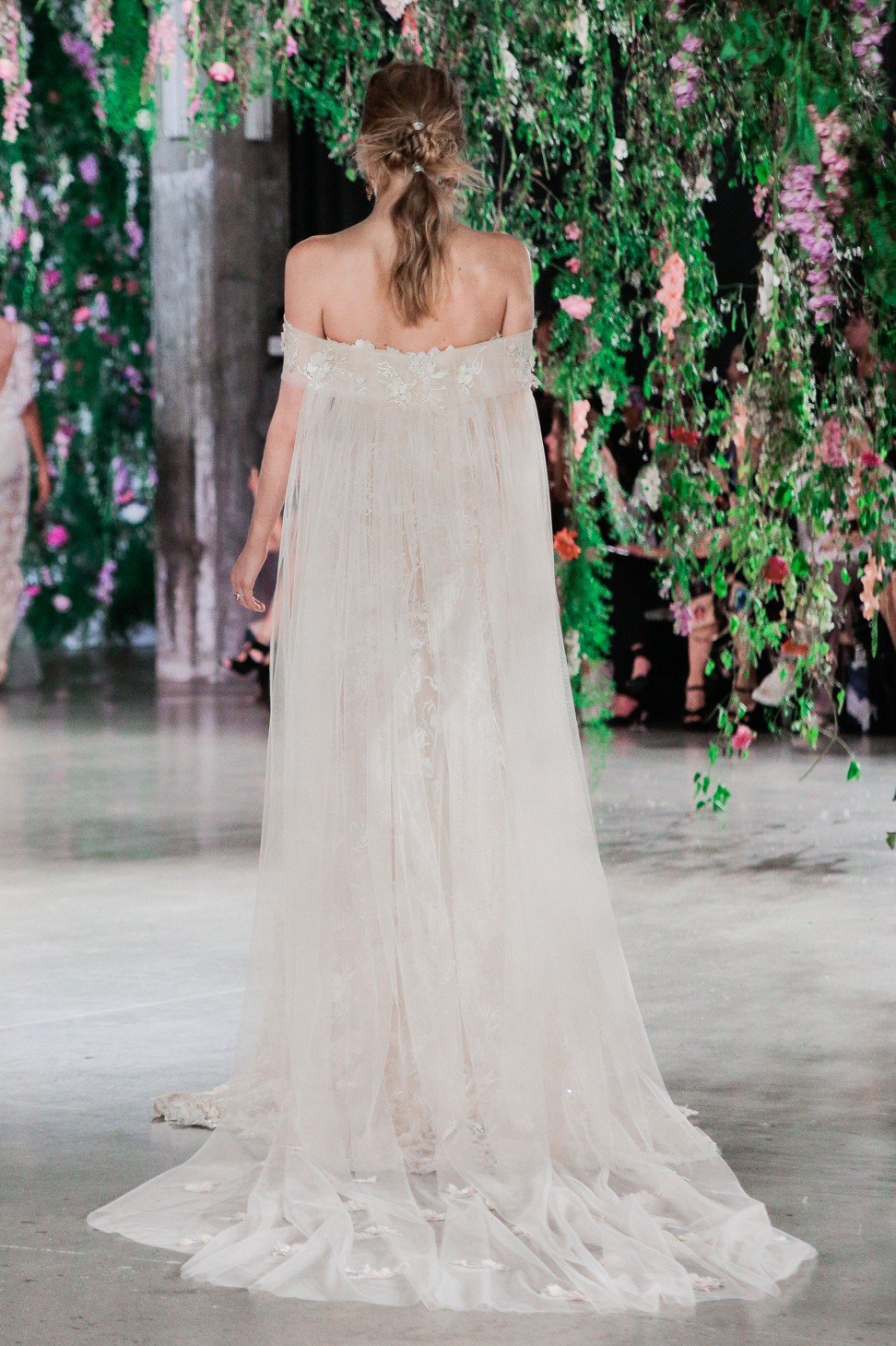 Detail is everything when it comes to wedding gowns, and other themes to look out for include a continuation of ribbons, ruffles and bows that began emerging last season and are embellishing gowns in an up-to-date manner.
Hitched! Bridal also stocks oversized details that cascade down the backs of gowns in dramatic, swishing effect by designers such as Augusta Jones and David Fielden. They are meanwhile given a girly touch by Marchesa, in a modern way that transforms traditional silhouettes into fashion-forward looks, according to Chow.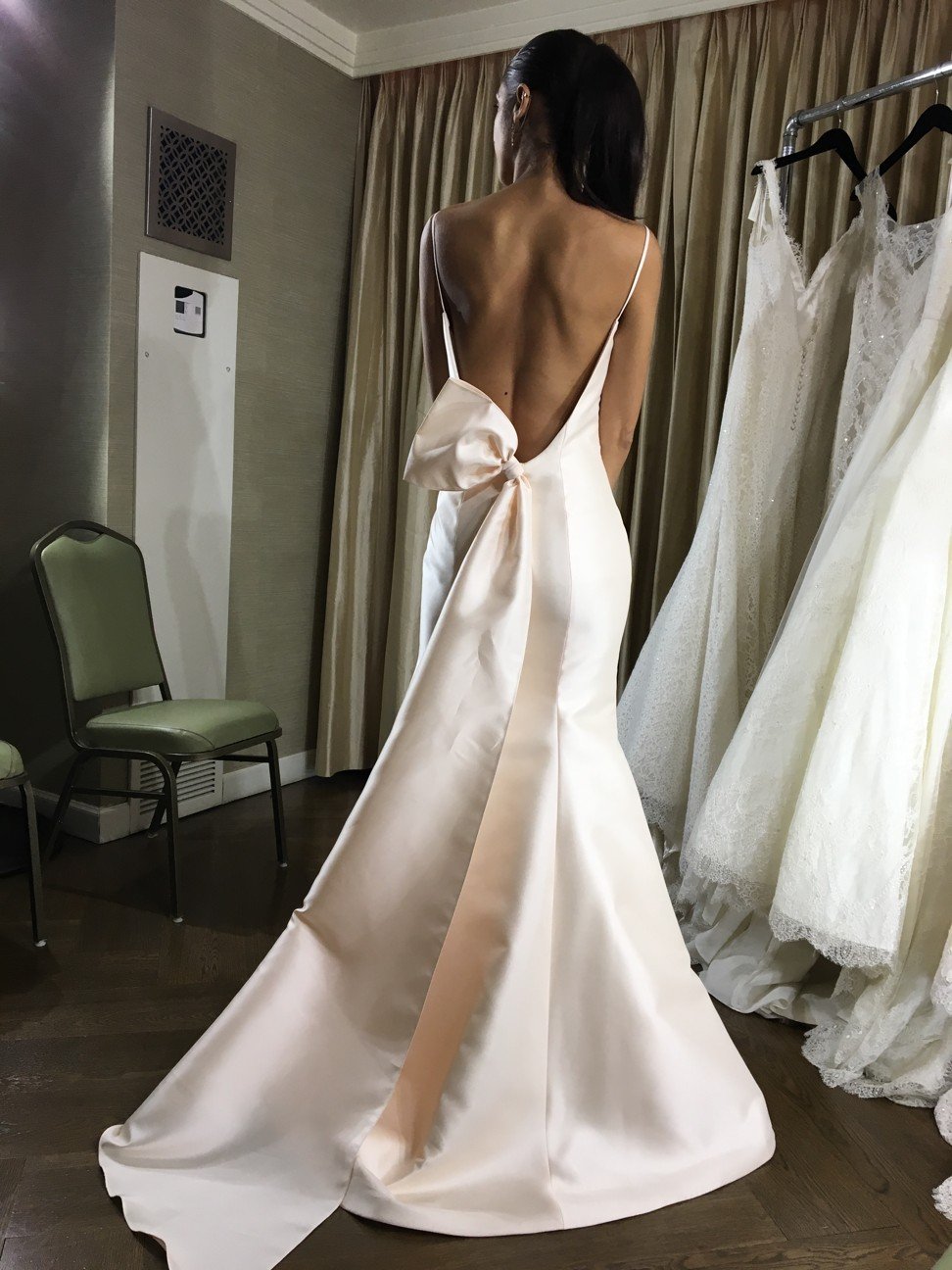 Jumpsuit-style gowns that cross the line between bridal wear and fashion are another emerging trend, appealing to brides that want a more relaxed, fashion-inspired look, rather than a traditional wedding dress.
"Not everyone suits a big white dress and we always say that a wedding gown should be an elevation of one's personal style. For the chic and fashion-conscious bride who dares to be different, a jumpsuit would be a suitable choice," Trang says.
Meanwhile, the latest collection by designer Noel Chu takes on the soft, romantic silhouettes and fluid forms appearing in international collections, inspired by spring gardens. Fabrics such as silk organza, satin and tulle are used to create transparent layers and mixed with exquisite embroidery, with each material "reflecting a rich texture and form, which is complemented with a thought-ful use of fine lace and hand embellishment", Chu says.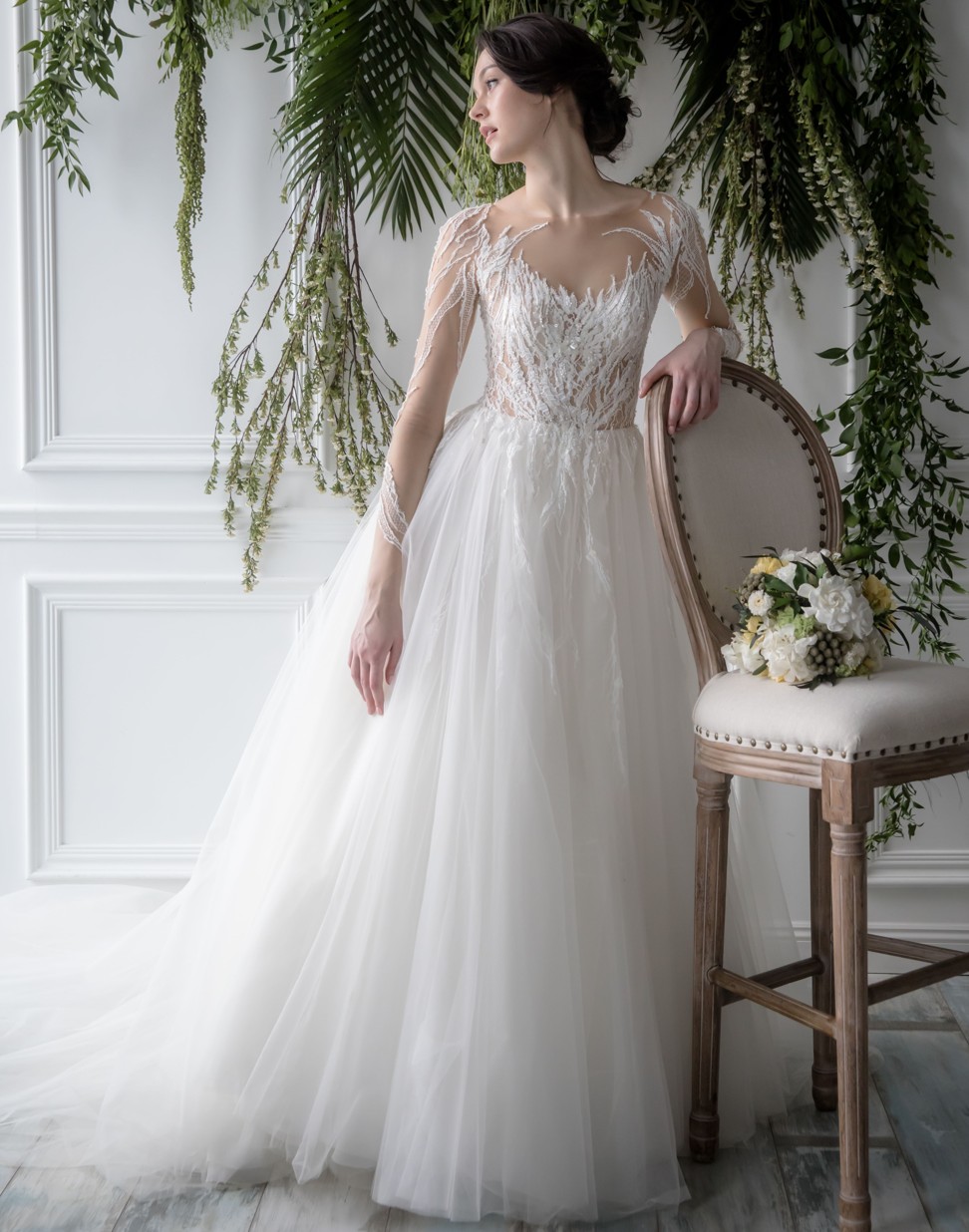 Hong Kong-based brides can also look forward to a new range of designs hitting boutiques in the coming months.
Elie Saab Bridal, known for its use of luxurious fabrics and decadent embroidery, will be exclusive to Trinity Bridal, and the flurry of Israeli designers continues.
Why millennial couples opt for bespoke wedding rings
Audella Bridal was one of the first boutiques to introduce the sensual designs of Berta, Inbal Dror and Lee Petra Grebenau, and it recently added a new line by Berta called Muse, where modern styles feature soft tulle skirts, sensual silhouettes and intricate lace, appliqué and beading detail.
Central Weddings is also introducing an Israeli designer called Riki Dalal, who has an international reputation for her haute couture wedding gowns. The designer's ready-to-wear collection, Noya, will debut in Hong Kong early next year and comes with all the design credentials of Dalal's haute couture collection.
The boutique introduced a similar concept earlier this year, bringing Marchesa's Notte Bridal collection to Hong Kong, which offers couture-style gowns without hefty prices.