Gucci's brand is worth more than ever – thanks in part to young, spendthrift shoppers in China eager to shell out everything they earn on US$2,900 velvet clutches or US$1,400 crystal-studded sunglasses.
The value of Gucci's label jumped a whopping 66 per cent to US$22.4 billion in 2018, according to a report by Kantar Millward Brown. It helped that the Italian fashion house had its best-ever year. In fact, the top 10 luxury labels rose in value by 28 per cent over the past 12 months, compared with a 4 per cent jump the year prior, according to the consulting firm.
Much of Gucci's growth was driven by a phenomenon among Chinese consumers that sounds more like a biker gang than a shopping demographic. "Moonlight clans" are groups of millennial shoppers bent on spending everything they earn on luxury goods, said Elspeth Cheung, global valuation director at Kantar's BrandZ division. This new breed of spender represents a major cultural shift away from a more conservative consumer landscape in China. Now, as younger Chinese acclimate to President Xi Jinping's vision of a nation with both abundance and opportunity, they're beginning to react, and spend, accordingly.
"The China Dream message was one of a stronger nation, with more equality, increasing income levels," Cheung said. "It gave assurance to consumers that the future is bright."
That optimism is driving a tremendous rise in luxury brand value, both in Asia and all across the world – and not just for Gucci. French fashion house Dior saw the second-fastest growth, up 54 per cent, while brand values slipped slightly for Prada and Chanel, according to the report. Hermès, Burberry, Rolex and Cartier also saw substantial growth. Saint Laurent, owned by Gucci's parent company Kering SA, was a newcomer to the top 10. Louis Vuitton, meanwhile, remains the most valuable luxury label at US$41.1 billion.
Yet, no brand may be cashing in more than Gucci. Sales spiked 42 per cent in fiscal 2017 to US$7.2 billion, with growth spread across all categories – from satchels and clutches to sneakers and moccasins. In fact, Kering rode the success of Gucci and Saint Laurent to its most profitable year ever. And Gucci's momentum hasn't stopped, with growth in the last quarter reaching 49 per cent.
China was Kering's second-fastest growing market across all of its brands last year, up 18 per cent at comparable exchange rates. The company said in March that it had benefited from "renewed consumer confidence and supportive government policies".
The Asia-Pacific region accounts for more than a third of Gucci's annual revenue. It launched its new online shop in China last summer, and in October held a celebrity-laden party in Shanghai that transformed the courtyard of a historical villa into a lantern-adorned garden. In January, Gucci released a special collection before Lunar New Year celebrations – a line of totes, jumpers and jackets inspired by the Year of the Dog.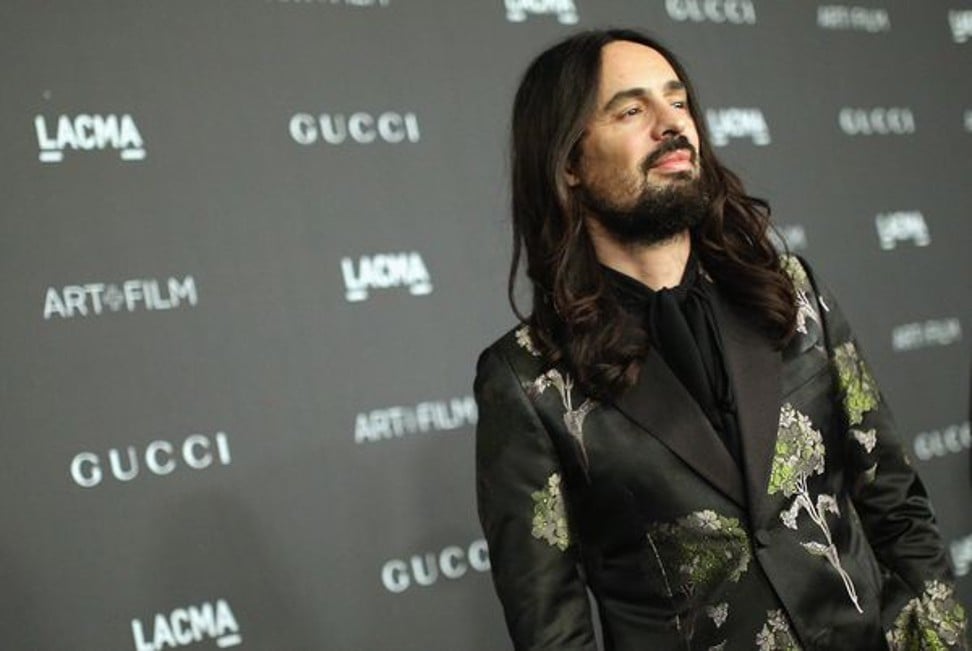 Gucci's renaissance, however, began in 2015, and had little to do with China. When fashion designer Alessandro Michele replaced Frida Giannini as creative director, he set aside the neat lines, functionality and the dash of flair expected of an Italian house of couture. Designs became filled with vivacious colour and audacious prints. Dresses and pants were covered in ornate embroidery or evocative floral patterns. Everything was younger, bolder and embraced gender ambiguity. In a world that had come to be dominated by a ruthless minimalism, Gucci ran off in the opposite direction. And it worked.
Suddenly, Gucci stood out in the endless churn of fashion cycles. Yes, the styles were risky, but wearing Gucci meant you were chic and confident enough to take a risk. And when you post your look online, it pops.
"The trust level in the brand has risen significantly along with the brand value," Cheung said. "With the rise of social media, with WeChat and Instagram being so important for fashion, if you want to stand out, you need to wear something that's different."
Want more stories like this? Sign up here. Follow STYLE on Facebook, Instagram and Twitter