We look at four things we learned from a packed and at times emotional six days at Paris Men's Fashion Week, which ended on Sunday.
Men don't have to be men
The pressure is off, boys. Dress like you did when you were a child raiding your mother's wardrobe. That seems to be the big message from a fashion week where the gender lines were never more blurred.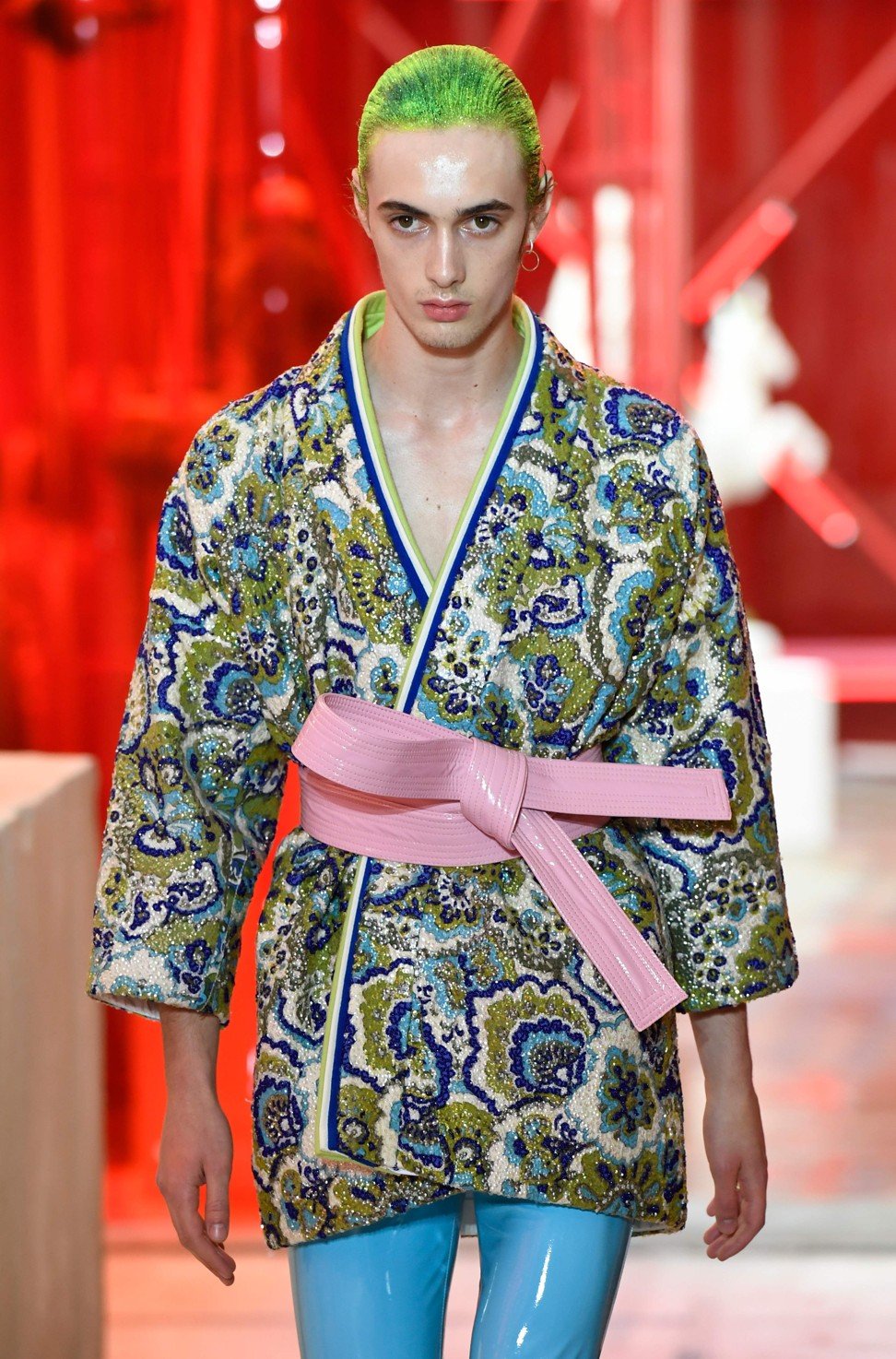 We have had men in dresses aplenty before on the Paris catwalk, but never has the male wardrobe itself been so comprehensively feminised.
Gender doesn't matter any more – it's 2018
Blur's Girls & Boys could have been the soundtrack for a week where genderless meant men borrowing all the best bits from the girls to sex up suits, shirts and trousers.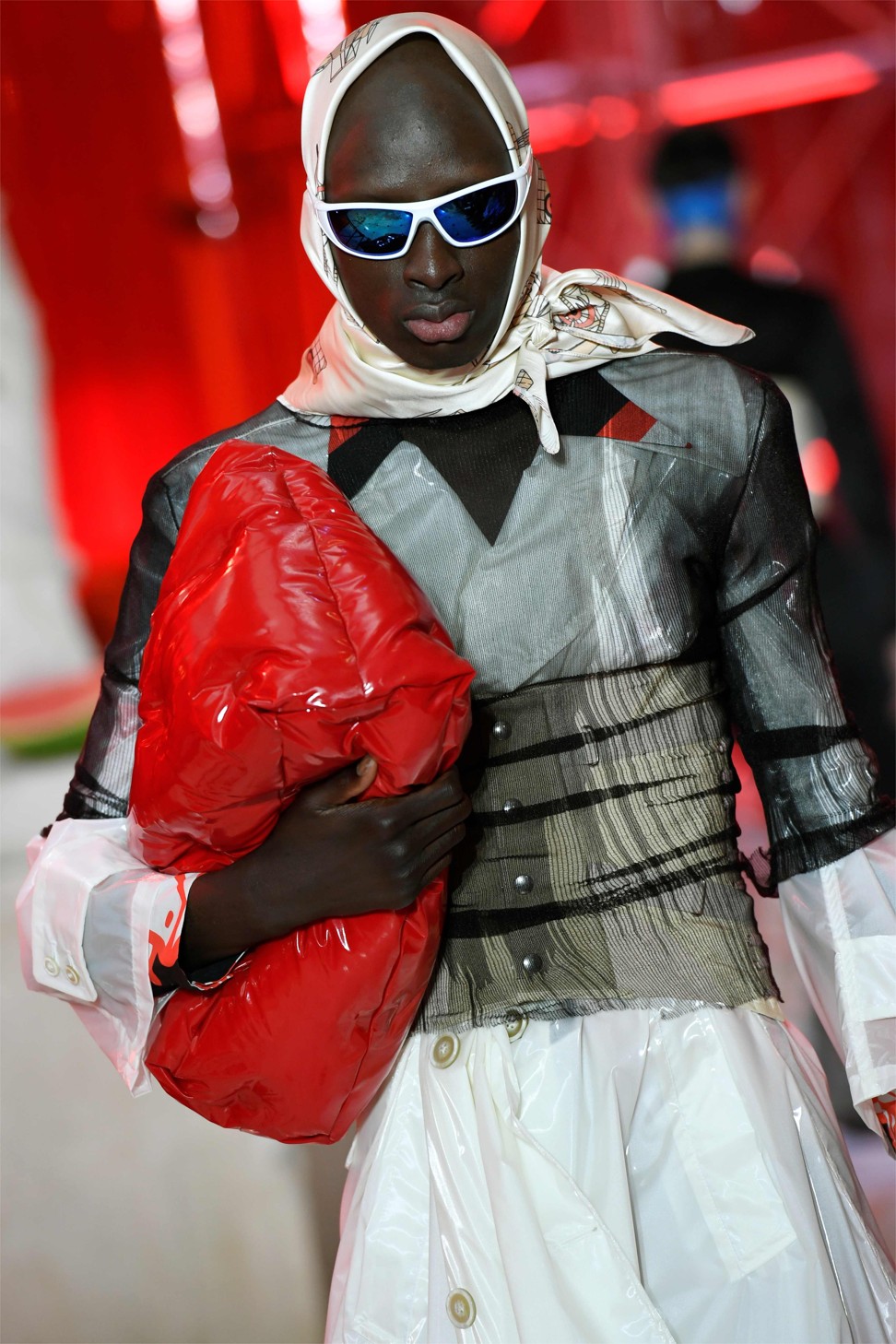 Dior brings equestrian glamour to the catwalk at French chateau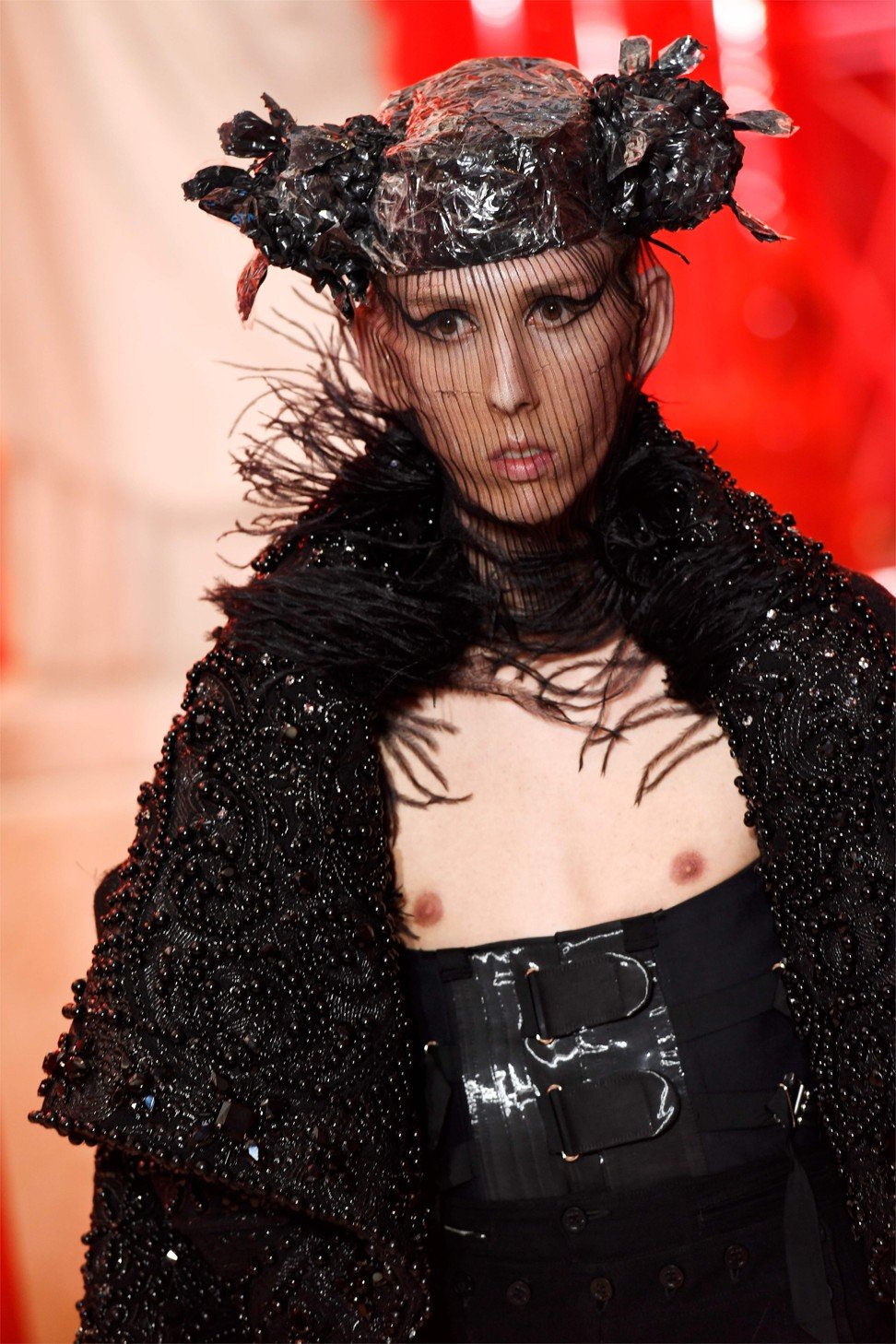 Haute Couture Week: Givenchy and Maison Margiela's British designers wow Paris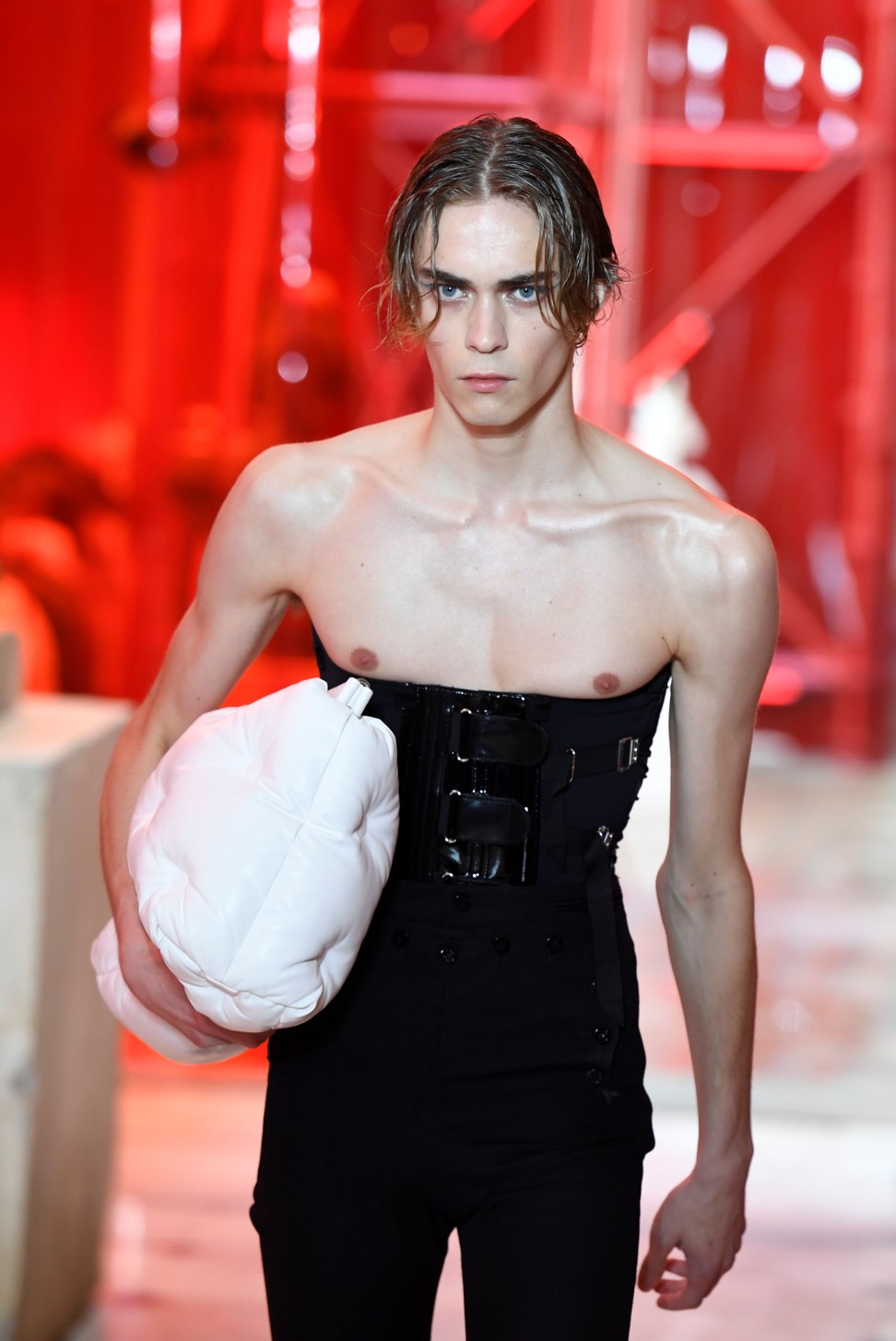 Maison Margiela's John Galliano said the time had come to "liberate" men from their sartorial shackles.
For him that meant silks and satins, daring to be "louche" by going shirtless under a suit, and most of all wearing clothes "cut on the bias" – the technique where fabrics are cut obliquely or diagonally across the grain – which he has used for years to make his clothes for women so fluid and sensual.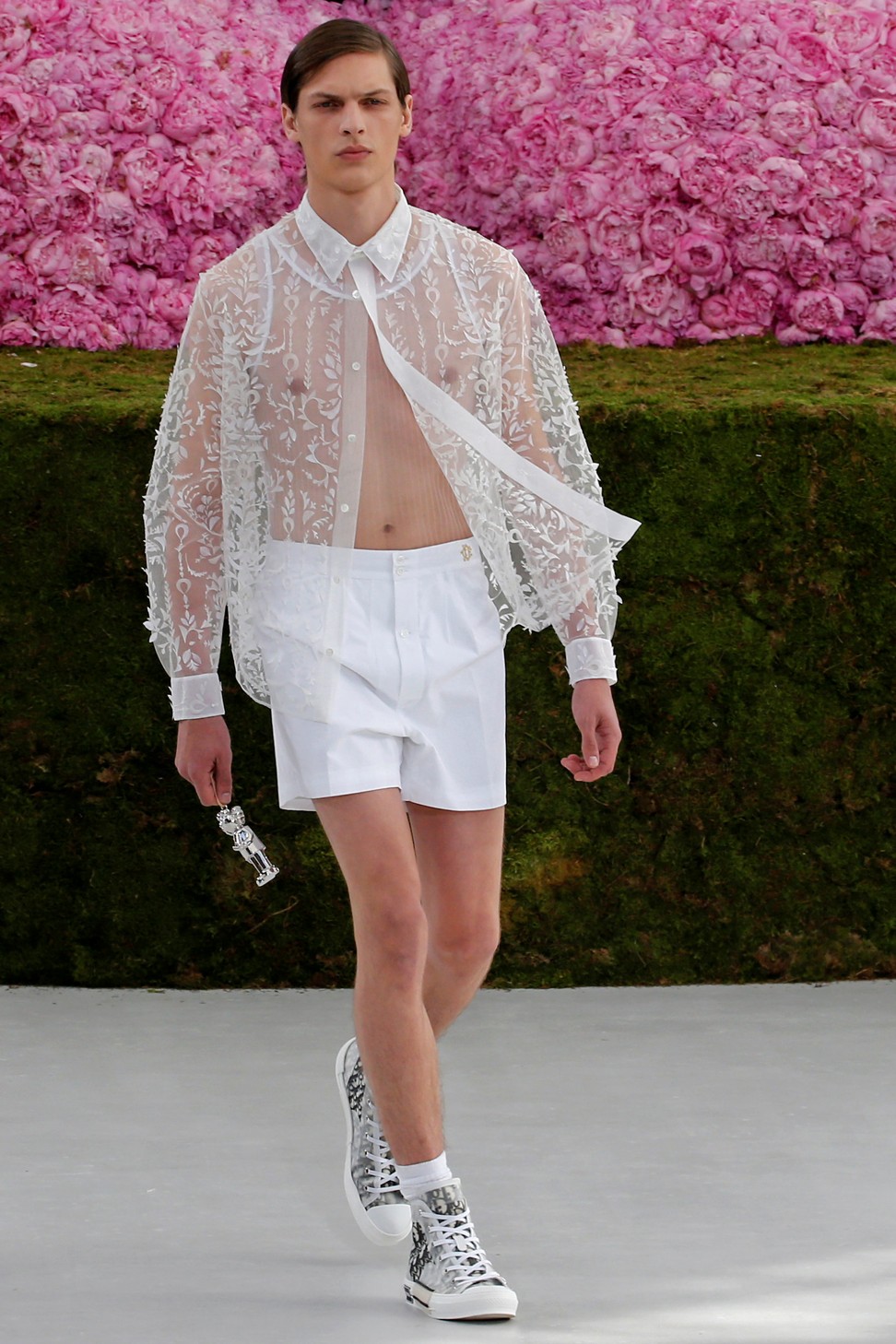 "Gender doesn't matter any more – it's 2018," Kim Jones said before his triumphant debut at Dior Homme where he showed a transparent organza and tulle shirt embroidered with tiny, delicate white feathers.
Dior appoints former Vuitton designer Kim Jones as menswear chief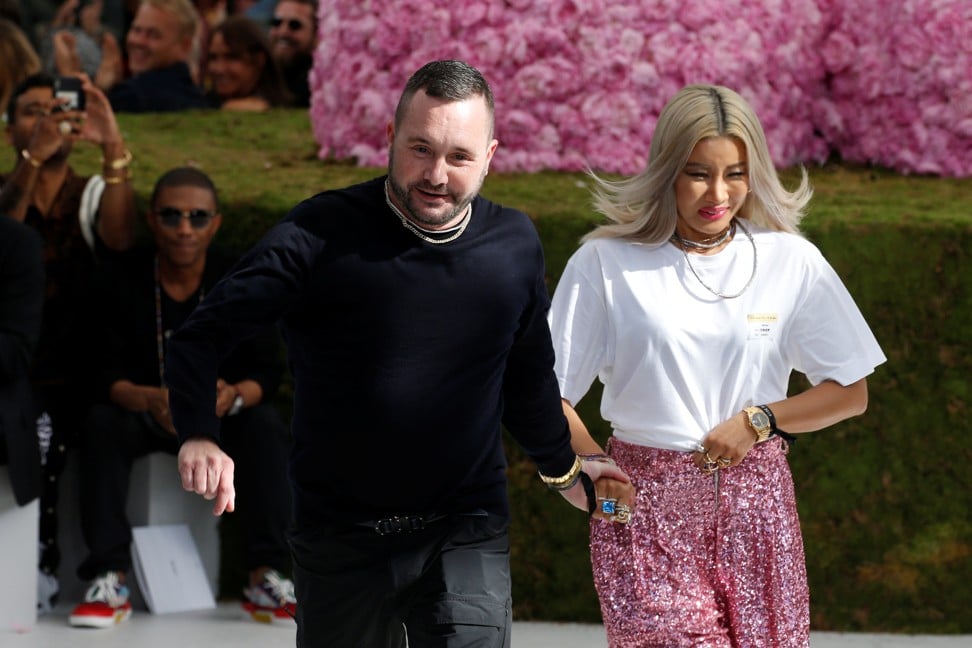 Flowers and floral toile de Jouy blossomed out of a long run of other pieces, "but it is still menswear", he said.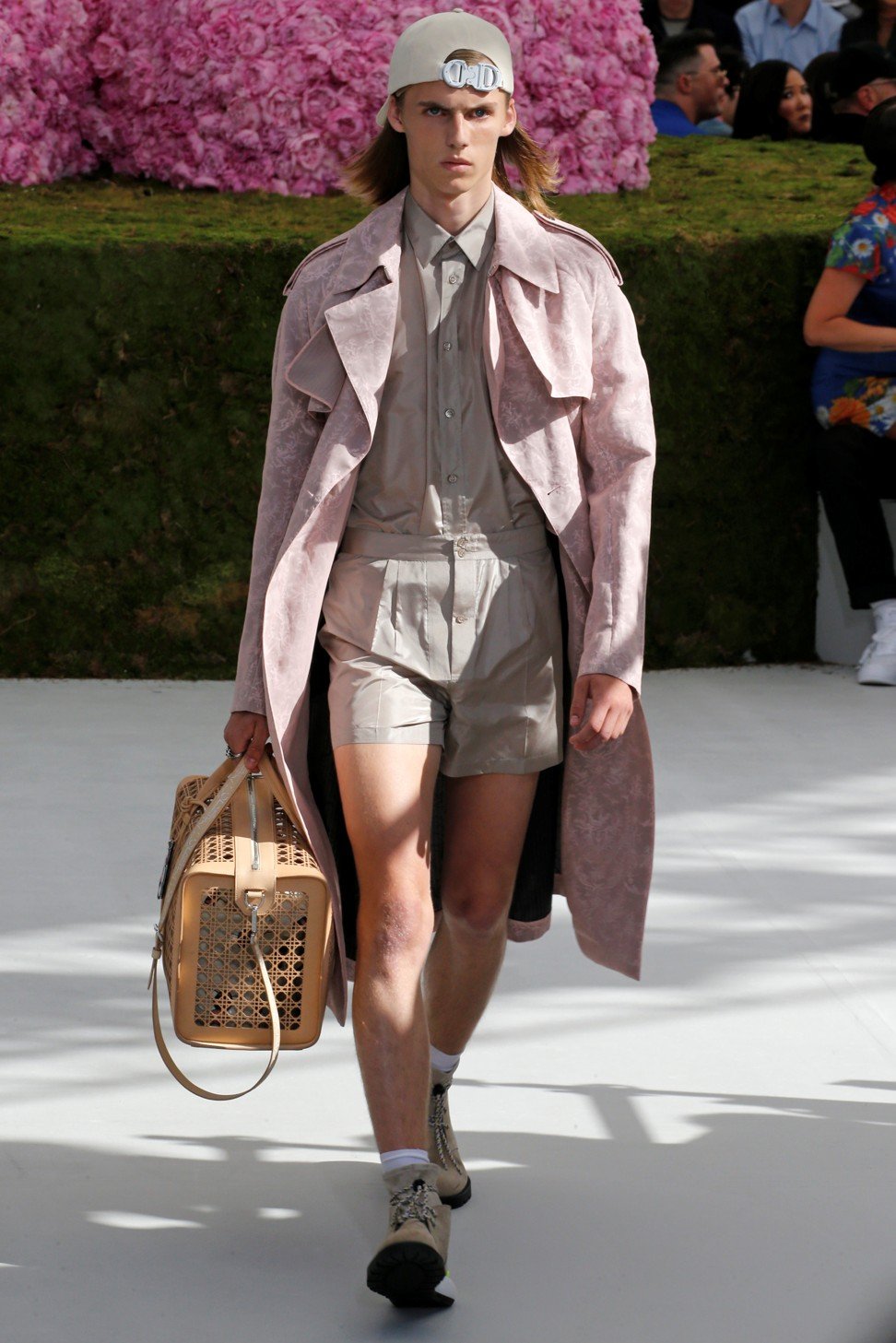 Fashion's bad boy John Galliano joins Maison Martin Margiela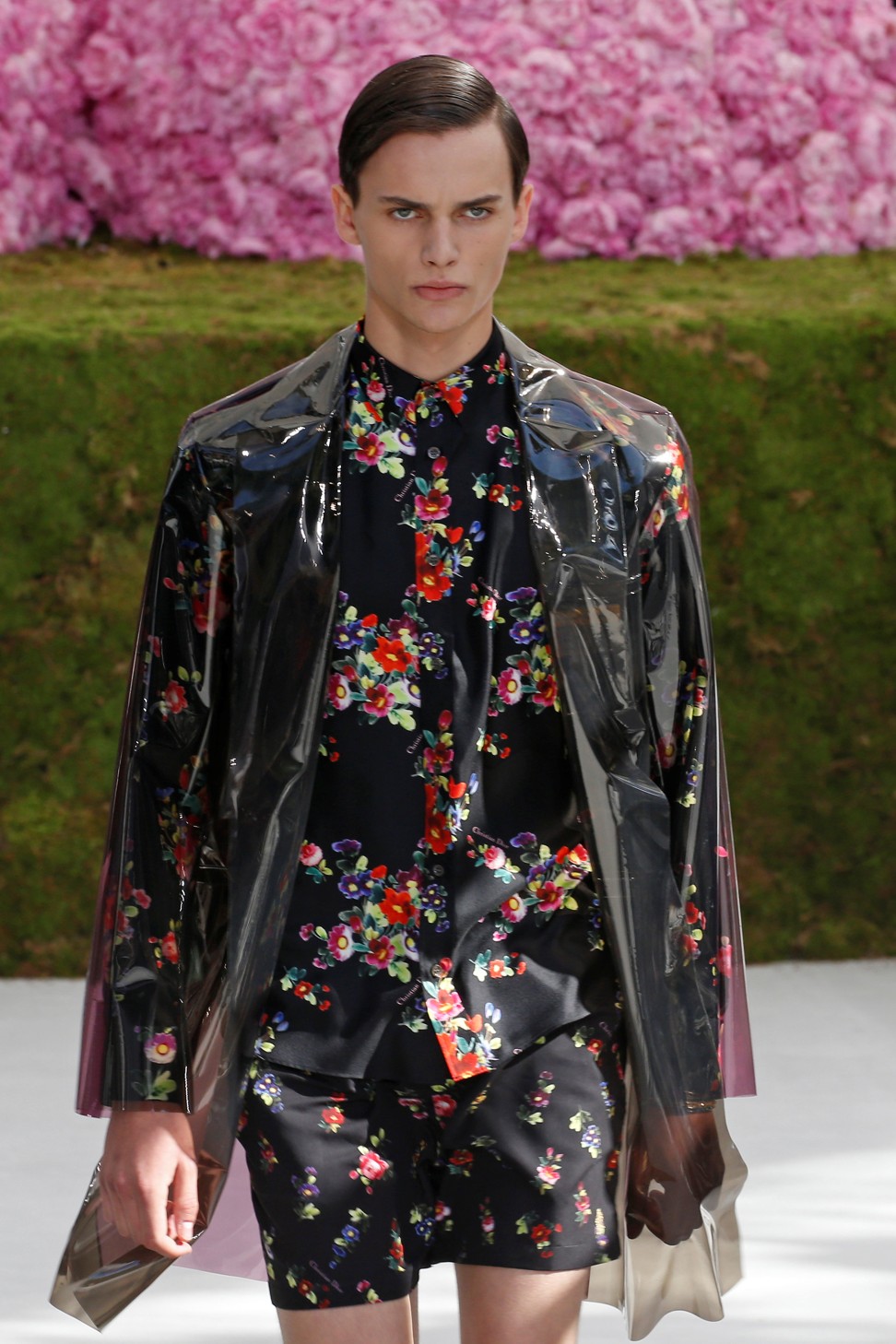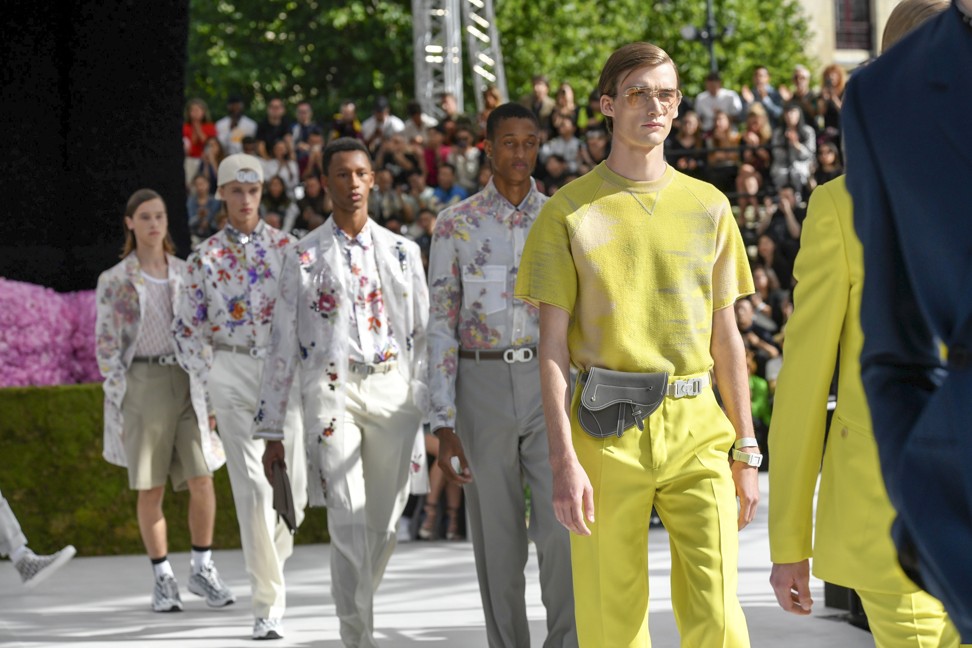 Loewe, the luxury Spanish fashion brand owned by LVMH, used not a little humour to herald fashion's rebirthing of man, opening its presentation with a naked young man sitting on a chair suavely fingering a trumpet.
Loewe shows off its European heritage in IFC Mall store
Pink power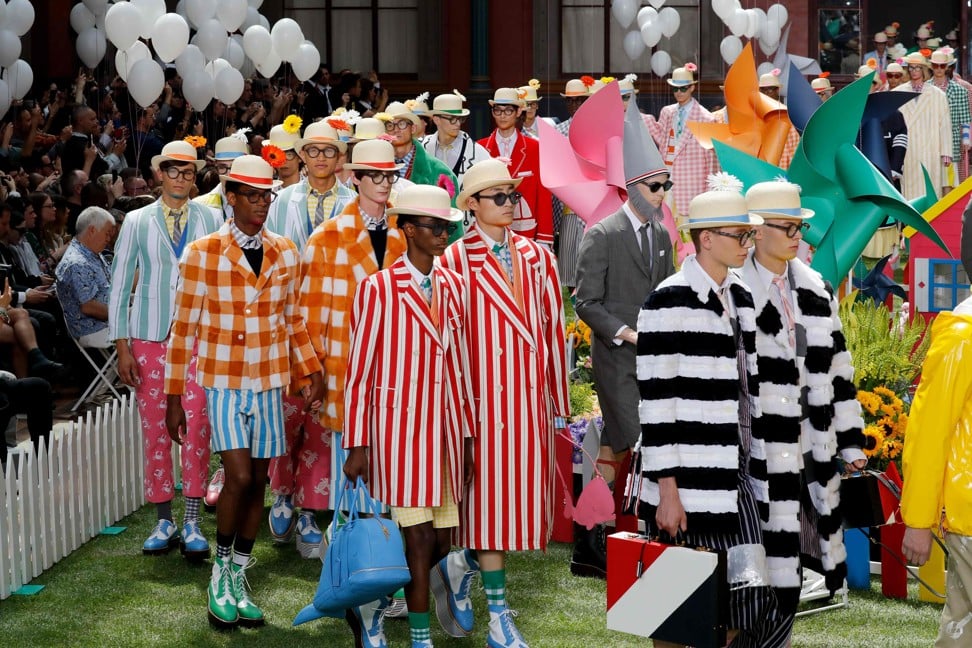 Naturally in such circumstances, pink – once the "boy's colour" before it was supplanted by butch blue in the 1940s – was in full blush.
In LA, kids in the street wear pink all the time. So it's not, 'Oh it's pink, I won't wear it', any more
From Dior's pale pink double breasted suits and trench coats to American designer Thom Browne's Vichy check and bubblegum pink lobster coats and the old rose of timeless Hermès, the colour threw its puff powder hue everywhere.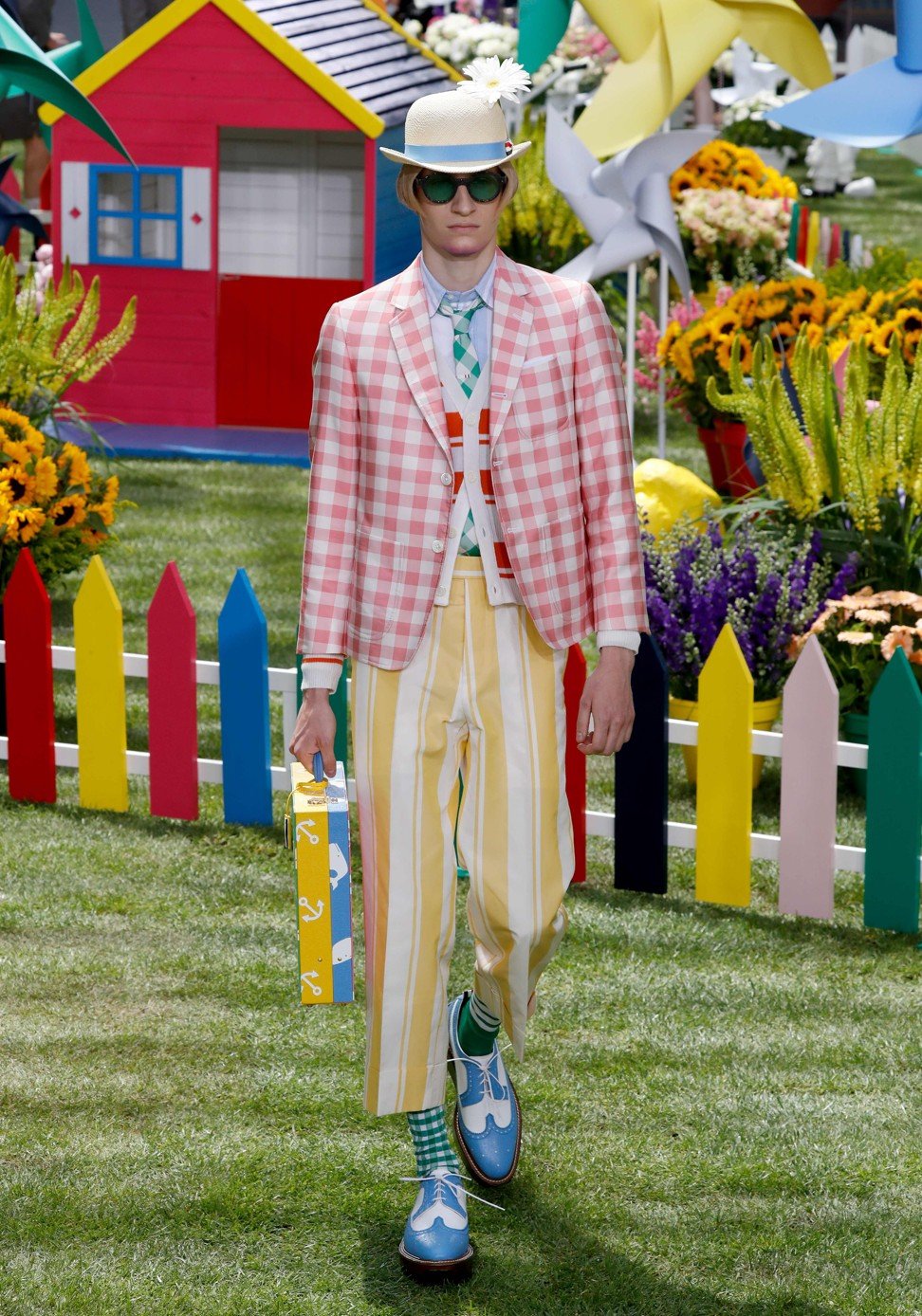 Moncler ends Gamme Rouge and Gamme Bleu lines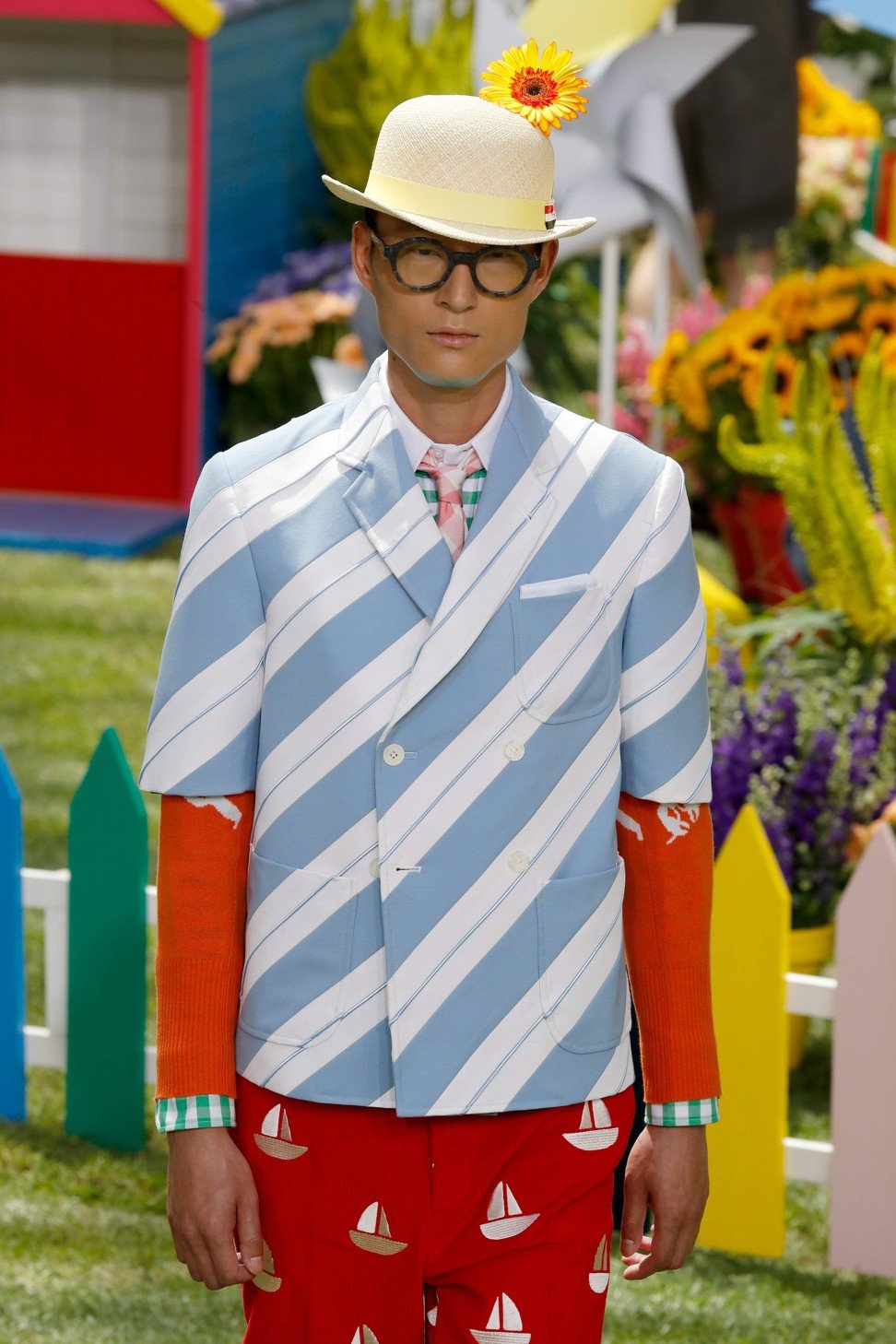 Jones said it was time to bury the old "wussy" prejudices.
"In LA, kids in the street wear pink all the time," he said.
"So it's not, 'Oh it's pink, I won't wear it', any more."
Fellow Briton Paul Smith agreed, sending out borderline violet DB jackets on Sunday, while Lanvin also flirted with floral and silky pinks.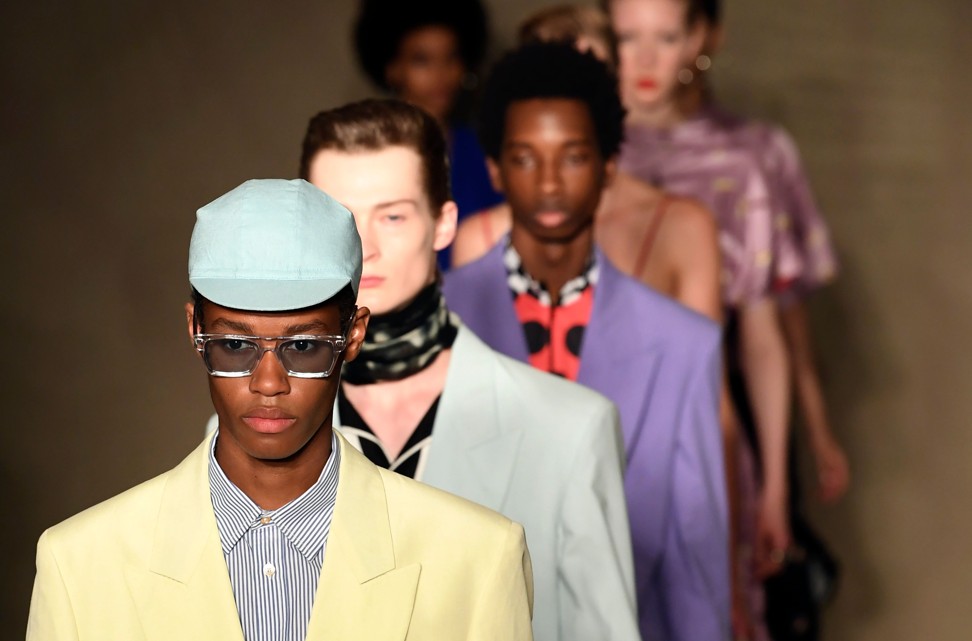 Kim Jones makes a grand exit with exciting finale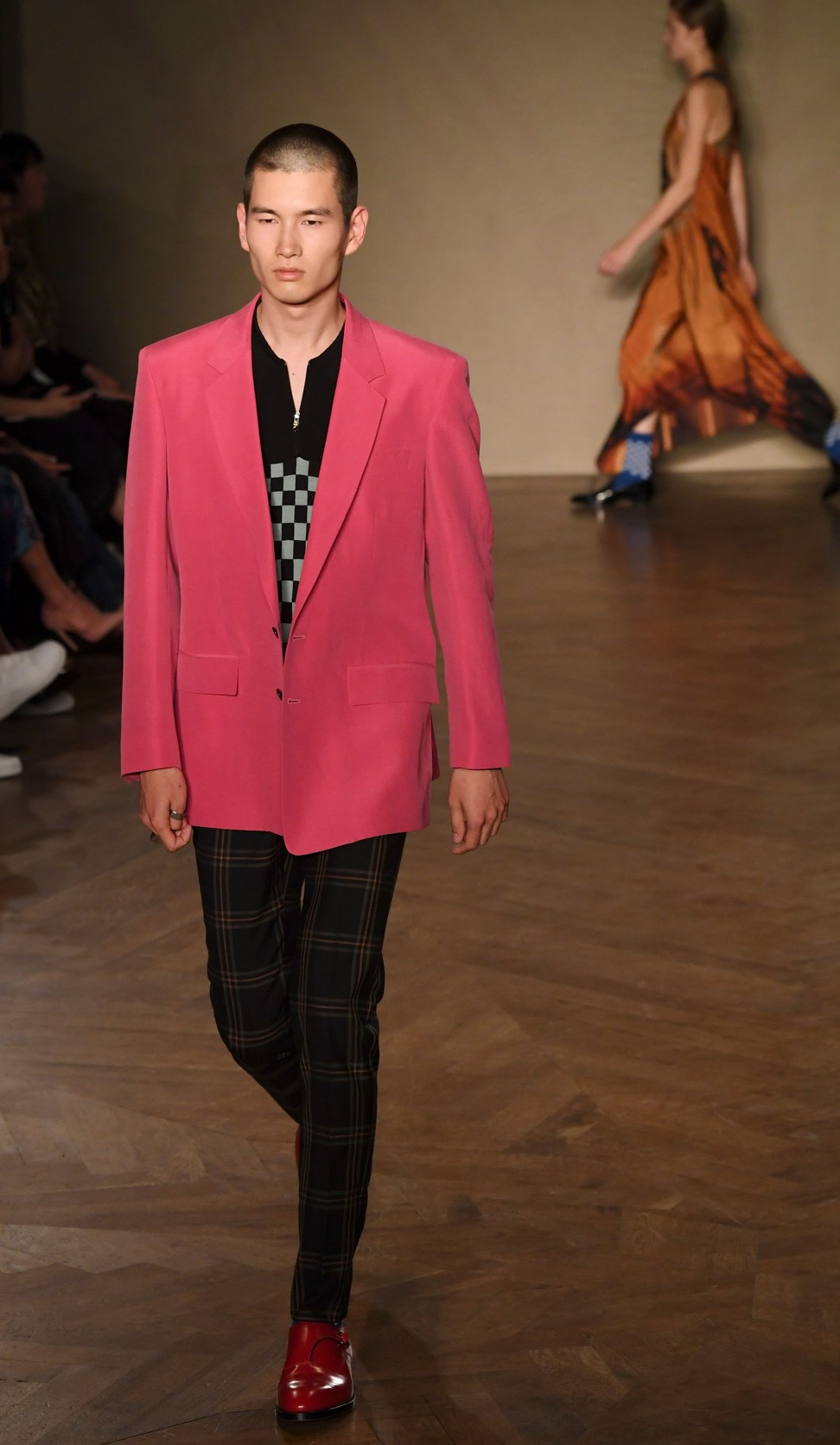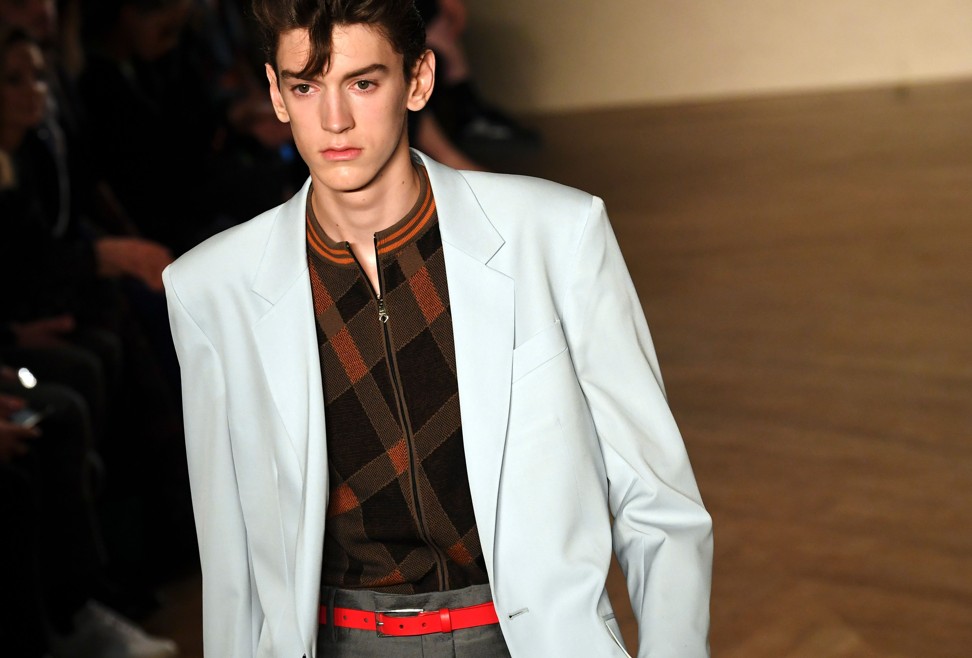 Purist, restrained Valentino even used it for its logo while Raf Simons celebrated its gender-bending New Romantic glamour in fuchsia satin coats and scarves.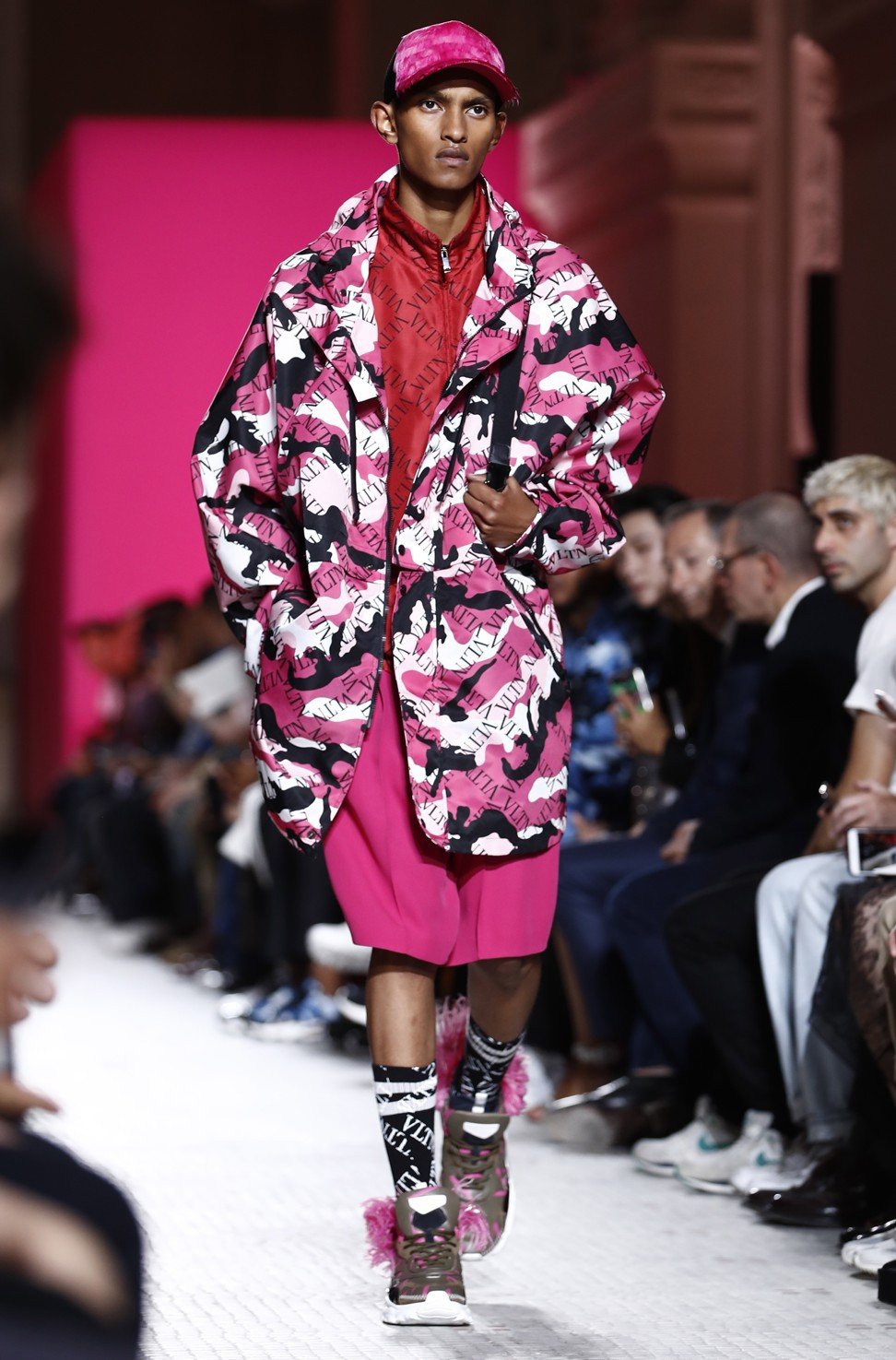 Kim Jones is leaving Louis Vuitton
Even rappers can cry
"Witnessed black history" Rihanna told her 63.5 million Instagram followers after watching Virgil Abloh make his debut as men's artistic director at Louis Vuitton on Thursday – a black man at last at the head of the world's biggest luxury brand.
"Proud of you bro," she added under a picture of the pair hugging.
Virgil Abloh: Louis Vuitton's impossible-to-pigeon-hole designer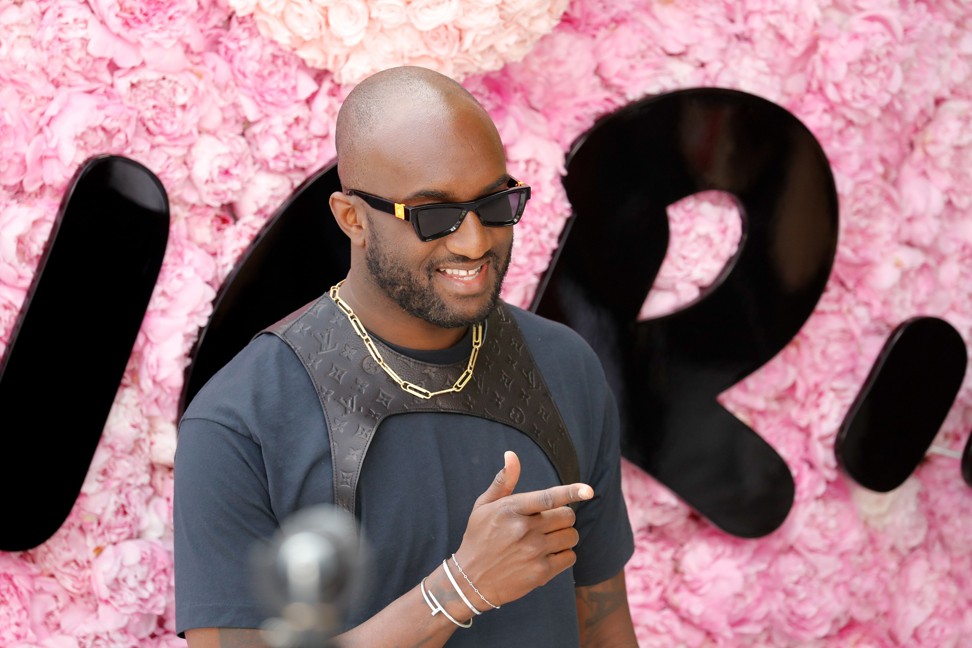 But she could equally have been talking about the long, lingering embrace and the tears Abloh and his friend and mentor Kanye West shed after his show in the Palais Royal.
More than the clothes, their celebrity psychodrama defined fashion week on social media.
The American rapper had always wanted to design for a big Paris fashion house, but it was Abloh, his protégé, who got there first.
Cue wounded pride and a long hurt silence from the Ye.
The sight of them moving on so dramatically – and so publicly – had many a lip trembling.
It also brought West's wife, Kim Kardashian West back to Paris, reportedly for the first time since she was tied up and robbed in 2016.
Street becomes boulevard
The star power of Paris shows used to be judged by the number of Hollywood stars on the front row. With streetwear now a fixture of almost every collection, it is rappers that fashion labels are now vying to court.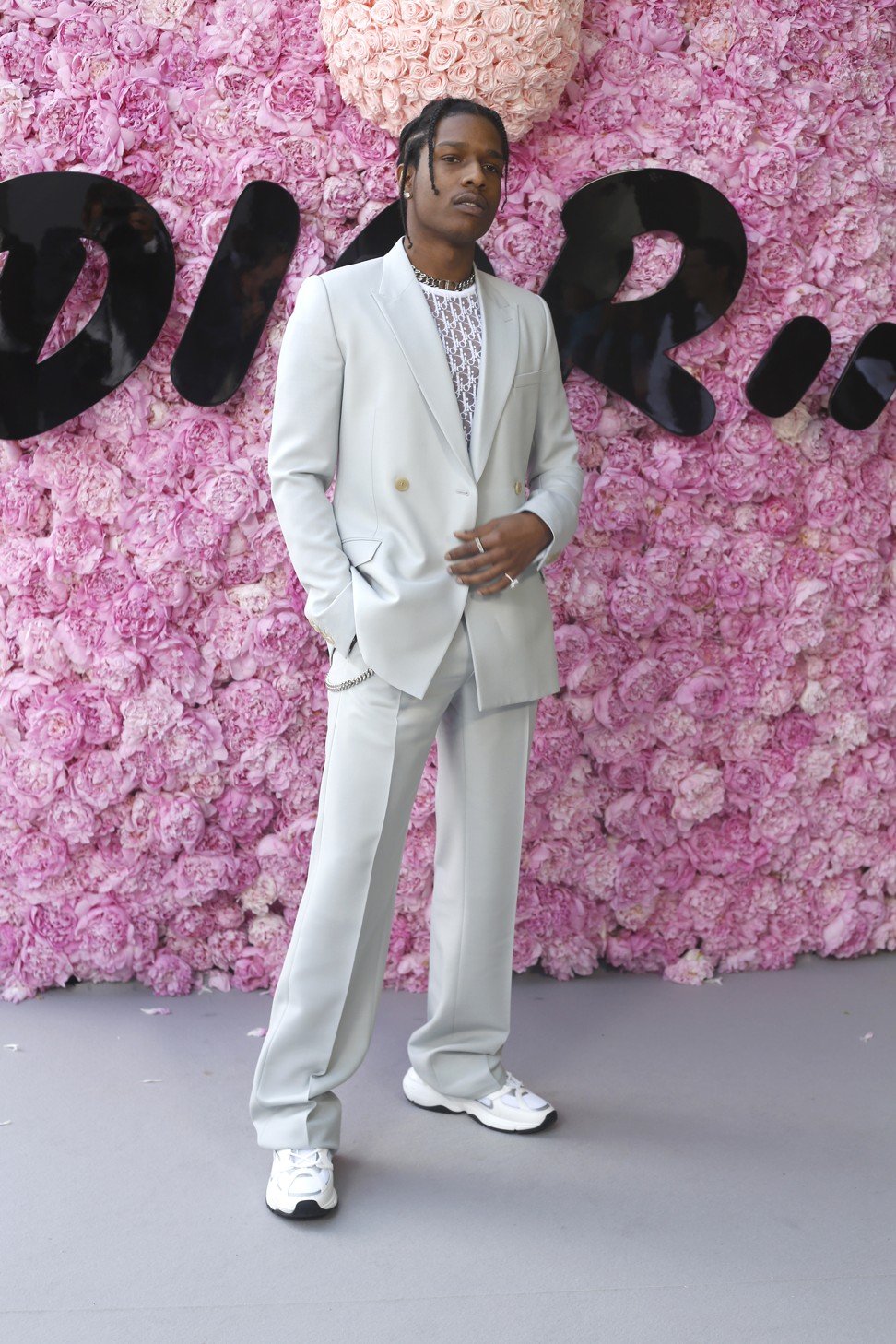 Apart from Kanye West – who has his own Yeezy line of clothes and Adidas trainers – rappers Kid Cudi, Playboi Carti and Steve Lacy were spotted rubbing shoulders at shows.
Rapper ASAP Rocky appeared to be ever present, checking out and modelling Dior, Vuitton, Raf Simons and Rick Owens, whose whole show turned on another rapper, Tommy Cash.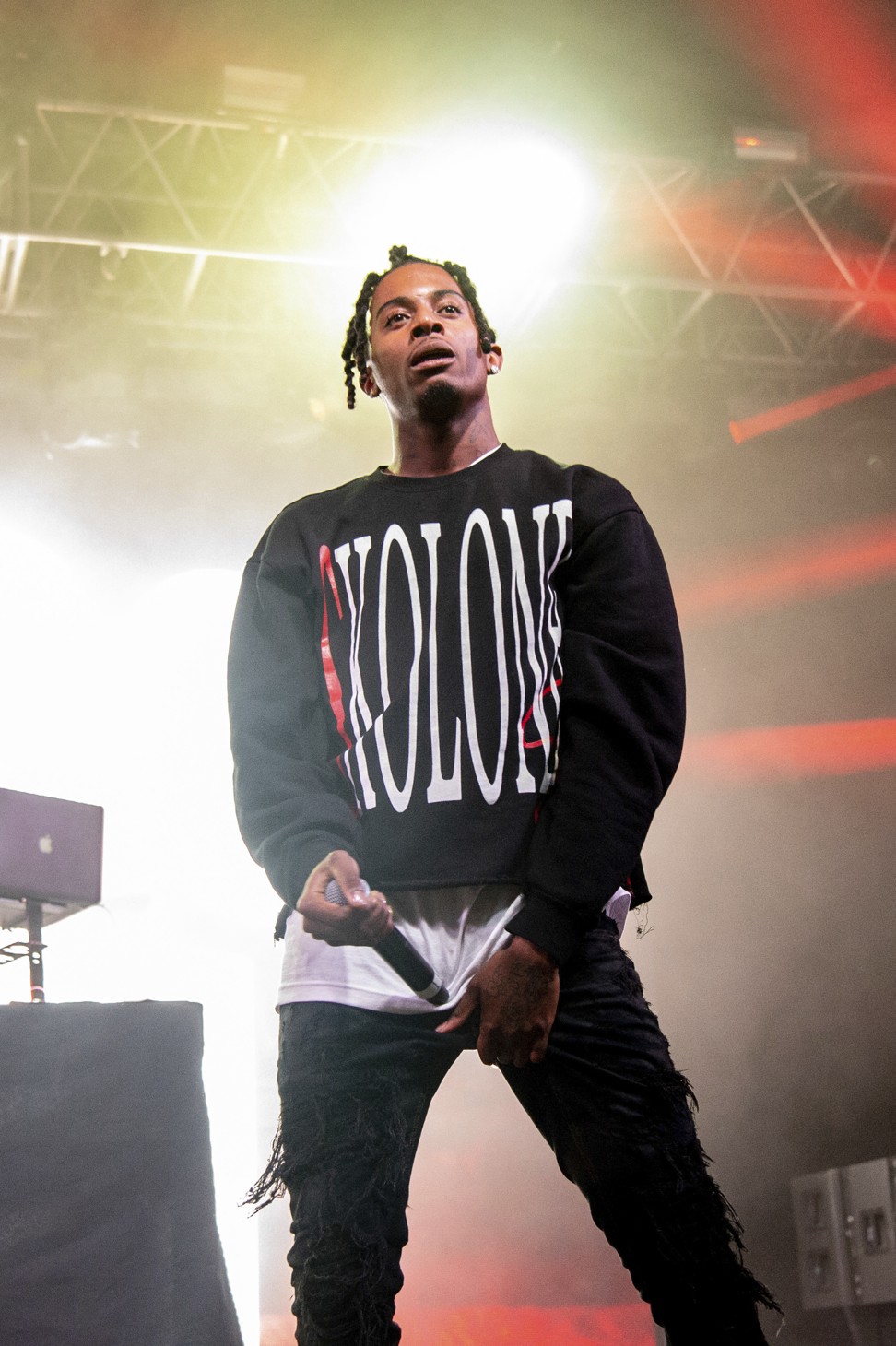 First look at Virgil Abloh's new Louis Vuitton trainer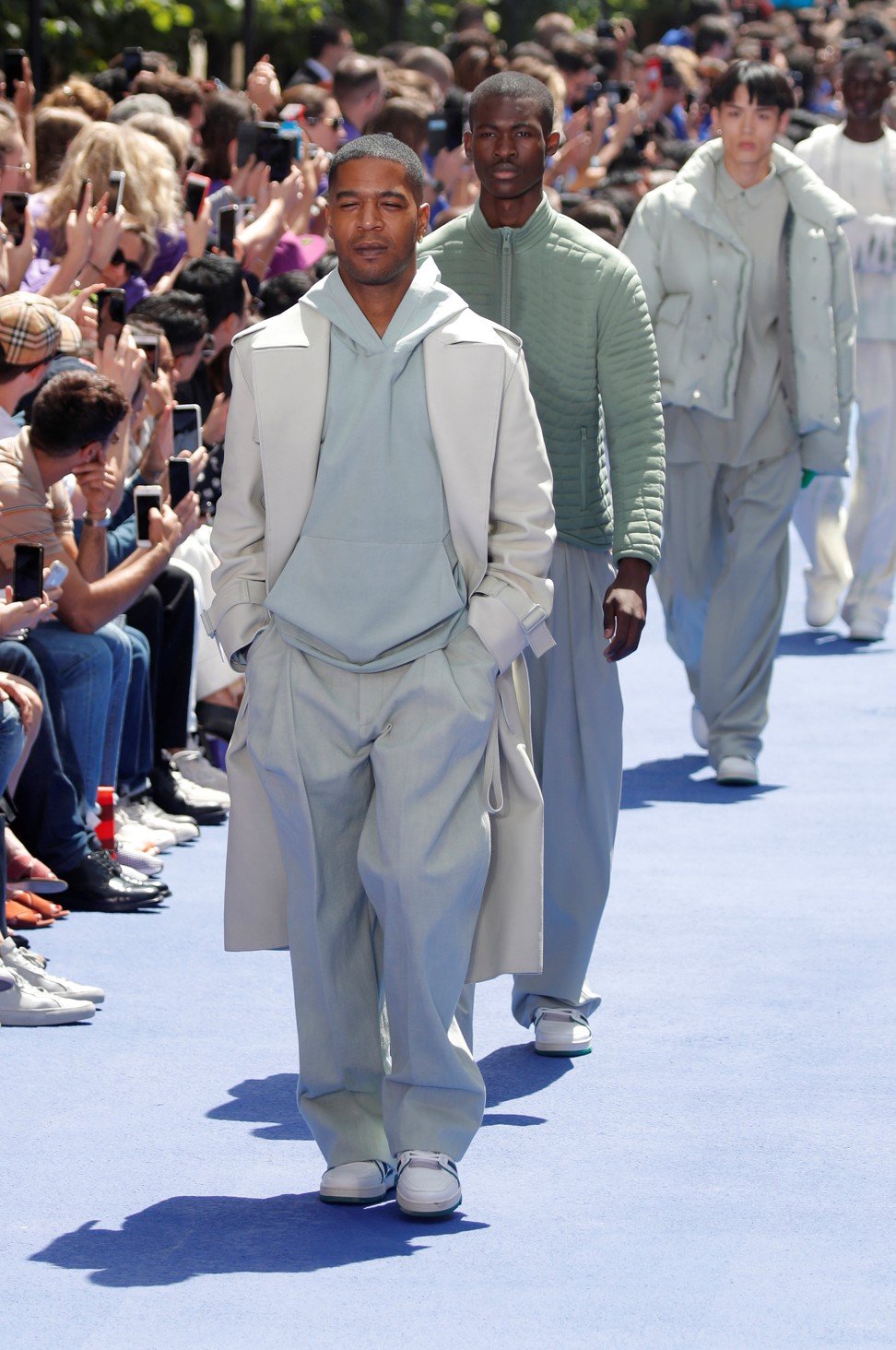 Its soundtrack was an instrumental version of the wacky post-Soviet Estonian star's hit Pussy Money Weed, and Cash walked the runaway as a model in one of Owens' key looks.
Want more stories like this? Sign up here. Follow STYLE on Facebook, Instagram and Twitter