LVMH survived the opening rounds of a global trade war as Chinese consumers' appetite for French luxury goods surged during the second quarter.
Sales rose 11 per cent, the Paris-based owner of Louis Vuitton handbags and Sephora cosmetics said on Tuesday, beating analysts' expectations. The world's largest luxury company reported double-digit percentage growth in sectors from fashion to jewellery and cosmetics.
The luxury conglomerate said it plans "numerous product launches" before the end of the year as it races to stay ahead of fast-growing competitors like Kering SA's Gucci and Chanel. Because of the threat of higher tariffs and other global economic uncertainties, "the current trends cannot realistically be extrapolated to the second half of the year," chief financial officer Jean-Jacques Guiony said.
Louis Vuitton owner LVMH turns to e-commerce with Lyst investment
Chinese consumers account for roughly a third of luxury purchases, according to consulting firm BCG – and as much as 70 per cent of the sector's growth. LVMH sales in Asia surged 17 per cent last year, and travelling Chinese shoppers lifted other markets. Now, investors are watching carefully to see how long the boom can last for luxury's leader, especially as US president Donald Trump's trade moves risk shaking confidence in the industry's biggest client base.
"The threats are there but I don't think they have materialised yet in any way," Guiony said.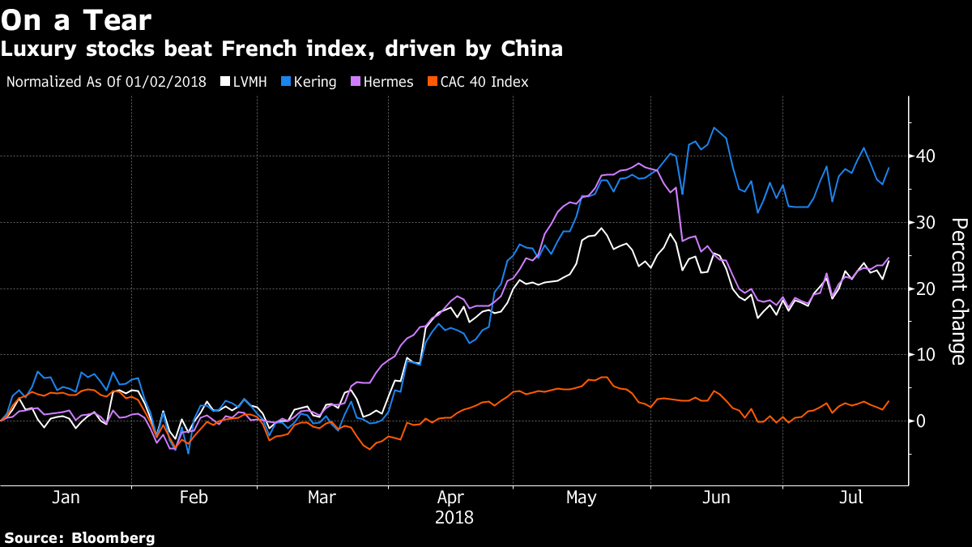 Shanghai's CSI 300 stock index has fallen 11 per cent this year, fuelling fears that high-end shoppers could tighten their belts. China moved to bolster consumption by lowering import duties on many products this month, and luxury brands such as Louis Vuitton and Hermes have cut prices to pass the benefit on to consumers.
LVMH's competitors have thrown down the gauntlet in recent months. Gucci set a midterm sales target that would rival estimates for Louis Vuitton, long the world's largest luxury brand with more than US$10.51 billion in annual sales. Chanel released its yearly financials for the first time in 108 years – at the same time as Vuitton's most recent fashion show – to reveal that its sales of quilted leather handbags and No. 5 perfume were already doing better than Vuitton by some measures.
LVMH sets upbeat tone for luxury brands as China demand rolls on
In a bid to keep its edge, LVMH has reshuffled the creative leadership at its biggest fashion brands. Designer Hedi Slimane, who set the menswear agenda for more than a decade with skinny jeans and suits at Dior Homme and Kering's Saint Laurent, has been tapped to add menswear and haute couture at LVMH's womenswear brand Celine, with his first shows this autumn. New menswear chiefs at Vuitton and Christian Dior made their debuts in June.
LVMH's first-half profit was boosted by rapid growth at Vuitton and the exit of a duty-free concession at Hong Kong International Airport. Sales in the second quarter totalled US$12.7 billion, above analysts' prediction of US$12.6 billion.
Want more stories like this? Sign up here. Follow STYLE on Facebook, Instagram and Twitter