This season's Copenhagen Fashion Week spring-summer 2019, which ended in the Danish capital on August 10, reaffirmed why some industry insiders consider it to be the biggest "under-the-radar" fashion week.
Beyond the "Big Four" of Paris, London, New York and Milan, where iconic design houses unveil new works to the highest of expectations, we regard the Danish version like a tall glass of water – calm and steady – amid the feverish fashion week cycle.
Why trek gear has lasting appeal to the streetwear community
Season after season, the Copenhagen event proves not only to be a paragon of Scandinavian style, but also the week where trends bubble up locally before hitting the global scene.
Han Kjobenhavn, HELIOT EMIL and Holzweiler strengthened their brand identities while graphic-centric brands used the runway as a means of rallying
While we may be familiar with two strong personalities of Scandi style – the hard-edged coolness of techwear minimalism, and the soft-focused, pastoral romanticism of Nordic "It-girls" – the best spring-summer 2019 menswear collections combined elements of both worlds.
Streetwear labels Clot, Ambush, Alyx take over Paris Men's Fashion Week
This season saw a general progression from pure menswear to unisex silhouettes, to dedicated womenswear pieces, resulting in collections with diversity in silhouette, material and construction.
Established labels such as Han Kjobenhavn, HELIOT EMIL and Holzweiler strengthened their brand identities by honing craftsmanship and tailoring.
Coincidentally, they all opted for a focus on layered ensembles and transparent materials.
Other more graphic-centric brands used the runway as a means of rallying, such as HAERVAERK's youth cult spectacle and MUF10's politically-charged message regarding Denmark's new ban on burkas.
This month's Copenhagen Fashion Week demonstrated that both the familiar – and the element of surprise – were welcomed by fashion's finest.
Let's take a look at our selection of the best runway shows from the week.
Han Kjobenhavn
Han Kjobenhavn's spring-summer 2019 show makes the top of the list not only for the collection's strong styling and garment construction, but also for the runway's storytelling element.
The show took place inside an industrial building where the air was thick and the atmosphere charged with an eerie, neon energy.
The themes of Han Kjobenhavn's spring-summer 2019 show were conveyed through the collection's plush silks, sheer voiles and kitschy floral fabrics
The centre of the runway was a micro-chip encrusted greenhouse – an extension of the collection's story, which reflects on the nostalgic, pastoral scenes of creative director Jannik Wikkelso Davidsen's youth, and the interruption of the digital era.
These themes were conveyed through the collection's plush silks, sheer voiles and kitschy floral fabrics – juxtaposed with the skin-tight nylon suits, technical materials and plastic garments.
This collection was also the Danish brand's first dedicated womenswear range, which was designed with a respect for the female figure while keeping to the label's robust, boyish aesthetic.
The result was a mix of soft and hard, old and new, romance and sci-fi.
The show concluded with the models coming to a standstill, giving guests a chance to see the garments' precision and polish up close.
Stella McCartney makes a return to Milan Men's Fashion Week
HELIOT EMIL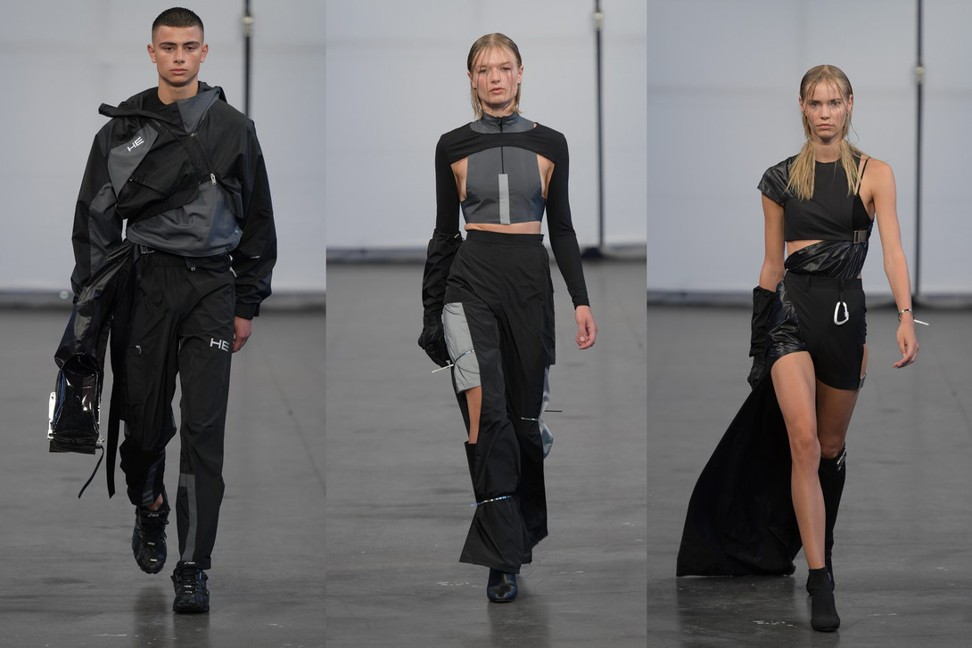 Design duo Julius and Victor Juul of HELIOT EMIL hosted perhaps the most highly-anticipated menswear show during the fashion week.
The delivery of their spring-summer collection, titled "Referential Transparency", was nothing short of classic HELIOT EMIL.
HELIOT EMIL's collection featured steely cool monochrome palettes, industrial materials, military/sportswear elements, and bold tech accoutrements
Show attendees were presented with transparent tote bags and a clear, a canned drink printed with the designers' statement.
For the collection itself, steely cool monochrome palettes, industrial materials, military/sportswear elements, and bold tech accoutrements maintained the brand's established blueprints with an emphasis on handmade buckles, straps, zips and lock carabiners.
Plays on asymmetry, cut-outs and heat-sensitive thermo expanded the label's design repertoire, while an unexpected appearance of fur sleeves gave a slight tilt to the HELIOT EMIL codes we all know and love.
Paris Men's Fashion Week: Dries Van Noten lets clothes do talking
A full line-up of women's silhouettes presented new canvases, while an accessories category filled with silver metallic cable ties (worn as chokers and armbands), patent leather bags and an Asics trainer collaboration animated the collection's mechanical rhythm, which at times saw design consistency veer to repetitiveness.
Holzweiler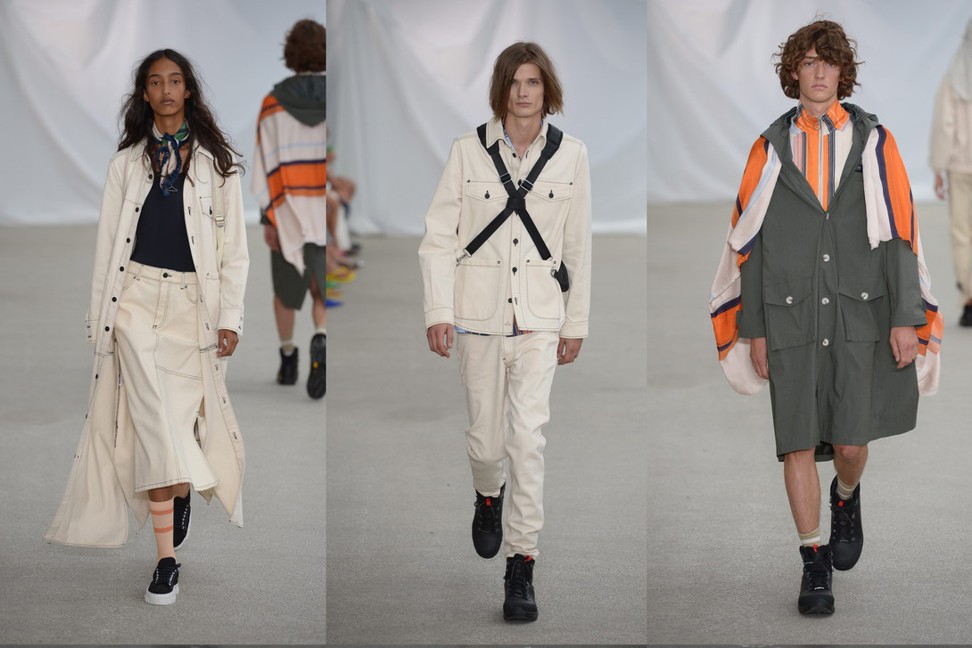 Holzweiler's spring-summer 2019 collection was a presentation of classic Scandinavian fare – light, airy and cleanly cut with an outdoors blitheness.
The runway took place in a tented greenhouse, which would have been ideal if Copenhagen had not been experiencing record high temperatures on that day.
Nevertheless, the collection stayed true to the Norwegian brand's crisp, minimalist aesthetic with layers of anoraks, bombers and hiking silhouettes presented in an approachable pastel colour scheme.
Muted oranges and blues, geometric and check prints, and the occasional graphic knit were styled with buckle belts, cross-body straps, waist packs and sun flap hats.
Notable pieces from the ready-to-wear range included quilted coats, the many-pocketed fisherman vest jackets, and the unisex contrast stitch denim pieces.
Sharp tailoring and assorted materials found strength in simplicity and delicate sophistication, giving a nice break from the loud branding and logos we so often see in the current fashion scene.
Paris Men's Fashion Week: Robert Pattinson at Kim Jones' Dior debut
HAERVAERK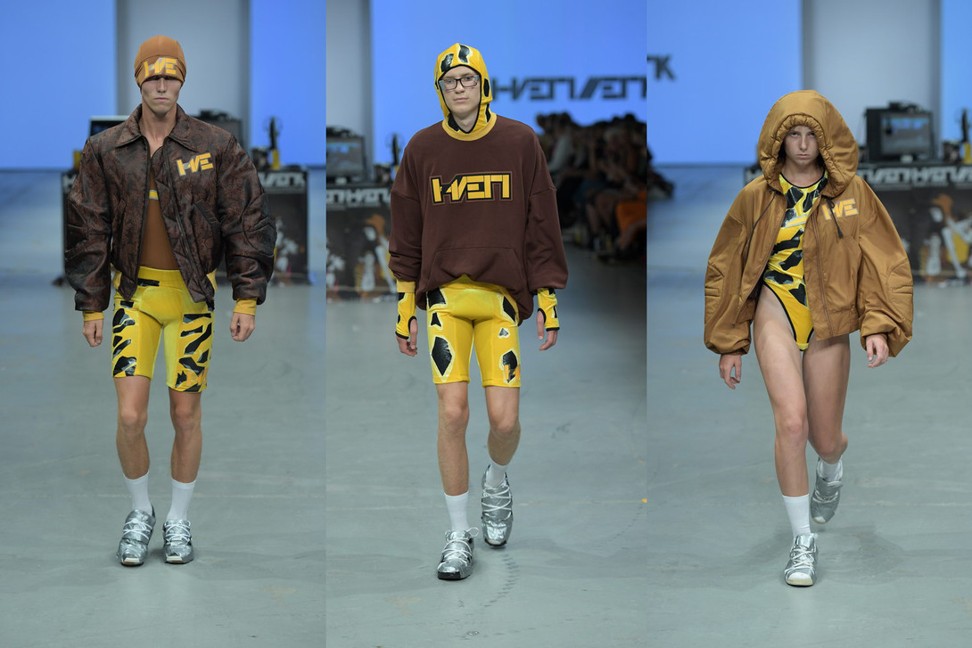 HAERVAERK checked all the buzz-worthy streetwear trends for its latest collection, titled "Volume 5".
The HAERVAERK spring-summer 2019 collection looked to classic gaming culture and teenage slacker lifestyle during the 1990s and early 2000s.
The runway was located inside the Copenhagen International Fashion Fair exhibition centre and featured a stand of computer screens placed in the middle, playing the video game Tekken and surrounded by cans of energy drinks and posters featuring the HAERVAERK cult – Bjorn, Benny, Buster and Birk – a cartoon foursome that took on a Gorillaz-style appearance.
The soundtrack consisted of 8-bit video game sound bites, to which models marched wearing low-hanging beanies, giant backpacks and baggy sportswear fits with bold branding.
Tight nylon biking shorts were contrasted by large jackets and billowing sleeves, while more classical menswear pieces such as white button-down shorts and trousers channelled youthful rebellion in the style of ill-fitting school uniforms or Sunday church wear.
A neutral palette of camel and brown was lifted by yellow, neon pink, patent black and metallic silver duck tape accents, creating a sharp colour block effect that gave way to clear logo branding and striking zebra prints.
Paris Men's Fashion Week: designs let men embrace feminine side
MUF10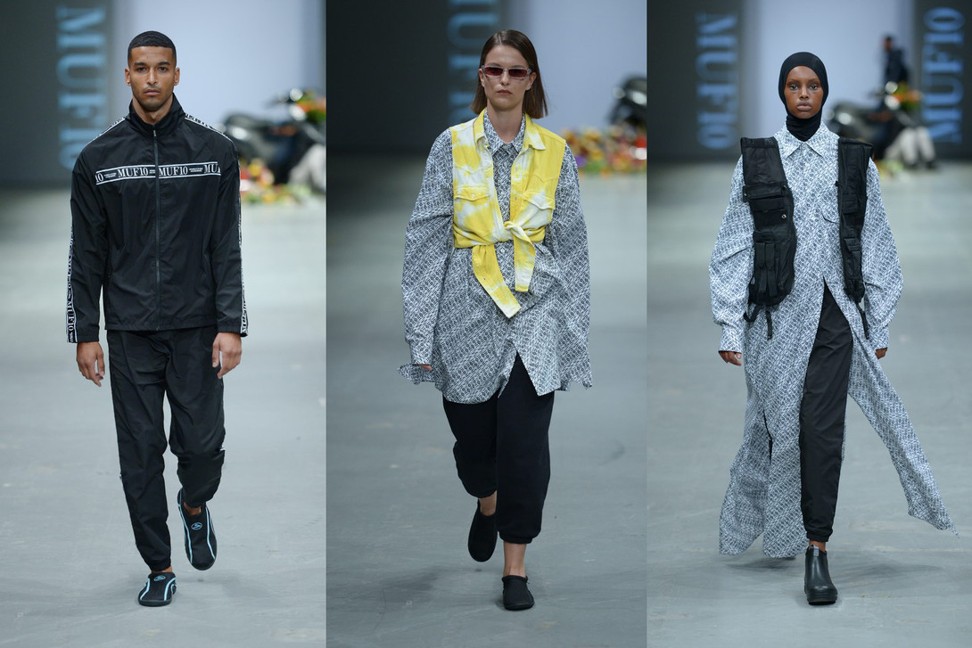 MUF10 made perhaps the loudest statement of the entire Copenhagen Fashion Week on the first day of shows by protesting against Denmark's new ban of burkas (a one-piece veil that covers the face and body) which outlaws the wearing of facial coverings in public.
The Iranian-born Danish designer Reza Etamadi sent models down the MUF10 spring-summer runway in traditional Muslim hijabs (a scarf that covers the neck and head) and niqabs (a veil for the face, worn with a headscarf, which leaves the area around the eyes visible) while police officers in uniform stood at the back of the set in a display of solidarity.
The collection itself was a decidedly street-centric line-up, anchored by sportswear silhouettes such as tracksuits, anoraks, hoodies and graphic T-shirts.
A colour scheme of earthy beige, grey, black and olive was paired with bold branding, text prints and Danish nationalistic emblems combined with Arabic script.
Paris Men's Fashion Week: Rick Owens' 3D 'ode to Tower of Babel'
Besides the statement-making garments, there were subtler sartorial motifs that spoke to the theme of immigration and cultural dialogues – loafers, trench coats, a pleated midi skirt and a dinner suit waistcoat stood-in as emblems of Western heritage.
An opening look of a printed Muslim hijab worn with a military combat vest made a defiant statement.
Want more stories like this? Sign up here. Follow STYLE on Facebook, Instagram and Twitter
This article originally appeared on HYPEBEAST.