The firefighters rush into the hotel lobby in full battle gear, laden with axes and oxygen canisters, but find no fire, no smoke, no nothing.
The false alarm leaves a half-dozen of this city's bravest loitering amid the velvet-covered club chairs and in the direct sightline of Willy Chavarria.
The menswear designer, perched on the edge of a leather sofa, gazes admiringly at their scarred helmets, the oversized yellow-striped coats.
He eyes the elongated hem at the back of the heavy jackets where each man's name is stamped. How had he missed that detail all these years?
Now he starts rhapsodising about the road crew he spotted just outside the hotel.
"They were wearing these super-weathered Carhartt jeans and neon safety jackets over super washed-out T-shirts," Chavarria says.
Work wear is Chavarria's inspiration and his passion; don't be surprised to find versions of safety jackets or firefighter helmets in his next collection.
Chavarria is not out to transform a pair of trousers into an avant-garde art project.
Instead, he wants to elevate and celebrate what already exists. Not just the clothes, but the quietly heroic labourers, the many black and brown men, who wear them.
Which 5 collections caused a buzz at Copenhagen Fashion Week?
In part, that is because these people are him – a brown-skinned man who grew up working class.
His clothes are in honour of men who are misunderstood and feared, if not literally, then metaphorically.
Some people are frightened of being robbed by them; others fret about the United States being defined by them.
And, of course, his clothes are for the pure pleasure of fashion.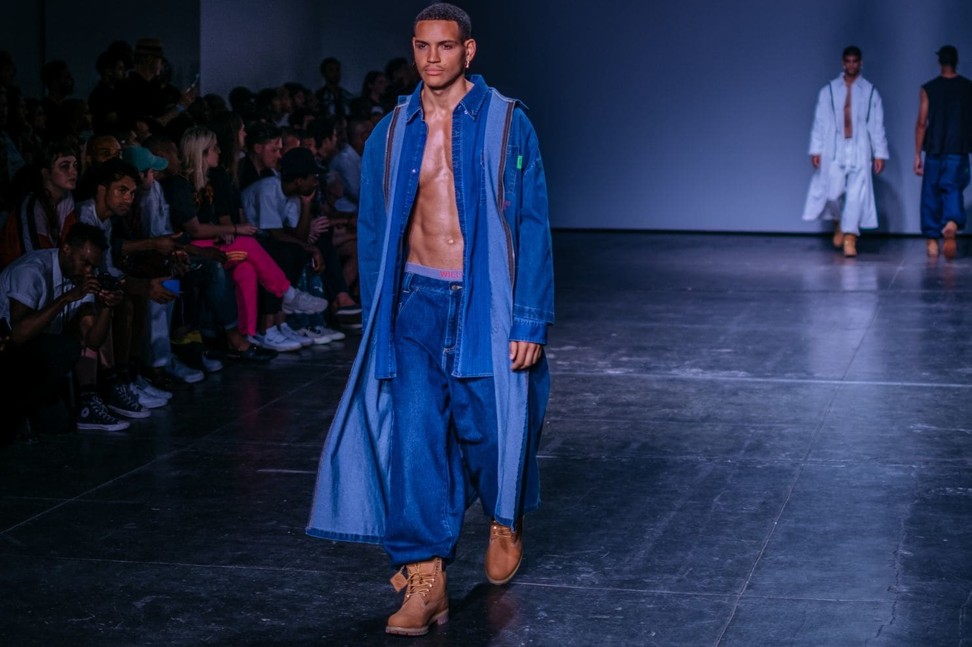 He is not sure that his work qualifies as political, which, of course, it is.
An apolitical designer does not put a T-shirt with an image of Maxine Waters (the Democratic congresswoman from California who has been an outspoken opponent of the Republican Presidents George Bush, his son George W. and Donald Trump) on the runway.
Nor does such a designer add the word "Fighter" underneath her face, let alone a quote from one of her more provocative speeches to his show's soundtrack. ("If you shoot me, you better shoot straight. There's nothing like a wounded animal.")
"Auntie Maxinnnne," Chavarria coos.
"She's cool because she speaks in a way that a lot of us need to speak ... and it's still from a place of love."
Jil Sander's got attitude now – thanks to Luke and Lucie Meier
He pauses. "I guess I am a political designer... I always use my shows to flash some awareness about what I think is important.
"A lot of people don't know who Maxine Waters is. The model wearing it didn't know who she was.
"I told him to Google. He needed to know what he was rocking."
Chavarria, 51, has a round, boyish face and close-cut hair.
He wears aviator frames of 1970s vintage and has two sleeves' worth of tattoos.
He is tall and broad-shouldered, but it is impossible to judge whether he is stocky or muscular underneath jeans and a vintage Tupac T-shirt roomy enough for a family of four.
Personally and professionally, Chavarria favours a big silhouette.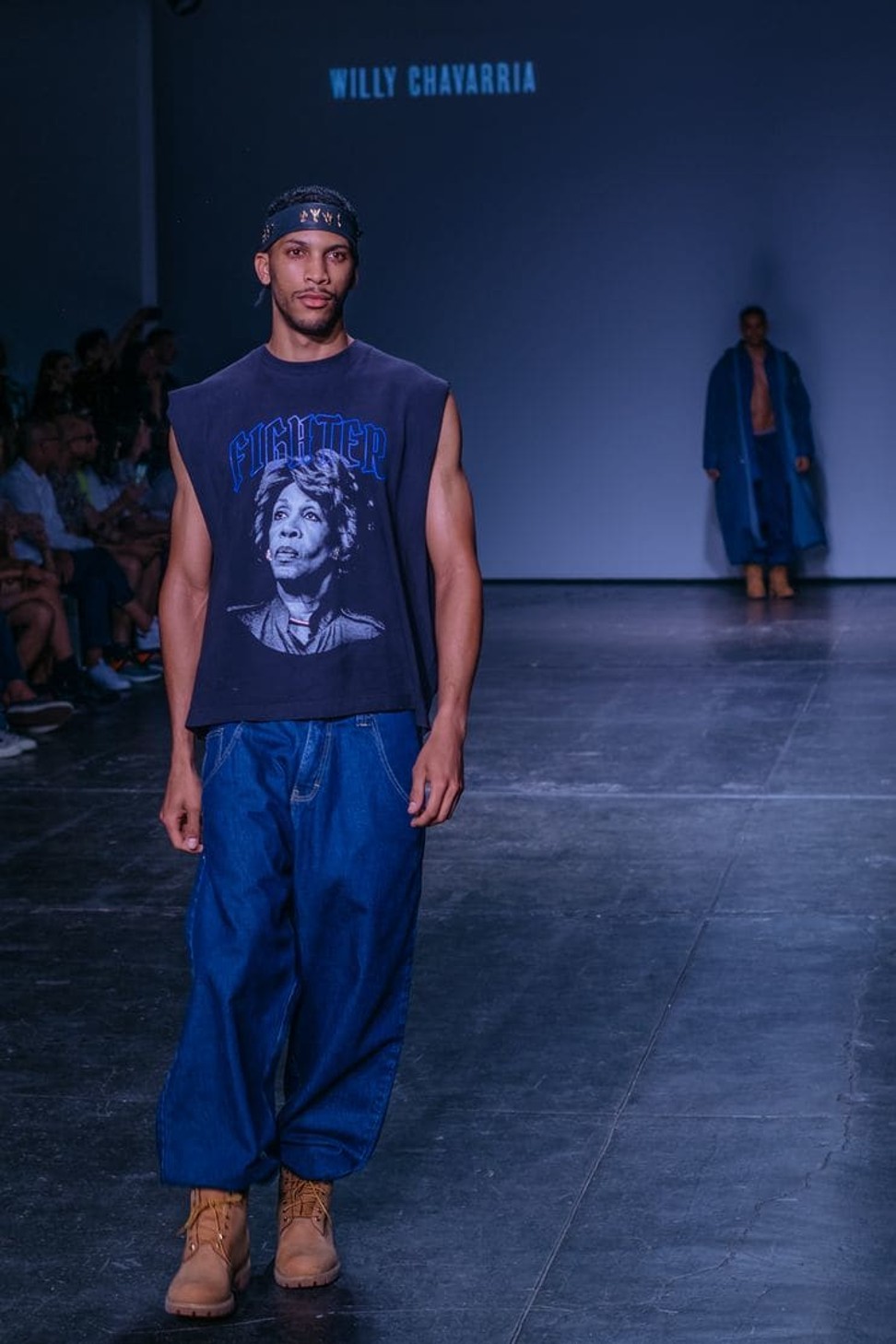 He produces some of the most socially engaging runway shows in New York – inspired by Chicano street culture and gay leather bars and by 13th, Ava DuVernay's film documentary on mass incarceration.
The men who live in the shadows or on the edges are "people who are often feared, disrespected and looked down on. I wanted to show them in a kind of glory," he says.
For one of his shows, he wanted to use former gang members as models, but colleagues talked him out of it.
"I wanted to ... try to cut through the fear and hatred. We didn't because we didn't want to glorify [the criminal gang] MS-13."
For spring-summer 2019, he focused on immigrants.
Have you ever seen a person in a cage? rumbled a voice on the soundtrack.
"I love how people from other places enter a new world and really turn it out with their clothes," he says.
"I love how Mexicans and Chicanos will take work clothes, just plain clothes, and make it beautiful: a pressed white T-shirt, pressed khakis and a black belt. That's high fashion."
I guess I am a political designer ... I always use my shows to flash some awareness about what I think is important.
His ode to immigrant style, presented in an industrial studio space in New York's hip commercial Meatpacking District, opened with an appetiser: a diverse group of models stretching and jogging and sweating in brightly coloured soccer gear – a collaboration with the Danish sportswear label Hummel.
Chavarria liked the idea of his label being stocked at Footlocker as well as an upmarket store such as Barneys New York.
If he is going to be inspired by blue-collar men, he wants them to afford his clothes.
All of his garments have a thumbnail-sized label that reads: "Capitalism is heartless".
Speaking to the mass market is his way of trying to make that sentiment a little less true.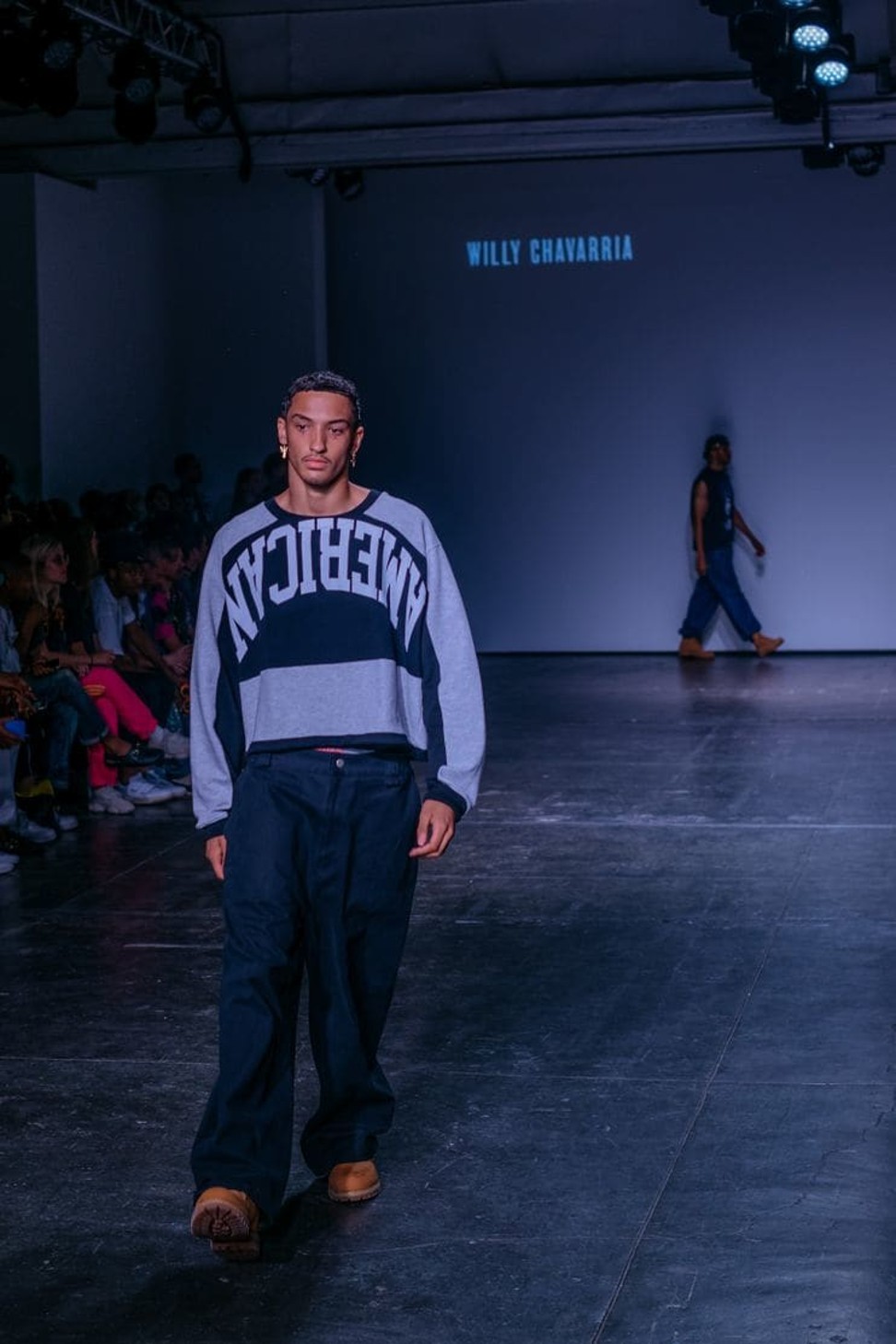 In choosing models for the main course, he was not focused on diversity as much as destiny.
He said he wanted his guys to collectively represent the "man of the future" – a brown man, according to demographic projections.
For inspiration, he turned to the late 1990s, when East Coast men swaggered in Timberlands while West Coast guys looked like fireplugs in oversized everything.
He luxurified it all with better fabrics, intentional silhouettes and the imprimatur of high-fashion desirability.
Fashion e-tailer Farfetch eyes listing as online luxury sales surge
He took his bows in a RAICES T-shirt, highlighting Texas' largest immigration legal services provider.
When he made his exit, the back of his shirt offered this parting shot: "The kids are not alright".
He grew up as a fashion-loving only child in Huron, an agricultural town in California's San Joaquin Valley.
"You open your front door and a head of lettuce rolls through," he says with laugh. There was not a copy of Vogue for miles.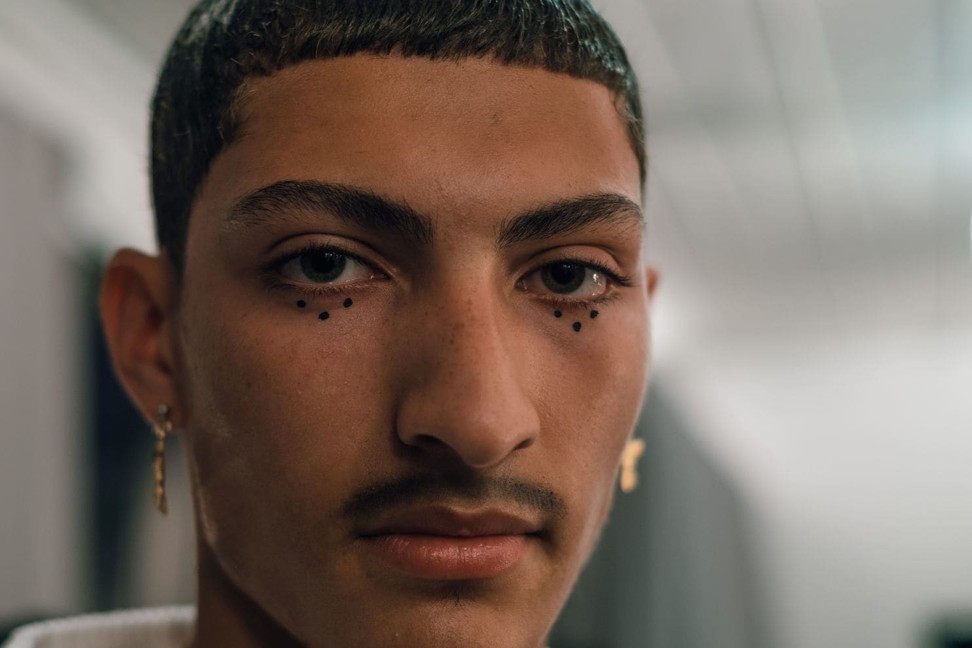 His mother, who is of Irish descent, ha grown up in a "sundown town", where people of colour were not welcome after dark.
His Mexican-American father hailed from a predominantly Latino neighbouring city.
The two would probably have remained a world apart had the civil rights movement not rolled through their communities and their two high schools consolidated into one.
They were teenagers when she became pregnant, and she moved in with his family.
She learned Spanish and the art of making tacos.
In Chavarria's childhood home, three photographs held places of honour: Cesar Chavez, John F. Kennedy and the Pope. Chavarria learned what it meant to be a person of colour, but he also saw white privilege up close.
He knew what it felt like to be an outsider, and he knew what it meant to be on the inside fearful about who else might be trying to get in.
[Designer] Willy Chavarria had this ironic sensibility, and I love irony. He was a stand-out [at work] ... There's not a lot of people who go out and stir the waters and confront issues in society through the medium of fashion
Over the years, Chavarria has revelled in the critical accolades and creature comforts befitting a designer of note, while sometimes expressing an ambivalence about those material delights.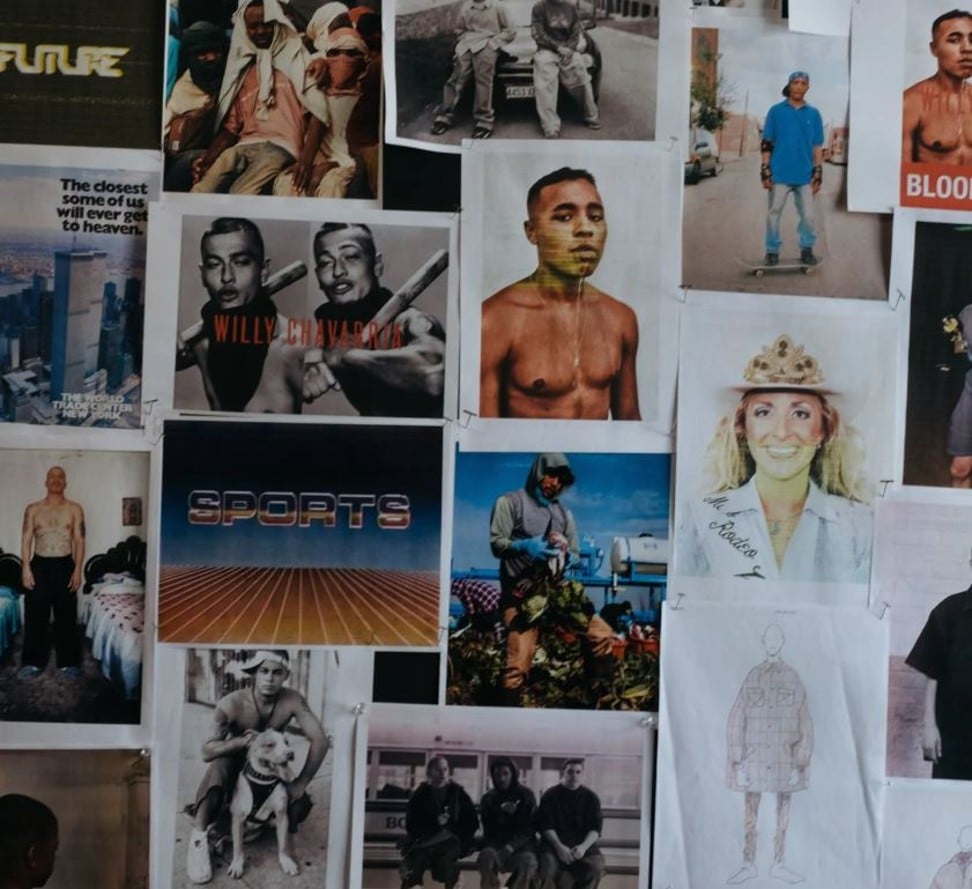 It is the morning after his menswear show.
While many designers would be running late and trailing after-party fumes, Chavarria has arrived early and fresh for an interview.
The designer, who can wax poetic about a tool belt, carries his essentials in a rare Hermès Birkin 45 Haut à Courroies, vintage 1998, a gift from his husband.
I think taking risks, that's what we're supposed to do. ... What's great about Willy Chavarria is that he stands for something
The impressive bag, originally designed to transport riding equipment, requires its own seat.
He notes with some sheepishness that it was not nearly as costly as one might think, which is to say the cost of a very nice car.
Yet make no mistake; Chavarria adores it. He is, after all, a fashion guy.
An intimate glimpse of Karl Lagerfeld backstage at Chanel's fashion shows
He recently was named a semi-finalist for the International Woolmark Prize, the 65-year-old competition that once honoured the young Karl Lagerfeld and Yves Saint Laurent.
Judges look for a balance between creativity, marketing prowess and business acumen: "Designers who have an emotional connection to customers," says fashion consultant Malcolm Carfrae, who has sat on the panel.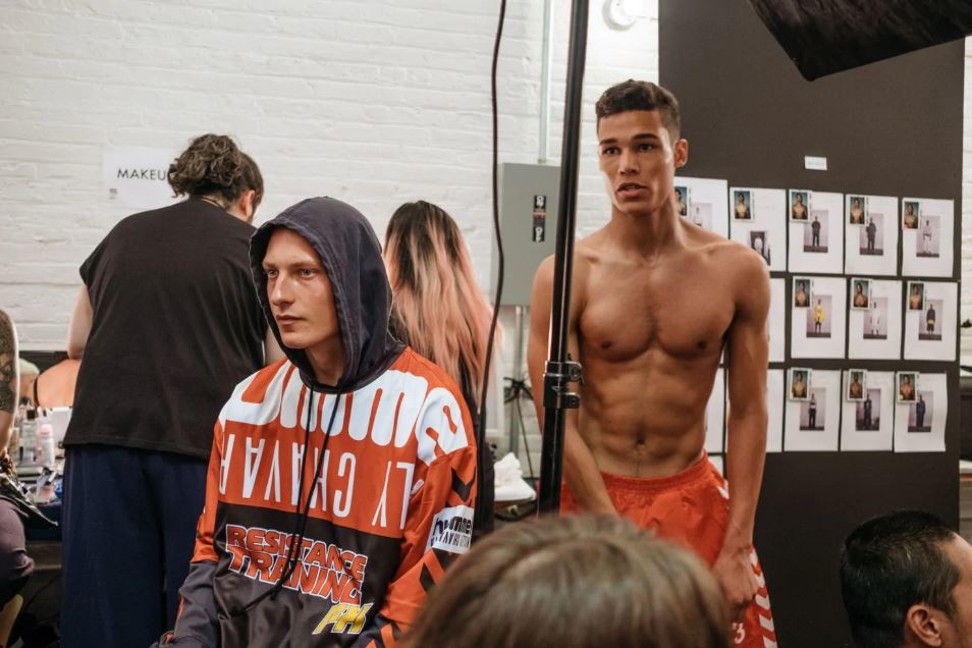 Chavarria began his career in San Francisco at Joe Boxer, the 1980s brand famous for its novelty men's underwear.
He started in shipping before founder Nick Graham moved him into design. "He had this ironic sensibility, and I love irony," says Graham. "He was a stand-out ... when he came to work."
Yet Chavarria often did not come to work.
"I was doing the club scene and staying up and not taking care of myself," he says.
Graham fired him. But he remains an admirer.
"There's not a lot of people who go out at that level and stir the waters and confront issues in society through the medium of fashion," Graham says.
"I think taking risks, that's what we're supposed to do ... What's great about Willy is that he stands for something."
11 ways to wear – and rock – high fashion on the beach
Chavarria stopped smoking, started working out and focused himself professionally.
By the mid-1990s, he was designing cycling apparel for a company on California's central coast, then moved to Ralph Lauren when it launched RLX, a line of performance-oriented sportswear.
He stepped into Ralph Lauren's decorous headquarters on Madison Avenue draped in oversized Polo Sport and swagger.
He says he was once reprimanded for not knowing the definition of Black Watch – a dark green and navy Scottish tartan – and was sent to the company library to research it.
When his personal style evolved to tailored trousers and cashmere pullovers, he treated himself to Gucci loafers.
Nice shoes, but a bad idea to buy an Italian luxury brand while working for an American one.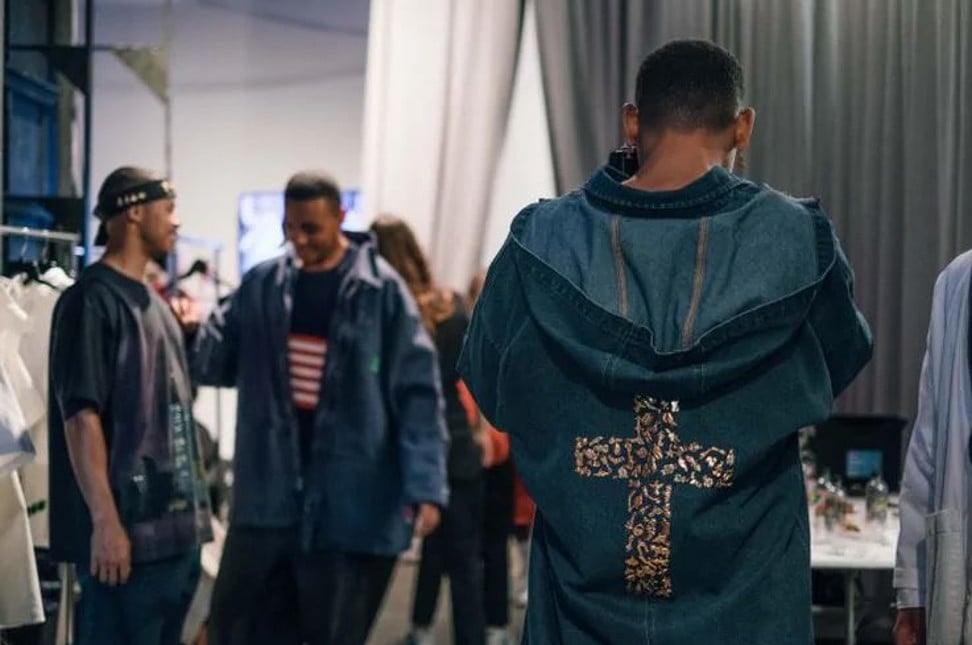 "I wore them to work with my [Ralph Lauren] Black Label," he recalls with a laugh.
"I'm in this meeting and I had to leave."
The company was "not that welcoming to someone like me", Chavarria says of his early days.
"But by the time I left, I liked it there," he says.
"I learned about the dedication to perfection."
It was 1999 and the economy was roaring. He could experiment; he could hone a notion of an idea just to present to Lauren. Everything did not have to lead to a viable product.
Chavarria worked at American Eagle Outfitters, learning what it takes to build a mass commercial brand with a vast network of stores.
He sold vintage home goods on the street in New York's upmarket shopping destination SoHo.
And he opened his own bricks-and-mortar shop, the now-closed Palmer Trading Company, where buyers from Japan encouraged him to start his own line.
"Nobody does Americana like Japan," Chavarria says.
"They love the aesthetic. They were able to identify this Americana thing I was doing with Palmer Trading and how that translated into a Willy Chavarria label."
And in Japan, customers love his oversized silhouette.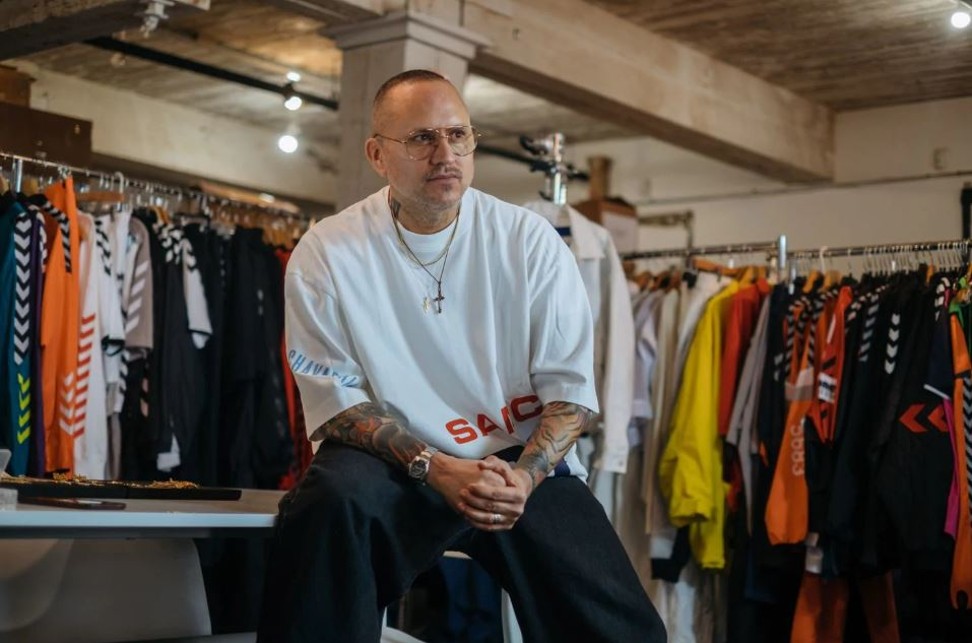 Today, Chavarria lives part of the year in the Danish capital Copenhagen, where his husband of two years, David Ramirez, a native of the New York borough, The Bronx, is an executive at a Danish jewellery company.
Copenhagen, famous for its spare aesthetic and happy-go-lucky lifestyle, has subtly affected Chavarria's work, rendering it sharper and a bit more minimalist.
"It's this beautiful, fantastic place," he says.
"What it lacks in cool, it makes up for in too-da-loo. Everyone is smiling. People actually [say] 'too-da-loo'."
His company has its headquarters in a modest loft with scuffed wooden floors in Brooklyn's Greenpoint neighbourhood.
It houses the showroom, the stockroom, shipping and most everything else for a company of three employees.
The space smells like eau d'church, as the team lights frankincense and blesses the studio each morning.
The brand's subversive Catholicism is expressed in accessories: a cannabis crucifix charm, a Virgin Mary medallion tipped with a shank.
Nobody does Americana like Japan. They love the aesthetic.
A designer's mood board is a bit like a psychological road map – a patchwork of musings and emotions that somehow lead to a collection of clothes.
Chavarria's mood board includes an old advertisement for the World Trade Center, a blond rodeo queen in a white spangled cowboy hat and a muscular brown man labouring in a field – snippets of American culture that shaped his outlook for spring 2019.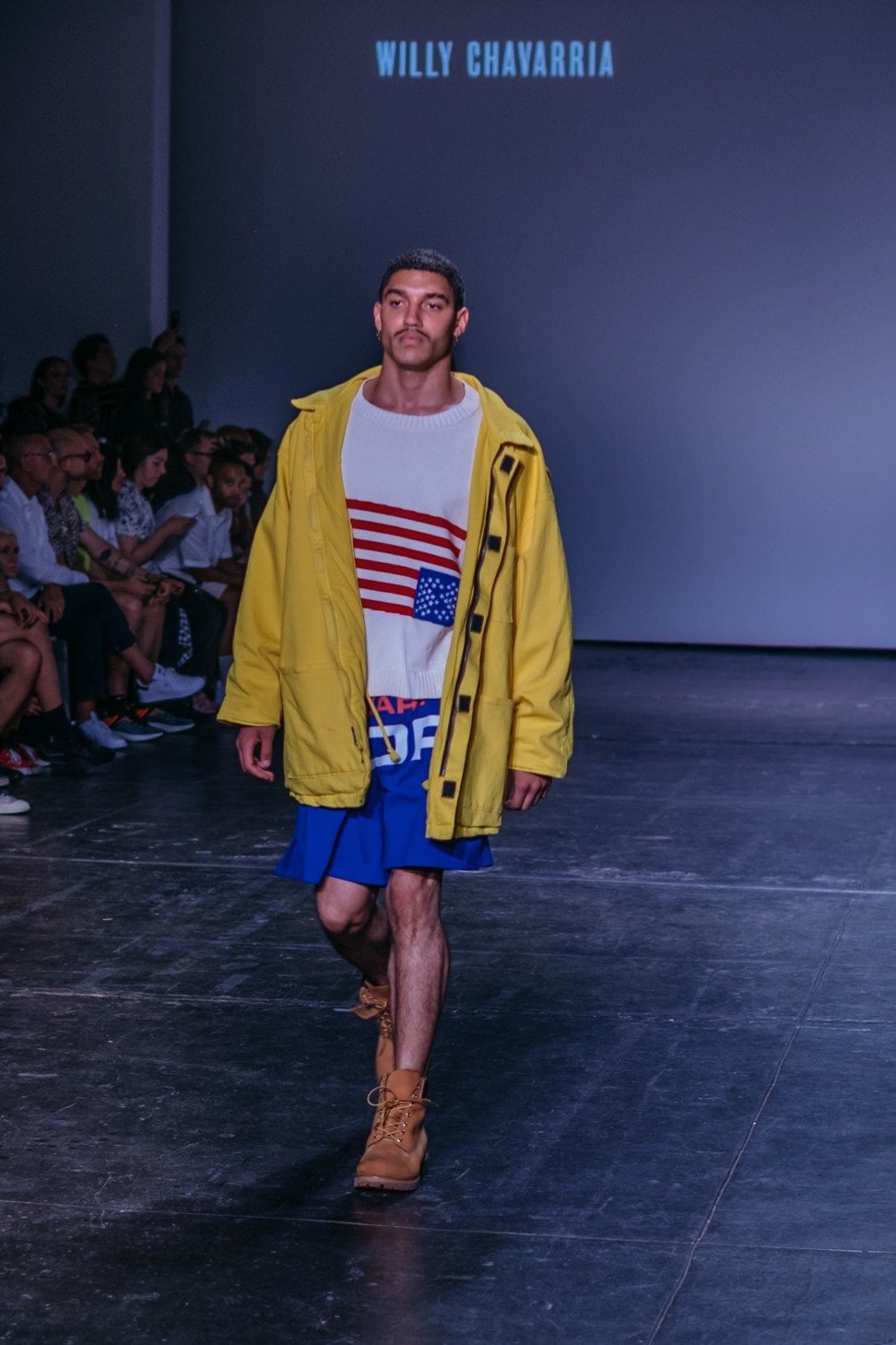 Yet the photograph that matters most to him is of bedraggled refugee children, one wearing a faded red Polo Sport T-shirt and dust-covered jeans.
It captures so much of what informs Chavarria's work – the story of outsiders and underdogs aspiring to something that is, like Ralph Lauren's vision, iconically American.
However, Chavarria is not marketing exclusivity.
There are no yachtsmen or equestrians in his version of America.
His immigrants are not deemed exceptional; they are most often tired and hungry.
Yves Saint Laurent's menswear show crosses boundaries in US
He aims to make the fearsome less feared and, if not quite beloved, then at least accepted.
And as the culture argues about what it means to be American and who gets to claim that distinction, Chavarria's work extends an open invitation. The best and the least are welcome.
Want more stories like this? Sign up here. Follow STYLE on Facebook, Instagram and Twitter