Supreme, Generation Z's favourite skater brand, is in high demand – with some shoppers willing to pay thousands of dollars for the most coveted products.
Supreme was founded in 1994 by James Jebbia and has since grown from a skater-centric brand into a mainstream apparel brand with its own cult following. The brand ranked seventh among upper-income teens' favourite brands in a spring 2018 survey by Piper Jaffray, and in 2017, Supreme received a roughly US$500 million cash infusion from The Carlyle Group, which valued the brand at US$1 billion.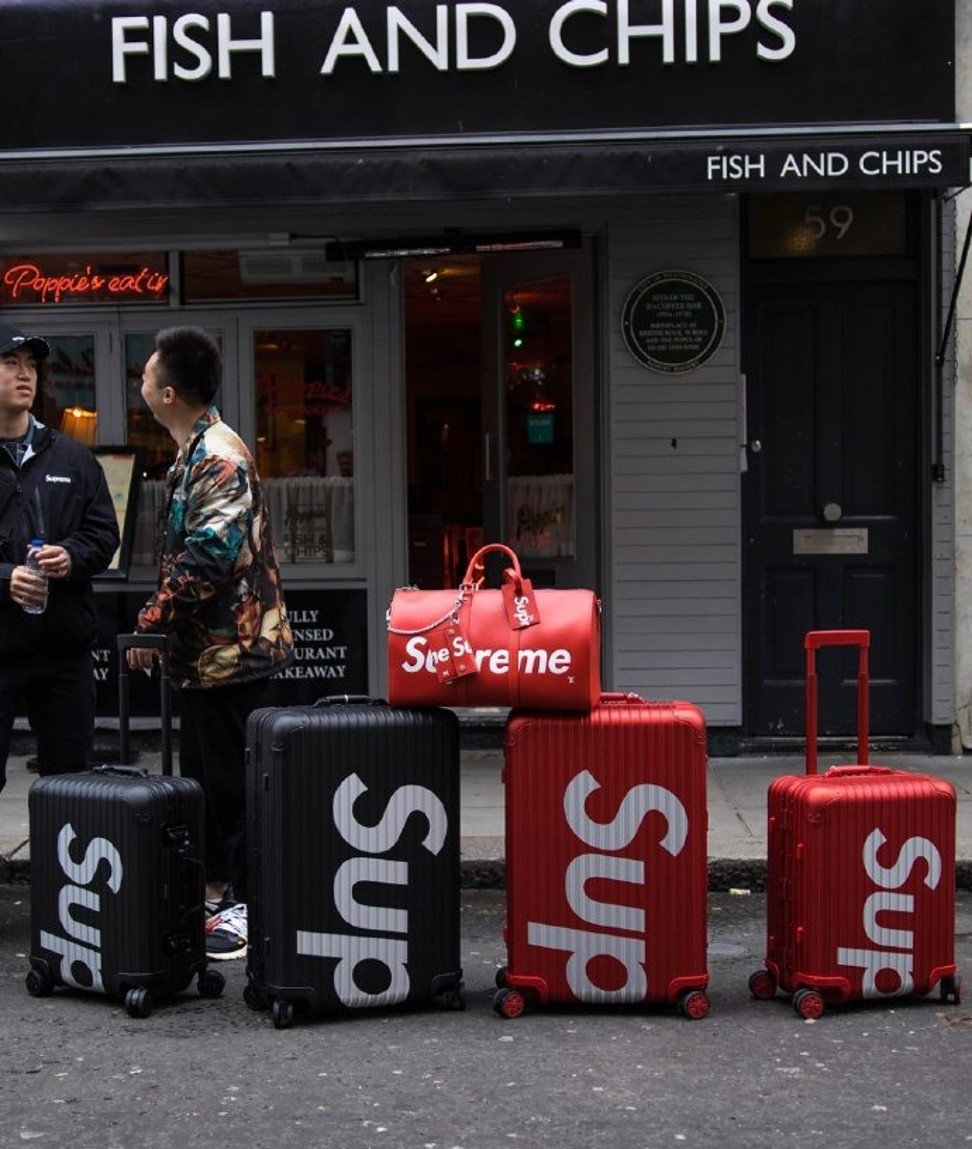 Last week, loyal fans snatched up copies of the New York Post that featured a wraparound Supreme ad on the cover. The papers, which typically costs US$1.50, flew off the shelves. Copies are now listed on eBay for many times its normal listing price.
Rimowa's Virgil Abloh transparent luggage eyes millennial travellers
There is a huge market for reselling Supreme products because of high demand for the brand.
Typically, small items like pins and stickers are under US$30, while shirts, bags and hats will cost from US$30 to US$100. Jackets, hoodies and pants usually cost from US$100 to US$300, with a few outliers. While these products may be flipped for a few hundred dollars, some are resold for thousands.
The most coveted products, including the Supreme/Louis Vuitton hoodie and the iconic Supreme box logo tee, are listed on eBay and other marketplace apps like Grailed for tens of thousands of dollars – in some cases, over 20 times the retail price. While all of these prices are negotiable, and sellers are just trying to get the best offer they can, it's a serious amount of cash.
Supreme x Louis Vuitton Pudsey Bear sells for over US$100,000
These are the Supreme products listed at the highest prices on eBay and Grailed right now:
Supreme/Coleman mini bike: US$4,050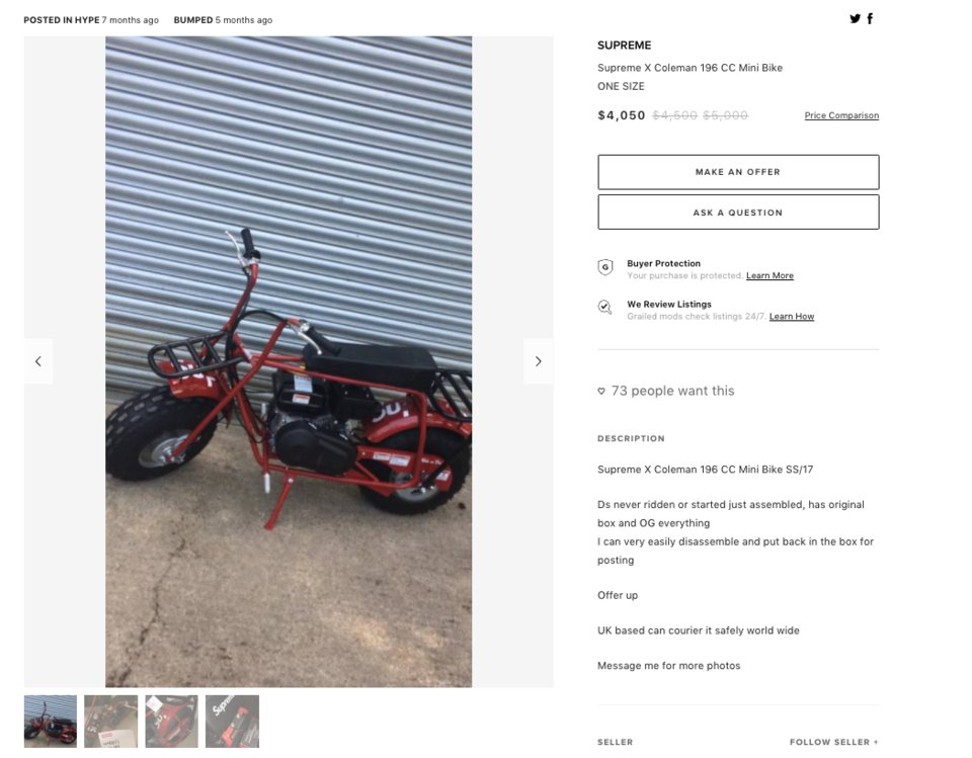 Supreme/The North Face jacket: US$4,050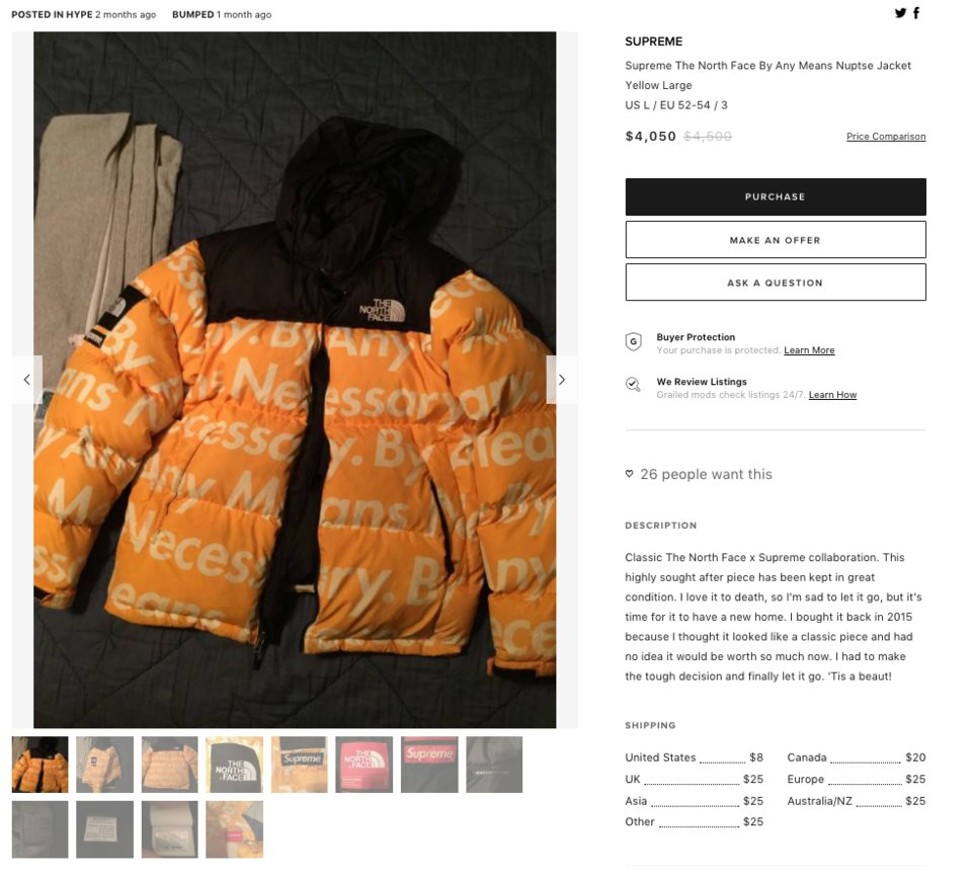 Supreme/RIMOWA suitcase: US$4,200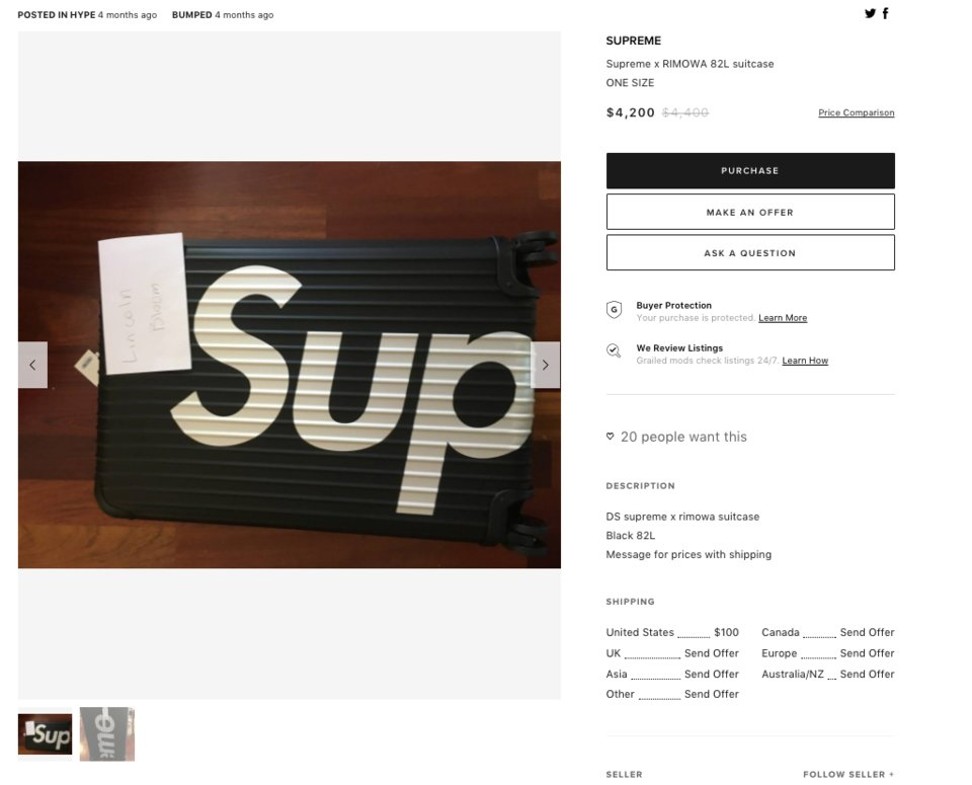 Supreme 1994 box logo hoodie: US$4,500
Supreme x Louis Vuitton denim jacket: US$8,000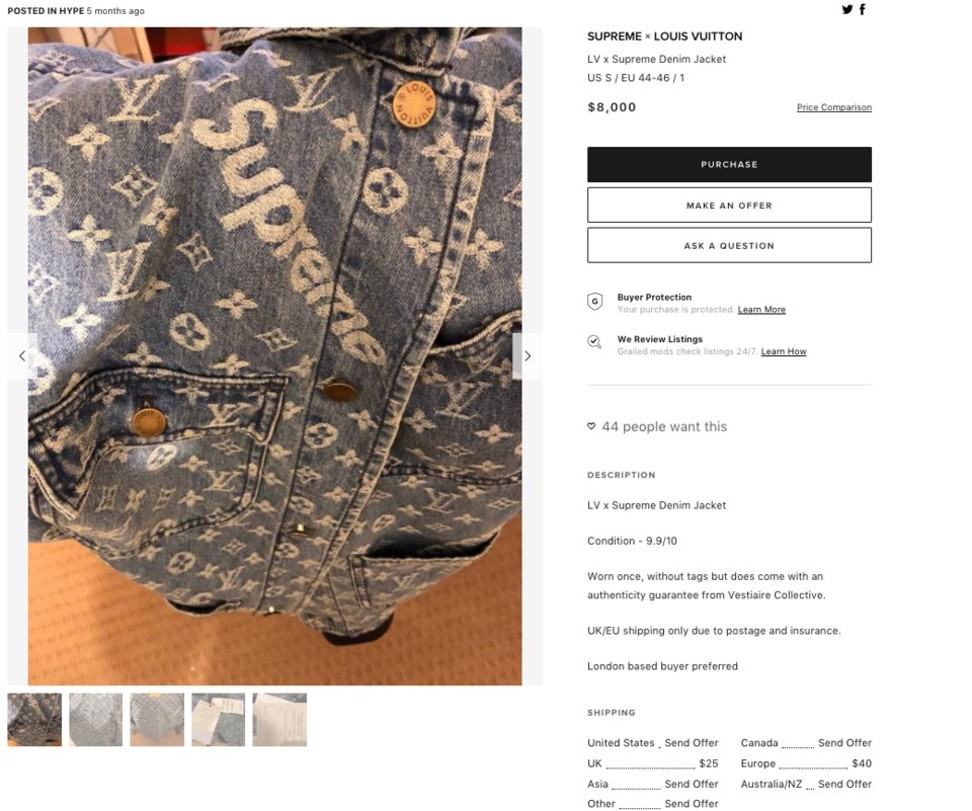 Louis Vuitton x Adidas NMD Hu eclipses other sneakers
Supreme/Louis Vuitton hoodie: US$9,950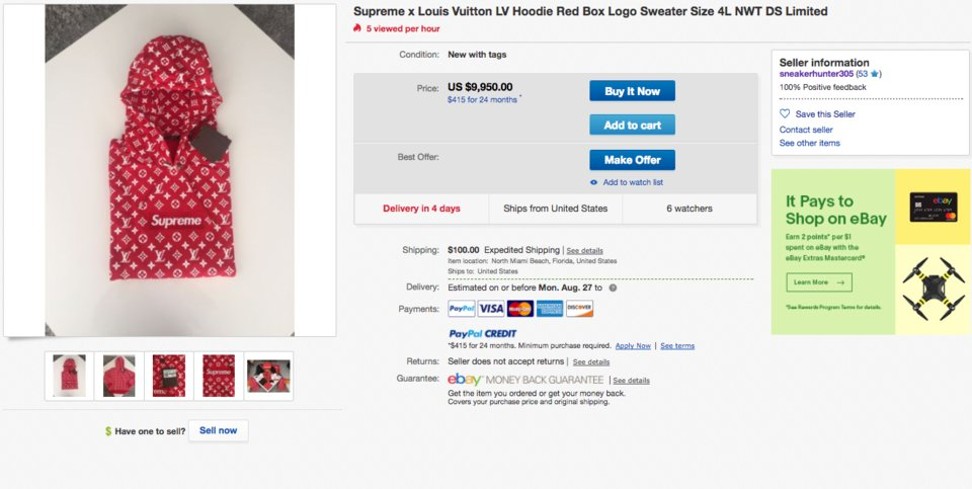 Supreme/Bape pink box logo T-shirt: US$10,000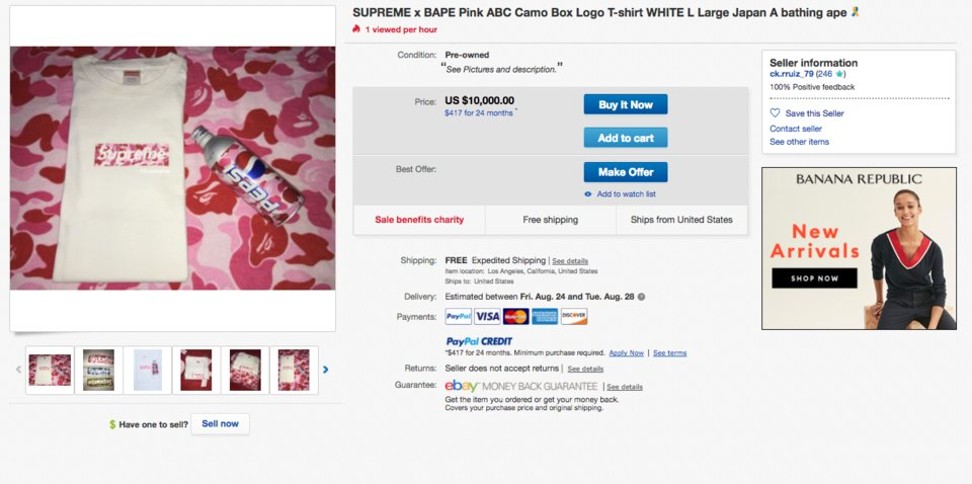 Supreme/Louis Vuitton coat: US$12,000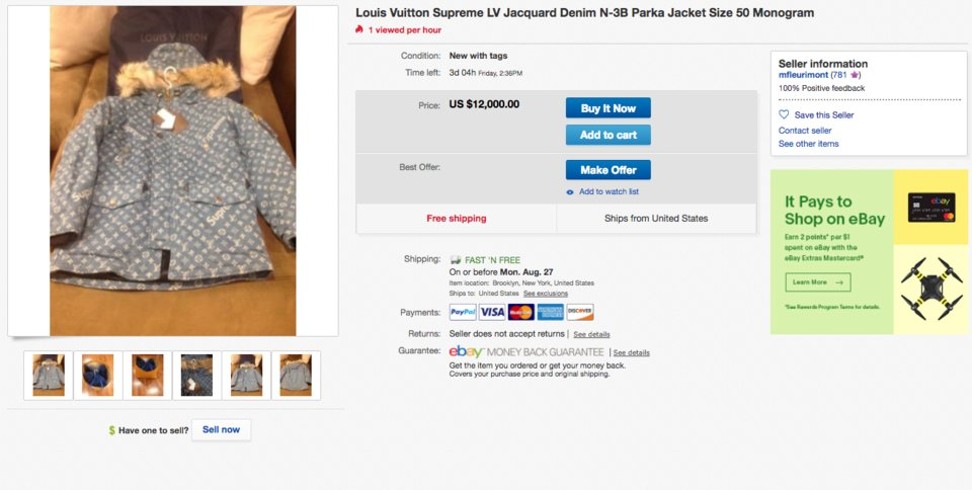 Supreme/Louis Vuitton monogram skateboard deck: US$12,000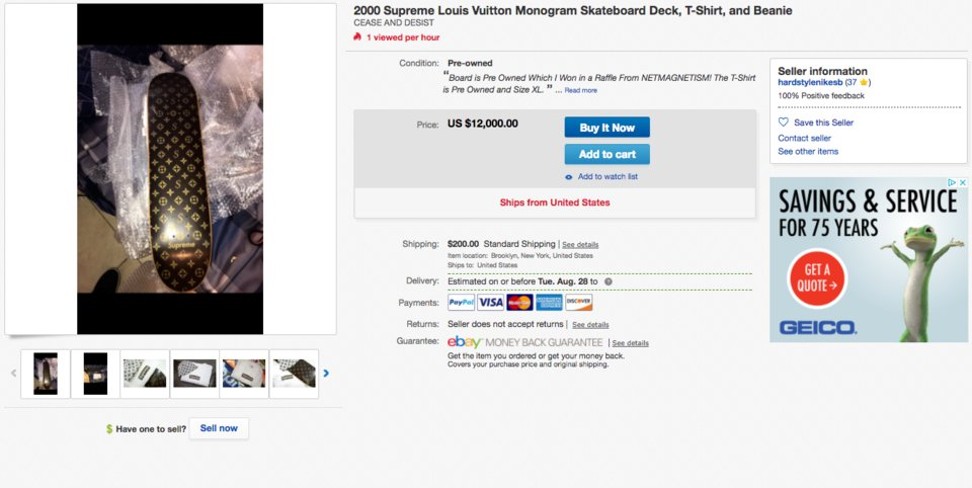 Supreme/The North Face set of 2 jackets: US$13,500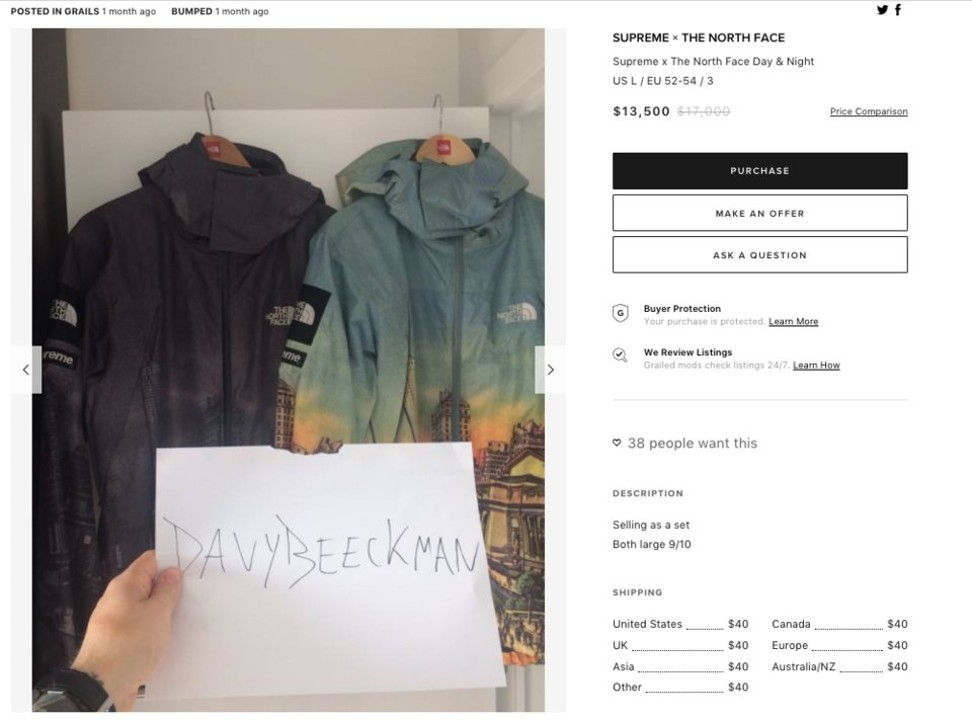 Supreme/Louis Vuitton backpack: US$14,850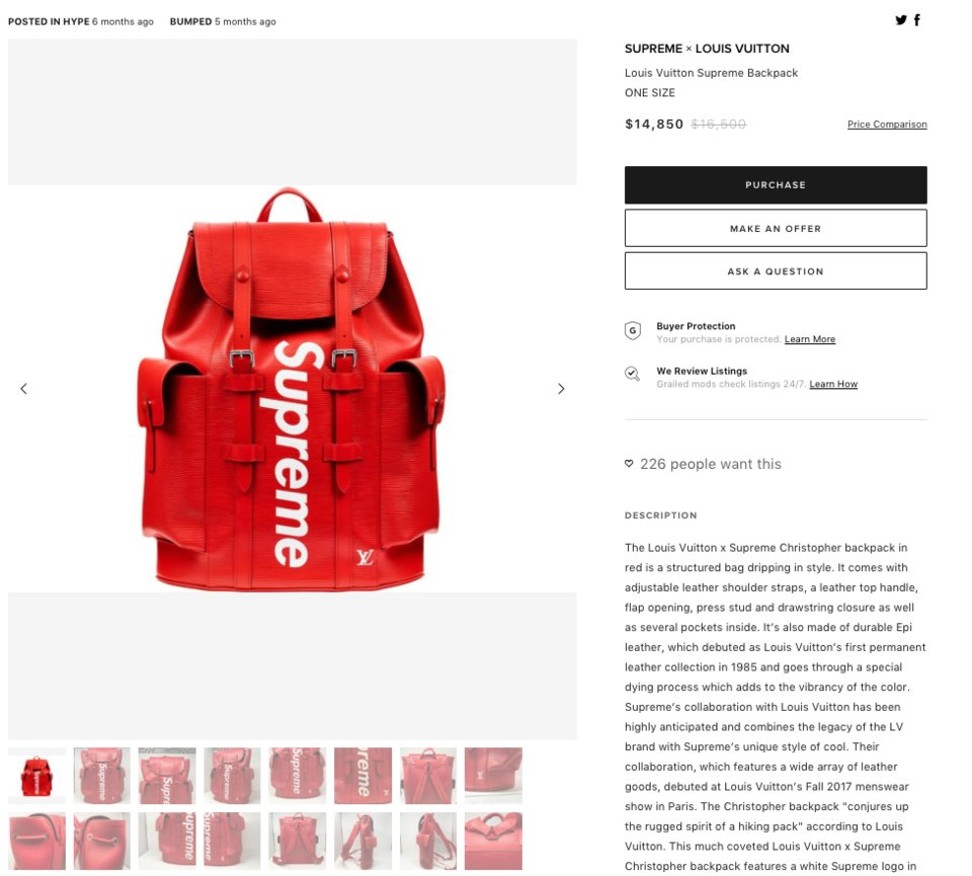 Graffiti artist Zevs talks about his famous dripping brand logos
Supreme/Fender guitar: US$14,999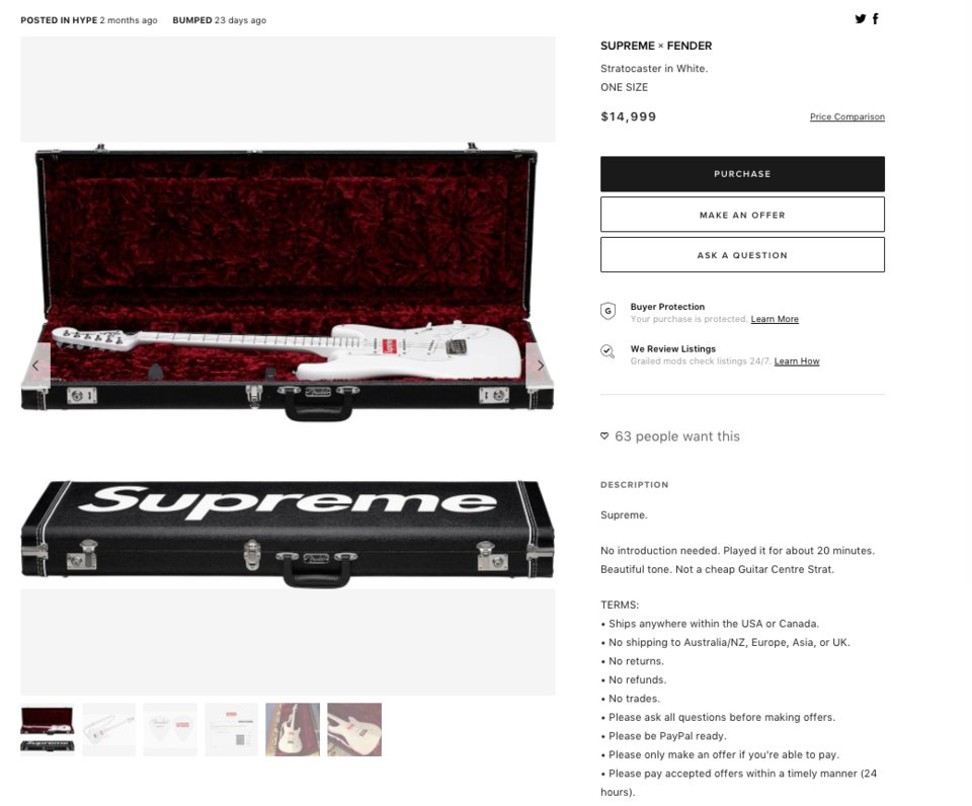 Supreme/Everlast heavy bag: US$17,000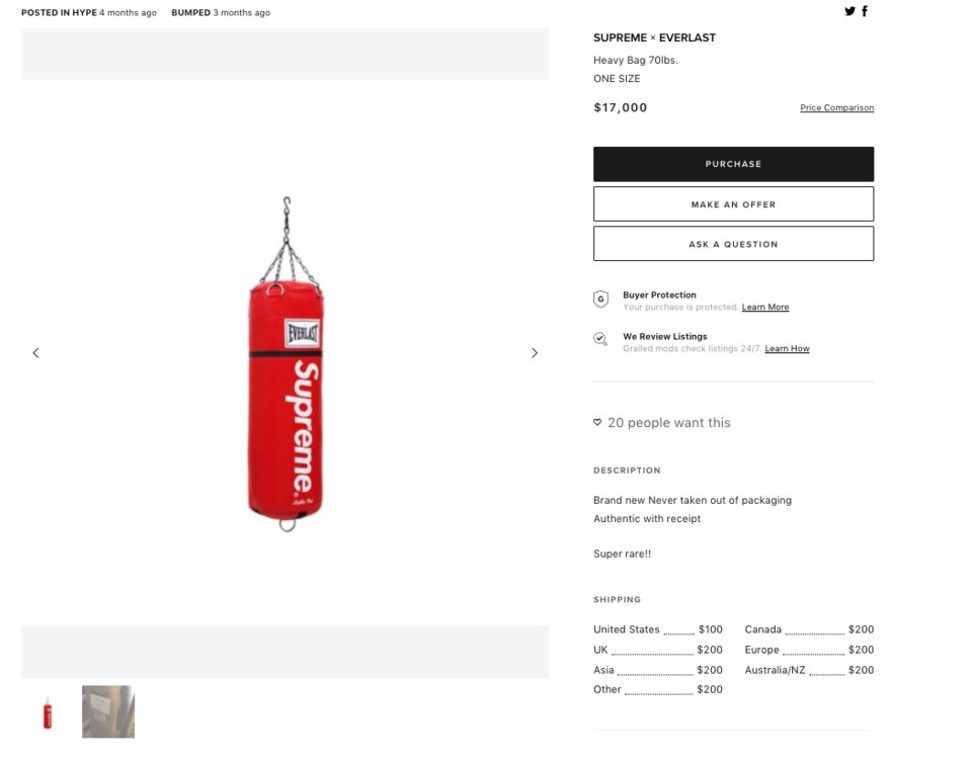 Supreme/Artek chair: US$18,000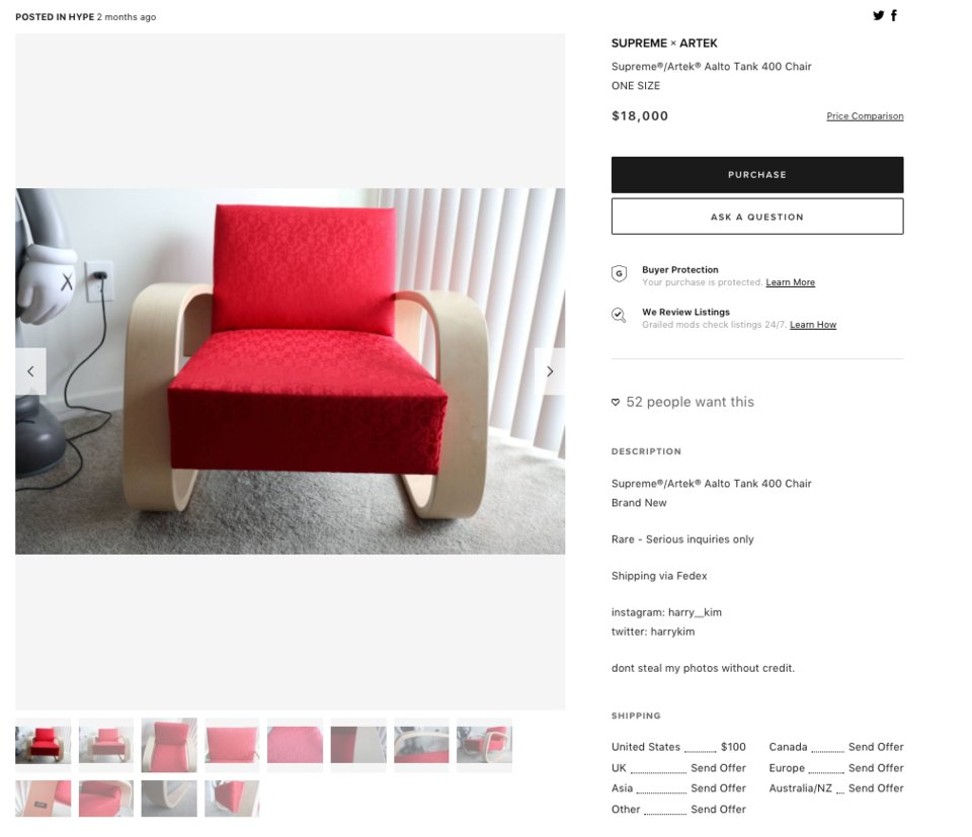 Supreme/The North Face set of 4 jackets: US$18,000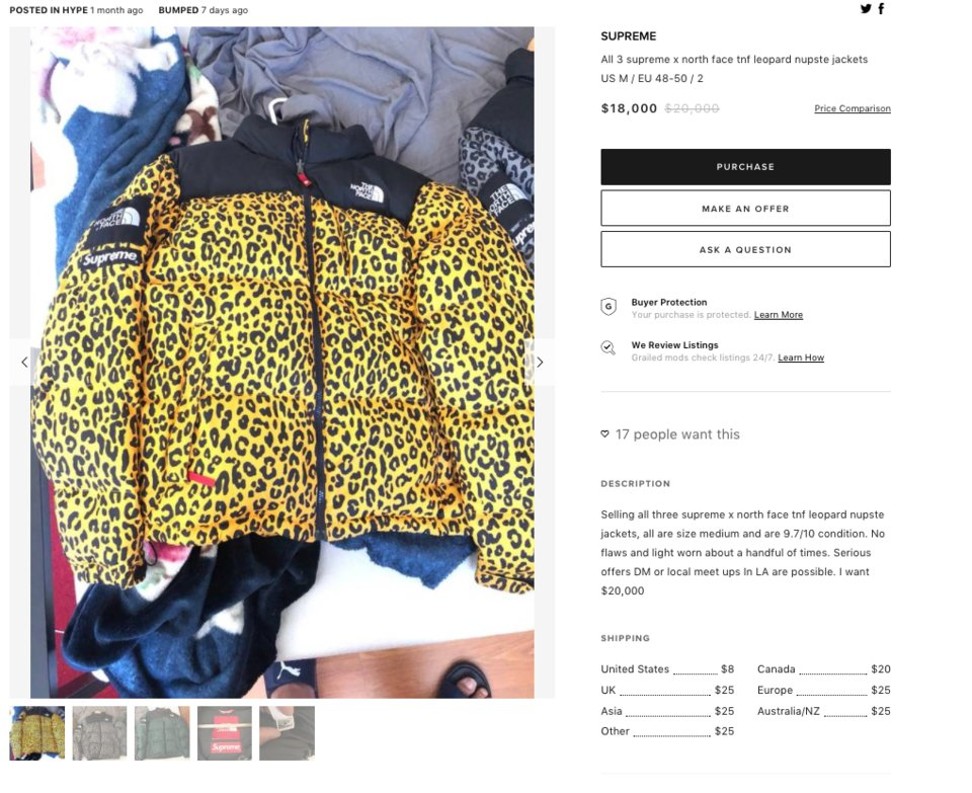 Supreme/Louis Vuitton Bomber Jacket: US$21,500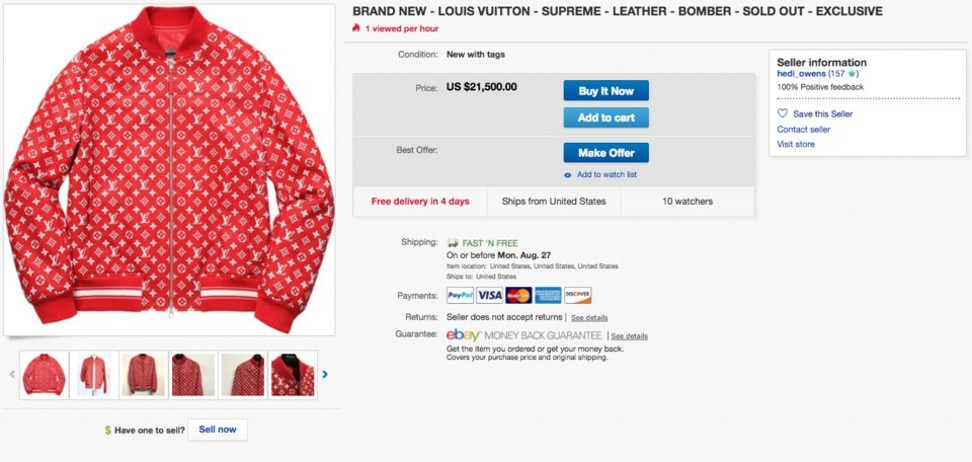 Paris Men's Fashion Show: tearful Virgil Abloh's Louis Vuitton debut
Supreme/Thom Browne button-down dress shirt: US$23,001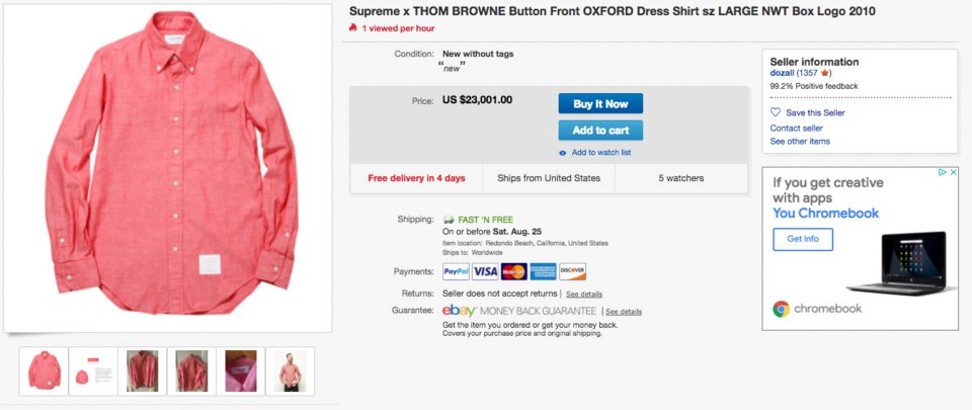 Supreme/Bape blue box logo T-shirt: US$25,000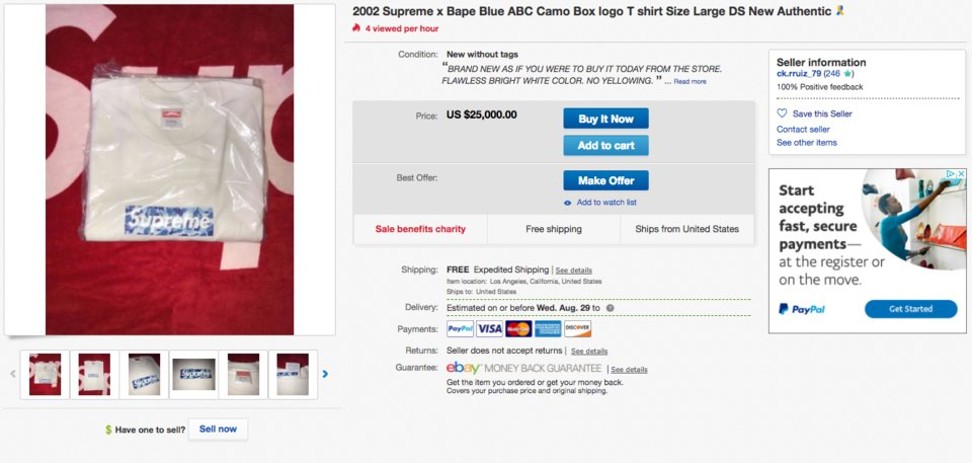 Supreme/Louis Vuitton hoodie: US$29,999.99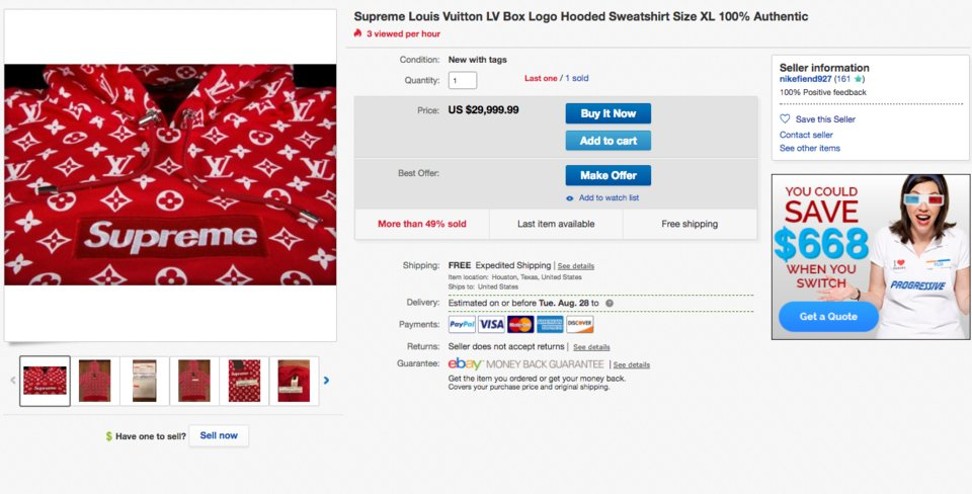 Want more stories like this? Sign up here. Follow STYLE on Facebook, Instagram and Twitter
This article originally appeared on Business Insider.