Founded in 1837 Thierry Hermès, the French fashion house Hermès started out as a harness-making firm, supplying top-notch saddles to the rich and famous, aristocrats and statesmen.
Later, when Emile-Charles Hermès took over, he extended the saddle-making business and used leather and exotic skins to create not only saddles, but also simple, stylish clothing and accessories, including trunks, bags, gloves.
However, the iconic horse carriage motif – at the heart of the brand's logo and image – has remained.
Today, the fashion house's creations, particularly its scarfs, still display the horse-related motifs from time to time.
Recently, the brand reintroduced three scarfs that feature not only the classic motif, but also have interesting stories to tell.
Hermès chain jewellery is paradoxically liberating
The Lettres au Carré scarf 90, made in silk twill with hand-rolled edges – like all three newly designed scarfs – takes its inspiration from Hermès' archives.
The geometric art deco letters in white, red and marine blue combine to form an impressive typography, which will remind wearers of the brand's rich history in personalising horse saddles and harnesses for its customers.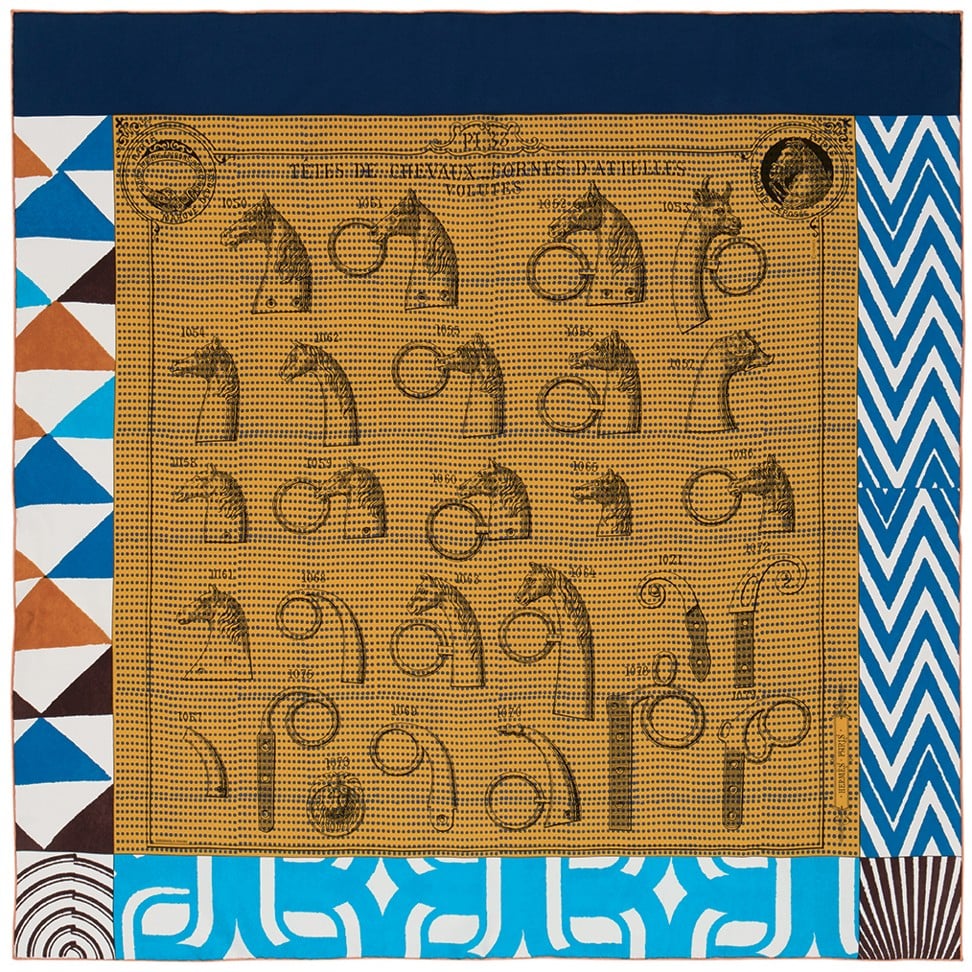 In the past, after the horse harnesses, saddles, blankets and hoods had been made, Hermès would mark the items with initials of the owners, so typography is one of the luxury brands' fields of excellence.
The lively and stylised letters on this scarf come from the early 1930s, when they were itemised in the house's registers.
The second scarf with a special story to tel is the revamped Pani la Shar Pawnee scarf 90, also made in silk twill with hand-rolled edges.
Washed by hand by Hermès' experts using an artisanal technique, the new scarf in marine blue, royal blue and orange has a more velvety feel and a patina finish.
The Luxury Closet for your unwanted Cartier and Hermès gets new funding
The scarf features an image of the native American Pani la Shar Pawnee, who was forced into exile in the late 19th century.
He holds a sculpted peace pipe, which features a running horse; bison heads, peace pipes and wild running horses and riders adorn the edges and corners of the scarf.
The revamped silk twill Manufacture de Boucleries Détail 90, in copper, blue and marine blue has also undergone the same expert artisanal procedures.
Designer Gianpaolo Pagni took his inspiration from a vintage album about saddlery items, and features a collection of stamped bridle rings and harness horns with horse heads.
The brightly coloured geometric motifs of triangles, chevrons and sunbursts contrast with the saddlery prints display on the central copper square.
Want more stories like this? Sign up here. Follow STYLE on Facebook, Instagram and Twitter