Versace's spring-summer 2019 collection show was one of the most talked about events during Milan Fashion Week because of the rumours – since confirmed – that the American fashion group Michael Kors was on the verge of buying the Italian luxury brand.
The deal, worth US$2.15 billion including debt – which took place amid protests by Versace fans – was agreed on Tuesday.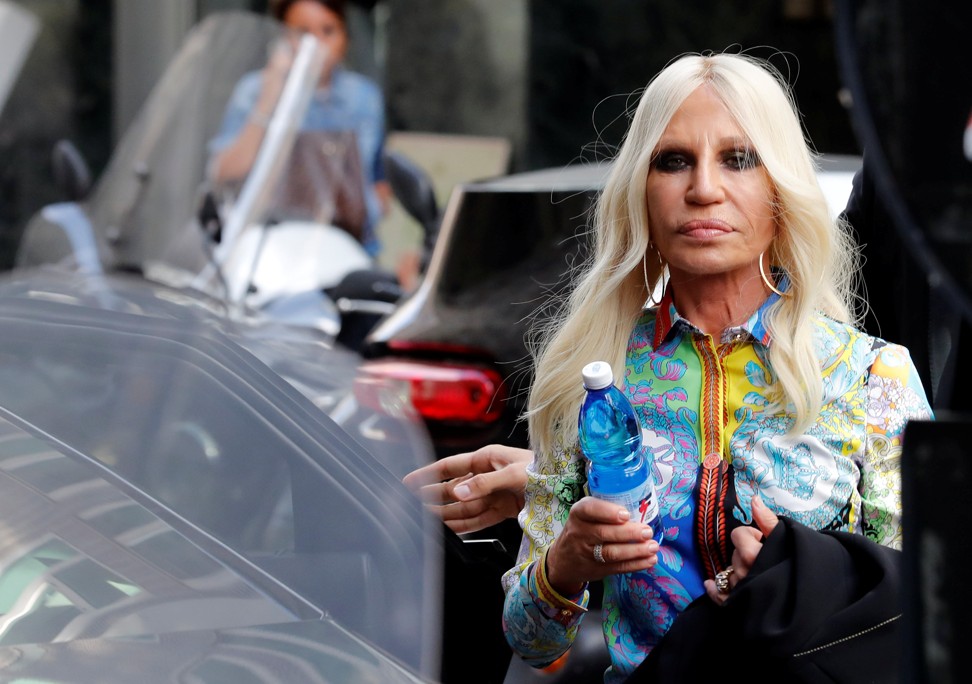 Since the brand's founder Gianni Versace was murdered in 1997, the Milanese fashion house, with its distinctive Medusa-head logo – has been led by his sister, Donatella Versace.
A fashion designer in her own right, she had worked side by side with her brother in developing the brand and acting as his muse, and was left traumatised after the shooting.
Versace opens flagship boutique in the heart of Hong Kong
As the brand's chief designer and vice-president of Versace Group, she has since shaped its flamboyant, sexy profile.
Her last spring-summer collection show in September 2017 paid homage to her brother while marking the 20th anniversary of his death.
As part of the deal, Donatella will continue to oversee the brand following the merge.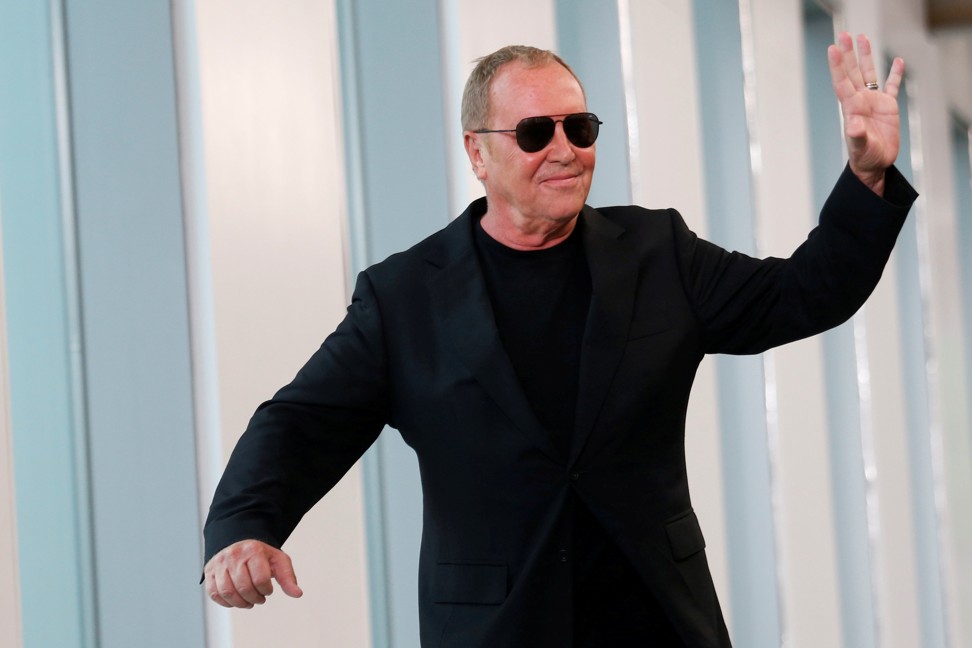 The Michael Kors label offers affordable, American sporty-style fashion choices, from ready-to-wear clothes to accessories, such as handbags
Its acquisition of Versace marks the brand's further expansion into high-end fashions.
The American company – founded by fashion designer Michael Kors, who remains its chief creative officer – will be renamed Capri Holdings, but it will retain the Michael Kors brand name.
Gucci leads the 10 hottest fashion brands in the world
In 2017, it acquired Jimmy Choo, the eponymous British high fashion house specialising in shoes – founded by Malaysian designer Jimmy Choo – for US$1.2 billion.
Adding Versace underscores the company's aim of building a multi-brand fashion enterprise to compete with European luxury brand conglomerates such as LVMH, owner of Dior, and Kering, which owns Gucci, Balenciaga and Saint Laurent.
Rumours of the possible takeover were swirling around Milan Fashion Week as Versace's star-studded spring-summer 2019 collection show, featuring bold prints, patchwork and leather.
Singers Leona Lewis, Nicki Minaj and Rita Ora, model Rosie Huntington-Whiteley, actor Luke Evans and Italian influencer Chiara Ferragni were all in the front row of an enormous industrial space used for staging the show in the modern CityLife neighbourhood.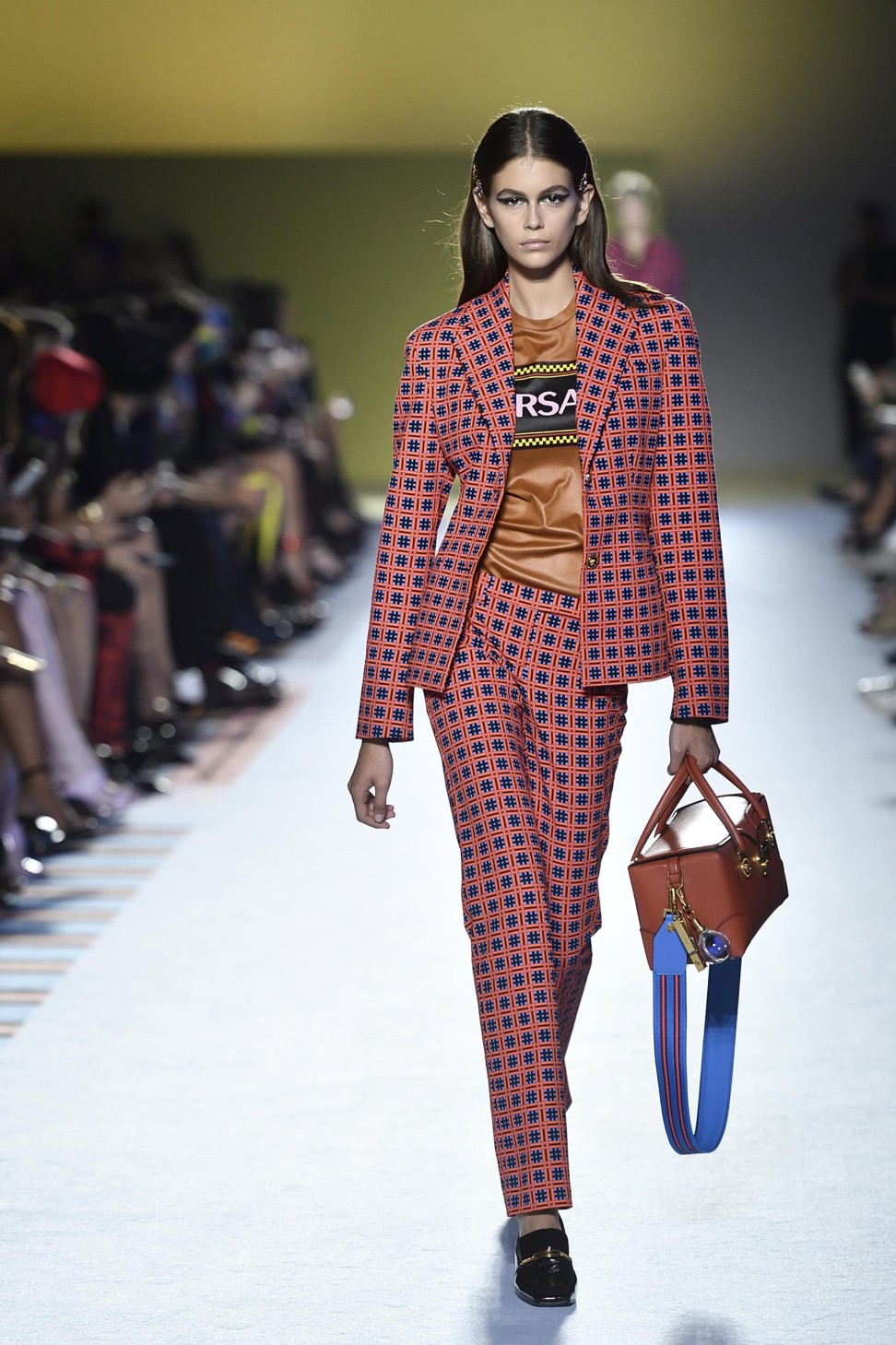 Pale yellow walls formed a background to a carpeted floor that echoed some of the prints used in the collection – coloured stripes, bright flowers over pinstripes, checks, roses and small flowers mimicking animal prints.
Luxury fashion house Versace joins no-fur trend
"The style of the Versace woman is so recognisable that it need not be explained," said a style note by the fashion house, known for its daring, sexy designs.
"She is not afraid of showing her personality and she is extremely feminine and confident."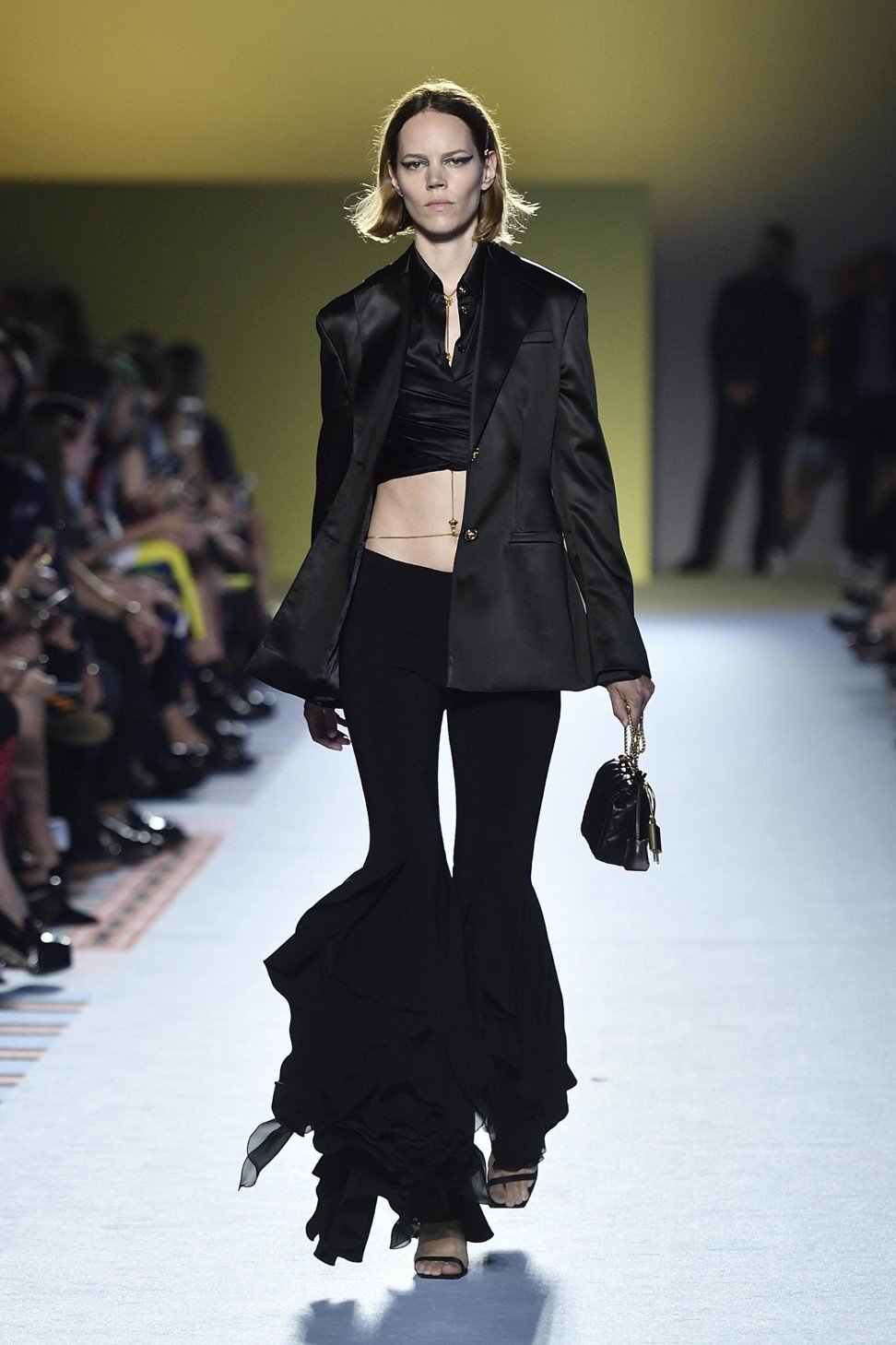 Close-fitting silhouettes, ruched flared trousers and layered looks, with tulle mini-dresses paired with silk-printed longer ones, designed by Donatella, paraded down the catwalk in orange, violet and lime colours.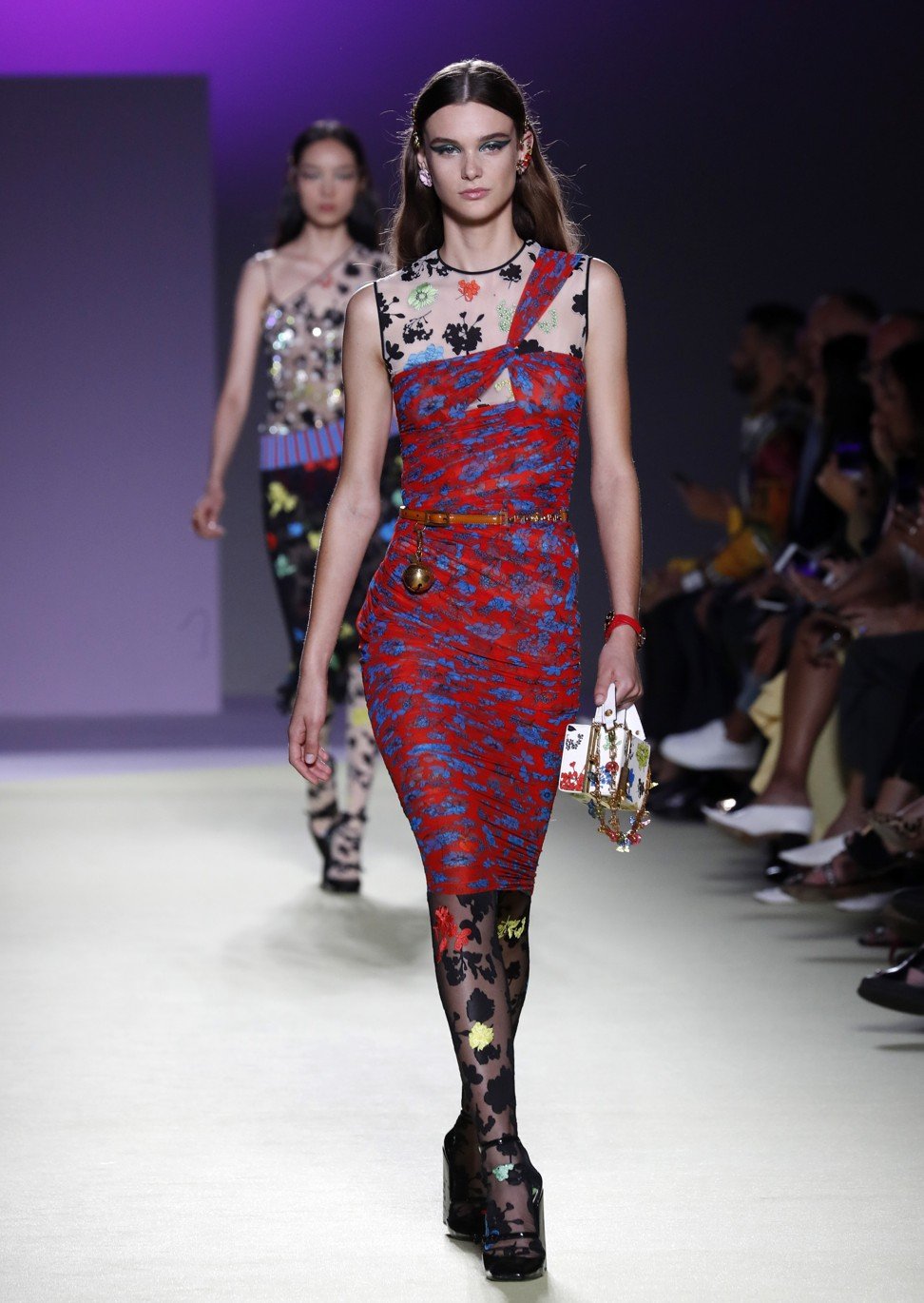 "The all-over prints of the clothes are overlapped with neat nonchalance," the note said.
Armani's pastel and silver collection defines the shape of colour at MFW
For the evening, Versace flaunted a black satin tuxedo paired with flared trousers, or knee-length leather skirts with golden buttons.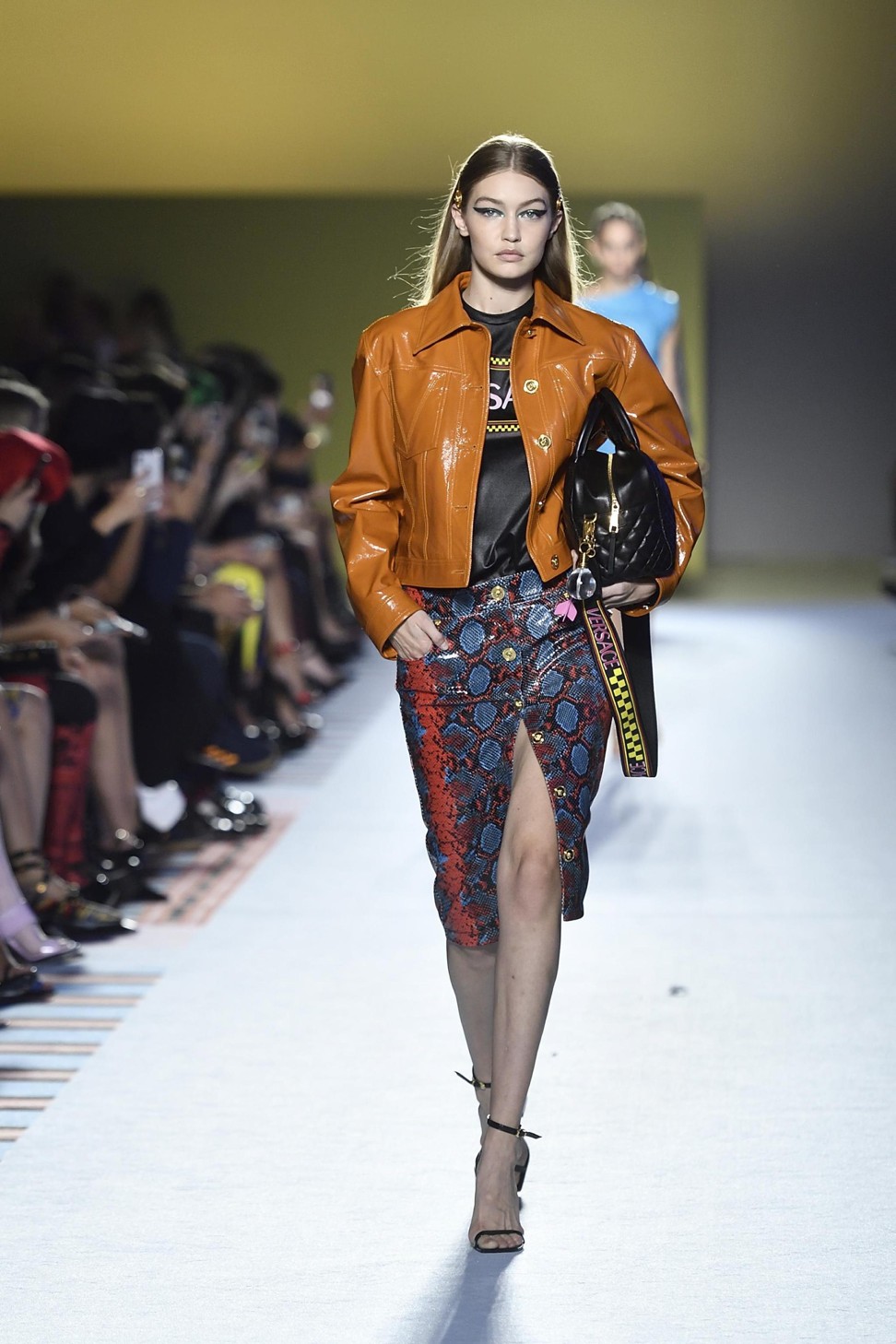 Celebrity model Bella Hadid, who walked on the catwalk at the show with her sister, Gigi, wore a tight one-shouldered mini dress in yellow leather and matching trainers.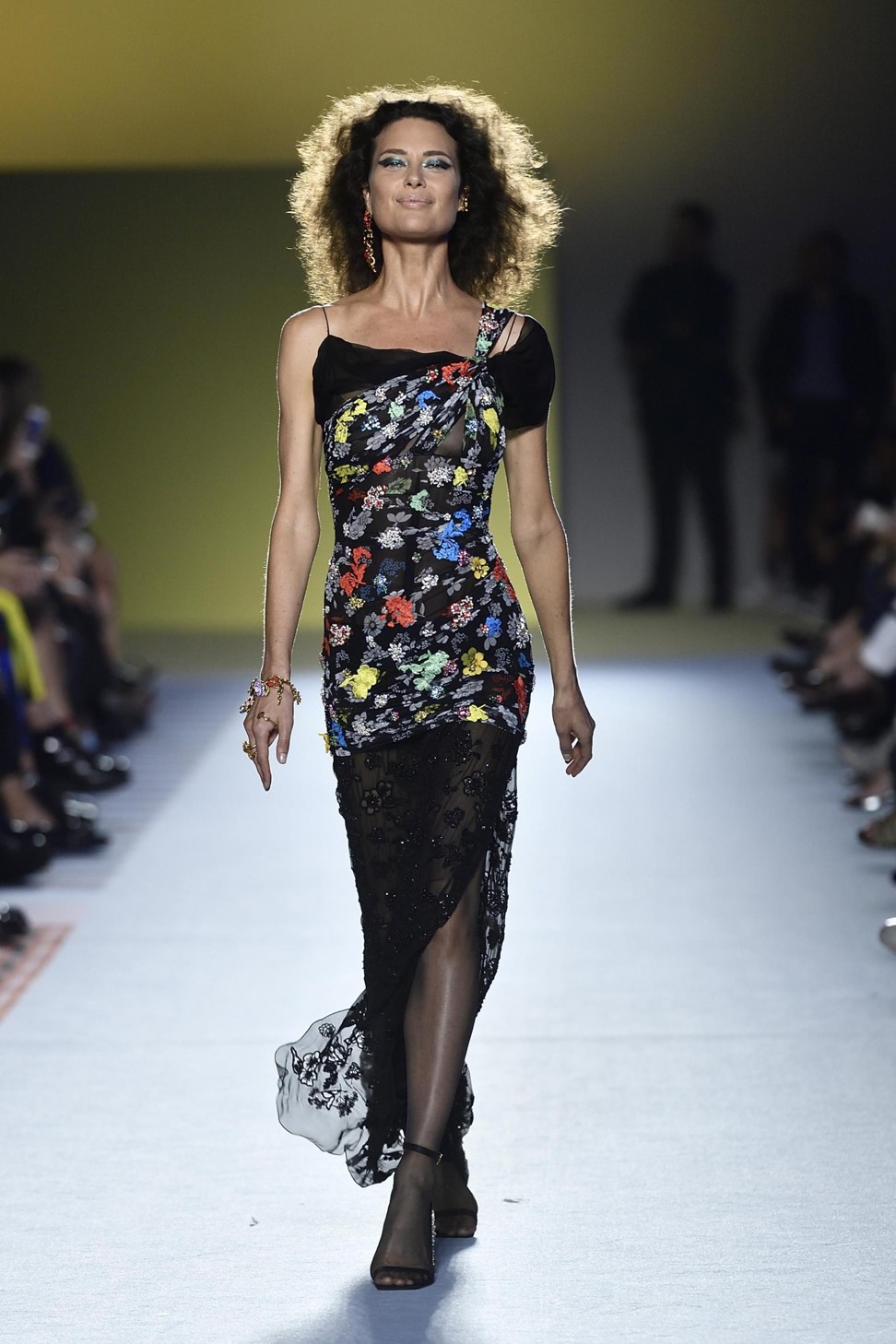 Nineties supermodel Shalom Harlow closed the show, donning a long tulle dress with colourful flower embellishments that flared out in a transparent, sparkly black skirt.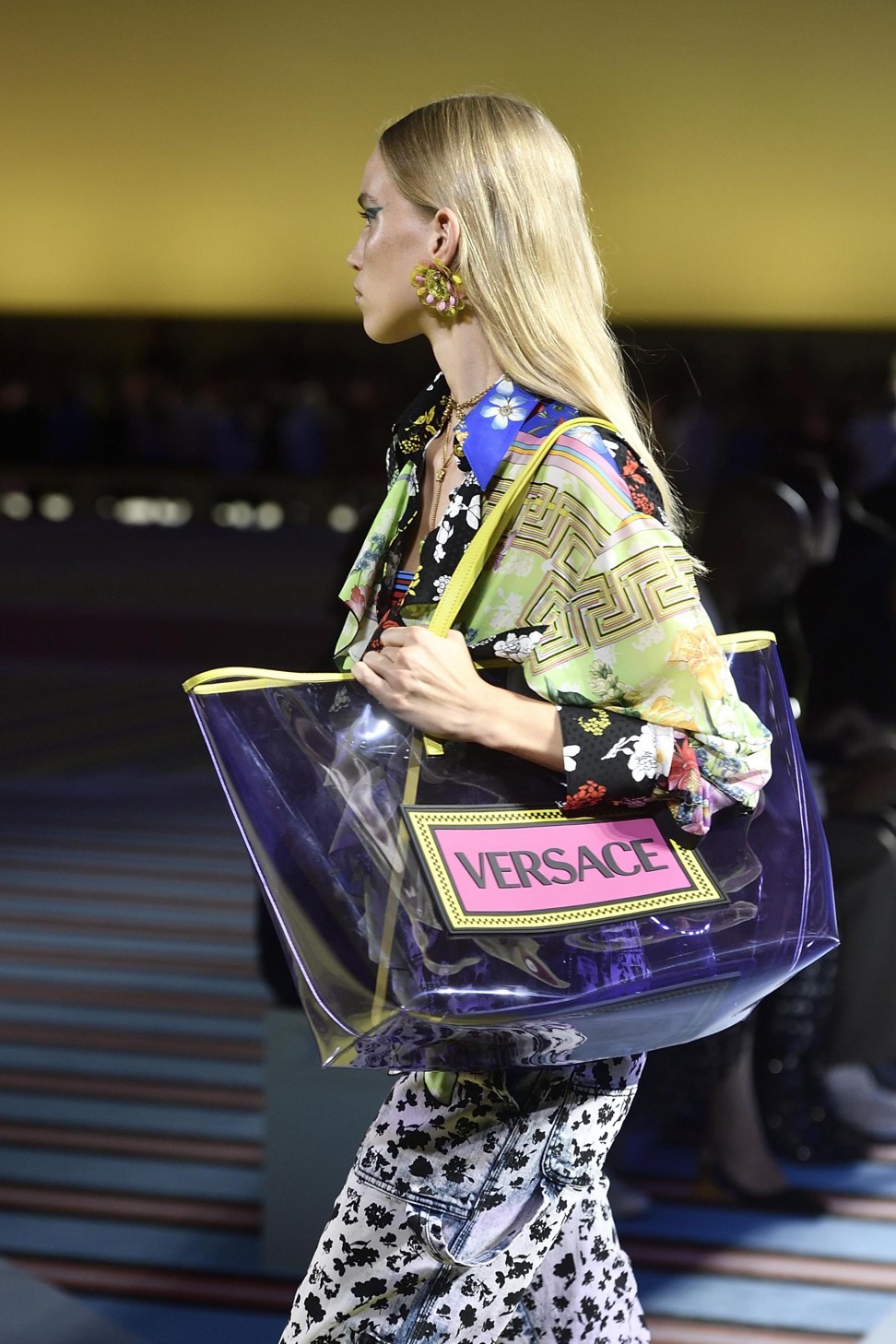 Some of the models carried big boxed bags that echoed old-fashioned travel trunks, or large PVC shopping bags emblazoned with Versace writing.
K-pop star Jessica Jung makes first catwalk for Dolce & Gabbana at MFW
On their feet they wore chunky trainers, college shoes, or square-heeled sandals, while their ears featured big flower-shaped ear-cuffs matched with hairpins.
Additional reporting by Leona Liu
Want more stories like this? Sign up here. Follow STYLE on Facebook, Instagram and Twitter