Fashion may seem a respite from the cares of the world, but often it is actually an expression of them.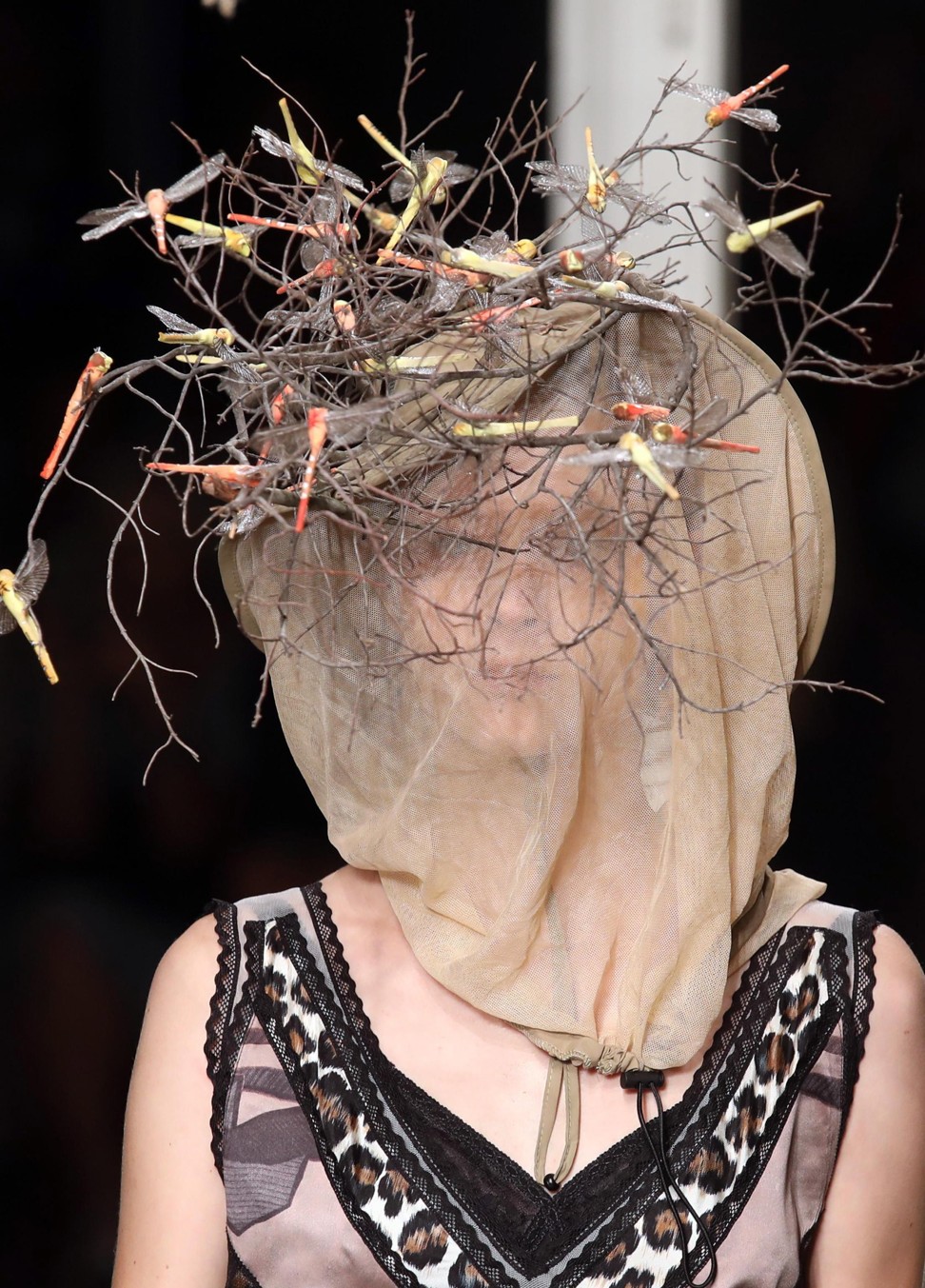 Designers in Milan this week are finding ways to express their concerns about the world through their collections, in some cases purposely providing an escape but in others using textiles and seams to stitch together a story.
Milan Fashion Week held its third day of previews for next spring and summer with shows by Antonio Marras, Etro, MSGM on September 21.
Antonio Marras' journey into exile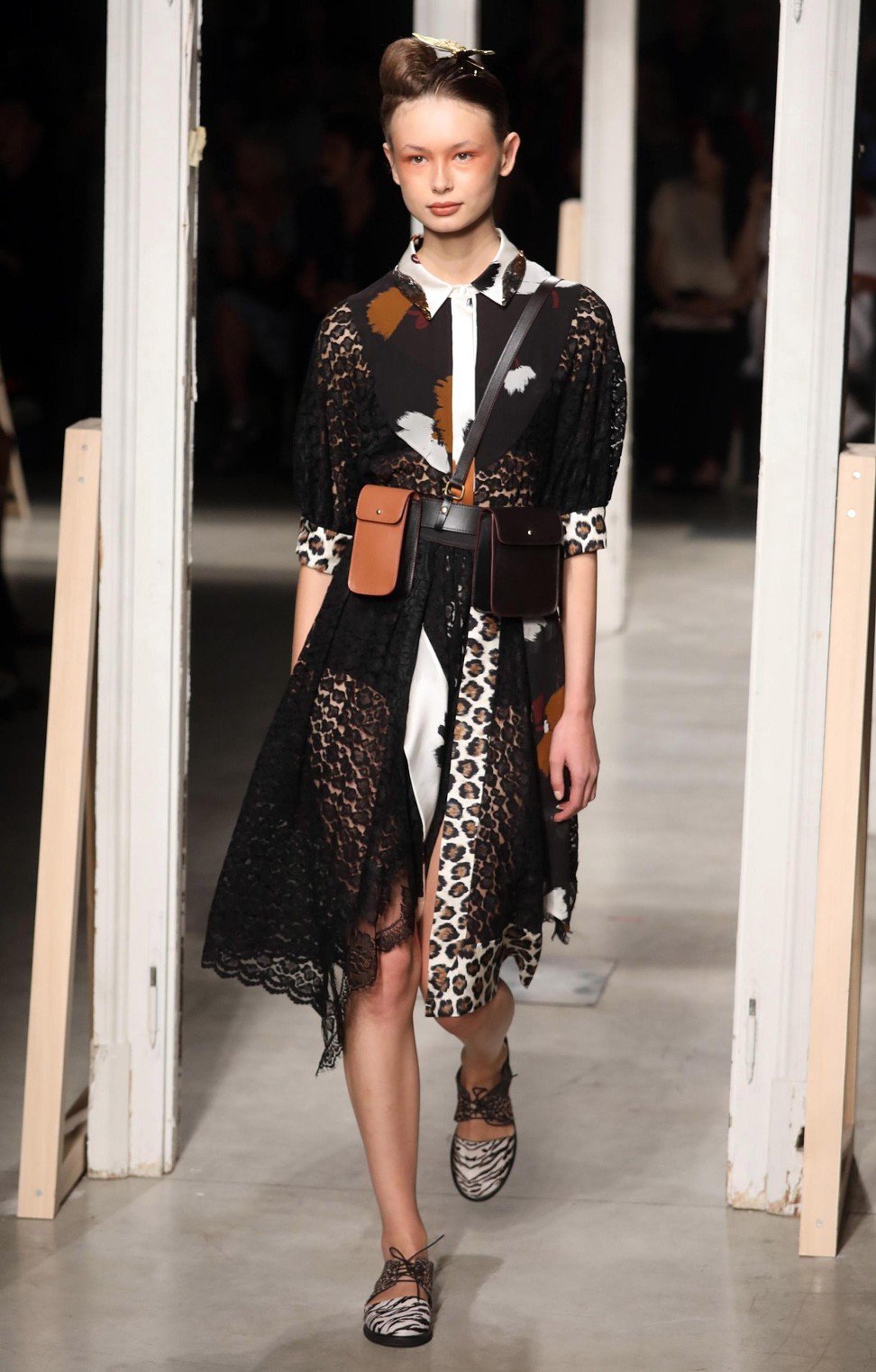 Designer Antonio Marras stitched a story into his garments for next spring and summer. It is a tale of exile, of military demands interrupting a tranquil life.
Maria Grazia Chiuri's star-studded Dior show takes Paris on a dance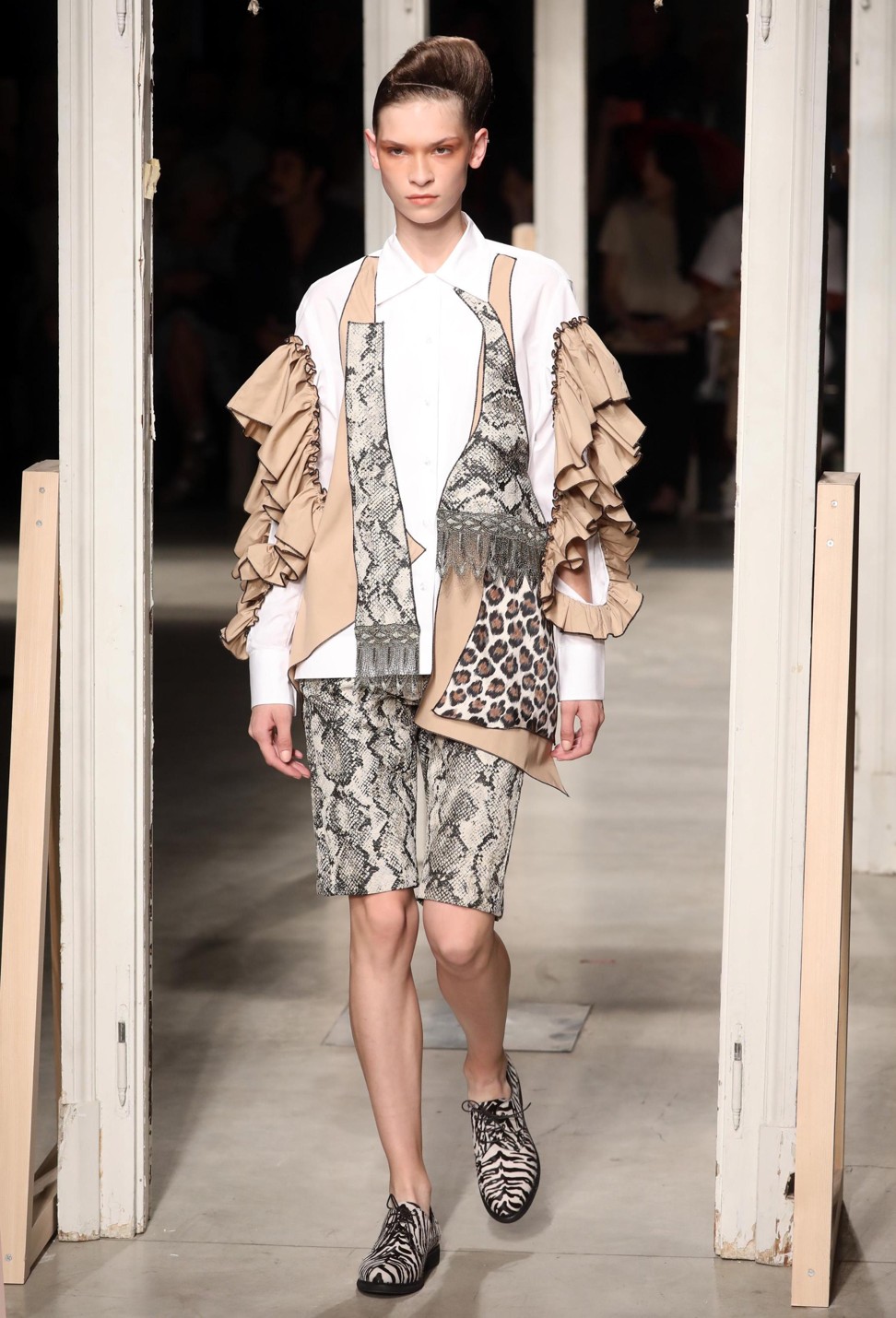 Victoria Beckham marks 10th anniversary at London Fashion Week
Marras mixed masculine textiles, like camouflage and denim, with feminine laces, crochet work and animal prints. The garments are a patchwork, none with a clearly defined silhouette but with overlays indicating turbulence and forced journeys. Marras said he was telling the story of an Ethiopian princess who was forced under Italian rule into exile with her children on an island near Sardinia.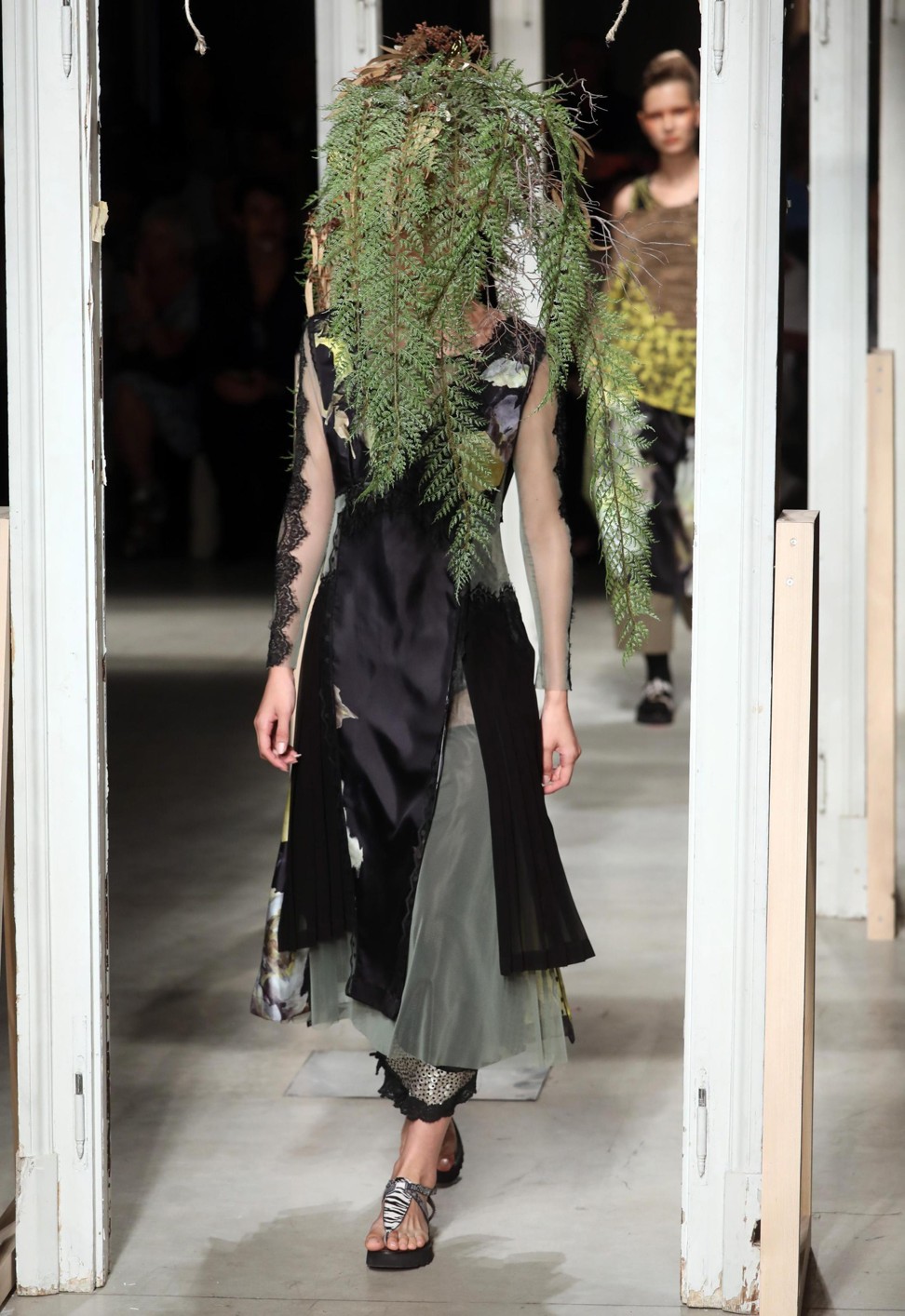 "I think fashion can tell what is happening in the world. We are bombarded every day by images that are very strong. My work is to transfer the sensations I have inside onto textiles," he said.
Marras said the work started with a simple men's shirt, which he completely redefined, cutting long holes in the sleeves that he trimmed with big ruffles, adding shreds and cutting-room castaways of khaki, reptile and leopard print.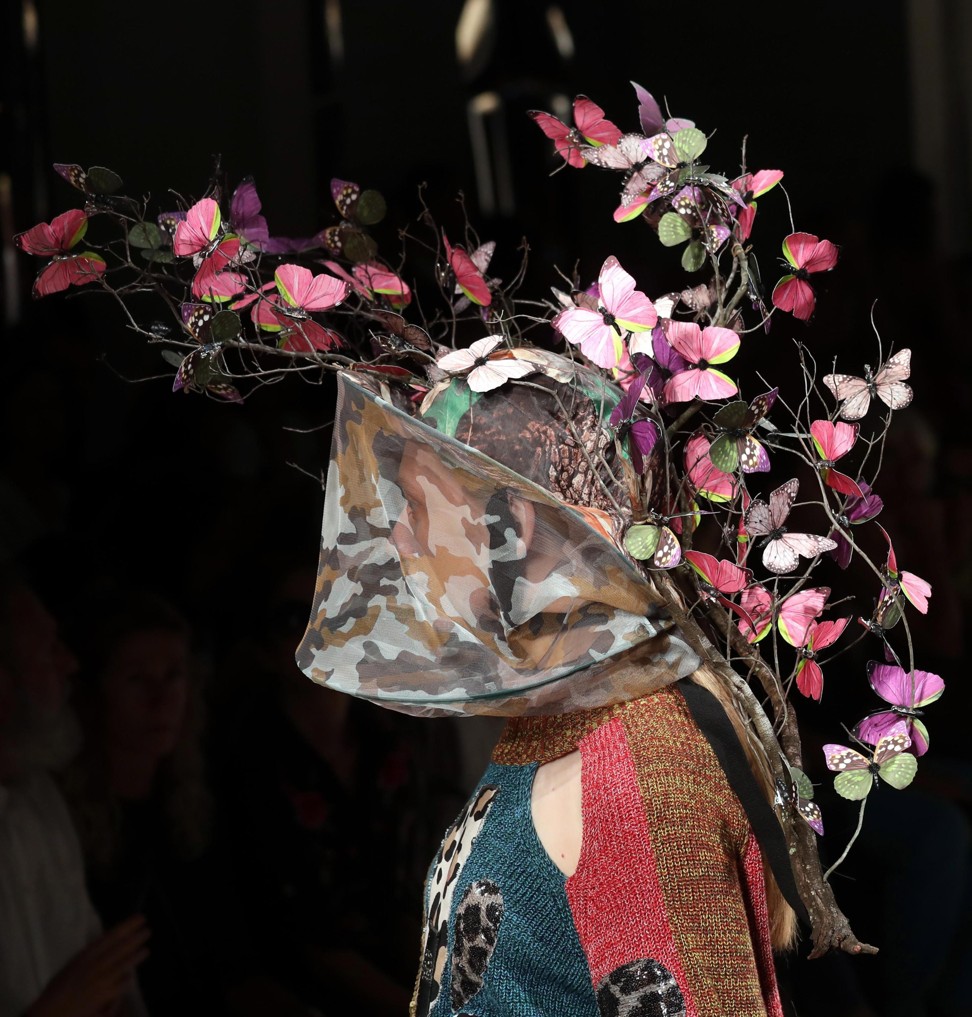 The workmanship is evident in the details. Ruffles and shreds in scraps are stitched meticulously together to create a collage of stripes, checks and neutrals on a mini-wrap skirt-jacket combo. Chiffon leopard prints are ruffled and pieced together to create frothy details on the shoulders.
Rihanna goes wild in New York with sexy Savage x Fenty lingerie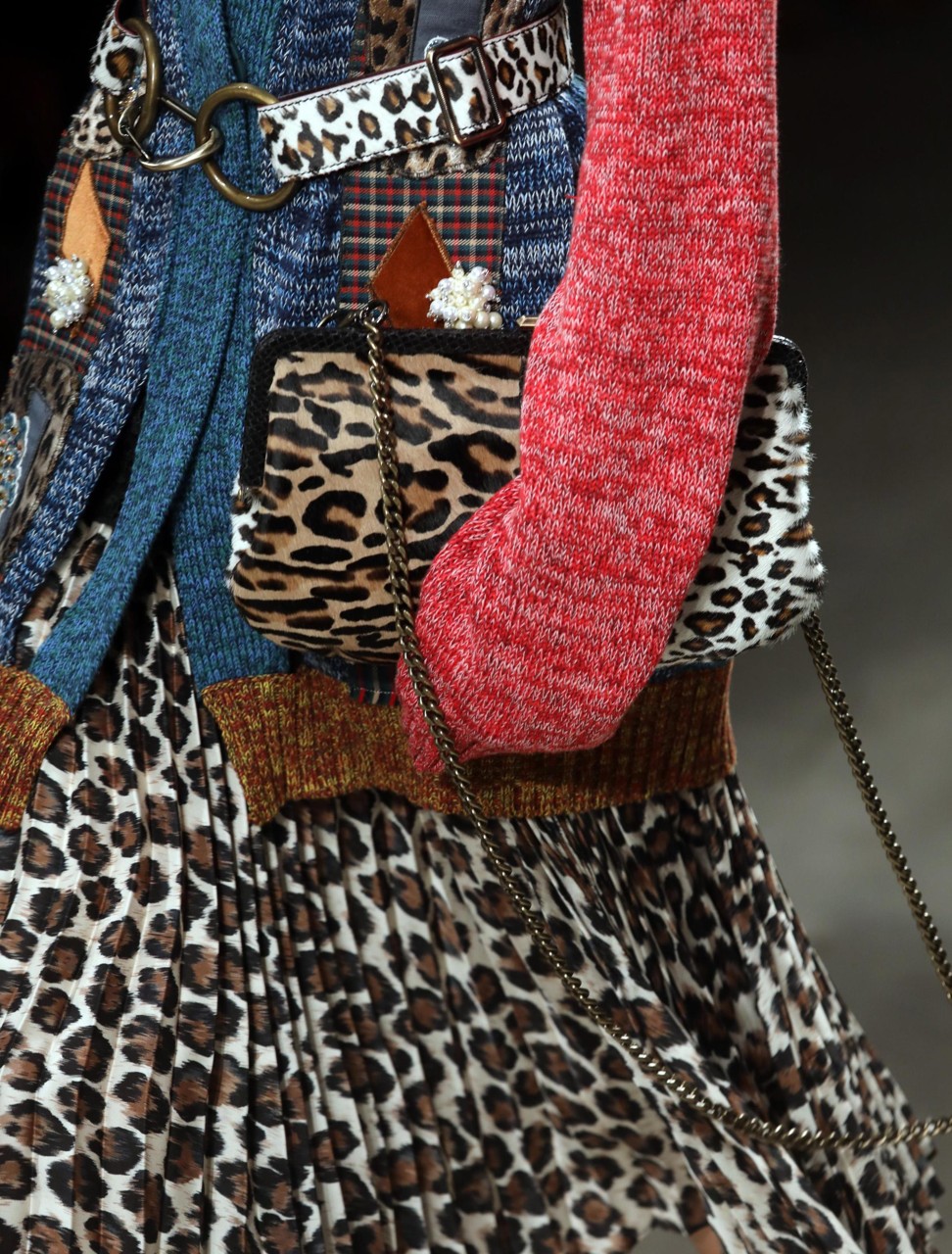 Delicate crochet work was sewn into panels on a smock dress with a Victorian-era flair. More modern cues came in the form of a loose sweatshirt cape with leopard and reptile accents, and a drop-waist dress with a black hoody T-shirt over a leopard skirt, held together by sheer black lace.
Marras added drama to the collection with enormous, sculptural mosquito-netting hats.
Etro's Pacific Zen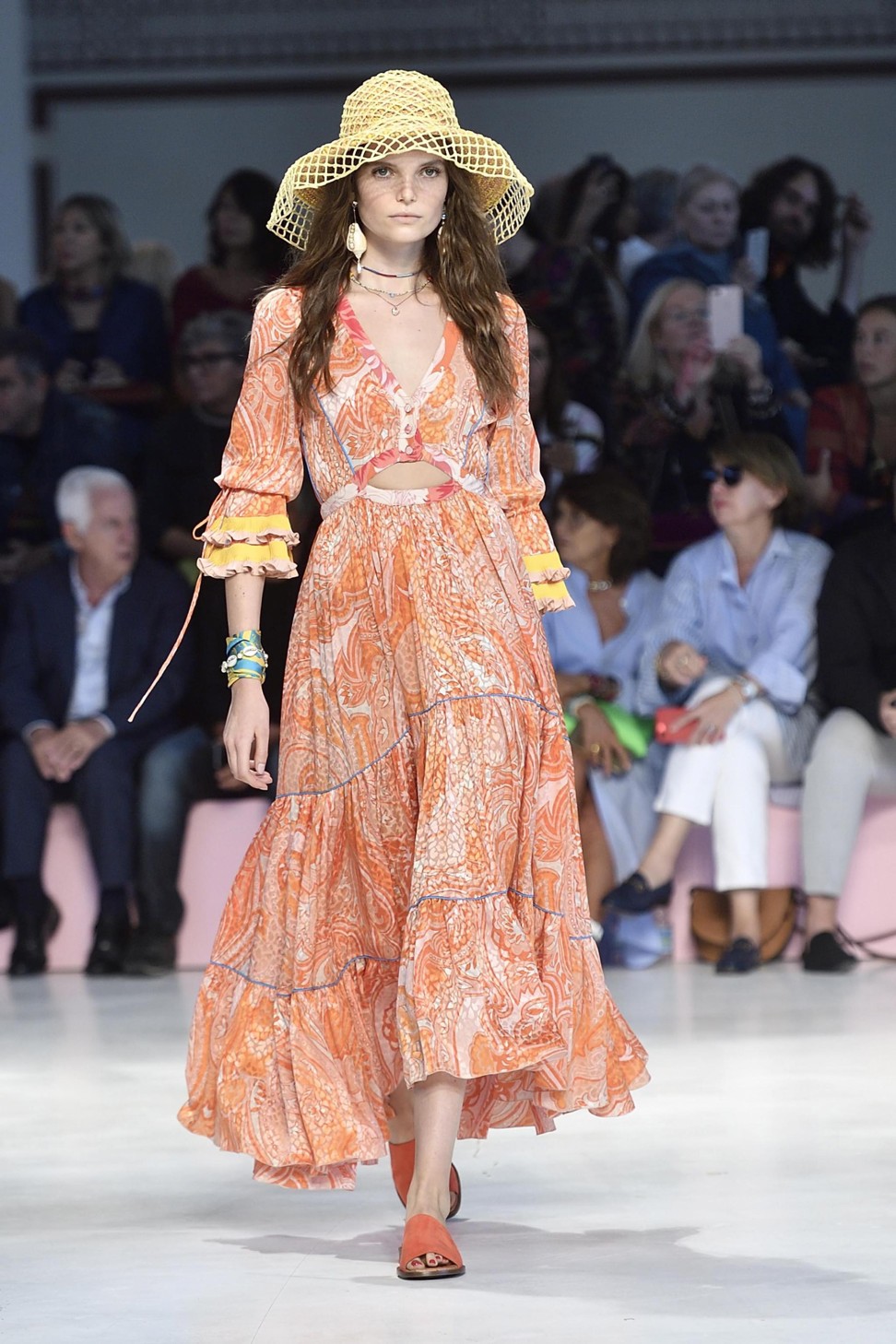 The Etro woman is seeking Zen somewhere in the Pacific between California, Hawaii and Japan. In Veronica Etro's mind, the destination is a fantastical Paisley island, recalling the brand's trademark print.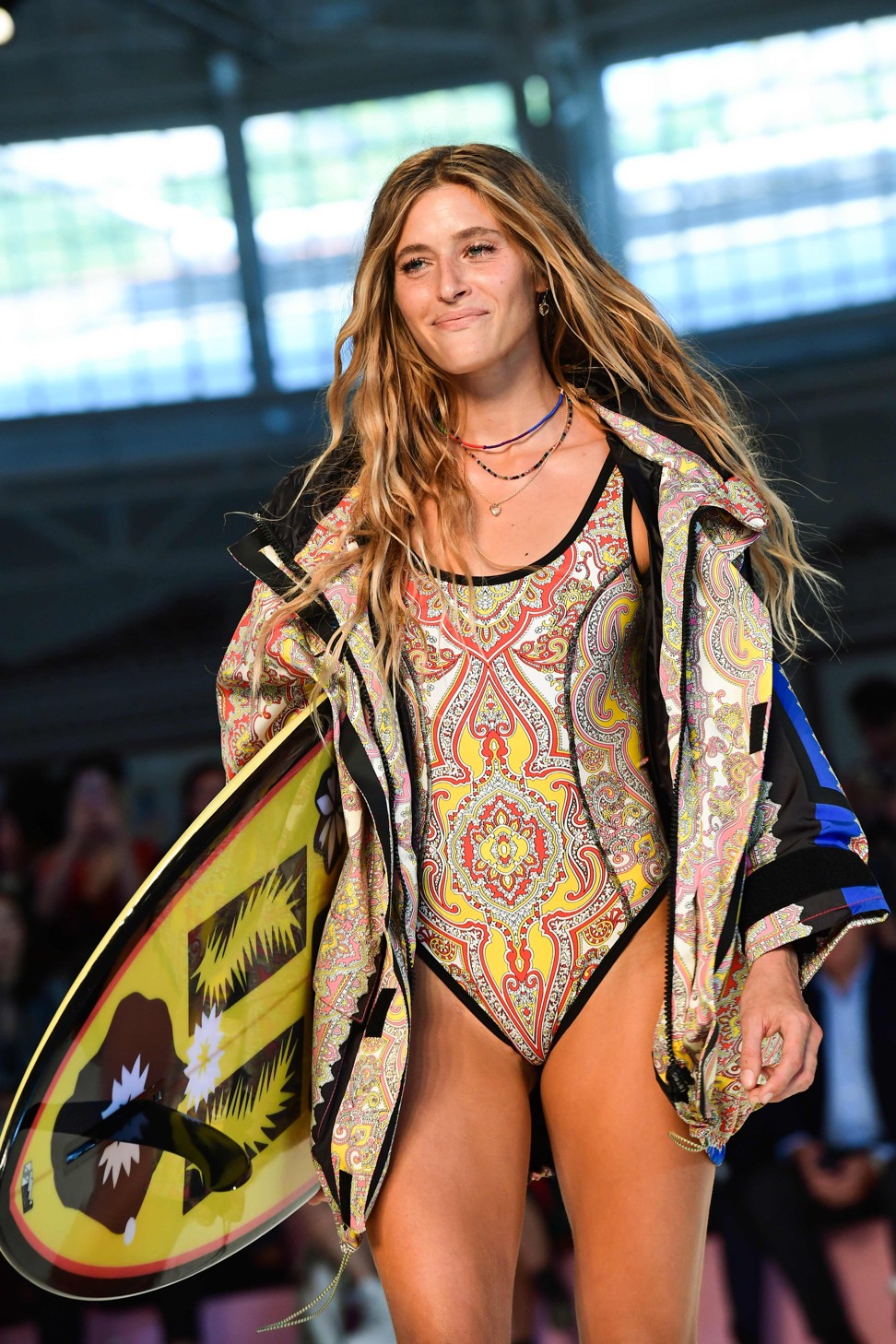 Etro said the collection explores the fluidity between the active West Coast lifestyle of surf and skateboard and the more meditative Asian martial arts disciplines.
Raf Simons' Calvin Klein 205W39NYC show menaces with 'Jaws' at NYFW
"We melted these references together to get this collection that I call Pacific Zen," Etro said backstage.
The colours are bright but sophisticated, taken from kimono silks. A dreamy pattern of the sun on the water on a sheath dress can just as easily represent a California sunset as an Asian sunrise.
The looks have a contemporary edge that comes through in the silhouette, in particular a pagoda-tiered dress with a surfer's wetsuit bodice trimmed in ruffles. Relaxed patchwork denim looks with knitwear jackets and bikini tops played nicely against floral kimono tops with matching trousers.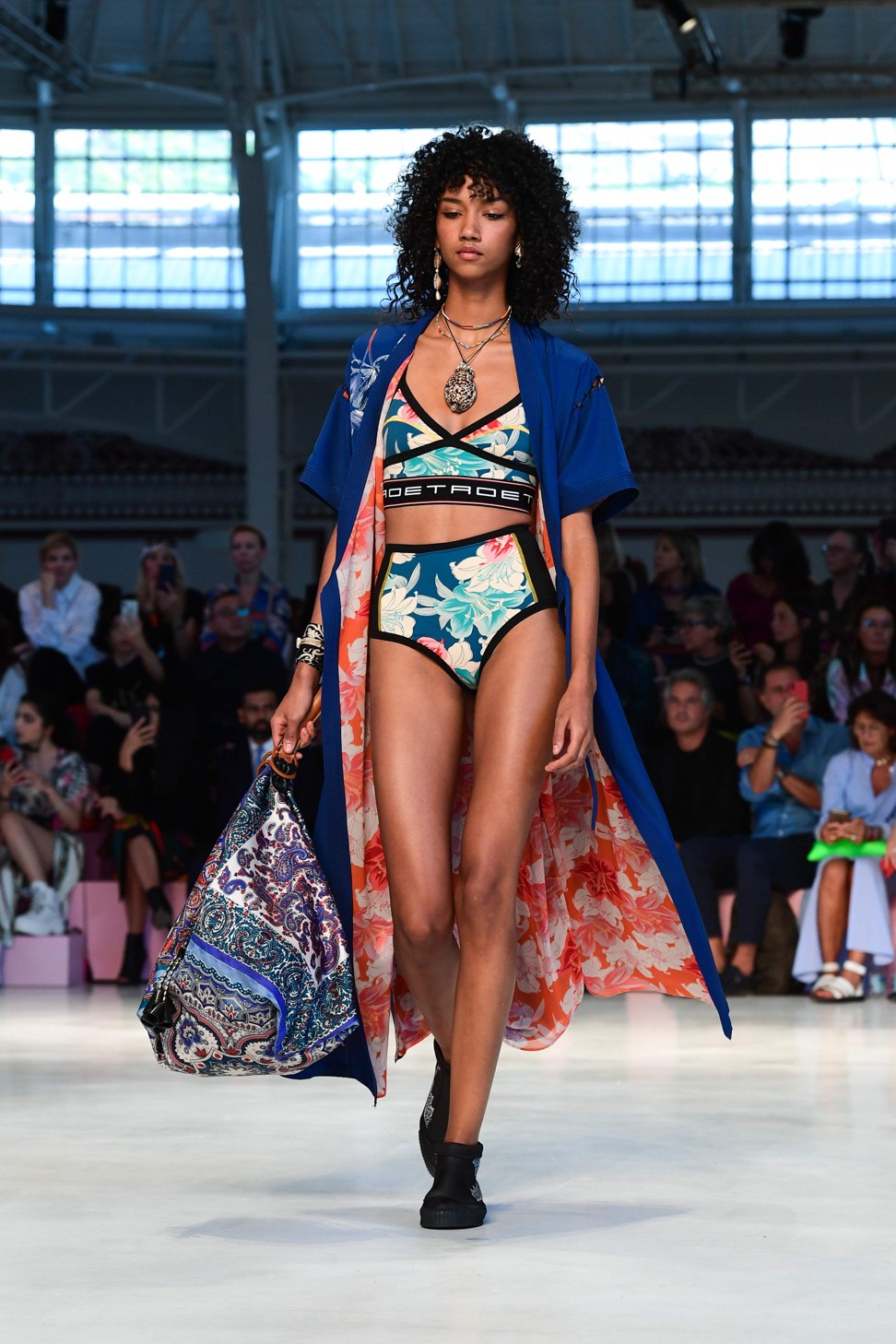 Etro is one of the rare fashion houses to showcase swimwear, in this case modelled by real-life surfers Victoria Vergara and Maribel Kouke who carried their boards. Accessories included myriad shell jewellery, marking a comeback for the puka shell with luxury pearl-and-gold accents.
Paris Fashion Week: Valentino designer gets rare standing ovation
The family-run Etro brand is marking its 50th year with an exhibition at Milan's MUDEC museum.
MSGM's colour-burst dreams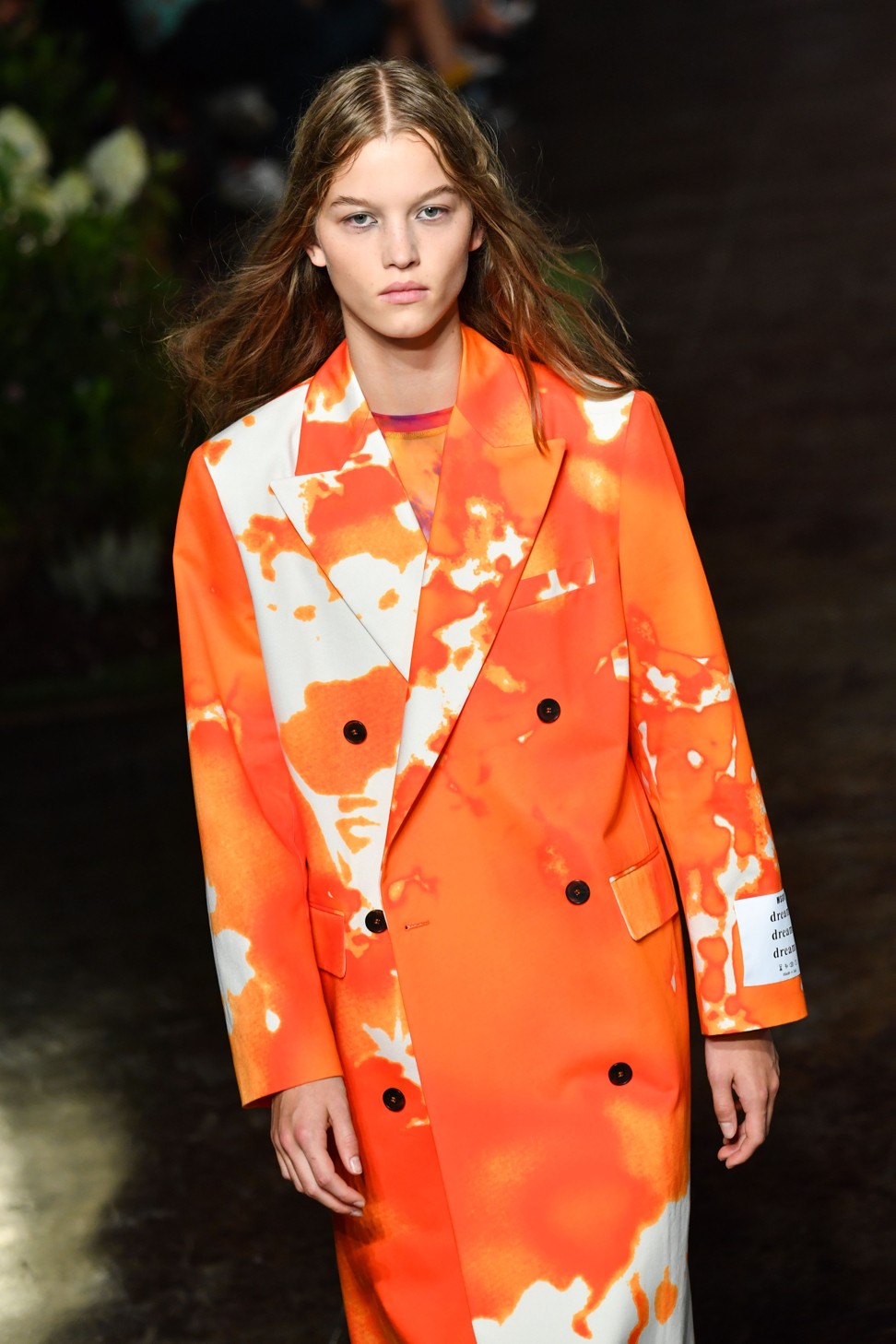 MSGM creator Massimo Giorgetti said his latest colour-burst of a collection was inspired by dreams.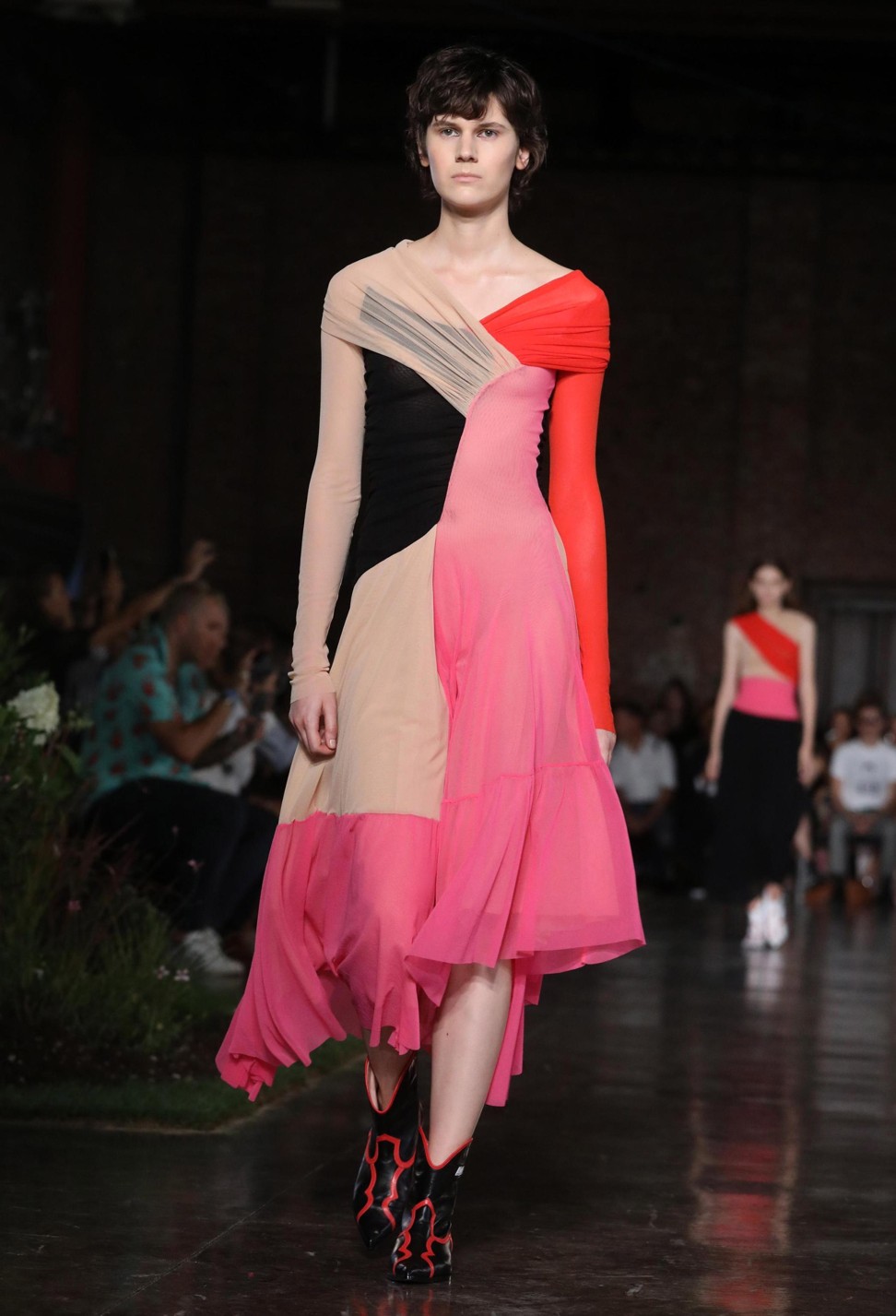 For next spring and summer, the designer turned away from lace-trimmed sweatshirts that were an early inspiration and focused on dresses.
"It is really like a new kind of attitude, and new kind of femininity," Massimo Giorgetti said backstage.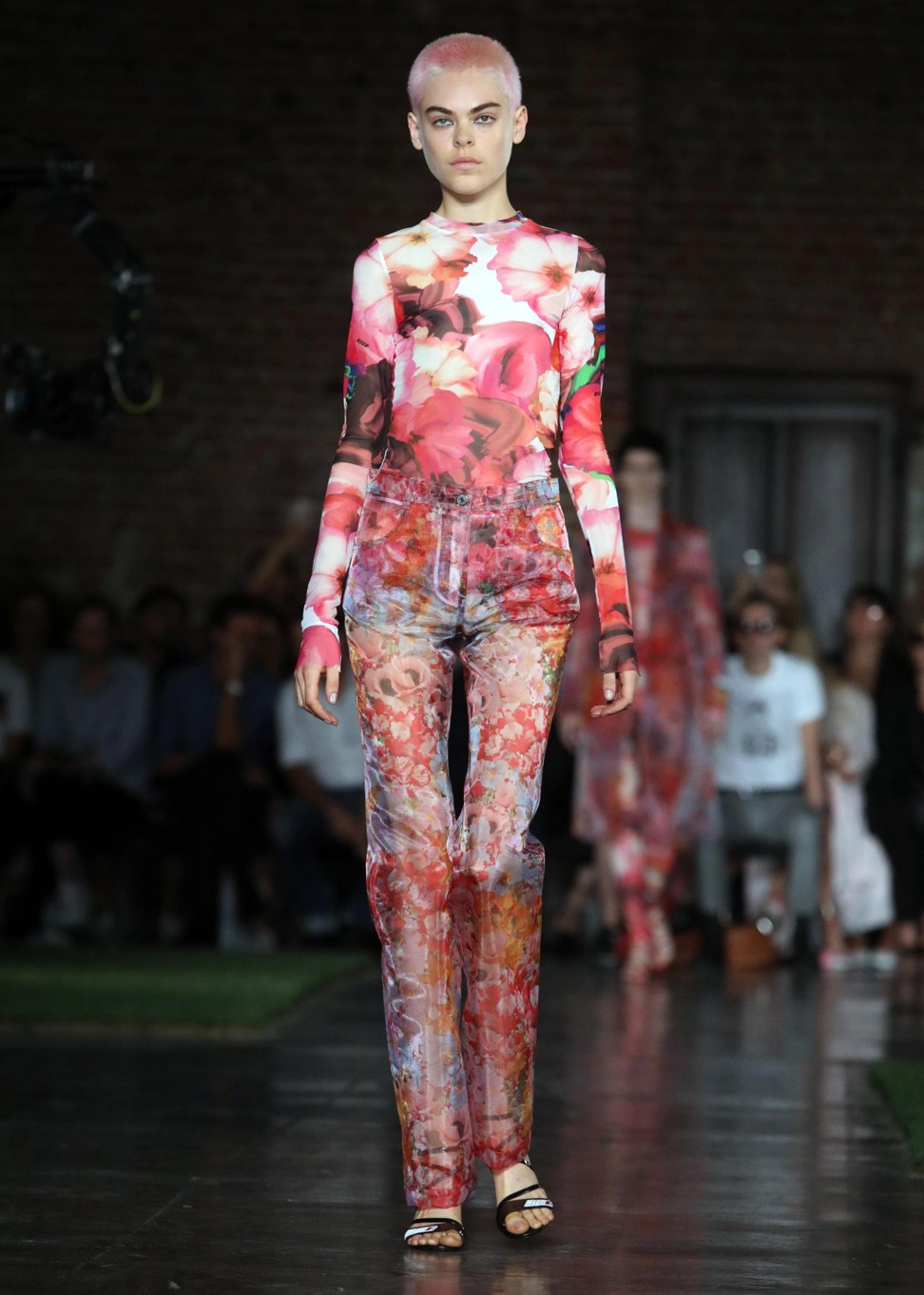 Pretty florals pop on long flowing dresses, tight legging outfits with matching sheer jackets and blur into a matching denim print. Giorgetti breaks down the colours into wrap dresses in blocks of orange, pink black and tan. Some are mini, showing off ankle cowboy boots with clear PVC panels.
Streetwear labels Clot, Ambush, Alyx take over Paris Men's Fashion Week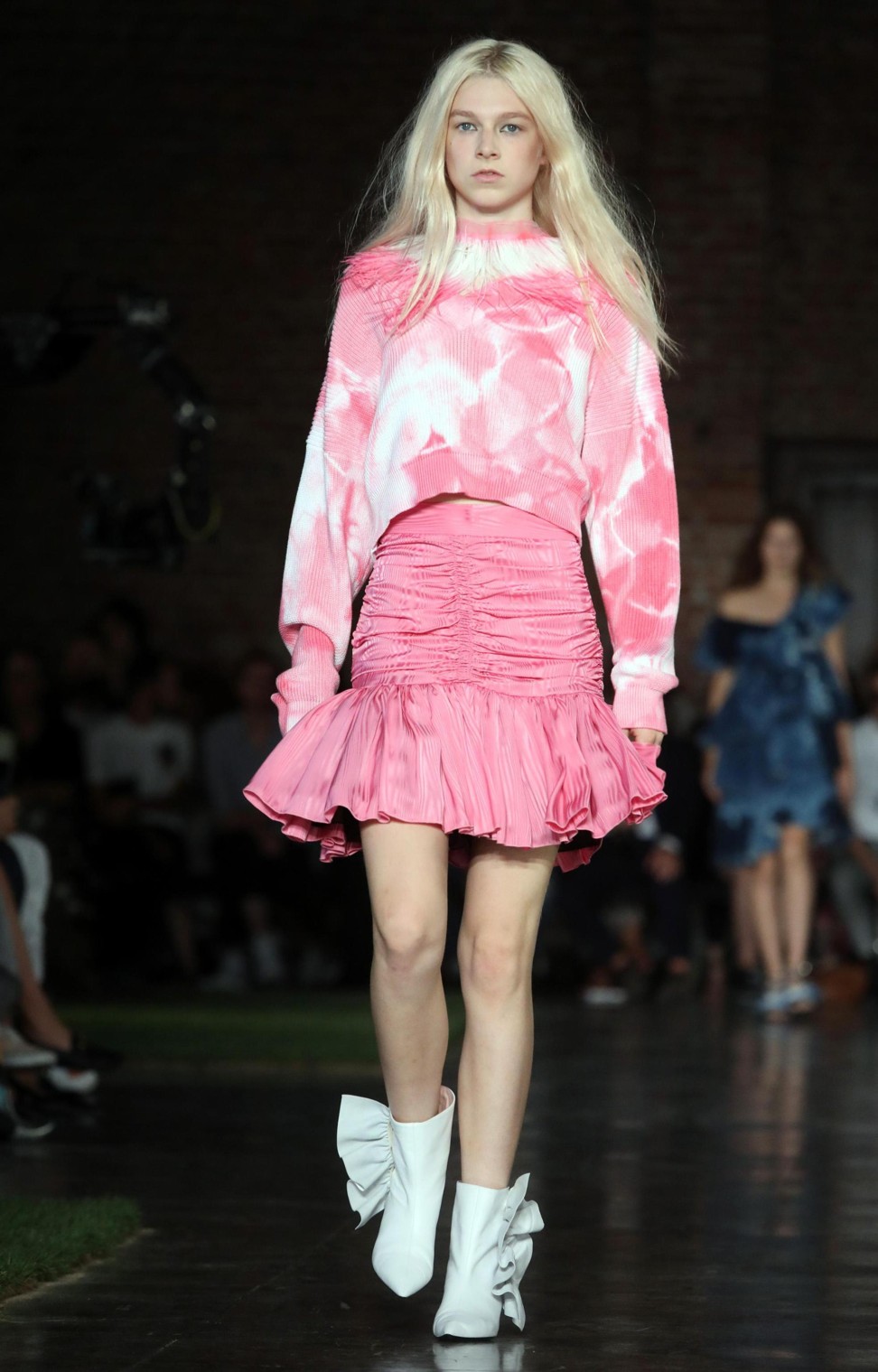 The collection closed with a series of dreamy tie-dyes worn with painted feather mini, and layered with hoodies.
His overriding message was upbeat: "Sognare insieme", or "Dream together", emblazoned in Italian on the back of a jacket.