We review skincare products with the mysterious power of crystals like amethyst and quartz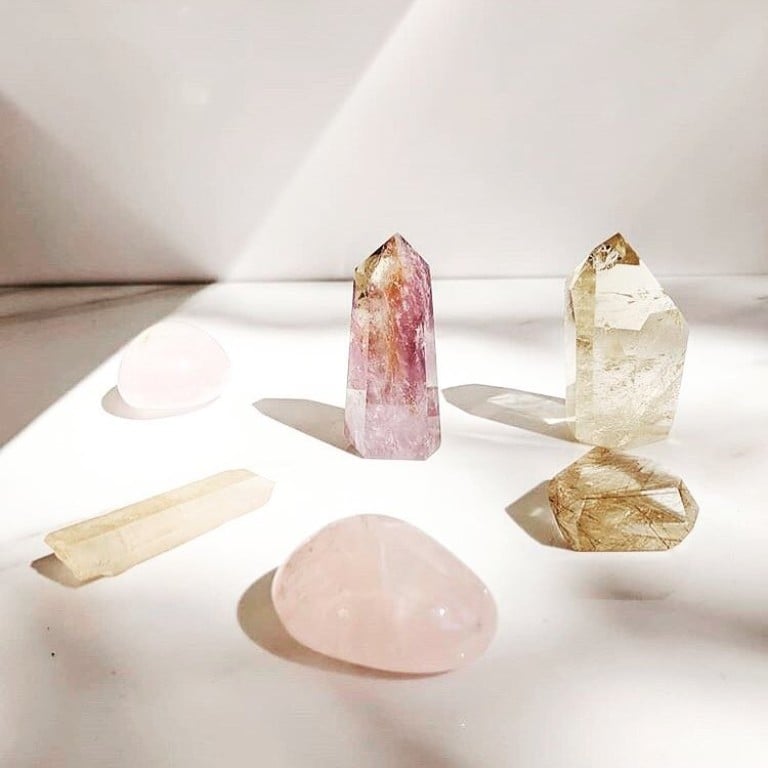 In this new age of technology, scientific evidence reigns supreme. However, what is coming forward, as though like a backlash, is also a strong tide of solutions that are based on organic, classic lore.
There may be much to debate about the powers of crystals – from being a "woo-woo" psychological entrapment for some, or its efficacy as an ingredient in skincare – but there is no denying that crystals and gemstones have been in use for not just centuries but millennia for healing and beauty purposes.
(Did you know that lapis lazuli was once used in eyeshadows for the likes of Cleopatra?)
So it is no surprise then that increasingly we are seeing beauty brands and gurus turning back to this age-old ingredient, which comes, depending on what type of stone it is and how long it has been flourishing, with its own energetic properties to serve different healing purposes.
To be clear, we often hear that this and that contains minerals, gemstones, or crystals – so what sets them all apart?
"We resonate and have an electronic exchange with the earth as we do with the gemstones and minerals," explains Sjal Skincare co-founder Kristin Petrovich, who has also written the book Elemental Energy, an introduction on all things crystals and gemstones.
"Minerals are the basic building blocks of the earth … Society depends on minerals as sources of metals like iron, copper, gold, silver …" writes Petrovich in her book. "Most minerals occur naturally as crystals, which have an orderly internal pattern of atoms. The shape of a crystal mirrors that internal arrangement. As crystals grow, differences in temperature and chemical composition cause variations."
As for gemstones, "they are crystals that have been cut and polished … most gems used in jewellery today come from about fifteen different crystals".
Brands such as Pura Botanicals, Sjal Skincare and Herbivore have famously included crystals in their beauty products and rituals. Disclaimer: I am a bona fide crystal collector and do believe in the powers crystals possess, having meditated with them before and felt the difference in energy and concentration. But what about crystals used in the beauty realm, such as in facials and products?
"I think there is a sincere fascination with crystals in beauty products," says Pura Botanicals founder Lane Edwards.
"We are seeing some innovative indie brands especially forge forward with cosmetic grade crystal granules in exfoliation products and masks. I think this is more powerful than submerging a single crystal in a product, although that is always a beautiful addition.
"I think this is an exciting direction. Not only do crystals amplify other high-quality, natural ingredients, but if sourced ethically and safely processed, they are very beneficial and rejuvenating to the skin."
Curiosity got the better of me, and so I ventured forth to give two facials and a roller a try.
First up, I tried Sjal's crystal facial at 1010 Space in Causeway Bay.
Sjal professes to include gemstones like amethyst, and precious minerals such as platinum and gold and silver in both liquid and solid forms in their products to rejuvenate skin cells and clear up imperfections.
Originally developed in 2008 and first introduced the following year at Delano Hotel in Miami Beach, the Sjal signature crystal facial is made to address issues that go beyond skin-deep – it also aims to rejuvenate and restore the mind, body and soul, using the power of minerals and stones.
"We wanted something that subtly worked on the body to connect its energy channels, helping to clear, balance and restore," co-founder of Petrovich says.
"We decided to use a combination of gemstone wand and acupressure massages, a hematite eye treatment, gemstone elixir boosters and chakra-balancing techniques, which are then all combined with our products. We also incorporate the use of Tesla Technology, Amethyst Bio Mat and Quantum Bio Feedback for deeper cellular clearing."
Back in the room at 1010 Space, the therapist started to perform a deep breathing exercise with me.
Several crystals and stones were placed on my body – smoky quartz to help balance the chakra was placed in my hands, a citrine on the solar plexus for regeneration, a rose quartz one the heart chakra (placed near the breast area) for self-love and tranquillity, as well as sodalite and amethyst around the throat and third eye chakra (placed on my forehead) to help bring my self back into alignment.
I asked Petrovich to explain the properties of all the stones that were then used during the facial.
"For the facial massage we typically use a rose quartz wand for its calming and anti-redness properties. It helps give the skin a glow," she says.
"For the eye area we use a hematite as its iron and oxygenating properties greatly help with dark circles and puffiness. It really wakes up the eyes and brings life back to sleepy gazes. Amethyst, which is loaded with negative ions, is excellent for healing and inflammation. We use this for facial massage and or massage on hands and arms.
"Scolecite is yet another massage wand we use as it connects the crown to the heart chakra. It's deeply relaxing and helps calm anxiety and stress."
I noticed that the therapist chooses the type of crystal to use for the facial massage, and I asked how she made her decision: "It's based on what energy you're emitting and what your concerns are." This makes this facial feel a lot more personalised than the average.
At the end of the facial, I actually felt comfortable enough to walk out into the world again without an ounce of make-up – possibly encouraged by the therapist's kind words: "You are glowing!"
And I was.
Next, I tried Snow Fox's crystal healing facial in December, which was running for the month only at Mi Ming Mart in Causeway Bay. Snow Fox, a 100 per cent plant-based clean skincare brand founded by Phoebe Song, has also joined in the fun for the first time ever since its launch with a facial that incorporates crystals.
This may come as a surprise to some Snow Fox fans, but to Song, she says this is really a no-brainer.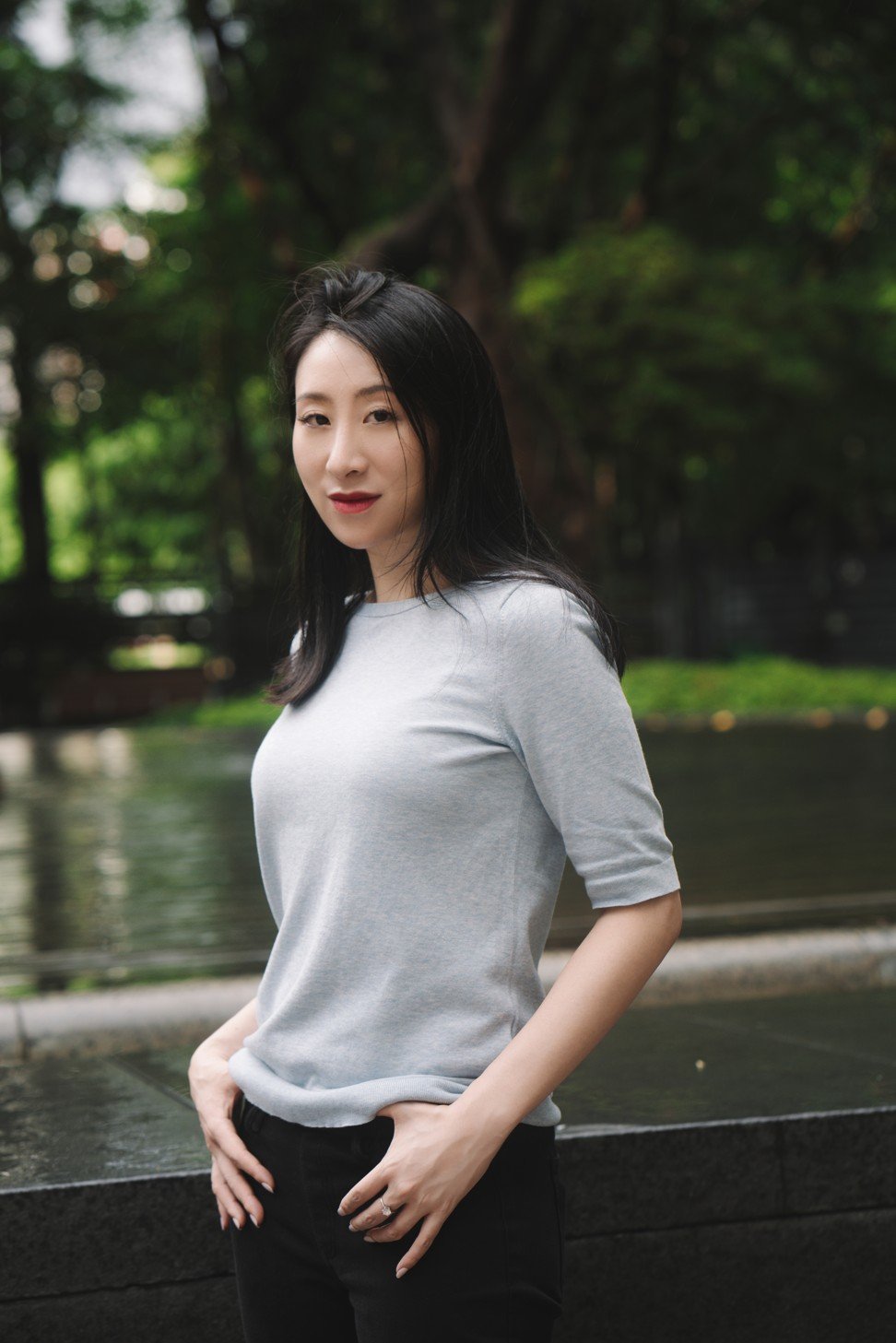 "In the East, crystals are used for chakra, a terminology for psychic and emotional energies within one's body that is affected by our well-being and the external environment," says Song.
"This ideology stems from ancient Buddhist and Hindu texts, which believe that everything in our universe carries energies that are all simultaneously transferring, moving and existing. It relates to the belief of Karma, which is why monks and nuns do not eat meat or harm life, to avoid or decrease the bad karma that follows this action."
Song then delves into the reasons why Snow Fox's products work so symbiotically with crystals.
"Snow Fox is very compatible with crystals as it is completely clean – we are plant-based, packaged sustainably and meant for healing the skin. When this facial was designed, our therapist looked at three types of healing – emotional or energetic healing through crystals, lymphatic drainage through massage and skin care through Snow Fox.
"Unlike most facials that focus only on skincare or massage, we went a step further to bring in three forms of healing and even a deep breathing exercise to let go of the stress that many people hold inside their core without ever realising that they do."
I had the crystal healing ritual with Snow Fox's new line Herbal Youth, and the facial was truly relaxing, while the products used throughout the facial felt easy on my skin, too. I was probably also put at ease knowing that the products contain absolutely no animal by-products, which can be rather iffy included in anti-ageing properties.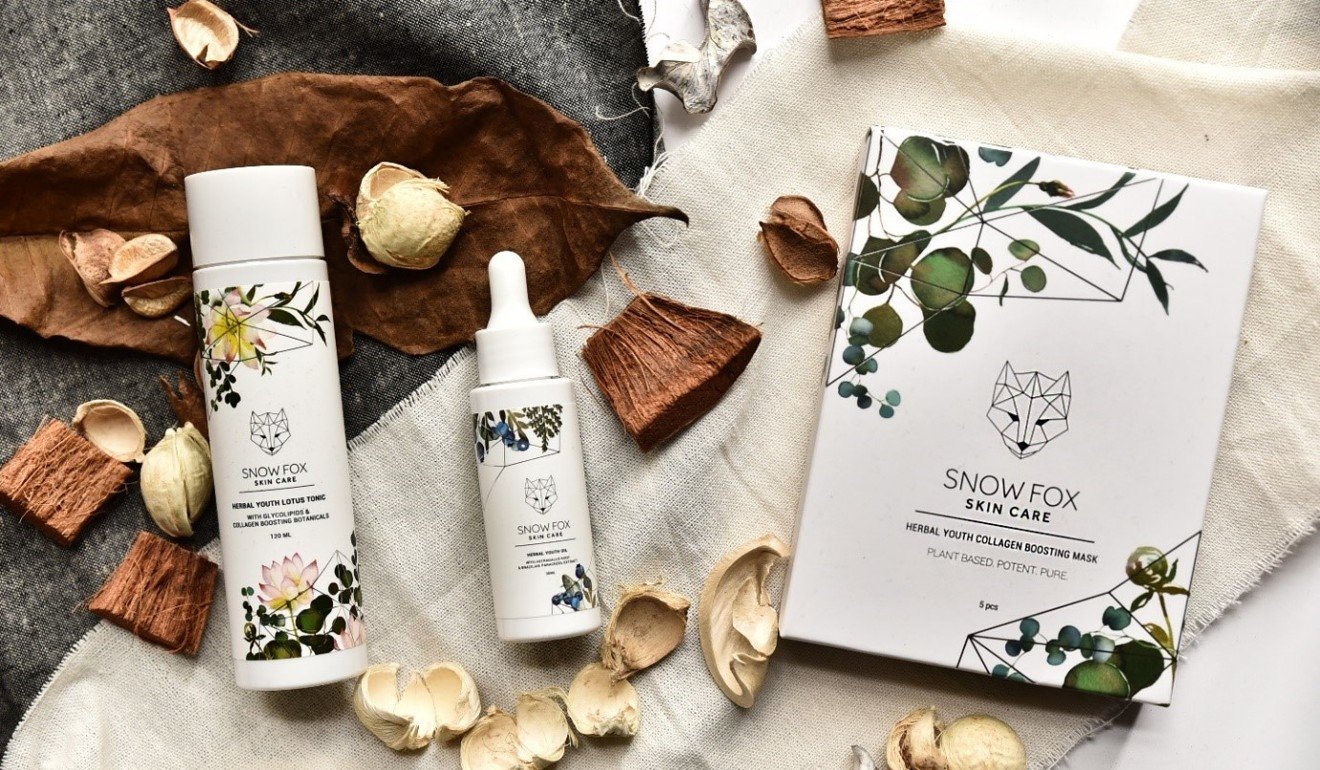 Song agrees with these sentiments, which form the basis for her new range's star ingredient – glycolipids. "While most effective ceramides are animal-sourced, glycolipids can offer just as much effectiveness without any of the downsides. Many people do not know that traditional ceramides, while popular for their moisturising effects on skin, are notoriously difficult for commercial application and handling as they are highly insoluble in water.
Glycolipids have the advantage of being stable in water or oil delivery systems, ensuring quality and potency. They are easily derived from plants, so they can be ethically sourced. Glycolipids can help recover skin cell health by more than 80 per cent, reduce trans-epidermal water loss and increase water retention in skin. This is a must for dry or mature skin, to restore a lush, youthful glow."
However, Song cautions that not all products that contain crystal components are good. "Certain stones can actually cause friction on the skin, and some could simply contain water with crystals that had sat in there for hours!"
Song says she designed the Snow Fox Crystal Healing Facial to allow a real lymphatic drainage effect post-facial.
"The Rose Quartz is very good for clearing out stress and electrical pollution, so direct exposure to the face and skin is soothing and the rolling motions help release muscle tension. The 10-point lymphatic massage focuses on all the lymph node areas along the face, neck and shoulders to reduce water retention and 'stress' bloating. We do both massages with our Herbal Youth Oil as it is a lightweight, nourishing oil filled with Brazilian paracress extract, which is a natural muscle relaxant (known as Nature's Botox)."

So the lesson here is: not all ingredients can work synergistically with crystal components. In fact, clean skincare is vital in maximising their potency.
Finally, but not the least of all, I tried some at-home crystal self-care techniques. Pura Botanicals' crystal rollers, which I used to roll around my face at times of idleness (great for when you are just sitting watching television) was surprisingly easy to manoeuvre – and actually gives results within a few days of continuous use (I swear I stopped breaking out!).
"Each crystal has it's own properties and benefits. You can coordinate your crystal face roller with your individual skincare concerns," says Edwards of the electromagnetic properties that the crystals discharge in their interaction with the skin. "They are all excellent for stimulating collagen production, increasing circulation and natural radiance, and reducing puffiness, but each stone is a little different. For example, rose quartz helps to draw forward your natural beauty, while jade is more cooling and helps to calm inflammation and redness."

Still sceptical? Well, here is some scientific backup for those who still think crystal healing is a far-fetched in this day and age. Dr Mae-Wan Ho, who combines Western medicine with her Eastern roots – she was born in Hong Kong and now runs a practice in London – dives deep into the effects of crystals on our connective tissues, including muscles, tendons, and ligaments.
Ho's work has had a profound effect on Petrovich: "She theorises that they contain liquid crystal that facilitate communication between tissues and molecules, and in turn, enables the human body to function both effectively and coherently. In her eyes, these connective tissues are central to our health and well-being. She paints them as a link between the subtle (or imperceptible) energies on which many Eastern practises are based and the measurable energy that comprises all matter."
They are pretty, potent, and comforting to hold – what's there to lose if you give them a try?
Places mentioned:
1010 Space, Flat B, 1/F Fairview Mansion, No. 51 Paterson Street, Causeway Bay, Hong Kong
Mi Ming Mart Causeway Bay Store, Shop 35, G/F, 11 – 19 Great George Street, Fashion Walk, Causeway Bay
Want more stories like this? Sign up here. Follow STYLE on Facebook, Instagram and Twitter

Beauty brands such as Pura Botanicals, Sjal Skincare, Herbivore and Snow Fox have tapped into the growing popularity of crystals, which serve different healing purposes