Paris Haute Couture 2019: China's fashion 'queen' Guo Pei's lavish designs inspired by imperial palaces wow critics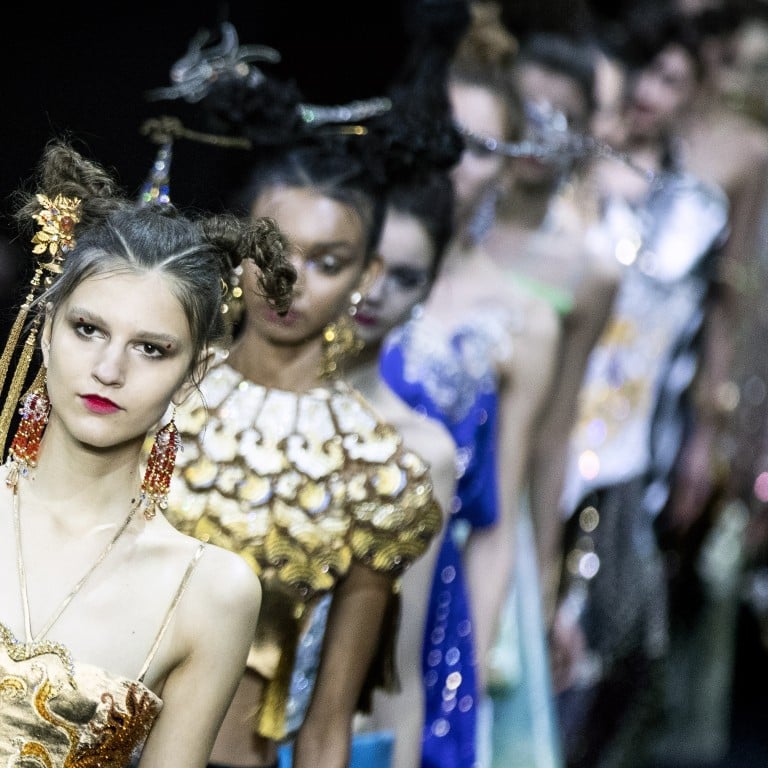 Chinese designer Guo Pei is no stranger to the fashion world.
Having dressed Rihanna for the annual fundraising Met Gala red carpet in New York, created clothes for the 2008 Beijing Olympics and, as the nation's only designer invited to become a guest member of France's prestigious Syndicale de la Haute Couture, she has been dubbed China's "Queen of Couture".
For her spring/summer 2019 haute couture collection show held during Paris Haute Couture Week, Guo paid homage to China's "gong", or ancient palaces in Chinese.

The collection, called "East Palace", saw the sartorial virtuoso combine elements of her home country's traditional forms of dress worn inside the imperial palace into stunning, universal high-fashion creations.
In oriental culture, a palace would normally feature luxuriously decorative designs throughout, from its structures and interiors to its furniture and adornments and, according to legend, it would often be inhabited by fairies, as well as lavishly dressed members of the imperial family.
Chinese mythology is full of stories featuring palaces that are architectural marvels, including the Moon Palace, inhabited by the ancient Goddess Chang'e and the underwater Dragon Palace, which is home to the Dragon King.
The show took place at the magnificent Palais de Tokyo in Paris, where the designer painted the giant pillars in a sophisticated scarlet colour reminiscent of the Hall of Supreme Harmony in Beijing's Forbidden City.
Both the venue and the collection were dazzling, celestial and regal – exuding a sense of out-of-this-world glamour.
Guo took her inspiration from a variety of themes found in China's ancient palaces, including the striking architectural designs and gorgeous regal costumes worn by the inhabitants of the imperial court.
She incorporated elements from stories found in Eastern mythology into her garments, which featured Western textiles, including twill, cleverly woven with colourful metallic patent leather embellishments, mosaic-style sequin patterns and prints.
Dragons, an iconic creature in Chinese culture, which were repeatedly incorporated into the designs of robes and accessories used by imperial rulers, were the stand-out motif in Guo's 31-look collection.
Five hues dripped from the creations' colour-changing dragons – black, green, gold, silver and red – associated with the ancient Chinese philosophy involving five elements, wood, earth, water, fire and metal, and the forces of yin and yang, which were featured in the central designs and detailing of her creations.
Her designs incorporated hints of green, free-flowing sky blue – embodying the vitality of nature – along with sun-like pure gold – symbolising prosperity and longevity.
The dresses were mostly slim, figure-hugging creations, referencing Chinese qipao – also known as cheongsam – dresses, but a few of the gowns alluded to the voluminous creations worn by the venerable immortals.
The exquisite detailing on Guo's designs reflected the finest traditions of Chinese craftsmanship that were used to make the by robes worn by Chinese emperors.
The traditional sewing techniques that were employed by imperial court artisans – and have been passed down from generation to generation – were incorporated by Guo in her collection. Yet she also mixed in modern techniques, such as gold-wiring, net-shaped embroidery and 3D- padded embroidery, to ensure her creations had a contemporary twist.
Other elements from China's ancient palaces, such as silk tassel decorations, were also visible on Guo's skirts and headpieces swinging wildly as the models walked down the runway.
Steering away from using traditional materials such as leather, Guo chose to create footwear from the same luxury fabrics found on her garments.
Many of the shoes were finished with sophisticated detailing, such as mother-of-pearl inlays and embroidery.
The gold-tinted, structural heels of the shoes – inspired by elements found in the gardens of ancient China and the legs of classical Chinese furniture – were flawlessly finished with embossed dragons and curling grasses.
Want more stories like this? Sign up here. Follow STYLE on Facebook, Instagram and Twitter

Mythological dragons take centre stage in the designer's stunning, elaborately embroidered 'out-of-this-world' creations