6 simple ways to make your daily beauty routine more eco-friendly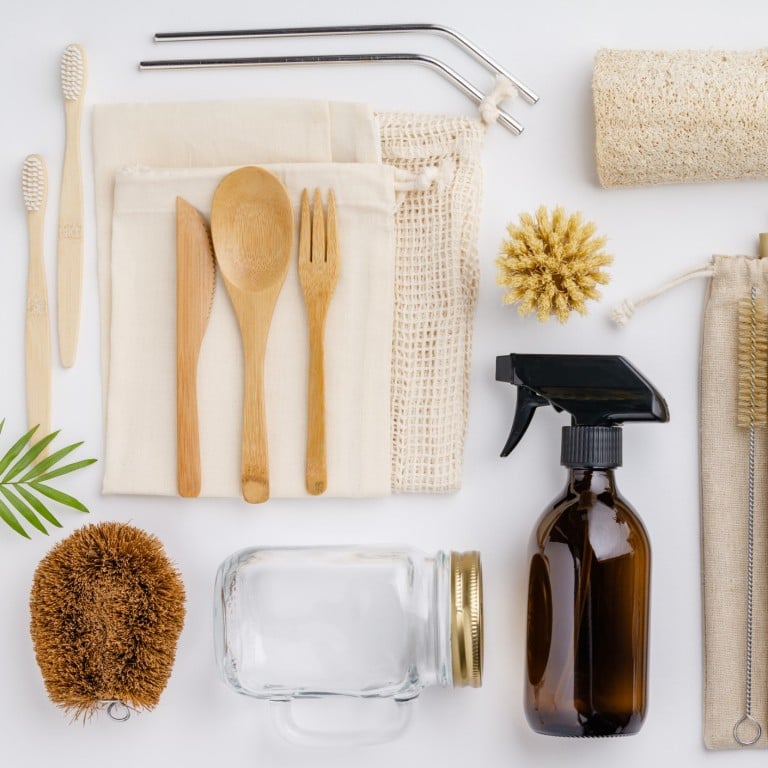 Living a sustainable lifestyle is easier than you think, although it is overwhelming to read news about climate change. Learning about huge icebergs melting at a dramatic pace leaves us feeling fearful, worried and helpless as to what can we do to save our planet. There are, in fact, small ways we can change on a daily basis to help.
We see an increasing number of companies and brands desperately looking for ways to contribute to saving the Earth. Some countries are more advanced than others, but that only means more options and solutions are available given their technology and resources, as well tapping into national education and culture. For example, cities like Copenhagen, Stockholm, and some in Japan, are known for their well-developed recycling systems. Other metropolitan cities like Shanghai and London are now following this example. Before you become further overwhelmed trying to work out how to separate all your rubbish into 10 categories, start with the basics.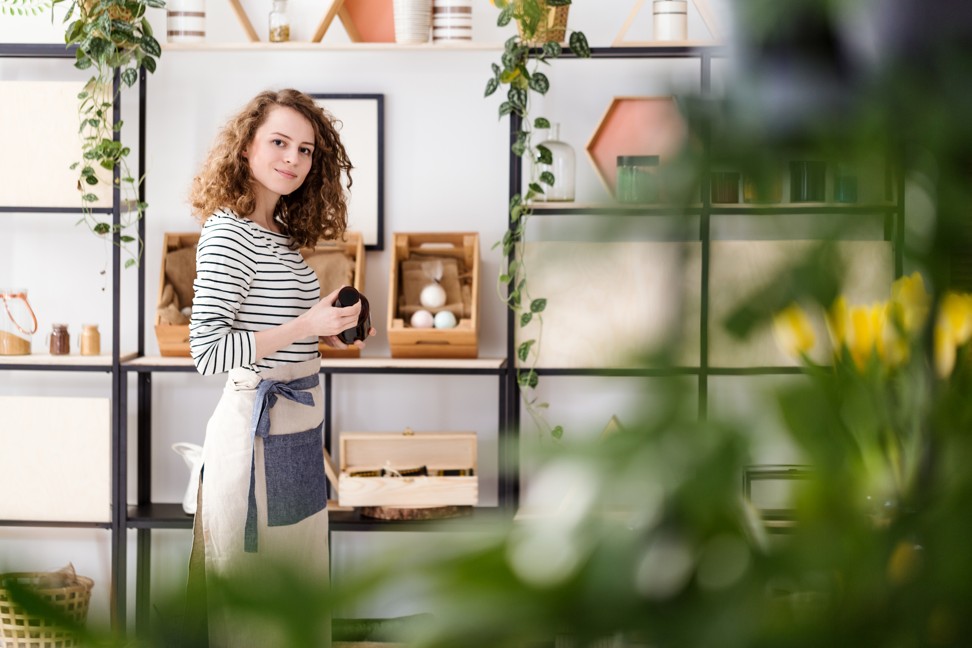 We have identified a few ordinary things that can be replaced in the household for less wasteful products. In an average household of four people, by simply replacing six of their daily products with items which are more sustainable or biodegradable, it means that 24 fewer pieces of rubbish are created by that household. These brands are doing their best to create genuinely sustainable products and achieving a zero-waste goal. Their products are responsibly sourced, use biodegradable materials and packaging and are cruelty free and vegan verified.
1. Toothbrush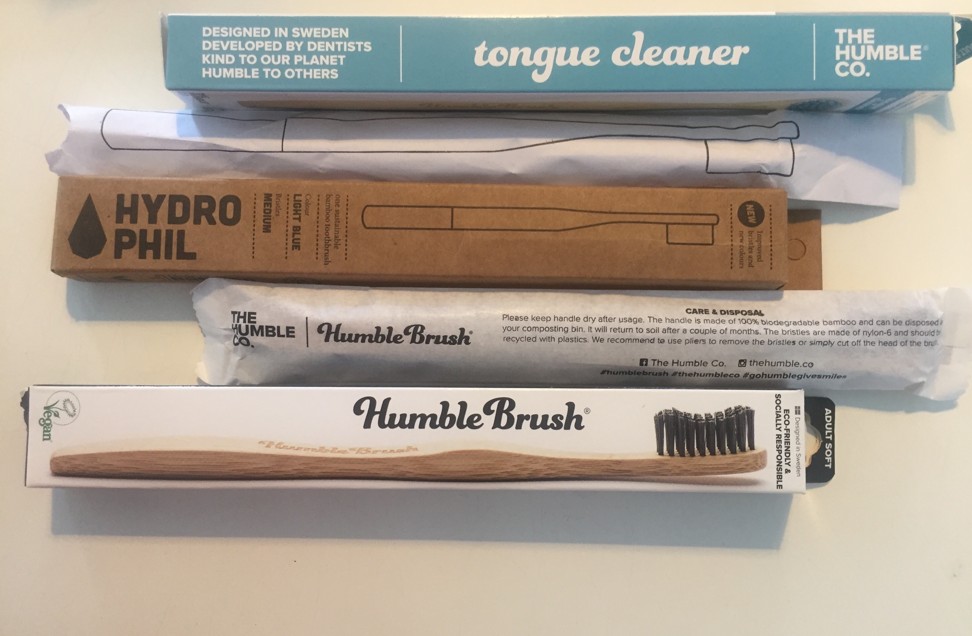 Many of us who are slowly embracing a sustainable lifestyle start by replacing their plastic toothbrush with a bamboo one. Of course, there is the electric toothbrush which last slightly longer, but they consume electricity. Bamboo toothbrushes are light, usually made with 100 per cent biodegradable bamboo, and bamboo is the fastest growing plant on earth. You may ask, does it not get mouldy easily given the humidity in the bathroom and Hong Kong? Bamboo is antibacterial and antifungal, so is the best material for toiletries. The key is to keep it dry after use and consider pairing your brush with a bamboo toothbrush case with aerating holes on either end to alleviate hygiene concerns.
Some leading companies like the Swedish brand The Humble Co, German brand HYDROPHIL and French brand Victor Vaissier are producing clean, simple and cool designs made with renewable raw materials, taking toothbrushes to another level. The Humble Co has a range of oral care products that also include gum and toothpaste. It clearly explains the materials and how to recycle for each product. HYDROPHIL, the leading sustainable brand in Germanic speaking countries, has saved 53.9 tons of plastic by far, that is about 2,700,000 plastic bottles.
2. Dental floss and floss picks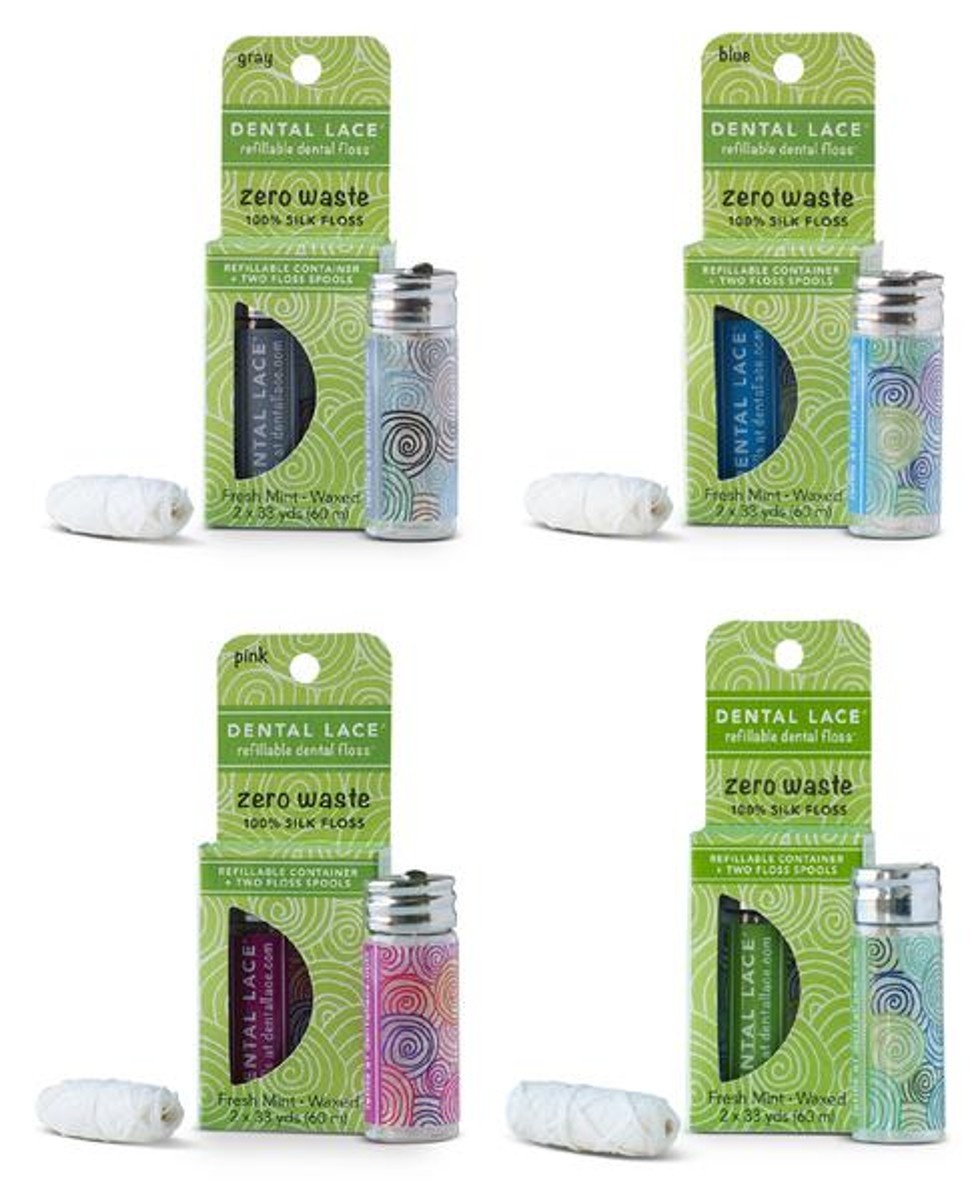 Chances are your dentist has told you it's very important to floss. While not everyone is comfortable with flossing, it is not the hardest thing to achieve. For those who already floss, you might want to consider swapping your normal flossing string to those coated with natural wax and natural xylitol. It feels a little rougher than the usual ones as they are natural, but it does the job equally well. Bored with the artificial minty taste? Try one with lemon or cinnamon tastes from The Humble Co where the paper packaging itself is the dispenser, US brand Dental Lace, German brand Vömel and UK brand Geoorganics have options with reusable glass bottle and stainless steel cap for future refill. (Geoorganics even has cruelty-free silk floss!)
If you prefer something handier while you're out and about, floss picks are a good option. The Humble Co has two versions made primarily with cornstarch. One is even charcoal infused. Just imagine the amount of plastic containers and plastic floss picks that will not end up in landfills if everyone chose this option when flossing. You can still stay healthy, and so does the planet.  
3. Reusable make-up removal pads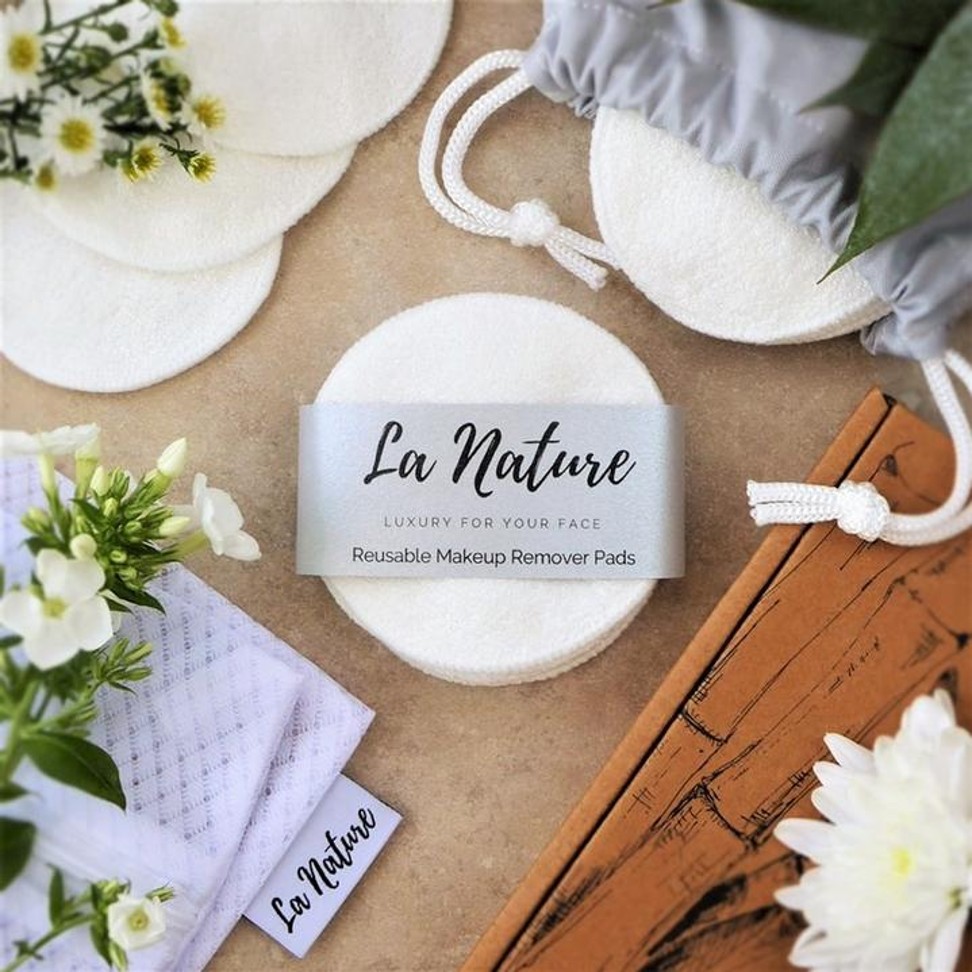 Regardless of how often we wear make-up, it soon hits home how much waste we are producing when we use one-off make-up removal pads. Sometimes we use more to make sure the make-up is properly removed before cleansing. On average, one reusable pad is the equivalent to using up to 300 disposable cotton pads. Organic the cotton pads are great but they are still disposable after one use. A reusable make-up removal pad is one of the best alternatives. The only issue is how hygienic one can keep them, but they work great, leaving the face clean and not too dry.
Independent UK brand La Nature focuses on producing reusable make-up removal pads, allowing the beauty routine to be lengthened. These unbleached, soft and absorbent pads can be ordered in bundles of eight or 16, which comes with a laundry bag and travel pouch, everything you need to keep your reusable remover pads long lasting and money saving. They feel so soft and work perfectly even for delicate areas like lips and eyes.
Tabitha Eve, another UK brand also have these made with bamboo and organic cotton. Their make-up pads are also degradable and serve two purposes: the smooth organic cotton muslin side is for normal application; the other organic bamboo side allows a gentle exfoliation. Another brand with similar products for both face and body is Face Halo, the pads comes in pack of three in white or black, which is super chic! Depending on the intensity and frequency of usage, most of these reusable pads can last a minimum of six months. Imagine all the money saved on that, and all you need is just one simple removal pad to take with you while travelling.
4. Bar soap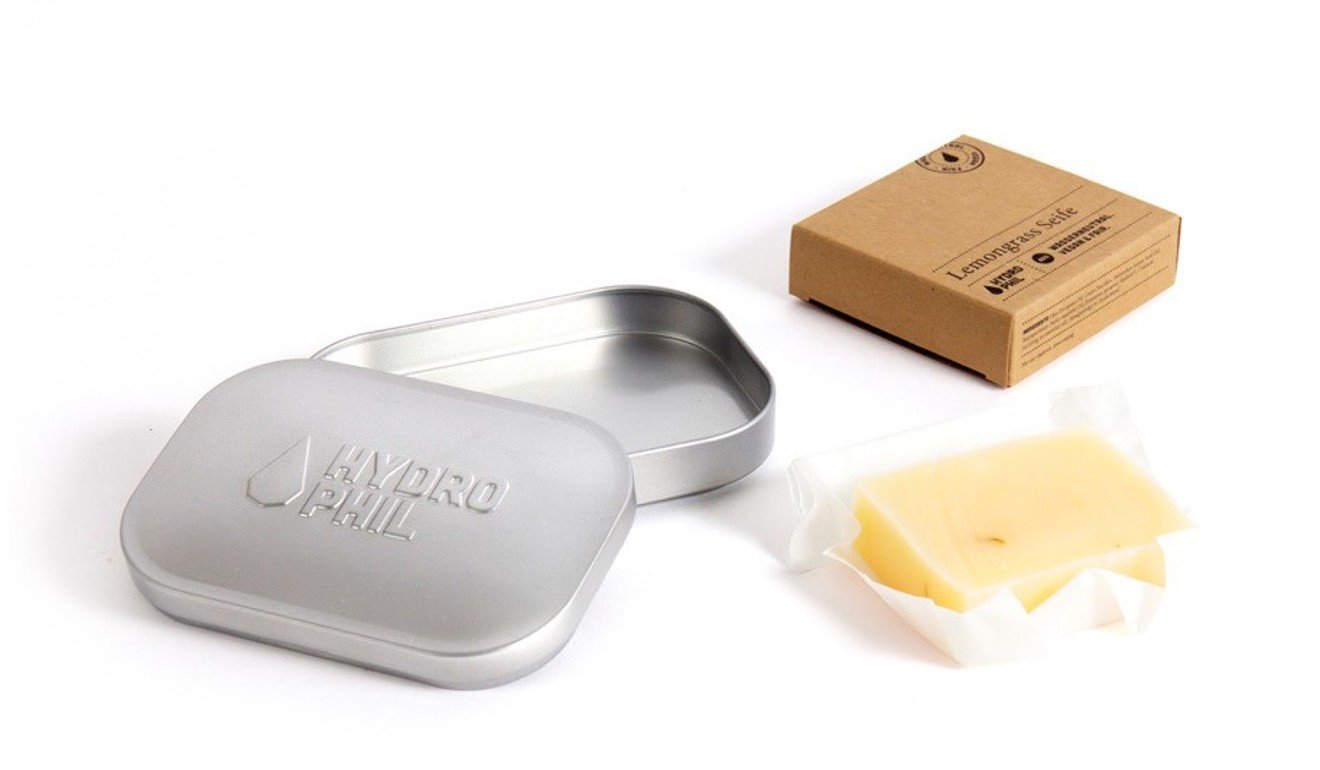 Do you remember your grandmother using bar soap at home? Well granny had a point! Bar soap is not new, but how eco-friendly is it? First, there is the reduced use of plastic. Liquid soaps are sold in plastic containers which end up in the ocean bed or in the stomachs of animals, as we now know.
Handmade bar soap with organic ingredients not only reduces the amount of plastic waste, it cleans better due to the more natural ingredients. It leaves you smelling better too. Glycerine is the major ingredient of natural soap which is a moisturising agent for the skin. Bar soap often contains natural fat like coconut oil and shea butter. Stay away from the ones using palm oil as the plantations where palm oil is sourced from degrades many wildlife species directly and indirectly.
Treat yourself and your skin better, try out the lemongrass or lavender scent from HYDROPHIL, the signature scent of Moroccanoil (yes they have a cleansing bar!), or the organic pure-castile bar soap from Dr Bronner's, there are over 10 scents of vegan, ethically produced handmade soaps to choose from at the Friendlysoap and one of high street favourites, LUSH. You can also DIY at home. Consider using a beautiful tin box or soap bag rather than plastic container, but expect a shorter shelf life of about up to a year as natural bar soaps don't contain any preservatives.
 5. Cotton buds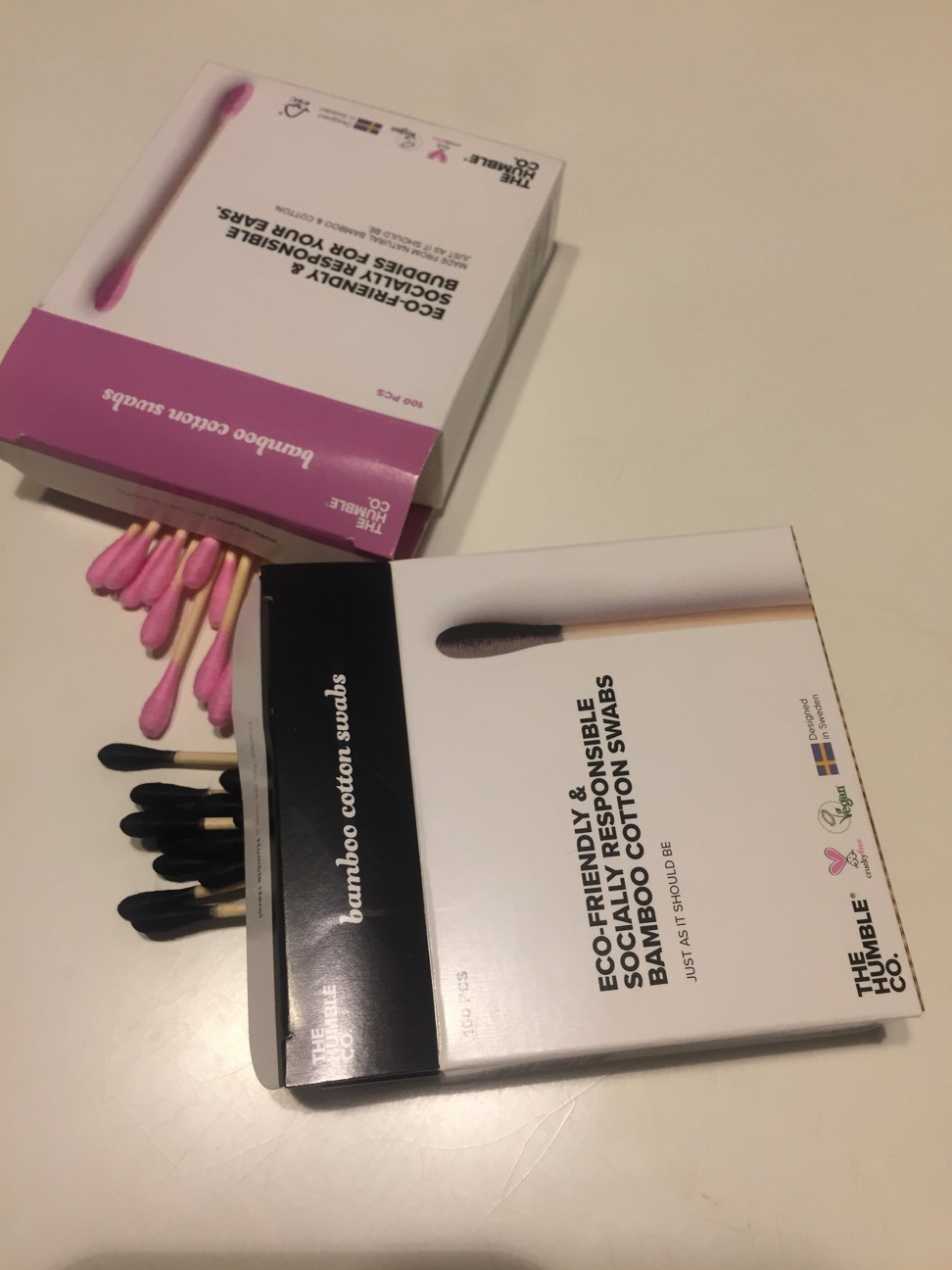 Another beauty product we use without even thinking how much waste has been produced is cotton buds. Everybody at some point uses them, and they can only be used once. In March this year, the UK's Secretary of State for Environment Michael Gove confirmed a ban on plastic-stemmed cotton buds, plastic straws and drink stirrers.
Replacing regular plastic-stemmed earbuds with bamboo ones is a great way to reduce your carbon footprint, probably without you noticing the difference. Coming in recycled cardboard boxes and 100 per cent biodegradable, The Bamboo Brush Society, HYDROPHIL and Muji are among many offering good quality ones, The Humble Co even made a few colour options to choose from.  
6. Tissue paper and wipes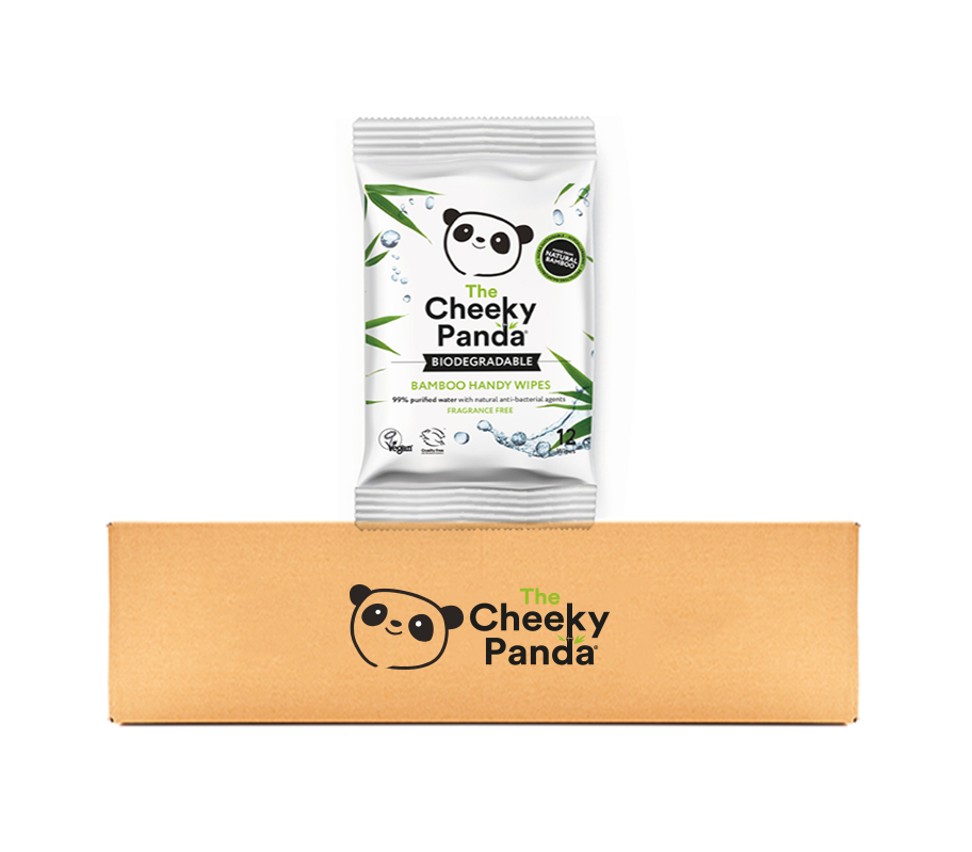 Keeping good personal hygiene and cleanliness is a great habit, but daily use of tissue paper and wipes is so normal that we almost don't notice the amount we use. We don't even think about the amount of plastic wraps for all these wipes and tissues. Where do they go? We see recycled toilet paper rolls and tissue paper in the supermarket and not everyone is convinced.
Pure Planet Club and The Cheeky Panda produce 100 per cent biodegradable tissue paper and wipes with bamboo and recycled sugar cane, saving about nine million trees that were being made into toilet paper and flushed down within seconds. The bamboo baby wipes from The Cheeky Panda actually feel much stronger than the usual. They are naturally infused with 99 per cent purified water, are fragrance free and 100 per cent biodegradable. Singaporean brand Cloversoft boasts being the only brand in the market with unbleached, non-toxic and antibacterial bamboo wipes that are also safe for babies and pets. There will be times we need to have some handy wipes while out and about, especially if there are babies and small children in the family. Pick a more eco-friendly version to reduce the damage.
 The verdict? After testing a few selected products, apart from the reusable make-up pad that requires some care and washing, everything else can be seamlessly integrated into the daily beauty routine. More care is needed after using the bamboo toothbrushes and handmade bar soap, but it takes less than one minute. Knowing that these tiny changes are contributing to help our planet, an extra step actually means a profound step.
Once you've started to pay attention to these daily ordinary products we're consuming, it is really hard to go back to not caring. Like a switch in your mind has been switched on, your mind and awareness of every single thing you purchase and consume is heightened. You start to realise just how many plastic containers there are in your beauty shelf. You start to notice how much waste we generate on a daily basis using wipes, tissues and make-up removal cotton pads. Of course, there are so many other eco-friendly products we can use.
For the converted, this is probably prehistoric information; but for those who are about to embark on this journey and are ready to dip their toes into the water, start small with baby steps today, and this is the best way to start helping the planet.
Want more stories like this? Sign up here. Follow STYLE on Facebook, Instagram, YouTube and Twitter

With more brands making sustainable products, becoming less wasteful need not be overwhelming