Dreamy Cinque Terre: 5 things to do in one of Italy's most Instagrammable spots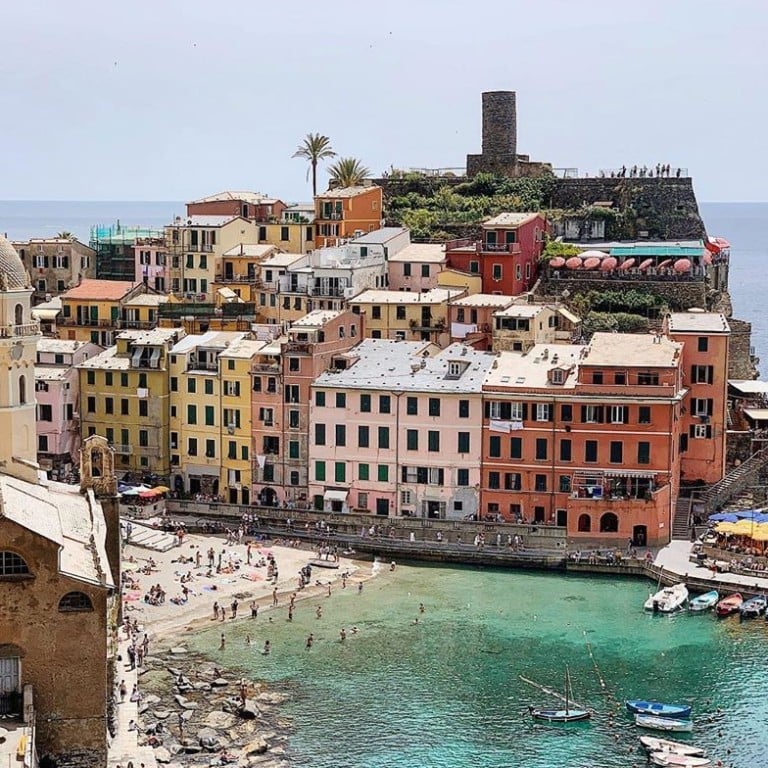 Unless you've been living under a rock or avoiding social media, there's no way Cinque Terre hasn't popped up on your feed. Crystalline waters, cobblestone streets, castles, fresh seafood, and those famous colourful houses, can be found in the Cinque Terre area. A favourite holiday spot for Italians, it's become a fixture for the international crowd in recent years. To save you time, we've narrowed down the five best things to see and do in this dreamy seaside.
1. Visit: Vernazza
Cinque Terre is made up of five villages, which you can travel to on the Cinque Terre line that runs from La Spezia to Levanto – most people start from La Spezia. Our favourite village is Vernazza, arguably the most beautiful of the five. While Riomaggiore and Manarola are usual suspects on Instagram, sitting at Vernazza's quaint harbour provides excellent views of the colourful village, the church and the remains of Castello Doria (Doria Castle). The view from Doria is another highlight – you get a 360 degree panaroma view of Vernazza, the vineyards, and the Ligurian Sea.
Buy a paper cone filled with fried seafood or grab a cup of fresh lemon granita, and laze in the sun the way the locals do, without having to fight for a seat.
2. Visit: Portovenere
As it's not one of the five villages and not on the Cinque Terre train line, Portovenere is often overlooked by tourists, despite boasting the same vibrant houses. The stunning Gulf of Poets and the Gothic black and white church of San Pietro (St Peter) provide a dramatic seaside picture, especially when viewed from the crumbling remains. It's no wonder the spot was beloved by two of the most famous Romantic poets, Percy Bysshe Shelley and Lord Byron, who both lived in the area. From the stone arches of San Pietro, Grotta Arpaia, Byron's Grotto can be seen – to reach this small inlet you'll have to swim, though the waters are known to be tempestuous. A quick boat ride from any of the Cinque Terre villages or La Spezia is the easiest way to visit Portovenere.
3. Do: Dine with a view
Coming in a close second to Vernazza is the village of Manarola. In summer, locals and tourists can be found sunbathing on the black rocks (beach bums should head to Monterosso Al Mare instead). For a romantic sunset view of Manarola, walk to Nessun Dorma, a hillside restaurant a short walk from the village. They don't serve hot dishes, but you'll get an authentic aperitivo experience – cold cuts, cheese, bruschetta, wine and cocktails. The restaurant offers pesto-making classes if you'd like to work up an appetite for dinner – Liguria is the home of pesto after all.
4. Do: Visit a vineyard
The steep hills of Cinque Terre are home to many hardy vineyards, producing white wine made from Bosco, Albarola and Vermentino grapes. Due to the rocky terrain, everything is done by hand. The cream of the crop is Sciacchetra, a dessert wine popular since the time of Pliny the Elder with an 18 per cent alcohol content, made from grapes grown closest to the sea.
5. Do: Go for a hike
Travelling around Cinque Terre is usually done by boat, train, or by walking, and this is probably the reason the area remains mostly untouched by hotel chains and fast food restaurants. The villages are linked by four hiking trails which often curl above the villages themselves, providing beautiful views of the surroundings, though at the moment only trails from Corniglia to Vernazza and from Vernazza to Monterosso are open. Other trails take you through the vineyards, churches and ancient settlements.
Want more stories like this? Sign up here. Follow STYLE on Facebook, Instagram, YouTube and Twitter

Laze in the sun in Vernazza, sip Sciacchetra dessert wine or hike through the countryside. Here's why Instagram loves Cinque Terre