The sexiest sausage in the world? Sanguinaccio, Italy's first form of Viagra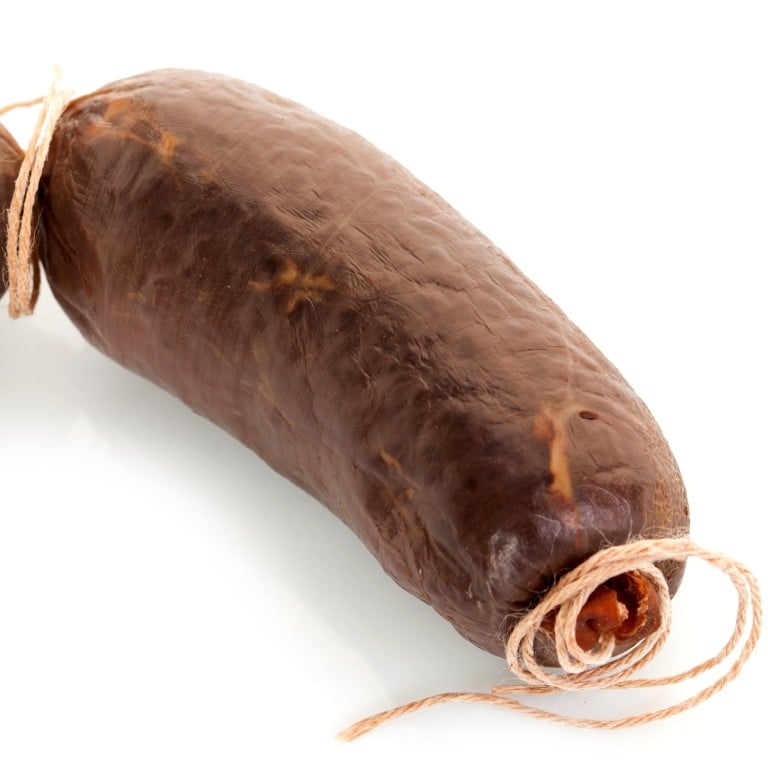 When it comes to passionate love and how to hone physical attraction, Italians are said to be masters. They have the flirting skills, the charm and know-how of Latin lovers and femme fatales. So it's no surprise that they've also concocted a potent, innuendo-inducing food to help boost the chemistry of encounters and enhance the thrill of sensual nights.
In Asia, people drink snake blood to get the hormones going; in Italy there's pig blood. Sanguinaccio – literally meaning "ugly blood" in Italian – is a popular, huge, salami-shaped tube of meat (or chocolate) made with pig blood and believed to be a powerful aphrodisiac. Its shape, too, might strike a familiar chord.
Sanguinaccio was Italy's first form of Viagra
The blood sausage's origins apparently hail back to the Ancient Romans, who had a soft spot for cured meats cooked in spices and herbs, often with the blood of pigs, rabbits or lambs to keep them going – allegedly through hours of lavish dinners and post-meal romances.
It is made in nearly all Italian regions, but the biggest fans are locals living in the extreme south and northern areas, where the rural intangible heritage has survived progress and urbanisation and culinary traditions live on. There's a sweet version served as dessert with dark chocolate, and a salty one eaten as an appetiser or main course. Each town has its own particular recipe and name twist depending on the dialect.
The hard core, mainstream variant is the sanguinaccio sausage, of a dark brownish colour. It might not look good but its taste is unique and tantalising, just as the effects it has on the human body.
In the town of Cammarata, set in deep, wild Sicily, it's called lu sangunazzu and is made with one litre of fresh pig blood, salt, pepper, extra virgin olive oil, grated garlic and herbs. The mix, cooked in hot water and stuffed into the pig's largest gut, is then served sliced as salami loaves on bruschetta or eaten straight on the plate.
"I have an ancient recipe: I add milk to the pig's blood, which makes it softer and more delicious," says Maria Rita Giambrone, chef at the local Villa Giatra restaurant that specialises in traditional delicacies. "The pig blood is highly nutritive, full of iron, it gives energy and reinvigorates the body and heart pump. Mothers have always given it to their children to make them grow strong and healthy, and occasionally also to lazy husbands to boost their sexual energy."
The village butcher supplies Giambrone with fresh pig blood every morning, which is immediately added to water to prevent it from coagulating. According to old townspeople, Cammarata families used to have picnics and parties out in the countryside with lu sangunazzu sausages, which became an object of teasing and flirtation.
"The salami was gifted to the ladies with a double meaning of culinary and sexual offering," explains local tourist guide Enzo Li Gregni. "It's a real energy-booster."
Sanguinaccio's "magic" properties nowadays still make it a perfect tonic for sick people, anaemic patients, women in labour, young girls in need of a booster during their menstrual cycle and kinky couples.
Italians have a saying: "Blood calls blood, it keeps the hormones up and the veins pumping." Even if it's pig blood. In Italy many things associated to the word "blood" have a sexual connotation: if a woman makes a man "feel blood", that means she physically arouses him.
While sanguinaccio has survived mostly in offbeat, remote spots, it's no longer just a "poor" recipe belonging to the farmer and peasant world. Today it has turned into a Michelin-approved niche delicacy for fine palates.
"Sanguinaccio has evolved from being a simple, rural or mountainous dish into a key cooking element. Let's not forget that pig blood is protein, just like egg white, an elegant and structured ingredient with low fat," says chef Paolo Griffa of Grand Hotel Royal e Golf's Michelin-starred restaurant Petit Royal in the skiing resort of Courmayeur.
The chic establishment is located in the Alpine region of Valle d'Aosta where sanguinaccio is called boudin noir and is stuffed with pig blood, apples, lard, spices and sweet wine. Griffa is successfully educating his guests with provocative recipes and elegant, fruity twists: His fusilloni alla valdostana pasta sauce has coagulated pig blood, beetroot, raspberry, potatoes and aromatic spices.
"It's not written outright on the menu what it is – pig blood – otherwise people would freak out and turn up their nose in disgust," he adds, "but once they ask and I explain the dish, they're curious to try it and end up liking it. The added spices make the taste of blood less pungent."
In Italy's rural tradition pigs have always been the most domestic of animals, more than dogs and sheep, and humans honoured them with festivals and celebrations during which pigs were slaughtered and their blood collected to feast upon. Today it's less gross: the blood is often sucked out from the animal's neck with a syringe. There's always been a mystical, pagan bond between pigs and men. In primitive times the pig was considered a sacred animal which was brutally sacrificed to the gods.
"Ever since humans stopped being nomads and settled down in villages each family kept a pig in their backyard as a precious food source. I remember my grandparents who lived in a typical dome-shaped white trullo dwelling had one. Pig is the only animal of which all parts are kept and used, nothing is thrown away, not even the blood, which was also used to make pastries, creams and liqueurs," says chef Martino Ruggieri, who hails from the southern region of Puglia where sanguinaccio is extremely popular.
Ruggieri, recently crowned best Italian chef at the Bocuse d'Or cooking contest and currently working at Paris' three-Michelin-starred Pavillon Ledoyen gourmand establishment, believes in the power of preserving one's culinary roots. "French cuisine tends to use pig or game blood just to make a special creamy mix with chocolate used to amalgamate meat dishes, known as salmis, while in Italy sanguinaccio is renowned and savoured as a dish on its own."
Ruggieri's sophisticated sanguinaccio's experimental twists include a blood mousse with sweet cocoa that has the consistency of whipped cream. "Pig's blood has the great property of being very versatile when applied to cooking techniques and leaves a pleasant sweet and salty end-taste," he says.
And what about the bloody dessert variant? The city of Naples is famous for the sweet sanguinaccio recipe, which is a dark chocolate pudding served during carnival celebrations in February. In the past it was made with real pig blood, rice, cinnamon, pistachio and lemon peel and was served either as cake filling or inside a pig's gut to make a chocolate salami. Today, the commercial pastry features no blood due to hygiene reasons, but in the countryside grannies still make it the old way, serving it to their grandchildren and husbands together with ladyfingers to dip inside the creamy delicacy.
Want more stories like this? Sign up here. Follow STYLE on Facebook, Instagram, YouTube and Twitter .

Dating back to Ancient Rome and literally meaning 'ugly blood' in Italian, innuendo-inducing sanguinaccio is a huge salami-shaped tube of meat or chocolate, made with pig blood and believed to be a powerful aphrodisiac