Why Taiwan's sea salt fields are 2020's next unlikely travel trend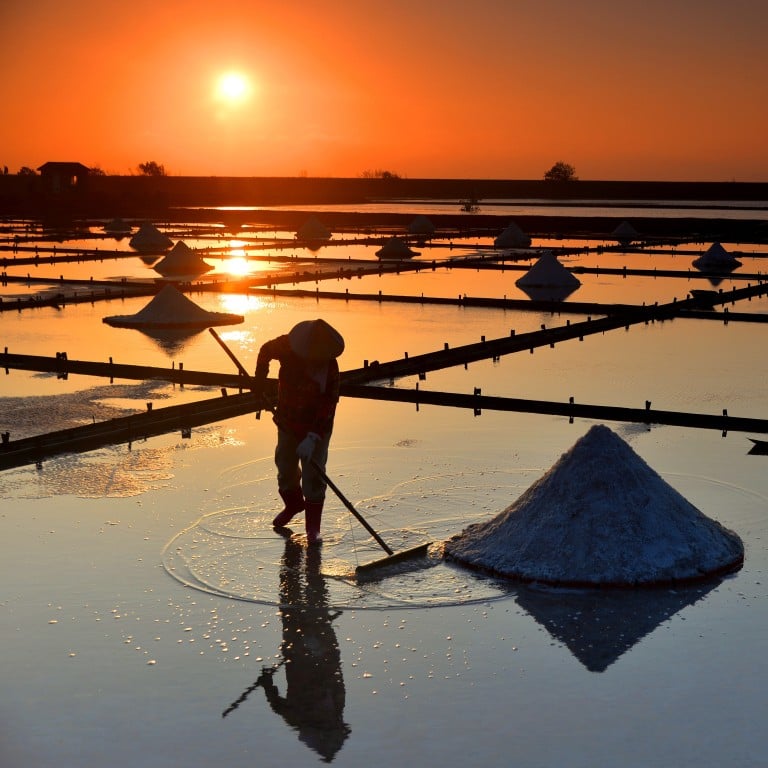 Thanks to the blessings of good shorelines, abundant sunshine and smooth and flat fields, Taiwan is among several regions in Asia that boast a long tradition of sea salt making.
Historical records suggest that Taiwanese sea salt history dates as far back as the year 914, on the Kinmen Islands – just 6km off the Fujian coastline – long before China's Song dynasty (960–1279) was established.
"The strong northeast monsoon, dry weather in autumn and winter, plus long summer daytimes facilitated fast seawater evaporation, making Kinmen one of Fujian's eight major salt fields in ancient times," according to author and historian Huang Cheng-liang.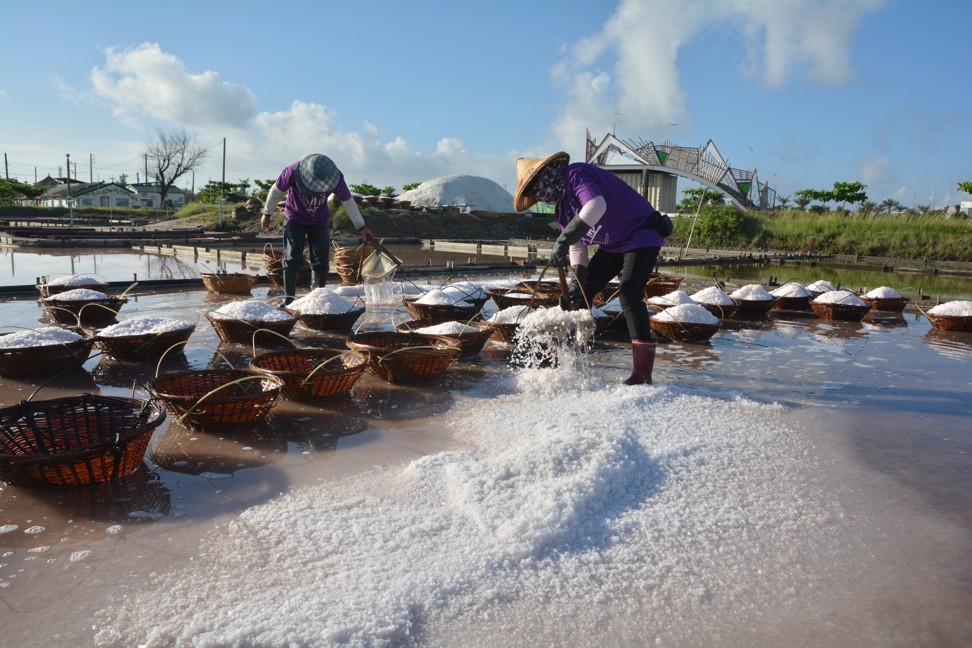 The Kinmen salt flats were the mainstay of the main island's economy before it became a Taiwanese beachhead. Over the course of a millennium, the industry experienced peaks and troughs before closing in 1995, only to reopen in 2008. The Xiyuan Salt Field, the last one left, has now been redesigned for cultural and tourism purposes.
Salt flats have dotted Taiwan's western coast since the late 17th century, but uncompetitive pricing when compared with mass production led to all salt fields being shut down when Taiwan joined the World Trade Organisation in 2002.
Nowadays, Taiwan's highly affordable but regular-tasting table salt is chiefly produced in the large-scale and highly mechanised plants of the Taiwan Salt Industrial Corporation (Taiyen), a former monopoly, which uses electrical power to extract it from the seawaters of northern Taiwan. Taiyen currently supplies more than 70 per cent of the home table salt market.
Nevertheless, the salt fields of Jingzaijiao in Tainan, and Zhounan in Chiayi in southeastern Taiwan, created in 1818 and 1824 respectively, were restored in the 2000s in a bid to preserve the island's centuries-old salt-making heritage.
Since ancient times, these salt flats have utilised water from the Taiwan Strait and are paved with glazed tiles that help reflect solar radiation to absorb the heat and expedite crystallisation. The tiles also help to prevent seawater contamination from dirt at the bottom of the evaporation ponds. Harvesting salt takes a week in summer but three to four weeks in winter.
"Sea salt making is essentially the work of Mother Nature determined by the forces of seawater, soil, wind and sunshine, apart from labour," says Tsai Jiung-chiau, a newspaper journalist turned salt maker who heads the Budaizui Cultural Association that manages the Zhounan Salt Field.
Tsai says Taiwan's major salt-yielding season occurs during the major floods of March to May, when long daytimes and temperatures exceeding 30 degrees Celsius expedite seawater evaporation and crystallisation. Yields are smaller in the minor flood season from October to February, and close to zero in the July to September typhoon season.
Research indicates that sea salt may contain 75 or more minerals and trace elements. Potassium, calcium, magnesium and iron are the main substances – apart from sodium chloride, which accounts for around 90 per cent of salt's complex flavour profile.
"Sodium chloride, magnesium and calcium contribute salty, bitter and sweet tastes to salt respectively," Tsai explains. "Meanwhile, iron and potassium add a tinge of metallic or acid flavours."
Both Jingzaijiao and Zhounan produce "flower of salts", mainly in spring or other dry seasons. Its short crystallisation process produces a less salty content but rich trace minerals, helping to release a slightly sweet aftertaste.
"Strong winds and hot sunshine plus low humidity in the environment combine to trigger the rapid formation of an ultra thin, light, translucent, crispy and inverted pyramid-shaped salt flake on the surface of brine," says Joe Lee, of Hwang Sun Innovation Co., which manages the Jingzaijiao Tile-Paved Salt Fields and Taiwan Salt Museum and sells products under the Tnshio Salt brand. "Flower of salt is scarce and precious, as less than 500 grams can be harvested from an area of 50 square metres," Lee explains. "Given its low salinity, flower of salt is used as a finishing rather than a cooking salt, and is sprinkled on top of steaks, vegetables, teppanyaki or kaiseki cuisine to accentuate food flavours or to garnish. A pinch also reduces the bitterness of coffee."
Meanwhile, the June and July monsoon season brings heavy rainfall that dilutes the seawater brine in crystallisation ponds. Dunaliella salina, a micro-algae commonly found in sea salt fields, propagates rapidly, altering the colour and taste of the salt. This salt is quickly harvested on occasional sunny days during the rainy season.
"Due to Dunaliella salina and the carotenoids in it, our algae salt has a yellow-brownish or even pink hue and tastes of a tinge of kombu seaweed with rice aroma when being cooked in soups,"says Tsai. "Algae salt is a gift from God. We harvested 300 kilograms of it in 2018, but barely had any in 2019. Yields seem to hinge on natural conditions but we are creating statistics on water temperature and humidity, among others, hoping to better understand the implications of weather on salt fields."
Taiwan's winter and early spring climate also helps form salts of different textures. The Jingzaijiao salt beds lie close to a lagoon that supplies seawater to its salt fields, producing a type of finely textured and loosely-formed salt flake which is good for stews, according to Jingzaijiao's Lee.
As in other sea salt regions, bittern, a high-salinity solution that is a by-product of Taiwanese salt fields, is used to make tofu or tofu pudding with textures finer and more tender compared to those made with plaster of Paris powder.
Over the years, Zhounan has steadily gained traction among the chefs of the Michelin-starred Taïrroir and Logy restaurants and Gubami, a beef noodle shop run by Chen Lan-shu, former chef of the now-closed French restaurant Le Moût, which was always listed among Asia's 50 Best Restaurants.
"I choose salt based on the ingredient I prepare," says Alex Peng, a Zhounan customer and the chef of Akame, a restaurant nestled in the mountains of Taiwan's Pingtung County that offers grilled aboriginal cuisines. "I use algae salt with a sweet aftertaste for seafood; coarse salt for marination; frost salt for vegetables, and flower of salt for meat and desserts."
Taiwan's salt flats have also evolved into diversified ecosystems. Jingzaijiao attracts migratory birds such as whiskered terns and black-faced spoonbills who spend the winter in its warmer fields. It also attracts more than 200,000 tourists annually, principally from Hong Kong and southeast Asia. The nearby Taiwan Salt Museum features displays about salt production in different cultures around the world.
Having originated on Taiwan's west coast, artisan salt making is now spreading to the east. The Amis, an aboriginal tribe who are to be found in Taiwan's eastern coastal counties of Taitung and Hualien, are experimenting with sea salt made from the waters of the Pacific.
Taiwan's salt heritage shows no signs of ebbing away, but chefs argue that numerous possibilities must be explored to keep it alive and flourishing. "Salt flavour is relatively uncharted territory in Taiwan," says Akame's Peng. "It will be interesting to see the island create an authentic salt flavour profile of its own, in accordance with the seasons or its coastal regions, for example."
Want more stories like this? Sign up here. Follow STYLE on Facebook, Instagram, YouTube and Twitter .

A producer of quality sea salt for more than 1,000 years, the Kinmen Islands' Xiyuan Salt Field has emerged as an unlikely tourist hotspot, while Michelin-starred restaurants like Taipei's Taïrroir and Logy covet heritage salts from Zhounan, Chiayi