Black Panther stars in Marvel and Audemars Piguet's limited edition watch collaboration: only 250 of the superhero-themed timepieces will be released
When François-Henry Bennahmias, CEO of Audemars Piguet, teased the
brand's upcoming collaboration with Marvel
at a digital press conference on March 18, nothing about the watches was revealed. Bennahmias said he spent more than a decade trying to realise this partnership without any success – until friend and actor Don Cheadle, who plays War Machine in
The Avengers
films, made a phone call to Marvel on his behalf.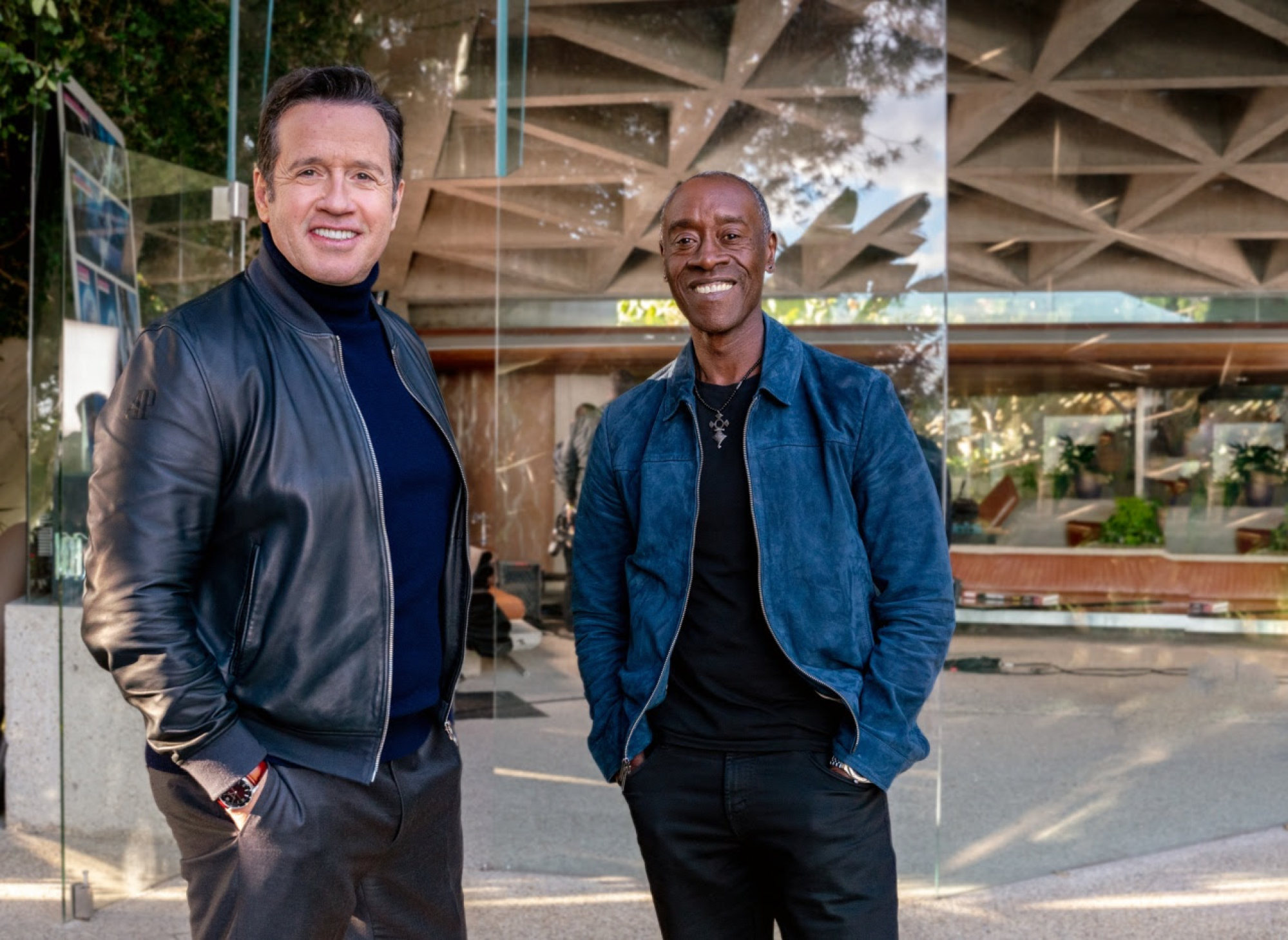 But Bennahmias did share a few details that may have been clues to what the watch would look like. Among them was a reference to Gérald Genta's character watches from the 1980s. The legendary designer's instantly recognisable timepieces seamlessly integrated high street pop culture and haute horology, putting Mickey Mouse right alongside retrograde minutes and jumping hours. 
Genta himself has a long history with Audemars Piguet- the house's flagship watch, the Royal Oak, was Genta's design and released in 1972. 

With this important name-drop, the Royal Oak as the canvas for this collaboration was a logical guess. But the unveiling proved otherwise.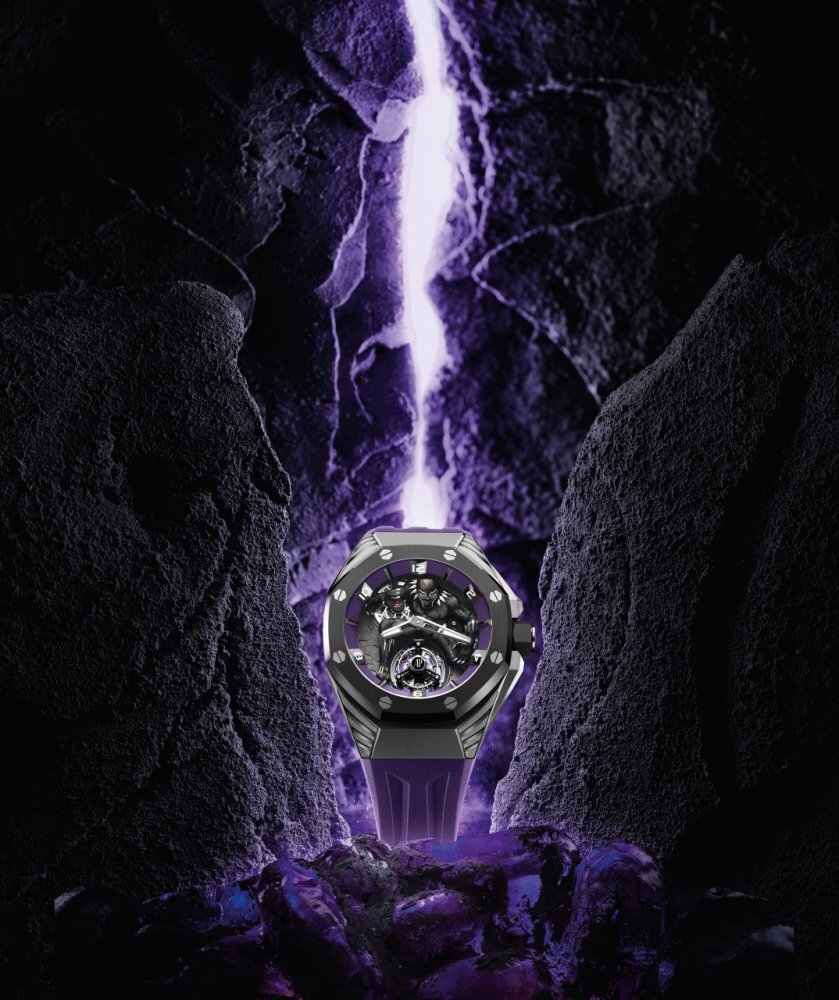 The Royal Oak Concept "Black Panther" Flying Tourbillon in 42mm, according to Bennahmias, was the obvious and only choice. 
"We did not in any way want to just print a character on the dial and make this a gimmicky effort. We put all our know-how together to make this something fully Audemars Piguet," Bennahmias says of the 250-piece limited edition reference. The Royal Oak Concept, with its bolder case and more experimental history, had been the canvas for Audemars Piguet innovations since 2002.
That also meant know-how in both movement-making as well as decorative savoir faire. The Royal Oak, as iconic as it is, simply wasn't up to the job. 
"The character has volume and layers to it. Because we needed to create not only something that would fit the diameter of the dial, but also something with depth. We had to go with the Royal Oak Concept."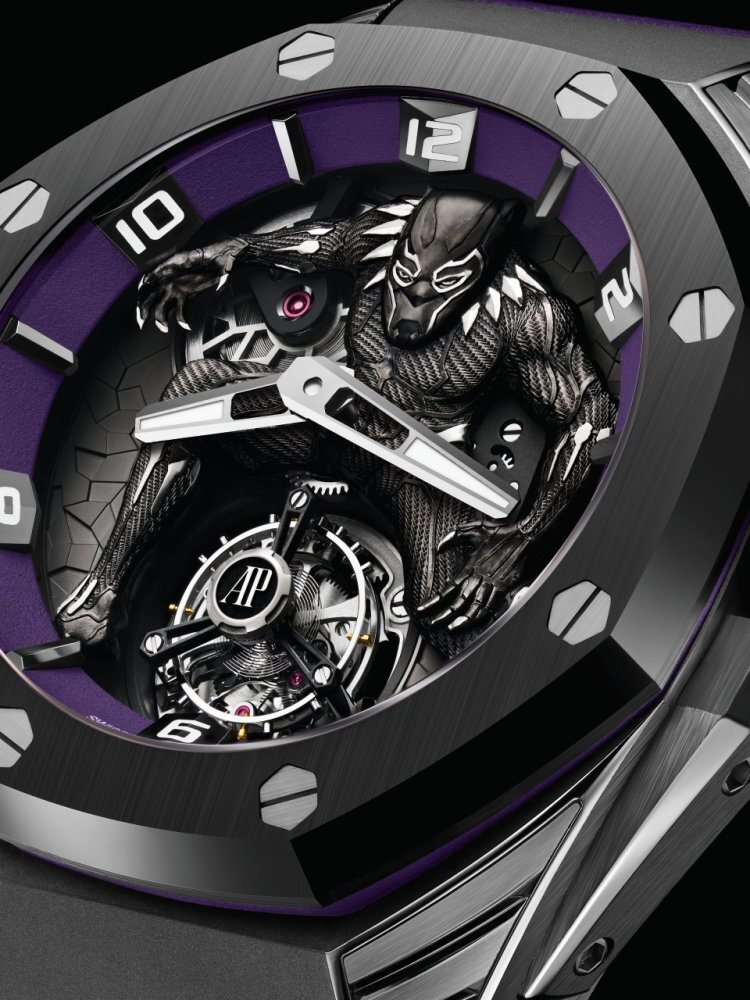 Making this a genuine exercise in watchmaking and innovation was crucial to lifting this collaboration to a level beyond a marketing "gimmick", says Bennahmias.
"It took well over a year and a half to complete the design, putting traditional craftsmanship and various savoir faire into it, both in-house and from external partners." 
The attention to details is revealed in the intricate, three-dimensional, sculpted interpretation of Black Panther. "The character is done in white gold, engraved and painted, and it takes 30 hours to make just one character," says Bennahmias. 
A team of four engravers and four painters see each timepiece from start to finish. Facets are made by laser carving and traditional hand engraving on a white gold disc to form Black Panther's suit, while recesses are made under the character so as not to obstruct the movement. Black details are hand-painted, the gold polished to matt and mirror. The titanium bridge is PVD coated in black and grey to the pattern of the character's suit. 
While Audemars Piguet had plenty of in-house expertise to bring to the table, the house enlisted the help of a long-time collaborator to miniaturise Black Panther for the dial.
"We worked in collaboration with Olivier Vaucher, an independent, family-owned workshop based in Geneva, specialised in artistic dials since 1978, to paint and engrave Black Panther's character."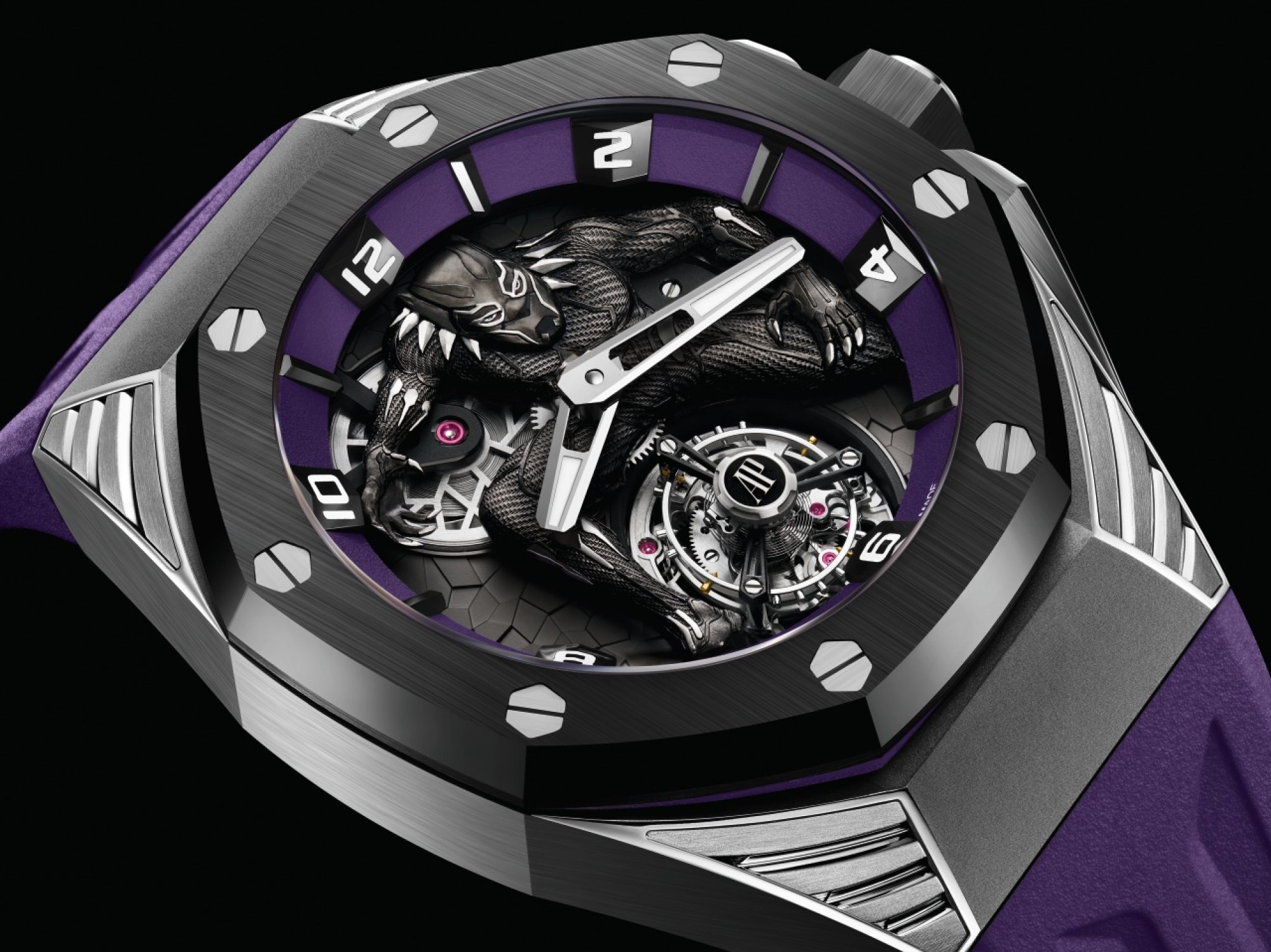 After well over a decade with this project on Bennahmias' mind, Cheadle, who was brought in to announce the collaboration with Bennahmias, made that all-important phone call to Marvel; two years later, we have this watch. 
"I've always been a big dreamer, and this isn't even one of the oldest projects we have ongoing at Audemars Piguet," says Bennahmias.
Seeing Cheadle played an important role in making all of this happen; choosing a character closely linked to Cheadle's War Machine avatar as the inaugural superhero made sense. 
Instead, we got Black Panther. "We wanted a character that also represented the values at Audemars Piguet: family, tradition, forward thinking and technology. Black Panther was the obvious choice."
Bennahmias says he presented six characters to Marvel, with the order of the launches coinciding with the release of the characters' origin movies. However, he is quick to point out there's no pressure to create noise around the timepieces by way of product placement. "That would make the whole collaboration gimmicky," he says.
The power and single-minded dedication of the Audemars Piguet fan is undisputed; in many ways these individuals have in common both obsession and knowledge, much like the fans of the Marvel universe. Could the marriage of these two fandoms possibly lead to an entirely new breed of superfans? Bennahmias says he had shown a preview of the timepiece to only a handful of friends, and each responded with: "I want one!" 
But only time will tell, he says, if this collaboration will convert Marvel fans into Audemars Piguet fans. Besides, it could be a challenge to acquire one of these watches: there will be only 250 pieces in this limited run, a number Bennahmias feels makes sense for such a special collaboration. "One hundred and fifty pieces alone will go to Asia. With 75 boutiques around the world, 250 is not that many."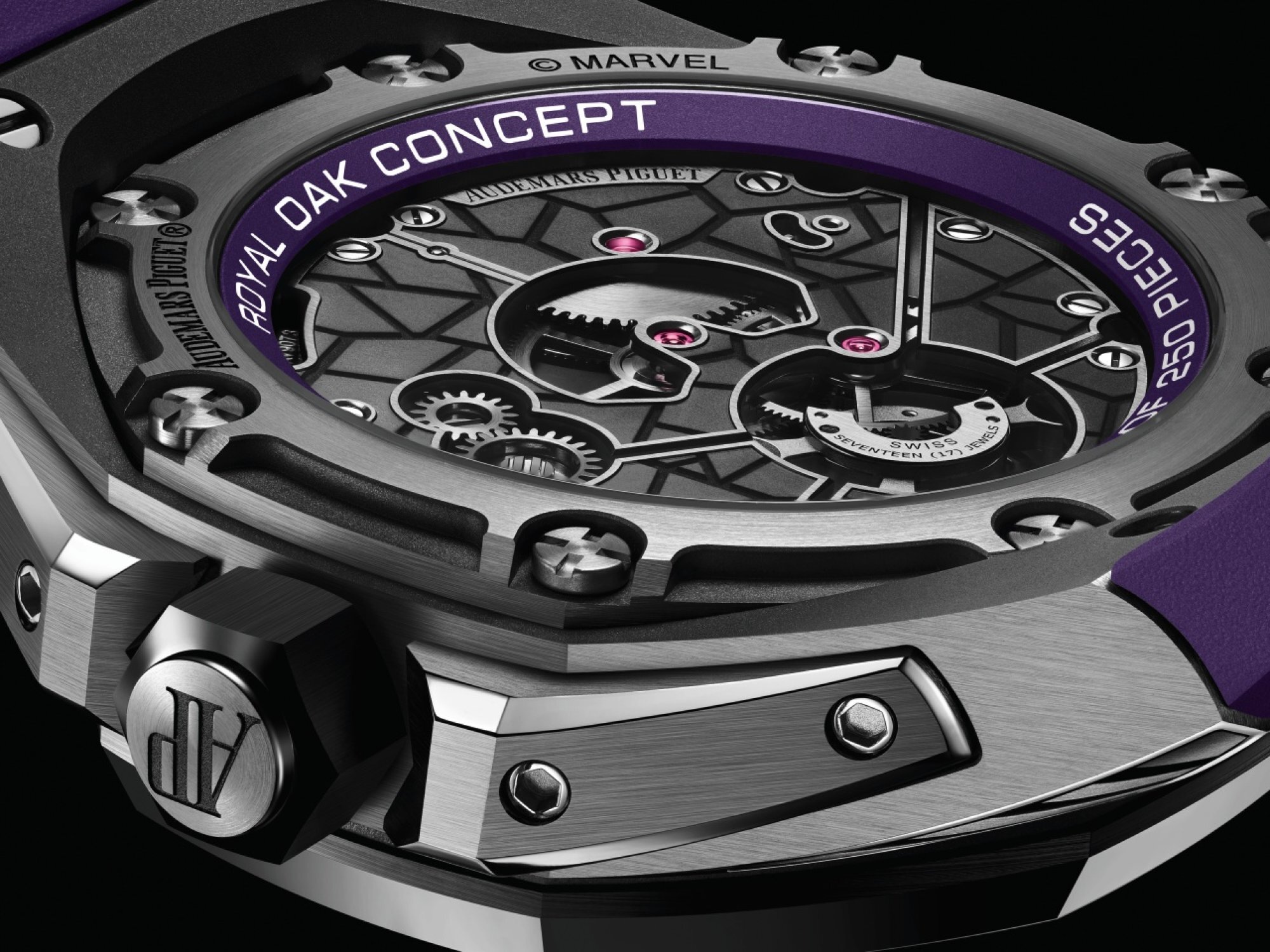 Which Marvel character will appear next on the Royal Oak Concept? The CEO is keeping mum. He says there's no set course for how many Marvel references will be launched.
"This is the beginning of a new collaboration with more surprises to come." But if the character he likes is any indication, we might see green in the next piece, which he says will be launched in 2024. "I want to be the Hulk. I want to be the guy next door, but also not too nice – a guy with a monster inside that might scare you."
Want more stories like this? Sign up here. Follow STYLE on  Facebook,  Instagram,  YouTube and  Twitter.


The Royal Oak Concept 'Black Panther' Flying Tourbillon took two years to realise and will boast a three-dimensional, sculpted version of the Marvel character
Other Marvel and Avengers references will follow, with the next timepiece due to be launched in 2024 – and the Hulk might be a strong favourite